Highs and Lows at Pitt Race BUILD. TRAIN. RACE.
Royal Enfield BTR Road Racing endures trying weekend at Pittsburgh Race Complex.
Milwaukee, WI – Extreme heat, torrential downpours, tricky track conditions, through it all at Pittsburgh International Race Complex shined the heart and dedication of the Royal Enfield Build. Train. Race. (BTR) road racers. It wasn't an easy weekend at Pitt Race, especially not with the much-anticipated Sunday main event ending in a red flag. Though it wasn't the finish anyone was looking for, including winner Kayleigh Buyck, there were some memorable and redeeming moments from the MotoAmerica weekend.
There's no doubt Kayleigh Buyck has the bullseye on her back in the Build. Train. Race. MotoAmerica paddock. Coming off a three-race win-streak, Buyck was looking to add another BTR race win to her collection, and the rest of the women on the grid were just as determined to stop her. None more so than Jenny Chancellor, who came into Pittsburgh fired up for a win.
Throughout the changing conditions at Pittsburgh International Race Complex, the BTR women were advised to keep their rain tires on, which saw them run the main race on wets in the drying conditions. After getting out to a poor start, Chancellor quickly made her way to the front and led every lap of the race aboard her Continental GT 650, right up until the moment it mattered. On the final lap, she lost control and went down, prompting the red flag to come out. Had she gotten back on her bike and back on the track, she would have been awarded the win, but sadly she ended the day with a DNF. The win went to Buyck, followed by Crystal Martinez in second and Chloe Peterson in third.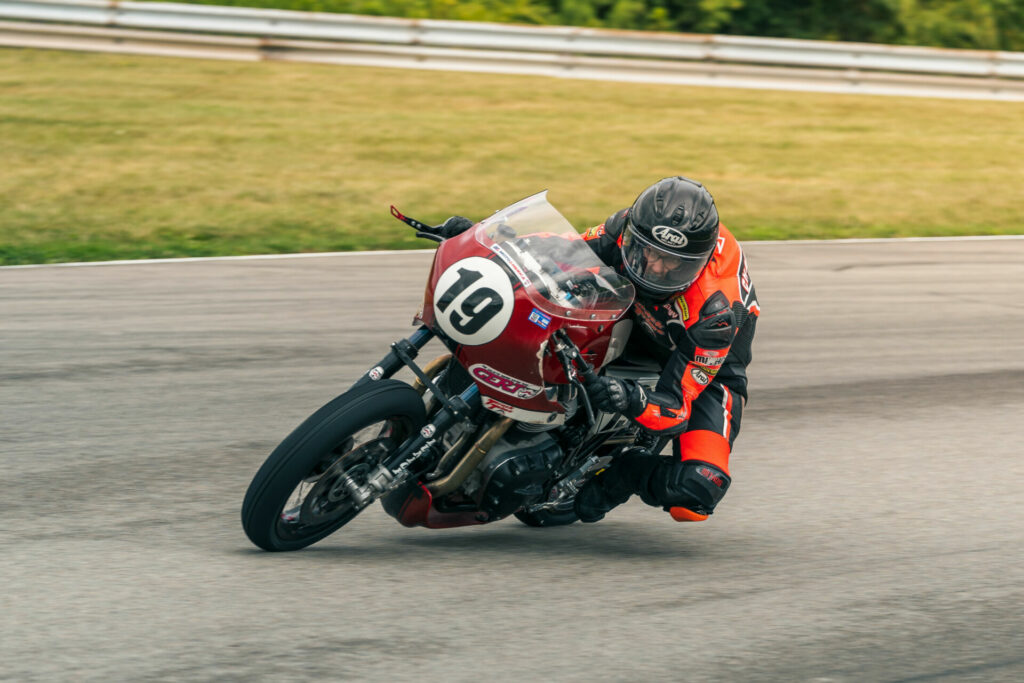 "What a crazy, amazing weekend at Pitt Race!" exclaimed Chancellor. "I feel like I finally found my comfort zone on my Royal Enfield and rode great all weekend long. I was definitely disappointed to not finish the race, but I have already put this behind me and am looking forward to our next round in New Jersey."
"Not the way I wanted to take a victory, ever, but racing is racing," said Kayleigh Buyck. It was an otherwise stellar weekend for the championship leader. Buyck led the way in qualifying, and was awarded a Wilber Watch for taking pole position.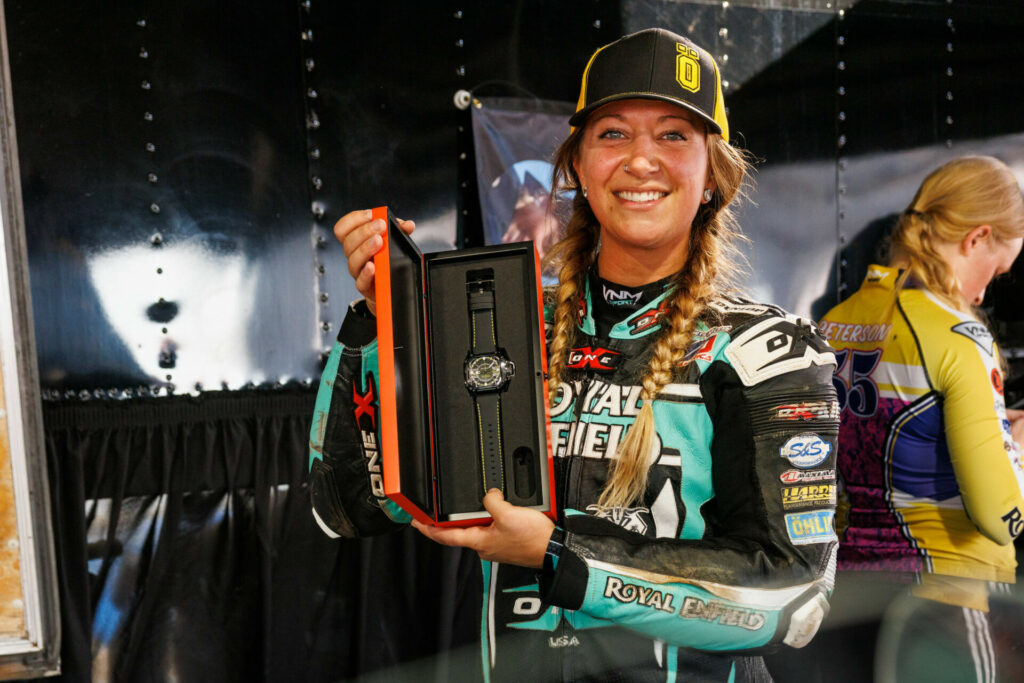 Podium finisher Chloe Peterson agreed with the sentiment, calling the weekend overall "a bit conflicted. Happy I made it on the podium again in third but not happy that it happened because of the race ending with a red flag. I wanted to see how my battle with Crystal played out. It was a tough race going out with full rain setup on the GT650 with a basically dry track. My strategy was to ride smart and not crash. I didn't want a repeat of going down at Road America. I redeemed myself, made it on the podium and consider it a success."
"Racing is not easy; there will always be challenges to overcome and variables beyond your control," said Breeann Poland, Marketing and Communications Lead – Royal Enfield Americas. "These women dealt with all the challenges, kept putting in the work, supported each other and encouraged each other all weekend. Seeing the improvement every time we go out, the great racing and the smiles afterward are what make it all worth it. That's what Build. Train. Race. is about."
Royal Enfield BUILD. TRAIN. RACE. Road Race
Pitt Race Results
1. Kayleigh Buyck (#16)
2. Crystal Martinez (#25)
3. Chloe Peterson (#55)
4. Ash Truxal (#31)
5. Jessica Martin (#23)
6. Cora Tennyson (#95)
7. Michaela Trumbull (#27)
8. Trisha Dahl (#44)
9. Alyssa Bridges (#30)
10. Nicole Pareso (#11)
About Royal Enfield
The oldest motorcycle company in continuous production in the world, Royal Enfield made its first motorcycle in 1901. A division of Eicher Motors Limited, Royal Enfield has created the midsize motorcycle segment in India with its unique and distinctive modern classic motorcycles. With its manufacturing base in Chennai, India, Royal Enfield has been able to grow its production rapidly against a surge in demand for its motorcycles. Royal Enfield is a leading player in the global middleweight motorcycle market.
Royal Enfield North America (RENA) is headquartered in Milwaukee, Wisconsin, and is developing a growing network of more than 150 dealers in North America, including the contiguous U.S. and Canada. RENA currently offers the all-new Classic 350, Meteor 350, Himalayan and the 650 Twins (INT650 and Continental GT 650) motorcycles, along with a range of Genuine Motorcycle Accessories and apparel.
For more information on Royal Enfield North America, visit www.RoyalEnfield.com/us/en/, www.Instagram.com/RoyalEnfield_NA, www.Facebook.com/RoyalEnfieldNorthAmerica.
More, from a press release issued by N2 Racing:
N2/BobbleHeadMoto Racing's Blake Davis Wins at Pitt Race and Takes Over the Twins Cup Points Lead.
Media, PA – August 2022 – N2/BobbleHeadMoto Racing's Blake Davis scored a win and a second-place finish in the MotoAmerica Twins Cup Races at Pittsburgh International Race Complex taking over the points lead with two rounds to go. Josh Hayes finished fifth and sixth in Supersport in his last ride substituting for Kevin Olmedo, who is recovering from Guillain-Barre Syndrome at home in El Salvador. The PittRace MotoAmerica weekend, after the highly successful N2/WERA Endurance by Dunlop event, was one of the most successful weeks in the history of N2 since its inception in 2014.
Blake Davis entered the PittRace weekend 28 points down in third place behind Anthony Mazziotto and Jody Barry. Blake was going to need to do really well, and his competitors would have to suffer some bad luck in order to enter the last two rounds fighting for the Twins Cup Championship.
Blake was fast from the first lap with only small changes made to the Dunlop-equipped Yamaha YZF-R7 over the course of the event. Blake was dominant in practice and achieved his first MotoAmerica pole position in qualifying, breaking the track record with a time of 1:47.114.
Starting from pole makes everything easier and Blake took full advantage jumping out to a five-bikelength lead by Turn Two. Blake led for the majority of the race before being run down by a charging Kaleb De Keyrel. Kaleb followed Blake for most of the race before passing Davis while the pair were passing a lapper. Blake stayed calm and tested his pass for the lead down the front straight with two laps to go. Confident in his strategy, Blake stayed close to De Keyrel for the remainder of race, got a great drive out of the last corner to pass De Keyrel at the line for the win. Championship competitors Mazziotto finished eighth and Barry finished 10th. This meant Davis gained several points on both.
Race Two was even more complicated. Starting from pole was supposed to make everything easier, but Blake had a shifting issue at the start of Race Two crossing the line in seventh place. After only two laps, a red flag came out to stop the race, giving Blake another chance at the start. Blake took full advantage of the restart, this time leading the restarted first lap. There were seven riders in the lead group with lead changes happening multiple times per lap. On lap five of the restarted race, the red flag came out again. This time, MotoAmerica called the race with Blake Davis in second place. Since Barry and Mazziotto finished in ninth and 10th, respectively, Blake gained enough points to lead the championship by a single point going into the last two rounds. This is fairly remarkable for a 16-year-old in his first year of Twins Cup racing.
Josh Hayes will be riding for Squid Hunter Racing for the rest of the MotoAmerica Supersport season but was able to help out N2 Racing for one last ride substituting for Kevin Olmedo at PittRace. This was Josh's first event at PittRace on a 600. Josh and the team made pretty substantial changes to the chassis over the course of the weekend, improving with every session. Hayes qualified on row two in the sixth position with a time of 1:45.178.
Race One started under beautiful sunny skies. Josh got a great start crossing the finish line in fourth place on lap one. Hayes then battled with Ben Smith and Cory Ventura, with Hayes settling into a lonely fifth place. The race was stopped with a red flag, with Josh finishing in that fifth position.
Race Two was much more eventful. The race started dry but under the threat of rain. Josh got a fantastic start moving up into the second position, but Hayes was quickly swallowed up by the pack sliding back to eighth. Hayes put his head down and fought his way back to sixth passing Luke Power and Cory Ventura but ran out of time to chase down Ben Smith for a top five.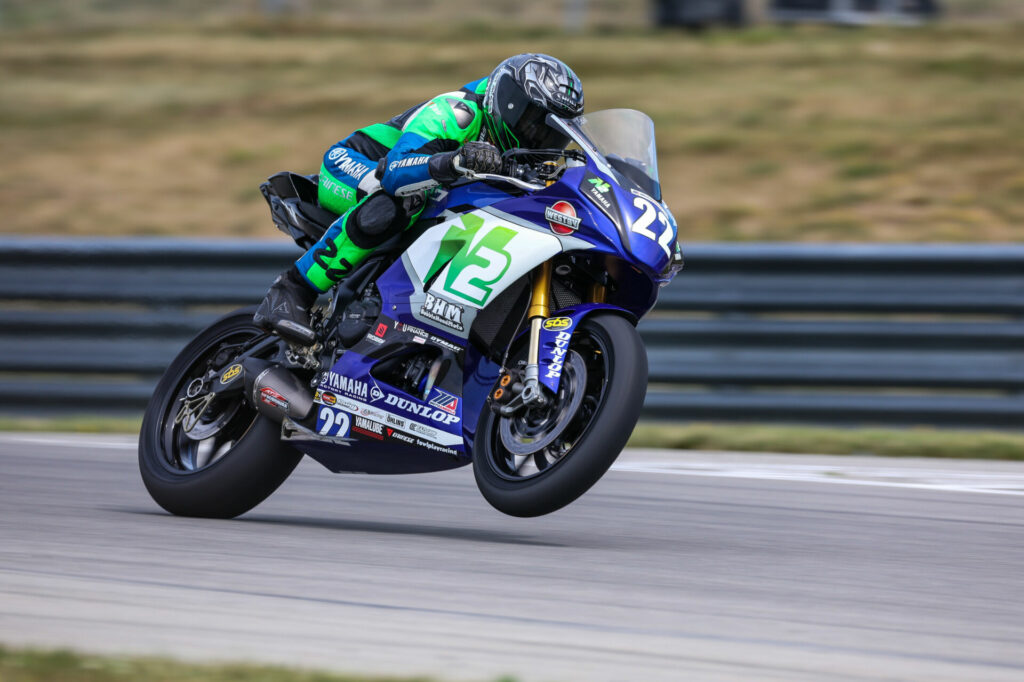 Blake Davis – "We had a great time during the PittRace N2/WERA National Endurance Race by Dunlop and won in the Lightweight class. We then broke the track record in qualifying, won MotoAmerica Twins Cup Race One, got on the podium in Race Two, and took over the Twins Cup points lead. I have always liked PittRace, but now it might be my favorite track on the calendar. I couldn't have done any of this without the support of the N2/BobbleHeadMoto Team, my crew chief Shiloh Salopek, Dustin Meador, and my dad. We are looking forward to seeing what our Yamaha YZF-R7 can do at New Jersey Motorsports Park."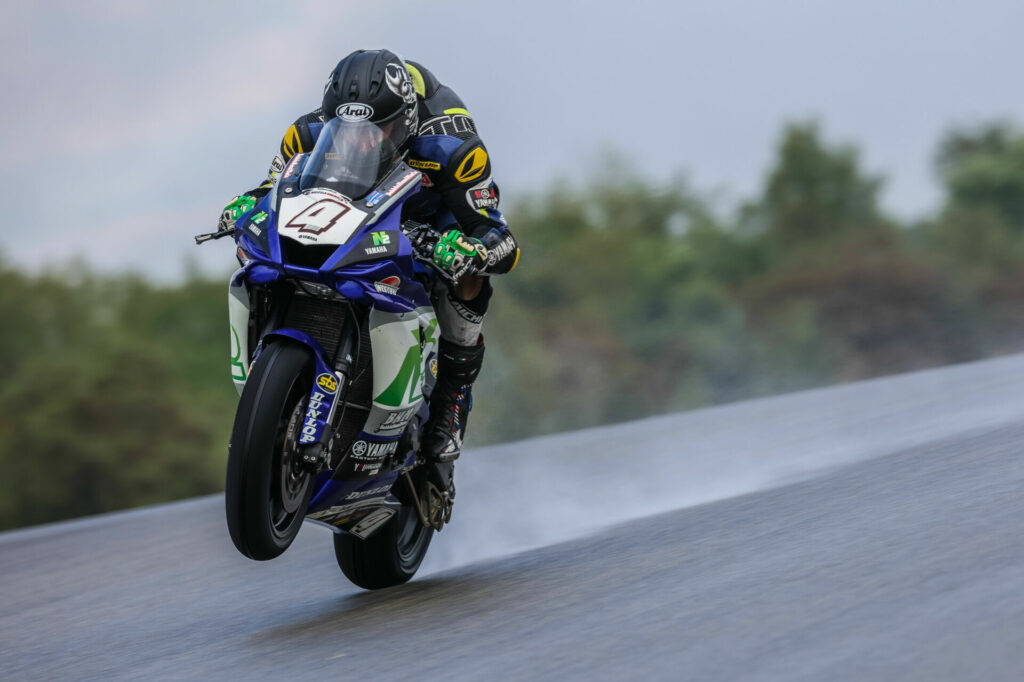 Josh Hayes – "I'm really thankful for the trust in me and the opportunity to work with N2/Bobblehead Racing for a couple of MotoAmerica weekends, filling in for Kevin Olmedo. I really enjoyed my time with the team, and hope I have made some contribution to the development efforts of their Yamaha YZF-R6. PittRace was a challenging track for me, but we still put on a show, and I improved with every session. I'm looking forward to getting back to the N2/WERA Endurance Series by Dunlop soon with the N2 team, and fight for that championship. It's also been fun to be inside and see Blake Davis develop into a consistent front runner on his Yamaha YZF-R7."
Shiloh Salopek (Crew Chief) – "I would consider this weekend a huge success for the N2/BobbleHeadMoto team. We've made great progress with our program this year and everyone's hard work and dedication is starting to show for itself.  We're looking forward to keeping this momentum rolling into the NJMP round in September. Thanks again to Josh for helping out in the last few rounds. It means a lot."
About N2: N2 – Ride, Race, Learn.
Founded in 2014, N2's mission is to build a sustainable motorcycle community through safe, structured motorcycle track days, advanced rider training programs based on Yamaha Champions Riding School teaching methods, with a strong affinity for motorcycle road racing. N2 successfully resurrected Motorcycle Endurance Racing in America partnering with WERA Roadracing and creating the N2/WERA National Endurance Series by Dunlop. N2 is a premier participant in the MotoAmerica Pro Racing Series with a multi-rider team competing in several classes. N2 is also a major contributor to the Roadracing World Action Fund through fundraising efforts and support from its large member base.
N2 Racing is proudly sponsored by: Dunlop Motorcycle Tire, Yamaha Motor Corporation USA, Dainese, BobbleHeadMoto, Karnes Performance, Trading Paint, GB Racing, Westby Racing, Attack Performance, Robem Engineering, Puig, Eazi Grip, ProBolt, SBS Brakes and Yamaha Champions Riding School.
More, from a press release issued by Altus Motorsports:
MotoAmerica: Results from PittRace for the Altus Motorsports WPS FLY Racing Team
(Wampum, PA) – Overall the PittRace round was a successful event for the Altus team. Brandon Paasch secured two more podiums in Stock 1000 and scored good points in the Superbike Cup. Kayla Yaakov grabbed another podium finish in Junior Cup. And the team solved a season long issue with Jaret Nassaney's Supersport bike.
Superbike Cup & Stock 1000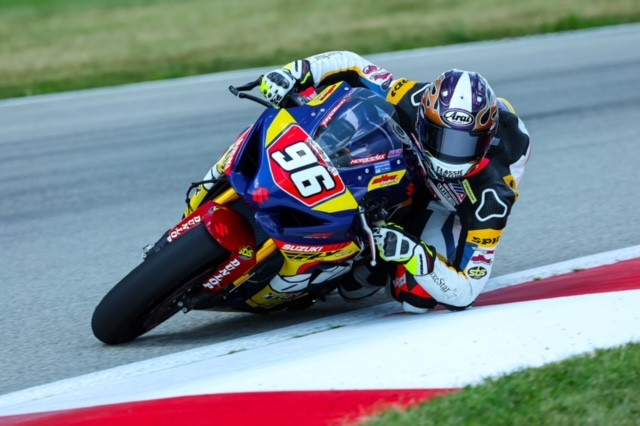 Brandon Paasch arrived in Pennsylvania after posting his best results of the season at the last round. With the PittRace MotoAmerica round being a doubleheader for the Stock 1000 class, he was hoping to continue the trend. And he did. Paasch started both races from 4th on the grid and crossed the finish line in third on his GSX-R1000.
"Overall it was a really solid weekend with good starts and fun racing. Still struggling with a couple things riding the 1000, but we are definitely going in the right direction! Really looking forward to getting to NJMP and continuing our progress!" said Brandon Paasch.
In the Superbike Races, Brandon started both of them from 15th. He finished the first race in 11th and the second in 12th. In both instances, he was the top Superbike Cup finisher. He currently sits second in that championship, just 11 points out of first.
Supersport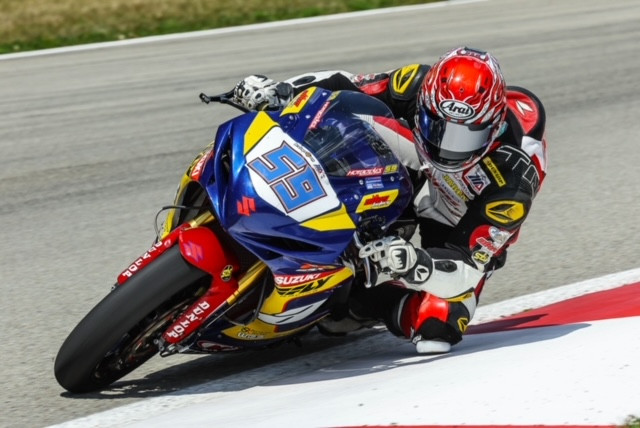 Jaret Nassaney has struggled most of the season with an enigmatic and inconsistent suspension issue and, unfortunately, PittRace was no exception. Fortunately, it looks like the issue has finally been diagnosed and remediated. A defect in the rear shock that would cause the bike to become harder to ride as the race went on was found to be the source of the problem. Nassaney started the two Supersport races from 8th and finished both in 9th.
"It wasn't an ideal weekend! We struggled to get the bike set up and then found out on Saturday that we had a rear shock failure. Turns out that was the source of a lot of the problems we've been chasing all season. We salvaged two 9th positions but that is not where I want to be! We'll recoup and come back stronger for New Jersey," said Jaret Nassaney.
Junior Cup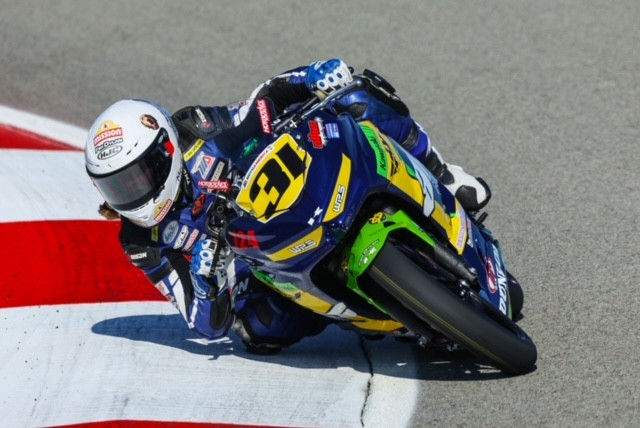 Kayla Yaakov struggled with mechanical and setup issues throughout the practice and qualifying sessions. But, as Kayla has proven over the course of this season, when the race starts, none of that matters — she's going to be near the front. She started the first Junior Cup race from 4th place and went with the lead group. She spent most of the race in third strategizing how to collect another win. Unfortunately, she lost touch with the leaders when she had to avoid being collected by another rider who nearly crashed right in front of her. She crossed the line in 4th just a few hundredths of a second from 3rd. In the Sunday race, she flipped that script and took 3rd in a photo finish.
"Our MotoAmerica round at Pittsburgh International Raceway was a difficult one. From setup issues that caused us to virtually waste sessions to mechanical problems, and even to some racing incidents that caused us to lose touch with some of the other riders, it was a tough weekend. On another note, I'm happy to have walked away with my 8th podium of the season, gathering enough points to tie us for third in the championship (only 3 points behind second). Overall I'm happy with the result, considering the difficulties we faced throughout the weekend. I can't thank my dad and the whole Altus Motorsports crew enough. We're ready for New Jersey!" said Kayla Yaakov.
"What can I say? It was another good weekend. We have great riders and a great team. Huge thanks to all of our sponsors for supporting us," said George Nassaney.
The Altus Motorsports team is supported by our great family of sponsors: Altus Motorsports, FLY Racing WPS, Suzuki Motor Corporation, Moto-D Racing, Bonamici, Hot Bodies Racing, M4 Exhausts, Vortex EK, Motion Pro, Barnett, Maxima Racing Oils, SBS Brakes, BrakeTech USA, Inc., Ohlins, K-Tech, RS Taichi, Arai, Law Tigers Oklahoma, and Altus Factory Racing.