In spite of being second in the current MotoAmerica Junior
Cup Championship point standings, Dallas Daniels will no longer compete for the
Quarterley Racing On Track Development team in MotoAmerica and will instead dedicate
his efforts to Estenson Racing in the American Flat Track (AFT) Singles series
beginning this weekend in California.
As the MotoAmerica paddock assembled Friday at Sonoma
Raceway, just north of San Francisco, word quickly spread that Daniels would no
longer be racing his Kawasaki Ninja 400 for Quarterley Racing On Track
Development and would instead be competing on his Estenson Racing Yamaha YZ450F
Saturday, August 10 at the rescheduled Sacramento Mile.
"Our understanding was [Daniels] was going to do the road
racing and then do the flat track events that didn't conflict," Bob Robbins,
co-owner of Quarterley Racing On Track Development, told Roadracingworld.com. "I
guess there was a rainout of the Sacramento Mile [earlier this season, causing
the event to be rescheduled this weekend] and his sponsor pretty much insisted
on him being there. So Dallas had to make a choice."
"Basically, I'm under contract with my dirt track team,
Estenson Racing, and I have a handshake deal with Bob and Dale [Quaterley],"
Daniels told Roadracingworld.com. "My dirt track team wanted me here at the
[Sacramento] Mile. So I had to make a decision on what I wanted to do, and that
resulted in me not racing at Sonoma, and that resulted in me not racing the
rest of the year with Quarterley Racing."
"He had to make a decision, and I think he probably made the
right one," said Robbins. "His future is probably in flat track racing, but his
season is done here. There are two others [MotoAmerica and AFT events] that
conflict, so he had to make a choice on which way he was going to go. It wasn't
an ultimatum. It was just a choice. If it were different circumstances and he
only needed to miss one race I could see it, but when you're second in the
points with a chance at the Championship I just don't see it."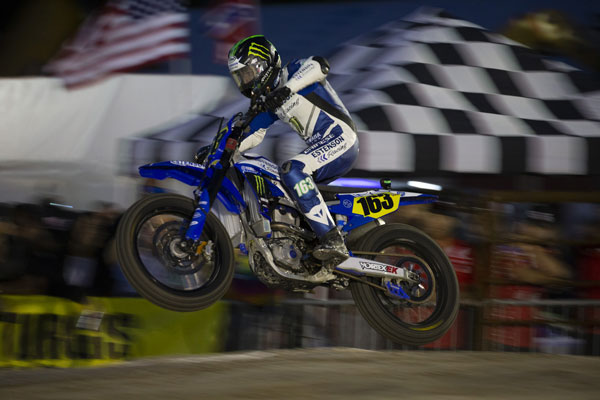 (Above) Dallas Dallas (163) on his Estenson Racing Yamaha at the Buffalo Chip TT AFT Singles race. Photo by Andrea Wilson/Estenson Racing.
At a glance, the situation appears to be confusing. Why
would Daniels give up on his successful MotoAmerica season and the potential to
win the Junior Cup and instead focus on the AFT Singles Championship, where he
just made his debut last month?
But to get the proper perspective, you have to go back to
2018, when Daniels was not having a very successful time in MotoAmerica Junior
Cup and Estenson Racing signed the then-15-year-old to a two-year deal to race
AFT, a significant deal in the flat track world.
"It really does suck and I apologize and feel bad about it,
but I had to make a decision for me and my racing and what was best for me and
my future," said Daniels. "My future wasn't looking very good in road racing for
next year, and I have this amazing deal in flat track. I love Bob and Dale and
I love the team and I love road racing, but I had to make a decision and I was
under contract here and I had to do it."