More, from a press release issued by Dorna:
Veijer beats Sasaki and Masia in a dramatic Moto3™ showdown at Sepang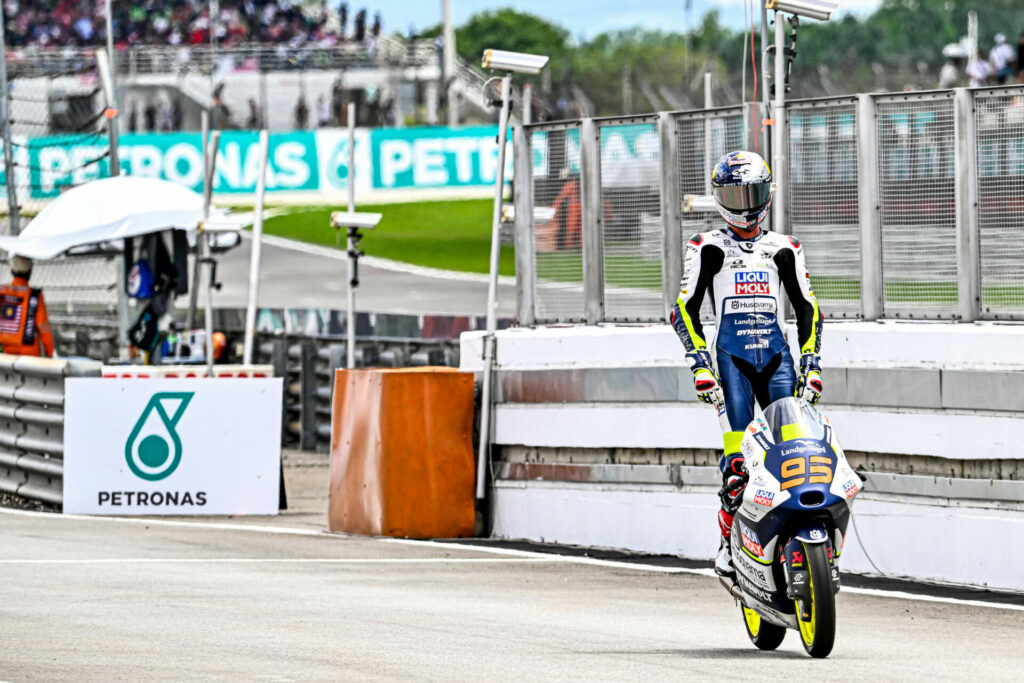 The Netherlands has a new Grand Prix winner, and the first since 1990 as Collin Veijer (Liqui Moly Husqvarna Intact GP) defeated teammate – and title challenger – Ayumu Sasaki in the PETRONAS Grand Prix of Malaysia. Championship leader Jaume Masia (Leopard Racing) completed the podium in a close race to the finish that went right to the final corner. It's now likely a two-horse race for the crown too, with some big drama for three of the five contenders on the way into the weekend at Sepang.
Ivan Ortola (Angeluss MTA Team) got the best start from Row 2 and looked like he was going to take the holeshot before Veijer shot through and somehow kept it nicely in line, with Masia then able to grab second too. It didn't take long for the Leopard rider to grab the lead though, and the number 5 then started to seriously push. Who could go with him?
Initially the answer was Sasaki, Veijer and Deniz Öncü (Red Bull KTM Ajo), but the small group couldn't break away. It quickly became a freight train once again, but there was drama coming.
After a dramatic weekend before the lights went out, with the Buriram winner suffering some crashes including in qualifying, David Alonso (Gaviota GASGAS Aspar Team) started well down the order. By 13 laps to go, he was already into the top ten. But then came the drama as he suddenly crashed out in the group, taking, among others, fellow contender Dani Holgado (Red Bull KTM Tech3) out of the race – all riders ok, but the group split and two key members of the Championship fight out of the race.
The group became Masia, Sasaki, Veijer, Öncü, Jose Antonio Rueda (Red Bull KTM Ajo) and Matteo Bertelle (Rivacold Snipers Team). As the laps ticked down the tension was high but no one was able to make a difference – until a difference was made for some. Rueda got it wrong at the final corner when going for a move on Bertelle, making contact with the Italian then unable to save it and going down – in a nightmare, also tagging and taking down his teammate Öncü just ahead. Again, all riders ok – Bertelle staying upright and Öncü getting back in it, but that left a trio fighting for victory: Masia, Sasaki… and Sasaki's teammate, Veijer.
This wasn't a team game though. Veijer passed Sasaki for the lead as the final lap began, and he then got the hammer very much down as he gunned for his first Grand Prix win to follow up his maiden podium. But still, it all went down to the final corner.
Sasaki looked for a way through and it looked like he couldn't find one, but Veijer was wider than his teammate – leaving them gassing it away from the apex almost in unison and the number 71 very close behind. But the drag to the line wasn't enough and Veijer kept it, taking his first win and first Grand Prix victory for the Netherlands since the 1990 Czech GP!
Sasaki took second on a day that saw so many contenders find bad fortune, but Masia also took a valuable podium and 16 points. The Spaniard is therefore now 13 clear of Sasaki in the title fight, with Alonso and Holgado both now at a deficit of 41 points.
Ortola ultimately came home fourth ahead of David Muñoz (BOE Motorsports), with Adrian Fernandez (Leopard Racing), Xavier Artigas (CFMoto Racing PrüstelGP) and Joel Kelso completing the second group down to P8. Filippo Farioli (Red Bull KTM Tech3) beat Ryusei Yamanaka (Gaviota GASGAS Aspar Team) to ninth, with Bertelle ending up P11 after his involuntary excursion. Öncü impressively got back on and took P12. But not so, with a time penalty equivalent to a Ride Through later given to Muñoz for causing a crash, moving all up a position behind where he'd crossed the line and that just enough to technically keep Öncü in the fight for the crown…
Join us for more Moto3™ action from Qatar to see where the next twist takes us as Masia faces a first match point!