Editorial Note: Most of the video presentation is in Italian, but the interview with Joe Roberts, which begins about 41:58, is done in English.
The 2021 Italtrans Racing Team presented online
 
The 2021 season of Italtrans Racing Team officially begins.
The presentation took place today, Friday 26th February at 6pm, with an online event streamed on Italtrans Racing Team official Facebook and Instagram pages.
An event full of emotions, conducted by the popular Italian reporter Paolo Beltramo, with the special presence of the World Champion Enea Bastianini and his manager Carlo Pernat: an occasion to celebrate the success achieved in 2020 before starting a new season in which Italtrans Racing Team will be the reference team in the intermediate class.
After the extraordinary title got together with Enea, the team is preparing to take part in the MotoGP World Championship for the 12th consecutive season.
Lorenzo Dalla Porta is ready to face his second season in Moto2 after a good debut and the experience gained as Moto3 World Champion in 2019. The Tuscan rider continues his growth and gets on track aiming to be one of the best riders in the category.
Alongside him there is the new entry, the American Joe Roberts. Originally from Malibu, California, the 23-year-old is at his fourth season in Moto2 after the excellent results achieved in 2020 with three pole positions and one podium.
In a few days, exactly on March 2nd-3rd, the team will be in Portimao for two days of testing. Then it will move to Losail for the official test from 19th to 21st. On March 28th will officially start the new season with the Grand Prix of Qatar.
Everything is ready for a new season full of challenges and emotions.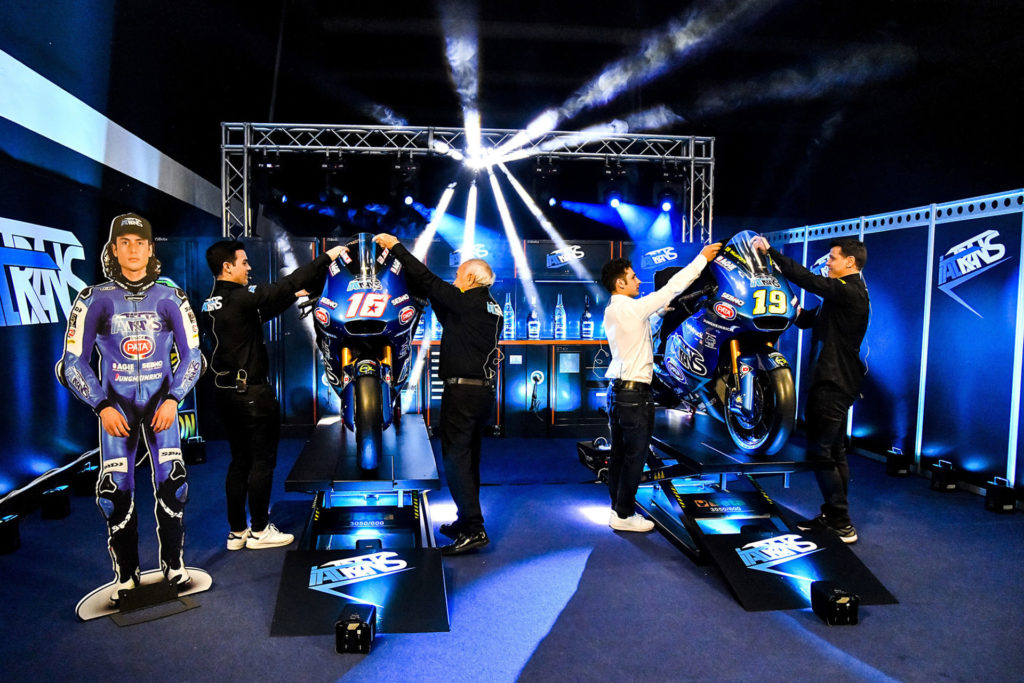 Laura Bertulessi, Italtrans:
"We are getting ready to live this new 2021 after a 2020 marked by the Covid-19 pandemic: despite the many difficulties we had great emotions with the amazing World Title with Enea. We are aware of being in the spotlight because we are World Champions, but for this reason the team is even more motivated: the technical staff led by Giovanni Sandi, together with Lorenzo and Joe, will show all our qualities once again. I would like to take this opportunity to thank all the sponsors who have supported us in a difficult year like 2020 and continue to believe in our project also in this new season: I wish us all a highly competitive and satisfying season".
Giovanni Sandi, Technical Director:
"After last year's success we are ready for this new season. We are very determined and the goal is to repeat the excellent results. I'm confident in Lorenzo's growth as he has taken a further step forward in the latest test. Joe has already shown he has the right skills and now he has to aim for something more. The team is ready to work hard with either".
Lorenzo Dalla Porta #19:
"I'm very happy to continue my experience in Moto2 with Italtrans Racing Team. My season as rookie has been with ups and downs, but the team always supported me. I have been preparing for this new season and I'm ready to start even more motivated. Now let's focus on Portimao's test: I'm confident and I want to do well, showing that I'm a top rider. Thanks to the whole team and to the Bellina family for their trust".
Joe Roberts #16:
"I'm so excited and can't wait to start the season. The feeling with the team and the bike has been so good so far since the first test. I want to thank the Bellina family for trusting in me to represent the team this year. It's going to be an incredible season: I hope to get some amazing results and learn some Italian too!".
Franco Brugnara, Crew Chief:
"We start the season with all eyes on us as World Champions. We have to show our potential again. Last year was the first one for Lorenzo in Moto2: this year we will definitely have more fun. There are two new guys in the team and we know we can work and grow further. We hope for a positive season despite the Covid-19 restrictions".
Federico Sandi, Crew Chief:
"This year I will have a different role with more responsibility and I can't wait to get started. I could count on the experience and help of two key figures like my father Giovanni and Franco. We are a very united team that works hard and we have two strong riders, who can do well and aim for good results. Thanks to the support of Claudio, Germano and Laura we can confirm that we are the best Moto2 team".