American Joe Roberts had a breakout year in 2020. Competing in his third season in the FIM Moto2 World Championship, Roberts claimed three pole positions, one podium finish, and seventh in the final World Championship point standings, signing a contract to replace outgoing 2020 Moto2 World Champion Enea Bastianini at Italtrans Racing and even getting an offer to join the Aprilia Gresini MotoGP team, which he turned down.
"One thing is I haven't won a race in Moto2," said Roberts. "I really believe that being able to win a race gives you something that is an important mental step for a rider. When I look at all the riders in MotoGP, most have all won races or even titles in other categories. That's something I think is really important to know how to do, and I haven't done that yet. I want to put a really solid, consistent year together and at least be fighting for the Championship. I think that was one of the main reasons I decided to stay."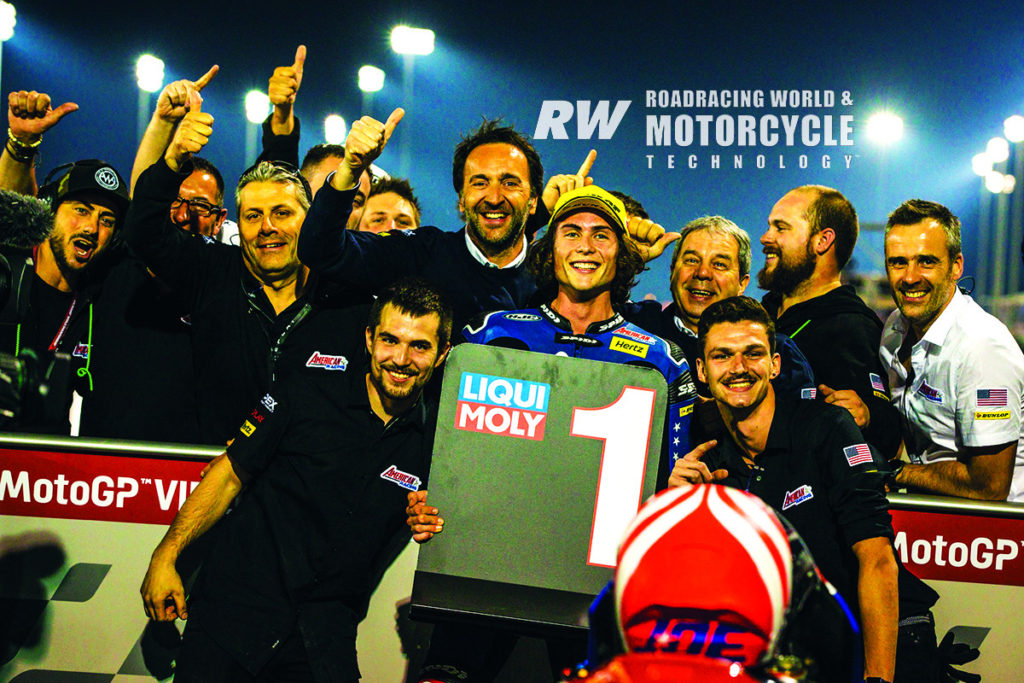 We caught up with Roberts shortly after he returned to his home in Southern California for the first time in five months and talked with him about a recent one-day test on an Italtrans Racing Kalex at Jerez.
Roadracing World: Considering you only had one day, I'm guessing the test was not so much looking at the time sheets as it was focusing on learning the new bike and new team?
Joe Roberts: Well, Jerez is a track where every knows the lap times. We've ridden there in all types of different conditions. We were able to get a good idea of the lap times.
I would say it was super positive and the team was really happy. I was also very happy considering it was my first day with them.
It's pretty awesome to be around a team that's just won the World Championship. Everyone was pretty stoked. There's a high level of confidence within the team, and it's really cool to be around it. It makes me want to win a Championship.
I got on really well with Giovanni Sandi, my technician for next year. He was a multiple World Champion with Max Biaggi and a bunch of other riders. Even Toni Elias asked me if I was working with him, and when I said yes, Toni said if you ever have a chance it's next year. It's sweet.
I also liked working with [Italtrans Sporting Director and former FIM Latin America Superbike Champion] Robertino Pietri. He's such a cool guy. He fits my vibe so well. We both love surfing. We're looking at getting a place together in Portugal in one of the coastal towns. There's a lot of places there for surfing and riding enduro.
Everyone seemed super stoked at the test and confident about next season. That's always a nice feeling to have, especially being an American coming into an Italian team.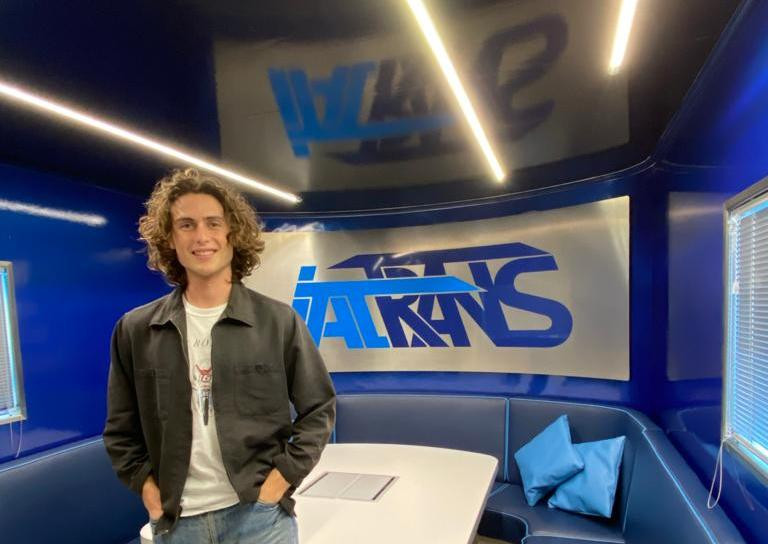 RW: Was their bike much different than the bike you rode this year?
JR: I would say so, yeah. I felt the whole bike, the whole package was something I was looking for. From the first lap on the bike I felt something different. I set my best-ever lap around Jerez, so I definitely think it's positive.
RW: And next year you will be riding on the same chassis in back-to-back seasons for the first time in your Moto2 career, right?
JR: Yes, and that is something that I feel caused me and the [American Racing] team to struggle to be consistent. It was the first year American Racing Team had the new Triumph Kalex chassis, and some tracks we went to we had no data. At some tracks you need special settings from your experience there to have it right for the first session.
And if you have a bad start to the first day in Moto2 it's really hard to come back and be strong the whole weekend. I had it maybe a couple of times this year. At Catalunya we had a really good comeback, but we had to work super hard and figure out things. So, it's not always easy to comeback when you've not started on the right foot.
Going into next season, the Italtrans team has had a lot of experience with the Kalex chassis. I now have a whole season on the Kalex chassis, so I kind of know what to expect going into some tracks. It's not going to be easy next year. Moto2 is never easy, but I feel I have a good chance to win races.
RW: Based on what you saw at Jerez, how does your riding style compare with Enea Bastianini's style?
JR: Obviously, I have my style, and the team recognizes that a bike needs to be set up for a rider, their style, their way of working. If you look at the history of the team, Mattia Pasini rode for them and he has the front brake on the left handlebar and a riding style that just works for him. From my experience riding with him I know his lines are very different.
This team has had to work with several different riders and find their way of working. They've assured me that they will adjust the bike to make it work for me.
Obviously, they have certain ways of working and philosophies that they take, which I'm excited to see and to try. Judging by the first day I see it as a positive.
RW: It's crazy to think that there are still teams out there that are set in their ways and no matter what rider sits on their bike, they say, 'No, no. We know what is best for our bike. You have to ride the bike like this.'
JR: I can tell you from first-hand experience I've had that a lot in my career. If I can credit my crew chief this year, Lucio Nicastro, he's done a great job of believing what I have to say and really understanding my riding style and adapting it to the bike.
I remember him saying a couple of times this year, 'The way I'm setting up the bike it shouldn't work.' (laughs)
I even remember riding for John Ulrich's Team Hammer back in 2013, when I rode the Honda CBR600RR. I got on really well with that Honda the first year. I remember them giving my setting to Dane [Westby] and Benny [Solis, Jr.], and they were like, 'What is this shit?' (laughs)
I definitely have a certain style, but I'm also not opposed to trying other ways. If it works, it works. If it's fast, why stop it?
Editorial Note: Read more from our interview with Roberts in an upcoming issue of Roadracing World & Motorcycle Technology magazine.