It takes more than talent to be successful at the highest levels of World Championship motorcycle road racing, and nobody knows better than American Joe Roberts.
Despite a racing resume that spoke to his undeniable talent as a rider, Roberts found himself struggling to succeed during the 2018 and 2019 FIM Moto2 World Championships.
In 2018 Roberts rode an NTS chassis using the Honda CBR600RR-based inline four-cylinder engine. For 2019, everyone in Moto2 had to switch to the new official Triumph inline three-cylinder engines. Roberts ended up on a KTM chassis, which didn't suit him at all. Despite his best efforts, Roberts struggled to get meaningful results in 2018 or 2019, and as a result, lost confidence.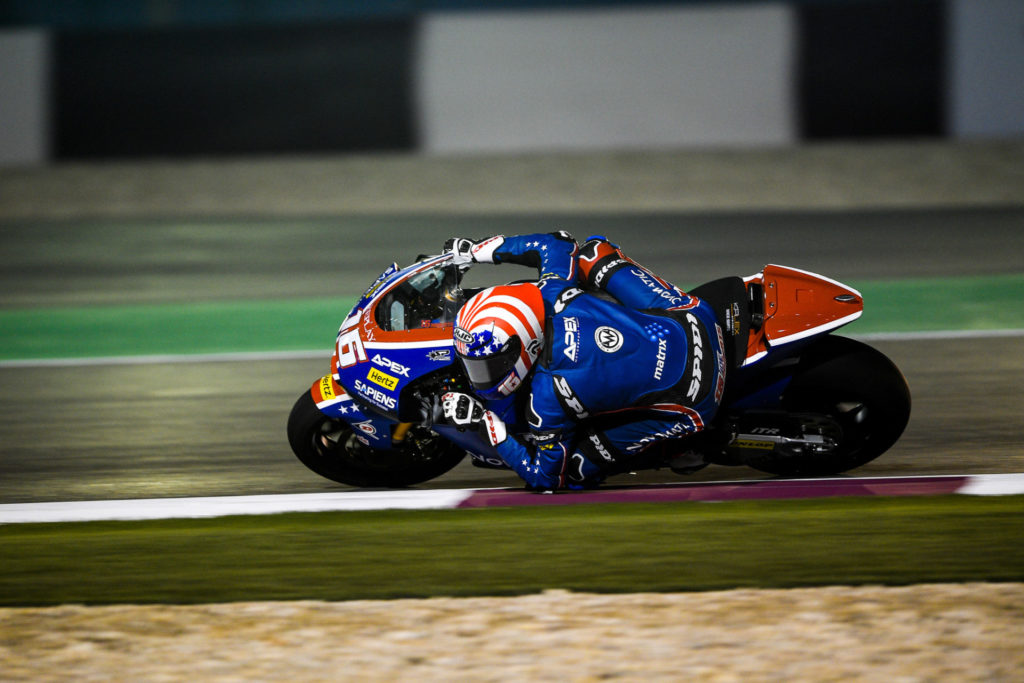 "I think after two hard seasons at the world level you start to doubt yourself and wonder if you're even good enough to be there," Roberts told Roadracingworld.com in a telephone interview. "I was unsure if it was me or the bike. I had never ridden anything else but the bikes that I was on, so it's hard to know if it's you or the bike. Then people say it's you, and you start thinking it's you, and your head starts to get spun up."
When the 2019 season ended, instead of kicking Roberts to the curb, American Racing Team owner Eitan Butbul doubled down on his young American rider and decided he would give Roberts every chance to fulfill his potential.
First, Butbul switched his team from KTM to the popular and proven Kalex chassis; hired a new crew chief for Roberts, Lucio Nicastro (a former crew chief for Chaz Davies and Sam Lowes); and started looking for a rider coach.
"My team owner always believed in me and always wanted to try to get the best people," said Roberts. "I always wanted some guy to come on board to try and help with the riding aspect; just to have somebody there that I could speak to. Somebody who could go out on the track and watch and I could really trust what they're saying, somebody who knew the process of being an American rider at the world level."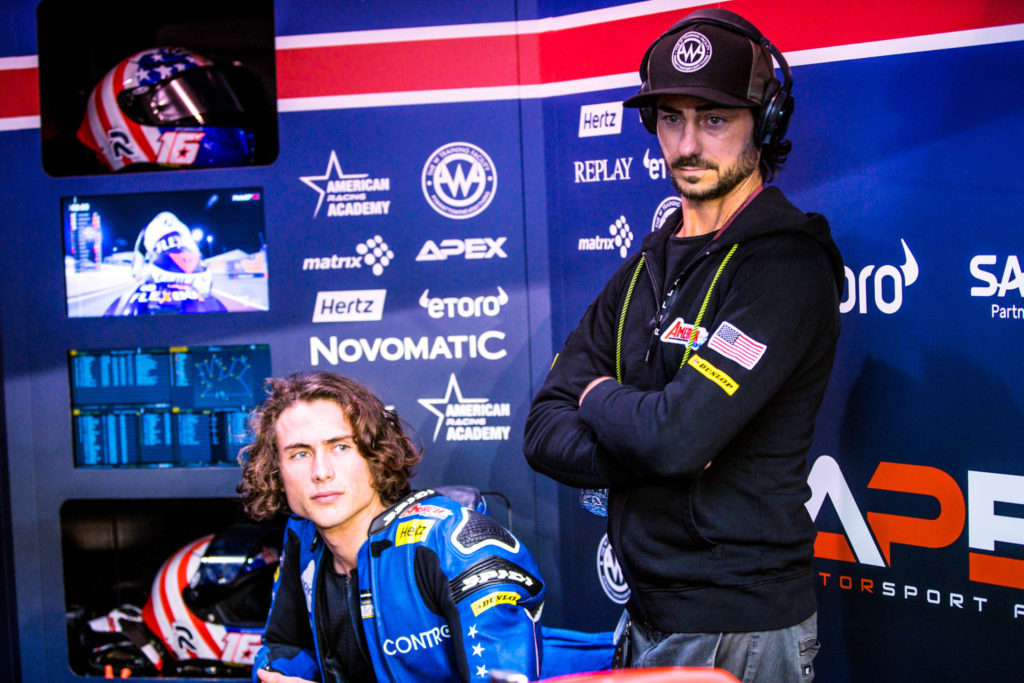 Enter John Hopkins, the Anglo-American who went straight from racing — and winning – in AMA Supersport and Formula Xtreme classes to joining the MotoGP World Championship on a Yamaha YZR500 two-stroke at the age of 18. In spite of racing against more powerful four-stroke 990cc machines, Hopkins scored 58 points and finished 15th during his rookie season in the 2002 MotoGP World Championship.
That propelled him into a seven-year career in MotoGP (including five years as a factory Suzuki rider) during which he earned one pole position, two fastest race laps, and four podium finishes. He placed a career-best fourth in the 2007 MotoGP World Championship, finishing behind World Champion Casey Stoner, runner-up Dani Pedrosa, and third-place Valentino Rossi.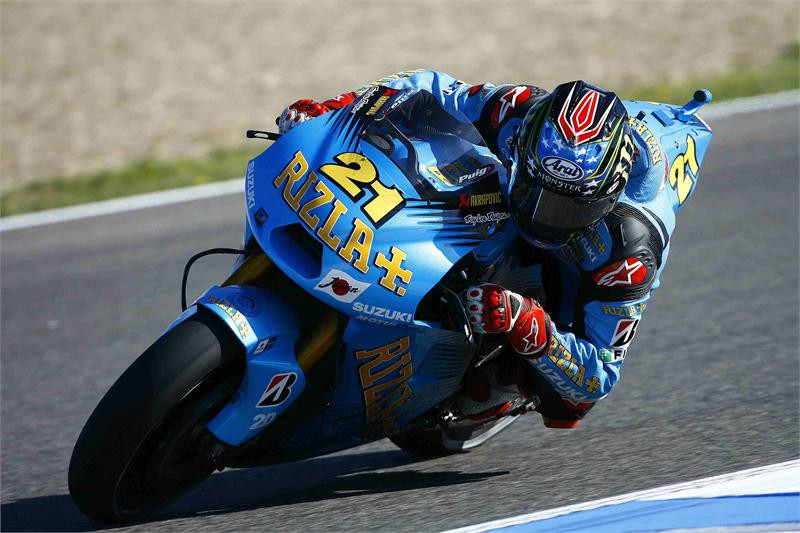 Following that, Hopkins raced in the FIM Superbike World Championship, the AMA Superbike Championship, and the British Superbike Championship. Hopkins finished on the AMA Superbike podium three times (on an M4 Monster Energy Suzuki fielded by Team Hammer) in an injury-plagued 2010, one season before he finished a close second in the British Superbike Championship.
Hopkins last raced in 2017 in the British Superbike Championship, where he took two podium finishes on a Ducati Panigale R V-Twin before an injury cut his season short and inhibited him from finding a ride the following year.
"John had been following me on Instagram and had always been saying nice things and he always seemed quite positive even when I was getting bad results," said Roberts. "Then it hit me: Why don't we get John on board? I felt like it could be good to have him there."
The connection was made through The W Training Facility, owned by Johnny Louch, Hopkins' friend and longtime trainer, and after phone calls and meetings between Butbul and Hopkins, the deal was done.
"With Moto2 being such a competitive class Eitan didn't want to leave any stones unturned. He wanted to do everything he possibly could to give Joe and the team the most competitive package," Hopkins told Roadracingworld.com. "I hadn't had the pleasure of getting to know Joe until this last winter. I didn't know anything about his riding or his skill, so I had no point of reference or where he needed to improve or anything.
"I started going out to watch him at the Supermoto track, riding flat track and doing all the different forms of cross-training you do throughout the winter. Before this I had people asking me if Joe had what it took, and I honestly didn't know. But once I saw him on a dirt track bike, on the Supermoto bike, on the mini-bikes, I immediately knew talent wasn't an issue whatsoever.
"After that, we started chatting about what he thought were his strengths and his weaknesses on the bike. Everything he was saying — like being really strong on the brakes and at the apex, but struggling sometimes with his corner exits — were all things that I had to deal with and overcome during my career.
"There were some different exercises and drills we started to do on the Supermoto bike and the dirt track bike all through the winter to help him improve, and there was an instant improvement every time I suggested something."
When Roberts arrived at the official Moto2 pre-season test February 19-21 at Jerez, some of the other riders had been there for two days already, but Roberts immediately got up to speed on his new Kalex. In one session he was fifth, he was 10th on the time sheets at the end of Day Two, and ended up 19th out of 29 riders – 0.975-second off the fastest time — when all of the results from the three days were combined.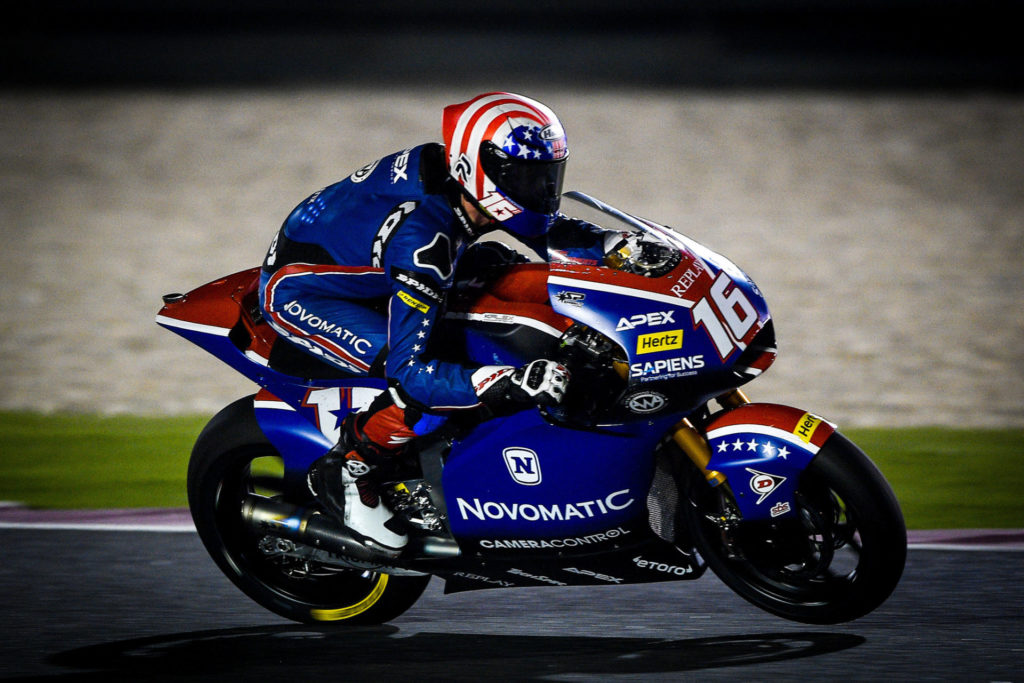 Roberts then rolled into the final pre-season test February 28-March 1 at Losail International Circuit in Qatar, one week before the season opener and moved up to ninth on the overall time sheet and 0.546-second behind the fastest rider.
The 22-year-old American built on that again during the race weekend in Qatar, earning the first World Championship pole position by an American in 10 years and then racing for the lead until he eventually finished fourth. His best race finish prior to that was 10th, which he did at Brno in his Moto2 debut race, and his average finishing position in 2019 was 20th.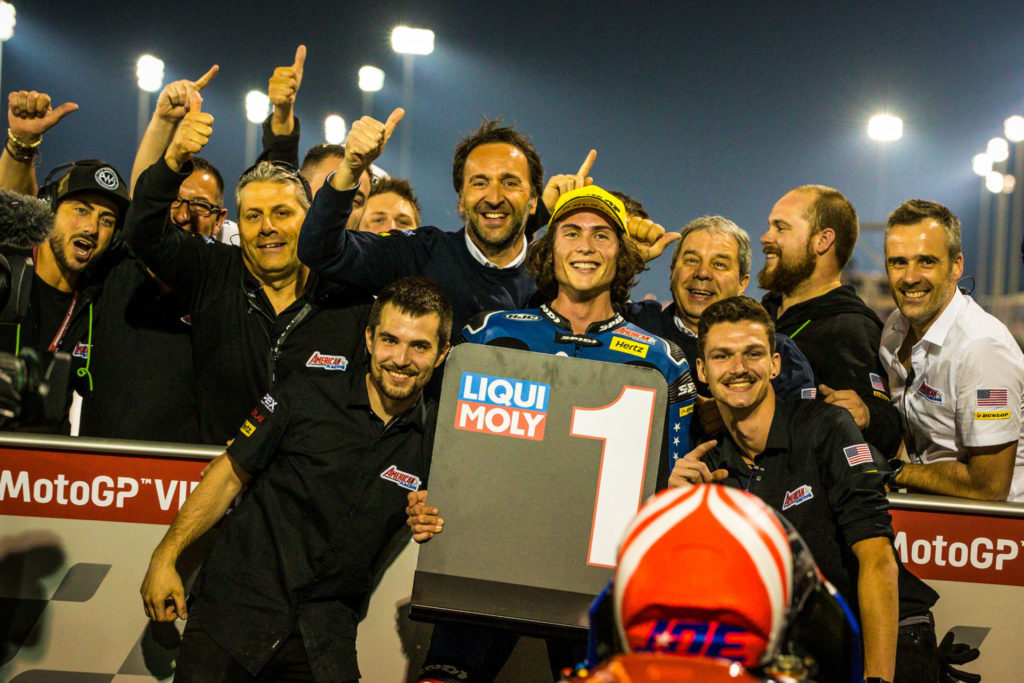 Hopkins said the results during testing and the race weekend in Qatar were the combination of a lot of different elements working well together.
"I would watch Joe out on track, watch the others, shoot some video, study the lines, but I would also try to put myself mentally on the bike," said Hopkins. "You can see when they're pushing the front or running wide in the corners. You can see chatter. These are things as a racer you can see and point out to the crew chief.
"Qatar is a really special track with its set-up and everything. You really have to set up the bike for the long, really fast, flowing corners differently than you do for almost any other track. There were special things we did to the bike when I went there in my MotoGP days that helped me tremendously. We lengthened the bike more than we did at any other circuit. We also lowered the center of gravity to help stabilize the bike in the faster corners.
"The good thing with this and why it works so well with myself and the team and Joe is because Joe's crew chief has been amazing so far. He's so open to suggestions. Every time he made a change to the bike he would ask me about it, and I would give him my advice.
"I'm not going to lie. I don't know anything about preload and this and that. I'm not a crew chief. That was never my job. My job was to feel what was going on underneath me and relay that over to my crew chief. It's obviously their job to work on the bike and change it to make it feel like the rider wants it.
"I think that's a very good system to have. I think when you have a rider who knows too much and is always looking for the perfect set-up on a bike they're concentrated more on getting this perfect bike underneath them than actually going out and making the most with what they have. This is a problem with some racers.
"For Joe, with the way that he works and being so open to suggestions, it's a really good system he's got going."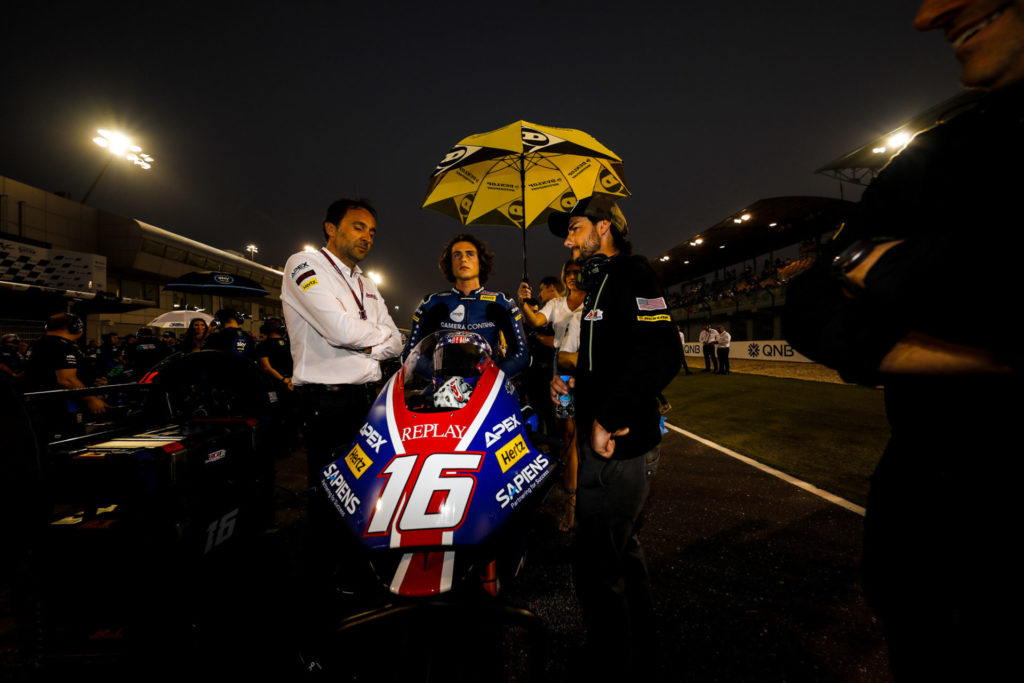 Through all of this, however, Hopkins feels the biggest difference in Roberts' performance so far in 2020 has been simply restoring his confidence in his own ability.
"Joe's been really hard on himself," said Hopkins. "That was his biggest concern going into this year. He didn't want to get back on the bike and instantly have similar things happen to him that happened last year.
"I said, 'What happened last year is gone. Look at all the positives you have: You've got a new chassis, a new crew chief that you're getting along with really well, and you're putting in all of the work you possibly can.' And it was just a snowball effect in building up his confidence and getting him into a high going into the beginning of this year. Fortunately, that kept accumulating and growing from Jerez to Qatar. He's on a high right now as far as confidence goes.
"In my personal opinion, confidence is the most important element that you can possibly have in racing. I think that's why you see Marc Marquez always so strong. Obviously, he's talented, but when you're a racer who is confident, you can be out there riding on the limit, tucking the front and almost crashing three or four times in a lap and it doesn't even phase you. Those are some of the greatest moments as a racer. The trick is to keep that confidence on a high, and that's what we intend to do with Joe."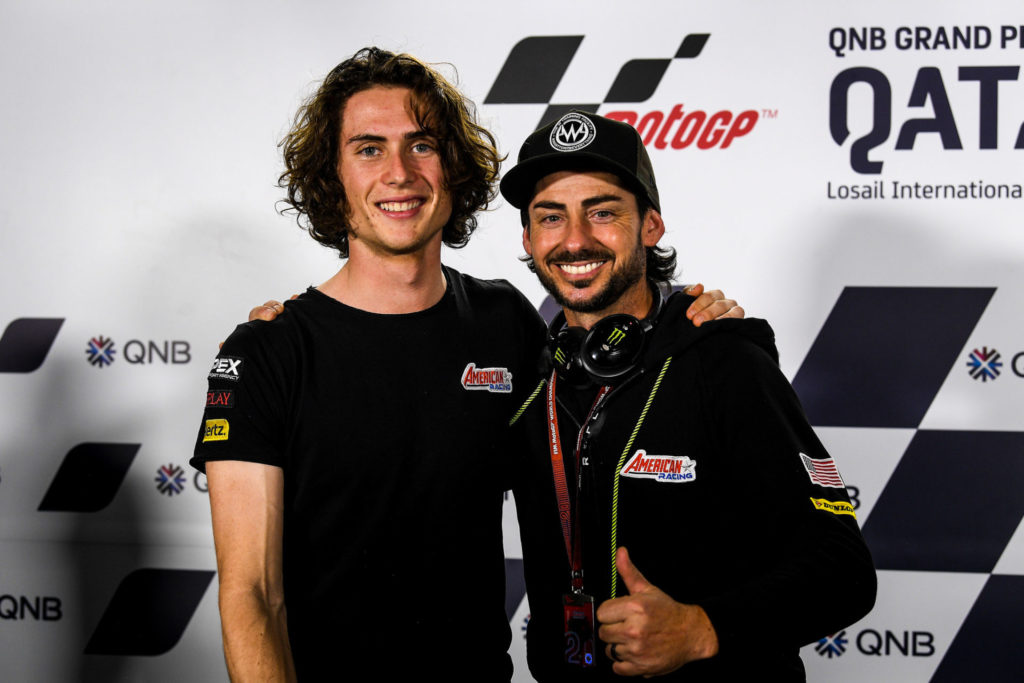 Asked what his personal feelings were like coming away from the race in Qatar, Hopkins said, "Honestly, I almost felt better about it than I ever did actually racing myself. It was really, really rewarding, extremely rewarding. Joe's on top of the bike and he's the one making it happen at the end of the day, and I'm just showing him that he has what it takes and helping him get to his true potential.
"Yeah, I find it hugely rewarding. Without the help that I got through my early childhood in mini road racing and from Al Lyons [R.I.P.] and during my teenage years with John Ulrich and the other people who helped me there's no way I ever would have made it as a professional racer. So, to be able to give back and help out I find it really rewarding."
And as further evidence of the cohesiveness within Roberts' pit box, the young Californian says all of the attention Hopkins has been getting for their success is absolutely deserved.
"I told John, 'I know the media has been praising you, and I want you to know that it's actually true.' I really do believe it," Roberts said. "Yeah, I give a lot of credit to John. I also give a lot of credit to my crew chief for being willing to take advice from John. Everyone being able to chill and let it flow is the main thing. There's no tension building up. Everyone's happy to listen to each other.
"A lot of things have to work well to do well, I think. That's my experience over the past few years. You have to have everything working well to do well, and we have that right now. I just really hope we can start racing again soon. I really do. Because it could be a really good year."