Moto2 All-Time Lap Record: 1:58.421, Joe Roberts, 2020
Moto2 Race Lap Record: 1:58.711, Thomas Luthi, 2019
FIM Moto2 World Championship 
Losail International Circuit
Doha, Qatar
March 8, 2020
Race Results (all using Triumph engines and Dunlop tires):
Tetsuta Nagashima, Japan (Kalex), 20 laps, 67 miles, 40:00.192, 100.232 mph
Lorenzo Baldassarri, Italy (Kalex), -1.347 seconds
Enea Bastianini, Italy (Kalex), -1.428
Joe Roberts, USA (Kalex), -1.559
Remy Gardner, Australia (Kalex), -1.901
Jorge Navarro, Spain (Speed Up), -2.381
Marcel Schrotter, Germany (Kalex), -4.490
Aron Canet, Spain (Speed Up), -4.703
Xavi Vierge, Spain (Kalex), -7.118
Thomas Luthi, Switzerland (Kalex), -8.904
Bo Bendsneyder, Netherlands (NTS), -9.730
Marco Bezzecchi, Italy (Kalex), -11.410
Fabio Di Giannantonio, Italy (Speed Up), -12.701
Jake Dixon, UK (Kalex), -12.717
Stefano Manzi, Italy (MV Agusta), -16.208
Edgar Pons, Spain (Kalex), -16.256
Hector Garzo, Spain (Kalex), -16.869
Nicolo Bulega, Italy (Kalex),-16.932
Hafizh Syahrin, Malaysia (Speed Up),-19.639
Jorge Martin, Spain (Kalex), -20.662
Simone Corsi, Italy (MV Agusta), -27.291
Andi Farid Izdihar, Indonesia (Kalex), -34.514
Jesko Raffin, Switzerland (NTS), -34.664
Lorenzo Dalla Porta, Italy (Kalex), -45.850
Somkiat Chantra, Thailand (Kalex), -1 lap
Luca Marini, Italy (Kalex), -1 lap, DNF, crash
Kasma Daniel Kasmayu, Malaysia (Kalex), -12 laps, DNF, crash
Augusto Fernandez, Spain (Kalex), -18 laps, DNF, crash
Marcos Ramirez, Spain (Kalex), -19 laps, DNF, crash
More, from a press release issued by Dorna:
Nagashima takes emotional first win with a stunning ride to victory in Qatar
The Japanese rider pays tribute to his friend Shoya Tomizawa – the winner in 2010 – as he takes his first victory
Sunday, 08 March 2020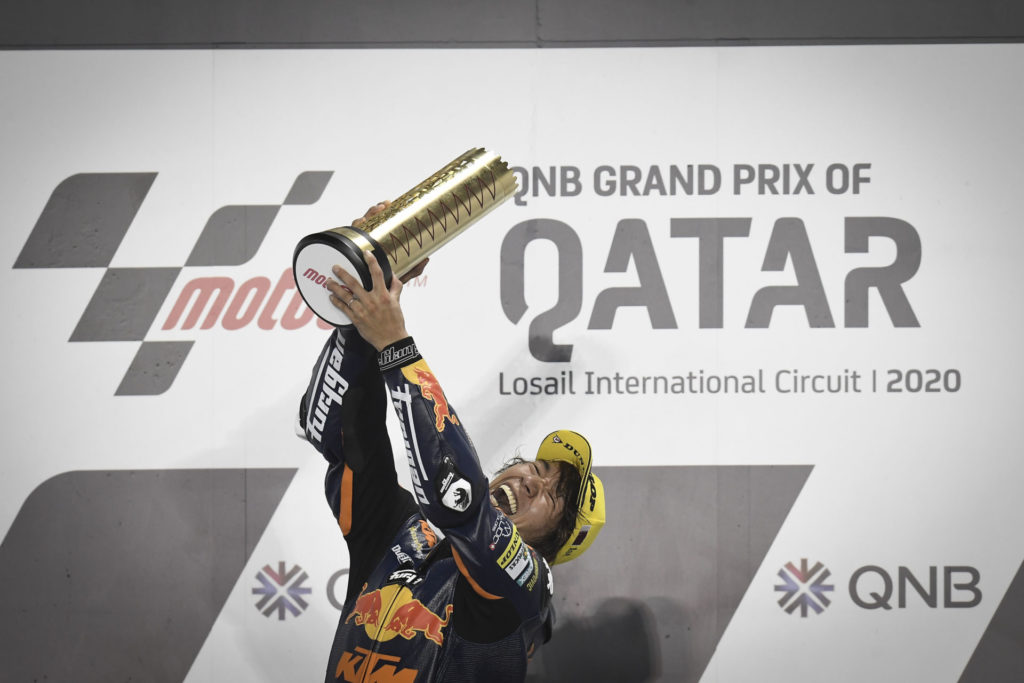 Tetsuta Nagashima (Red Bull KTM Ajo) blew the competition away in the final stages of a top class Moto2™ race at the QNB Grand Prix of Qatar, claiming his first Grand Prix victory in style – 10 years on from late friend Shoya Tomizawa's first Moto2™ win at the same track. 2019 Qatar GP winner Lorenzo Baldassarri (FlexBox HP 40) claimed P2, battling it out with Enea Bastianini (Italtrans Racing Team) to the end as the 'Beast' picked up his second intermediate class rostrum in third.
It was Luca Marini (Sky Racing Team VR46) who took the holeshot from second on the grid, the Italian quickest off the mark as polesitter Joe Roberts (American Racing) slipped back to third, Bastianini also attacking the American to make it an Italian 1-2. The number 33 didn't take long to attack for the lead either, with the two duelling as Roberts then came under pressure for third from Jorge Martin (Red Bull KTM Ajo).
The star of the mid-part of the race was about to take over at the front, however, as Marini moved for the lead and began to push to make a gap. But Roberts was up into second and the closest challenger for some time, with the group behind then descending into varying levels of chaos and genius as the moves came thick and fast.
Lap 6 then saw Roberts go for an overtake at Turn 1 but the American ran wide, handing the position back to Marini. By Lap 8, just a second and a half split the top eight, with Bastianini, Baldassarri, Xavi Vierge (Petronas Sprinta Racing), Marco Bezzecchi (Sky Racing Team VR46) and Warm Up pacesetter Nagashima setting similar lap times. However, Marini then started to stretch the field, taking just under half a second out of second place Roberts on Lap 9 and 10 and on Lap 11, the gap was up to 0.9 seconds as another personal best lap was slammed in by the SKY VR46 rider. Could anyone respond?
By Lap 12, the gap was back down to six tenths and Nagashima was starting to look a serious threat in P5 having gone over half a second quicker than Marini that lap. With eight to go the Japanese rider was up to P4 past Bastianini, sat just over a second behind race leader Marini, and the Moto2™ race in Qatar was shaping up nicely as the battle entered the final seven laps…
Beta Tools Speed Up's  Jorge Navarro was starting to reel the leaders in too. Just as he did for much of 2019, the Spaniard was coming into his own on used tyres and with little over five laps remaining, a mistake from Marini allowed the leading six to bunch up and Roberts led. Bastianini then snatched the baton with five to go, and suddenly it looked like it was game over for Marini as he began to plummet. The leading four were now Baldassarri, Bastianini, Roberts and Nagashima with four to go, and the Japanese rider was looking ominous in his mission to the front. The Ajo rider first picked off Roberts for P3 before taking control of the race at Turn 2 with three to go – and immediately starting to creep away..
The number 45 had three tenths in his pocket as the race entered the final two laps, with the battle for the remaining podium places starting to heat up. Remy Gardner (Onexox TKKR SAG Team) was latching onto the back of Navarro as five riders scrapped it out behind Nagashima, who – by the time he'd clocked onto the final lap – was over then a second clear. Simply stunning latter race pace for the Japanese rider made victory suddenly seem a done deal, and Nagashima would make no mistake on the final lap to take an emotional first Grand Prix victory – 10 years since Tomizawa, who was "like a brother" to him, made history in 2010.
Behind him, it was a close but clean fight to the flag. Baldassarri and Bastianini battled it out with some brutality to decide the podium, crossing the line with almost nothing to split them, as Roberts took his best Grand Prix finish in fourth after an impressive weekend – including going fastest on Friday and taking pole. Fifth went the way of Gardner after the Australian made up some impressive ground in the latter stages, ahead of Navarro, who was forced to settle for sixth.
Marcel Schrötter (Liqui Moly Intact GP) took seventh after a solid performance on race day, with Aron Canet (Aspar Team) once again the fastest rookie and once again doing plenty to impress as he debuted in the intermediate class in P8. Xavi Vierge and Tom Lüthi (Liqui Moly Intact GP) completed the top ten.
Bo Bendsneyder (NTW RW Racing GP) slipped back from his second row qualifying on Sunday, but nevertheless brought home a good haul of points in P11, ahead of Marco Bezzecchi by the flag. Fabio Di Giannantonio (Beta Tools Speed Up) was 13th, just beating Jake Dixon (Petronas Sprinta Racing) to the line by 0.016. The Brit was involved in the late race incident that put paid to Marini's chance at points too as the two got a little close and the Italian crashed out, rider ok. Stefano Manzi (MV Agusta Forward Racing) therefore completed the points.
That's it from the Moto2™ season opener at Losail International Circuit, with plenty of drama and action to tide us over until the next race. After his emotional and stunning win, Nagashima heads the standings for the first time in his career – can he retain that next time out?
Tetsuta Nagashima: "It's like I'm in a dream. Yesterday in qualifying I made a small mistake and my grid position wasn't perfect, and from the beginning I hard to push hard, I thought about nothing else. Last year I was close to the podium but I didn't get there, so I forgot everything else. Win or crash!
"Shoya was like a brother to me. When I started racing we were always together and he taught me a lot. I remember it well when he won the race here. My first time winning is unbelievable, thank you to Shoya, my family and my team. I'm very happy."
Arenas fights off McPhee to take KTM's 100th win
Half a tenth decides the first Moto3™ melee of the season as Spain vs Scotland goes to the wire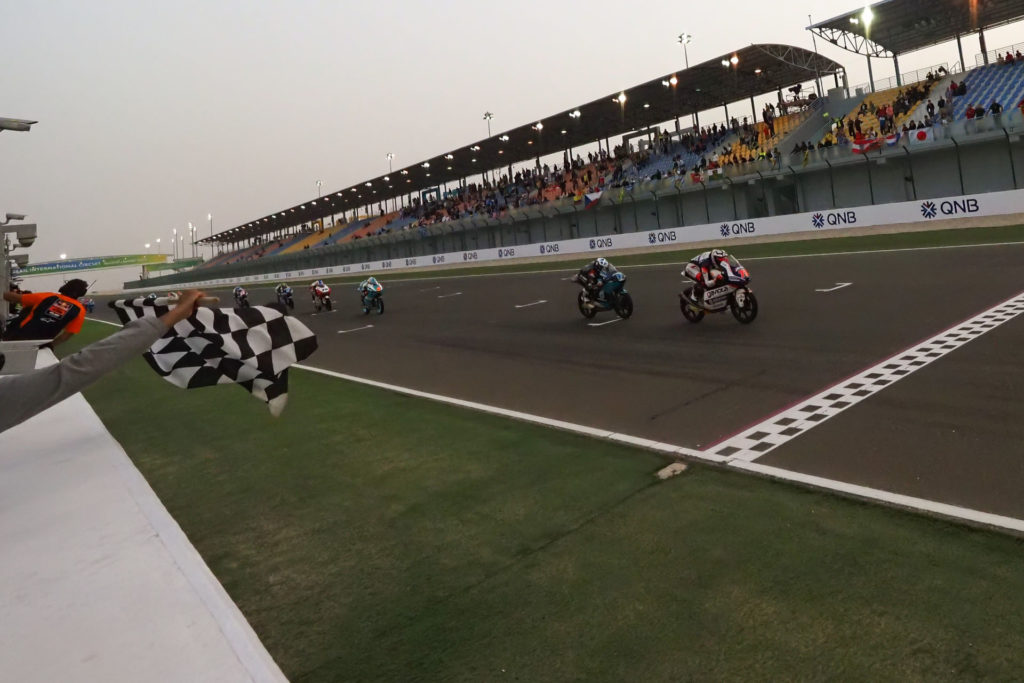 Albert Arenas (Aspar Team Gaviota) played his cards to perfection in the QNB Grand Prix of Qatar to take KTM's 100th victory in Grand Prix racing, outlasting a last gasp attack from John McPhee (Petronas Sprinta Racing) as the two veterans duelled it out on the drag to the line and ended the race split by only 0.053. Ai Ogura (Honda Team Asia) completed the top three to take his second podium, crossing the line in fourth but promoted a position as Jaume Masia (Leopard Racing) exceeded track limits on the final lap and was penalised.
Tatsuki Suzuki (SIC58 Squadra Corse) took the holeshot from pole and it was initially a case of as you were from the front row round the first few corners, until Arenas attacked Raul Fernandez (Red Bull KTM Ajo) to take over in second. But as ever in Moto3™, nothing stays the same for very long at all and the chopping and changing began.
Soon enough, Arenas took over at the front of the freight train and there he would ultimately stay, although it was far from easy going as the group would concertina from five riders to 11 to 20 and then back, with plenty of impressive performers making their mark on the battle. But Arenas, although not always leading, looked very much in control as he consistently remained in the lead or right next to it.
With a few laps to go, McPhee started making his moves. The Brit picked his way through to the top three and then further; his tactics having been to wait it out and then strike. And that he did, almost to perfection as the last lap saw him and Arenas able to pull a few metres clear – just enough to ensure it was a duel to the line.
The Spaniard exited the final corner ahead, with the Scotsman in the slipstream and gaining metre by metre, starting to move to the side… it wasn't quite enough, however, and as the two neared the line Arenas was still in the driving seat, taking his fourth Grand Prix victory by just 0.053.
Behind McPhee, the next man across the line was Masia but after exceeding track limits on the final lap, the Spaniard was penalised with a one-position drop – putting Ai Ogura onto the podium. The Japanese rider visited the rostrum as a rookie once last year, but he converted his incredible preseason pace into a second chance to stand on the box, and first time out as a sophomore.
Masia was therefore classified fourth, ahead of polesitter Tatsuki Suzuki. Gabriel Rodrigo (Kömmerling Gresini Moto3) was classified sixth after fighting for the win late on, another to fall foul of track limits, with the same true of the man taking seventh: his teammate Jeremy Alcoba. The reigning FIM Moto3™ Junior World Champion was nevertheless the top rookie though.
Filip Salač (Rivacold Snipers Team), the fastest man overall at the Qatar Test, took eighth and his second best result in Grand Prix racing, with Dennis Foggia (Leopard Racing) in P9 after an impressive ride into top contention at times – from 19th in qualifying. Raul Fernandez completed the top ten, another to get demoted a position due to track limits.
Sergio Garcia (Estrella Galicia 0,0) ended up in 11th despite threatening for the lead earlier in the race, ahead of rookie Deniz Öncü (Red Bull KTM Tech 3), another who faded slightly by the latter stages. Alonso Lopez (Sterilgarda Max Racing Team) scored Husqvarna's first points of the year as they return to Grand Prix racing, the Spaniard taking 13th, with 2019 Qatar winner Kaito Toba and Tony Arbolino (Rivacold Snipers Team) completing the points. Arbolino was another penalised a position for last lap track limits.
One key player in the race ultimately missing from the results is Darryn Binder (CIP Green Power) as the South African put in a storming performance at the front, only to see his GP end early after he and Arbolino made contact into Turn 1. Celestino Vietti (Sky Racing Team VR46) also crashed, in his case after an incident with Alcoba at Turn 10, but the Italian was able to finish the race.
That's it from yet another Moto3™ classic to get the season in gear, with Arenas putting his name down in the KTM history books and the Austrian factory hitting a milestone. What will Round 2 bring? The lightweight class will show us soon enough…