Copyright 2022, Roadracing World Publishing, Inc.
By Michael Gougis
Luca Marini set the fastest time at the traditional post-season MotoGP test at Circuito Ricardo Tormo, clicking off a 1:30.032 lap toward the end of a day that saw most of the MotoGP teams  trying out new equipment for 2023 in an attempt to prevent a repeat of the Ducati dominance of 2022.
On his Mooney VR46 Racing Team Ducati GP21, Marini went fastest on the 70th of the 76 laps he turned around the 2.5-mile circuit in Cheste near Valencia, and he was faster than he had gone in qualifying for the race. It was not a complete shock, as the track was well rubbered-in from three days of racing and a full morning of testing, and Marini had no new components to evaluate. The team simply focused on optimizing its racebikes from the previous weekend and gave Marini seat time.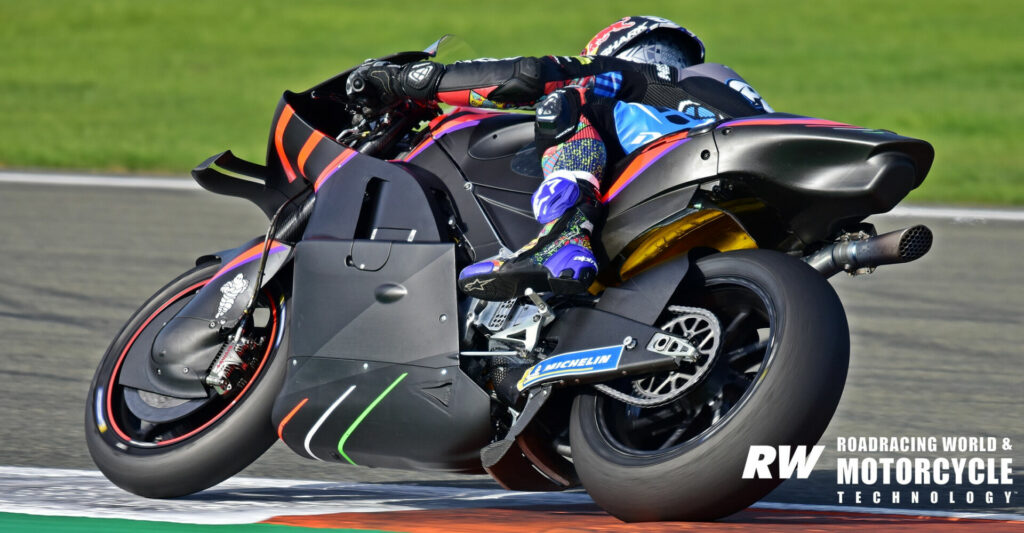 Marini was 0.225-second quicker than Aprilia's Maverick Vinales, who edged Marini's teammate Marco Bezzecchi by another 0.005-second. Fourth-quickest was Miguel Oliveira, the fastest of those riders who had switched manufacturers for 2023, who put on a soft rear tire and blazed to a 1:30.367 right at the end of his track time.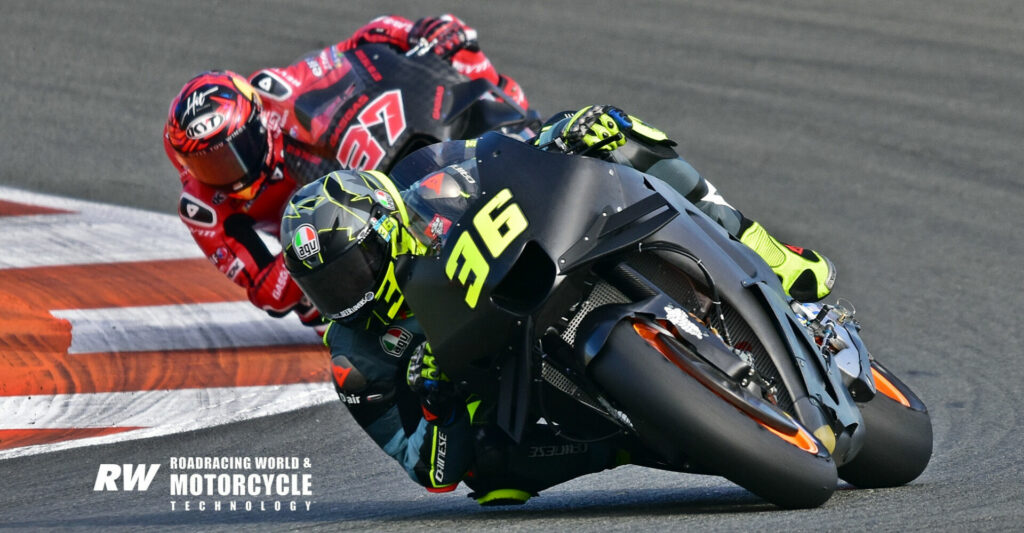 The regulations for MotoGP are essentially unchanged for 2023. The biggest change is that front "shape-shifting" hydraulics are banned, although launch-control devices remain legal. And that means little in the way of revolutionary ideas, at least in the machines shown at Valencia. Instead, teams, factories, and riders are refining existing components and configurations, looking for the smallest of improvements.
There were lots of refined components in evidence, as the aero wars continued unabated among all of the factories. Honda, KTM, and Yamaha also were evaluating entirely new and major components in an attempt to address their shortcomings. What they found, however, was not entirely what they were looking for, leaving engineers lots of work to do before the next test in Sepang.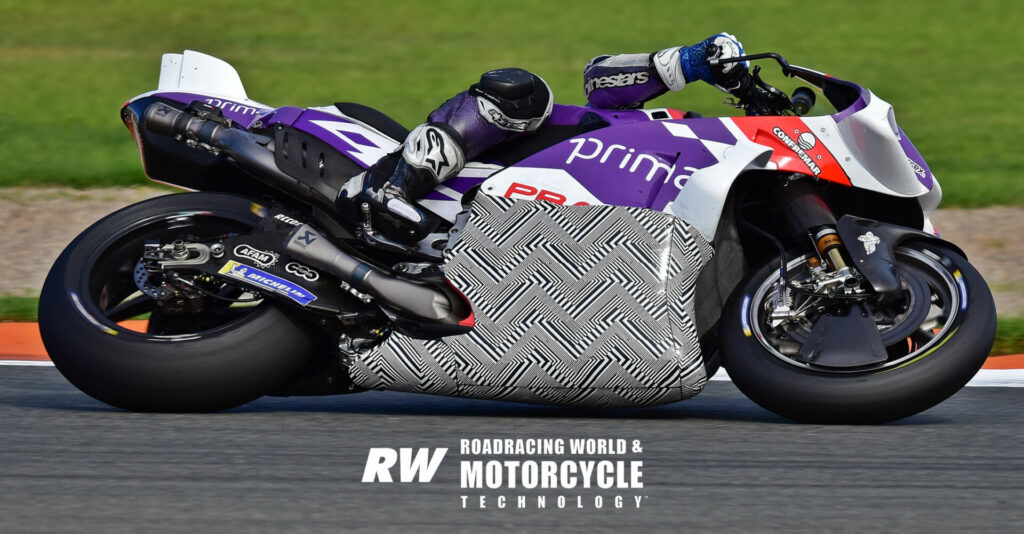 Ducati tested new aero components, including a narrower fairing upper and a smooth, bulged fairing lower that did away with the radical ducting that removes air from the forward lower section of the fairing and displaces it into the centerline of the vehicle below the belly pan. The fairing lower, an interpretation of a design introduced by Aprilia mid-season, was seen first on Johann Zarco's Prima Pramac satellite machine, but was also tested by 2022 MotoGP World Champion Francesco Bagnaia.
With the stunning performance of the GP22 and updated GP21 machines throughout the season, Ducati brought out little else for the first test. But aero has become utterly critical in contemporary MotoGP, and the right design affects not just overall performance but the rider's ability to operate the machine. Over the race weekend prior to the test, Jorge Martin was asked what had contributed to his recent uptick in form–Martin had just earned his third pole position in a row–and he gave credit to a revised fairing that made the bike easier to turn.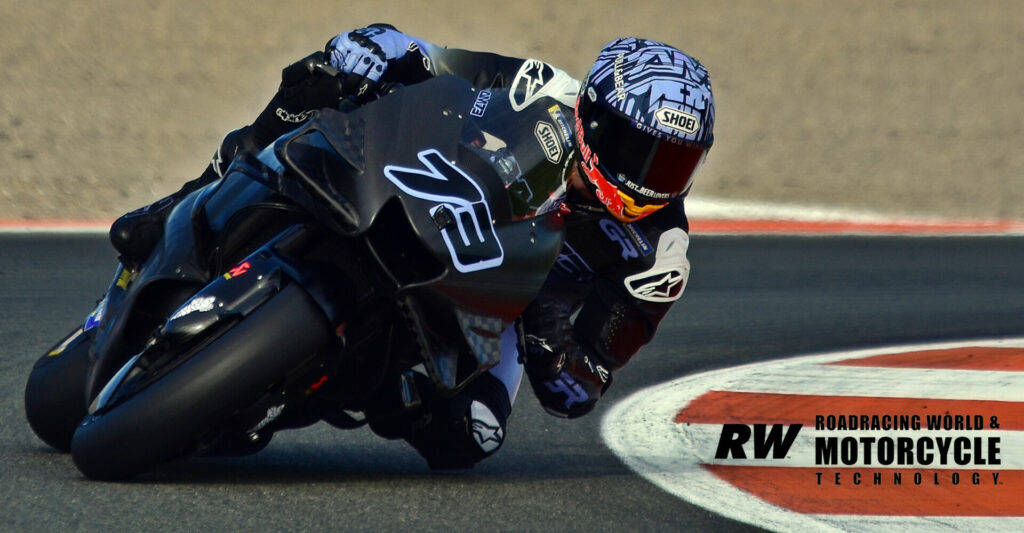 Ducati absolutely ruled the top speed category during the test. Bagnaia was fastest, his bike reaching 335.4 kph (208.407 mph) in the speed traps at the end of the straight. That's impressive, given that the turn leading onto the straight is a tight left-hander. Five other Ducati riders–Marini, Bezzecchi, Enea Bastianini, Zarco and Alex Marquez–were tied for second fastest at 332.1 kph (206.357 mph), matched only by Marc Marquez on his Honda RC213V.
Honda had high hopes for a revised chassis, but at the end of the day Repsol Honda Team Manager Alberto Puig and Marquez were less than impressed. Honda had started 2022 with a new chassis aimed at increasing rear grip and acceleration, but it had come at the expense of front-end feel, especially under braking. Despite the new, latest chassis he tried, Marquez said he was still looking for more feel at the end of the braking zone–the exact same thing he said at the post-season test in Valencia in 2019. "We expected a bigger step," Puig said.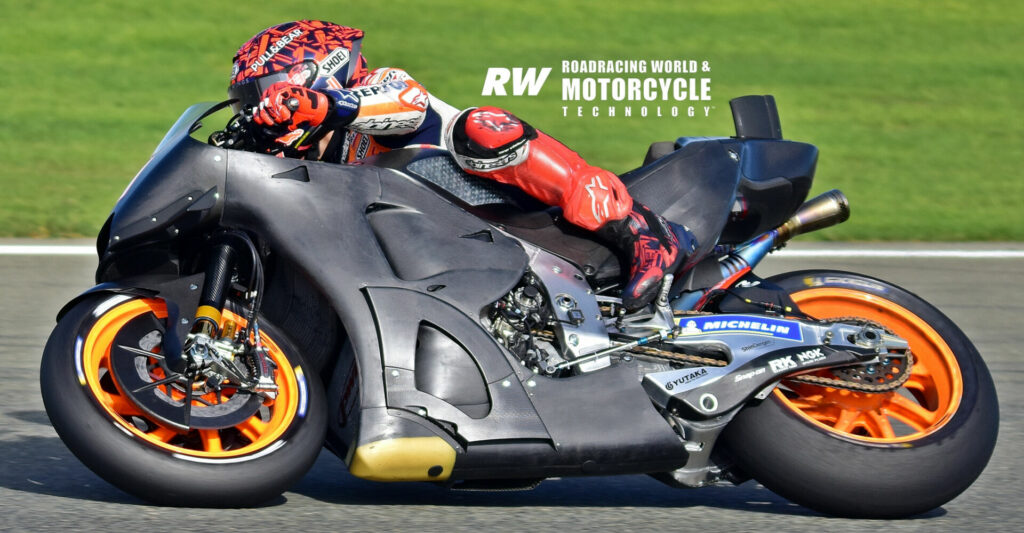 Honda engineers threw a wide range of aero components onto the brand's racebikes, with rear stabilization fins, lower aero ducting and revised front wings in an array of configurations for Marquez, new recruits Joan Mir and Valencia race winner Alex Rins and Takaaki Nakagami, retained by LCR Honda for 2023.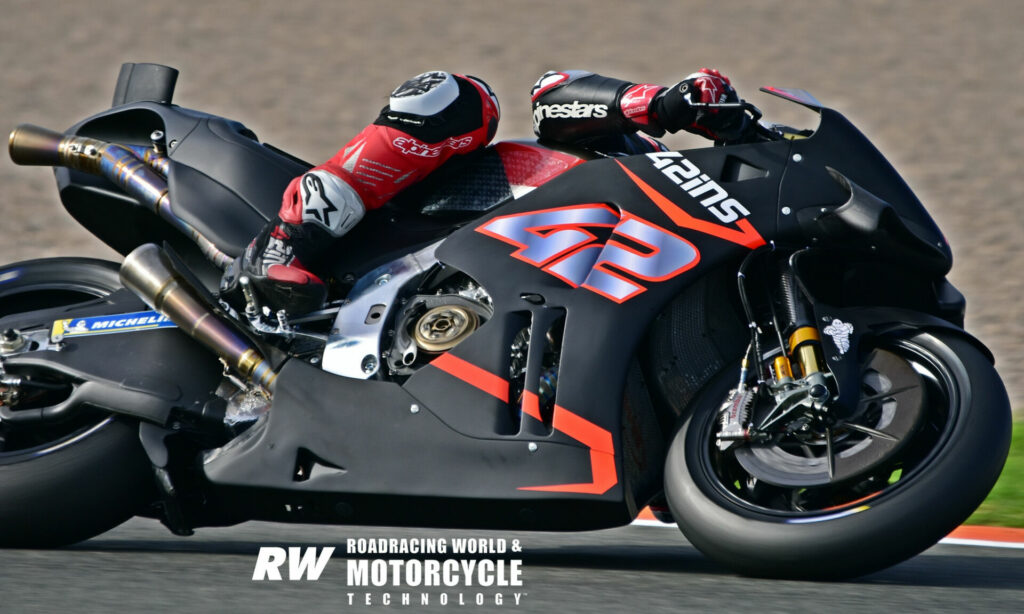 Marquez finished the test with a best lap at 1:30.676, 13th-quickest, and he turned 50 laps, fewer than any other rider except for Ducati test rider Michele Pirro. And when Marquez was done, he told reporters gathered in the media center that the package that he had ridden was not good enough to him to fight for the title in 2023.
Yamaha's top-speed woes had convinced the factory to bring in a Formula One engine expert to overhaul its Inline-4, which will be the only engine with that configuration on the grid in 2023. While early tests had proven promising, 2021 MotoGP World Champion Fabio Quartararo was deeply unhappy to find that the development engine delivered no more top speed than his race engine from 2022 had produced.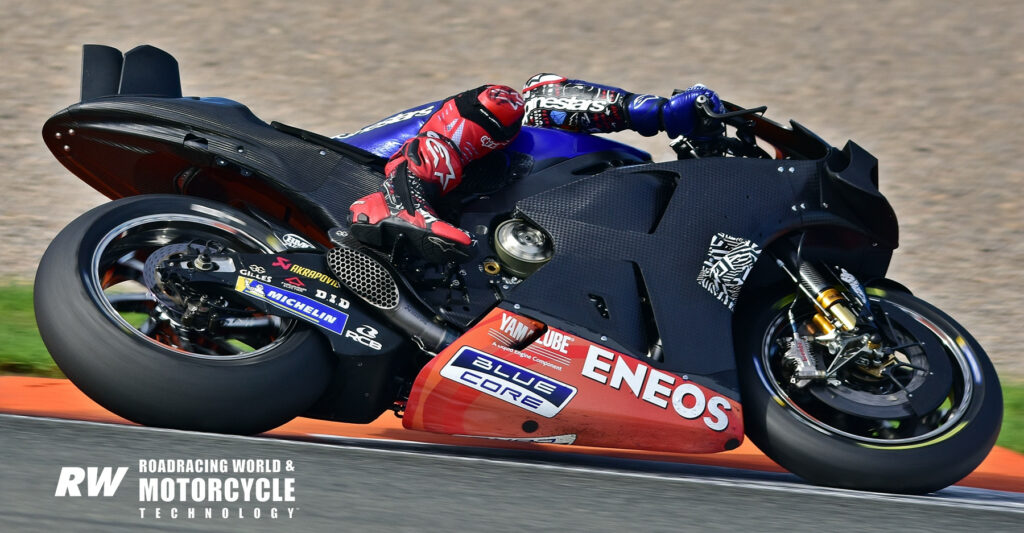 During his post-test media interview, Quartararo kept staring over the heads of journalists at a monitor hanging from the ceiling that showed top speeds from the day on the track, pointing out that his Yamaha was only 12th-fastest down the straight, and that teammate Franco Morbidelli's machine was even slower. It was not a huge gap to the front of the pack — the difference was only 8 kph to Bagnaia — but in MotoGP today, differences in qualifying and final positions are measured in fractions of a second, and the lack of speed and acceleration has made it very difficult for the Yamaha riders to overtake or protect their positions from other riders, especially those on the rapid Ducatis. Quartararo was fastest of the Yamaha riders in ninth, his fastest lap a 1:30.578, 0.546-second off the top spot.
Yamaha also brought out a new chassis for Quartararo and Morbidelli, as well as a range of new side fairing elements and rear stabilization fins. While Morbidelli liked the new chassis, Quartararo said it felt different but made no real impact on lap times, which was his assessment of the new aero components as well.
KTM introduced its module concept of testing — an attempt to allow engineers to change individual components without impacting the way other elements of the bike behaved. It makes sense: One of the first rules of testing is to change only one thing at a time. But it was clear that KTM's chassis development, a little like that of Honda, seemed to be stuck in a zero-sum equation.

Brad Binder said over the weekend that he had been asking all season for a chassis that gave him more rear grip, and his racebike on Sunday gave him exactly that. But that improvement came at the expense of front-end stability, and he had to wait until the fuel load went down before he could start charging toward the front — a charge that came up just short of a win. Binder tried a new chassis on Tuesday, praised the feel at the front again and said the grip at the rear was lacking again.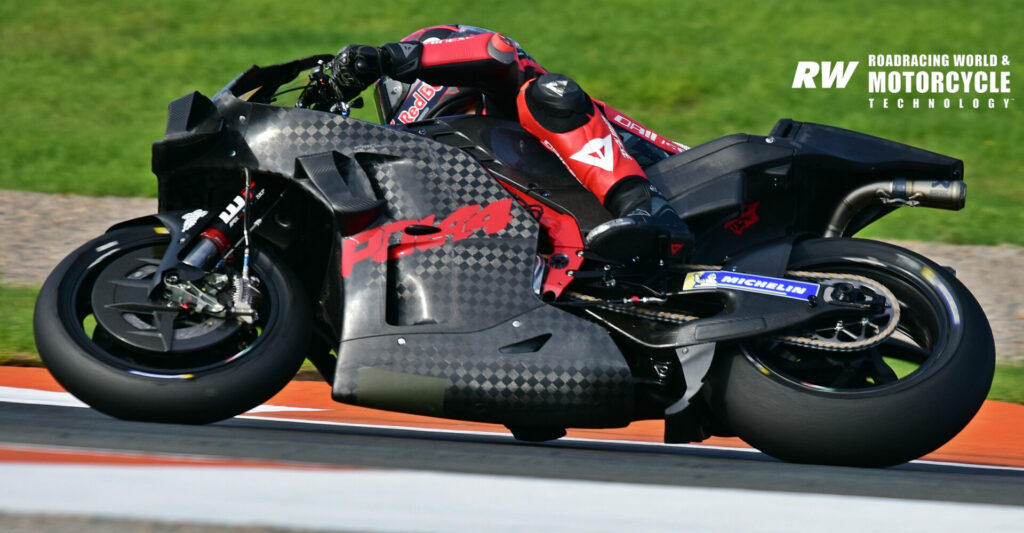 Binder was the quickest on a KTM, with a 1:30.496 slotting him into seventh place, with new factory teammate Jack Miller 17th with a 1:30.787. Pol Espargaro and Moto2 World Champion Augusto Fernandez took their new GASGAS Tech3 machines — rebranded KTM RC16s — to 16th and 22nd, respectively.
Aprilia's main focus was on its new signing — the RNF MotoGP team — which wheeled its Yamaha YZR-M1s out of the garage on Sunday and rolled in a pair of the new Aprilia RS-GP racebikes that it will use for 2023. The team, which will field Raul Fernandez alongside Oliveira, will start with the same machinery spec that factory riders Aleix Espargaro and Vinales used at the end of 2022.
Not only was Oliveira quick and comfortable, but Vinales was second and Espargaro fifth — encouraging speed for a manufacturer that, after running at the front of the field for most of 2022, absolutely imploded over the last five races of the season.