Keith Flint, front man for the
British dance music group The Prodigy, took his own life this past weekend at
his home in Essex, England, according to a statement on the band's website and a
report by the BBC. He was 49.
While the rest of the world is
mourning Flint as an iconic rockstar who sold more than 20 million albums
worldwide and gave electrifying live performances on tour, Flint is being
mourned as a motorcycle road racing enthusiast and amateur racer who owned Team Traction Control,
which competed in the British Superbike Championship and won races at the Isle
of Man TT.
One of the many mourning Flint's
passing is American James Rispoli, who raced in the British Supersport
Championship in 2014-2015 for Team Traction Control.
"I met Keith at the 24 Hours of Le Mans [FIM Endurance World
Championship round] when I was riding for Penz BMW. It must have been 2013,"
Rispoli told Roadracingworld.com Tuesday. "Literally, he flew me out to go stay
at his house for a week. Then we did the final round [of 2013] at Brands Hatch in
Stock 1000, and he just made me an offer right then and there.
"He said, 'James, I want to support you. I want to bring you
over [from America to England]. I think you have the talent to do the job. You're
the guy we want to build a British Supersport team around.' Which was pretty
astonishing.
"I owe that guy a lot, pretty much my whole UK career. He
pretty much got me started and took care of me. He helped me with the move,
because I had never lived in Europe before. He got me into a place, one of his
flats. He made everything super easy and really looked after me like a family
member. It was pretty insane. We just connected super close. He was the best
dude. I don't know how to say it. He was just the coolest dude on earth."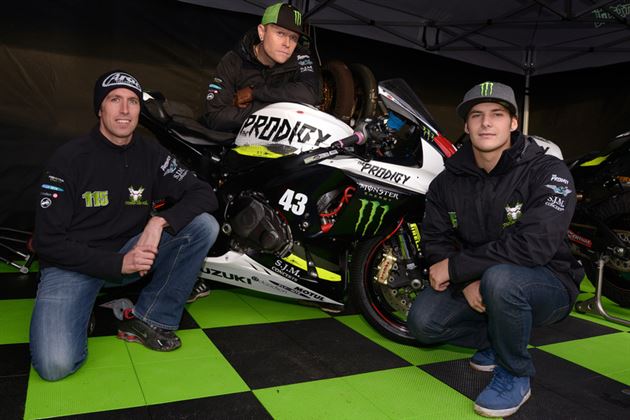 (Above) The Prodigy front man Keith Flint (center) with riders Steve Mercer (left) and James Rispoli (right) in the photo accompaning the announcement of Team Traction Control in 2014.
During his time racing for Flint's team, Rispoli not only got
to see how popular his boss was at racing events but he also got to step into
Flint's world and see his boss in action at a live performance of The Prodigy.
"Me and James Ellison went to one of his gigs in Blackpool,"
said Rispoli. "It was a small venue. It only held [3,000] but it was packed,
sold out. We got to go back stage and see him before he went out. He gave us
shoutouts on stage. It was pretty cool to see. He was a superstar over there.
He was huge.
"He taught me so much on how to be a showman but also how to
be humble. He's like one of the biggest stars in England and if someone asked
for his shirt he would give it to him.
"He also gave me a lot of credibility. Once he backed me the
rest of the UK got behind me. I truly owe him so much."
Rispoli said he first got the news of Flint's death in a text
message early Monday, March 5 from a fellow racer.
"Bradley Smith text me in the morning," said Rispoli. "He
just said, 'Hey man, Keith passed away.' I didn't think it was real. Then I saw
all of the news. Then one of my good friends who worked for Keith he confirmed
it. It's crazy."
The Prodigy and the BBC are reporting that Flint killed
himself, but Rispoli said he didn't have any direct knowledge about the
circumstances of Flint's passing.
"Keith had a lot of people around him, but he was pretty by
himself as well, if that makes sense. I don't know how else to say that," said
Rispoli. "My last text with him was at the beginning of [2018] when I got my [last]
British Supersport ride. When I got on the podium I sent him a text just
saying, thank you again for everything and telling him I got the podium. He was
pumped for me. And that was the last text we had.
"You'd get him on days and then you wouldn't speak to him
for a while. That's just how he was. He wasn't on his phone all of the time. He
didn't have a big social media presence. He still had a house phone you called.
It was the craziest thing. You couldn't get a cell signal at his house, so you
had to use the house phone. It was so funny.
"I never had a team owner like him. He never once doubted my
ability. He never complained about money. He wasn't like that. He would say, 'We
hired you because you're the best rider, we're giving you the best equipment,
and when it comes it comes.' That's was his saying always. He was never like, 'Aw,
man! You didn't get on the podium this weekend. You've got to be on the podium
next weekend.' It was never ever like that.
"I've won two [AMA Pro SuperSport] Championships in America
and those were probably my best times in racing, but the two years I had with
Keith in England were probably the most fun. I'll never forget those two years
or Keith."