RECORD BREAKING WIN FOR DUNLOP IN MONSTER ENERGY SUPERSPORT TT RACE 2
Michael Dunlop set the first ever 130mph lap in the Supersport class this afternoon as he won the second Monster Energy Supersport TT Race of the 2023 Isle of Man TT Races.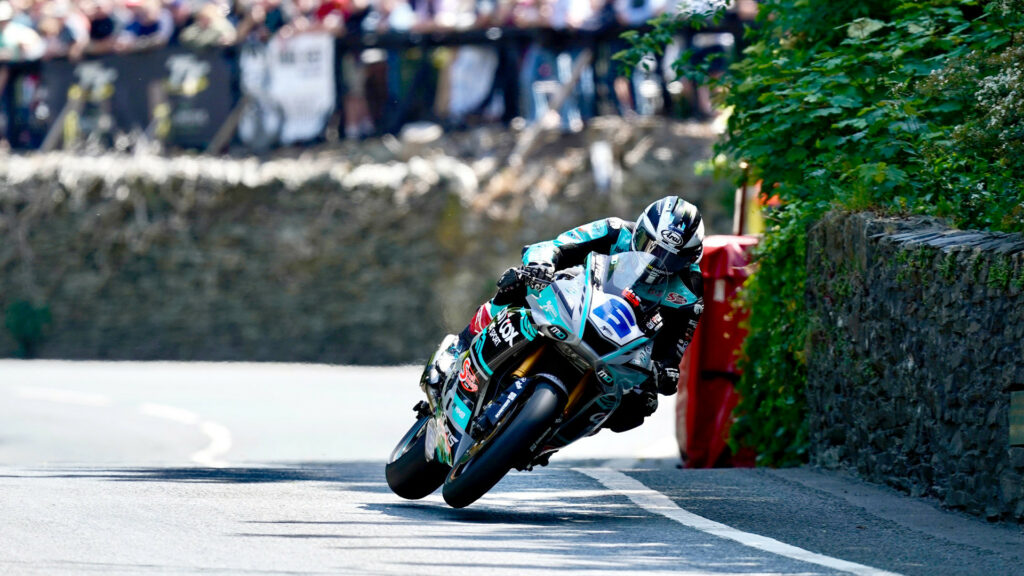 Dunlop (MD Racing Yamaha) saw off the challenge of Peter Hickman (K2 Trooper Beer Triumph), who also broke the 130mph barrier, by just over nine seconds to take his fourth win of the week and his 25th win in total, now just one behind Uncle Joey's record of 26 victories. Dean Harrison (BPE by Russell Racing Yamaha) was again third.
Dunlop grabbed the lead from the outset, but it was close, extremely close, as his lead over Harrison at Glen Helen on the first lap was only 0.1 seconds and with Hickman and Davey Todd (Milenco by Padgetts Honda) only a further 1.7 seconds back, less than two seconds covered the top four riders. Harrison's team-mate James Hillier slotted into fifth with Craig Neve (Bathams Racing Triumph) in a brilliant sixth ahead of Rob Hodson, James Hind and Michael Evans.
Dunlop's lead over Harrison shot up to 2.6 seconds at Ballaugh with Hickman now only 0.8s behind the Bradford rider whilst Coward jumped up to sixth after being down in 11th through Glen Helen.
Round Ramsey Hairpin for the first time, Dunlop had doubled his advantage to 5.2 seconds with Harrison and Hickman setting almost identical sector times from Ballaugh. Todd was continuing in fourth, but Hillier had retired at Whitegates and it was now Coward and Hind (Bass Tyre Services Yamaha) in fifth and sixth.
An opening lap of 128.809mph gave Dunlop a 6.6 seconds lead over Harrison who'd pulled 2.4s clear of Hickman as Todd dropped back slightly in fourth. Coward, tucked in behind Dunlop on the road, ran in sixth ahead of Hind, Paul Jordan (PreZ Racing Yamaha), Neve, Hodson (SMT Racing Honda) and Dominic Herbertson (Dafabet Racing Yamaha).
Dunlop added another two seconds to his lead on the second run to Glen Helen but whilst Harrison and Hickman continued in second and third, Coward had overhauled Todd for fourth as he remained glued to Dunlop's rear wheel.
The lead continued to increase at every timing point and after moving up to 11 seconds at Ballaugh, it had moved out to 12.5 seconds as Dunlop rounded Ramsey Hairpin for the second time but it was Hickman who was now in second, the Triumph rider having nosed 1.4s ahead of Harrison. The difference between Coward and Todd was even closer with now less than a second between them.
A second lap of 129.370mph, just outside his own lap record, put Dunlop firmly in the driving seat as he came into the pits for his solitary pit stop, but the advantage over Hickman was still only 11.6 seconds as Hickman also posted a 129mph+ lap.
He'd edged 5.4 seconds clear of Harrison but Todd was back in front of Coward the duo both lapping a shade under 128mph. Hind was still going great guns in sixth as Jordan, Herbertson, Neve and Hodson rounded out the top ten at half race distance.
The gap remained practically the same through Glen Helen on lap three, but Hickman was having to work his way by Todd, Jordan and Johnson on the road. Nevertheless, the difference between the two at Ballaugh was 11.9 seconds as Dunlop and Hickman practically matched each other on the second sector.
Going through Ramsey for the penultimate time, Hickman had cut Dunlop's lead to 10.4 seconds and over the tramlines at the Bungalow it had come down further to 8.98s. And as they started the final 37.73 miles, the difference stood at 8.1 seconds.
Hickman could only take three tenths of a second out of Dunlop's lead on the final run to Glen Helen and the latter responded to get his advantage back up to 8.2 seconds as they leapt Ballaugh Bridge for the fourth final time.
The gap crept out further, to 9.4 seconds, at Ramsey and Dunlop was managing the race perfectly albeit as both he and Hickman roared round the Mountain Course at 130mph pace and he got the verdict by 9.617 seconds after a stunning final lap of 130.403mph.
Hickman was also over the 130mph mark, with a lap of 130.219mph, whilst Harrison also bettered the old lap record in third. Todd and Coward took comfortable fourth and fifth place finishes and Hind's superb ride was rewarded with sixth, his first top six TT finish.
Jordan finished seventh with Neve taking a career-best eighth ahead of David Johnson and Herbertson.