DUNLOP MAKES HISTORY WITH CAROLE NASH SUPERTWIN TT WIN
Michael Dunlop became the second most successful rider in history at the Isle of Man TT Races with a start to finish victory in this evening's Carole Nash Supertwin Race. It was Dunlop's 24th TT win which puts him just two behind the record total of 26 held by his uncle Joey.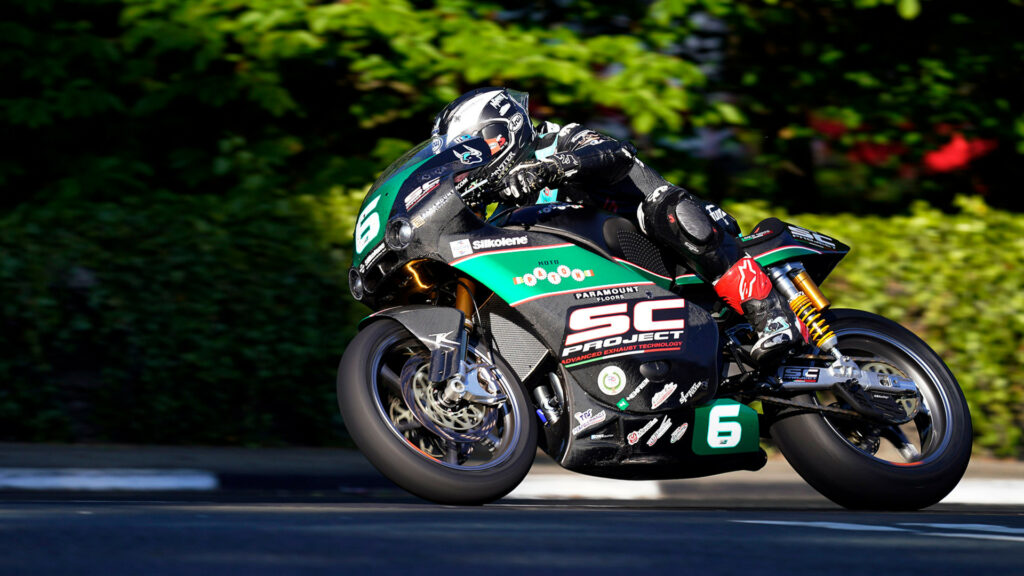 Riding the SC Project Paton, Dunlop led from start to finish to win by more than twenty seconds from Mike Browne (Burrows Engineering/RK Racing Paton), the Irishman edging out Jamie Coward (KTS Racing powered by Steadplan Kawasaki) after a race-long battle.
Dunlop seized control at Glen Helen on the opening lap, his lead over Coward standing at 4.5 seconds and third place went to Browne who was just 1.2 seconds further back. Peter Hickman (PHR Performance Yamaha) slotted into fourth, 0.6 seconds ahead of Josh Brookes (Dafabet Racing Kawasaki), with Stefano Bonetti (Team ILR/Frog Developments Paton) running sixth. Francesco Curinga, Pierre-Yves Bian, Michael Rutter and Dominic Herbertson rounded out the early top ten.
Dunlop's advantage was up to nine seconds at Ballaugh and round Ramsey Hairpin for the first time, it had gone out further to 12.9 seconds. Coward was still in second, 1.5 seconds ahead of Browne and fourth to sixth was now Hickman, Brookes and Rutter (Bathams Racing Yamaha), Bonetti having retired at Douglas Road Corner.
An opening lap of 121.229mph gave Dunlop a 14.3 seconds lead over Coward who, in turn, was now 2.4 seconds clear of Browne. Hickman, having a great ride given his practice woes, was still in contention for a podium as he sat 4.2 seconds behind Browne with Brookes and Rutter completing the top six although the latter lost time when the Yamaha refused to fire after the mandatory pit stop.
Bian, Herbertson, Paul Jordan and Brian McCormack were now running in seventh to tenth but Bonetti's team-mate Francesco Curinga was another retirement, last year's Junior Manx Grand Prix winner retiring on the first climb up the Mountain.
By Ballacraine on lap two, Dunlop had caught Coward on the road with his lead at Glen Helen up to 19.4s and he overtook Coward on the run from the 11th Milestone to Handley's. Coward immediately tucked in behind Dunlop with his advantage over Browne down to half a second.
Hickman had lost time and was now focused on keeping Brookes at bay with Rutter's problems dropping him down the order to 13th, Bian taking over sixth position.
Once ahead of Coward on the road, Dunlop quickly pulled away, his lead on corrected time at Ramsey Hairpin second time around a commanding 23.6s. Coward still had his hands full with Browne, the gap between the two in the north-most point of the course now standing at 1.1s. Hickman was edging away from Brookes with Bian still in sixth ahead of Herbertson, Jordan, McCormack and new tenth-place runner Barry Furber.
Browne nosed ahead of Coward at the Bungalow, albeit by just 0.2 seconds and with Dunlop well on course for the victory, the battle for second was keeping everyone on the edge of their seats. Jordan was out though having retired at the Les Graham Memorial.
Going into the third and final lap, Dunlop's lead stood at 21.9s but Browne had edged 2.1s clear of Coward with just 37.73 miles to go. Dunlop added four seconds to his lead at Glen Helen for the final time, but Coward responded and he'd cut his deficit to Browne down to 1.2s.
Behind, Hickman, Brookes and Bian were holding station in fourth to sixth and although Herbertson was still in seventh, there was change behind with Furber up to eighth and on course for his best TT result. Rutter had fought his way back up to ninth.
Over Ballaugh Bridge for the last time and Coward had got back into second albeit by the miniscule margin of 0.011s and it was clear it was going to go down to the wire with the difference between the two at Ramsey back to 1.2s in favour of Browne.
The Southern Irishman added another tenth of a second to his advantage as he passed over the tramlines at the Bungalow and with Dunlop running out victor by 26.7 seconds at the chequered flag, Browne held on for his first TT podium, edging out Coward by 2.2 seconds after a titanic battle.
Hickman, Brookes and Bian maintained their fourth to sixth place positions – Brookes equalling his best TT result – with Herbertson holding station in seventh and it was Rutter who came through for eighth ahead of Furber, who took a career best ninth, and Rob Hodson.