Details are just now being released to the media at events across the world, but Honda has announced a new 2021-designated model, limited-edition CBR1000RR-R Fireblade SP homologation special, which the company says was designed to win the Superbike World Championship in the hands of a factory team launching in 2020.
Highlights of the new street-legal machine include:
An all-new, more powerful, more compact inline four-cylinder engine featuring a new finger-follower valvetrain and lighter internals
New IMU-based engine electronics with 5 power modes, 3 engine braking modes, 9 traction control settings, 3 wheelie control settings, SPORT and TRACK ABS modes, and an electronic quickshifter
A titanium Akrapovic exhaust muffler
A new frame with optimized rigidity
A new, longer, MotoGP-style swingarm
A tubular aluminum subframe
New chassis geometry with more rake, more trail, and a longer wheelbase
New placement of the inline four-cylinder engine
MotoGP-inspired aerodynamic winglets for reduced front-end lift and increased braking stability while offering a low coefficient of drag
Öhlins NPS front forks with Öhlins Smart EC tuning
Brembo Stylema front brake calipers
Brembo front brake master cylinder
330mm (13.0 inches) front brake discs
Rear brake caliper from the Honda RC213V-S
New TFT instrument display
No significant parts carryover from the current CBR1000RR models to the new CBR1000RR-R.
The new 2021 Honda CBR1000RR-R will be available in the United States beginning in June of 2020.
Honda will continue to sell the current CBR1000RR at its lower price because it still sells well in its class, according to Honda's presentation.
We will post more details as they become available.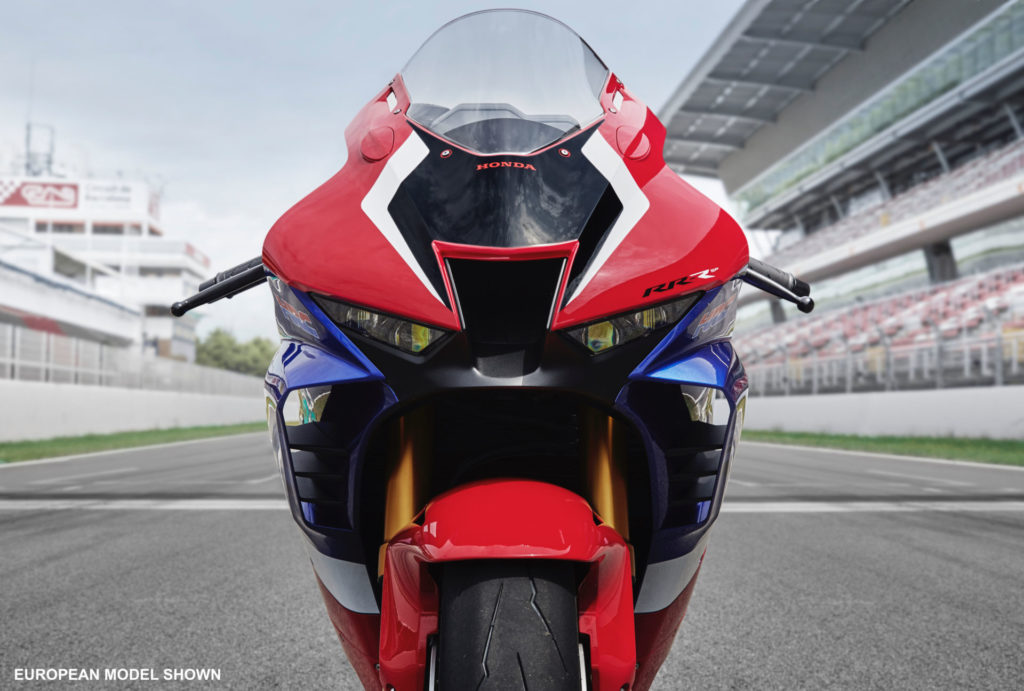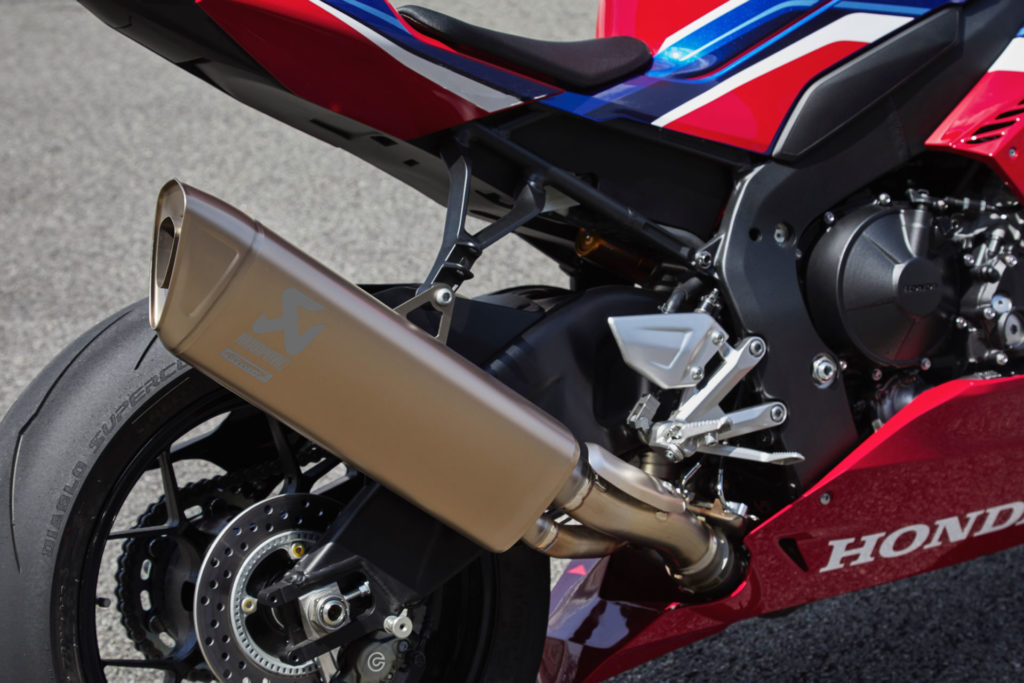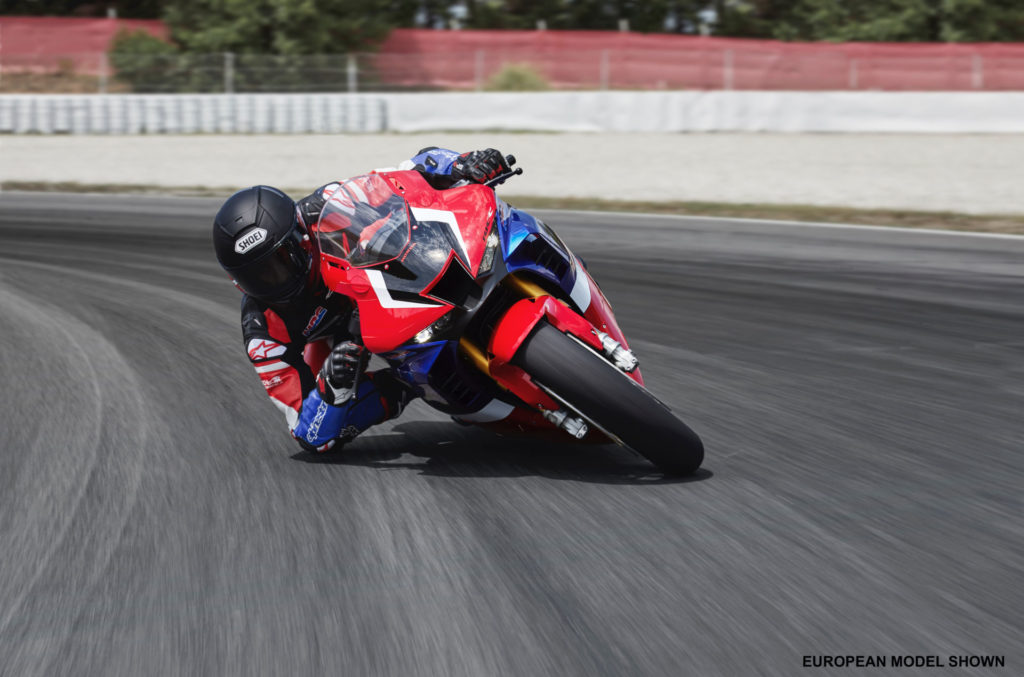 More, from a press release issued by American Honda:
Honda Passion Leads to All-new 2021 CBR1000RR-R Fireblade SP
More powerful and technologically advanced model adds to Honda's supersport legacy
November 4, 2019 — TORRANCE, Calif.
Honda Motor Co. founder Soichiro Honda dreamed of competing in races around the world—and winning—with a vehicle of his own making. Driven by the same competitive spirit, and having since amassed the most premier-class Grand Prix victories of any manufacturer, Honda announced today the 2021 CBR1000RR-R Fireblade SP. An evolution of Honda's legendary 1,000cc sportbike, the all-new model draws heavily on MotoGP technology and will carry Honda's sport motorcycle lineup into the future while also bolstering its racing efforts in series including the FIM Superbike World Championship.
Designed from the ground up with involvement from Honda Racing Corporation (HRC) and an extreme focus on outright track performance, the CBR1000RR-R Fireblade SP pairs a more compact, yet more powerful inline four-cylinder engine with an all-new frame with optimized rigidity for improved grip and feel. An advanced suite of electronic rider aids works to enable fast lap times, while aerodynamic technologies from the RC213V MotoGP race bike are used to both increase downforce and improve braking stability. For the first time, the "Fireblade" name is being used in the U.S. market.
"From our earliest days, Honda has been committed to developing class-leading motorcycles capable of winning races," said Chris Cox, American Honda's Manager of Experiential Marketing/Public Relations. "Developed around technologies and information gleaned from Honda's Grand Prix racing efforts, the 2021 CBR1000RR-R Fireblade SP highlights the brand's competitive spirit, and we're excited for riders to experience the latest in our storied line of sport motorcycles."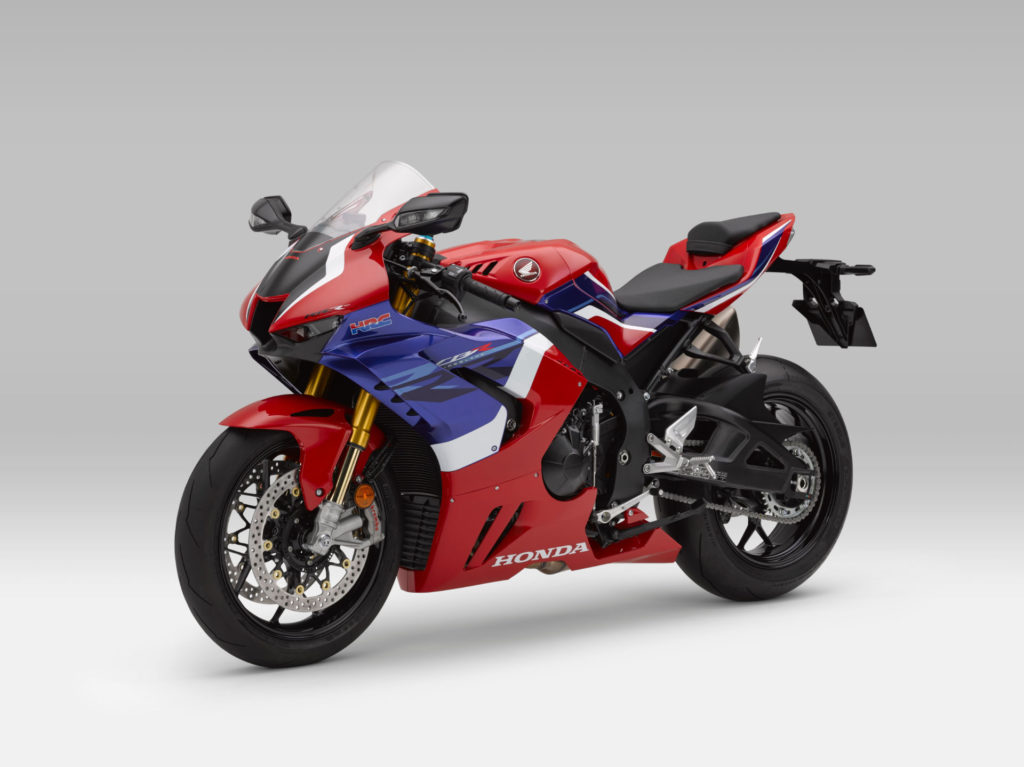 CBR1000RR-R FIREBLADE SP
Focusing on outright track performance, engineers have developed the CBR1000RR-R Fireblade SP with engine and chassis technology from MotoGP, the all-new model drawing heavily on the RCV combustion efficiency and low-friction solutions. The engine is more compact than the inline four-cylinder powerplant it replaces and benefits from the use of high-end technologies like titanium connecting rods, forged aluminum pistons and finger-follower rocker arms.
The CBR1000RR-R Fireblade SP uses an all-new aluminum diamond frame with increased vertical and torsional rigidity, but decreased horizontal rigidity, for maximum levels of grip and feel. A longer swingarm—stamped from aluminum of 18 individual thicknesses—is developed with lessons learned through Honda's Grand Prix efforts, further highlighting the connection between the all-new model and Honda's championship-winning race bikes.
Honda Selectable Torque Control (HSTC) has been optimized and an adjustable Start Mode joins Power, Engine Brake and Wheelie Control; a quick shifter is standard. The CBR1000RR-R Fireblade SP is outfitted with a six-axis Inertial Measurement Unit (IMU), three-level Honda Electronic Steering Damper (HESD) and second-generation Öhlins Smart Electronic Control (S-EC) suspension and user interface. New Brembo Stylema brake calipers bite 330mm rotors through two-level ABS. The bodywork and riding position have an uncompromising focus on aerodynamic performance, and the fairing features MotoGP-derived winglets to generate downforce. A full-color TFT screen and Honda Smart Key are the finishing touches.
·         Pricing: TBD
·         Availability: June 2020
·         Color: HRC Tricolor
In addition to announcing the 2021 CBR1000RR-R Fireblade SP, Honda confirmed the return of a number of sport and naked models for the 2020 model year: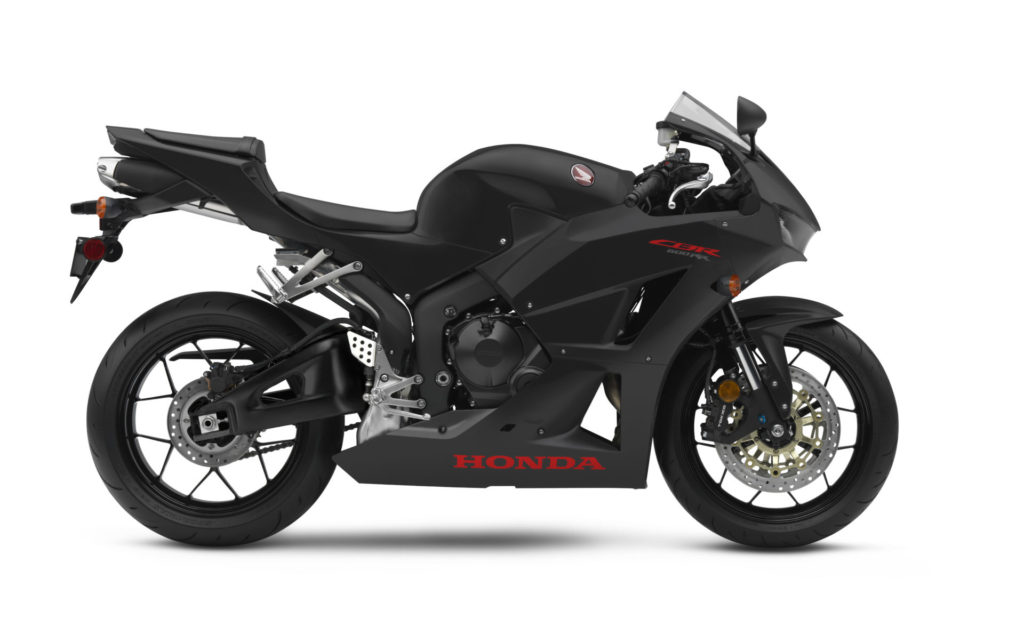 CBR600RR
High-level sport-bike performance needn't always come in large packages, as proven by the popular CBR600RR, which is equally at home on twisty back roads and dedicated race circuits. The model that has earned eight World Supersport titles (nine if you count its CBR600F predecessor) touts a strong engine and front suspension featuring Honda's 41mm Big Piston Fork for exceptional handling and supple action.
·         Price
o    CBR600RR ABS: $12,799
o    CBR600RR: $11,799
·         Availability: March 2020
·         Color: Matte Black Metallic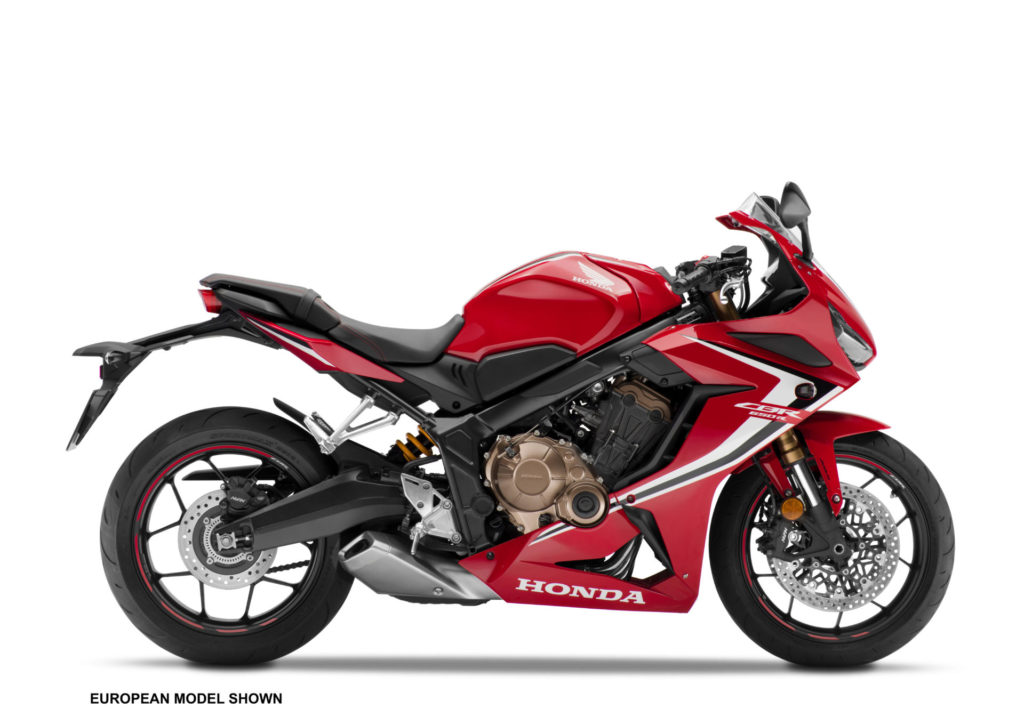 CBR650R
Designed to be enjoyed on the street, yet taking cues from an RR machine, the CBR650R offers light, responsive handling through its finely tuned chassis and enjoyable power through its high-revving inline four-cylinder engine. Sharp lines, LED lighting and an aggressive riding position complete the package, striking an ideal balance between performance and practicality—an enjoyable intersection of values for the modern sport bike rider.
·         Price: $9,399
·         Availability: April 2020
·         Color: Grand Prix Red/Stripe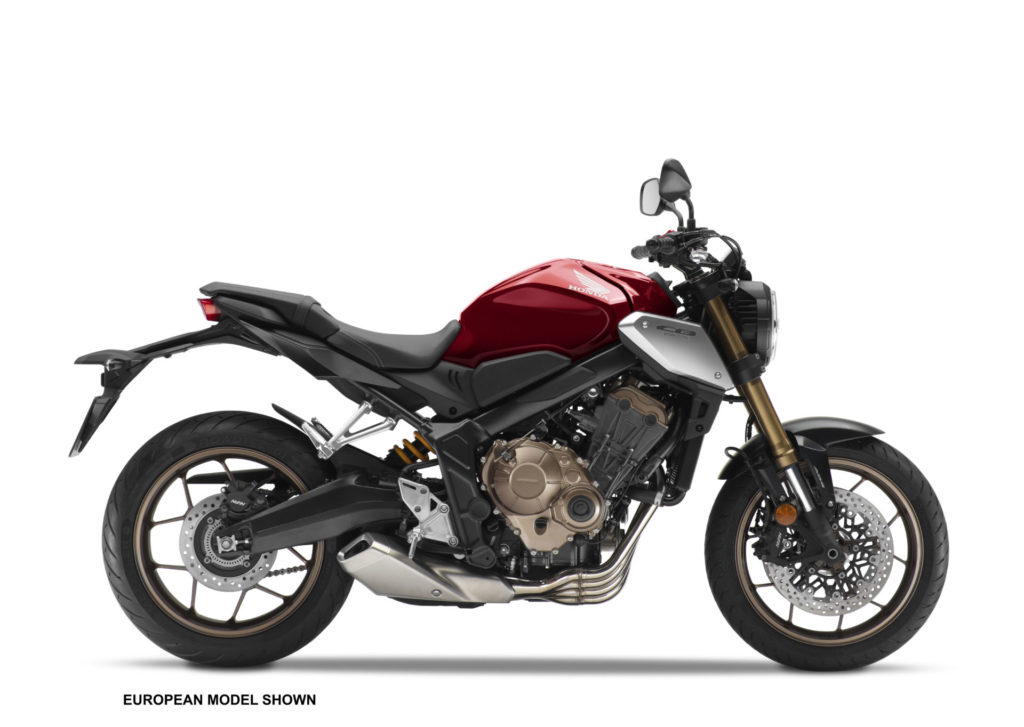 CB650R
A true middleweight standard, the CB650R pairs a light, versatile chassis to a 649cc inline four-cylinder engine with great torque and a smooth throttle delivery. Honda's Neo Sports Café design theme showcases smooth lines and compact packaging, guaranteeing that this is a bike that's just as exciting to look at as it is to ride.
·         Price: $8,899
·         Availability: January 2020
·         Color: Chromosphere Red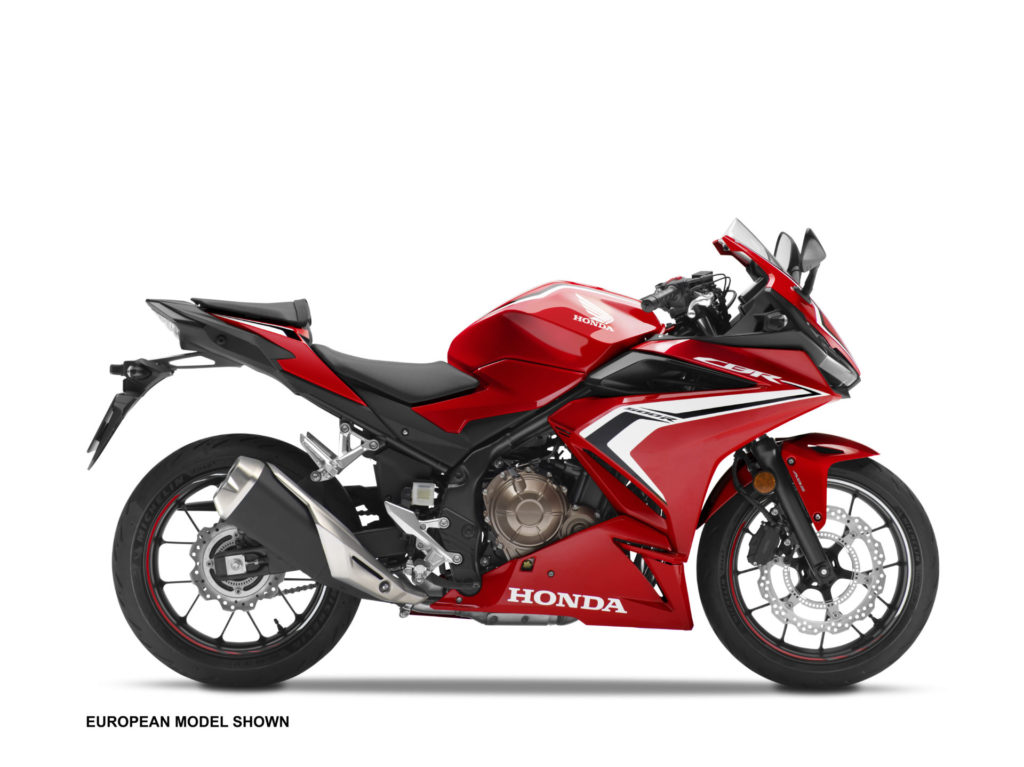 CBR500R
Honda's CBR500R is all about balance. Long heralded by both riders who are moving up from smaller machines, and those looking to downsize without giving up the performance and style that drew them to motorcycling, this model finds the balancing point between performance and sensible running costs. With its sporty styling and user-friendly performance, the fully faired CBR500R can do it all, too, from daily commuting to weekend rides.
·         Price
o    CBR500R ABS: $6,999
o    CBR500R: $6,699
·         Availability: February 2020
·         Colors: Grand Prix Red, Matte Gray Metallic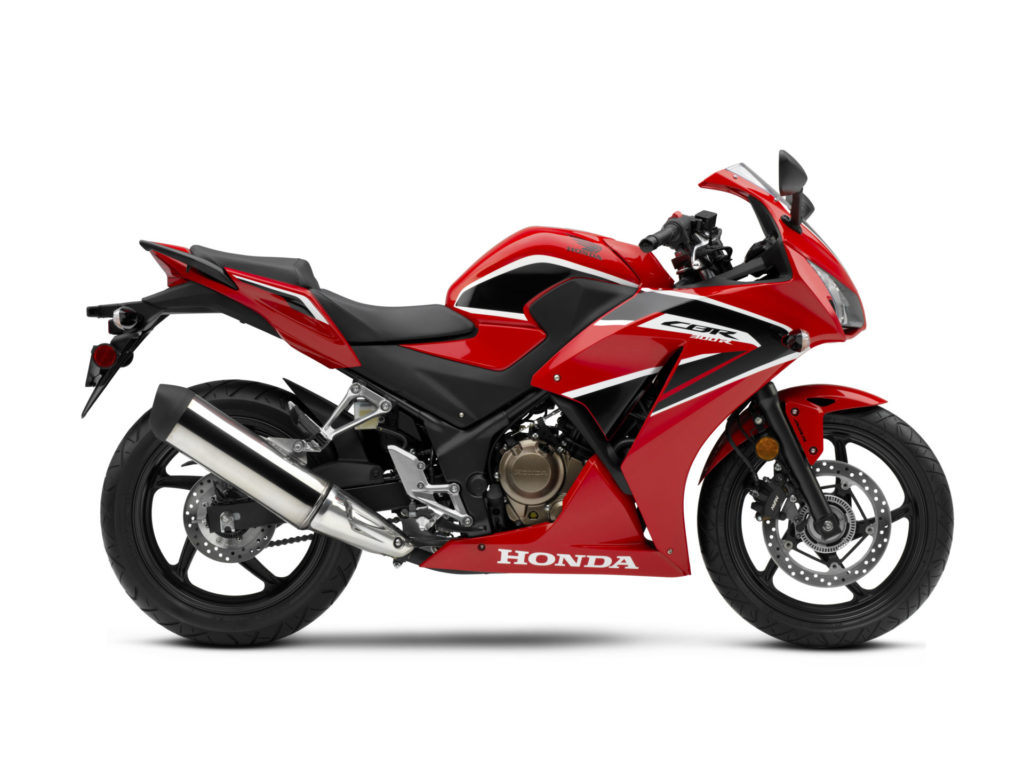 CBR300R
With strong power and nimble handling, Honda's littlest full-faring sport bike makes every ride a fun one, while its affordable price and low operating cost make it easy on the wallet. Great for beginners and experienced riders alike, the CBR300R has dual headlights and stylish exhaust system, as well as available ABS.
·         Price
o    CBR300R ABS: $4,999
o    CBR300R: $4,699
·         Availability: March 2020
·         Colors: Grand Prix Red, Matte Black Metallic