Marquez vs Viñales: a duel to the wire Down Under 
A dramatic crash on the last lap decides the 2019 Pramac Generac Australian Motorcycle Grand Prix
Marc Marquez (Repsol Honda Team) and Maverick Viñales (Monster Energy Yamaha MotoGP) played high speed chess at the Pramac Generac Australian Motorcycle Grand Prix, with the two locked in a tense duel for supremacy throughout. It wasn't a duel fought in overtakes and swapped paint, it was a duel in pure speed – with the two perfectly matched the point they made a break for it right down to the final lap. That final lap was a dramatic one as Marquez struck early and Viñales dug deep to fight back – and then suffered a dramatic crash that decided the first time the two men have really gone head to head. With that, Cal Crutchlow's (LCR Honda Castrol) impressive ride became one to second place and his best finish of the season, with Jack Miller (Pramac Racing) completing the podium to the delight of the home fans – the first Aussie to stand on the rostrum on home soil in the premier class since MotoGP™ Legend Casey Stoner won the 2012 event at Phillip Island.
From the off, the race was a classic – and dramatic. From P4 on the grid, Valentino Rossi (Monster Energy Yamaha MotoGP) got a great launch to get the holeshot into Doohan Corner, with Viñales slipping to P6 from pole. Then, at Turn 2, two heavyweights were out of the race: Danilo Petrucci (Ducati Team) was pushed slightly wide by Marquez as the packed shuffled into the left-hander, and the Italian was a little too eager on the gas, highsiding and dramatically launched into Fabio Quartararo (Petronas Yamaha SRT). The Frenchman was already wide and almost on the grass, therefore sadly also right in the path of the oncoming Italian. Riders ok, but out of a pivotal race.
Back at the front, 'The Doctor' was still leading the way on his 400th Grand Prix start, with Crutchlow and Aprilia Racing Team Gresini's Andrea Iannone slotting in behind the Italian as a freight train of nine riders formed at the front in the opening handful of laps. Rossi held P1 until Lap 4 when Crutchlow powered past the Yamaha into Turn 1, before Iannone then spectacularly led the race for Aprilia as Crutchlow, Iannone, Rossi, Marquez, Viñales, Aleix Espargaro (Aprilia Racing Team Gresini), Andrea Dovizioso (Ducati Team), Miller and Alex Rins (Team Suzuki Ecstar) all battled one another in a scintillating start to the 2019 Australian GP.
The man with the pace for most of the weekend was slowly picking his way through the pack though. Viñales was up to third on Lap 8, second on Lap 9 and the lead on Lap 10. Knowing the polesitter had the pace to make a break, third place Marquez was then in a hurry to get past Crutchlow as he shoved the Brit wide at the top of Lukey Heights. That dropped the number 35 down to P4 behind Iannone, and Viñales and Marquez immediately seemed to pull the pin. Crutchlow passed the Aprilia of Iannone into Turn 1 and attempted to go with the leading duo as all three set mid 1:29s and escaped the monster battle for P4.
The LCR Honda Castrol man couldn't hold the pace of Viñales and Marquez, however, as the two Spaniards were relentless in the lead to pull away. But Crutchlow was far clear of the scrap behind as three Ducatis, two Suzukis, two Aprilias and a Yamaha fought tooth and nail. Rookies Francesco Bagnaia (Pramac Racing) and Joan Mir (Team Suzuki Ecstar) were two impressive performers as they got up in the mix.
By a handful of laps to go, Marquez was threatening to lead into Turn 1 – and sitting up. As the race rolled on, Marquez kept shying away from a pass, shadowing Viñales around the rest of the lap and waiting for the last. When that came around, there was nothing between the two over the line and the Honda suddenly struck. Viñales was quick around the outside in the hope of gaining the inside line for the Southern Loop, but Marquez shut the door. Next came Honda Corner and no way through, leaving Turn 10 as the likely major overtaking opportunity. And the race would be settled on the drop into 10, but now how we imagined.
Viñales had already pulled off some sublime moves there, and this time he was equally apid over the crest of Lukey Heights, right on the back of Marquez. But then, drama suddenly struck as it proved too much to ask of the Yamaha and Viñales cascaded out the race and onto the grass, leaving Marquez uncotested to the line.
For the reigning Champion it was victory number 55 of his MotoGP™ career, becoming the most successful Honda rider in the premier class and overtaking Mick Doohan's record on the MotoGP™ Legend's home circuit. Viñales' crash bumped 2016 Australian GP winner Crutchlow into P2, a sensational result for the number 35 after last year's near-career ending crash at Phillip Island. Meanwhile…
Miller fought himself to the fore of the group battle for P4, which had now become a fight for the podium. On the run to the line, he had to fend off teammate Bagnaia to return an Aussie to the rostrum, apparently with a little inspiration from Ned Kelly. 'Pecco' pocketed his best MotoGP™ result in P4,  from P15 on the grid no less, topping off a great weekend for the Pramac team at Pramac Generac-sponsored GP. Fellow rookie Mir also claimed his best premier class result in P5, the Suzuki man holding off the super impressive Iannone as 'The Maniac' took his best Aprilia finish and equalled the Noale factory's best.
Dovizioso crossed the line in P7 just a whisker behind Iannone, meaning the Team Championship between the Ducati Team and Repsol Honda Team now sits at just one point. Rossi slipped back to eighth in the closing stages, holding off the challenge from Rins and Aleix Espargaro, who completed the top ten.
Franco Morbidelli (Petronas Yamaha SRT) took P11 ahead of a tougher weekend for Pol Espargaro (Red Bull KTM Factory Racing), that closing Aprilia's deficit to KTM a little in the standings. Johann Zarco (LCR Honda Idemitsu) took P13 on his Honda debut, with Karel Abraham (Reale Avintia Racing) and Hafizh Syahrin (Red Bull KTM Tech 3) completing the points.
Miguel Oliveira (Red Bull KTM Tech 3) didn't race after being declared unfit in his morning check up.
That's it from Phillip Island and another absolute classic Down Under, with another year to wait until we return. But there's less than a week until we're back on track in Malaysia at Sepang International Circuit, so tune in as the top Independent Rider and Team title fights roll on, and the team standings could get another shake up…
Marc Marquez: "Incredible, incredible win because today we weren't the fastest on the racetrack, Maverick was faster but I was waiting for him. I knew he was the target, I knew he was coming and didn't start so well so I was waiting for him and when he overtook I tried to follow him and be there. I knew he'd push once he overtook Cal and that's what he did. It was a strong move when I took Cal but I had to make it because I knew if Maverick had a gap of more than half a second or a little bit more, it would be impossible. So I was using his slipstream, he was so fast in T2 and T3, I was fastest in the last sector and the straight, where we could use our engine.
"On the last lap it was my plan to overtake on the straight and then close the door, then I saw it started to rain, especially at Turn 3 and Turn 6, and I thought, 'what's going on?!' but I just tried to brake late. At Turn 10 he'd already overtaken me twice and I knew he would come. I went in so deep, braking hard. I didn't know he crashed but I think I would have had a second chance. I think I could have overtaken him before the finish line too.
"It was a slow-cooked victory that, we tried to work on the details, all the Repsol Honda Team, and I equalled Mick Doohan in Motegi. Now, I'm the rider with more victories for Honda, which is something incredible. I'm happy, enjoying dreaming this dream. Just enjoy it because you don't know the future."
1 – Marc Marquez (SPA – Honda) 40'43.729
2 – Cal Crutchlow* (GBR – Honda) +11.413
3 – Jack Miller* (AUS – Ducati) +14.499*Independent Team rider
Crutchlow on his way to his best finish of the year so far
Binder blasts to victory to keep his title hopes alive
The South African cuts his deficit to the top, as does Lüthi, on a more muted day for points leader Marquez Down Under
Three is a magic number for KTM Down Under. Red Bull KTM Ajo's Brad Binder clinched his third win of 2019 at the Pramac Generac Australian Grand Prix – and the Austrian factory's third win in a row at the venue – to keep his Moto2™ Championship hopes alive in style; the South African now 33 points off the lead held by Alex Marquez (Marc VDS EG 0,0). Rookie Jorge Martin made it a Red Bull KTM Ajo one-two and took his second intermediate class podium, with Dynavolt Intact GP's Tom Lüthi taking third. That puts the Swiss rider even closer in the standings, now 28 points adrift of Marquez on the way to Malaysia.
Binder bagged the holeshot from the middle of the front row, with teammate Martin quickly followeing him through as polesitter Jorge Navarro (Beta Tools Speed Up) slipped a little backwards off the line. In a dramatic opening half a lap, monday.com American Racing's Iker Lecuona then took out both Luca Marini (Sky Racing Team VR46), ending the Thailand and Japan winner's shot at the crown, and Marco Bezzecchi (Red Bull Tech 3 KTM) after trying to pull off an audacious move into Turn 4. Championship leader Marquez barely escaped upright; incredibly fortunate not to get caught up in the incident that resulted in a Long Lap Penalty for Lecuona.
Back at the front and the KTM duo had started to break clear from Navarro and Lüthi, who were having their own fight over the final podium spot. The Swiss rider got the better of Navarro at half race distance, and from there the Speed Up couldn't quite stay in touch.
Marquez, meanwhile, began to fade backwards slightly as Lorenzo Baldassarri (FlexBox HP 40), Stefano Manzi (MV Agusta Temporary Forward) and Tetsuta Nagashima (ONEXOX TKKR SAG Team) all finding a way past in the space of a lap, demoting the number 73 down to eighth. It would get worse for Marquez, the points leader losing another couple of places…
Martin, meanwhile, continued to apply the pressure on Binder but the South African was standing firm. Eventually the number 41 broke free from Martin, however, and pushed on towards victory at the same venue he ruled in 2018. Martin was back on the box and it was back-to-back podiums for Lüthi too, with both Binder and the Swiss rider cutting the deficit to the top considerably.
Fourth went the way of Navarro, who held off a brilliant late charge from Baldassarri as the Italian closed to within half a second on the final lap. ONEXOX TKKR SAG Team's Remy Gardner took sixth at his home round after a quality ride to hold off Lecuona in the closing stages, with Marquez ultimately crossing the line in eighth after a late surge. He now sits 28 points ahead of Lüthi and 33 points clear of Binder with just two rounds remaining.
Manzi pulled off a stunner Down Under for MV Agusta as he and Nagashima completed the top 10, ahead of an impressive comeback from Marcel Schrötter (Dynavolt Intact GP) after a tough Saturday for the German. Nicolo Bulega (Sky Racing Team VR46) took P12 ahead of a solid finish for Jesko Raffin (NTS RW Racing GP) in 13th. Fabio Di Giannantonio (Beta Tools Speed Up) was 14th, as Bo Bendsneyder (NTS RW Racing GP) completed the points to put both NTS machines on the scoreboard.
One key name missing? Augusto Fernandez (Flexbox HP 40). After a tough qualifying, it was a tough race day that followed for the Spaniard, who now finds himself out the Championship fight. He didn't score Down Under, and even if he were to win the next two and Marquez took no more points, leaving them equal on victories and points…Fernandez would lose on second places.
And so the battle is four. Marquez is 28 clear of Lüthi, with Binder and Navarro still in with a shout. Next up it's Malaysia and it's only just around the corner – so tune in next weekend for what could be the final decider.
Brad Binder: "I expected it to be a big group and a massive fight, but four or five laps into the race I realised it was just going to be me and my teammate, so one one hand it's a bit of pressure but on the other I felt more relaxed because it's a lot easier to deal with one person than ten. I'm really happy, I gave my absolute best all race, I think it was one of the most perfect races I've done. I almost crashed once but at the end of the day it's ok because I stayed on! I'm feeling good and I need to say thanks to the team, the bike here worked incredibly, from FP1 it was amazing. We did a good job this weekend and things are looking good, I'm really enjoying the racing and looking forward to the next one."
1 – Brad Binder (RSA – KTM) 38'53.277
2 – Jorge Martin (SPA – KTM) +1.968
3 – Tom Lüthi (SWI – Kalex) +6.021
Dalla Porta wins the race and the title in a classic Island contest
The Italian comes out on top and Canet crashes out as the Championship gets decided Down Under
Lorenzo Dalla Porta (Leopard Racing) pulled off an incredible win in the Pramac Generac Australian Motorcycle Grand Prix to take the 2019 Moto3™ World Championship in style, less than a tenth ahead of teammate Marcos Ramirez and 2018 Phillip Island winner Albert Arenas (Gaviota Angel Nieto Team) over the line. The hard-fought group battle went down to the wire, although the Italian took a step towards the Championship early in the race as key rival Aron Canet (Sterilgarda Max Racing Team) crashed out.
It was Ramirez who took the holeshot from his maiden pole position, with the initial pack led by the Spaniard, compatriot Arenas, Romano Fenati (VNE Snipers), Canet and Tony Arbolino (VNE Snipers), with Dalla Porta losing out a little off the line. Darryn Binder (CIP – Green Power) didn't waste much time in ruffling a few feathers either as he suffered a moment – no harm done and up from way back on the grid – as Ramirez then ceded the lead to Fenati up front.
After that shuffle, there was even bigger drama not far off. From the thick of it in the fight at the front, Canet suddenly slid out at Turn 1 – leaving Dalla Porta with a open goal, but in one of the most brutally hard-fought Moto3™ races of the season; no mean feat.
The lead group was 20 deep, with the likes of John McPhee (Petronas Sprinta Racing), Arbolino, and Tatsuki Suzuki (SIC58 Squadra Corse) just a few names who took turns to lead. One name was always there though – that of Dalla Porta. It was a classy ride from the Italian as trouble unfolded behind; Andrea Migno (Mugen Race) and Kaito Toba (Honda Team Asia) crashing out at Turn 4 with three to go and the lead was changing sector by sector.
Heading onto the last lap, however, Dalla Porta had it from Suzuki and McPhee. The Japanese rider then took the lead at Turn 4, somehow staying on the bike – and in the lead – after getting crossed up on the exit. A top-notch manoeuvre around Lukey Heights then saw Dalla Porta take the lead back as teammate Ramirez dived up the inside of a few riders to get himself up to P4…
Celestino Vietti (Sky Racing Team VR46) and Jaume Masia (Mugen Race) were the next to crash, heartbreakingly with two only corners to go, but the glory on the Island was about to go to Dalla Porta. Under attack out the final corner with those behind tucked into the slipstream, it was incredibly close but the number 48 claimed the win and the Moto3™ Championship in the best way possible – with victory. Ramirez was able to draft Suzuki and Arenas to make it a Leopard 1-2, with Arenas pushed back to third and Suzuki once again JUST losing out..
McPhee got a little caught up at Turn 10 and eventually crossed the line in P5, with Binder's early scorchers giving him the chance to take home an impressive P6 from nigh on the back of the grid. Ayumu Sasaki (Petronas Sprinta Racing) was able to grab his best finish since the British GP in seventh, too.
Speaking of best finishes, the man in eighth put together a powerhouse performance on Phillip Island. Tom Booth-Amos (CIP Green Power) produced by far his best ride of his rookie season to pick up his first top ten and fight in the front group, impressing once again after a solid Saturday to boot. Arbolino eventually had to settle for P9 after tasting the race lead in the early laps, while Stefano Nepa (Reale Avinita Arizona 77) was another top performer as he finished in his second top 10 position of the year in tenth.
Dennis Foggia (Sky Racing Team VR46), Fenati, Alonso Lopez (Estrella Galicia 0,0), Ai Ogura (Honda Team Asia) and Jakub Kornfeil (Redox PrüstelGP) completed the points, Lopez via a slightly more scenic route. The Spaniard had to do the Long Lap Penalty twice due to cutting across the white line on his first attempt after he was penalised for contact with Filip Salač (Redox PrüstelGP). Gabriel Rodrigo (Kömmerling Gresini Moto3) and Raul Fernandez (Gaviota Angel Nieto Team) were involved in an incident at Lukey Heights with eight laps to go, and Sergio Garcia (Estrella Galicia 0,0) and wildcard Yanni Shaw (Double Six Motor Sport) also crashed out.
So, after an Island stunner, we have our 2019 Moto3™ World Champion. Congratulations to Dalla Porta on a sensational season, but with two races to go, everyone will be wanting to finish the year on a high – none more so than Canet. Malaysia is next and Sepang International Circuit awaits in less than a weeks' time.
Lorenzo Dalla Porta: "It's been fantastic for me, I don't understand what we achieved! But I'm over the moon, I wanted to do it from the start of the season, winning the Championship and the race is something incredible. I think I have to sleep on it to understand that we won the Championship!
"This race was difficult, but when I saw Aron crashed, I tried to win. Because winning the Championship and the race is better! I tried, and I thought if I crashed then ok, we'll try and win in Malaysia instead. But ok, we're here. This is for my Grandma, my family and my team.
"I think I led a lot of laps throughout the races, and I think that's why I won the title. I was first a lot of the time, consistent. And my team worked so hard and they did a fantastic job in all of the races!"
1 – Lorenzo Dalla Porta (ITA – Honda) 37'45.817
2 – Marcos Ramirez (SPA – Honda) +0.077
3 – Albert Arenas (SPA – KTM) +0.088
More, from a press release issued by Repsol Honda:
Marquez unmatched to make it five in a row with Phillip Island last-lap thriller
Marc Marquez made history in Australia as he became Honda's most successful rider after clinching his 55th premier class win at the end of an incredible Australian GP.
Sunday in Australia got off to a solid start for Marc Marquez as he lined up on the front row for the eighth straight year at Phillip Island. The World Champion found himself in the heart of an incredible nine-rider battle during the opening laps as the field fought for early position. With perfect precision, Marquez carved his way forward to join Cal Crutchlow and Maverick Viñales at the front.
Lap ten saw the race enter its second stage, Viñales trying to break away from the chasing pack. But both Marquez and Crutchlow responded with low 1'29s to keep Viñales within just a few tenths. Lapping consistently in the 1'29s, the eight-time World Champion stalked Viñales and used the RC213V's superior top speed to blast into the lead on the last lap and eventually cross the line for an 11th win in 2019.
The victory is Marquez's 55th in the premier class and makes him Honda's most successful rider as he moves ahead of Mick Doohan's 1998 record of 54 wins. Now only Valentino Rossi (89) and Giacomo Agostini (68) have more premier class victories to their names. Marquez has now achieved five-straight premier class wins for the first time since 2014 and continues his run of 14 straight top-two finishes intact.
As a result of the win, the Repsol Honda Team are just a single point behind the Ducati Team in the Team Championship as Honda aim to complete the coveted triple crown.
Jorge Lorenzo endured a tricky start to the day, only able to secure 19th on the grid with a 1'31.179. Unfortunately the struggles continued as Lorenzo completed a demanding 27-lap race, crossing the line in 16th place.
Cal Crutchlow returned to the MotoGP podium with a well-earned second place, the first Honda one-two finish since the 2018 Japanese Grand Prix where Marquez won to take a seventh World Championship ahead of Cal Crutchlow.
The MotoGP World Championship will now travel to Malaysia for the final leg of the yearly flyaways – Round 18, the Malaysian Grand Prix at the familiar Sepang International Circuit.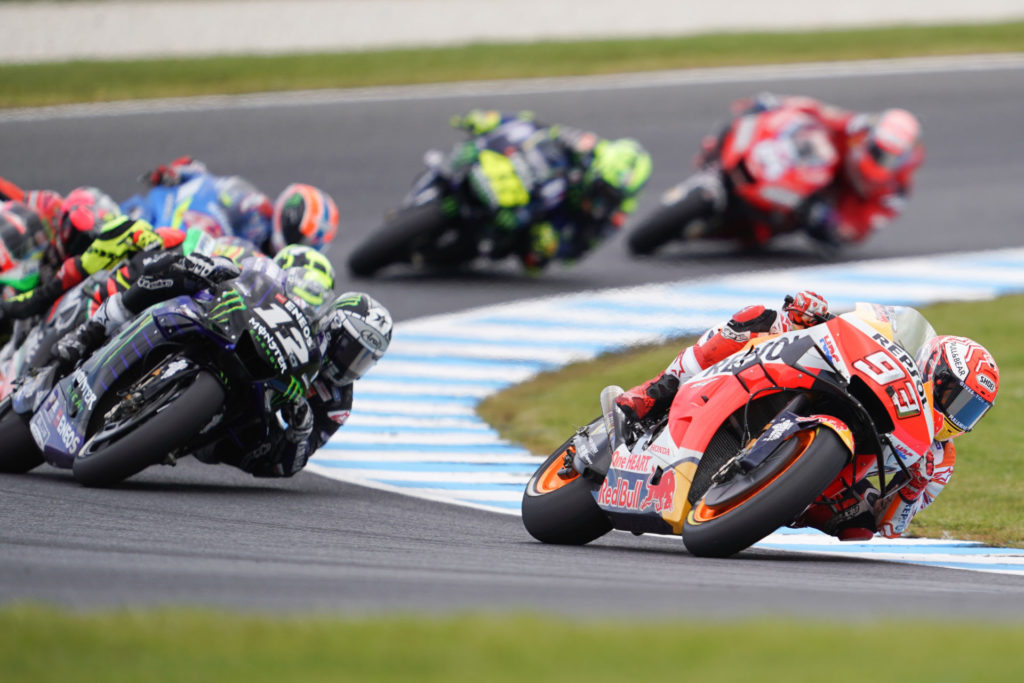 Marc Marquez
1ST 
"It has been a crazy weekend with the weather and everything. Maverick was very fast today, but I was able to follow him and start slowly cooking the victory. Viñales started to push very hard and very fast at the front, but I knew that if I could stay with him for four or five laps then the victory was possible. The Repsol Honda Team have done a great job with the limited track time we have had. We had to gamble a little bit with the soft rear tyre and it was on the limit in the end, but we were able to win! It's really special to take this 55th win with Honda, I feel incredible with the Honda family and I'm excited to enjoy this moment with them and the team."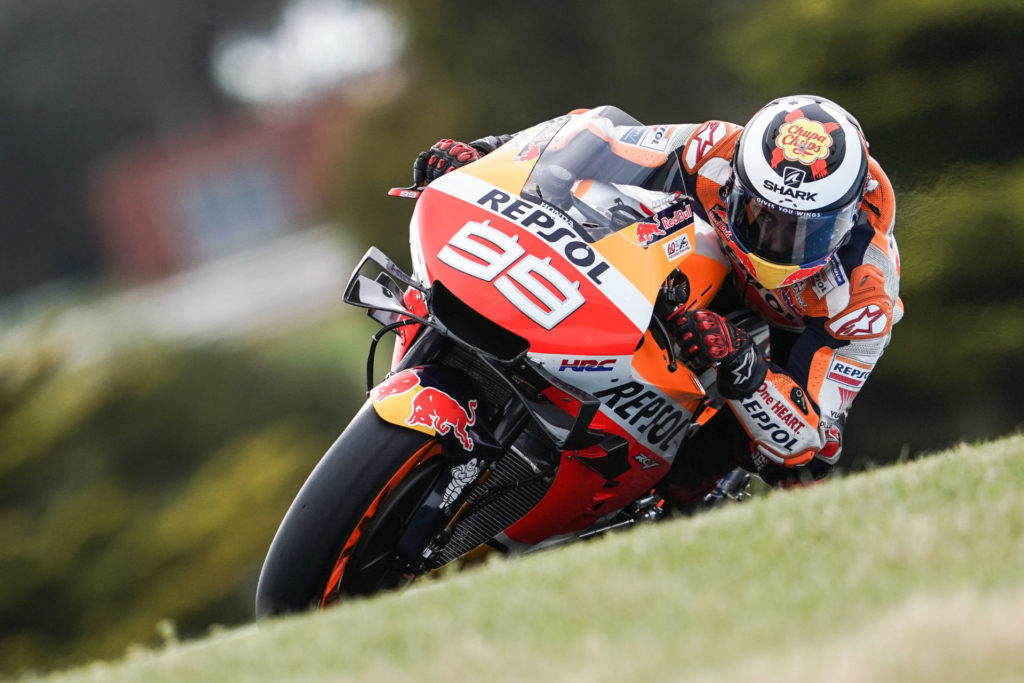 Jorge Lorenzo
16TH
"I expected before we arrived that I would struggle here but you're always hopeful that things will change and you're able to be fast. From FP1 we struggled in the wind and the cold. It's the worst result since returning from the Assen injury, unfortunately this is reality. Malaysia in normal conditions will be better, it's a track that suits me more and I think we can return to a pace similar to what we had in Motegi."
More, from a press release issued by Honda Racing Corporation (HRC):
Marquez passes Doohan as Honda's most successful premier class rider with record breaking 55th win
A hard-fought victory at the Australian Grand Prix cemented yet another record for eight-time World Champion Marc Marquez as he becomes Honda's most successful rider in history.
During Honda's home race at the Japanese Grand Prix, Marc Marquez joined mighty Mick Doohan and former teammate Dani Pedrosa as one of just three riders to win 54 Grand Prix races on Honda machinery. Now just a week later, the Repsol Honda Team rider raises the bar once again, clinching victory at Phillip Island for a record-breaking 55th premier class win on the Honda RC213V.
Since 1998, Australia's Mick Doohan has held the honour of being Honda's most successful rider after taking his 54th win at the Argentine Grand Prix as he celebrated his fifth straight premier class title on the NSR500. Doohan's records and results stood as the standard for Honda riders for almost two decades after the Australian surpassed the feats of Freddie Spencer from the 80s.
Like Mick Doohan, all of Marquez's wins have come in the premier class. His first victory in 2013 at Austin saw him beat fellow Honda legend Freddie Spencer's 30-year old record as the youngest premier class Grand Prix winner. From his 125 premier class starts, Marc Marquez has taken to the top step of the podium 55 times and has finished on the podium in 75% of races since his 2013 MotoGP debut. Only Valentino Rossi (89) and Giacomo Agostini (68) have more premier class victories to their names than the 26-year-old from Cervera.
2019 has also seen Honda take their 300th premier class win, Marc Marquez taking victory in France, continuing the story of Honda's premier class success which began in 1966 with Jim Redman, who won a total of 45 races for Honda.
Alongside holding the win record for Honda riders in the premier class, Marquez is also the most successful Honda rider in terms of premier class World Championships with six titles and holds the outright pole position record in the premier class with 62 – four more than Mick Doohan. Marquez needs just nine more podium finishes to equal Pedrosa's record 112 premier class podiums on Honda machinery.
With two races still remaining in 2019, Marc Marquez (375 points) is just nine points away from surpassing Jorge Lorenzo's record 383 points from a single premier class season.
More, from a press release issued by Monster Energy Yamaha:
COMPETITIVE PHILLIP ISLAND RACE ENDS IN EIGHTH PLACE FOR ROSSI
Phillip Island (Australia), 27th October 2019
GRAND PRIX OF AUSTRALIA
 
RACE
The Monster Energy Yamaha MotoGP riders fought bravely in the race at the Phillip Island Grand Prix Circuit. Valentino Rossi had a rocket start but couldn't maintain the pace required to stay with the front group and finished in eighth place. Maverick Viñales showed superb strength in today's Australian GP, leading for 16 laps in total, but suffered a high-speed crash on the final lap. He was uninjured but unable to resume the race.
8th VALENTINO ROSSI +15.841 / 27 LAPS
NC MAVERICK VIÑALES – / 26 LAPS
The Monster Energy Yamaha MotoGP Team went through highs and lows in today's 27-lap race. Valentino Rossi had a supersonic start from fourth on the grid and grabbed the hole shot but was later pushed back to tenth position to ultimately finish in eighth. Maverick Viñales was in the lead for the majority of the race but crashed out during a last-lap duel for the victory.
Rossi couldn't have dreamt of a better start to his 400th Grand Prix. Nobody had seen him coming from fourth on the grid, yet he blasted past the opposition around the outside as they turned into the first corner. He had an over 0.6s gap after the second sector but wasn't able to maintain it. Once the field caught up with him, the Doctor gradually fell back to eighth. However, he wasn't out for the count yet.
Halfway through the race the Italian was back in fourth position as the leader of the second group of riders, but he struggled to inch closer to the front group and soon a threat came from behind. Rossi got involved in the group battle again in the second half of the race and found himself in eighth position across the finish line, 15.841s from first.
Viñales started from pole but got swallowed up by the field in the first corner. The Spaniard settled into sixth position and gradually made his way up again. He overtook two riders, including his team-mate who had led the opening laps, to get to fourth. Next on his list were Andrea Iannone, Marc Marquez, and Cal Crutchlow. One by one the Yamaha rider steadily picked them off. On lap 10 he hit the lead for the first time, with Marquez on his heels.
The number-12 rider held firm, maintaining his P1 spot until the start of the very last lap. Forced to let his rival pass him on the long straight before going into Turn 1, Viñales was pushing to the limit to fight back. Marquez was unable to shake him off, but Top Gun Maverick couldn't find a way through. Then drama struck in the final sector, when he suffered a high-speed crash. He was able to walk away from the incident without any injuries but ended the race with an NC score.
Viñales remains in fourth place in the championship standings, 7 points from the rider in third place. Rossi holds seventh in the overall rankings, 23 points behind his team-mate. Yamaha maintains third position in the constructor standings, and Monster Energy Yamaha MotoGP also stay in third place in the team classification.
The team will resume the MotoGP action at the Sepang International Circuit next weekend for the Malaysia Motorcycle Grand Prix, held from November 1st – 3rd.
MASSIMO MEREGALLI
TEAM DIRECTOR
"This is not the ending we had expected to an otherwise good weekend. Vale had a strong start but wasn't able to match the pace of the race leaders throughout the 27 laps. Though he experienced a tyre drop and a difference in top-speed didn't help him to defend his position, he did make a step this week and was able to put up a fight. He finished in eighth place and was actually not far off third. Maverick had a different experience. He fell back in Turn 1 at the start but battled hard and led the race from lap 10 until the last lap. It was very unfortunate that he crashed, because his superb form this weekend deserved a reward, but it wasn't to be. Luckily, he wasn't injured. These things happen when you're riding on the limit, fighting for the victory on the very last lap. On a positive note, we take away from this race that we have been competitive in all sorts of weather and track conditions. Now we look forward to giving our all again next weekend in Malaysia, the last GP of the triple-header before the final round in Valencia."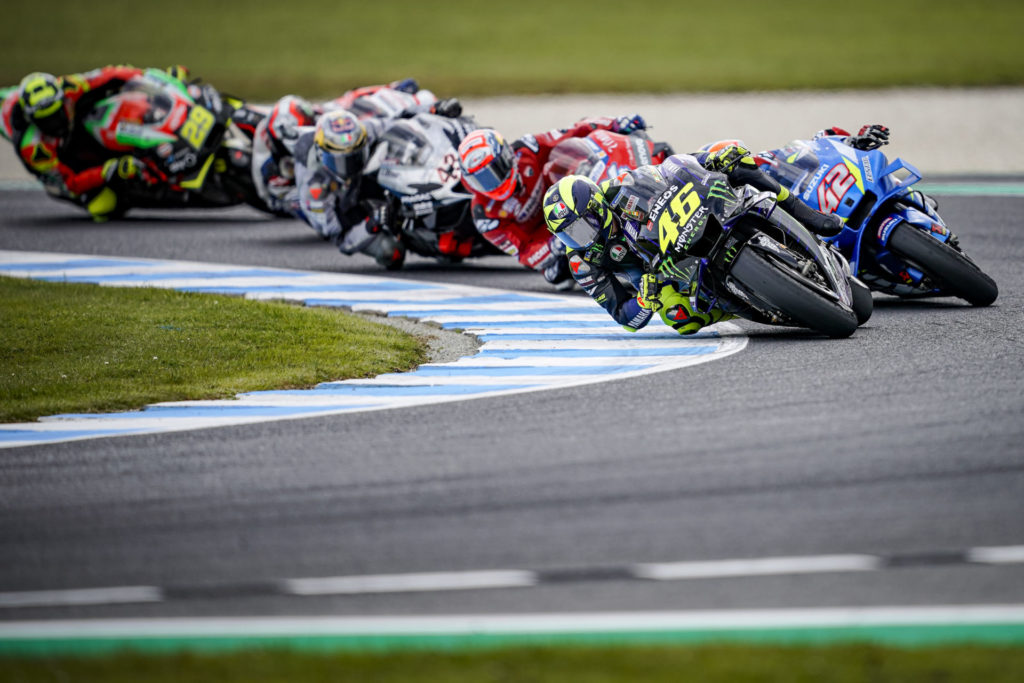 VALENTINO ROSSI
"It was a great start and a very good way to celebrate my 400th Grand Prix, being able to be in front for a bit. In the end, the race result for sure isn't fantastic, but I was not so far behind Jack Miller, who arrived on the podium, and I was able to ride in a better way and was more competitive compared to the previous weekend. Anyway, we need more, and we need to be stronger. We need to work, and we'll see. Racing at the Phillip Island track is always great, but in the end it was a hard battle."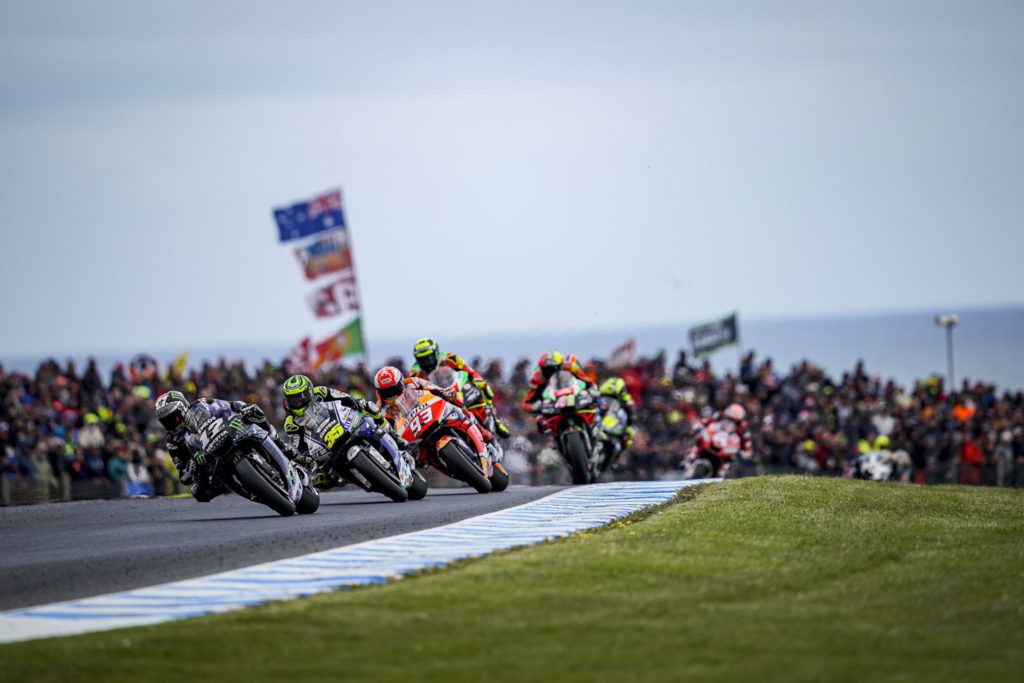 MAVERICK VIÑALES
"I started the last lap much tighter to the curb to have the chance, if Marc would overtake at the last moment, to brake later. But he overtook me before the finish line. Then I was planning to push to the maximum in sector 3 to overtake in Turn 10, and that's what I did. So, before I crashed, I was ready to go in without braking to see what would happen, but I locked the rear. Maybe I made a mistake, I don't know, and then I just fell down on the other side. Today was a race to win, not to be second. I had the chance, so I tried. Anyway, for me it was a very positive race, I crashed but I was satisfied. I gave my best on every lap and the bike was working in a really good way."
More, from a press release issued by Aprilia Gresini Racing:
IN AUSTRALIA TWO APRILIAS IN THE TOP TEN WITH ANDREA SIXTH AND ALEIX TENTH
IT IS THE BEST RESULT EVER FOR APRILIA IN THE HISTORY OF MOTOGP
ANDREA FINISHES LESS THAN 8 TENTHS FROM THE PODIUM, ALEIX CONSISTENTLY IN THE BATTLE WITH THE LEADERS
With its riders putting in an outstanding performance, Aprilia was one of the protagonists in the Australian GP. Starting very well from the third row – Aprilia had never before had two riders in the top ten on the starting grid – Andrea and Aleix settled in stably with the lead group. In the early stages, they occupied third and fifth place for quite a while with Andrea who, on the third lap, even had the satisfaction of overtaking Márquez and then Crutchlow for first place. Starting with the soft on the rear, they both had to manage the natural wear of the tyre but they never gave up, playing key roles in the leading pack and, after Viñales and Márquez pulled away, in the group battling for the podium.
In the end, Andrea took home a nice sixth place, finishing just 7.8 tenths from the podium, while Aleix finished tenth as a testament to the overall great performance of the RS-GP on the demanding and beautiful Phillip Island circuit.
This is Aprilia's best placement ever in the history of MotoGP, where two bikes from Noale had never been so high in the rankings and so close to the podium. The result comes at the end of a primarily positive weekend where the RS-GP machines had been consistently fast in practice and in qualifying, with Andrea finishing Q1 in second place, going through to Q2, and Aleix second in the morning warm up session.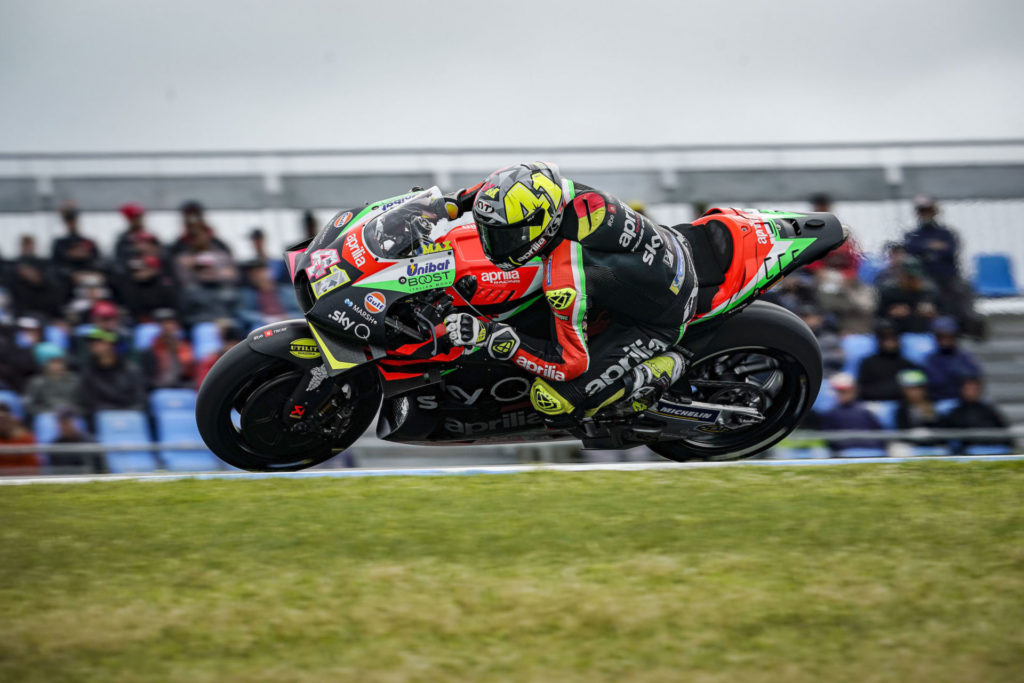 ALEIX ESPARGARÒ
"This is a special track for us, different from the other circuits, and I had fun straight away as soon as we got here. We stayed consistently with the best group which was battling for the podium in a fun race with a lot of overtaking. It seemed like a Moto3 race, but with a lot faster and heavier bikes! In order to be even more competitive, I would have needed more grip on the rear, so I was unable to ride exactly as I expected, having to make up a lot of ground in braking."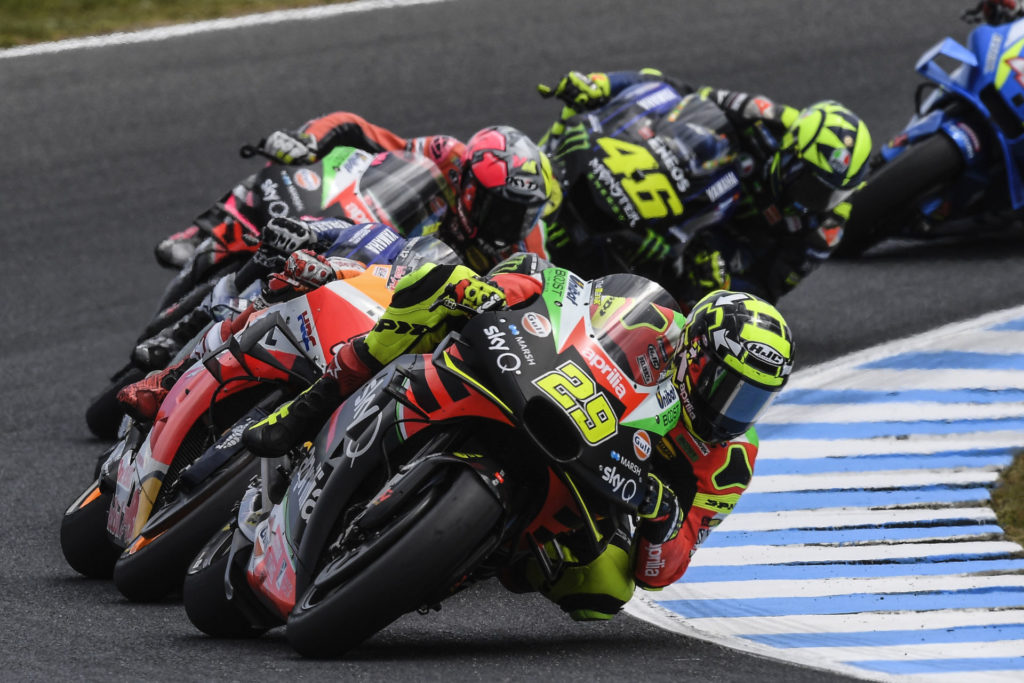 ANDREA IANNONE
"It was a positive race for us, but we worked well throughout the weekend. I had a good feeling straight away and I realised from the first practice session that it would be a good opportunity for us. There were obviously many details that helped, beginning with the characteristics of this track, and it's a pity about some contact in the finale. I lost a winglet and the bike was no longer perfectly balanced. But it was thrilling to ride the Aprilia out front and for that I wish to thank all the guys here and in Noale who are working their hardest and the CEO who supports us in our growth. I hope to be able to bring them more satisfaction. This is only my first season with Aprilia and it was not exactly simple, but we were never lacking in determination and commitment."
More, from a press release issued by Red Bull KTM:
12TH FOR ESPARGARO AT AUSTRALIAN GRAND PRIX AS KTM DOMINATE MOTO2
MotoGP 2019 Round 17 of 19, Phillip Island Circuit (AUS) – RACE
Pol Espargaro grabbed more MotoGP points at the Pramac Generac Australian Motorcycling Grand Prix, hosted at the blisteringly quick Phillip Island circuit. Red Bull KTM Ajo excelled in the Moto2 contest with Brad Binder taking his third victory of the season by leading teammate Jorge Martin across the finish line.
Proceedings around the epic landscape of Phillip Island began with a busy Sunday schedule as the postponed Q1 and Q2 qualification sessions from Saturday took place shortly after warm-up and in chilly, breezy but dry conditions. The Red Bull KTM riders then occupied their slots on the grid accordingly with Pol Espargaro in 17th, Mika Kallio 18th, and Hafizh Syahrin in 20th. Miguel Oliveira was declared unfit to ride after his fast crash in FP4 Saturday afternoon. The Portuguese will undergo an MRI scan on a bruised and swollen left hand and right wrist. Luckily the former GP winner did not sustain more serious injury in the spill that was caused by strong winds pushing him off the Australian course.
The 27 laps of the MotoGP race – the 31st at Phillip Island – began with Espargaro sliding into mid-pack and just outside the top ten as he steered the KTM RC16 in search of optimum grip. The Spaniard earned 12th place and four more FIM World Championship points. Teammate Mika Kallio was also vying for his second dose of MotoGP points since coming into the Red Bull KTM set-up three races ago. The Finn eventually had to retire due to severe rear tyre degradation. Red Bull KTM Tech 3 rider Hafizh Syahrin reached the top fifteen for the fifth time this season as the Malaysian secured the final points-scoring ranking in 15th.
MotoGP now moves onto a third consecutive race and the heat and humidity of Sepang in Malaysia.
Pol Espargaro: "It was a complicated weekend. We struggled for grip and traction. In 2017 we were much faster but we had a lot of problems here last year and again this weekend. I think part of it is down to the weather and all the changes we have to make to the bike. Anyway we need to look at the bigger picture and the whole season has been much better. We cannot explain this one track but I think this is part of developing a bike and making it better for every circuit. We will reset in Malaysia. In the worst conditions we took four points and were fourteen seconds from the podium – which is not good – but not horrible. After a difficult weekend we'll take this."
Hafizh Syahrin: "I had a really good race. In the beginning I needed some time to find a good feeling with the hard tyre but after a few laps I started to find a rhythm. Behind Kallio, I couldn't find a slipstream, so I needed to catch him in the corner and finally I passed him in turn one on the brakes and I tried to pass Abraham. Unfortunately, in the last lap it was impossible for me. In the end, one point is better than nothing. We know that we need to be stronger in the beginning of the race."
Mika Kallio: "We were thinking before the race 'soft or hard' tyre and believed the temperature was improving so we chose the hard. I saw after a few laps that the race would be very difficult. There was no grip at all. I managed to do a few fast laps but then the grip was completely gone and I was spinning and spinning off the corners. In the end there was no rubber at all on the rear and because of that I also pushed and destroyed the left side of the front tyre! This weekend is something we need to forget and think about Malaysia. We had a lot more data from there, like everybody else, and I have been there many times with the MotoGP bike with KTM. I think it will be easier for us."
Miguel Oliveira: "The reason I was unfit today was the swelling on my left hand and the pain on the right wrist. I could not squeeze with power and therefore not grab the handlebars. Speaking with the doctors in the medical centre they saw it was maybe better to do an MRI today to check if there is any ligament damages on the right wrist, so this is what I'm going to do. I will fly to Malaysia Monday afternoon and as soon as I land, I should already have the reports. Fingers crossed, that everything goes well! My only wish is to ride and hopefully everything will turn out in the best possible way."
Mike Leitner, Red Bull KTM Team Manager: "This weekend was really tough for everybody but we had a problem finding a good setting for the race through the different weather conditions. It was horrible seeing some of the crashes on Saturday and we hope Miguel will be OK after his check in the hospital on his hand. Mika was struggling with rear grip, as were many riders and with other manufacturers. Pol took 12th and it's a result that we're not too happy about anymore, we know we can be further forward. We were eleven seconds from the podium and we have to keep realistic but it was a difficult race and we expected more from our visit to Phillip Island."
Moto2 & Moto3
Red Bull KTM Ajo's Brad Binder celebrated the team's third successive Moto2 victory at Phillip Island and the South African's third win of 2019 (his seventh podium) thanks to a masterful performance. Binder had to be at his best at the front of the field to keep teammate Jorge Martin at bay. The Spaniard, who has been in quick form in the last weeks, kept close watch on Binder and passed the chequered flag less than two seconds adrift for what was his second podium result in a row.
Lorenzo Dalla Porta won the Moto3 Grand Prix. KTM were best represented by Albert Arenas as the 2018 winner ran to 3rd position around the quick Australian curves with his RC4 and was less than a tenth of a second from his Italian rival and second placed Marcos Ramirez at the flag.
Brad Binder: "I expected there to be a big group and a massive fight but after just five laps I realised it was just going to be me and my teammate. On one hand it was a bit of pressure but on the other I was more relaxed because it is much easier to deal with one person than ten! I am really happy, and I gave my absolute best the whole race. I think it was one of the best I have done because I really limited the mistakes. I need to say a big thank you to the team because the bike working amazingly from FP1."
Jorge Martin: "In these last three races I've felt very good fighting in the lead group and I'm really happy about that. Today the race was a bit easier than in Japan, as taking off ahead is always a plus. I tried to follow Brad [Binder], but he was pushing really hard. I'm very satisfied with the result and for the team as they deserve the double podium. I'm already looking forward to the next GP."
The Shell Malaysia Motorcycle Grand Prix at the Sepang International Circuit will stage the penultimate round of 2019 MotoGP this weekend.
Next race: November 3rd, Shell Malaysia Motorcycling Grand Prix, Sepang International Circuit
More, from a press release issued by Team Suzuki ECSTAR:
MIR FIGHTS TO FIFTH IN PHILLIP ISLAND, RINS NINTH.
Joan Mir: 5th (+ 14.817)
Alex Rins: 9th (+ 16.032)
• Joan Mir claims best ever MotoGP finish.
• Alex Rins struggles at end but retains 3rd in standings.
• Team ready to attack in Sepang in seven days.
Just one week after the Japanese GP it was time to chase the chequered flag again, and Phillip Island played host to a tense and fiercely contested 27-lap Grand Prix.
Team SUZUKI ECSTAR's riders got off to a good start, despite Alex Rins receiving contact from another rider on the opening lap. The Spaniard quickly recouped and set the fastest lap on the third lap of the race. Determined to get in the mix, he began to fight it out on the edge of the lively Top 5 group. With 15 laps to go he had made it into 4th place but he soon began to lose feeling. Despite his eagerness to finish at the front of the group, Alex had to settle and conserve his tyres. He finished the race in 9th place and retains 3rd place in the championship standings, as both Viñales and Petrucci failed to finish.
Meanwhile, rookie Joan Mir was enjoying working his way up through the field following his 13th place grid spot. Mir took his time and chipped away at the busy group in front of him, picking off fellow riders one by one. As the laps ticked by he found himself able to stick close to the battle for 4th, and on the final straight he got very close to snatching a podium. In the end the youngster took an impressive 5th, his best MotoGP finish. He also climbs up one place in the standings to 12th.
Ken Kawauchi – Technical Manager:
"Joan did a good job today; he was close to the podium and we can really see how he is growing and improving with every race. Alex did well from his grid position, but his pace dropped off a bit as the race went on and he lost some places. We'll check the data and begin working for next week."
Davide Brivio – Team Manager:
"It was an exciting race today; we had both riders fighting in the group and making a lot of overtakes. Joan got his best MotoGP finish yet, and we're happy about this. He came from quite far back and showed that he's more than capable of fighting with the front riders. Alex got up to 4th and he looked really strong, but then he struggled and he finished 9th. But anyway, we're pleased with today's result and we're looking forward to Sepang next weekend."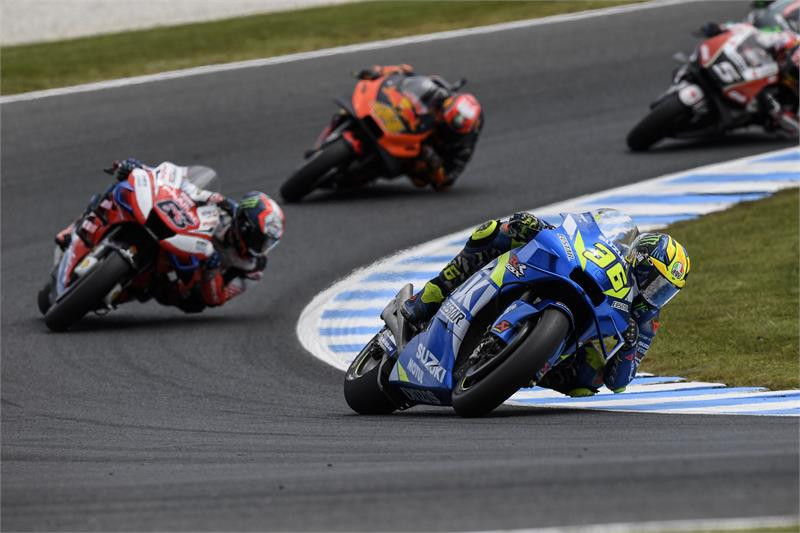 Joan Mir:
"It was a good race today. I'm so happy about the work we've been doing behind the scenes, all the steps we're taking are helping a lot. It's a shame the conditions weren't more settled during the weekend, because in the dry I felt really good and I got my best MotoGP result. I wish there had been one more lap today – I was getting close to the podium! But finally, it looks like the better results are coming, I feel great with the bike."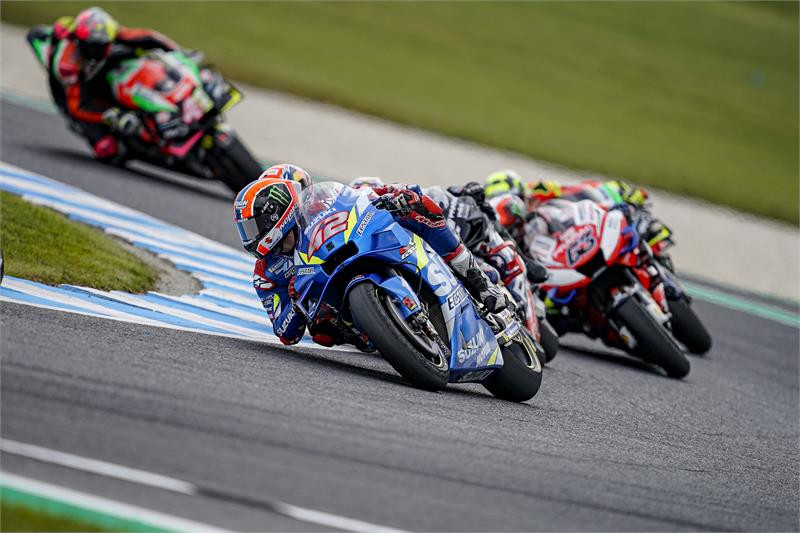 Alex Rins:
"I'm a bit disappointed because there have been several races where I've had really strong and consistent pace – not winning pace because Marc is hard to beat, but podium pace – and I have not been able to convert it to a top result. Today I feel like I could have gone with Cal but it was difficult because I started far down the grid and had to fight a lot. We really need to work on qualifying, being on the front two rows is so crucial. This turned into a sort of 'survival' race, and I just had to get the best finish I could. Anyway, I'm ready for Malaysia next week."
More, from a press release issued by Ducati:
Seventh place for Andrea Dovizioso in the Australian Grand Prix at Phillip Island. Danilo Petrucci crashes on the opening lap and is forced to retire
Andrea Dovizioso finished the Australian Grand Prix, which was held today at the Phillip Island circuit, in seventh place. The Ducati Team's Italian rider, who was starting from row 4 following this morning's Q2 session in which he finished in tenth position, ran an intelligent race as he moved up to the group fighting for fourth, but at the start of the final lap, after passing Miller at the end of the straight, he went wide at Turn 2 and dropped down four positions to finish the race in seventh place. With nine points scored today, Dovizioso is confirmed as runner-up in the Riders' standings for the third year in a row.
It was an unfortunate race for Danilo Petrucci, who started from row 2 thanks to a fifth place he obtained this morning in Q2. The Ducati Team's other Italian rider was the victim of a high-side at Turn 2 at the start of the opening lap, also hitting the bike of Quartararo, and he ended his race in the run-off area together with the French rider. Taken to the medical centre of the circuit, Danilo was diagnosed as having a badly bruised left ankle, but according to the specialists it is nothing to worry about. Despite today's no-score, Petrucci remains in fifth place in the Riders' standings, 14 points behind Rins and 7 from Viñales.
It is worth mentioning the good performance by the Pramac Racing Team: in his home race Jack Miller stepped onto the podium in third, a position the Australian inherited after Viñales crashed out on the last lap, and Pecco Bagnaia put in a great race to finish fourth.
In the Constructors' standings Ducati remains in second position and slightly increases its lead over Yamaha, while in the Teams' classification the Ducati Team is just holding onto the lead by one point.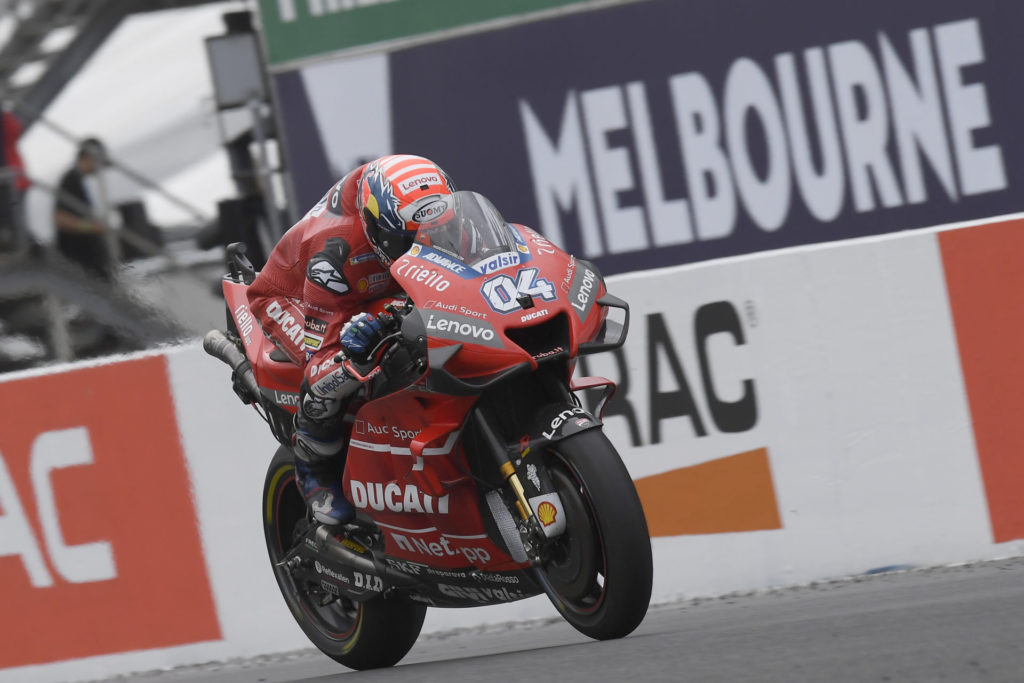 Andrea Dovizioso (#04 Ducati Team) – 7th
"After a first part of the race in which we were fast, we consumed the rear tyre too much and our rhythm dropped compared to that of the top three. In the group of riders fighting for fourth place, we were all in a bit of difficulty but on the last lap I had created the right opportunity for myself: unfortunately, at Turn 2 the bike got away from me, I went wide and lost four positions. In the end it was a pity because we could have finished third and got onto the podium, albeit with a big gap from the first two. The positive aspect from today is that we confirmed our second place in the Riders' classification, with two rounds remaining and for the third year in a row."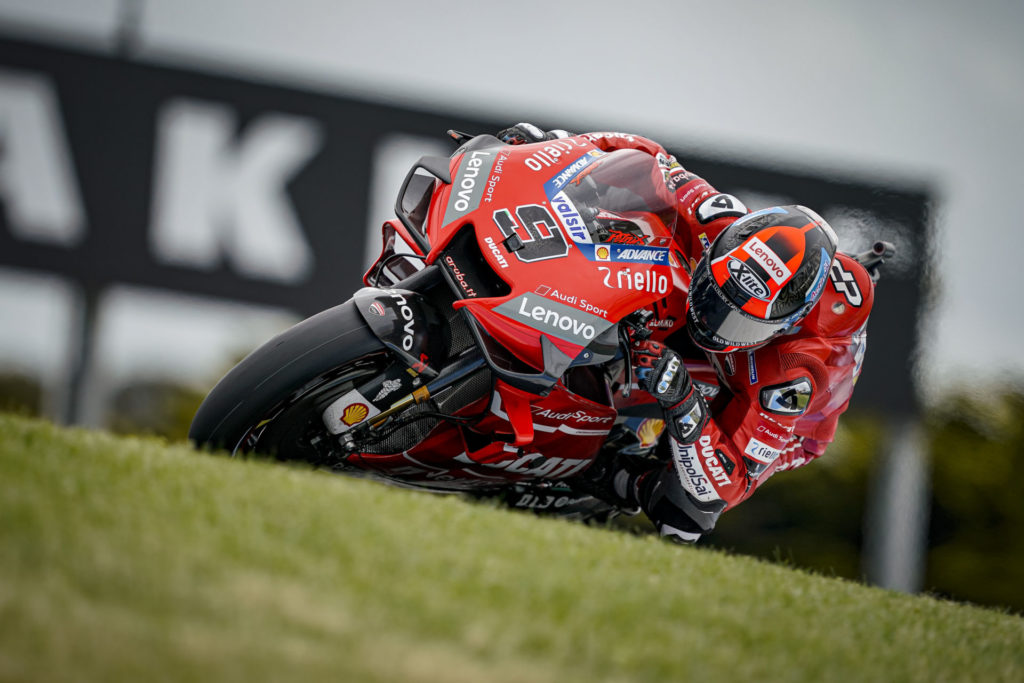 Danilo Petrucci (#9 Ducati Team) – DNF
"I'm bitterly disappointed because finally I was having a weekend that lived up to my expectations and this morning in qualifying I had set a good time, so I was very optimistic for the race. At Turn 2 Marquez came in on me on the inside, I was forced to go wide and onto a dirty line, lost control of the bike and had a high-side that unfortunately also involved Quartararo. I'm really sorry for him and also for the fact that I probably missed a chance to get onto the podium. My ankle is hurting badly, but after a first check in the circuit, it seems that nothing is broken so I hope to be OK for Malaysia."
The next event on the MotoGP calendar is in one week's time at Sepang, where the Shell Malaysian Grand Prix will be held from 1st to 3rd November at the circuit near Kuala Lumpur International Airport.
More, from a press release issued by Pramac Racing:
#AustralianGP RACE. What a fantastic Sunday for Pramac Racing. Jack conquers the Island with a splendid podium (P3) as Pecco (P4) is the protagonist of a stunning comeback.
It was a dream Sunday for Pramac Racing, writing an extraordinary page in the history of the team, at the Pramac Generac Australian Motorcycle Grand Prix with a fantastic result. The team scored a podium finish by Jack Miller and the best race of the season for Francesco Bagnaia who finished in 4th. Jack, who started from P9 and Pecco from P15 were among the great protagonists at Phillip Island thanks to an exciting progression that allowed them to recover many positions, especially in the second half of the race. In the last two laps the Pramac Racing's duo won the fight with Dovizioso and Mir, then a crash from Vinales in the last lap allowed Jack to claim a podium and Pecco to take a sumptuous 4th place, just 0.55s from his teammate.
P4 – Pecco Bagnaia
I can't be disappointed that I was so close from finishing on the podium, I am very happy with this result. It was a solid weekend from start to finish, we made the right choice of tyres and we worked well as a team all weekend. This result fills me with satisfaction and I think it is an important step forward. We will be coming into Malaysia with a lot of confidence and I am looking forward to it.
P3 – Jack Miller
It's an extraordinary result and I'm very happy for the team, they did an amazing job! It's clear that the crash at Vinales allowed me to get on the podium but that can't cancel the feeling of us finishing on the podium in my home race in front of all my friends and family. The battle with Pecco was exciting and gave me extra motivation to push until the chequered flag, This is a weekend I'll never forget.
More, from a press release issued by Michelin:
MICHELIN MANAGES ALL THE WEATHER HAS TO OFFER AS MARQUEZ BREAKS HONDA RECORD
Michelin's biggest opponent this weekend was nature as the Phillip Island Circuit saw changes to the MotoGP™ schedule for the Pramac Generac Australian Grand Prix due to severe weather before Marc Marquez (Repsol Honda Team) took victory in the 27-lap race.
A full assortment of weather this weekend at Phillip Island saw heavy rain, strong winds, cool temperatures and warm sunshine cover one of the most picturesque circuits on the calendar, with the range of Michelin tyres performing in all conditions. This mix of conditions led to the cancellation of Qualifying on Saturday afternoon, due to a safety risk from the strong winds, this meant the two sessions were staged on Sunday for the first time. Maverick Viñales (Monster Energy Yamaha MotoGP) took pole position, with Fabio Quartararo (Petronas Yamaha SRT) – who had to come through Qualifying 1 for the first time in his rookie season – and Marquez joining him on the front row in second and third respectively.
In overcast conditions, with ambient temperatures at 16°C and the track surface reaching its highest point of the weekend at 30°C, five of the six MICHELIN Power Slick compounds lined up on the grid as the riders made their choices despite the lack of track and important set-up time, over the weekend. Valentino Rossi (Monster Energy Yamaha MotoGP) made an impressive start and led in to the first corner from fourth on the grid. He held top-spot for three-laps, before Cal Crutchlow (LCR Honda), took first place on lap-four. He was hunted down by Viñales, as the pole-setter settled into a rhythm and took the lead on lap-10, with Marquez close in pursuit. Viñales using a soft/soft MICHELIN Power Slick configuration and Marquez – with a hard front and soft rear pairing – pulled away at the front and the race was looking like being another momentous battle on the last lap, but as the pair neared the penultimate corner – with Marquez in the lead – Viñales crashed as he tried to fight for the win, leaving the 2019 World Champion to ride to victory and claim his 11th success on the season, a result that saw him secure his 55th win on a Honda and become the Japanese marque's most successful premier class Grand Prix rider, surpassing the record previously held by Mick Doohan, who achieved all his Honda victories on Michelin tyres.
Completing the podium was Crutchlow, using hard front and rear MICHELIN Power Slick tyres, as he also secured the position of First Independent Rider, and in third, with a combination of medium front and hard rear, was local hero Jack Miller (Pramac Racing), a result which more than pleased the crowd at trackside. Francesco Bagnaia (Pramac Racing) took fourth, Joan Mir (Team SUZUKI ECSTAR) was fifth and Andrea Iannone (Aprilia Racing Team Gresini) crossed the line in sixth, as this trio respectively recorded their best results of the season so far. Andrea Dovizioso (Ducati Team) was seventh, Rossi eighth and Alex Rins (Team SUZUKI ECSTAR) in ninth, with Aleix Espargaro (Aprilia Racing Team Gresini) coming home in tenth to give Aprilia its first double top-ten finishes of the season.
This weekend also saw a first for MotoGP as a tyre test session was conducted during a racing weekend. This extra 20-minute session was held on Saturday afternoon to enable Michelin and all riders the chance to assess a new construction rear MICHELIN Power Slick tyre on one of the calendar's most demanding circuits, in readiness for introduction into the 2020 range. All riders available completed the session and most put together an 11-lap run to give Michelin a lot of data. This information will now be assessed in Clermont-Ferrand before a decision is taken about further winter testing and the possibility of adding the new tyre to next year's allocation.
Michelin now travels to Sepang in Malaysia for the final event of the three-week tour and the penultimate race of 2019, as round 18 of the championship is scheduled to get underway on Sunday 3rd November.
Marc Marquez – Repsol Honda Team:
"It has been a crazy weekend for everything, but especially about getting the tyres right. When it rains and then you have to cancel some practice because of wind you cannot understand the tyres and which is the best choice for the race. Especially at this racetrack because the consumption is so high and it is so demanding on tyres, but as we saw I raced with the soft rear and Cal and Jack used the hard, so both tyres had different potential, but both had enough to win the race. In the end we did a great job and so did all the Michelin staff because it was so difficult to understand and Clement and Piero gave to me and my team the important information and we were then able to make the correct decision for the race."
Piero Taramasso – Michelin Motorsport Two-Wheel Manager:
"As Marc has said it has been a crazy weekend! I think we had a bit of every weather over the weekend, except snow. The tyres were subjected to some real extremes, with heavy rain, cold asphalt and high winds, all on a track that makes huge demands on the tyres. The rain and slick tyres all performed well though, despite all the changes in weather, and even though the riders had very little dry set-up time we were able to assist them with their choices and give them the tools to make the most informed decision for a race tyre. Again, it was pleasing to see different configurations on the podium, with five of the six compounds being used during the race. Consumption is always a factor here at Phillip Island and although that was evident today, it was not severe and we finished the race with the tyres having a good aspect, showing that the mix of rubber on the asymmetric front and rear tyres was correct and gave a consistent performance.
"The special tyre test session was an invaluable 20-minutes for Michelin as we were able to get all the riders that were available to go out on track to do a number of laps and concentrate just on assessing the tyres. We will now return to France after the final race of the fly-aways and evaluate the tyres and all the data before making a final decision regarding further testing or adding them to the 2020 range.
"We now head to Malaysia, where hopefully it will be a bit warmer, we know we will probably also face some changeable weather, but we have spent a lot of time testing at Sepang, so we know what to expect and have the tyres to do the job, no matter what the conditions are."
More, from a press release issued by LCR Honda Castrol:
CRUTCHLOW BACK ON THE PODIUM AT PHILLIP ISLAND
PRESS RELEASE: 27 October 2019 | Phillip Island GP
Cal Crutchlow claimed second position after a superb ride at the Australian Grand Prix on Sunday. The LCR Honda CASTROL rider profited from a last-lap fall by Maverick Vinales to climb on to the second step of the rostrum behind world champion Marc Marquez, his first podium finish since the German Grand Prix in July.
On a busy day at Phillip Island, the Briton started from the second row having taken sixth position on the grid in the morning's delayed qualifying session. Crutchlow then headed the field in the early stages of the race before settling into a good rhythm on his own in third behind the leading duo of Vinales and Marquez. The result was the Briton's third podium of the season and erased the painful memories of his injury at the Australian venue last year.
"I knew coming into today that I had the pace to be on the podium, no matter what from Friday's free practice. We've worked hard for this, three podiums in the year is always good, it's unfortunate that Maverick fell off, but we were still on the podium and we have to be happy with our pace today. I didn't have the grip or the bike under me to be able to go with Marc (Marquez) or Maverick (Vinales) so I had a big gap behind and was happy with my pace. The last five laps I had to manage my rear tyre and I was just riding home and then it started raining on the final lap! I'm really, really pleased to get a podium here in Australia after what happened last year, at one point I didn't think I was coming back. I want to thank Honda and my crew who did a great job building me a bike capable of being on the podium today.
The whole LCR CASTROL team deserved this today. We know we got lucky with second place, because Maverick deserved to be on the podium, but it's great to be up on the podium with my mate Jack [Miller]".
More, from a press release issued by LCR Honda Idemitsu:
ZARCO IN THE POINTS ON
LCR HONDA IDEMITSU DEBUT
AT PHILLIP ISLAND
PRESS RELEASE: 27 October 2019 | Phillip Island GP
Johann Zarco finished in the points as he made his race debut as a LCR Honda IDEMITSU rider at the Australian Grand Prix on Sunday. The Frenchman has replaced Takaaki Nakagami for the final three races of the season and proved competitive throughout at the iconic coastal circuit on a day when LCR team-mate Cal Crutchlow finished as runner-up behind fellow Honda rider Marc Marquez.
With qualifying having been delayed due to high winds on Saturday, Zarco went fourth fastest in Sunday morning's Q1 session to secure 14th position on the grid. During the race he enjoyed a hard-fought battle with former KTM team-mate Pol Espargaro and admitted afterwards he was pleased with the progress he had made during his first weekend as a Honda rider.
"The race was great. I chose the soft rear because that was the only tyre I used all weekend and it would have been a shame to have no feeling during the race. At the start I had a good fight with many riders, overtaking them and them overtaking me, and then it was quite funny that the rider I was battling with for most of the race was KTM's Pol Espargaro. We had a good fight, every time I thought I could get past him and move on to the group ahead, he attacked me again and we lost some time. I tried to beat him, but he did a good last lap and came out of the last corner better than me. I finished 13th which is ok, it was good to come back and it's always a tough race here at Phillip Island."
More, from a press release issued by Reale Avintia Racing:
The Reale Avintia Racing Team returns to the points zone in Australia
The Reale Avintia Racing Team concludes an Australian Grand Prix that leaves a bittersweet taste to the team. Karel Abraham scored two points after finishing 14th. Tito Rabat, who was suffering from physical problems, had to retire at the beginning of the race.
It's been an intense Sunday at Phillip Island. After strong and threatening winds blowing at the Australian circuit on Saturday, the decision was taken to cancel and postpone qualifying until Sunday morning. Karel Abraham, who started 16th in the grid, has managed to cross the finish line in 14th position, adding two important points after some difficult last races. The Czech rider has reached a good pace throughout the race that has allowed him to finish in the top fifteen. Tito Rabat had to retire with twenty-three laps to go due to problems with his right hand that he has since Japan. The Spanish rider tried to follow the pace of the race, but the strong pain in his hand made it impossible for him to finish.
With no time to rest, the penultimate race of the World Championship and the last of the Asian tour, the Malaysian Grand Prix, will take place next week. The Reale Avintia Racing Team faces the weekend at the Sepang International Circuit with the motivation to score points and to make a good performance before the final race of the season in Valencia.
Tito Rabat | DNF
"Today it was less windy, we wanted to try to get out and try to follow the group, but it was impossible. I had a blow to my hand before Japan, my tendon hurts a little and it's more than it seems. You have to be careful. We will see if in Malaysia we can go back where we deserve."
Karel Abraham | P14
"For sure it was not the best race that we have done this season but it was OK. I'm really happy for the points that are obviously very important. We were still struggling before the start of the race to choose the rear tyre because I was not sure about the conditions and the weather, but finally we chose the soft option, but I'm still not sure if it was better or not. It was very difficult, especially the end of the race where the rear tyre was not working anymore and I was struggling a lot, but we managed it. Also, before the end of the race, I had a big slide, I was very close to crash and I was overtook by Syahrin, but I overtook him back, and unfortunately in the last lap Viñales had a big crash and I took two points which is great and I'm really happy to add more points in the championship. Even though it was not the best race, it was a good race by performance, being there and consistent lap times. We are still aiming to be there one group ahead, I think this is something that we have to achieve."
More, from a press release issued by PETRONAS Yamaha Sepang Racing Team:
Disappointment for PETRONAS Yamaha SRT at Australian GP
Tough weekend at Phillip Island concludes with P11 for Franco Morbidelli and a DNF for Fabio Quartararo
Australian GP – 27 October 2019
PETRONAS Yamaha Sepang Racing Team had a disappointing Australian Grand Prix after Franco Morbidelli finished just shy of the top ten and Fabio Quartararo was left watching from the sidelines at Phillip Island after being taken out by another rider on the opening lap.
Showing strong pace all weekend despite mixed conditions and high winds blasting the seaside track, Morbidelli went into today optimistic about what he could achieve when the lights went out. However, struggling first in this morning's rescheduled qualifying session, he then wasn't able to find the pace he needed to be competitive in the race. Dropping back to 14th at the start, Morbidelli was able to regroup and recover a number of places before riding a relatively lonely race to finish in 11th.
Quartararo went into the race nursing an ankle injury after a heavy crash during Friday's FP1 but was able to bounce back to start second after qualifying. Lining up on the front row, he made a strong start to battle for the lead – but ran wide on the opening lap before being struck by another rider as they crashed behind him, ending Quartararo's race prematurely.
The team maintain a healthy position in the championship standings, with Fabio staying sixth and Franco tenth in the overall rider standings. Quartararo still leads the Independent Riders' award by 22 points and PETRONAS Yamaha SRT is 58 points in front of its nearest rival in the Independent Teams' series and stays fourth in the general Teams' classification.
The team can bounce back imminently, with action resuming in only five days' time. Practice starts for their home race at the Sepang International Circuit on Friday 1st November ahead of Sunday 3rd November's Malaysia Motorcycle Grand Prix.
Razlan Razali, Team Principal:
"That was our most challenging weekend of the year in MotoGP. The conditions at Phillip Island were harsh and it was hard work on track for Fabio with his injury and being taken out of the race as well as for Franco finding race pace. Nevertheless, we did get a few valuable points to ensure we are still very much in the fight to be best Independent Team. In Moto3 it was an intense battle over an exciting race. John was right in the mix and Ayumu fought well through the field. In Moto2, Adam continues his learning process with a lot thrown at him over the weekend. Sepang will be a key race as Adam's home event, so he should be able to push for a further step forward. We have great anticipation for Sepang with a lot of local supporters ready to get their first glimpse of Malaysia's first MotoGP team. Our target is to maintain the momentum of the season."

Wilco Zeelenberg, Team Manager:
"It was a bad day at the office for PETRONAS Yamaha SRT. The weekend did not start well with Fabio's crash on Friday, but Franco also had mixed fortunes all weekend; in some sessions he was fast but in others, he struggled. In the race, Franco couldn't maintain pace and find the correct strategy to keep his tyres alive. Fabio had a good chance after the disaster of Friday, but he was taken out by Petrucci at turn two. Both were on hard tyres, both had a little slide at the same time, and it was basically the opposite of Silverstone where Fabio took out Dovizioso. The most important thing is that both riders are okay. We need to put this weekend behind whilst learning from it, which was always one of the goals in our rookie year. We share success just as we share the more difficult moments. Now we have a great opportunity to bounce back at the best place possible in only five days' time in Malaysia."
Franco Morbidelli:
"It was a difficult race for us. From qualifying this morning we've struggled; I had been feeling good all weekend and I was aiming for a better position on the grid, but this morning we had a big drop in performance. This meant we didn't start the race from where we hoped and we weren't able to improve from there. I had to manage the tyres and be precise over every lap, but the pace was not forthcoming. We have to investigate why we lost pace today as the rest of the weekend had looked promising. Obviously, we want to be fast again in Malaysia."
Fabio Quartararo:
"It was a tough weekend, with a big crash on Friday and a crash on Sunday. This morning we were able to do something incredible, taking part in my first MotoGP Q1 then going through to the front row. That was a really nice start to the day. In the race, if Petrucci hadn't hit me I would probably have run onto the grass and lost a lot of positions anyway, but it's still my rookie year and I'll learn from it. I'll now take the opportunity to rest and recuperate as much as possible before the next race in Sepang where I want to reward the circuit and PETRONAS with a strong performance."
More, from a press release issued by Red Bull KTM Tech3:
Syahrin grinds out one point in Australia – Oliveira has to sit out
Red Bull KTM Tech3 rider Hafizh Syahrin scored a World Championship Point in an action-packed race at Phillip Island today. The Malaysian, who started from P20 on the grid, worked his way towards the points scoring positions with quick and consistent lap times in the second part of the race and eventually had an exciting battle against Karel Abraham in the last laps. He crossed the line in 15th.
Following his heavy crash in turn one caused by the strong winds yesterday, Miguel Oliveira was declared unfit by the medical team, as a swollen left hand and a painful right wrist didn't allow him to control his bike properly. The Portuguese MotoGP rookie is at the Melbourne hospital at the moment in order to undergo an MRI to his right hand to exclude any further damage and to ensure he can compete again next week in Malaysia.
Hafizh Syahrin
 
Position: 15th
Championship: 23rd
Points: 8
"I had a really good race. In the beginning, I needed some time to find a good feeling with the hard tyre, but after a few laps I started to find a rhythm and managed to control my rear tyre, but on the straight it was impossible to pass Abraham. Behind Kallio, I couldn't find a slipstream, so I needed to catch him in the corner and finally I passed him in turn one on the brake and I tried to pass Abraham. Unfortunately, in the last lap it was impossible for me, after I already had him before. In the end, one point is better than nothing, we found back into a rhythm, but we know that we need to be stronger in the beginning of the race."
Miguel Oliveira
 
Position: DNS
Championship: 17th
Points: 33
"The reason I was unfit today was the swelling on my left hand and the pain on the right wrist. I could not squeeze with power and therefore not grab the handlebars, which lead to this result. Speaking with the doctors in the medical center, they saw it was maybe better to do an MRI today to check if there is any ligament damages on the right wrist, so this is what I'm going to do. I will fly to Malaysia Monday afternoon and as soon as I land, I should already have the reports. Fingers crossed, that everything goes well! My only wish is to ride and hopefully everything will turn out in the best possible way."