By Michael Gougis
Italian Gabriel Vuono won the Super Final race of the FIM MiniGP World Series shootout at the kart track at Circuit Ricardo Tormo in Valencia, Spain.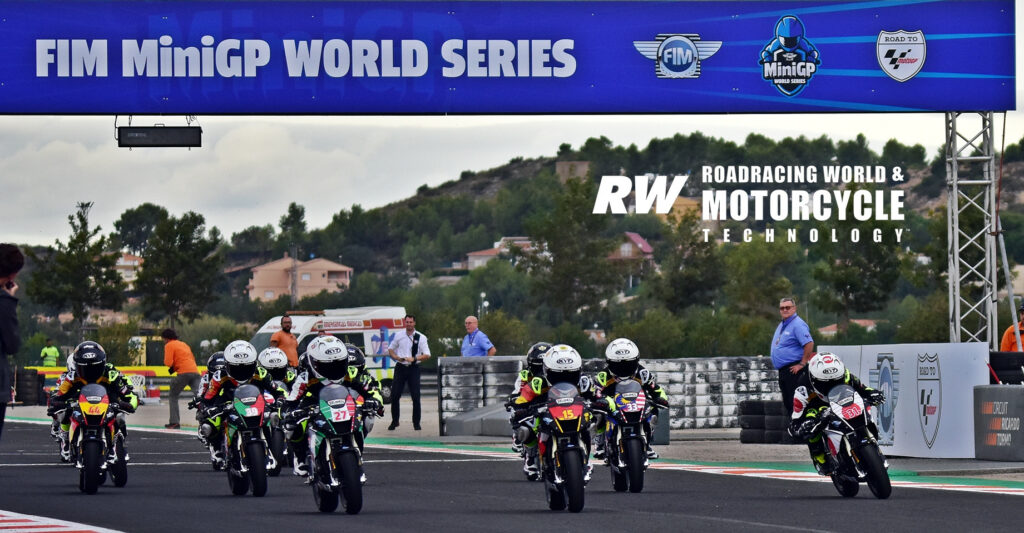 Part of the festivities surrounding the season-ending MotoGP weekend, the shootout on 160cc Ohvale GP-0 mini racebikes pitted competitors from across Europe, North America, Japan, Malaysia and Indonesia.
And it was a big deal. MotoGP riders Pol Espargaro, Alex Rins and Joan Mir were in attendance, as was former 125cc and 250cc GP World Champion Loris Capirossi and FIM President Jorge Viegas. Giorgio Barbieri, Racing Manager for Pirelli, who is seen on the grid at car Formula One events, was on hand. It may have been the most racing elite-studded mini bike race in history.
The format for the final day of racing was two qualifying races, two preliminary races and the Super Final. American Ryder Davis, 13, recovered from a crash in Race One to finish eighth in the Super Final race. American Nathan Gouker, 11, finished 12th in the Super Final after battling his way through the field.