Copyright 2021, Roadracing World Publishing, Inc.
Responding to online news reports and comments from around the world,
Erik Buell sent this e-mail note to Roadracing World Founder & Editor John Ulrich:
Hope all is well with you and family. I and my family are doing OK, and I'm
busy with FUELL and writing a lot of music (!?) in my spare time! But I do
miss being involved in the racing world, and seeing you and my other friends.
Anyhow, I am writing because of this "new Buell" stuff going on. I wish
there was a way to get the record set straight on me personally around my
businesses, both past and present! We all see and laugh at fake news every
day, but when related to myself it bothers me. I read everything from how
many bankruptcies I've had, to how I am involved again now, to how exciting
it will be to see new Buell products I am designing. A few might be
malicious, but almost all comes from just bad information that gets
repeated, maybe distorted and starts becoming "real." This gets worse as
time goes by. So I'd like to set a few things straight.
As I know you know, damned few people if any have devoted as much time and
personal money into American motorcycles. There are a lot of haters out
there, which I just don't get. Then I'm not that kind of person. But for the
haters and those who are hearing them, since I started my first business
back in 1977, for all my years of battling, my companies went through a
grand total of one receivership, which is essentially a bankruptcy. One.
Buell existed from 1983 through 2009 with no bankruptcies. It was shut down
by H-D in 2009 when excesses and unwise choices by their existing leadership
nearly bankrupted them, and they did massive cutbacks. Buell had had its
best sales year ever just before this, but the situation was what it was, as
H-D decided to get rid of anything outside of their core business. I wish
this had not happened and believe time has shown this was a mistake, but
corporations do what they do.
After Buell was gone, I started EBR with the money I had saved from my pay
and bonuses from building Buell up within H-D. EBR grew from a start-up in
2010 to being a company that KPMG valued at $50M in 2013. However, it turns
out EBR grew faster than the growth financing we were working on allowed.
The weaker than expected superbike sales of 2014 meant we had more inventory
and parts than we could turn back into cash. In addition our largest
customer Hero decided to pull back from expanding globally with the products
we were designing to focusing on their home market of India, so expected
income from those projects dried up. There is a misunderstanding that they
did not pay their bills; that is not accurate…they just pulled back from
what we had presumed and planned upon.
Suddenly our income was insufficient to continue the pace, and we could not
negotiate delays in payments for products and services we were using for the
expected growth. This combination is what drove EBR into receivership. I
wish Hero had continued with those products, and believe they would have
done even better had they gone global, but they made a choice as a
corporation, which was their right. I wish even more that EBR had ramped up
more slowly and had not become over-extended. I sometimes wish that small U.S.
companies in trouble could get more government support as do companies in
similar situations in other countries. But on the other hand, I don't want
big government, and face it, wishes don't fix the past. They are only
valuable as lessons for the future.
EBR assets were bought out of receivership by LAP of Michigan. I joined
briefly with LAP, but they did not need engineering services as they were
just selling parts and a few bikes built from what was left of inventory of
EBR 1190 parts they had bought.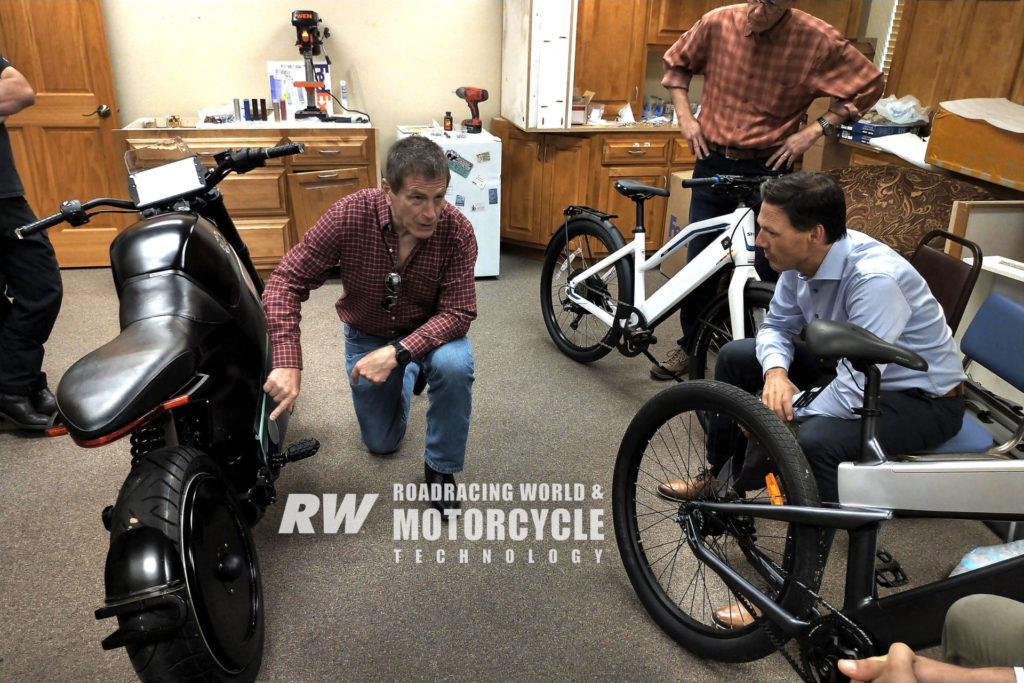 So I moved on to co-start FUELL, because I could see great need for new
products and innovation in the electric motorcycle/bicycle world. That is
where I have been the last three plus years, and it is very exciting to be
free to design radical stuff. It's a small but really serious team that
represents a real technology start-up, with a lot of patentable ideas. This
is where real talk around Erik Buell and the team I am working with should
be. We have a very exciting portfolio of new FUELL products coming that will
show innovation even beyond what we did in prior companies.
I am not involved with the EBR or Buell brands, which are owned by the
people from LAP of Michigan. Where they go will be seen, and hopefully it's
all good, but I have no part in it at this time. I would appreciate it if
LAP would stop using my personal name Erik Buell in their postings, but what
to do… In any case if I can't stop that, I just would like it to be known
that I am not personally associated with a company where I have no
involvement in business or engineering. The future of Erik Buell is with
FUELL.
All the best,
Erik