The Roadracing World 2022 Reader Survey, Part 2, was brought to you by D.I.D. and Woodcraft.
Todd Griswold, of Prescott, Arizona, won a D.I.D. VR46 Rossi X-Ring sealed drive chain, valued at $146.50 to $196.33 depending on application, and a set of Woodcraft Frame Sliders with new optional Cerakote Colored Inserts, which start at $89.99.
D.I.D. 520/525 VR46 Rossi model X-ring sealed chains come with gold inner plates and silver outer plates with unique VR46 engravings, a Rossi Yellow-colored master link, and a D.I.D./VR46 commemorative sticker sheet. The 520VR46 (MSRP $146.50) is suitable for most motorcycles up to 800cc while the 525VR46 (MSRP $196,33) is suitable for most 1,000cc motorcycles. The chains are available for purchase through Dennis Kirk (DID Silver/Gold 520 VR46 Chain – 520VR46SG120ZB Cruiser Motorcycle – Dennis Kirk) and MotoSport (DID 520 VR46 X-Ring Chain | MotoSport) For additional info, contact Daido Corporation of America, Dept. RW, 1031 Fred White Blvd., Portland, TN 37148, (615) 323-4020.
Woodcraft Frame Sliders with optional NEW Cerakote Colored Inserts give your bike a custom look with Woodcraft's standard of race-level protection. These sliders offer the energy absorption of a plastic puck with the durable great looks of Cerakote colored aluminum. Our patented perpendicular mounting bolt design is far less likely to be damaged in a crash than traditional center mount sliders.  This makes for easy puck replacement and creates more sliding surface area for greater durability. Available in four colors: Red, Blue, Gold, and Green. Frame Slider Kits with Cerakote Inserts start at $89.99. For more information, contact Woodcraft Technologies, Dept. RW, 105 Baldwinville Rd., Winchendon, MA 01475, (978)-297-2977. [email protected], www.woodcraft-cfm.com.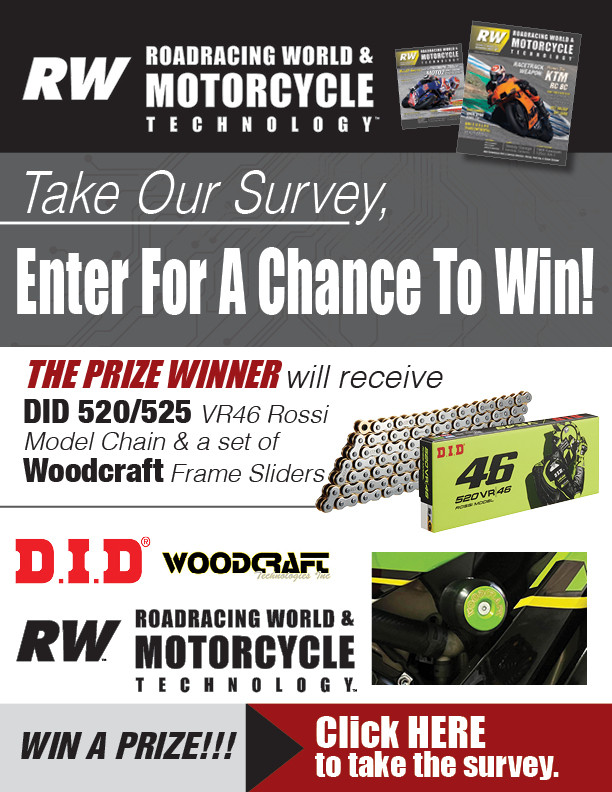 Survey results are used to improve content for readers and marketing for our advertisers.  Name and address required for prize drawing. Entrants will automatically receive a free three-issue trial subscription to Roadracing World magazine with no obligation.  No mailing list or confidential individual information is shared with third parties. Roadracing World's privacy policy can be viewed here. To sign up to receive upcoming, short installments of future Roadracing World reader surveys and other promotional e-mails from Roadracing World, CLICK HERE.
For more information on how your product can be the presenting sponsor of an upcoming portion of the Roadracing World 2022 Reader Survey, email Anne Roberts, [email protected].
About Roadracing World
Established in 1990, Roadracing World & Motorcycle Technology magazine is THE definitive source for motorcycle racing, riding, and tech information.
Roadracing World & Motorcycle Technology magazine is available in print and digital formats. SUBSCRIBE NOW. Or call (909) 654-4779, 9:00 a.m. – 5:00 p.m. Pacific Time, Monday through Friday.