Pirelli and Brandon Paasch Emerge Triumphant in the Daytona 200
Tyler O'Hara Grabs Podium Position with DIABLO™ Superbike Slicks
DAYTONA, Fla. – Pirelli Tire North America returned to the winner's circle once again at the 79th running of the Daytona 200, claiming three out of the top four positions in the 57-lap shootout. TSE Racing's Brandon Paasch has come close to victory at the speedway previously, but 2021 marked the year that the 19-year old would get the job done, piloting his Yamaha YZF-R6 to victory by 0.031 of a second. Tyler O'Hara used an impressive late race charge to take the final step of the podium in third aboard his Floyd's of Leadville Kawasaki Ninja® ZX™-6R.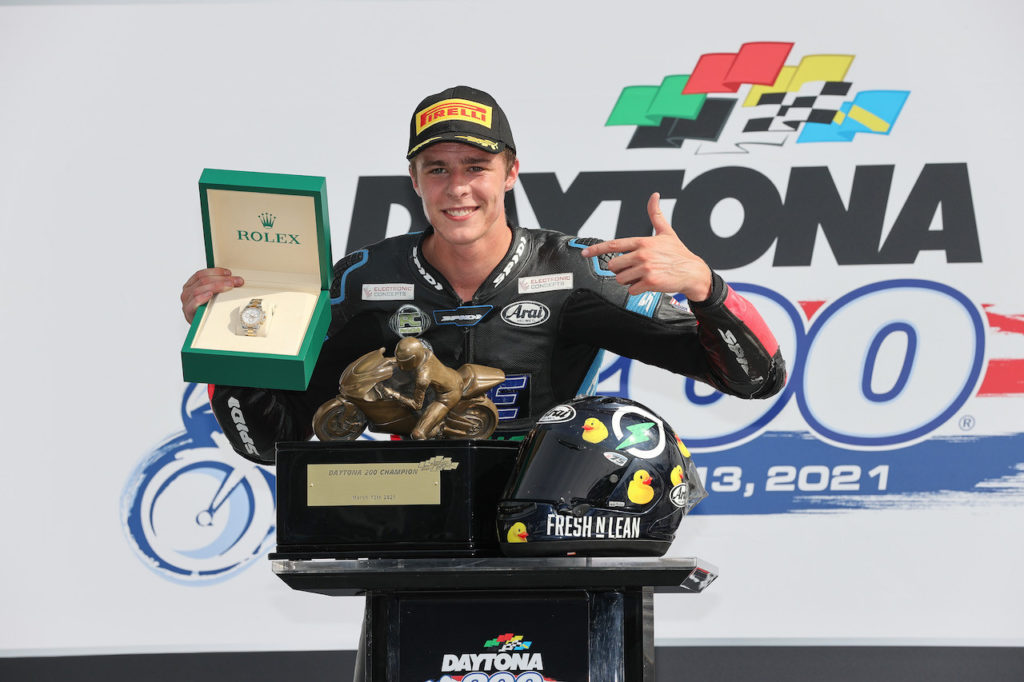 "It feels so good to get the job done here in Daytona," said Paasch. "This has been a goal of mine for a long time, and to finally check this off the list, just feels amazing! My Pirelli DIABLO™ Superbike slicks worked incredible all day, especially towards the end of the race when it really counted, allowing me to chip away at the lead and make the pass for the win."
Both Paasch's YZF-R6 and O'Hara's ZX-6R relied on the performance of Pirelli's DIABLO™ Superbike SC1 120/70-17 front tire and DIABLO™ Superbike Daytona 190/60-17 rear tire to handle the challenges of the high-banked 3.51-mile course.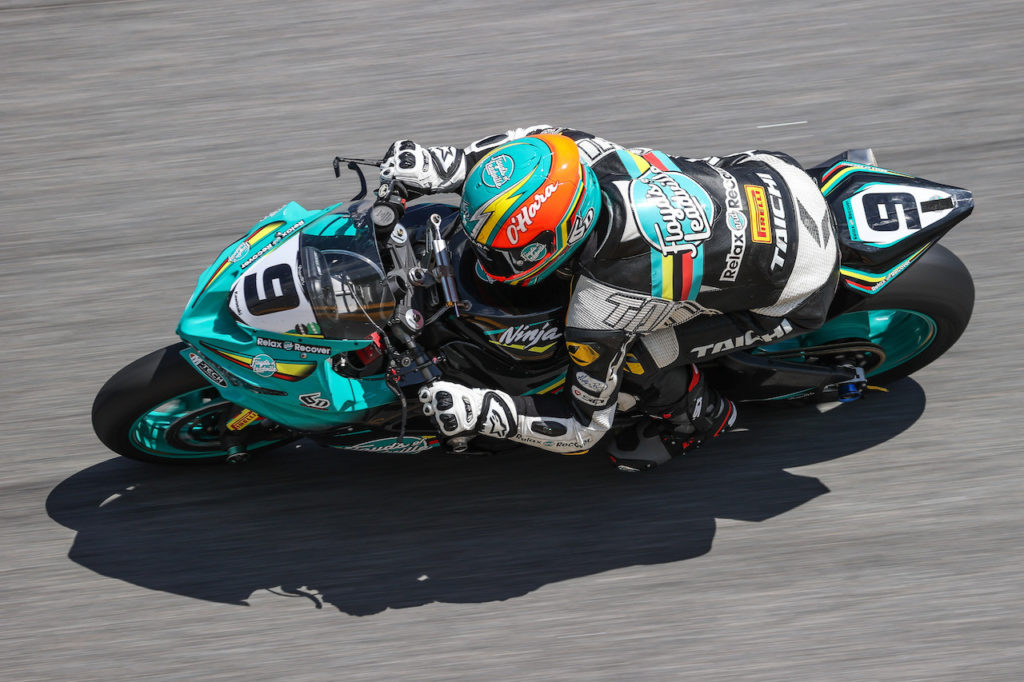 "I let the leaders get away from me a little bit there in the beginning laps," said O'Hara. "I just never gave up though, and my Pirelli tires were working awesome. I'm so stoked to be up here on the podium, but to be honest, I really wanted to get that top step of the podium."
Paasch's relentless efforts saw him make up a six-second gap in the final stages of the race, including using the traction of his Pirelli slicks to get a drive and make the pass for the lead to take the victory on the final lap. O'Hara narrowly edged out fellow Pirelli rider Michael Barnes in a drag race to the checkered flag, finishing third and fourth, respectively. Geoff May would race to a hard-fought seventh and Ryan Jones carded a top-10 in ninth.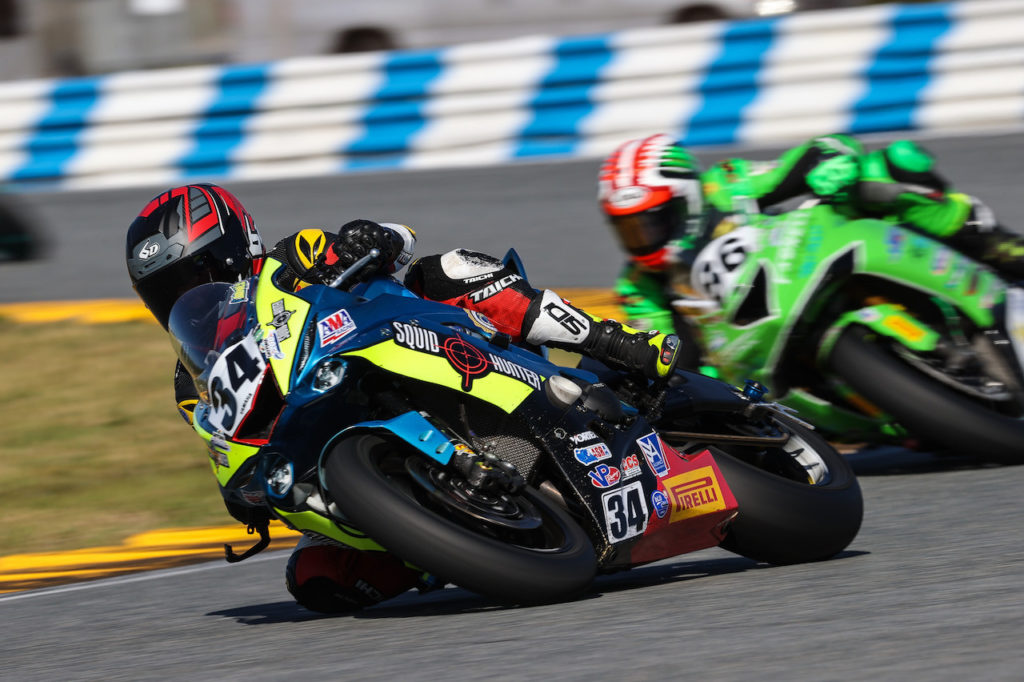 "What a way to make a return to the Daytona 200," said Oscar Solis, road racing manager, Pirelli. "All weekend long our guys were competitive at the front of the field. Brandon [Paasch] been trying for this win the past few year's, so to see him succeed and accomplish his goal is something that everyone at Pirelli is proud of. The pace that the guys were able to maintain with the DIABLO™ Superbike range showcases not only their performance, but durability, especially in a endurance-style format like we had today."
RESULTS
Daytona 200 – Daytona, Florida
March 13, 2021
1.     Brandon Paasch
2.     Sean Dylan Kelly
3.     Tyler O'Hara
4.     Michael Barnes
5.     Danny Eslick
6.     Rocco Landers
7.     Geoff May
8.     Teagg Hobbs
9.     Ryan Jones
10.  Max Flinders
For more information about the complete line of Pirelli motorcycle tires, please visit Pirelli.com
 ABOUT PIRELLI
Pirelli was founded in Milan in 1872 and today stands as a global brand known for its cutting edge technology, high-end production excellence and passion for innovation that draws heavily on its Italian roots. With around 30,000 employees, Pirelli is a major player in the tire industry and the only global player focused solely on the consumer tire market, which includes tires for cars, motorcycles and bicycles. In particular, Pirelli is a global leader in the production of racing and high performance motorcycle tires both for on and off road applications. Pirelli has a long link with motorsport and the multitude of successes include a record of seventy-two world titles gained in the FIM Motocross World Championship thanks to the performance of its mx product range. In road-racing, since 2004 Pirelli has made the FIM Superbike World Championship for production-based motorcycles the ideal proving ground to develop not only the products used in competition, but also tires used daily by motorcyclists all over the world. Inspired by the philosophy now become a motto "We sell what we race, we race what we sell", Pirelli has managed to bring to fruition all the experience acquired in this championship, applying some of the patents and materials developed for racing activity to the product portfolio dedicated to road use.
More, from a press release issued by Brandon Paasch's publicist:
BRANDON PAASCH TAKES DRAMATIC WIN AT THE 79TH DAYTONA 200 WITH DRAFT PASS AT THE FINISH LINE
Brandon Paasch wrapped up his unfinished business from 2019 by winning the 2021 79th Daytona 200 in dramatic fashion.  Despite a red flag caused by one of the leaders after 18 laps, Paasch was comfortably running with the front group from the green flag.  After the restart, a small issue during the last pit stop caused him to drop back over six seconds behind the leaders.  Not to be denied a chance for the win, Paasch put his head down and ran down the front runners with a string of 1:49 minute laps.  With four laps to go, it was only Paasch and [the race leader] running nose to tail in the lead.  Both riders had to fight through traffic, lapping up to sixth place by the end of the race.  In the final run around the famous Daytona International banking, Paasch fired out of the infield section to catch up on a small gap to Kelly.  Cutting the fastest lap of the 200-mile race on his last lap, Paasch was able to draft Kelly by timing his pass perfectly for the win by just 0.031 seconds.  As winner of the 79th Daytona 200, Paasch takes home a Rolex Daytona Chronograph watch and $25,000 in prize money.
"That was an amazing race!  I still can't believe I actually got to raise one of the most iconic trophies in motorcycle road racing over my head.  It's been a big dream of mine to win the Daytona 200, ever since I was a little kid.  This race meant a lot to me, and it's a great way to start my season.
"I had a decent start, and every few laps I'd run to the front and lead across the line to get a feel for the group.  At the end of the race with [the leader], it was like our 2020 season all over again.  He's a really fast guy, and I know he'd push it to the end.  But I was so comfortable in the race, I knew I could be there for the win.  Even when I was a bit behind after the final pit stop, I just focused and pushed hard to catch up to him for the end of the race.  I kept my breathing controlled and saved my energy for the last lap.  At that point, we were both on tires that were sliding around, but I had that draft pass planned from when I raced the 200 in 2019.  I knew I had him at the line, but when I saw the finish photo it was still pretty close.
"Everyone knows now that I was racing with a bit of a sore ankle from a training accident, but TSE Racing had the bike well setup for the race.  I had a lot of trust in the whole team, and I felt comfortable on the bike right away.  The Pirellis performed great too, as they gave me solid feedback that allowed me to run faster in the race than I did in qualifying.  My training the past few months paid off too, helping me stay focused for the whole race.  All in all, I'm really happy with how it all went down.
"I'm most happy that I can donate half of my winnings to the Bayley family, and that Chronic Motorsports will match that money.  It was special to have the Bayleys there to watch the race.  I'm sure Lloyd was watching over all of us, and that run to the finish line would have made him proud.
"I couldn't have done this without a ton of support – a big thanks to all of the crew at TSE Racing.  I feel like I was finally able to deliver the big Daytona 200 win to them, and it's great to be a part of something that really feels like family.  Thanks again to Pirelli, those tires were a big part of the race for me.  And a ton of thanks to all my sponsors for helping me be at Daytona this year – Classic Car Club of Manhattan, Evolve GT, Trackside Parts Club, Electronic Concepts, Fresh n' Lean, Pirelli, Arai, Spidi, Moto Garage, and Pop Shadow Decals for the numbers with Lloyd's race number highlights.  Thanks to Paul at Big Bird Training to get my ankle ready to race, and thanks to Scott at luxeStar VIP for all the support this winter.
"I'm excited now to get over to the UK for the Bennetts British Superbikes Quattro Group Supersport series.  I have my first test with the PTR Dynavolt Triumph 765 in late April, so I'll get a little time to rest up and pack my stuff.  I'm really stoked to be back racing in the UK, as I know I had a lot of fans from overseas watching me at Daytona.  It will be good to be back to race in front of them.  To all my fans everywhere – stay tuned for some updates and announcements and be sure to check out my social media and YouTube for some inside looks at Daytona and my 2021 season."  (Brandon Paasch)
The 2021 79th Daytona 200 ran 200 miles in 57 laps at just over 2 hours, with the fastest lap of 1:49.752 set by Brandon Paasch on Lap 57.  The margin of victory was 0.031 seconds.
Fans and supporters can subscribe and follow Brandon for more updates on Facebook, Instagram, Twitter, and YouTube:
Facebook:  @BrandonPaasch or facebook.com/BrandonPaasch/
Instagram:   @brandon_paasch or instagram.com/brandon_paasch
Twitter:   @PaaschBrandon
YouTube:   www.youtube.com – search for Brandon Paasch
Brandon Paasch is sponsored by Classic Car Club of Manhattan, Fresh n Lean, Evolve GT Trackdays, Trackside Parts Club, Electronic Concepts, luxeStar VIP, Pirelli, Arai, and Spidi.
More, from a press release issued by N2 Track Days:
Kyle Wyman's Daytona 200 title defense thwarted by crash.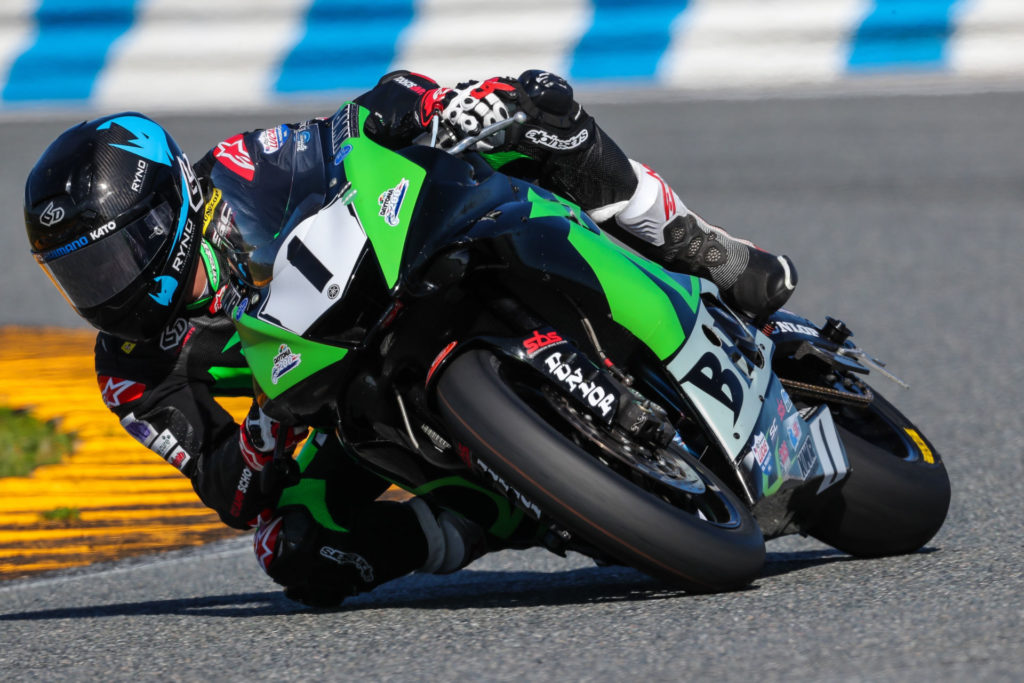 Media, PA (Mar. 15) – Kyle Wyman's strong performance at the 79th running of Daytona 200 was ended prematurely by a crash after contact with a lapped rider. Wyman showed great speed and consistency on the N2/Bobbleheadmoto/KWR Yamaha YZF-R6 in every session leading up to the race and expectations were very high for a good result.
After leading every session, the team started final qualifying on a very used Dunlop race tire to get set up experience. With 8 minutes to go in the session the team put on a new Dunlop qualifier but electrical issues from bent rear wheel sensor ring caused Wyman to abort his qualifying lap. Even without a lap on a new tire, Wyman still qualified second behind M4 Suzuki's Sean Dylan Kelly.
The race was started with near perfect conditions and Wyman set the pace for the lead group while leading several of the opening laps. The leaders began lapping backmarkers on lap 5 of the 57 lap race, but still stayed together in a tight group. As they approached the first pit stop window on lap 18, Wyman entered turn 2 in third place behind Kelly and eventual winner Brandon Paasch. As Paasch and Kelly went underneath a lapped rider, nearly 20 seconds off the pace. Wyman was unable to navigate the weaving rider and made contact with the back of tire, causing only Wyman to crash.
"I felt great all day Friday during practice and felt like we were the man to beat on Saturday," Wyman said. "I knew going into the race that it would be a battle of attrition and tire conservation. I felt pretty good during the first stint but toward the end my tire was smoked. I was doing everything I could just to hang on and try to keep the front group under my control. The lapped traffic was insane, worse than I remember it being from previous years. The particular rider I hit was very unpredictable and in my own haste I made a move that wasn't the right one. From turn one I tried inside, then as the rider closed the door I went to the right. The rider then drifted right so I went left just before the rider then swooped back left even though we were exiting the corner by then."
"At the end of the day it's up to me to take care of myself out there," Wyman added. "I made a bad move. This race is always dangerous when it comes to the traffic. We start lapping people on the 5th lap and it's insane. But it comes with the territory and unfortunately it just bit me this time. It's a shame for the whole team, after getting sent home last year and having the expense of coming here two days in the row, coming off our win in 2019, it's just a shame. Fortunately I was able to pick the bike up, go faster than before I crashed and finish the race, avoiding any big injury. But this one is going to sting for awhile."
The race was red flagged and the team was able to repair the #1 N2/Bobbleheadmoto/KWR YZF-R6 to get Kyle back in the race in 42nd position. Unfortunately, Wyman was 5 laps down on the leaders upon returning to the race. Despite being injured and 5 laps down with no chance of winning, Wyman showed amazing grit and determination to finish 25th while turning lap times on pace with the leaders.
N2 Track Days is proudly sponsored by: N2 Track Days, Bobbleheadmoto, Kyle Wyman Racing, Dunlop Motorcycle Tires, SBS Brakes, Renthal, and Yamaha Champions Riding School.
About N2 Track Days:
N2 provides a structured riding environment for sport-bike riders of all levels promoting motorcycle safety through instruction on a closed course racetrack. Our instructors and coaching staff are comprised of club-racers, pro racers, and experienced track day riders who are articulate and passionate about all aspects of this sport. N2 strives to provide an enjoyable riding experience in an environment where members can hone their skills and inspire confidence in their riding ability. Riding with N2 means you and your sportbike gain access to a structured environment without the hazards, limitations, distractions and obstacles that you'll find on the street.
For Information: N2 Track Days – www.N2td.org