Sean Dylan Kelly, age 18, claimed pole position for the 79th running of the Daytona 200 during qualifying Friday at Daytona International Speedway (DIS), in Daytona Beach, Florida.
Riding his M4 Palm Beach Police & Fire Foundation 1-833-CJKNOWS Suzuki GSX-R600 built by Team Hammer and using a Dunlop rear qualifying tire, Kelly lapped the 3.51-mile infield road course in 1:48.896 to top the field.
"That was great!" Kelly told Roadracingworld.com. "The team and I are doing a great job so far, and I'm really proud of the work we're doing.
"It was my first time ever trying the Dunlop qualifier that they brought here. I think I need a few more laps to understand a tire with that much grip here, but we only had one flyer with it. I think we did a good job. Obviously, the race tomorrow is what's important, so I'm going to focus on that.
"I'm happy that this is two times at the Daytona 200 for me and already two poles, so we're going to try to keep going with this momentum. Huge thank you to Team Hammer, the Palm Beach Police & Fire Foundation, and 1-833-CJKNOWS."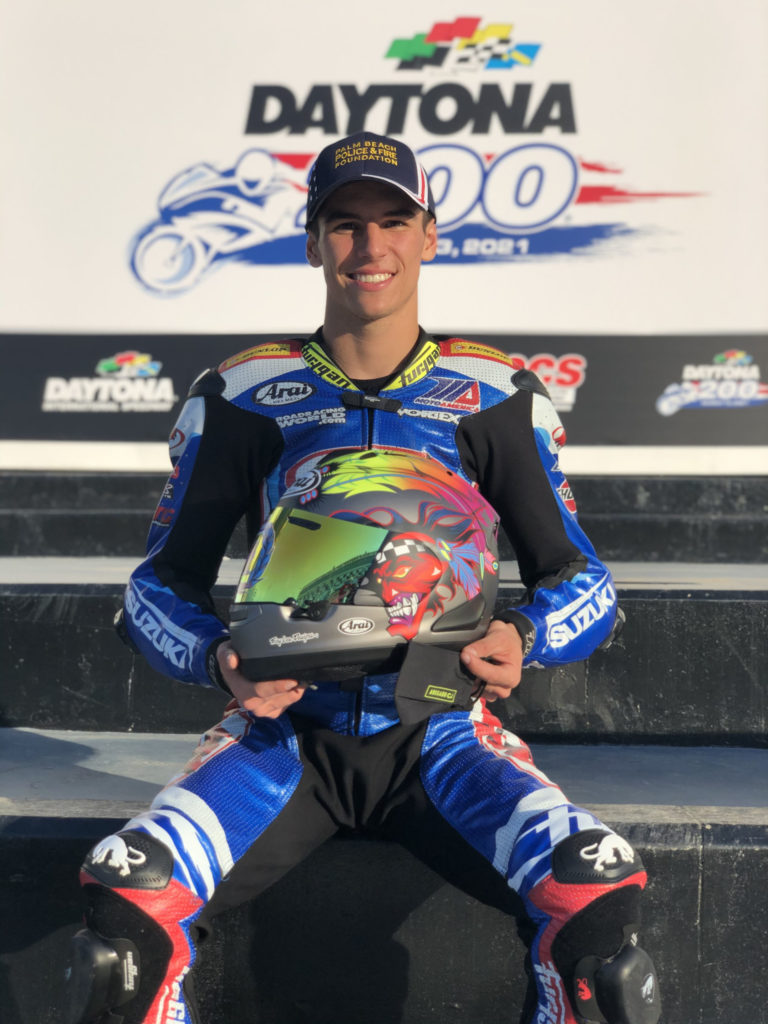 In 2019, Kelly, then 16, became the youngest rider to earn pole position for the Daytona 200 and then finished a close second in the red-flag-interrupted race.
That race was won by Kyle Wyman, who qualified second Friday with a 1:49.288 on his N2 Track Days/BobbleHeadMoto/KWR Yamaha YZF-R6. Wyman did his lap time with a rear qualifying tire in the second of three qualifying sessions. In the final qualifier, Wyman experienced a technical issue with his motorcycle and couldn't make a lap on his final Dunlop qualifying tire.
Qualifying third was 52-year-old veteran racer Michael Barnes, who did a 1:50.169 while using race-compound Pirelli tires on his Squid Hunter Racing Yamaha YZF-R6. Barnes became the oldest rider to win the Daytona 200 in 2016 when he won at the age of 47.
MotoAmerica King of the Baggers Champion Tyler O'Hara qualified fourth with a 1:50.339 on his Floyd's of Leadville CBD Racing Kawasaki ZX-6R. Like Barnes, O'Hara used race-compound Pirellis to do his lap time because Pirelli has not developed Daytona-specific qualifying tires.
Brandon Paasch also used race-compound Pirellis on his TSE Racing Yamaha YZF-R6 to do his best lap time, a 1:50.597, and earn the fifth spot on the grid. Paasch is riding with a painful left ankle injury he recently suffered while riding motocross and can barely walk.
Claiming the sixth grid position overall and the final spot on row two was Kevin Olmedo with a time of 1:50.721. Olmedo, a 20-year-old MotoAmerica regular from El Salvador, is riding at DIS and on Pirelli tires for the first time ever.
Four-time Daytona 200 race winner Danny Eslick ranked seventh-fastest in the combined qualifying results with a 1:50.791 on his Dunlop-equipped Politis & Matovina Law Offices TOBC Racing Suzuki GSX-R600, but Eslick skipped the third and final qualifying session. Eslick is racing full-time in the American Flat Track (AFT) series and left DIS to participate in the practice sessions for the AFT season-opener, the Volusia Half-Mile, in nearby Barberville, Florida.
Jason Farrell bounced back from a blown motor in his Pirelli-shod Farrell Performance Kawasaki ZX-6R early on Friday to qualify eighth with a 1:50.878.
Cory West, riding the Puraglobe Syntainics Powered by Penz13 Yamaha YZF-R6 in place of South African Sheridan Morais, was ninth in the combined qualifying results with a time of 1:51.014. West said his motorcycle was lacking in top speed.
Rounding out the top 10 qualifiers was former World Superbike rider Geoff May, who did a 1:51.014 on his Pirelli-sponsored Evolve GT/Vision Wheels Yamaha YZF-R6.
Among the other notable riders…
MotoAmerica Junior Cup race winner Dominic Doyle, age 19, qualified 11th with a 1:51.434 on his brand-new, Dunlop-fitted BARTCON Racing Kawasaki ZX-6R.
Another MotoAmerica regular Teagg Hobbs was 13th-fastest with a 1:52.140 while using Dunlops on his Quarterley Racing/Penguin Racing School Yamaha YZF-R6.
Hobbs turned the same identical fastest lap time as reigning MotoAmerica Junior Cup and Twins Cup Champion Rocco Landers, but Hobbs got the better starting spot because he did his lap time before Landers.
Landers, who just turned the Daytona 200 minimum age of 16 in February, was riding his brand new Yamaha YZF-R6 for the first time and at DIS for the first time Friday.
Ed Sullivan, the crew chief for MotoAmerica Superbike rider Mathew Scholtz, qualified 15th on his Wizard Racing/Cloud Communications Yamaha YZF-R6 in spite of suffering a crash during the final qualifying session.
Two-time MotoAmerica Stock 1000 Champion Andrew Lee is making his Daytona debut on a Pirelli-equipped Disrupt Racing/Infinity Fall Protection Systems Suzuki GSX-R600 and will start the race from 20th on the grid.
Michael Dunlop, a 19-time race winner at the Isle of Man TT, struggled to get his borrowed Kawasaki ZX-6R working properly and only made about 20 laps Friday. He qualified 21st with a best lap time of 1:54.337.
The 79th Daytona 200 is scheduled to start at 1:00 p.m. Eastern Time on Saturday, March 13. The race will be streamed live on NBC Sports Gold's TrackPass. TrackPass users can sign up with either the American Flat Track pass ($1.99/month) or the TrackPass: All Access pass ($4.99), which includes all live events from Progressive American Flat Track, ARCA Menards Series, NASCAR Whelen Modified Tour, NASCAR Pinty's Series and IMSA. To sign up for the NBC Sports Gold TrackPass, go HERE
79th Daytona 200
Daytona International Speedway
Daytona Beach, Florida
March 12, 2021
Combined Qualifying Results (3.51-mile course):
Sean Dylan Kelly (Suz GSX-R600), Dunlop, 1:48.896
2. Kyle Wyman (Yam YZF-R6), Dunlop, 1:49.288
3. Michael Barnes (Yam YZF-R6), Pirelli, 1:50.169
4. Tyler O'Hara (Kaw ZX-6R), Pirelli, 1:50.339
5. Brandon Paasch (Yam YZF-R6), Pirelli, 1:50.597
6. Kevin Olmedo (Yam YZF-R6), Pirelli, 1:50.721
7. Danny Eslick (Suz GSX-R600), Dunlop, 1:50.791
8. Jason Farrell (Kaw ZX-6R), Pirelli, 1:50.878
9. Cory West (Yam YZF-R6), Pirelli, 1:51.014
10. Geoff May (Yam YZF-R6), Pirelli, 1:51.048
11. Dominic Doyle (Kaw ZX-6R), Dunlop, 1:51.434
12. Max Angles (Yam YZF-R6), Dunlop, 1:51.863
13. Teagg Hobbs (Yam YZF-R6), Dunlop, 1:52.140*
14. Rocco Landers (Yam YZF-R6), Dunlop, 1:52.140
15. Ed Sullivan (Yam YZF-R6), Dunlop, 1:52.517
16. Carl Soltisz (Yam YZF-R6), Dunlop, 1:52.800
17. Barrett Long (Suz GSX-R600), Dunlop, 1:53.810
18. Max Flinders (Yam YZF-R6), Dunlop, 1:53.813
19. Andrew Lee (Suz GSX-R600), Pirelli, 1:53.860
20. Ryan Jones (Kaw ZX-6R), Pirelli, 1:53.981
21. Michael Dunlop (Kaw ZX-6R), Dunlop, 1:54.337
22. Gary Yancoskie (Kaw ZX-6R), Dunlop, 1:54.426
23. Adam Wingard (Yam YZF-R6), Michelin, 1:56.281
24. Kristopfer Knopf (Yam YZF-R6), 1:56.374
25. Alex Arango (Yam YZF-R6), Dunlop, 1:56.869
26. Johnny Rock Page (Yam YZF-R6), 1:57.086
27. George Letakis (Yam YZF-R6), 1:57.103
28. Daniel Spaulding (Yam YZF-R6), Pirelli, 1:57.595
29. Chuck Ivey (Yam YZF-R6), 1:57.650
30. Gabriel Wingard (Yam YZF-R6), Michelin, 1:57.733
31. Rob Cummins (Suz GSX-R600), 1:57.739
32. William Veisz (Duc 848), 1:57.865
33. Anthony Fania, Jr. (Yam YZF-R6), Dunlop, 1:57.939
34. Alejandro Rei (Yam YZF-R6), Pirelli, 1:58.050
35. R. Scott Briody (Suz GSX-R600), Dunlop, 1:58.054
36. Dustin Richards (Yam YZF-R6), 1:58.062
37. Antal Halasz (Suz GSX-R600), 1:58.321
38. Joshua Booth (Yam YZF-R6), 1:58.521
39. Christian Meekma (Tri Daytona 765), Bridgestone, 1:58.747
40. David McPherson (Yam YZF-R6), 1:58.919
41. Patrick Ryan (Kaw ZX-6R), Pirelli, 1:58.933
42. Darrin Klemens (Kaw ZX-6R), 1:59.327
43. August Nord (Yam YZF-R6), 1:59.486
44. Chris Sarbora (Yam YZF-R6), 1:59.662
45. Norman Pomerleau (Yam YZF-R6), Dunlop, 2:00.446
46. Chris Sullivan (Yam YZF-R6), Bridgestone, 2:00.496
47. Jessica Capizzi (Kaw ZX-6R), Pirelli, 2:00.653
48. John Ashmead (Kaw ZX-6R), 2:00.775
49. Stephen Hoffman (Yam YZF-R6), 2:01.558
50. Wojciech Kasperuk (Yam YZF-R6), Dunlop, 2:01.675
51. Scott Beal (Suz GSX-R600), 2:01.983
52. Ray Hofman (Tri Daytona 675R), Pirelli, 2:03.058
53. Mikal Pechota (Suz GSX-R600), Pirelli, 2:03.319
54. Zoltan Nemes (Suz GSX-R600), Pirelli, 2:03.841
55. Andrew Gold (Suz GSX-R600), Dunlop, 2:03.921
56. Jimmy Fassino (Yam YZF-R6), 2:09.715
*qualified in the higher position because he did the lap time first
More, from a press release issued by Daytona International Speedway:
Sean Dylan Kelly Wins DAYTONA 200 Pole for Second Time
Defending Champion Kyle Wyman Qualifies Second
Four-Time DAYTONA 200 Champion Danny Eslick Qualifies Seventh
79th DAYTONA 200 set for Saturday (March 13) at 1 p.m. ET
DAYTONA BEACH, Fla. (March 12, 2021) – For the second straight DAYTONA 200, Suzuki rider and Floridian Sean Dylan Kelly, 18, became the youngest pole sitter for iconic event, posting a fast lap of 116.037 at Daytona International Speedway (DIS). Kelly, from Hollywood, Fla., received a special edition, one-of-a-kind Arai helmet during the trophy presentation in Victory Lane.
When the 69-rider field launches off pit road at 1 p.m. ET on Saturday, tradition will be renewed on the 3.51-mile DIS road course for the 57-lap/200-mile event that will wrap up the 80th Annual Bike Week At DAYTONA. Leading the front row will be Kelly, followed by the second-fastest qualifier and defending 2019 DAYTONA 200 Champion Kyle Wyman on a Yamaha (115.621). Third-fastest was rider Michael Barnes on a Yamaha (114.697) with fourth-place qualifier Tyler O'Hara on a Kawasaki (114.520).
Sanctioned by the American Sportbike Racing Association (ASRA), the DAYTONA 200 is an integral part of Daytona Beach's rich racing history, dating to 1937 when it was held on the Daytona Beach-road course that utilized both the Atlantic Ocean shoreline and State Road A1A. It quickly became a companion to the course's stock-car races that were first held in 1936. The DAYTONA 200 moved from the beach-road course to the speedway in 1961, the facility's third year of existence.
Kelly unseated defending champion Wyman in the final of three Friday qualifying sessions. Only the second year qualifying for the DAYTONA 200, at 16, Kelly took the pole for the 2019 DAYTONA 200 in his first attempt, and then backed it up again this year (DAYTONA 200 wasn't held in 2020 due to the COVID pandemic).
"We did a great job today," said Kelly. "This makes it two times I have been here for the DAYTONA 200 and we have two poles. The important thing, however, is tomorrow with the race. We have really been focusing on our race pace. I am happy with the work we did and am super thankful for this position.
"We all want that Rolex (Cosmograph for DAYTONA 200 Champion). We had second place in 2019, and it definitely left something inside of us to come back and win.  We are here to work, and here to win."
Four-time DAYTONA 200 winner (2014-15, 2017-18) Danny Eslick will start seventh in the field. The Tulsa, Oklahoma rider qualified on a Suzuki and is attempting to become the third five-time DAYTONA 200 champion. Scott Russell (1992, '94-95, '97-98) and Miguel Duhamel (1991, '96, '99, 2003, '05) share the all-time record for DAYTONA 200 victories.
The Bike Week Motorcycle Marketplace will be on display through Saturday outside of the Speedway just off International Speedway Blvd. The area's largest motorcycle marketplace features the nation's top motorcycle parts and apparel vendors, and is the only Bike Week location in the Daytona Beach area offering free manufacturer demo rides. Participating manufacturers include Kawasaki, Indian, BMW, Vanderhall and Yamaha. Guests can also enjoy live music on the Harley-Davidson Thunder Alley stage.
Tickets are still available for the DAYTONA 200. All Daytona International Speedway event tickets can be purchased by calling 1-800-PITSHOP or online at www.daytonainternationalspeedway.com. Fans who can't make it to DIS for the DAYTONA 200 can watch it live exclusively on TrackPass on NBC Sports Gold.
Customers who purchased tickets to the 2020 DAYTONA 200 will be offered a 120 percent credit to any American Flat Track (AFT) Events race held through October 2021 or a full refund. Please email [email protected] for more information.
Guests of Daytona International Speedway are encouraged to visit responsibly. As a result of the ongoing COVID-19 pandemic, the DAYTONA 200 and the Bike Week Motorcycle Marketplace will be conducted in accordance with enhanced safety protocols and procedures. All guests will be screened before entering the facility and will be required to wear face coverings while maintaining six feet social distancing throughout their visit.
For a schedule of on-track activities and event protocols, log onto www.daytonainternationalspeedway.com. Fans can stay connected with Daytona International Speedway and see the latest speedway news on Twitter, Facebook and Instagram.
About Daytona International Speedway
Daytona International Speedway is a state-of-the-art motorsports facility and was awarded the SportsBusiness Journal's prestigious Sports Business Award for Sports Facility of the Year in 2016. Daytona International Speedway is the home of The Great American Race – the DAYTONA 500. Though the season-opening NASCAR Cup Series event garners most of the attention – as well as the largest audience in motorsports – the approximately 500-acre motorsports complex, also known as the World Center of Racing, boasts the most diverse schedule of racing on the globe. In addition to at least nine major event weekends, the Speedway grounds are also used extensively for events that include concerts, civic and social gatherings, car shows, photo shoots, production vehicle testing and police motorcycle training.
More, from a press release issued by Team Hammer:
SDK ON POLE FOR THE DAYTONA 200 AGAIN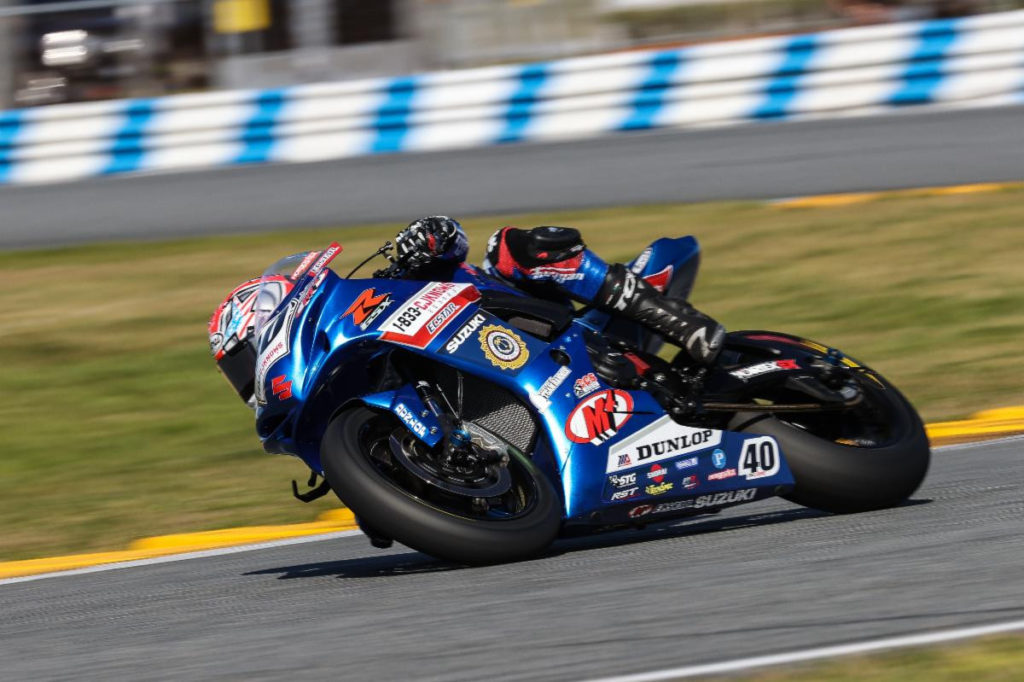 Sean Dylan Kelly is now two for two, scoring his second career pole position for the fabled Daytona 200 on Friday afternoon aboard his M4 Palm Beach Police & Fire Foundation 1-833-CJKNOWS Suzuki GSX-R600 built by Team Hammer. The talented teen will contest the 79th Daytona 200 at Daytona International Speedway on Saturday.
'SDK' — who became the youngest ever Daytona 200 polesitter as a 16-year-old in 2019 — notched up his second consecutive pole for the historic race with a blistering lap of 1:48.896 around the unique 3.51-mile combined banked oval/road course. That time was nearly four-tenths-of-a-second stronger than any other rider in the star-studded field could muster.
Kelly's fastest lap honor came despite his concentrated focus on his race pace and preparation ahead of the grueling 57-laps that await him in Saturday's 79th Daytona 200.
The Floridian is highly motivated to stand atop the podium after falling just 0.213-second short of the achievement as a rookie in 2019. Checking that box would also serve as the perfect springboard ahead of what he hopes will prove to be a great season in MotoAmerica Supersport competition.
"First of all, I'm super excited about getting pole for the Daytona 200 — that's the second one for me," Kelly said. "It's been something special so far this weekend. I am happy with the lap time for pole position, but the team and I have just been working on getting the best bike possible for a long race and the quick lap just came out of that. We're looking forward to the race for sure."
About Team Hammer
The 2021 season marks Team Hammer's 41th consecutive year of operating as a professional road racing team. Racebikes built and fielded by Team Hammer have won 108 AMA Pro and MotoAmerica National races, have finished on AMA Pro and MotoAmerica National podiums 291 times and have won nine AMA Pro and MotoAmerica National Championships, as well as two FIM South American Championships (in Superbike and Supersport). The team has also won 137 endurance races overall (including seven 24-hour races) and 13 Overall WERA National Endurance Championships with Suzuki motorcycles, and holds the U.S. record for mileage covered in a 24-hour race. The team also competed in the televised 1990s Formula USA National Championship, famously running "Methanol Monster" GSX-R1100 Superbikes fueled by methanol, and won four F-USA Championships.