CVMA Racing Round 6 2022/2023 Winter Series 
Chuckwalla Valley Raceway
The penultimate round of the CVMA 2022/2023 Winter Series kicked off under sunny skies and cool winter weather on Saturday morning [March 25], but things heated up quickly on track as qualifying and racing got underway. With super fast riders from all over the country converging on Chuckwalla Valley Raceway, the racing this past weekend was ultra-competitive in all classes.
On Friday, the New Racer School was very well attended and licensed twelve new racers that will be joining the CVMA amateur racer ranks.
During qualifying on Saturday morning Owen Williams was the fastest qualifier on an ultra-lightweight bike turning a 1:55.811 lap time. Justin Bordonaro was fastest on a lightweight bike with a 1:53.090 and Eric Stahl was fastest on an American twin with a 2:02.425 lap time. Corey Alexander set a blistering 1:46.646 lap time making him the fastest rider on an open class bike. David Kohlstaedt set the fastest time on a middleweight bike with a 1:47.634 lap.
Saturday [March 25]
Highlights from Saturday's racing included Igor Sokolov setting a new lap record in the Formula 40 Class turning a 1:48.187 lap time. However, the lap record was short-lived as Rennie Scaysbrook reset the record on Sunday, turning a 1:47.165 lap time.
Owen Williams won two races on his ultra-lightweight bike and Justin Bordonaro also won two races on his lightweight bike. Dominik Gajda was the top amateur on an open class bike winning both open super sport and formula open amateur races and Dennis Bowers won both of the amateur middleweight races. David Kohlstaedt was dominant on his middleweight bike winning both races he entered in commanding fashion.
Sunday [March 26]
In the premier race of the day, the Stock 1000 Shootout, Corey Alexander got the hole shot from pole position and led from the start. At the stripe for the first lap, Alexander led with Anthony "Lug Nut" Norton second and Ben Smith third. The race was red-flagged six laps in and was then restarted as a four-lap sprint.
At the restart of the Stock 1000 Shootout, Alexander got the holeshot again, but this time Smith slotted into second and Norton third at the end of the first lap. Smith and Norton ran nose to tail for the entire race with Norton staying very close. On the last lap, Norton was able to pass Smith in the penultimate corner but lost drive onto the front straight and Smith was able to re-take second position at the line by .026 seconds. The finishing order was Alexander for the win, Smith second, and Norton third.
In the Formula Lightweight Twins Shootout, Justin Bordonaro got the hole shot from pole and led from start to finish. At the end of the first lap Bordonaro led followed by Ryan Smith and Cliff Ramsdell. Savannah Jaska was able to pass Ramsdell on the second lap and passed Smith on lap five to take over the second spot, setting the final finishing order. At the end, it was Bordonaro for the win, Jaska second, and Smith third.
Kreece Elliott got the Formula Ultra Lightweight Shootout hole shot followed by Owen Williams and Jayden Fernandez at the end of the first lap. Williams was able to take the lead on lap four as Elliott fell back two spots putting Jasmine Nichols in third. Elliott was able to retake second position on lap five demoting Nichols to third. The finishing order for the race was Williams for the win, Elliott second, Nichols third.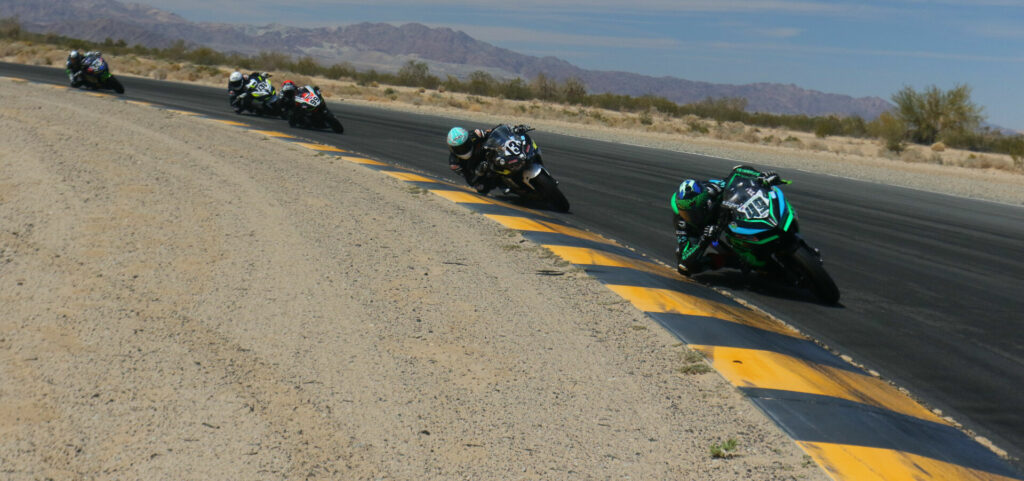 In the Supersport Middleweight Shootout, David Kohlstaedt got the hole shot and the win. On the first lap Kohlstaedt led followed by Nicholas Ciling and Edgar Zaragoza. Kohlstaedt and Ciling ran nose to tail the entire race with Zaragoza running a very lonely third. At the end, it was Kohlsteadt for the win, Ciling second, and Zaragoza third.
Full race results can be found on MYLAPS:  https://speedhive.mylaps.com/Events/2142194
Our final round is just three short weeks away on April 15-16, come on out and race with us!
CVMA offers two full days of racing every race weekend and includes Saturday qualifying for grid position in all classes, amateur, and expert, as well as a wide variety of classes to choose from.
CVMA offers free reciprocity as a means of encouraging racers from other clubs to come out and compete. CVMA also offers a New Racers School for those starting out in racing on the Friday prior to each race weekend. Log on to www.cvmaracing.com to sign up or for more information.
CVMA. Built for racers by racers and offering the best racing experience around!
Series Sponsors: SoCal Track Days, Apex Assassins, Ryder Gear, and CaliPhotography
NRS Sponsors: Alpinestars, 6D Helmets, Racer Gloves, and Racer's Edge
More, from a press release issued by Kreece Elliott Racing:
Kreece powers to podiums at Chuckwalla – confidence is high for MotoAmerica opener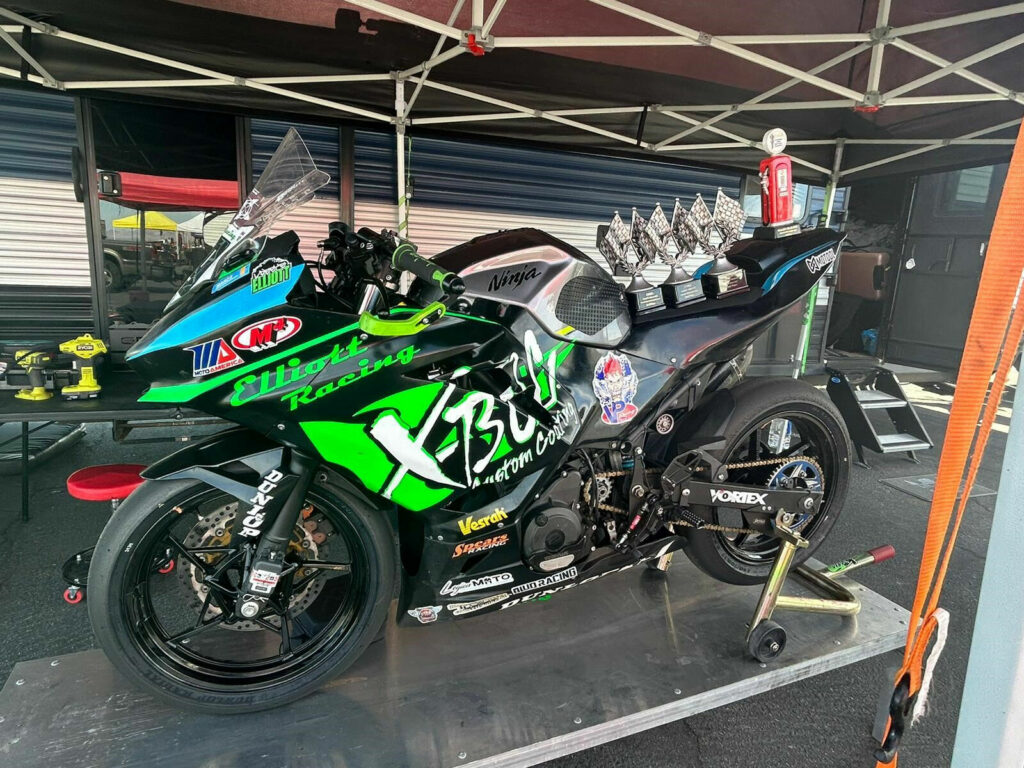 Colorado teen Kreece Elliott continued his preparations for the season ahead – in which he will contest the 2023 MotoAmerica Junior Cup championship – with another successful race weekend at Chuckwalla.
Consistently fast throughout the event, the #47 Kawasaki rider was on track in both the 500 Supersport and Formula Ultra Lightweight categories, achieving podiums in both in every race!
He also showcased his brand new Bilmola helmet, which he will sport during his 2023 campaign.
Kreece Elliott: "It was really cold in qualifying but in Q1 I managed to finish P1. I got held up in Q2 but was still happy to make the front row in third. I was happy but disappointed, but I knew we would be able to mix it in the race. I made a good start in Race 1 and led into turn one. I led for a couple of laps and was in the fight at the front for the whole race. The rest of the races were also really good. I learned a lot and was able to make the podium in all the race which gives me a lot of confidence ahead of the first MotoAmerica race in Atlanta in a couple of weeks. I was also able to take some really cool shots of my new helmet which fits amazing and looks amazing. I am excited to race with the new design in MotoAmerica and want to thank Bilmola helmets, especially TJ for their support!"