(Editorial Note: Former CSBK Champion Alex Dumas re-ignited his drive to regain the Championship by qualifying on pole, but then crashed out of the first of three races scheduled on the finale weekend. Scroll down to see what happened during Friday's race.)
Dumas on pole position for CSBK tripleheader finale at SMP
Toronto, ON – The trend atop the Bridgestone Canadian Superbike Championship continued to be reversed on Friday, as Alex Dumas snatched pole position from title rival Ben Young in the feature GP Bikes Pro Superbike class at Shannonville Motorsport Park.
Neither rider started out as the one to beat in Q1, as Jordan Szoke was the early leader in the first portion of the two-part BS Battery Qualifying session behind a best lap of 1:45.972.
The 14-time champion would have his provisional time bettered by Young halfway into that 20-minute period, the defending champ posting a 1:45.271, but Szoke appeared to be playing spoiler as Dumas sat third for most of Q1.
The Purple Skull Brewing/Liqui Moly Suzuki rider would change that in the final moments to move to within a second of the top spot, but Young's momentum from his CTMP sweep still seemed to be carrying into the final round ahead of Q2.
That thought was quickly erased, though, as Dumas smashed the provisional top time right out of the gates with a 1:43.590 lap. Young would eventually close to within 0.032 seconds of his rival, but a late red flag prevented him going any further as Dumas held on for his second pole position of the season.
"We put a great lap together, and I felt really comfortable. A lot better than last time out," Dumas said, after recovering from a cold that hampered him in round four. "It looks like it's going to be between me and Ben, so it's nice to feel comfortable going into the race."
Young was confident he could have flipped his fortune on his last flying lap had the red flag not come out – claiming to be over a quarter-second up on his best time – but admitted the showdown will only matter when the lights go out in race one.
"Q2 is a bit of a short session for a long lap like this, so we were winding up for a better lap when the red came out," Young said. "It's going to be a good fight with Alex again, but we'll want to stand one spot higher this afternoon."
Despite losing out on pole for the final round, Young's effort was enough for the Van Dolder's Home Team BMW rider to secure the season-long BS Battery Pole Position Award for a third consecutive season.
Joining the duo on the front row will be Sam Guerin – scoring his best qualifying position of the season in third – as the EFC Group BMW rider continues to play a starring role for BMW at the top of the order.
"It's fun to be up here, it's my first time in the top-three for qualifying this season," Guerin said. "We're quite a bit behind Ben and Alex, but we'll see what we can do, and hopefully pick up some points this weekend."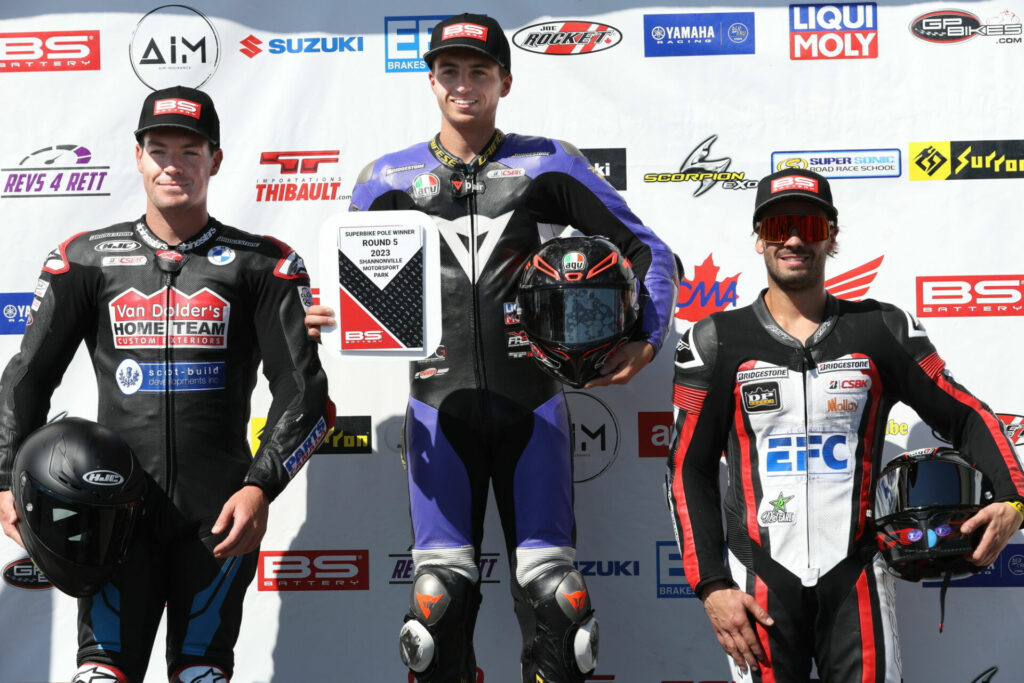 Fourth would go to Tomas Casas, but the Parts Canada Yamaha rider is unlikely to compete for at least race one after a hard crash brought out the red flag to end qualifying.
Casas was eyeing a spot on the front row when he went down in turn four with just under two minutes remaining, hurting his throttle wrist in the process, though the extent of the injury is unclear heading into the weekend.
Szoke's initial Q1 pace ultimately couldn't materialize into a front row spot, but the Canadian Kawasaki rider will still be firmly in the podium mix after settling for fifth at the end of Q2, hoping he can benefit from Casas' misfortune to lead Kawasaki into third in the Constructors Standings.
Sixth on the grid will be Economy Lube and Tire/LDS Consultants Ducati rookie Trevor Dion – notably Szoke's former teammate – as he quickly came to grips with his new V4 machine, a crucial result as he chases down the Brooklin Cycle Racing Pro Rookie of the Year award.
The current leader of that award, teenager John Fraser, was left stranded in ninth after his own late charge was spoiled by the red flag, looking to be on par for a 1:45 lap that would have placed him inside the top-four aboard his RLS Contracting Suzuki.
The first of three feature Superbike races will get underway at roughly 4:10 pm ET, concluding Friday's schedule before races two and three continue this weekend at SMP.
The full results from Friday's qualifying can be found on the series' official website at CSBK.ca.
More, from another press release issued by CSBK:
Young wins, Dumas crashes out as CSBK title fight blows open at SMP
Shannonville, ON – It took a long time and many bizarre twists and turns to get here, but Ben Young is back atop the Bridgestone Canadian Superbike Championship.
The reigning champion saw his hopes of a successful title defence increase dramatically on Friday, conquering race one of the season-ending tripleheader at Shannonville Motorsport Park after former points leader Alex Dumas crashed out.
Neither rider got off the line particularly well, as Sam Guerin grabbed the holeshot and paced a group of four early in the opening lap, with Dumas chasing and Young fending off Jordan Szoke for third.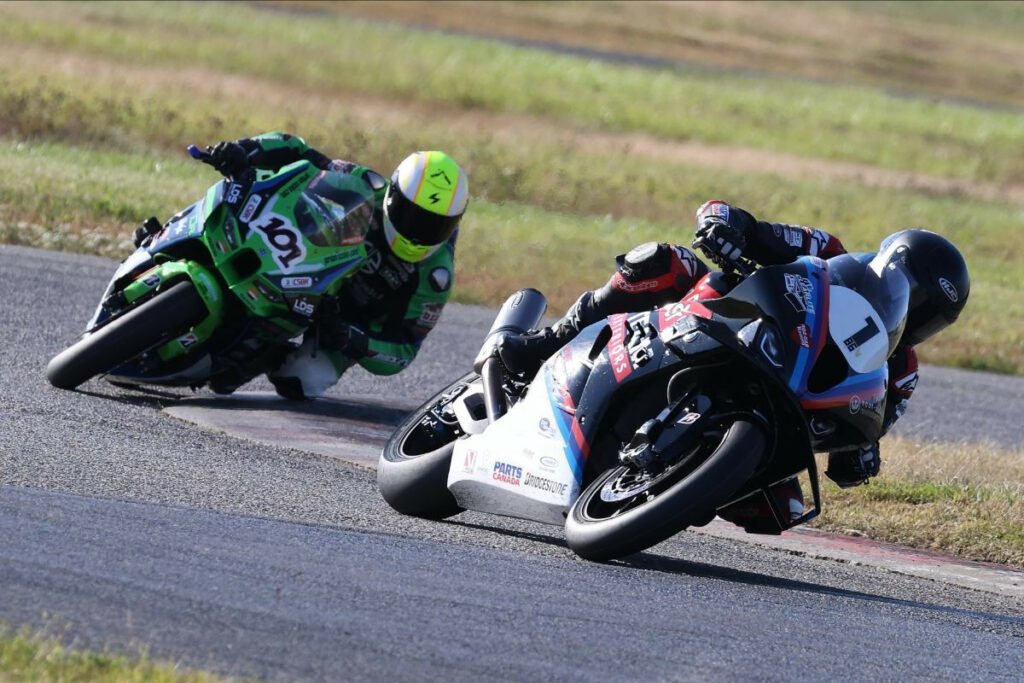 Dumas attempted to lunge down the inside of Guerin in the exit of turn four but was quickly denied, a move that may have compromised the 2021 champion as he would ultimately crash out just one turn later, seeing his championship grasp completely evaporate in only half a lap.
That would promote Young to second but only for a short while, as the Van Dolder's Home Team BMW rider quickly chased down Guerin and made a move for the lead just prior to the end of lap one, hoping to avoid handing a lap led bonus to anyone else.
That opening move would prove to be the decisive one, as Young never looked back en route to his fourth consecutive victory. It was hardly comfortable, though, as he faced a brief but stiff challenge from one of his former long-time rivals.
After Guerin made a costly mistake to allow Szoke into second, running too deep off the back-straight and falling as low as sixth, Szoke began to hunt down Young as he tried to reel in his first victory of the year.
Young would promptly respond with his best laps of the race, though, cruising to a 15th career win to move within one of Pascal Picotte for third on the all-time win list – and more importantly, extend a 23-point championship lead after Dumas sat trackside.
"I'm glad to see Alex is okay. It's a bummer that's how it played out, but it's super awesome for us to finally take over the points lead," Young said. "But it's not over yet, this could just as easily swing back in Alex's favour. We just got to keep chipping away at it, and hopefully continue up here this weekend."
The runner-up finish marked a season-best result for Szoke, and while it was aided by mistakes from Dumas and Guerin, it was also the most encouraging performance of the 14-time champion's season as he briefly looked to be reeling in the red-hot Young.
"Qualifying didn't really go as we hoped, and then once we got in a bit of a groove Ben was just gone out front," Szoke said. "I was with him for a while, but once he started to pull away, I just rolled out of it a bit. We haven't had a lot of podiums this year, so it's nice to give the team something to cheer about."
Another team that had plenty to cheer about was the all-new Economy Lube and Tire/LDS Consultants Ducati program, as Trevor Dion fought through the early chaos to take a spectacular third in his debut aboard the V4 Panigale.
The rookie was matching Szoke's pace by the end of the race as he seemed to find a groove aboard the new machine, scoring Ducati's first Superbike podium since 1993 while also climbing further into the Brooklin Cycle Racing Prom Rookie of the Year mix.
"I'm speechless! It's our first weekend on the new bike, and it's been a tough year at times, but we slowly and steadily found some real pace at the end," Dion said. "Just sitting sixth after qualifying had me excited, so I'm really fortunate to be up here and I can't thank the team enough for making it possible on such short notice."
While Dion and Szoke each delivered incredible performances worthy of podiums on Friday, it will be hard for Guerin not to wonder how different it could have looked if not for his crucial mistake.
The EFC Group BMW rider did manage to recover from sixth to fourth, picking up 13 points for himself and crucially his manufacturer, but a second-place finish could have put him within striking distance of Dumas for the runner-up spot in the championship.
The most heroic performance of the day would go to Trevor Daley, however, who managed to return from his round four absence and bring home fifth despite still riding with a broken femur.
The OneSpeed Suzuki rider briefly ran fourth and managed to fend off Guerin for a few laps, salvaging crucial points in the Constructors Championship to keep Suzuki's hopes alive entering the penultimate race of the year.
Jordan Royds would continue his consistent breakthrough year with a sixth-place finish, keeping his IBEW BMW in the same spot in the championship order and crucially taking points off the next Suzuki finisher, Sebastien Tremblay in seventh.
That would be one spot clear of Connor Campbell, who wound up with a remarkable eighth-place finish in his first-ever day aboard the second Canadian Kawasaki, as the B&T MacFarlane/Kubota rookie adjusted quickly to the Superbike ranks as Szoke's newest teammate.
He would be the third rookie to grace the top-ten, one spot ahead of Paul Macdonell who overcame a mistake of his own to salvage a crucial ninth for the Acme Motorsports Yamaha team, keeping himself within two points of the Rookie of the Year lead and one point ahead of Dion.
That award will still be led by teenager John Fraser, but the RLS Contracting Suzuki rider had a frustrating day after also running wide off the backstraight, with Phillip Leckie splitting the two first-year riders in tenth aboard his SCM/Tanians BMW.
Young will now try to extend his championship lead even further – or perhaps even outright clinch a third Canada Cup – in race two on Saturday at SMP, while BMW attempt to do the same to close out the 2023 campaign.
Full results from Friday's action can be found on the series' official website at CSBK.ca.