California Roadrace Association 2022 Round 4 at Buttonwillow Raceway Park:  Bryce Prince and Jasmine Nichols Bring the HEAT!
(Buttonwillow, CA) – California Roadrace Association (CRA) hosted their fourth and final round of the year at Buttonwillow Raceway Park on August 20-21. The event was sponsored by Dunlop Motorcycle Tires & Racers Edge Performance. The club ran the less common and somewhat more challenging Configuration 26 – a counter-clockwise layout that skips the 'Phil Hill' section making for an extremely long straightaway. Adding to the excitement, many of the year's class championships were not decided until this final round of the 2022 Season.
"Configuration 26 CCW makes for a very fast, fun, and challenging race weekend. Running CCW really brings some challenges with a lot of decreasing radius corners, but we love being able to top out sixth gear on the drag strip. If you have not ridden this configuration you are really missing out!" said Bryce Prince, racer and 2022 #1 plate holder.
Racing action started off with Jack Bakken, on his Wawa Racing BMW S 1000 RR, taking the win in the 18-lap 61DTC 1000GT race. He was followed in second place by BPR Yamaha YZF-R1 mounted Ben Hodges and Steve Zoumaras aboard his Kawasaki ZX-10R in third.
Prince showed up on his BPR Tuning Yamaha R1 and continued to dominate each class he entered. He took first in the RIDERZLAW Gold Cup over Bakken on his Wawa Racing BMW S 1000 RR. Prince continued his victory streak by taking P1 in the TrackDaz Expert 1000 Superbike, with a blistering pace and best lap time of 1:44.187 over Bakken, on his Wawa Racing BMW S 1000 RR. Prince completed the perfect weekend with a first in CTML Consultants Expert 1000 Supersport over his teammate Hodges, who was also on a BPR Yamaha YZF-R1.
The 600 races found Zach Harrington on his BPR Yamaha YZF-R6 lapping in the consistent low 1:50 range, splitting wins with standout rookie expert Declan Van Rosmalen on his Yamaha YZF-R6. Van Rosmalen took the wins in 61DTC 600GT and Blud Lubricants Expert 600 Supersport, while Harrington took the win in Carters@theTrack 600 Superbike.
Jasmine Nichols and Jesse Sims put on a great show this weekend. They raced in almost every class their Ninja 400s were legal to enter and battled start to finish in many of them. Nichols won the 16-lap Feel Like a Pro 400GT race on Saturday and then took wins in Feel Like a Pro 400 Superbike and Supersport sprint races on Sunday. Sims took the win in both Bellissimoto Twins Grand Prix and Bellissimoto Battle of the Twins race.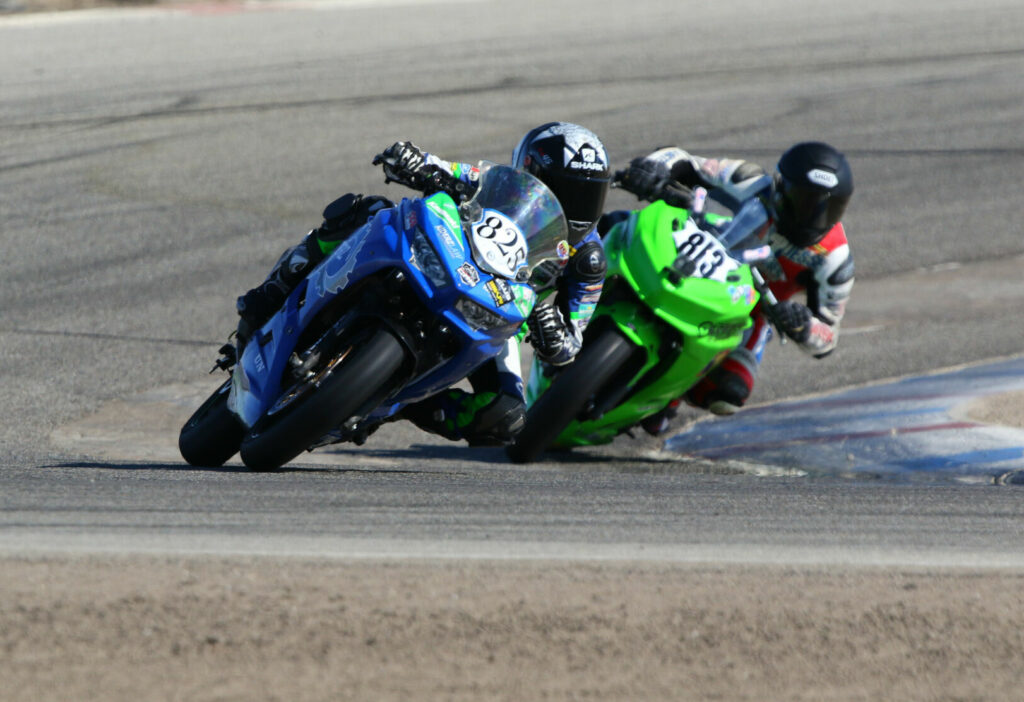 The American Iron (presented by Foster's Freeze, Sanger CA) and the Ladies of CRA (Presented by Let's Ride Track Days) are two of the races that proved to be the most fun to spectate all year round.  Participation in both race classes continues to grow and the fun level the racers bring is unparalleled.
"I fly all the way from Texas to race with the California Roadrace Association for good reason. This club is efficient, well organized, and very rider focused. The commitment to rewarding the hard work of each racer and rider that finishes on the podium with amazing trophies, winner circle ceremonies, and monetary payouts. The paddock is a fun, family style environment and the competition level is fierce. I cannot wait for the 2023 season!" said racer Brandie Cox.
Amateur racers showed up in full force all season and proved that racing is well and alive in Southern California. A perfect example is Sean Williams on his Yamaha YZF-R1 and Miguel Romero on his Ducati 1199 going at it in both Mullico Amateur 1000 Superbike and FitAid Amateur 1000 Supersport classes, with Williams taking the win over Romero in both.
For more information on CRA, visit their website at www.race-cra.com. Get licensed and let's go racing.
#areyoucra #racecra #iamcra
CRA would like to thank their sponsors for their support:
Dunlop Motorcycle Tires, Racers Edge Performance, RiderzLaw, Feel Like A Pro, CTML Consultants, Motorsport Exotica, VnM Sport, TrackDaz, Let's Ride Track Days, Carters@theTrack, Fun Track Dayz, Pirelli, 61 DTC, CT Racing, Blood x Sweat x Tears Vodka, Fosters Freeze (Sanger, CA), Blud Lubricants, Catalyst Reaction Tuning,  Bellissimoto, AZAD Wheels, Action Sports Canopies, Boxo USA, Capit Performance, ASV, KYT Helmets, Thermal Technology, Mullico, LIFEAID/FITAID, Suspension Matters, Lieto Factory, CinePixel Productions, The Heights Restaurant & Bar, Cha Cha Cha Motorsports, Maria Cid Insurance Agency, 844-MY-MOTOW.