Editorial Note: The British Supersport and GP2 classes compete on track at the same time. Brandon Paasch finished fifth overall and fourth in the British Supersport class.
More, from a press release issued by Dynavolt Triumph:
Fourth for Paasch in Cadwell Park Sprint Race
Dynavolt Triumph's Brandon Paasch crossed the line in fourth position in today's re-scheduled Quattro Group British Supersport sprint race at Cadwell Park.
With the ever-present threat of rain at the picturesque Lincolnshire circuit, the decision was made to revise the schedule, giving the team just forty minutes between the qualifying session and the start of Race One.
Paasch completed the second row of the grid in P6 for the start of the race and comfortably found his rhythm for another strong finish in the opening race of the weekend.
Brandon Paasch: "Pretty solid start I was up there battling with the front guys. Just a tick off though every lap and I couldn't stay with them but a solid 4th place, happy enough with that.  Try to make another step for tomorrow and hopefully be closer to the front."
With things not coming together as quickly as he would like for his first visit to the notoriously tricky track, Kyle Smith's qualifying time for the 12-lap race placed him on the fifth row in fourteenth.  Despite not really finding the pace, the 29-year-old was still able to bring it home in eighth to bag another eight valuable championship points.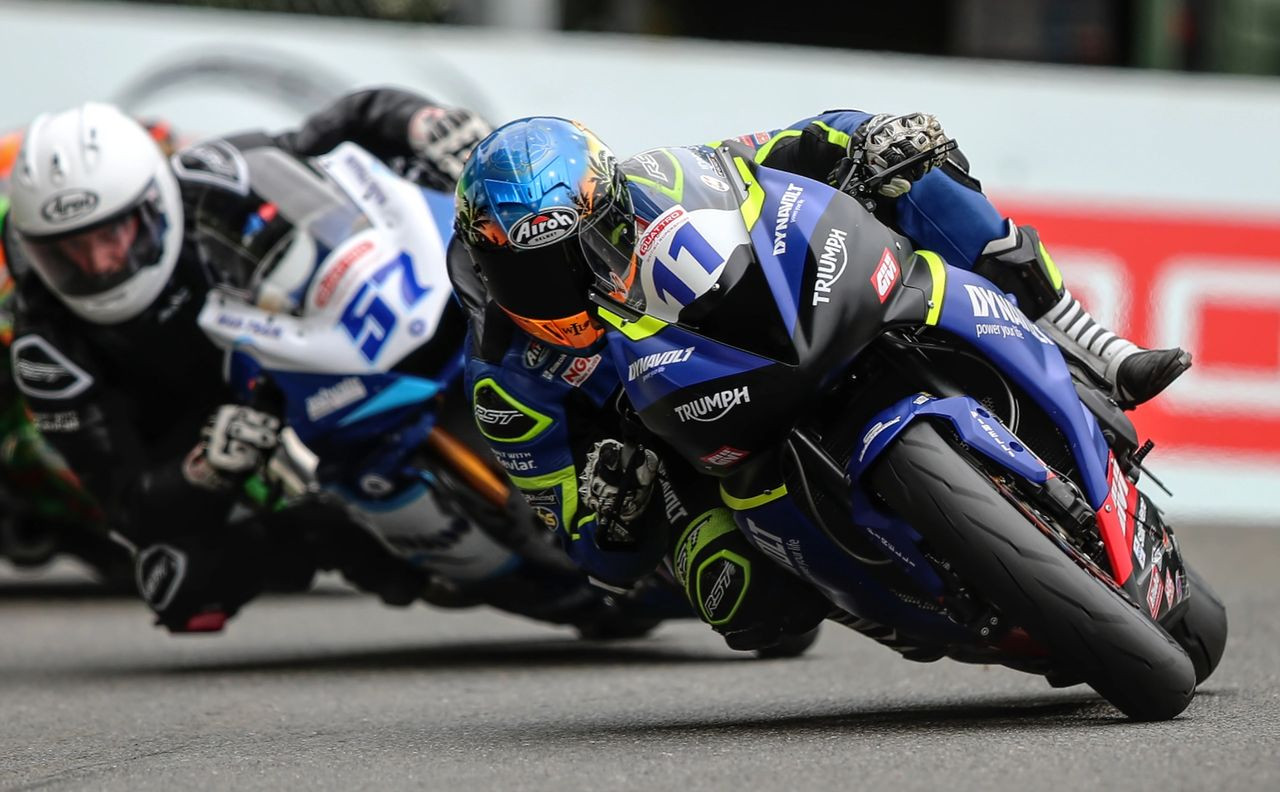 Kyle Smith: "Difficult day today. Not happy with the result, I didn't feel comfortable on the bike.  We made some changes throughout the weekend and we've just not found the groove. To be honest in the race it felt, if anything, worse. I think we are going in the wrong direction.  So we are just learning and let's see if we can feel a bit more comfortable tomorrow."
Dynavolt Triumph Team Manager Simon Buckmaster: "Another good ride by Brandon, he is improving every time he rides the bike.  One of the big things I have noticed is that his feedback to the team is getting better, he's more analytical so he's learning all the time. We know we need to find a bit tomorrow to really compete for the win but we'll be working on that and we'll see what we can do."
"Eighth place for Kyle, but a long way behind.  It's difficult to understand what the issue is, clearly it's not all the bike because it's impossible to be that far off the pace.  His confidence is not there, we need to do what we can for our rider, who we think a lot of and who we know is capable of winning, to help get his confidence back. Try to find some sort of setting so that he can ride the bike and flow like the true Kyle Smith we know."