Editorial Note: American Brandon Paasch finished ninth in British Supersport Race Two.
More, from a press release issued by MotorSport Vision Racing:
O'Halloran becomes the hat-trick hero at Oulton Park season opener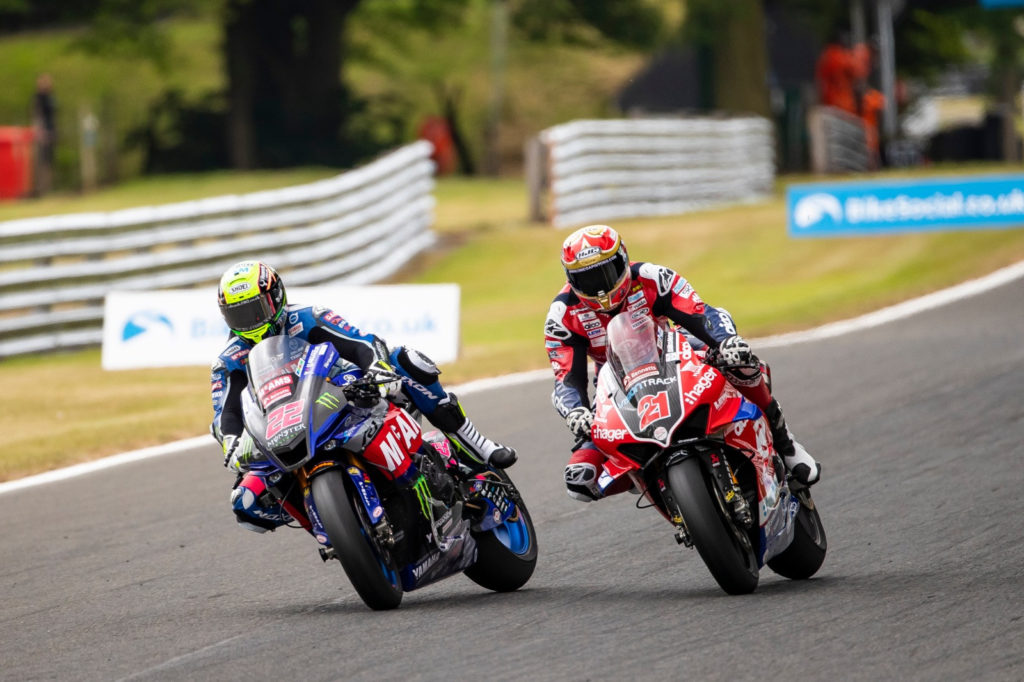 Jason O'Halloran delivered an imperious performance in the opening Bennetts British Superbike Championship round at Oulton Park today (Sunday), snatching the lead with a last lap attack on Christian Iddon in both of the day's races.
O'Halloran had been victorious in yesterday's curtain raiser and he carried his momentum into today's action for the McAMS Yamaha team. O'Halloran hounded Iddon throughout the second race of the weekend, but despite several earlier attempts at a pass, he couldn't get ahead.
The Australian was determined to return to winning ways at Oulton Park though and he pulled off an exuberant last corner move on Iddon into Lodge on the brakes to secure the win.
Peter Hickman meanwhile, had been battling in the early stages with the leading pair, before arm pump struck later in the race. The FHO Racing BMW rider showed determination to hold onto third place and claim the team's maiden podium finish on its debut weekend – also the first for the new BMW M 1000 RR.
SYNETIQ BMW's Danny Buchan was able to move his way up the order into fourth place, just ahead of Bradley Ray and Tarran Mackenzie, who had overcome a collision with Tommy Bridewell to regain ground before the chequered flag.
The rivalry between O'Halloran and Iddon continued in the final race of the triple-header as the pair went head-to-head for the final time in Cheshire. Iddon once again got a lightning start off the line to lead O'Halloran on the opening lap with Hickman again tucked into third after his pole position start.
O'Halloran was shadowing Iddon throughout the race and on more than one occasion looked to try to find a way ahead, but the VisionTrack Ducati rider kept holding him at bay.
The victory would once again come down to a final lap decider as O'Halloran made a brave overtake on the run down Lakeside to lead into Shell Oils corner.
Iddon tried to retaliate but had to settle for second, his third of the weekend to lead the charge for VisionTrack Ducati.
Bridewell meanwhile, had been desperate to make amends for his DNF in the previous race when the incident forced him to retire. He carved his way through from 12th position at the start and was soon piling the pressure on the riders ahead of him.
By lap 11, Bridewell was into fifth before he made a move on Hickman, who was beginning to suffer again from arm pump. He then targeted Mackenzie, hunting the McAMS Yamaha rider down before making a decisive pass on the brakes on lap 16.
Bridewell held off Mackenzie to the chequered flag to take the final podium position of the weekend with Hickman completing the top five.
It was a difficult weekend for defending champion Josh Brookes, the Australian ending today's two races in seventh and sixth place respectively.
For more information on the Bennetts British Superbike Championship visit www.britishsuperbike.com
Jason O'Halloran – McAMS Yamaha
Triple race winner – Oulton Park
"It has been a great weekend and it couldn't have gone any better, so I need to thank everyone at McAMS Yamaha.
"Race two was a comfortable race and Christian was setting a good pace and I was looking for somewhere to get ahead but it wasn't working out.
"I got out of the seat and then got a good run out of Druids and was as close as ever so I just thought 'let's try'. I don't know how I did get it stopped, but I did and then I just had enough to the line so I was happy with that."
"In the third race, I had been lining Christian up for a move at Shell, but when I tried there a couple of times I didn't think I could make a clean pass as he was strong there. He gapped me in some other places and I was a bit worried as I knew it wasn't just the two of us at the front.
"I left it until the last lap again and I got a great run out of Cascades and hung on to his draft a little bit and went for the move and got through.
"I thought he might have come back at me, but to start the season with three wins was a perfect weekend for me."
More, from a press release issued by VisionTrack Ducati:
Double Podium For Iddon As Brookes Secures Solid Points
Defending Bennetts British Superbike champions VisionTrack Ducati continued where they left off at Oulton Park  yesterday with Christian Iddon posting a pair of second place finishes today to add to the one from yesterday whilst Josh Brookes added more solid points after the three opening races of the season.
Tyneside-based Iddon led both of today's 18-lap races for Paul Bird's Lake District-based team only to be pipped on the last lap each time by rival Jason O'Halloran whereas reigning champion Brookes bounced back from yesterday's disappointing tenth place with better performances today to record a sixth and seventh place finish.
With grid positions for the opening 18-lap race determined by the lap times from yesterday's race, it meant that Iddon started from the front row with Bedfordshire-based Aussie Brookes back on the fourth row.
Iddon took the lead and battled with O'Halloran for the entire race distance but just as it looked as if he'd end his run of four successive second place finishes at his local track, his Australian rival cruelly denied him on the last corner to pinch the victory by just 0.103s.
Further back, Brookes made good progress through the field and was part of an eight-rider group battling for fourth place. Positions were changing all the time and although he moved into fifth with just two laps to go, he had to settle for seventh at the chequered flag.
The final race of a busy weekend saw Iddon and Brookes start from fourth and 11th respectively and it was an almost carbon copy of the earlier race as Christian again led for almost the entire race distance only for O'Halloran to overhaul him on the final lap.
Brookes was embroiled in a similar battle for the positions slightly lower down the leaderboard, but he moved through the field well from the fourth row and both his and the team's efforts were rewarded with sixth for his best finish of the weekend.
The results from round one mean Iddon lies in second overall with 60 points with Brookes sitting in sixth on 25 points.
Christian Iddon: "I think I'm going to lobby Stuart Higgs to see if we can get extra points for the most laps led in a race. It's hard to take when you lead for that long and get overtaken on the final lap and although three second place finishes are obviously a great start, three wins would have been better. Jason had something more than us in certain parts of the circuit though and he had plenty of opportunity to weigh things up by sitting behind me for so long. I was half expecting him to come by, especially in the last race but I felt confident leading, and we can take away a lot of positives from the weekend."
Josh Brookes: "We've definitely made a step forward today especially in the last race although sixth place is a  relatively small consolation. It's important to always think about the positives though and irrespective of the position, I got a decent feeling with the bike again. I actually felt like I could be aggressive and attack into the corners and by doing that, the confidence slowly returned. I got further up the field and scored more points, but I've created a bit of a challenge for myself and need to put in some hard work ahead of the next round."
Johnny Mowatt, Team Co-ordinator: "It's been a remarkable start to the season for Christian and with three second place finishes he's taken a good haul of points. He's riding with great confidence and can go away from the weekend extremely proud of his achievements. Josh found small improvements throughout the day, particularly in the final race but it shows the importance of a good grid position as it's very difficult to bridge the gap to the leaders if you don't get away with them. We'll sit down and go through everything to find out where we can improve but it's Knockhill next where we had two days of testing recently, so we have a good base setting to work from."
More, from a press release issued by Honda UK:
A weekend of positives despite challenges at Oulton Park
It's been a weekend of learnings for the Honda Racing UK team at the opening round of the 2021 Bennetts British Superbike Championship, but despite the challenges thrown at them by Oulton Park, the Honda team are leaving the Cheshire circuit with plenty of positives.
Improvements have been made to both the Superbike and Superstock side of the garage with Glenn Irwin and Tom Neave improving their lap times over the weekend since the last outing in 2020. But Oulton Park is still a circuit that continues to taunt the Honda team, producing challenges for the set-up of the CBR1000RR-R Fireblade SP with its physical layout.
Glenn Irwin comes away from Round 1 with 23 points and is ninth in the series standings after collecting three top-ten finishes across the weekend. The team made a gamble in the final race with the Fireblades set-up, which paid off, although not fully showing on the times or results.
Glenn started the race from 10th on the grid but was pushed off track by another rider early on causing him to drop places to 19th. Getting his head down wanting to make up the lost places, Glenn worked hard aboard the Fireblade SP to make his way through the pack to come home 10th.
Takumi Takahashi put on a brave face taking part in both of the day's races, but with weakness in his shoulder having dislocated it during official testing Takumi pulled out from Race 2. During today's final race the BSB rookie stayed out for the duration of the 18 laps coming home in an impressive 17th place having gained experience and confidence at the track.
Ryo Mizuno continued to push on learning the circuit but unfortunately crashed out during the second race and with swelling to his hand he was forced to miss the final race. After the crash Ryo was taken to the medical centre with initial X-rays showing no fractures, however the team will seek further medical advice next week once the swelling has gone down.
During the Superstock race a fight for the podium was on the cards for Tom Neave, who after qualifying sixth had moved up into fourth place and had started to track down Billy McConnell in third. However pushing hard to catch Billy, Tom crashed out of the running, unhurt, at Lodge.
The team now looks forward to the second round of the championship at Knockhill in Scotland, where a few weeks ago they enjoyed a successful test and hope to fight towards the sharp end. Round 2 will take place with a two-day race event format on Saturday 10 – Sunday 11 July.
More, from a press release issued by Buildbase Suzuki:
Tricky season-opener but lessons learned at Oulton Park for Rea and Kent
It was a tricky opening round to the 2021 Bennetts British Superbike Championship at Oulton Park, though valuable lessons were learned and there were positives to take away for Buildbase Suzuki's Gino Rea and Danny Kent, while Tim Neave got his season off to a solid start after finishing fifth in the National Superstock 1000 race.
Despite a strong and productive preseason for the two GSX-R1000R superbike-mounted riders, Oulton Park was always going to be a challenge for Rea and Kent due to their combined lack of experience at the taxing Cheshire circuit, especially for Moto3 world champion Kent.
Rea chalked up three point-scoring finishes, twice finishing 11th and once in 13th, but the results don't tell the whole story, as setup changes saw a big improvement in his pace from race one to race three.
Kent carded a 14th place finish, but crashed out of races one and three, unhurt. However, he too leaves Oulton Park with more experience and more knowledge, and a clear area of focus: not enough engine braking meant difficulties stopping the bike when grip levels dropped, resulting in the need to trail brake deeper into turns, risking a crash.
In a competitive National Superstock 1000 class Neave scored solid championship points to start his 2021 campaign. Circulating in the group behind the leaders, he took fifth place.
Gino Rea, "The weekend had its ups and downs but the results don't tell the full story. We struggled with the bike over race distance: once the rear tyre dropped off it was just so physical to ride and to hang on to. We made a big change to the bike overnight from Saturday to Sunday and we improved our pace in warm up and finished P2 on the times. But that was a 10-minute session, low fuel load. Once we had a full tank for Sunday's first race we really struggled and I was feeling a bit down at that point, it felt like when we changed something and improved somewhere we'd find a problem somewhere else.
"We made another big change for the final race to compensate – we changed spring rates and ride height – and improved our pace massively. I was in the group battling for sixth but got stuck behind [Kyle] Ryde and couldn't get by and I was just losing a tenth or two a lap to that group, but I think if I was with them I could have stuck with them.
"Hindsight is a wonderful thing, and if we had the bike we had in race three in race one we'd have had a better weekend. But we knew this weekend would be difficult, there are positives to take and we're going away feeling happier after the changes we made. We know there's potential there."
Danny Kent, "In a way it's been a productive weekend. I learned a lot more about riding a superbike, and we know exactly where we need to work. I've never really had to worry about engine braking before, and adjusting it. It's not something I had to on other bikes I've ridden in the past. And during testing when the team asked me about it and if it was okay I said it was. But in a race situation we struggled. It was fine with a new tyre and when I had the grip, but once the grip dropped off I struggled to get the bike stopped and had to trail brake a lot, and we crashed twice.
"We're not coming away disappointed. Our one lap pace was respectable given my lack of experience at Oulton Park and we've definitely got positives to take. I also rode the bike in the wet for the first time and finished the session P5 and felt really comfortable, to the point I was hoping the races would be wet. So while the crashes weren't ideal we hadn't set ourselves unrealistic targets and we know where to work for Knockhill."
Tim Neave, "It would have been nice to have been further up, we had good pace over one lap, just struggled to put 14 together in the race. But I'm not too disappointed, we got some good points on the board, and I improved my lap time, I just dropped off in the closing stages. I had a bit of arm pump – but that's not much of an excuse – and I was just riding a bit tight. We could just do with improving the setup to get a bit more front end feel in the faster corners. I'm looking forward to Knockhill though: I like it there, we had a good test there and put together a good race run, so we'll go again there."
More, from a press release issued by Dynavolt Triumph:
Double top ten for Dynavolt Triumph at Oulton Park
Starting from the 4th row of the grid, Dynavolt Triumph rider Brandon Paasch more than made up for his DNF in yesterday's Quattro Group Supersport Sprint Race by coming in 6th in today's 15-lap Feature Race at Oulton Park. Putting aside the non-score yesterday, Paasch picked up 10 valuable championship points placing him 11th in the championship going into the next round at Knockhill.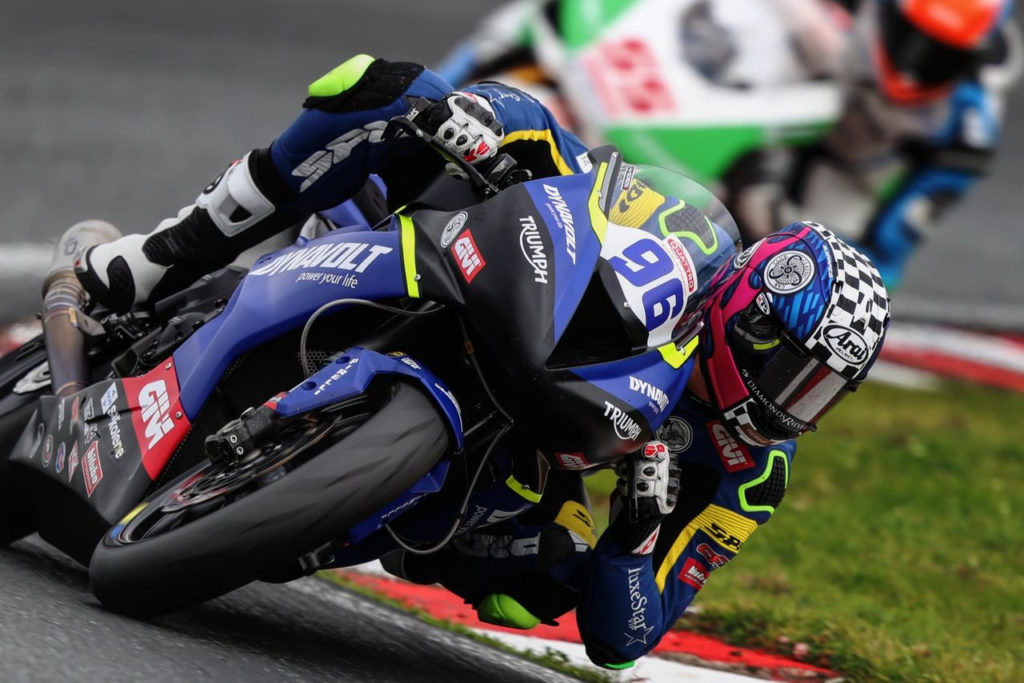 Brandon Paasch: "Overall race two was positive.  We made some changes to the bike before the race and we went in the right direction. I felt a lot more comfortable and kept chipping away at it. We're just going to keep working, try to get closer to the front at Knockhill. I know at the test there I had good pace so I'm looking forward to it."
For a second time, Kyle Smith dismissed the discomfort of his shoulder injury with a heroic performance bringing his Dynavolt Triumph across the line in 7th position. Smith rounds off a challenging first British Championship race weekend 8th in the championship standings and he will only get stronger as his fitnesss improves.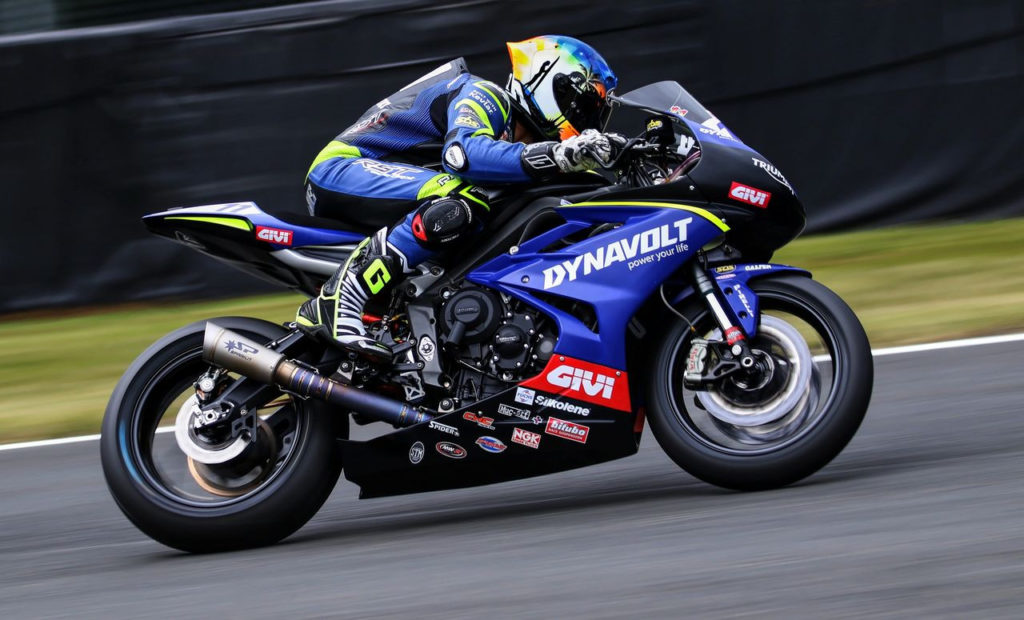 Kyle Smith: "A positive finish to the weekend.  We came into this weekend with an injury and I didn't actually know if I could ride but I soldiered through and got some points in the sprint race. For the second race if anything it went better, we worked on the bike a bit, improved the feel and got some more points which is important for the championship. We'll just carry on working and roll on to the next round at Knockhill."
Dynavolt Triumph Team Manager Simon Buckmaster: "I must say it was a very brave ride by Kyle. I know the pain he is in, he's almost riding with one arm and for sure he will have struggled in that race. You can see in the sectors his potential.  I know a fit Kyle Smith will be right there challenging.  Brandon made a really good step today after his crash yesterday in fact the whole team made a good step.  The team are working really well with Devis Sgarbssa of Bitubo and I must congratulate Simon, Andrea, Dan & George on a really good job. We have to understand it is our first race in the Supersport class in this championship, on different styles of tracks than we are used to. I want more, of course we always want more but I'm happy with our efforts and we can go to Knockhill in a confident way."
More, from a press release issued by FHO Racing Team BMW:
PODIUM AND A POLE POSITION FOR HICKY AT OULTON PARK!
The British Superbike season kicked off at Oulton Park this weekend for Peter Hickman and the FHO Racing team with the all-new M 1000 RR.
FP1 was wet and Hicky took it steady, FP2 the track was drier and Peter made use of the drying track to get the bike set up ready for FP3 on Saturday.
Saturday; the track conditions were ideal, allowing Peter to get a strong qualifying time and finished P5.
Peter "I'm really happy with qualifying, I've never been a strong qualifier throughout my career and to come away with the P5, 0.2 off pole I am more than happy with that."
Race One:
Hicky had a good start, he and the top five broke away from the rest of the field, feeling comfortable with the bike, the race pace was great. Hicky felt strong, having a few battles in the first half of the race, Peter went on to ensure a good P4 after having a few issues in the latter stages.
Hicky secured the second-fastest lap of the race, 1:34.773 giving him a P2 start for Race 2.
Race Two:
Another great start from Hicky, Iddon and O'Halloran, they broke away from the rest of the field, lapping in the 1:34:00's and Hicky set the fastest lap of the race lap 8, 1:34:803.
Arm pump issues around lap 12, meant Hicky had to ease off, knowing he had a gap to P4, securing the first Podium for Faye and the FHO Racing BMW team and Pole position for Race 3.
Race Three:
Another great start, mixing it up at the sharp end but similar issues to the previous races, Hicky ended up dropping back to 5th, finishing the weekend in 3rd place in the BSB Championship for Hicky and the FHO Racing BMW Team
Peter Hickman "Great weekend for myself and the FHO Racing BMW team, fantastic to get the first-ever podium for the team at round one and the first-ever podium for the M 1000 RR BMW.
If we were offered a 4th 5th and podium from the weekend before we got there, we would have definitely taken it, especially when I was struggling with arm pump really badly this weekend, which is unusual for myself. I felt I had the pace to have been on the podium for all three races, if not to win one or two. That's the way things go, but I will work to get that sorted before the next round.
So leaving here on a positive, the bike has worked really well and shown its potential and it is only round one for us and look forward to getting to Knockhill
Finally, wishing my teammate Xavi all the best and look forward to getting him back with the team for Knockhill."