Editorial Note: American Brandon Paasch, who races a Dynavolt Triumph Street Triple RS 765, did not finish (DNF) British Supersport Race One Saturday at Oulton Park.
More, from a press release issued by MotorSport Vision Racing:
First blood to O'Halloran in season opening Bennetts British Superbike race
Jason O'Halloran returned to winning ways in the opening BikeSocial race of the 2021 Bennetts British Superbike Championship at Oulton Park this afternoon, withstanding earlier pressure from both Christian Iddon and Tommy Bridewell to be victorious for McAMS Yamaha.
Iddon had hit the front of the pack on the opening lap as he launched off the front row to lead into Old Hall for the first time ahead of O'Halloran and Tarran Mackenzie.
As Iddon led the pack, O'Halloran was looking to make his move, but it wasn't until lap eight when he could make it ahead with a move down the inside at Old Hall.
The VisionTrack Ducati rider tried to reclaim the position, edging ahead as the crossed the line on the tenth lap, but O'Halloran had the lead into Old Hall.
The McAMS Yamaha rider held off the challenge until the chequered flag as Iddon claimed second place for VisionTrack Ducati with Bridewell in third to continue his successful weekend so far for Oxford Products Racing Ducati.
Peter Hickman was just adrift of the leading trio to lead the BMW contenders to score fourth place on the FHO Racing BMW team debut at Oulton Park.
Mackenzie finished in a lone fifth place ahead of Honda Racing's Glenn Irwin and Rich Energy OMG Racing BMW's Kyle Ryde after teammate Bradley Ray was forced to retire in the early stages of the race.
Lee Jackson scored FS-3 Kawasaki eighth place, maintaining his position ahead of Ryan Vickers and Josh Brookes as the reigning champion completed the top ten.
It was a disappointing opening race for SYNETIQ BMW's Andrew Irwin, who crashed out at Old Hall and Buildbase Suzuki's Danny Kent, who slid off at Lodge.
Bennetts British Superbike Championship, Oulton Park, BikeSocial Race 1:
1. Jason O'Halloran (McAMS Yamaha)
2. Christian Iddon (VisionTrack Ducati) +0.630s
3. Tommy Bridewell (Oxford Products Racing Ducati) +1.408s
4. Peter Hickman (FHO Racing BMW) +5.913s
5. Tarran Mackenzie (McAMS Yamaha) +12.954s
6. Glenn Irwin (Honda Racing) +15.889s
7. Kyle Ryde (Rich Energy OMG Racing BMW) +16.155s
8. Lee Jackson (FS-3 Kawasaki) +16.578s
9. Ryan Vickers (RAF Regular & Reserve Kawasaki) +17.074s
10. Josh Brookes (VisionTrack Ducati) +17.918s
Bennetts British Superbike Championship standings after Oulton Park, BikeSocial Race 1:
1. Jason O'Halloran (McAMS Yamaha) 25
2. Christian Iddon (VisionTrack Ducati) 20
3. Tommy Bridewell (Oxford Products Racing Ducati) 16
4. Peter Hickman (FHO Racing BMW) 13
5. Tarran Mackenzie (McAMS Yamaha) 11
6. Glenn Irwin (Honda Racing) 10
7. Kyle Ryde (Rich Energy OMG Racing BMW) 9
8. Lee Jackson (FS-3 Kawasaki) 8
For more information on the Bennetts British Superbike Championship visit www.britishsuperbike.com
Jason O'Halloran – McAMS Yamaha
Bennetts BikeSocial Race 1 winner
"It feels absolutely great to claim the first win of the year! We've had probably the best pre-season I've ever had, I've topped the majority of the test sessions – but the first sessions that actually counted were this weekend and we got one lap so I was a bit unhappy about qualifying.
"I put my head down though in the race and got a really good start. I've done about three practice starts this weekend and fluffed them all so I'm glad I got that one right when it mattered!
"I just settled in to the race, I sort of knew my pace as I had done a pretty long run in FP3 and I could see Christian ahead. I was pretty happy with what he was doing, he wasn't really getting away although there was a little gap, it was more of a yo-yo gap and I just picked my time.
"Once I got to the front I started to push it a bit more. I knew he would come with me because when you're following you can tag on and get pulled away, and I was happy to just run my normal lines and learn as much as I could for tomorrow.
"I think we can still improve tomorrow, it's a longer race as well which I think will play into our favour."
More, from a press release issued by VisionTrack Ducati:
Podium For Iddon At Oulton Park Opener
VisionTrack Ducati rider Christian Iddon opened his 2021 Bennetts British Superbike Championship campaign with  a strong second place finish at Oulton Park this afternoon although it was a more challenging maiden outing for teammate and defending champion Josh Brookes as he came home in tenth place.
Iddon had proved to be the quicker of the two during Free Practice and the SUPERPICKS 12 qualifying sessions before posting second quickest time in the final qualifier to line up in second place on the front row of the grid on the factory supported VisionTrack Ducati Panigale for the first race of the season.
Brookes set the ninth fastest time for a third row start but the Bedfordshire-based Aussie was only three tenths of a second adrift of pole setter and fellow Ducati rider Tommy Bridewell and with less than half a second covering the leading 11 riders, a close race looked in store.
Conditions were again perfect for the 14-lap race and Iddon, now based at Blaydon on Tyneside, made the perfect start to lead the field round at the end of the first lap. Brookes had been shuffled back to 12th which gave him plenty of work to do.
In a similar pattern to last year, Iddon had Yamaha's Jason O'Halloran in close company, but he successfully kept him at bay for the first six laps before he eventually nosed ahead on lap seven. The duo exchanged positions for the next couple of laps, but O'Halloran hit the front again as the race entered its final third and although he went on to take the win, Iddon pressurised him the whole way, the gap between the two at the chequered flag just over half a second.
For Brookes, it was a lot harder, and he was unable to find a setting with the bike he was comfortable with, or find a setting that enabled him to do the lap times he was doing last September, meaning he eventually finished in tenth place.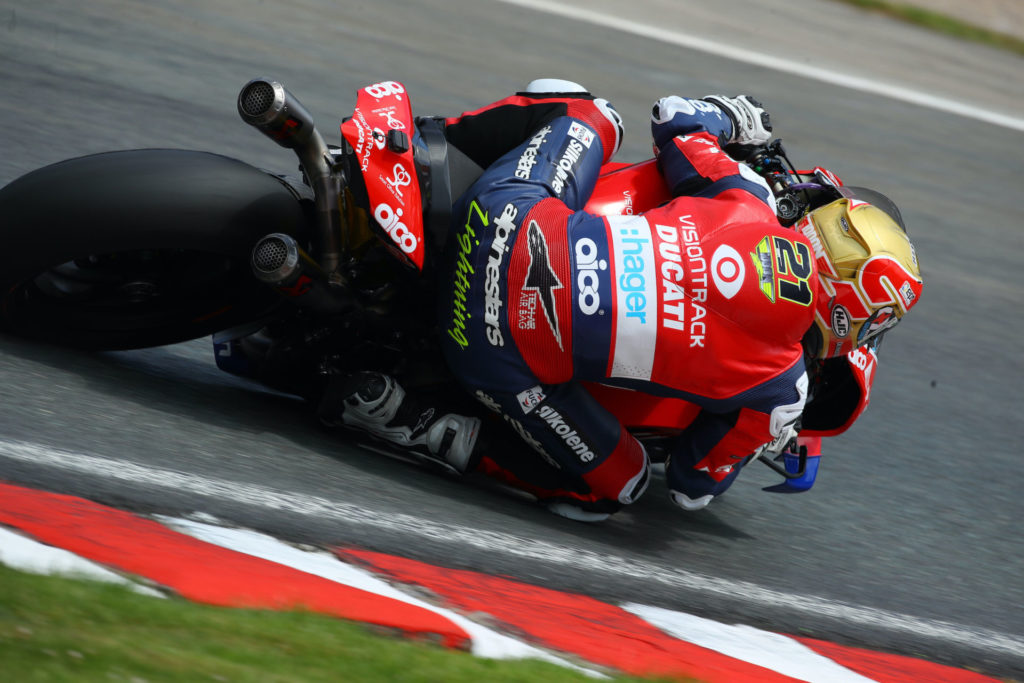 Christian Iddon: "To come away from the first race of the season with a trophy is obviously great but it was a hard race and after eight months away from racing it was quite a shock to the system. I don't think I've been riding as well as I can do this weekend so I didn't want to lead and when Jason came by, he pulled quite a gap straight away, but our bikes are so completely different these gaps can come and go and that's what happened. We've definitely improved, and we'll look to see if we can make further improvements for tomorrow, but 20 points is a good start to the season."
Josh Brookes: "We've used testing to try a number of things with the bike and did so with optimism and we felt  confident we had the package to come here and challenge for the win. For whatever reason though, that's not happened and even though we eventually put in exactly the same settings as what we had last year, I haven't been able to get anywhere near where I should be. We know what the issue is, we just need to work out how to solve it. Sometimes you can look at your own shortcomings which I can accept so we'll sit down and have a good look at what we need to do to make a better fist of things in tomorrow's races."
Johnny Mowatt, Team Co-ordinator: "It was a good, solid haul of points for Christian, and he was in control for the first half of the race. When Jason got by, he got a bit flustered and had a couple of big slides, but he settled back in, and the race was very similar to those in 2020 whereby the bikes worked differently in different corners. Second is a good start but hopefully, he can go one better tomorrow. Josh and his side of the garage have been chasing their tails a bit this weekend in terms of set up. With three years with the bike, we know how good it can be around here but something is missing at the moment. We'll get our heads together this evening and I have every confidence the team will help get Josh back at the sharp end tomorrow."
Tomorrow's two races, held over the longer distance of 18 laps, are schedule to take place at 13:45 and 16:45.
More, from a press release issued by Dynavolt Triumph:
A brave ride from Kyle Smith in the sprint race
Dynavolt Triumph's Kyle Smith delivered his aim of a top ten finish with a brave performance to come in tenth in today's Quattro Group British Supersport Sprint race at Oulton Park. Not fully fit, Smith rode through the pain barrier in the 12-lap race to claim six valuable points at his, and the team's British Championship debut.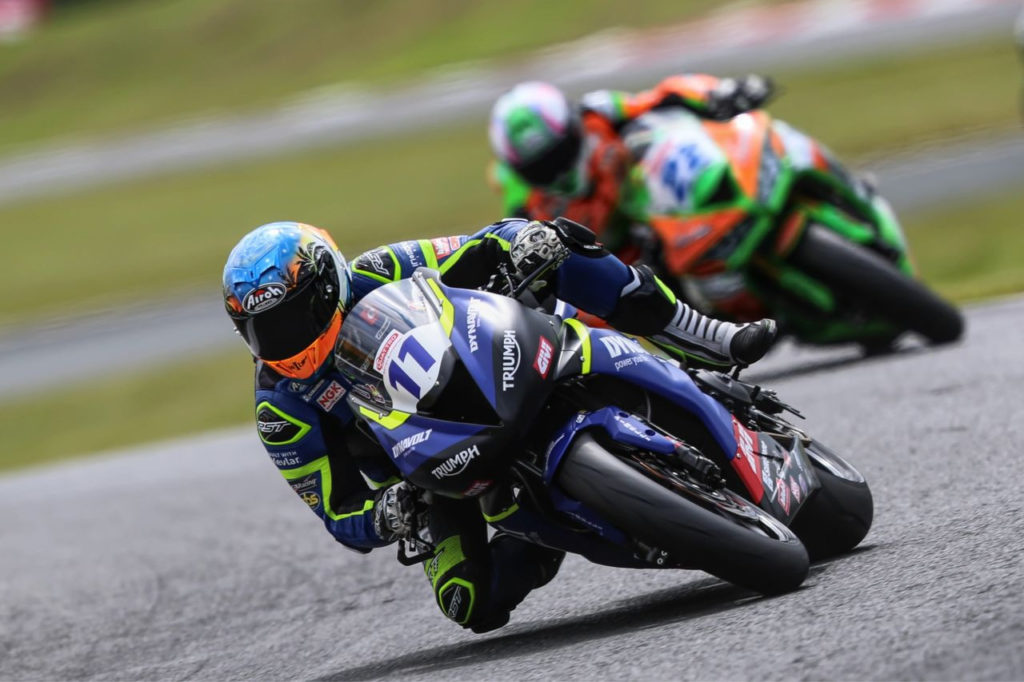 Kyle Smith: "A positive end to the day, we came to get some points and we've got some points. Physically I struggled in the race, the first 3 or 4 laps I felt really good but then the pain kicked in and my good side got really tired. We are still working on the bike trying to get comfortable but all in all we've got some points and two days ago I didn't think I would be able to race so we will just work on that and hopefully improve a bit tomorrow."
Teammate Brandon Paasch's race ended early when, running in sixth place he slid off on the fifth lap at Knickerbrook. Paasch was uninjured in the fall and will be looking to deliver a result in the feature race tomorrow.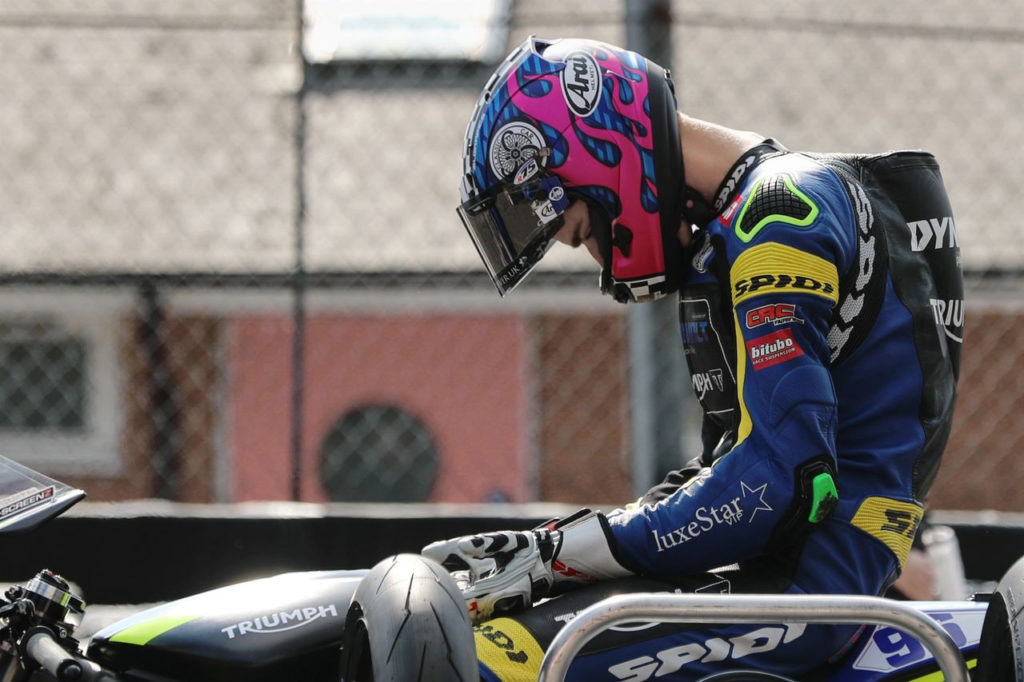 Brandon Paasch: "I had a decent start and made up a couple of positions. The race was going pretty well just trying to hang in there with the guys in front of me. I was just on the limit on the front end. Not a whole lot to say about today's race, hopefully we can go look at the data and come back stronger for tomorrow."
Dynavolt Triumph Team Manager Simon Buckmaster: "To be honest we were aware from the start that it wouldn't really be possible for Kyle to fight right at the front where he should be. He's not close to full fitness and the more riding he does the harder it is as he hasn't been able to train and he lacks strength in his right arm. We were always signalling to him his position in the Supersport class because we knew the important thing was to grab as many points as possible because it's a long season. He'll be fitter again at Knockhill in a couple more weeks."
"It was a shame for Brandon, he just lost the front coming out of the last right, the second chicane. We need to look at that to see what he did different see what caused the crash but we'll take the positives from today."
More, from a press release issued by Honda UK:
Honda Racing UK in action at Oulton Park for BSB season opener
Racing action got underway today as Oulton Park hosted the opening race of the 2021 Bennetts British Superbike Championship, where Honda Racing UK are ending the day on a positive note with the CBR1000RR-R Fireblade SP at the 2.692-mile Cheshire circuit.
Glenn Irwin has been working through the various unique challenges that Oulton Park throws at riders and teams. Qualifying for today's race in eighth place, Glenn enjoyed a battle on track with Kyle Ryde and after passing his rival on the eighth lap, he managed to keep him at bay to come home sixth.
BSB rookies Ryo Mizuno and Takumi Takahashi got their first taste of a Saturday in the British series with qualifying and Race 1 taking place. Throughout the weekend Ryo's times have improved as he continues to learn the layout, as well as getting up to speed riding with Pirelli tyres. Making up places from his 25th position on the grid, Ryo crossed the line 19th.
Teammate Takumi also worked to improve his lap times from Friday's practice sessions. Having not long recovered from a dislocated shoulder, Takumi was keen to start the race and experience a BSB start procedure, but despite a valiant effort, he pulled in on the eighth lap.
In the Pirelli National Superstock class, Tom Neave enjoyed a positive qualifying session finishing sixth overall in the combined times and will start tomorrow's 14-lap race from the second row of the grid. Making strides all weekend, Tom's quickest lap today was 1.616 seconds faster than his qualifying time last year, where he started the race from 16th place. The Superstock race gets underway at 14.30 on Sunday (27th June).
The team will now debrief and prepare for another race day tomorrow with two 18-lap Superbike races at 13.15 and 16.45.
#2 Glenn Irwin
I'm happy with today's results, coming into this weekend I set a target of being in the top-six, being realistic and looking at last year's results, so that's one objective ticked off. Saying that we have to improve for tomorrow, not just to look further ahead but to maintain the result we got today, we have to make progress tomorrow. We decided to race and qualify with the hard option tyre, which I feel was a good call and helped us get the top-six, but myself and the team are aware we have work to do ahead of tomorrow. It might not be a podium finish, but this result at one of our trickier circuits I'm happy with, and this weekend is about gathering points.
#88 Ryo Mizuno
I was able to finish FP3 in good shape today and by following riders I was able to improve my best time by a second, I am exploring and learning every time, so I'd like to keep learning every session. I couldn't get a good flow from qualifying and I had a little trouble in the race as I find the circuit very physical, this is something we need to improve tomorrow. During the race I couldn't set a good pace and it was tough, but I was relieved to finish after the chequered flag. I'm positive that I was able to finish my first BSB race and I will try to finish higher in the two races tomorrow.
#13 Takumi Takahashi
My first race experience was OK, but the result was disappointing having to retire early, however I did learn a lot on track. My shoulder now isn't too painful, my main problem is muscle weakness, so after this weekend I have a lot to work on to get stronger for the next round. Tomorrow I am aiming to take part in both races, but I have to take each session as it comes starting with the morning warm-up and go from there.
#68 Tom Neave
Today has been quite a positive day for me we're starting sixth, whereas last year we qualified 16th, so we've definitely made improvements and I am happy to be nearer the front tomorrow. After having a bit of a difficult off-season my main aim for this weekend is to start the championship cleanly and get as many points on the table as possible, and I think starting from the second row I've given myself the best chance of that. I had a little slip off on my last lap in qualifying but luckily both me and the Fireblade are ok so we are ready to fight tomorrow, and I can't wait!