Oulton Park SBK test comb results

More, from a press release issued by MotorSport Vision Racing (MSVR):
O'Halloran holds off Bridewell by 0.037s to end Oulton Park Official Test on top
Jason O'Halloran set the pace in the final Bennetts British Superbike Championship Official Test session of the day at Oulton Park, putting the McAMS Yamaha rider just a narrow 0.037s ahead of Tommy Bridewell in a final five-minute fight to end the test in Cheshire fastest.
The opening two sessions had been topped by reigning champion Josh Brookes and RAF Regular and Reserve Kawasaki rider Ryan Vickers, but the final 55-minute session of the day saw the times inevitably tumble in perfect conditions at the parkland circuit.
As fans returned to watch trackside for the first time since 2019, 577 days since the season finale at Brands Hatch, they were treated to a thrilling end to the day as several riders headed out for a time attack to end the test.
Brookes had held the advantage with 15 minutes to go, but O'Halloran had soon surged back ahead of his fellow compatriot as the Australian pair locked out the leading two positions. However, with six minutes remaining of the day Vickers had posted a time, which moved him back to the top, nudging McAMS Yamaha's O'Halloran back into second place.
Peter Hickman was then on a sequence of flying laps and he moved into second position and just 0.196s adrift of Vickers' leading time, however with three minutes remaining O'Halloran set a time which put him back into P1 as the final minutes ticked down.
Oxford Products Racing Ducati's Bridewell went into second position with just over a minute remaining of the day with Vickers moving back into third place, pushing Hickman into fourth at the chequered flag.
Brookes completed the top five for VisionTrack Ducati on his return to testing action after he missed the previous test at Snetterton following his crash at the Silverstone test. The defending champion moved back ahead of Gino Rea who led the Buildbase Suzuki charge in sixth.
Glenn Irwin ended the day in seventh place for Honda Racing as six different manufacturers featured in the top seven positions.
Kyle Ryde ended the session in eighth place after a crash at Island ended his day prematurely despite a strong showing from the Rich Energy OMG Racing BMW rider, who was second fastest in the opening two sessions.
Bradley Ray made his debut in 2021 on the second of the Rich Energy OMG Racing BMWs in ninth place on the combined times, just 0.005s ahead of SYNETIQ BMW rival Danny Buchan, who completed the top ten.
Jason O'Halloran, McAMS Yamaha
"What a day to have been at Oulton Park; the fans were back, the sun was shining and it doesn't get much better than that! It has been fantastic to see the support today and we have had three good sessions. It has been a really positive day and to end up on top is always a nice feeling.
"We have got through plenty and I was quite surprised with how fast we were at the end of the day, as in each session we pretty much had a different bike where we had so many changes. We keep moving forward so we just need to keep working to evolve what we are doing in the final tests, ready for when we get back racing next month.
"We have gained a lot of information today and our race tyre pace was really good. We stayed on a SC0 tyre at the end of the day and it felt good. I feel like we are in a strong place for when we come back here for the first race of the season now."
More, from a press release issued by VisionTrack Ducati:
Positive Test For VisionTrack Ducati At Oulton Park
Defending Bennetts British Superbike champions, VisionTrack Ducati, continued their pre-season testing with the  third official BSB test at Oulton Park which saw Josh Brookes and Christian Iddon enjoy some dry track time at the Cheshire circuit today.
With very cold temperatures and wet weather badly affecting the previous two tests at Silverstone and Snetterton, the sunshine was a welcome relief for Paul Bird's two riders as they continued their preparations for the opening round which also takes place at Oulton Park later next month.
After sitting out the Snetterton test to allow the finger injury he sustained at Silverstone to heal, reigning champion Brookes was fastest out of the blocks in the opening session, setting quickest time aboard the factory supported VisionTrack Ducati Panigale V4 R at 1:35.347s on his very last lap. Iddon, in his second year with the Penrith-based team, set fifth fastest time with a best lap of 1:36.172 to get the ball rolling.
Session two just after lunch saw the PBM team continue their pre-season development work on set-up with Bedfordshire-based Aussie Brookes ending up in seventh place with teammate Iddon, originally from Stockport but now living on Tyneside, one place further back as he improved his lap time.
The final session late this afternoon turned out to be the fastest with track conditions almost ideal and saw Brookes lower his lap time to 1:34.924 to end up fifth with Iddon continuing to improve his speed also and although he ended the session in 12th place, he dropped his lap time to a best of 1:35.412.
The team now moves on to the final test in the official schedule with takes place at Donington Park on June 8th prior to the opening round of the Bennetts British Superbike Championship takes place over the weekend of 25/27 June at Oulton Park.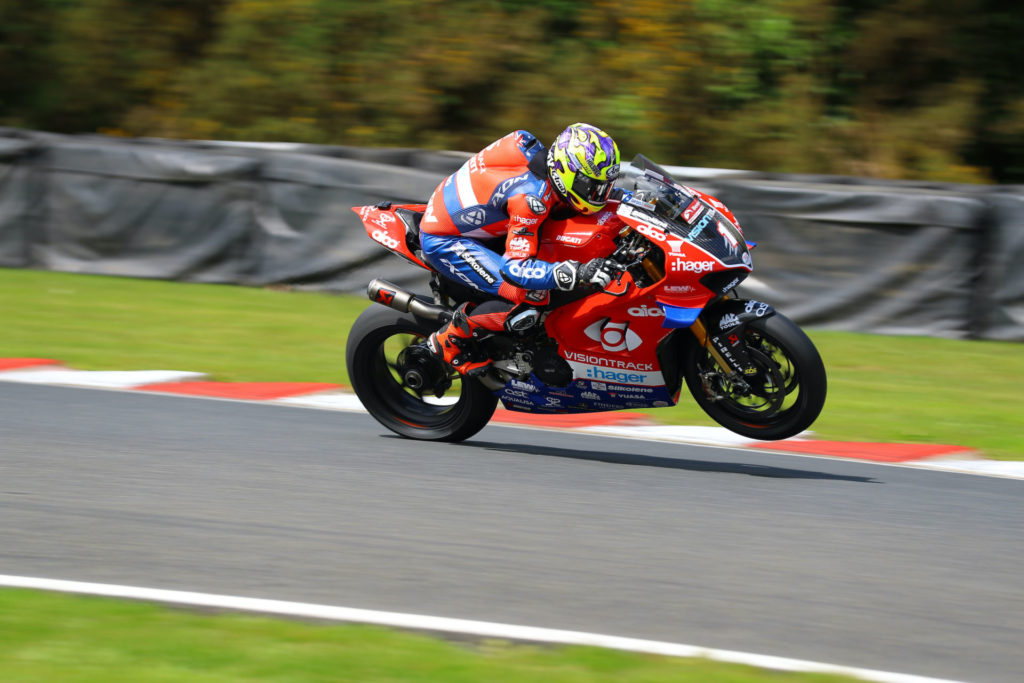 Josh Brookes: "The day was positive in as much as the finger injury didn't really affect me, but regarding the actual test, I felt the track was a little slower than last year as it hadn't been used very much. We put last year's settings into the bike and straight away I was fastest but then we tried a few different things, including the new SCX tyre, and the changes didn't really help us go faster. I learned a lot about the new tyre which was one of the main objects today so that information was invaluable. But we know we have a good base setting on the bike and these tests are to experiment a little but the whole idea is to evaluate our package. Even though I wasn't fastest overall, I'm happy with where we are at and we got plenty of dry laps in."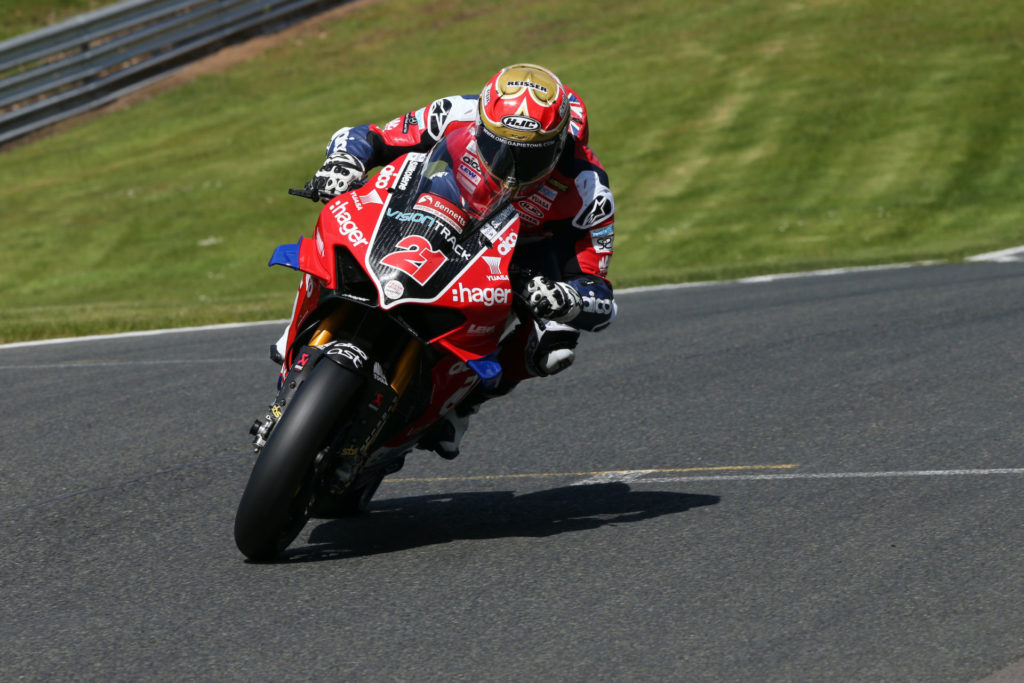 Christian Iddon: "Today was really beneficial in getting through a big workload and we came away having done that  which was really good. I did a full race run in the middle session and set my fastest lap on lap 17 which bodes well for an 18-lap race round here. In the final session, we needed to try a setting which we'd run previously and just wanted to eliminate certain things so despite being further down the order than I'd have liked, we needed to do that experiment and have learned a lot from it. I'm feeling very happy and positive, and the plan seems to be coming together so we'll stick at it and now look forward to Donington."
John Mowatt, Team Co-Ordinator: "It was finally good to get some decent dry laps in at a track we know suits us, so the plan was to define our base setting and then try a few different ideas and of course, get some data on running the new Pirelli tyre. Josh showed what he and the bike are capable of by topping the opening session and from there, we just needed to work through things. Same for Christian, he gradually improved his lap times in all three sessions and prioritised getting data for the opening races rather than setting a one-off fast lap. We now have a lot more information to work with which we will continue at Donington."