DOUBLE M 1000 RR VICTORY FOR BUCHAN & SYNETIQ BMW AT KNOCKHILL
Danny Buchan produced a masterful display aboard his SYNETIQ BMW M 1000 RR, taking both of today's Bennetts British Superbike Championship race wins at Knockhill in Scotland. Those victories completed a full house of podiums for the official BMW Motorrad rider, having recorded a third place during Saturday's opening race for the SYNETIQ Intelligent Solutions backed TAS Racing team.
His double top step feat is a Superbike first for the all-new BMW M 1000 RR and in doing so, Buchan moves into third place in the overall BSB standings, just 20 points off the series lead. His team-mate Andrew Irwin made a number of set-up changes during the Knockhill event, and while not yet as comfortable as Buchan, he did make significant progress, scoring points in all three races.
PHILIP NEILL SYNETIQ BMW TEAM PRINCIPAL
It's been a long wait and not without effort but winning again does feel really sweet. Especially at Knockhill where we have not enjoyed the best of luck in recent years. To be fair, BMW Motorrad has shown a lot of faith in TAS Racing and with our title sponsor SYNETIQ being relatively new to the racing scene, we knew we had to win races this year. Absolutely no excuses.
The new BMW M 1000 RR has already shown great potential in BSB and in WSB and we fully believed the package was capable of running at the front. However, being perfectly honest, Danny made the difference today, he was simply superb. Andrew has not enjoyed the early season so much, but we believe we have found a direction for him even though it didn't show in our results today. He is a quality rider and I have no doubt he will challenge for podiums when we find the sweet spot for him and his M 1000 RR.
Thanks to all our partners for what we can only describe as a dream weekend for TAS Racing and SYNETIQ BMW.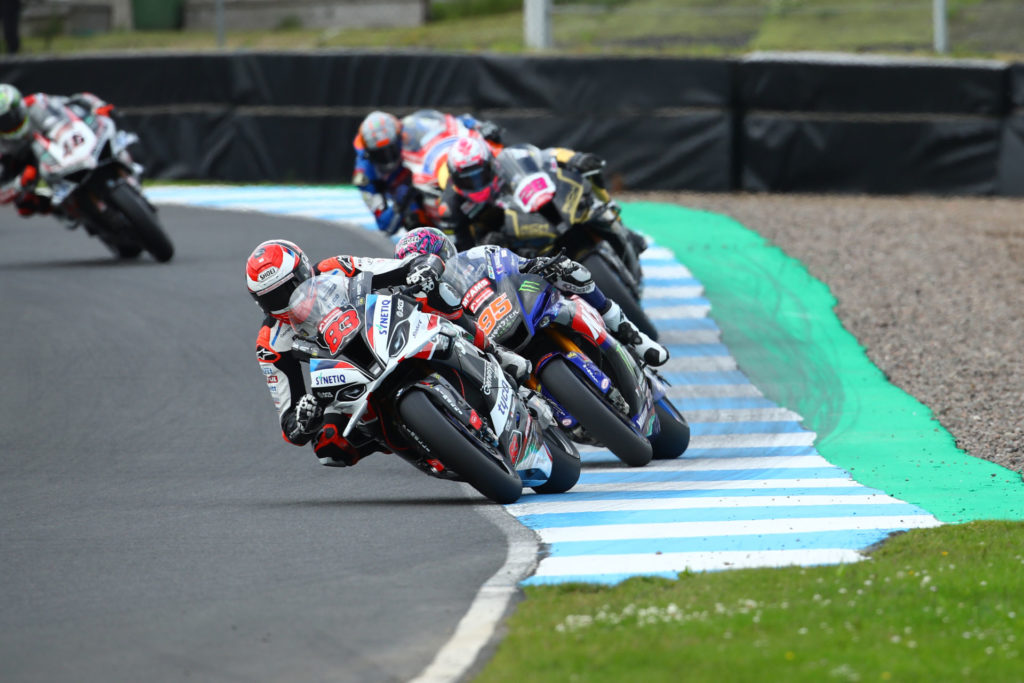 DANNY BUCHAN
#83 BRITISH SUPERBIKE
Well where do we start? What a weekend, three races and three podiums and of course those two wins today. I'm over the moon, so massive credit to the SYNETIQ BMW team as they really did put together a fantastic package with the MRR. It made my day a whole lot easier. To win two British Superbike races so early in the life of the M 1000 RR, which is a new package and in amongst such stiff competition, shows just how good this new BMW really is. Let's dig deep and keep building on this, but for now I'm going to enjoy the moment.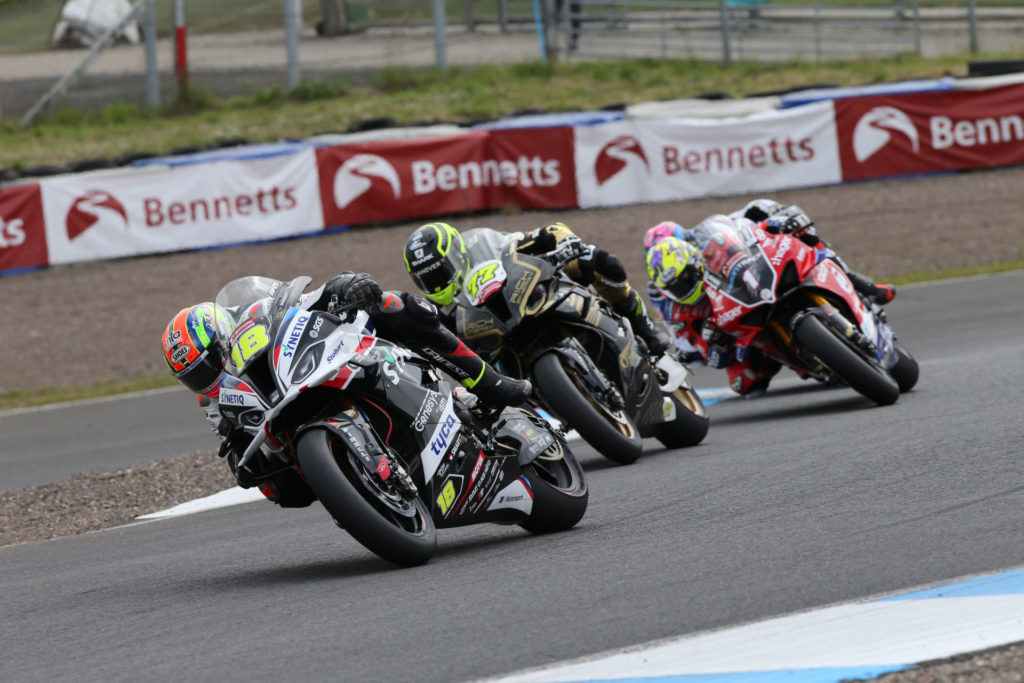 ANDREW IRWIN
#18 BRITISH SUPERBIKE
It definitely doesn't look like it was my best weekend, but it was a step forward from Oulton Park for sure. It's a matter of just trying to keep on building on that and look forward to Brands now. Well done to Danny. He did an awesome job this weekend on the SYNETIQ BMW M 1000 RR, showing it's true potential and what it really can do, so hopefully it will not be too long before I can be close to where he is.

More, from a press release issued by VisionTrack Ducati:
Iddon Leads Championship After Knockhill
Defending Bennetts British Superbike champions VisionTrack Ducati left the second round of the 2021 series with  the championship lead following Christian Iddon's solid performance in all three races at Knockhill this weekend.
After yesterday's superb victory, the Tyneside-based rider followed that up with a pair of hard-fought fourth places today aboard the factory-supported VisionTrack Ducati Panigale V4 RR to leave the Scottish track with a six-point lead.
But for teammate and defending champion Josh Brookes, the meeting proved to be another challenging one as he again struggled but salvaged a handful of points for Paul Bird's Lake District-based team.
Starting from the front row in today's opening 30-lap encounter, Iddon again took the lead early on which he held until half race distance. But such was the ferocity, he became embroiled in a three-rider battle for the final podium positions for the remainder of the race but just missed out and had to settle for fourth.
Today's second race followed a similar pattern with Iddon holding onto second place for the first half of the race despite numerous riders battling at the head of the field. As places constantly changed Iddon found himself shuffled back to fourth when the red flags came out following a crash meaning he missed out on the podium again.
On the other side of the garage, it was another tough day for Brookes and after struggling throughout Saturday, he was unable to make an impression on the top ten in both races today. The Bedfordshire-based Aussie took an unfamiliar 12th and 13th place finishes in the two races to leave Scotland in 11th overall in the early championship table.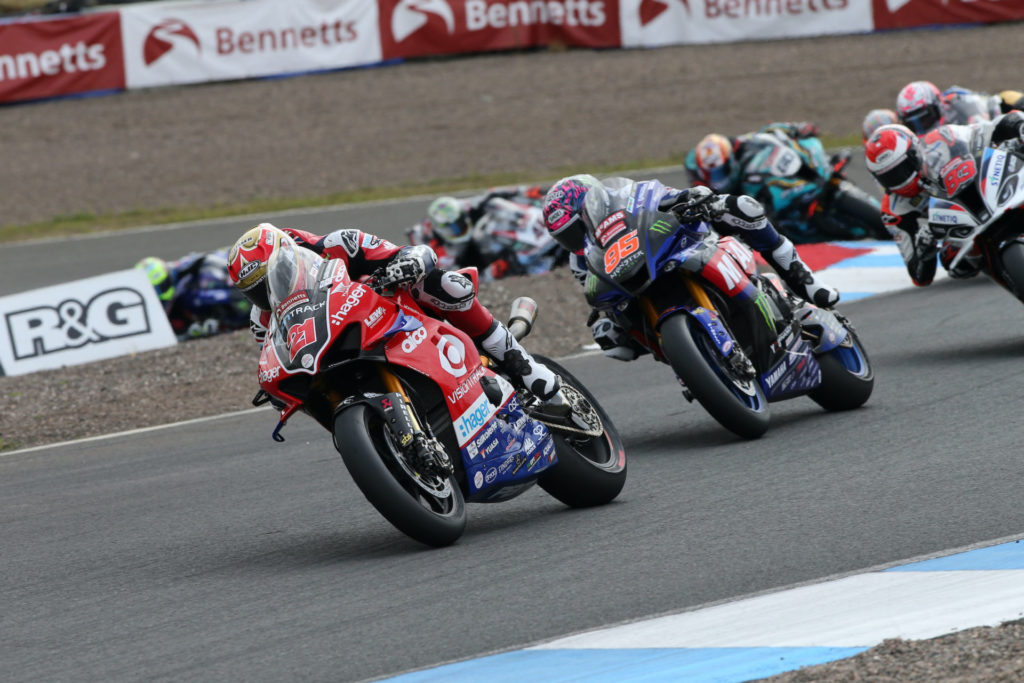 Christian Iddon: "I struggled a bit in the first race today when the bike had a full fuel load, and I wasn't riding as smoothly as I had been. I made a few mistakes and got mugged on the last lap which meant I ended up fourth, but the second race was a lot better. I was in the mix throughout and my pace was good but there were some sizeable moves, and I lost a couple of places. But I felt good and regained some of those places quite quickly only for the red flag to come out. It was a shame as I felt the race was coming to me and I felt confident of a podium if the race had gone the full distance. With a win and two fourths, I've taken a good haul of points and it's obviously great to be leading the championship."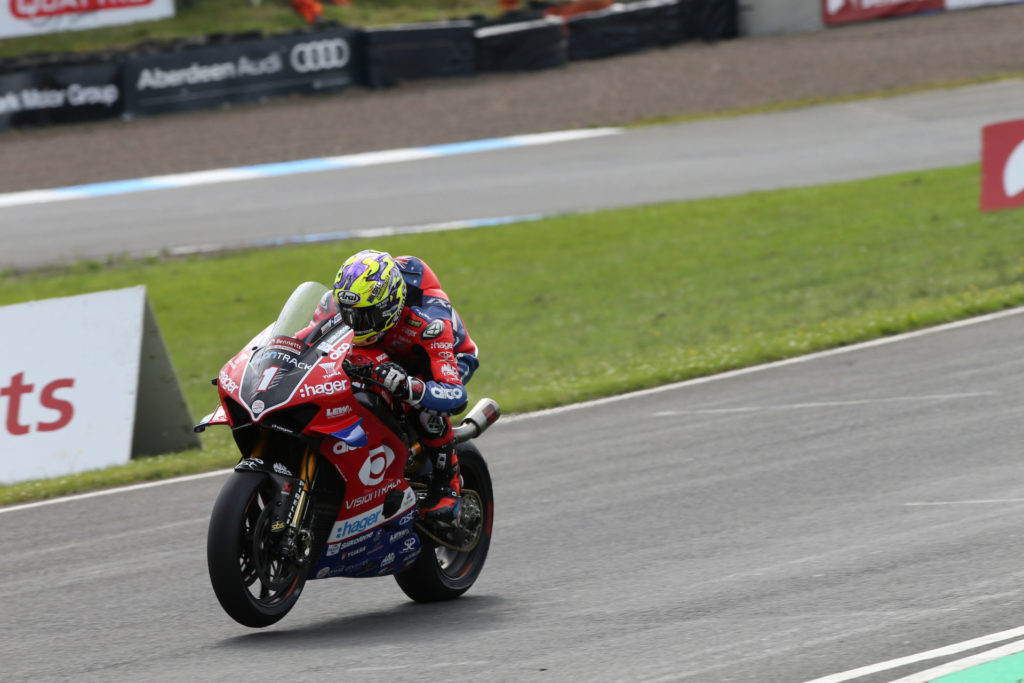 Josh Brookes: "I'm obviously disappointed with how today has gone and embarrassed to be that far back with the  number one plate. It's not natural and it's not normal for me to be in those positions and I'm in a bit of shock to be honest. The bike hasn't felt right from the moment we rolled it out the truck and it doesn't matter what we've done, the feeling has been the same. I've had bad races in the past but not so many in a row like we've had so far this season. I've always been able to turn it round and end the weekend on a positive note but that wasn't the case here at Knockhill. But we won't give in, I'll work with my team to sort what we need to."
Johnny Mowatt, Team Co-ordinator: "We've experienced different emotions on both sides of the garage this weekend. With Christian's win yesterday and two solid performances today, it's great that he's leading the championship and has been strong all weekend but for Josh, to see him struggling as he has done once again is frustrating. But we won't rest until we have sorted the problem with Josh and whilst Christian has momentum going into Brands Hatch, Josh has an excellent record there, so we'll hopefully find some improvements to kickstart his season."
The next round takes place at Brands Hatch, Kent on July 23-25.

Bennetts British Superbike Championship race two (30 laps)
1 Danny Buchan (BMW)
2 Rory Skinner (Kawasaki)
3 Tarran Mackenzie (Yamaha)
4 Christian Iddon (VisionTrack Ducati)
5 Tommy Bridewell (Ducati)
6 Ryan Vickers (Kawasaki)
12 Josh Brookes (VisionTrack Ducati)

Bennetts British Superbike Championship race three (24 laps)
1 Danny Buchan (BMW)
2 Rory Skinner (Kawasaki)
3 Tarran Mackenzie (Yamaha)
4 Christian Iddon (VisionTrack Ducati)
5 Bradley Ray (BMW)
6 Jason O'Halloran (Yamaha)
13 Josh Brookes (VisionTrack Ducati)

Championship Standings (after two rounds)
1 Iddon 111pts
2 O'Halloran 105
3 Buchan 91
4 Mackenzie 76
5 Skinner 61
6 Bridewell 60
11 Brookes 38
More, from a press release issued by Honda Racing UK:
Solid weekend of points for Tom Neave at Knockhill
Honda Racing UK's Tom Neave holds seventh place in the Pirelli National Superstock Championship standings after a positive weekend at Knockhill. Leading the way for the Honda team aboard the CBR1000RR-R Fireblade SP, Tom finished fourth and fifth in the day's two races and boosted his championship position to seventh place after arriving this weekend with zero points on the table.
Meanwhile for Glenn Irwin in the Bennetts British Superbike Championship, today was a vast improvement on yesterday's frustrations. Coming home 11th in Race 2, Glenn and the team worked hard to improve the set-up of the Fireblade at the Scottish circuit, but in the final race of the day it wasn't to be as Glenn crashed out, unhurt, while chasing down 10th place.
Teammate Ryo Mizuno continued to make progress aboard the Fireblade, as he continues to get to grips racing in the UK. An 18th place finish was the best of the pick for Ryo in the second BSB race of the weekend. Meanwhile Takumi Takahashi enjoyed putting in over 200 laps of Knockhill during his first visit to the venue. Still struggling with strength in his shoulder Takumi's highest place finish across the weekend was 21st.
The Honda Racing UK team will now head back to its Louth-base in Lincolnshire and prepare for the third round of the championship which takes place over 23-25 July at Brands Hatch.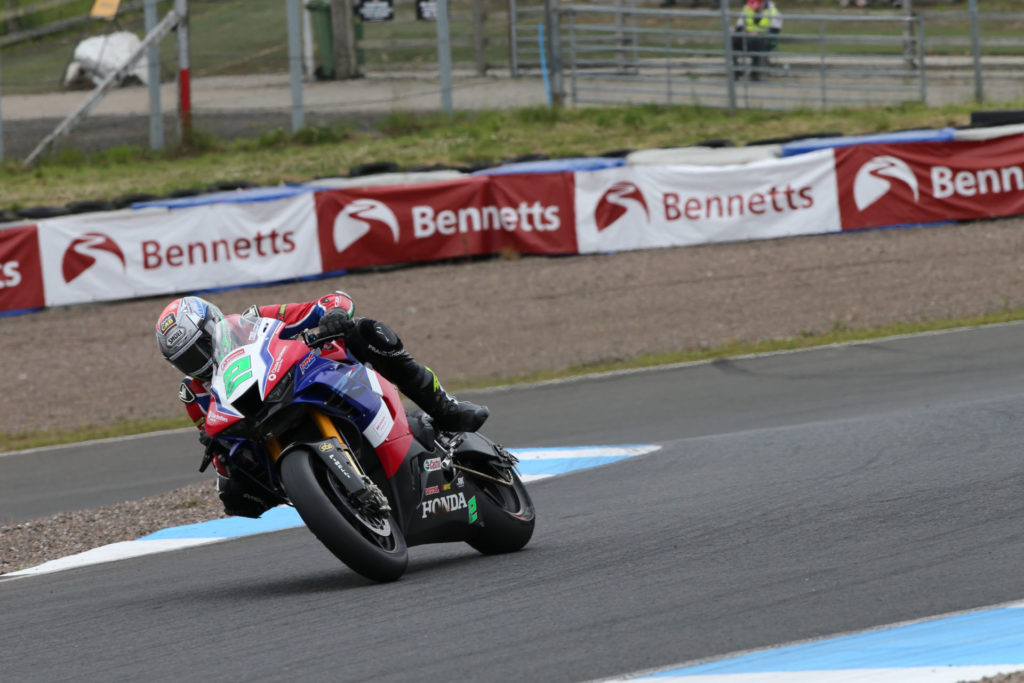 #2 Glenn Irwin
Racing in 11th isn't usually what gets us excited, but the progress we've made this weekend has been massive. Fair play to the boys in that last race I felt strong and I probably could have caught the guys ahead of me. Everyone will talk about the crash, but that was 1% of the race as 99% was so positive. This weekend we have struggled a bit from a physical point of view, but the changes the boys made to the bike made it easier to ride, and I could also go faster. I'm gutted for them to be honest, I can take it on the chin but they've worked hard all weekend and it's been testing at times! How we turned up for the last race shows the progress and we were able to respond properly. The Fireblade is new to this circuit, so we had a bit to learn this weekend but I am looking forward to coming back, it's just a shame it ended with a crash.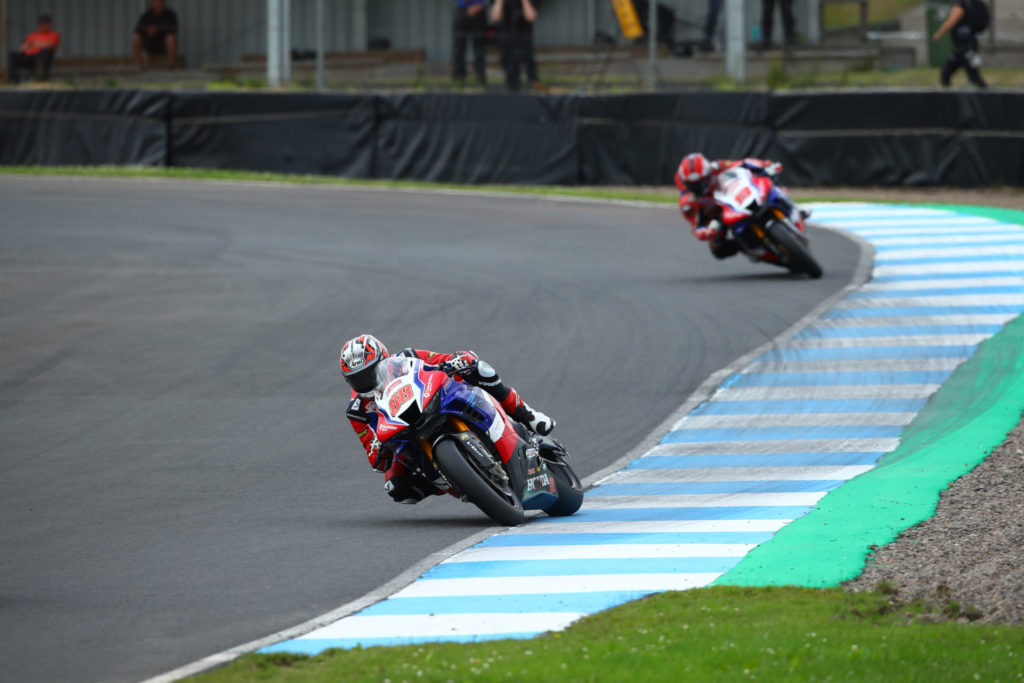 #88 Ryo Mizuno
It's been a very tough weekend. I feel like I've been running all the way from Saturday's free practice to today's Race 3 and now I'm feeling very tired. It's been a weekend where I've been able to step up my performance little by little. I'm not satisfied with the race results but I'm happy that I could finish the three races. I'm still working on my physical condition and I'm looking forward to the next race at Brands Hatch.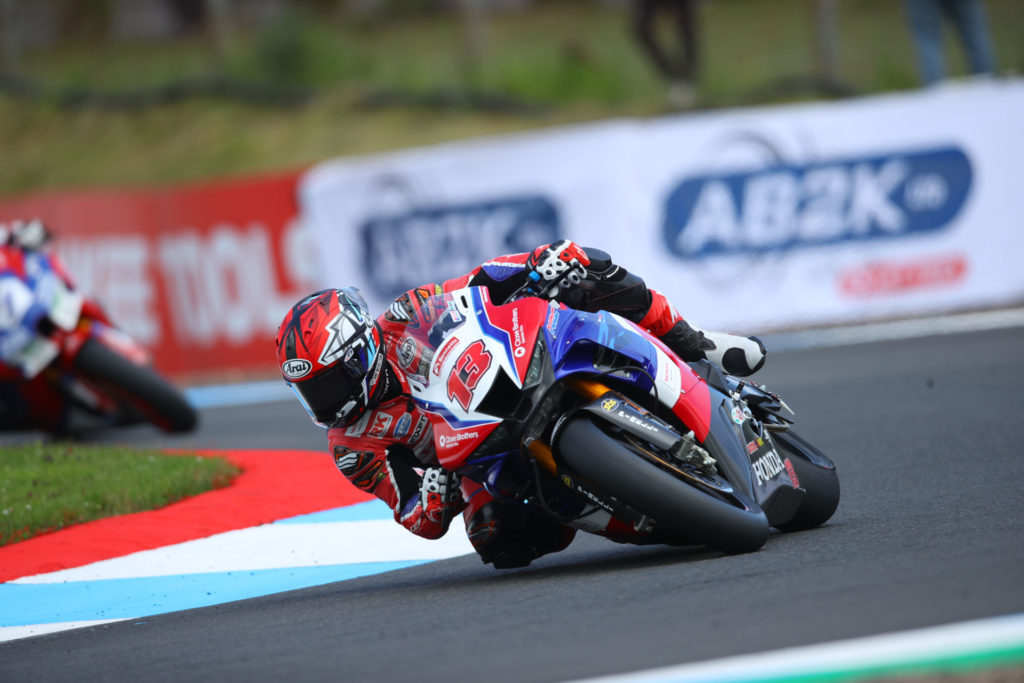 #13 Takumi Takahashi
Today was as difficult as yesterday's race for me. During today's first race I had some problems and retired from the running. During the first half of the final race I was getting better little by little, but going into the second half my shoulder became weak and I couldn't hold the pace I had been running until the end. I will continue to train until the next race and prepare for the ride.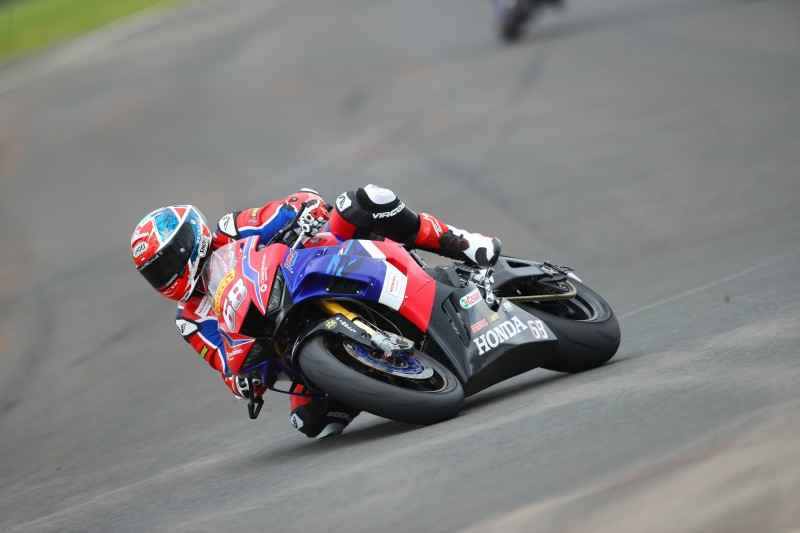 #68 Tom Neave
You always want to finish at the top in a race, or at least be on the podium, but I did what I came to do this weekend and that was to finish both races and get some solid points for the championship. For the most part this weekend we went faster in each session and just continued to understand the Fireblade a bit more. I can go home happy and relax, we came into the weekend with zero points and now we're seventh in the standings. I'm still getting over an illness and also recovering with my knee, so things still aren't 100% perfect. It's a long season and there's so much more we can do, so we'll keep at it and keep playing the long game.
More, from a press release issued by Buildbase Suzuki:
Rea shows potential at Knockhill with top five challenge
Buildbase Suzuki's Gino Rea twice challenged for a top five finish at Knockhill this weekend during the second round of the Bennetts British Superbike Championship, but while unable to remain consistent into the closing stages of the races and dropping down the order, his lap times prove the potential for better results is there.
Rea finished 13th in race one on Saturday but made drastic changes to the setup of his GSX-R1000R for Sunday's double-header in a bid to improve the contact and feel from the rear tyre. The result saw him able to launch off the line and compete with the leading group, running inside the top five, but on both occasions he struggled in the closing stages and was unlucky to drop down the order. He finished 10th and 11th but set the fifth fastest lap of the final race, to showcase the pace he and the package has.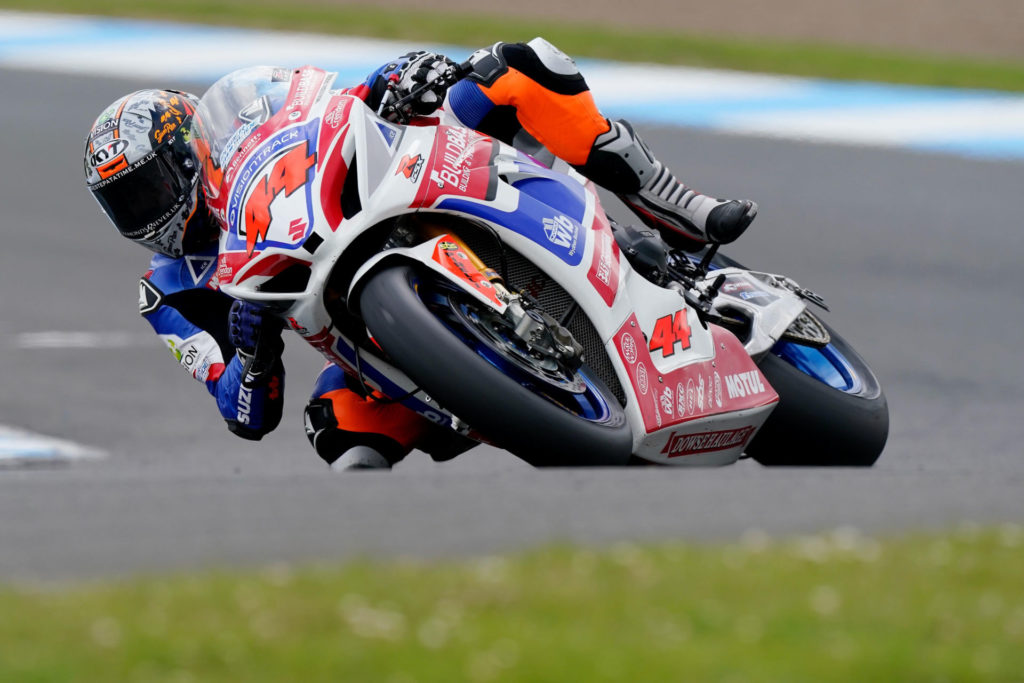 Gino Rea, "I'm actually really happy with the last race and Sunday in general. Although my one lap pace was good we struggled in the races. After warm up we took a big risk with the chassis – playing with linkages, the rear shock, swingarm pivot – and it paid off. We were able to run with the front group and I felt comfortable. In race two it was physical and I struggled to remain consistent, but we showed how fast we were with the seventh fastest lap time. In race three we set the fifth fastest lap which shows we have the pace, and we stuck in the leading group for longer but I made a small mistake which cost me time and positions. I then felt something with the bike and tried to pull off the racing line but unfortunately [Glenn] Irwin touched me and went down and that caused the red flag. But again, the final position in the races doesn't show our potential and I'm really happy with my pace."
Danny Kent suffered more bad luck that saw him leave Knockhill with two DNFs. A technical issue in race one and a crash in race two meant it was a trip to Scotland to forget. He finished in the points in 14th in race three.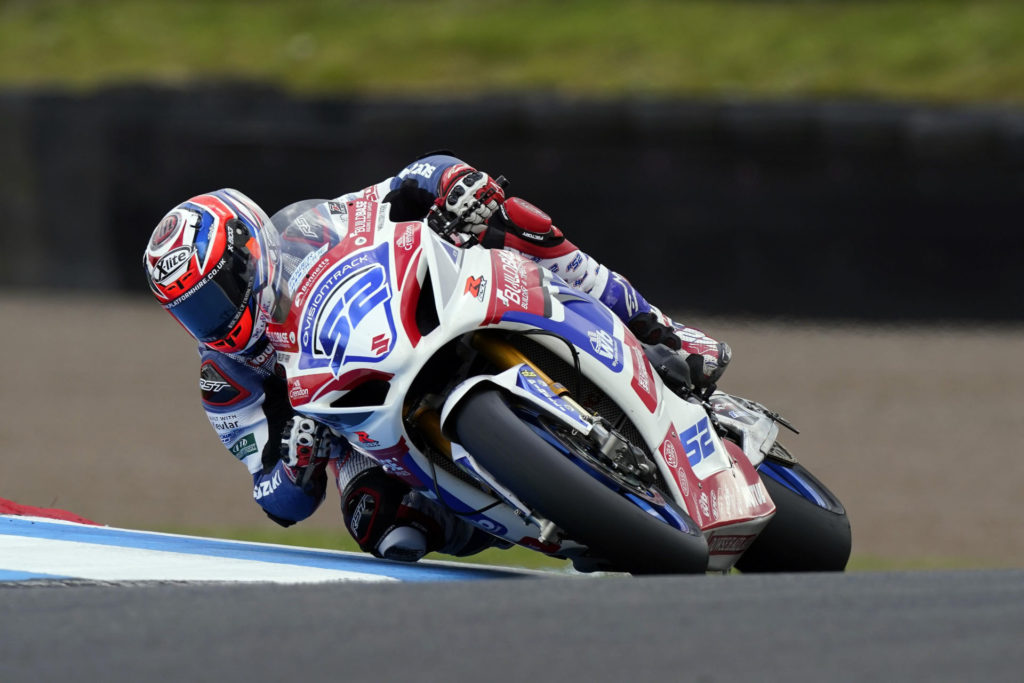 Danny Kent, "It wasn't the weekend I was hoping for, though not through a lack of trying. My pace for one or a few laps wasn't so bad but my consistency wasn't great and at a short track like Knockhill every tenth is important. I feel my biggest problem, currently, is trying to rush things which then slows you down, especially on a superbike. I can't fault the team, they're doing a great job to help me, and what is important is that we can be fast and do good lap times, we just need to do them consistently."
There were two National Superstock 1000 races for Tim Neave. He continued his solid start to the season with another fifth in race one after making some tweaks to the bike between Saturday and Sunday. After being embroiled in the fight for the podium in race two he was unfortunate to crash out at the final turn on the final lap.
Tim Neave, "I'm not disheartened to be fair. The first race was good fun really after starting 15th. We had an issue in qualifying which gave us work to do but I enjoyed it and it was nearly fourth in the end. I got stuck in from the start of race two and we were in that podium group. On the final lap I'd kind of settled for fourth but Chrissy [Rouse] made a slight mistake and I was back on him and was planning a go into the hairpin. He went defensive and as I lined up the cutback I caught myself out and lost the front. But I've not lost any confidence and I actually feel more myself after today. We made some changes to the bike from Saturday to Sunday and it felt like mine again. So I feel good, we were back in the mix, and go again at Brands."

More, from a press release issued by Dynavolt Triumph:
Fourth for Smith and more points for Paasch in Scotland
It may not have been the finish that he was hoping for, but after yesterday's crushing disappointment in the Sprint Race, Kyle Smith brought the Dynavolt Triumph home in a respectable 4th place in today's 26-lap Quattro Group British Championship Supersport Feature Race.
Again, Smith got a blistering start from 2nd on the grid and led the charge, but a lack of rear grip feel meant he couldn't push as hard as he wanted from the outset and lost positions, with his best race laps coming towards the end of the race.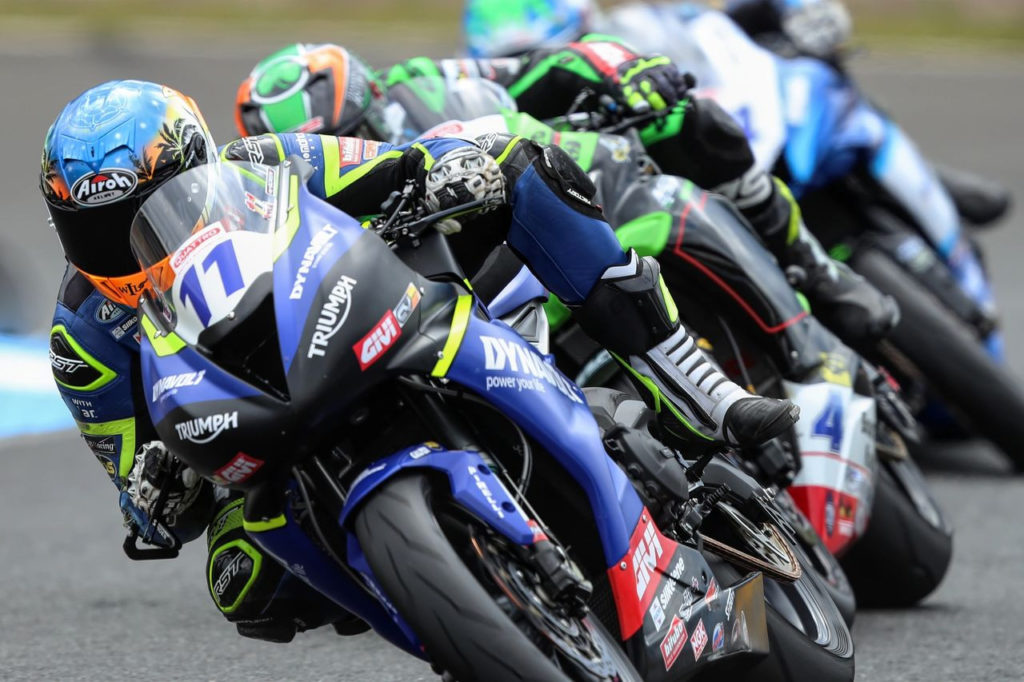 Kyle Smith: It's the finish to a bit of a sweet and sour weekend, starting on pole yesterday and leading the race until a small crash at the end. I thought today I could make up for yesterday's mistakes but I had some problems with tyres in the race.  From the beginning I had no rear grip.   At least I know we have the pace now, we've worked hard on the bike and found a set up where I feel comfortable, where I can push on the bike.  We just need it to come together and get some results, so roll on Brands Hatch."
Starting from Row 5 on the grid in 14th spot, teammate Brandon Paasch had made up one position and, looking at his best laps, had the pace to challenge in the top five when, in the early stages of the race, he was forced to take action to avoid a rider falling in front of him demoting him to 18th. Paasch fought back through the field to take 7th at the flag.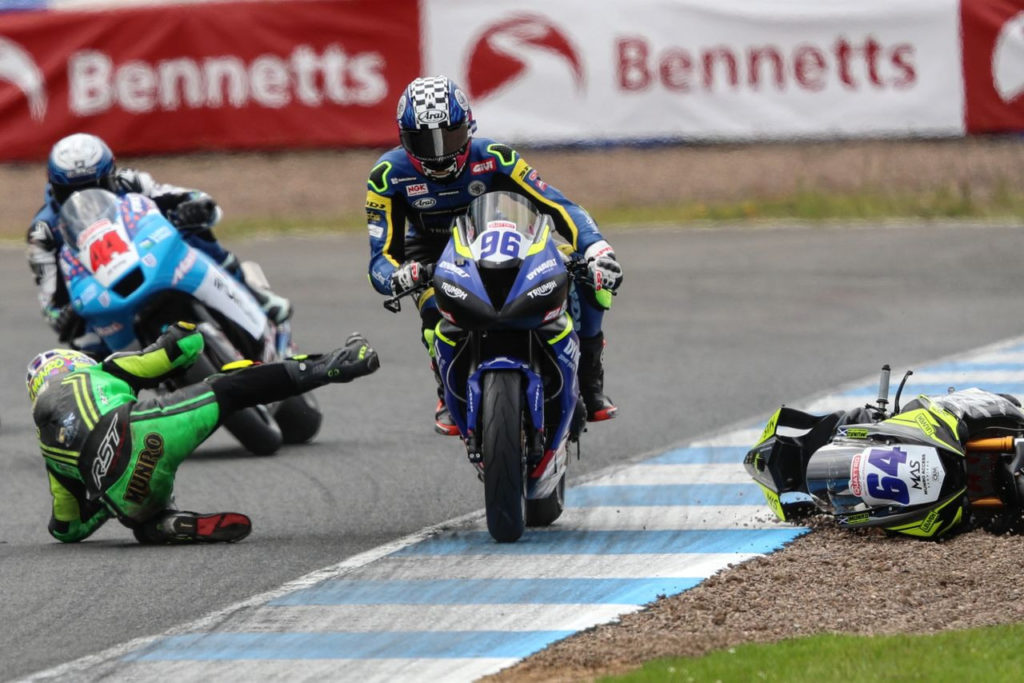 Brandon Paasch: Got a little bit unlucky there in the beginning.  I got bumped back to 18th after someone crashed in front of me but I made my way back through to finish 7th.  Not the best result, not the worst result.  We improved the bike and I improved my riding a little bit so I'm happy about that and happy about the lap times and consistency so we'll keep building on that and look forward to Brands Hatch in a couple of weeks' time."
Dynavolt Triumph Team Manager Simon Buckmaster: "Early in the race Brandon had to pick the bike up when someone fell and that put him back to 18th and he genuinely pulled through the field to finish 7th in Supersport.  It's probably the best I have seen him ride the bike. His lap times were good and he made a good step forward.  Obviously we want better positions for him but it was good to see him find some more confidence and, when he gets off the bike, to feel like he has ridden better, which he did."
"Kyle made another good start and led the race but the confidence wasn't there. He had a new tyre on the bike on the grid as per the norm but the feel wasn't there for him.  As he learned to adapt to the bike he got faster but by that time he'd lost positions and finished 4th. It wasn't the result that we wanted especially after missing out yesterday on the win that was there for the taking but we have to look at the positives.  We qualified on pole, we led, we've shown pace and we've shown that the bike can do it.  There are areas we need to improve and we will work on that for the next round at Brand Hatch.  Full capacity crowd, see you all there."