Editorial Note: American Brandon Paasch, who is returning to ride his Dynavolt Triumph Street Triple RS 765 after breaking his right hand earlier this month, was 12th in the combined British Supersport practice times Friday at Oulton Park.
More, from a press release issued by MotorSport Vision Racing:
Champion Brookes back on top as Showdown kicks off at Oulton Park
Reigning champion Josh Brookes was back on top of the Bennetts British Superbike Championship SUPERPICKS Free Practice times at Oulton Park, heading the opposition for VisionTrack Ducati after a close start to the weekend as the leading 12 riders were covered by just 0.989s in Cheshire.
Australian Brookes claimed his first podium finishes of the season last time out at Silverstone and he carried the momentum into the opening day of the Showdown, waiting until the final minutes of the session to launch back to the top.
Tommy Bridewell had been the pacesetter up until the final five minutes of the day, but the Oxford Products Racing Ducati rider was nudged down the order after Brookes' final sequence of laps, and he was then eased into third when Peter Hickman struck to take second on his final lap.
Championship leader Jason O'Halloran was fourth fastest to lead the McAMS Yamaha pairing, remaining ahead of Christian Iddon; the pair who had taken the fight for victory down to the wire at the Cheshire circuit earlier in the season.
Gino Rea was the first of the Showdown spoilers in sixth, holding off Lee Jackson by just 0.003s to claim sixth place as they edged ahead of Bradley Ray, who crashed out unhurt at Knickerbrook.
Glenn Irwin was ninth fastest for Honda Racing, holding off Danny Buchan who had set the pace in this morning opening session. Andrew Irwin held onto eleventh place just ahead of Tarran Mackenzie, who was the final rider to complete the SUPERPICKS 12 who progress directly into Q2 tomorrow.
Josh Brookes – VisionTrack Ducati
Fastest in SUPERPICKS Free Practice
"I am obviously happy to finish the day on top, we haven't topped a day after free practice this year, so obviously that's a positive!
"The changes we've been making at recent rounds, I would say the last three or four, have been quite outside of a range I would normally work in. Before coming here, I was a little bit pessimistic that that could work at this circuit due to its nature, so we've made some other adjustments to counteract the fact that the circuit is so undulating and that wheelie is always an issue.
"What is surprising is the area we're able to make the bike work now – I never would've dreamed of trying some of the settings we've got in the bike currently in years before, but I've been forced into it through lack of performance. When we've discovered a problem we are now having to make new changes to get past it.
"I can never expect to be anywhere at the moment because the season has been so up and down for me, nothing surprises me. When you've been quick before you always know that you can do it again. If you've never been fast I suppose it's hard to set a point that you'd like to get to, or a point you think you can get to.
"But having set lap times before, won races before, won championships  before, I already know what it feels like to go quick, so I'm always trying to repeat what I've done in the past and not only repeat what I've done in the past but if you can, set a new standard. So at the moment I'm not surprised by anything I'm doing because it's all things I've done before.
"In recent times I haven't had the results, so we've been forced to make changes that don't feel natural to try and find a solution to these problems. As the year's gone on we've understood better, so now we can actually put something together that works."
More, from a press release issued by Dynavolt Triumph:
Dynavolt Triumph building momentum at Oulton Park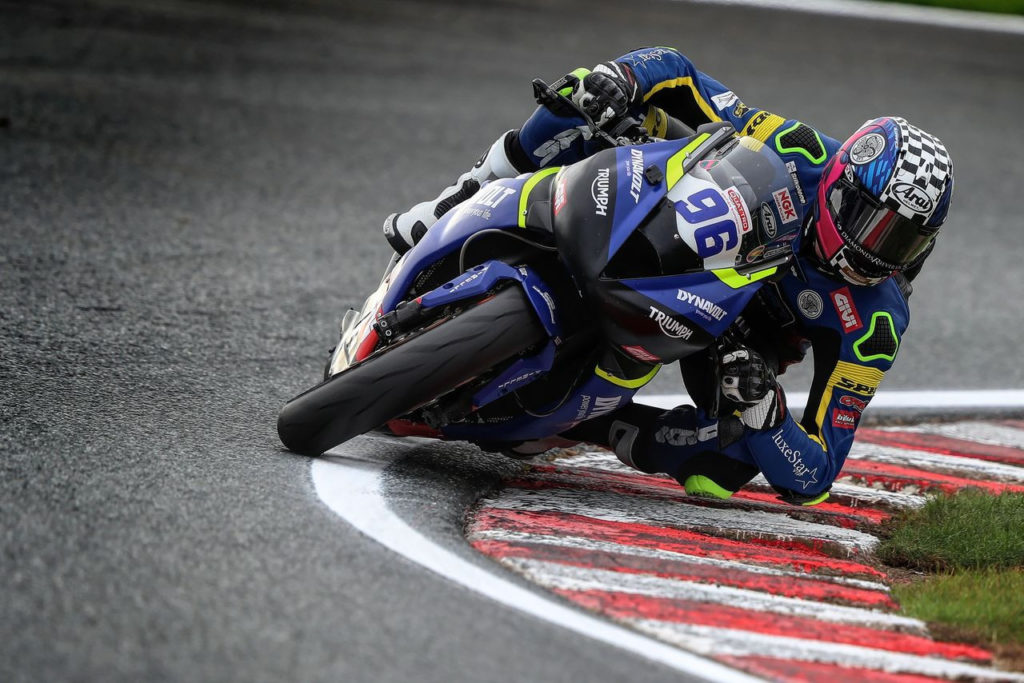 After being given the green light to ride, Brandon Paasch was reunited with his Dynavolt Triumph for the opening day of round nine of the Quattro Group British Supersport Championship at Oulton Park today.
Despite it only being three weeks since Paasch incurred the injury to his wrist and just a fortnight since the successful surgery to insert a screw into the fracture, the US youngster was passed fit and managed to complete both Free Practices, improving his lap time by over a second across the two sessions to end the day in twelfth position.
Brandon Paasch: "It's good to be back on the bike, I'm excited and ready to race.  I just want to try to get some points and keep having fun, keep getting a little quicker as the weekend goes on and hopefully the wrist starts feeling better."
Deputising for the injured Kyle Smith, Danny Webb's debut didn't quite go to plan as he suffered an electrical gremlin in the first Free Practice session, missing valuable track time needed to reacquaint himself with the challenging Oulton Park circuit and familiarise himself with the three-cylinder Dynavolt Triumph machine.  Unfazed Webb headed out in the afternoon session to set his time of 1'42.174 placing him sixteenth on the combined timesheets.
Danny Webb: "It's been a good day, obviously we missed out on the first session but the second session was good. It was interesting to ride the bike and it is definitely an eye opener coming back to Oulton Park but we've got a session under our belt now so looking forward to progressing tomorrow."
Dynavolt Triumph Team Manager Simon Buckmaster: "We have to take this meeting as a building exercise for us.  With Brandon coming back from injury, the surgery to his wrist was good but of course it's not full strength so he is taking time to get up to speed.  We had a new wiring loom on Danny's bike this morning and there was a minor glitch with it that lost the session for him, the sessions here are only 25 minutes not 30, so he has done one session.  Again, it's a building exercise.  We'll build through race one, a little bit again in the warm up and build through race two. Then we go to Donington Park, a track he knows, and see what he can do there.  Tomorrow is another day and we just have to keep improving."