MotoGirlGT Wraps Up National Roadracing Championship Series At The 38th Annual CCS Race Of Champions.
The CCS/ASRA MotoGirlGT National Roadracing Championship Series culminated at Race Of Champions at Daytona International Speedway October 16th & 17th securing National MotoGirlGT Championship wins in MotoGirlGT Superbike, MotoGirlGT 600 Superbike and MotoGirlGT 500 Superbike.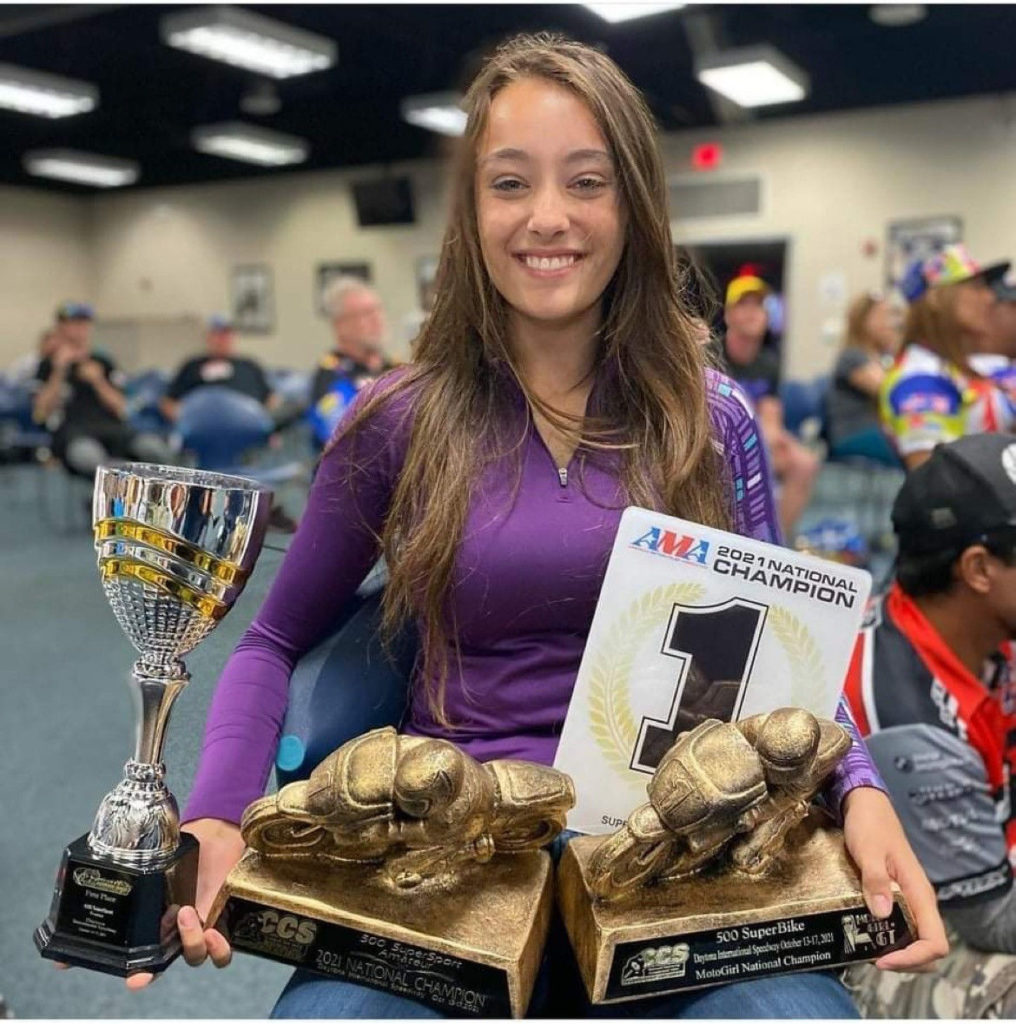 Seventeen-year-old newcomer Elisa Gendron Belen secured her CCS race license in April this year and never looked back winning multiple races in multiple classes. Elisa, who has been doing track days since the age of 12, won National Championships in CCS Atlantic Division Superbike 500 Amateur and MotoGirlGT National Champion in 500 Superbike. Elisa is a freshman at St. John Fisher College, in Rochester, NY, majoring in Sports Management
"I plan to combine my passion for motorcycle racing with a career in Motorcycle Racing management. I believe that organizations such as MotoAmerica and MotoGP are a fantastic place to stake a career, and I hope to work with organizations like MotoGirlGT to bring more women into our amazing sport, both as competitors and an extended fan base."
She continues, "In the meantime, I look forward to progressing with my racing career, continuing to pick up speed and work on my racecraft. I recently participated in the International Woman's Cup in Quere'taro, Mexico. I plan to participate in that series again next year and hopefully at some point qualify for a MotoAmerica round."
Third year racing veteran Michele Beneducci secured not one but two championship wins in MotoGirlGT Superbike and MotoGirlGT 600 Superbike advancing her to expert plates for the 2022 season. This is Beneducci's (a.k.a. Benny And Her Jet) third season racing with CCS/ASRA, she is also a coach giving back every weekend at EvolveGT Track Days and a Rider Coach/Site Coordinator at Rider Education of New Jersey Inc. (RENJ).
Congratulation's to Expert racer Brittanie LaPrade who finished first place in both MotoGirlGT Superbike and MotoGirlGT 500 Superbike at The 38th Annual Race of Champions at Daytona International Speedway October 16th & 17th. LaPrade's wins at Daytona advanced her positions in both MotoGirlGT classes all the while finishing 3rd in AMA 500 SS and 4th ASRA Moto 3.
"I'm excited about the continued future of the MotoGirlGT Roadracing Series," said Angela Izzo-Sink, the Operating Director of MotoGirlGT Roadracing Championship Series. "I'm proud of all the women who raced and grateful to CCS/ASRA for giving us this opportunity.
"The only changes I would make for next year is take away the MotoGirlGT 600 class which we added this year and keep only the MotoGirlGT Superbike and MotoGirlGT 500 Superbike.
"The MotoGirlGT Series is a great stepping stone for women who want to dip their toes into racing. Once women feel comfortable doing this and get well-situated racing they expand their horizons and race other classes and eventually move up to the ranks of MotoAmerica. This was always my plan!" said Angela Izzo-Sink.
MotoGirlGT Superbike:
1. Michele Beneducci (Yam YZF-R6)
2. Jessica Martin (Tri Daytona 675)
3. Rebecca Stahley (Yam YZF-R1)
4. Brittanie LaPrade (Suz GSX-R600)
5. Jenie Miller (Yam YZF-R6)
6. Jessica Capizzi (Kaw ZX-10R)
7. Megan Desmarais (Tri Daytona 675)
8. Nicole Goodrich (BMW S1000RR)
9. Rebecca Landis-Bodnar (Suz GSX-R600)
10. Tayler Wade (Yam YZF-R1)
11. Monique Lopez (Kaw ZX-6R)
MotoGirlGT 600 Superbike:
1. Michele Beneducci (Yam YZF-R6)
2. Jessica Martin (Tri Daytona 675)
3. Jenie Miller (Yam YZF-R6)
4. Megan Desmarais (Tri Daytona 675)
5. Rebecca Landis-Bodnar (Suz GSX-R600)
MotoGirlGT 500 Superbike:
1. Elisa Gendron Belen (Kaw Ninja 400)
2. Renee Franco (Kaw Ninja 400)
3. Brittanie LaPrade (Kaw Ninja 300)
4. Monique Lopez (Kaw Ninja 400)
5. Nicole Ball (Kaw Ninja 300)
6. Brianna McHugh (Kaw Ninja 400)
7. Cassie Cuppek (Kaw Ninja 400)
For more information on MotoGirlGT contact https://evolvegt.com/motogirlgt and http://www.MotoGirlGT.com or follow them on Facebook and Instagram. For more information on ASRA and CCS racing contact http://www.ccsracing.us/ and http://www.asrarcing.com/