Estenson Racing's AFT Singles Team Heads to Williams Grove Looking for Another Win
MECHANICSBURG, Pa. – Estenson Racing's Dallas Daniels ended the day seventh in his first outing at Williams Grove Speedway, scoring his fourth top-10 finish in his rookie American Flat Track AFT Singles season. Unfortunately for his teammate Ryan Wells, a technical issue ended his Main Event early at the Williams Grove Half-Mile.
It was a bit of a struggle early on, but the young Daniels continued to make progress throughout the day, scoring a pair of fourths in his qualifying races. The fast boy from Illinois got off to a good start from the second row of the grid in the Main Event, but got shuffled back to eighth. In the final laps, he was able to gain a position to cross the line seventh.
As for his teammate Wells, the 2016 AFT Singles Champion was feeling good on the big, clay Half-Mile. He too made progress, finishing third in both his Heat and Semi. In the Main Event, the New Yorker got off to a flying start from the front row of the grid and was in the heat of the battle for the lead when a technical issue ended his race early. Although disappointing, Wells looks to rebound at the final two races of the season on the Mile tracks.
The Estenson Racing team gets a weekend off before heading to the penultimate round at Canterbury Park in Minneapolis, Minnesota, on September 21.
Dallas Daniels — AFT Singles #163:
"We kind of struggled all day with keeping the bike in line and not getting it sideways. That has kind of been the struggle for me the latter half of the year while I've been trying to get used to the new bike. We continued to make progress all day and got faster and faster. We were really close to a front row start in the Main Event, but just missed it and had the first pick on the second row. I got a pretty good start in the Main. I think I was just over-riding it and I faded back to eighth, but was able to claw my way up to seventh. Overall, it was a good day, but I'm kind of disappointed. We'll move onto the next one."
Ryan Wells — AFT Singles #94:
"I had a really good day going in Williams Grove. I definitely felt really racy. It was a good feeling. I felt like I picked up some speed from the past couple weeks. I went well in the Heat race and my Semi. We made progress all day, never went backwards. In the Main Event, I got a really good start. I was side-by-side for the lead going down the back straight, but unfortunately a mechanical got us today. It's a bummer, but I'm taking the positives from the day. We felt good and we were racing with the front guys, which is what I wanted for the day. So it's definitely a step in the right direction. We'll get them next weekend."
Catch the race on NBCSN, September 23 at 3:30 p.m. ET. For tickets and additional information about the event: http://www.americanflattrack.com/events/ .
More, from another press release issued by Estenson Racing:
Kolby Carlile Battles Back to Score Points at Williams Grove Half-Mile
MECHANICSBURG, Pa. – Estenson Racing's Kolby Carlile had another solid outing in the AFT Production Twins class, crossing the line fourth at the Williams Grove Half-Mile. Teammate Jake Johnson worked hard to make progress in tough, slick conditions, ending the day 15th in AFT Twins.
On the heels of his first win in AFT Production Twins at the Springfield Mile, Carlile was looking for another top result this weekend in the Keystone State. The 2017 AFT Singles champ got off to a great start, crossing the line first in his Semi. Getting a second pick for the front row of the grid, he got off to a good start, but got shuffled back to sixth. Unwilling to give up, Carlile kept pushing forward to take fourth on the final lap and score valuable points in the title chase as the American Flat Track season nears its end.
Slick, clay Half-Miles have been tough for the Twins team all season. Johnson and his crew spent the day working to make progress with different setups at his home race. In spite of the challenging conditions, the two-time Grand National Champion was able to finish eighth in the Semi to gain a transfer spot into the Main Event. Johnson then went on to advance a spot from his qualifying position to finish 15th.
The Estenson Racing team gets a weekend off before heading to the penultimate round at Canterbury Park in Minneapolis, Minnesota, on September 21.
Kolby Carlile – AFT Produciton Twins #136:
"I finished fourth today. It wasn't what I was looking for, but I won my Semi and improved the bike all day. I got a good start in the Main Event, I just got shuffled back. That's pretty much my whole story. I made a last lap pass to get to fourth, but the leaders were gone. It's time to win these last two miles and prove a point."
Jake Johnson — AFT Twins #5:
"We tried some new things today and kind of went back and forth from bike to bike, trying to see what was better or worse. We found a few things that made the bike feel a little better, but it didn't really equal better lap times or better results. I guess coming into this weekend, if we're going to struggle anywhere it's going to be these Half-Miles. It was slick and tough tonight. Even a lot of other guys were struggling that typically run well on this stuff. The last two races are going to be obviously quite a bit different from this. We'll just have to keep digging and see what we can do."
Catch the racing action from Williams Grove Speedway on NBCSN, September 21 at 3:30 p.m.
More, from a press release issued by Red Bull KTM:
BROMLEY TAKES FOURTH AT WILLIAMS GROVE HALF-MILE
Round 16 – American Flat Track Championship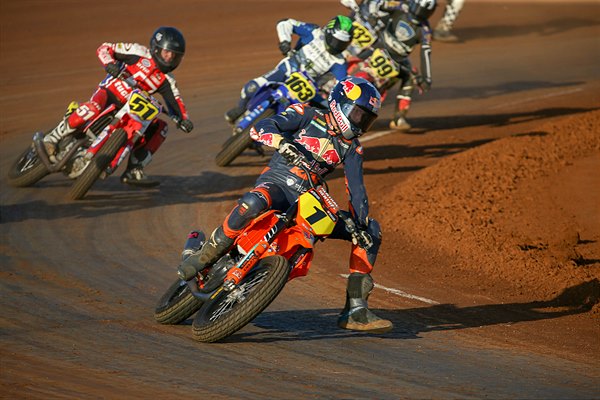 MECHANICSBURG, Pa. – As the 2019 American Flat Track Championship winds down, Dan Bromley and the Red Bull KTM Factory Racing Team continue to battle for a second-consecutive title in the AFT Singles class with two rounds remaining in the series. On Saturday, Bromley claimed a fourth-place finish in Mechanicsburg, Pennsylvania with another hard-fought performance at the Round 16 Williams Grove Half-Mile.

Bromley got the day started off on the right foot as he qualified second overall with a close time of 26.153. Seeded into AFT Singles Heat 2, Bromley powered his KTM 450 SX-F FACTORY EDITION to a second-place start and he battled his way into the lead on lap two. He held strong to maintain the heat race win. In the semi, he started off in third and worked his way into second on lap two. He once again fought his way to a second-place finish, giving him a front row start position for the Main Event. In the main, Bromley put himself into a favorable position off the start as he fought his way into the lead on the opening lap. He got passed early on and battled from the second-place position for the first six laps before settling into third. On the final lap, he diced back-and-forth for the third-place spot but ultimately got passed just before the finish line to claim fourth for the day.

Dan Bromley: "Williams Grove started off good with P2 in qualifying and winning the heat race. In the Main Event, it was hard to get traction so I ended up fading back to third and on the last lap, Oliver was able to get by me on the back straight. Overall, I'm happy but I still want more and I'm excited to get back up front the last two races."

Bromley's teammate, Shayna Texter, also had a great start to the day as she took the win in AFT Singles Heat 3. She shot off the line aboard her KTM 450 SX-F FACTORY EDITION to claim the holeshot and early lead in the race. She went on to sweep all five laps of the heat race to claim victory and carry a great start position into the semi. She once again outdueled the competition in the semi, leading all eight laps en route to the win. With another great start position in the Main Event, Texter got off to a top-five start but ended up getting shuffled back to ninth when the rider in front of her ran into bike issues and forced her to run wide in the next corner. From there, she put her head down and fought from the ninth-place position but she wasn't able to gain any additional traction, finishing ninth for the day.

Shayna Texter: "The day started off rough – we qualified 12th overall – but things turned around with a win in the heat race and the semi. Overall, we had a really good day and it was nice to be consistent with Dan all day up front but it was just a little bit unfortunate being in the wrong place at the wrong time in the Main Event. I'm looking forward to the next two miles and hopefully we can get a podium at the next one!"

Next Race: September 21, 2019 – Minnesota Mile – Minneapolis, Minnesota

AFT Singles Main Event

1. Dalton Gauthier, HQV
2. Morgan Mischler, KTM

3. Oliver Brindley, YAM
4. Dan Bromley, KTM

OTHER KTM

9. Shayna Texter, KTM

14. William Kent, KTM

15. Michael Mckee, KTM


AFT Singles Point Standings

1. Dalton Gauthier, 266 points
2. Dan Bromley, 251

3. Mikey Rush, 230

OTHER KTM

6. Shayna Texter, 165

8. Morgen Mischler, 145

12. Tristan Avery, 87
More, from a press release issued by Indian Motorcycle:
INDIAN MOTORCYCLE WRECKING CREW RIDER BRIAR BAUMAN EARNS FIFTH WIN OF THE SEASON AS FTR750 SWEEPS TOP FIVE AT WILLIAMS GROVE HALF-MILE
Indian Motorcycle Racing Privateers Brandon Price and Davis Fisher Finish Second and Third
MECHANICSBURG, PA. – Indian Motorcycle Racing, presented by Progressive Motorcycle Insurance, and its championship-winning FTR750 earned its 14th win of the 2019 American Flat Track (AFT) season at the Williams Grove Half-Mile in Mechanicsburg, Pennsylvania. Indian Wrecking Crew Rider and current points leader Briar Bauman secured his fifth win of the season, while Indian Motorcycle Privateers Brandon Price and Davis Fisher placed second and third, respectfully.
The 2019 Williams Grove Half-Mile Twins Main event began with a battle between Bauman and AFT Twins Defending Champion Jared Mees. As each muscled to maintain the lead, Bauman strategically slid into first during lap six. Early on, Price secured the second position, while Fisher made impressive passes on his way to third. Near the half way point, Bauman maintained a one-second lead ahead of Price, which he retained until the finish. Mees finished the race in fourth, and is now 35 points behind Bauman, who leads the series with 305 total points.
"Briar continues to showcase his talent and determination to win a Twins championship," said Gary Gray, Vice President – Racing, Technology & Service for Indian Motorcycle. "He's maintained his focus throughout the entire season and is running his best races we've ever seen."
With two races remaining, Bauman remains the series points leader with 305 points, while Mees is second with 270 points, and fellow Wrecking Crew teammate Bronson Bauman is third with 221 points.
The season continues on September 21 with the Minnesota Mile at Canterbury Park in Minneapolis, MN. For more information on Indian Motorcycle Racing, visit IndianMotorcycle.com and follow along on Facebook, Twitter and Instagram.
For more information on Indian Motorcycle Racing's sponsors, visit their websites: Progressive Motorcycle Insurance, S&S Cycle, Indian Motorcycle Oil, Parts Unlimited, Drag Specialties, Alpinestars, Bell Helmets and J&P Cycles.
ABOUT INDIAN MOTORCYCLE®
Indian Motorcycle is America's First Motorcycle Company®. Founded in 1901, Indian Motorcycle has won the hearts of motorcyclists around the world and earned distinction as one of America's most legendary and iconic brands through unrivaled racing dominance, engineering prowess and countless innovations and industry firsts. Today that heritage and passion is reignited under new brand stewardship. To learn more, please visit www.indianmotorcycle.com.