RED BULL KTM'S KODY KOPP FINISHES OUT AMERICAN FLAT TRACK SEASON WITH TWO PODIUMS
Round 15 – American Flat Track Championship
BARBERVILLE, Fla. – Crowned the 2022 AFT Singles Champion at Round 15, Red Bull KTM Factory Racing's Kody Kopp capped off the season with strong performances at the Volusia Half-Mile doubleheader finale in Barberville, Florida. Kopp captured the win at the penultimate round on Friday, following it up with a second-place finish at the season finale on Saturday. His teammate, Max Whale, scored a pair of top-five finishes on the weekend.
Starting from the front row of the grid in Semi 1, Kopp got off to a fourth place start. He tried to challenge for a podium spot, but remained in the position throughout the duration of the race, finishing fourth. He also led all four laps of the Dash for Cash, taking the win. When it came time for the Main Event, Kopp lined up on the second row and the 17-year-old quickly charged his way up to second. It wasn't long before he overtook the lead position and he dominated the rest of the race aboard his KTM 450 SX-F, leading the rest of the 24 laps.
In the finale on Saturday, Kopp got off to a second place start in Semi 2. He then dropped to third for a bit before regaining the position before the checkered flag waved. Kopp started in the front row of the grid in the Main Event and powered his way into second immediately. He then overtook the leader and led until the final lap, despite two red flags and restarts. Kopp was put to the test on the second restart but he held strong for a podium result in the last race of the season with a second-place finish.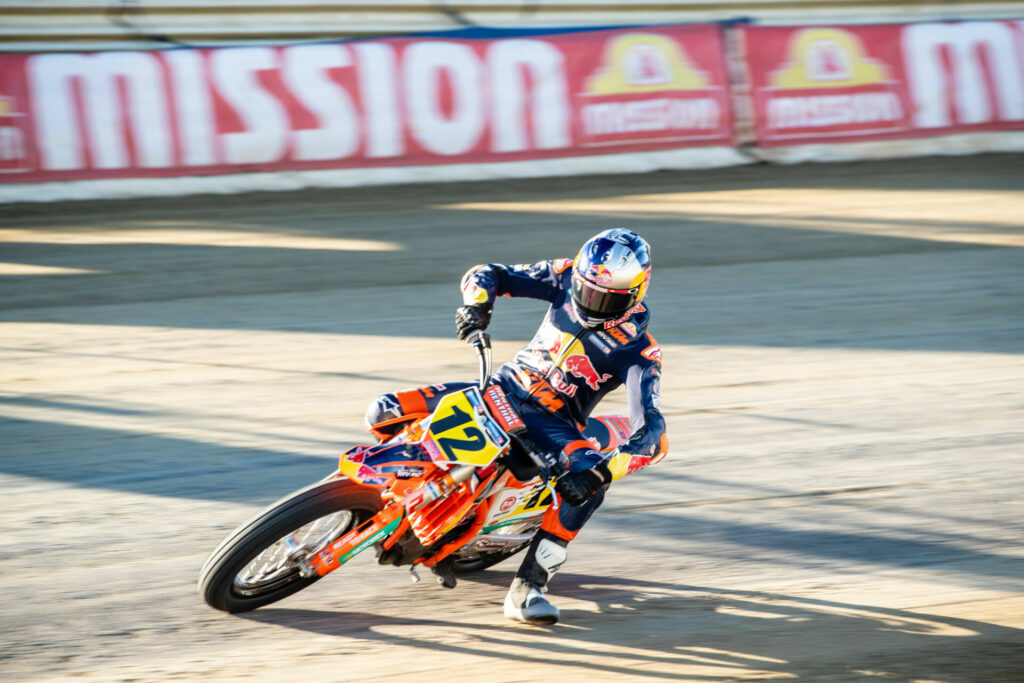 Kody Kopp: "With a championship already wrapped up, it was easier to push to my max limit again and finish the season on a high note. We didn't start out the best with qualifying either days but it was awesome to end that missing-the-podium-streak that we'd had going for three months and it was nice to win my seventh national of the year on Friday. A double-podium is no better way to end this year. Just want to give it up to my team! These guys put in a heck of an effort all year long, and it's awesome to bring them their first championship – and me too. I'm just super excited to run that number one next year."
Whale had a great start to the penultimate round, capturing third in qualifying – just .088 seconds behind the top qualifier. In Semi 1, he got off to a third place start and quickly moved into second within a couple of laps. He then rode a steady race to finish second. Whale also competed in the Dash for Cash, scoring third. In the AFT Singles Main Event, he positioned himself fifth off of the start. Despite challenging his competitors multiple times, he wasn't able to gain a position on the half-mile track. When the checkers flew, he was in fifth.
On Saturday, Whale quickly settled into second place in Semi 2. He held the spot for the majority of the race, but ultimately finished just behind his teammate, rounding out the podium. Whale got off to a fifth place start in the Main Event. The track proved difficult to pass on, and he remained in the spot for the entirety of the race.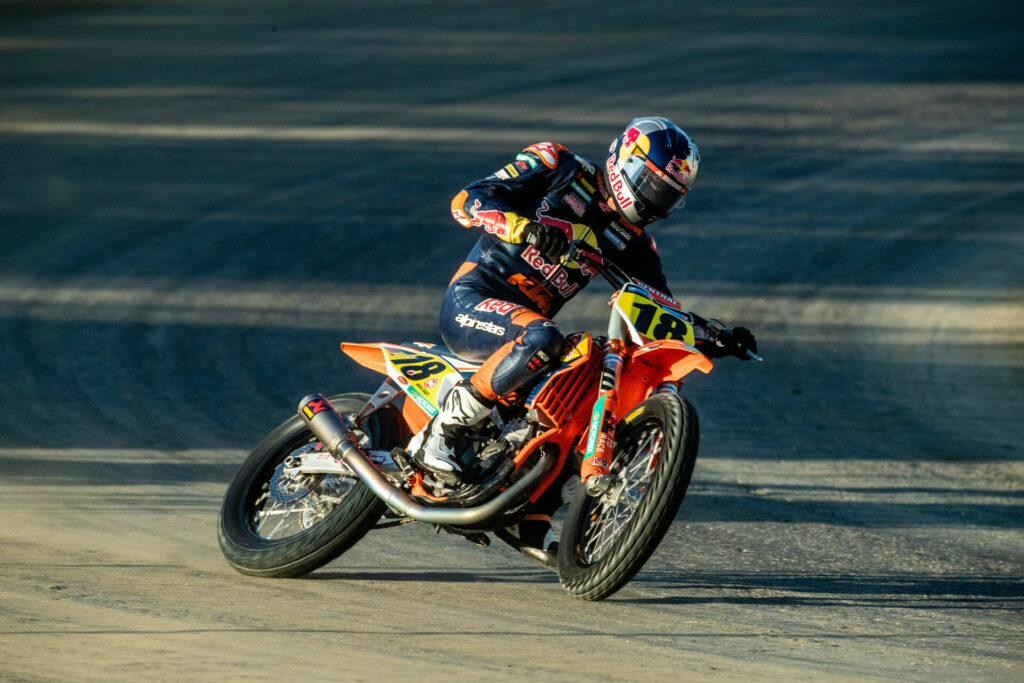 Max Whale: "The last two rounds of the AFT series were good. We had had a couple of good sessions in qualifying and practice but really struggled once the night came. Night one, I got fifth and I had to really fight for it. Then night two, I showed some really good pace early on in the day. I had a pretty good semi; ended up third battling with Kody [Kopp] for second. In the Main Event, we had a secondary start and ended up with another fifth again. Super hard track to pass, but we were right there with the leaders. Thank you very much for the great season."
Round 16 & 17 Results – Volusia Half-Mile Doubleheader Finale
AFT Singles Main Event (Round 16)
1. Kody Kopp, Red Bull KTM Factory Racing
2. Trent Lowe, Honda
3. Dalton Gauthier, Honda
OTHER
5. Max Whale, Red Bull KTM Factory Racing
8. James Ott, KTM
12. Hunter Bauer, KTM
14. Damon Ream, KTM
15. Logan McGrane, KTM
AFT Singles Main Event (Round 17)
1. Dalton Gauthier, Honda
2. Kody Kopp, Red Bull KTM Factory Racing
3. Morgan Mischler, Honda
OTHER
5. Max Whale, Red Bull KTM Factory Racing
6. James Ott, KTM
16. Hunter Bauer, KTM
17. Logan McGrane, KTM
2022 AFT Singles Point Standings
1. Kody Kopp, 318 points
2. Dalton Gauthier, 255
3. Morgen Mischler, 250
OTHER
5. Max Whale, 234
8. James Ott, 135
10. Hunter Bauer, 101
14. Travis Petton IV, 65
23. Damon Ream, 23 
26. Logan McGrane, 19
More, from a press release issued by Harley-Davidson:
HARLEY-DAVIDSON RIDER JESSE JANISCH WINS PRODUCTION TWINS FLAT TRACK CHAMPIONSHIP
Seventh Win of the Season Seals American Flat Track Title at Volusia Double Header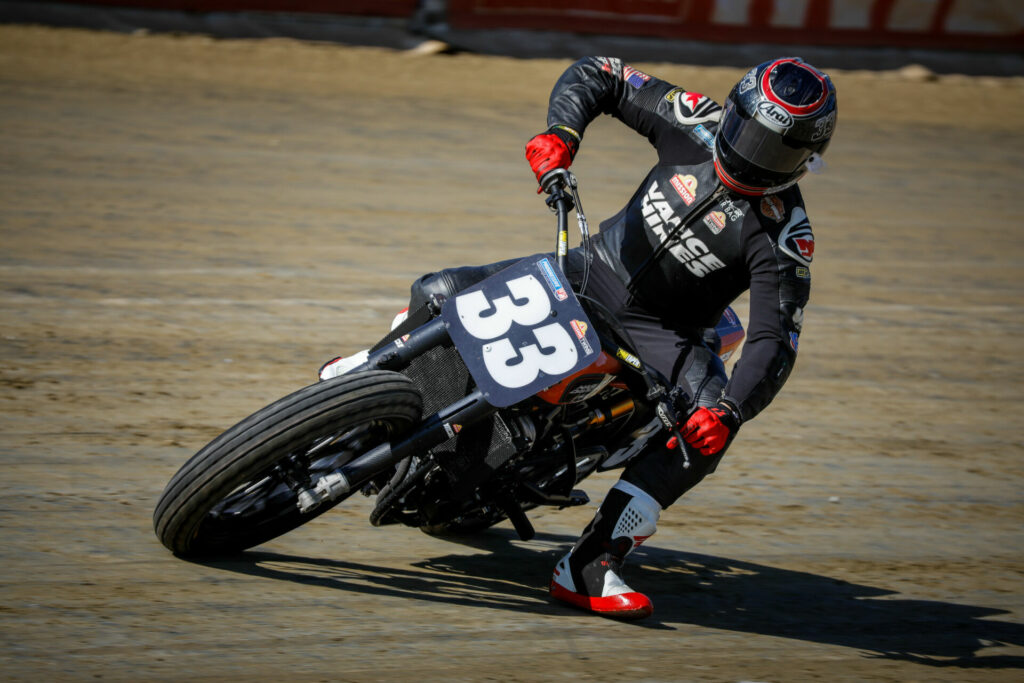 MILWAUKEE, WI (October 17, 2022) – Vance & Hines Racing team rider Jesse Janisch raced a Harley-Davidson® XG750R motorcycle to the Mission Production Twins presented by Vance & Hines national championship in the final weekend of competition on the 2022 Progressive American Flat Track series. Racing at the Volusia Speedway Park half-mile in Barberville, Fla., Janisch won his seventh race of the season on Friday to take a 21-point advantage into the season finale on Saturday night. His eighth-place finish in that final race secured the championship.
Harley-Davidson also won the Mission Production Twins manufacturer's championship, as Harley-mounted racers scored 365 points on the season, beating Yamaha riders by 10 points. Janisch led the class with seven wins and added six other podium finishes on the season. Billy Ross (Roof Systems Racing) and Michael Rush (Hellipower Racing/Las Vegas Harley-Davidson) each won a Mission Production Twins race on their Harley-Davidson XG750R motorcycles.
"I'm so happy to win this title for Vance & Hines and Harley-Davidson," said Janisch. "Vance & Hines have worked so hard in flat track, and my Harley-Davidson was fast right off the truck for the first race. I don't think we even started making adjustments to the bike until mid-season. That's a credit to my mechanic Josh Sutter, crew chief Steve Polk and team manager Craig Koontz."
Janisch battled Mission Production Twins defending champion Cory Texter for much of the season, and Janisch held a 9-point lead before the final two races at Volusia Speedway. His win on Saturday and a 6th-place finish by Texter aboard his Yamaha meant that Janisch only had to finish 15th or better in the last race to secure the title. Texter won the final race, but Janisch wrapped up the championship with 320 points, 7 points ahead of Texter.
"When you work for Vance & Hines there's an expectation that you will win races and championships. There are no excuses. I started this season with that mindset," said Janisch. "There are some tracks on this series that are tough for me, and I always tried to stay in the points. The West Coast swing, with wins at Castle Rock and Sacramento, was the strength of our season."
Janisch started racing at age 4 at local tracks in central Wisconsin and became an AMA Pro rider in 2003 at age 16. He has raced in just about every discipline in the sport, and in 2018 and 2019 finished top-10 in points in the American Flat Track singles class. Last season, however, the 35-year-old racer from Palm Coast, Fla., was without a ride until he was called by Vance & Hines to replace injured rider Dalton Gauthier for the final six races of the season. Janisch scored five top-four finishes, including a win at Charlotte, results that earned him a full-time seat at Vance & Hines for 2022, and he took that ride all the way to a championship.
More, from a press release issued by Indian Motorcycle:
INDIAN MOTORCYCLE RACING WINS SIXTH CONSECUTIVE AMERICAN FLAT TRACK MANUFACTURER'S CHAMPIONSHIP
Indian Motorcycle Wrecking Crew Finish 2022 Season 1-2 as Jared Mees Wins Eighth Career Championship
Briar Bauman Makes Impressive Fourth-to-Second Jump in Final Standings Following
Third & Second-Place Finishes at Volusia Half-Mile I & II, Respectively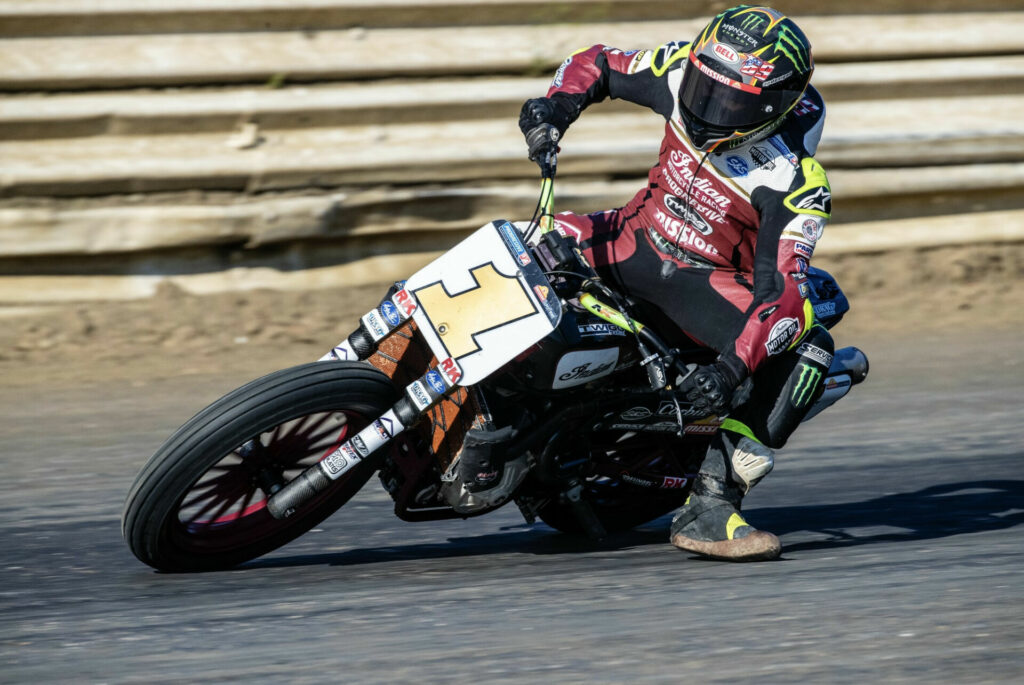 Minneapolis, MN. (October 17, 2022) – Indian Motorcycle Racing, presented by Progressive Motorcycle Insurance, secured its sixth consecutive American Flat Track (AFT) Manufacturer's Championship, while its Wrecking Crew factory rider, Jared Mees, took home his eighth career Grand National Championship. Mees' second and third-place finishes at the Volusia Half-Mile I & II finale were more than enough to cement his spot atop the leaderboard and retain the No.1 plate. Meanwhile, teammate Briar Bauman's double podium propelled him from fourth to second in the final standings – awarding the Indian Motorcycle factory team the top two SuperTwins spots for the fourth year in a row.
While new 2022 rule changes were implemented to restrict performance of the Indian FTR750, the Indian Motorcycle factory team rose to the occasion and hit every curveball thrown its way. Mees credits his team for a phenomenal job all year, as they didn't have a single a mechanical failure. Mees finished with three wins and nine additional podiums. Bauman, who was on a hunt to retake the No.1 plate from Mees, was competitive all year until a P16 at Cedar Lake Short Track II dropped him back in the leaderboard standings. While a shot at the championship may have been out of reach, Bauman's fierce competitive nature led him to a third and second-place finish, respectively, and firmly planted him second overall for the second year in a row.
"This year brought new challenges unlike any other. Our Manufacturer's Championship and Mees' title are a testament to the team's resiliency and hard work," said Gary Gray, Vice President Racing, Service & Technology. "And, of course, a personal congratulations to Jared on his eighth championship. When we returned to the sport in 2017 and Jared joined the Wrecking Crew, he shared his career goal with us, so to be sitting here, six years later, and him just one title shy, is truly amazing."
Having won four of the last six SuperTwins championships aboard the Indian FTR750, Mees is now just one shy from his personal career goal to reach Scottie Parker's record of nine championships. Mees has more than 60 career wins and multiple records.
A special thanks to Indian Motorcycle Racing's sponsors, including Progressive Insurance, S&S®, Indian Motorcycle Oil, Mission Foods, Bell Helmets, Drag Specialties and Parts Unlimited. For more information on Indian Motorcycle Racing, visit IndianMotorcycle.com and follow along on Facebook, Twitter and Instagram.
ABOUT INDIAN MOTORCYCLE®
Indian Motorcycle is America's First Motorcycle Company®. Founded in 1901, Indian Motorcycle has won the hearts of motorcyclists around the world and earned distinction as one of America's most legendary and iconic brands through unrivaled racing dominance, engineering prowess and countless innovations and industry firsts. Today that heritage and passion is reignited under new brand stewardship. To learn more, please visit www.indianmotorcycle.com.