Beach Victorious at the Historic Peoria TT
Estenson Racing's JD Beach stood on top of the Progressive American Flat Track Mission SuperTwins podium in yesterday's 74th running of the Peoria TT in Peoria, Illinois. His teammate Kolby Carlile made improvements to finish seventh. After the rain delay, it was an uncharacteristic day for the AFT Singles squad in the thrice red-flagged Main Event. Mikey Rush finished eighth in the drama-filled race. Dallas Daniels was on top form early but unfortunately had a big crash after the first restart and was unable to finish the race.
Beach showed strength straight away as the fastest qualifier in the Mission SuperTwins class and then backed that up with a comfortable win in his Semi to give him pole position for the Main Event. The proceedings at the iconic TT track in Thunder Valley were delayed with afternoon rain, but the track crew went to work to get the races in, and the order was changed to start with the premier class. After the lights went out, Beach quickly moved into the lead and built a gap up front. As the race wore on, the defending champion closed back in, but Beach kept cool under pressure to lead every lap en route to his fourth career win in the premier class.
Carlile struggled to find his comfort zone earlier in the day, which gave him a less than ideal starting position for both the Semi and Main Event. He and the team kept working, and they made some changes for the final race of the day. Starting from the back row, the "Flying Tomato" worked his way forward and battled for sixth, coming just shy in the end in seventh.
On the AFT Singles side of the tent, Rush also struggled to find his comfort zone, but he and his crew kept making progress, and he had a solid Semi result in the top five. With all of the drama and multiple restarts in the Main Event, the Californian rode a smart race to finish inside of the top 10 in eighth.
The day started out well for Daniels. The defending champion was on pace for a top result and won his Semi. He then fired the first shot in the Main Event and grabbed the holeshot. On Lap 2, he landed sideways off of the infamous jump and gathered it back up, but went off track into the wet grass and went down. He rejoined a lap down and kept pushing to try and salvage some points. Before the halfway mark, the red flag was drawn with a downed rider, and they lined up for a staggered restart with Daniels at the back. He got a good start and made his way to midpack but unfortunately had a big crash on the front straight on the first lap and was unable to restart. He went to the local hospital for evaluation and was cleared. The Illinois rider is going to seek further evaluation after the weekend, and an update will follow.
Next up for the Estenson Racing squad is an action-packed Labor Day weekend in Springfield, Illinois. The AFT Singles team will battle Friday night at the Progressive American Flat Track Springfield Short Track doubleheader on September 3. Then the Mission SuperTwins team will head over to the legendary Springfield Mile for the doubleheader on September 4-5.
Tommy Hayden – Estenson Racing Team Manager
"We had a day of highs and lows here at the Peoria TT. JD had a spectacular day in the SuperTwins class. He set the pace right from the first session and rode strong and consistent all day. He qualified first, won his Semi, and led every lap of the Main Event. So, I'm really proud of him; what he did today was really good for the team. Kolby struggled a little bit most of the day, but in the Main Event, he definitely put it together and was charging through the field and had a pretty good ride.
"The day started out well for the Singles team. Dallas was right on pace and was fast all day and won his Semi. In the Main Event, he pulled the holeshot, and it looked like it was going to be a good battle. Unfortunately, he just made a little mistake and went off the track and went down. He was able to rejoin and then had a big crash on the front straightaway after the restart. We're glad he's okay, but he's definitely feeling beat up after that get-off. We're going to get him checked out after the weekend. Mikey had a little bit better race than he had the last few races, so, all in all, it was a positive day."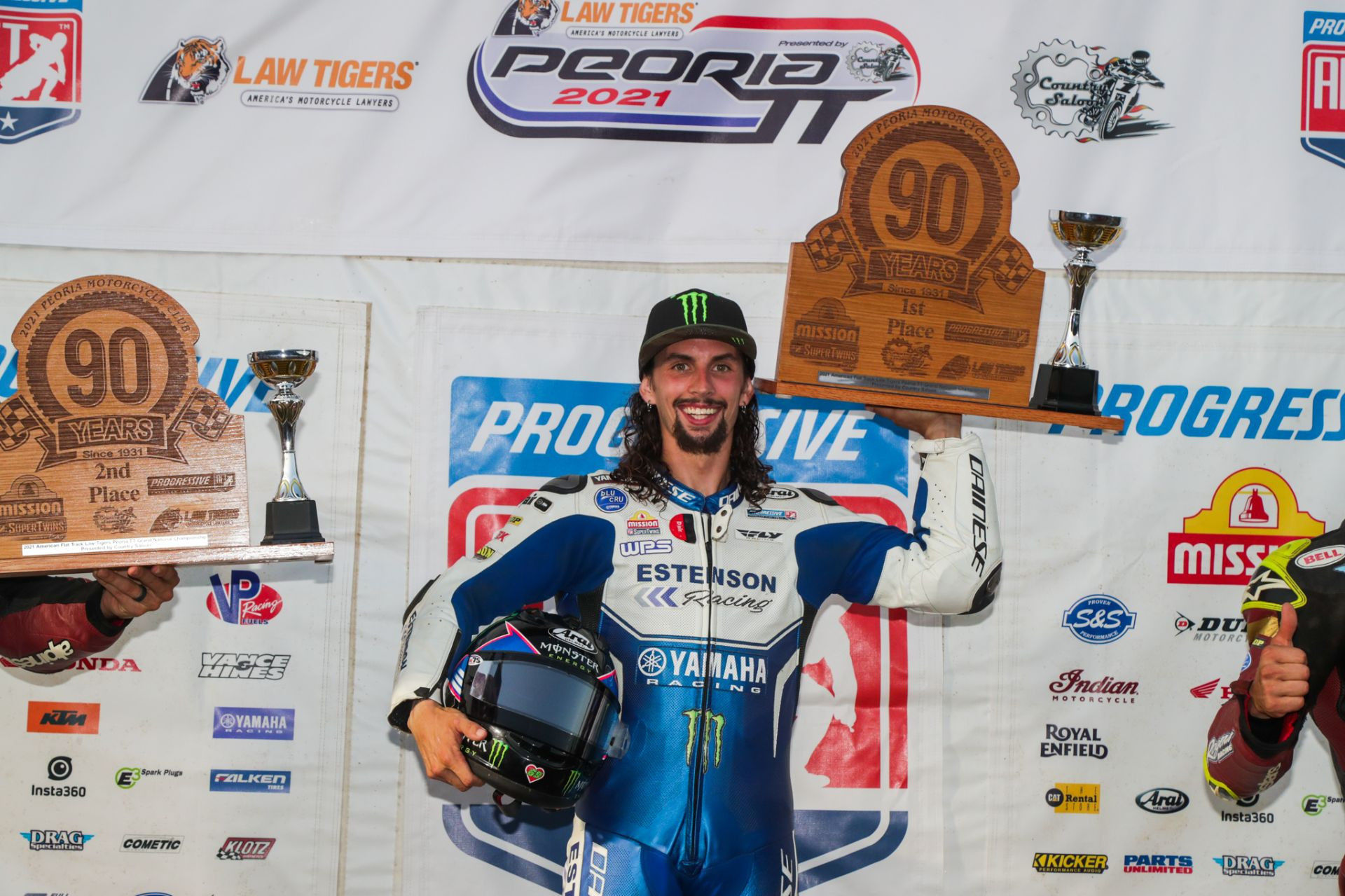 JD Beach – Estenson Racing Mission SuperTwins
"Today was a great day! The Peoria TT has been a track that I've dreamed of winning a Grand National race at since I was a little kid, and I finally did it! The bike worked great all day, and the team did an amazing job of staying on top of the changing track conditions. With the rain and everything else that was going on, it was just a crazy day. So to leave here with some good points, be the fastest qualifier, and win the Semi and Main Event, I'm just over the moon.
"It also feels great to finally win what I feel like is a real flat track race. It wasn't a Super TT or a one-off race; there's just so much history here. While Peoria is a TT track, it's a totally different animal; it's basically a Half-Mile with a jump in it. Plus, to have Briar (Bauman) breathing down my neck the whole race and still lead every lap was just awesome."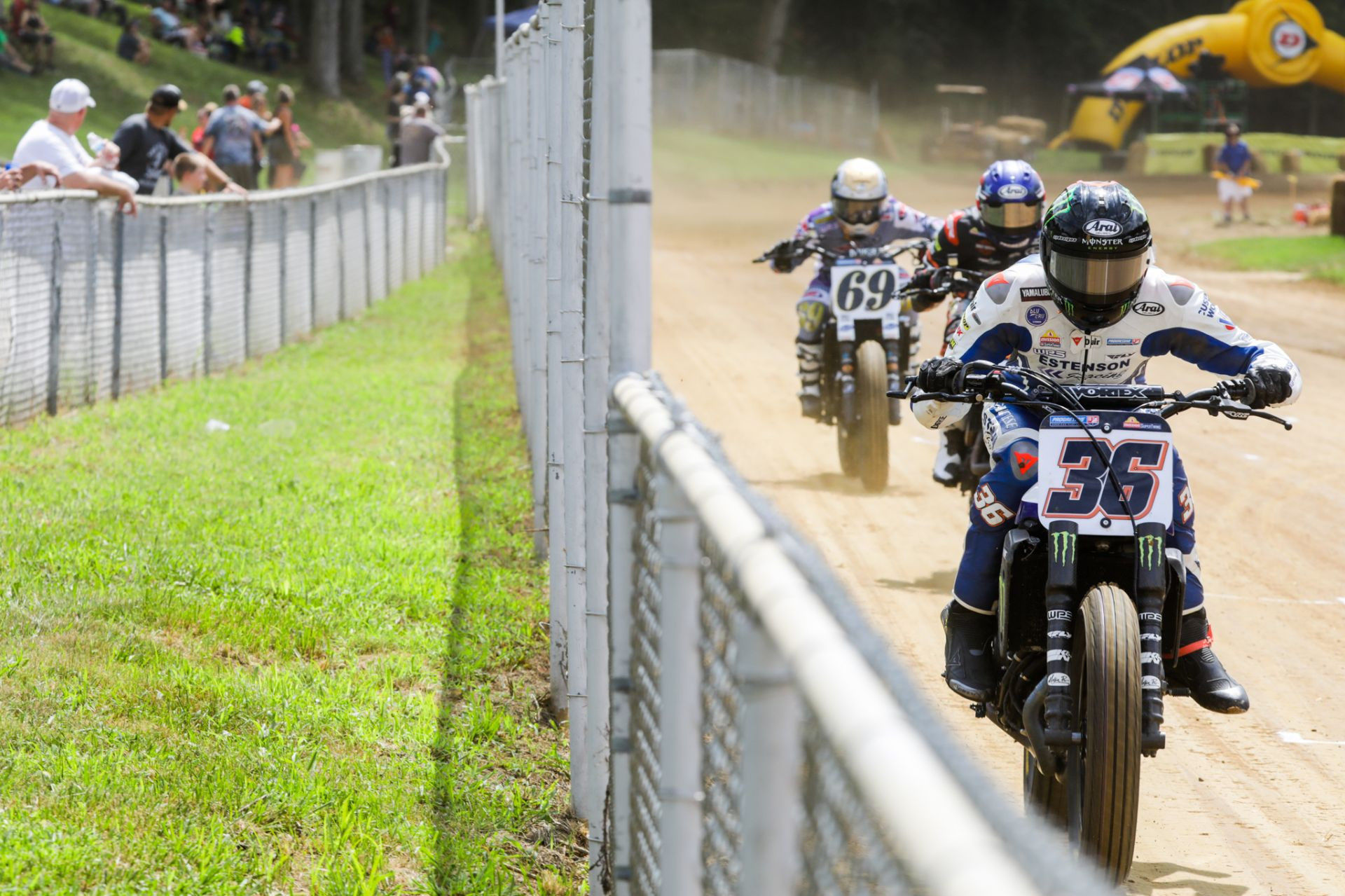 Kolby Carlile – Estenson Racing Mission SuperTwins
"I struggled a bit finding the setup earlier in the day, but we were able to end the day strong. It seems like we've had that going on lately. We changed the setup for the Main Event, and I felt much better. We started at the back of the grid, and it took me a few laps to put it together, and we started rolling from there. I kept pushing and pushing and got up to seventh, almost made it to sixth place right at the line. I wish we could have positioned myself a little closer to the front for the Main Events and the Semis, but we're just going to keep building and get better each weekend."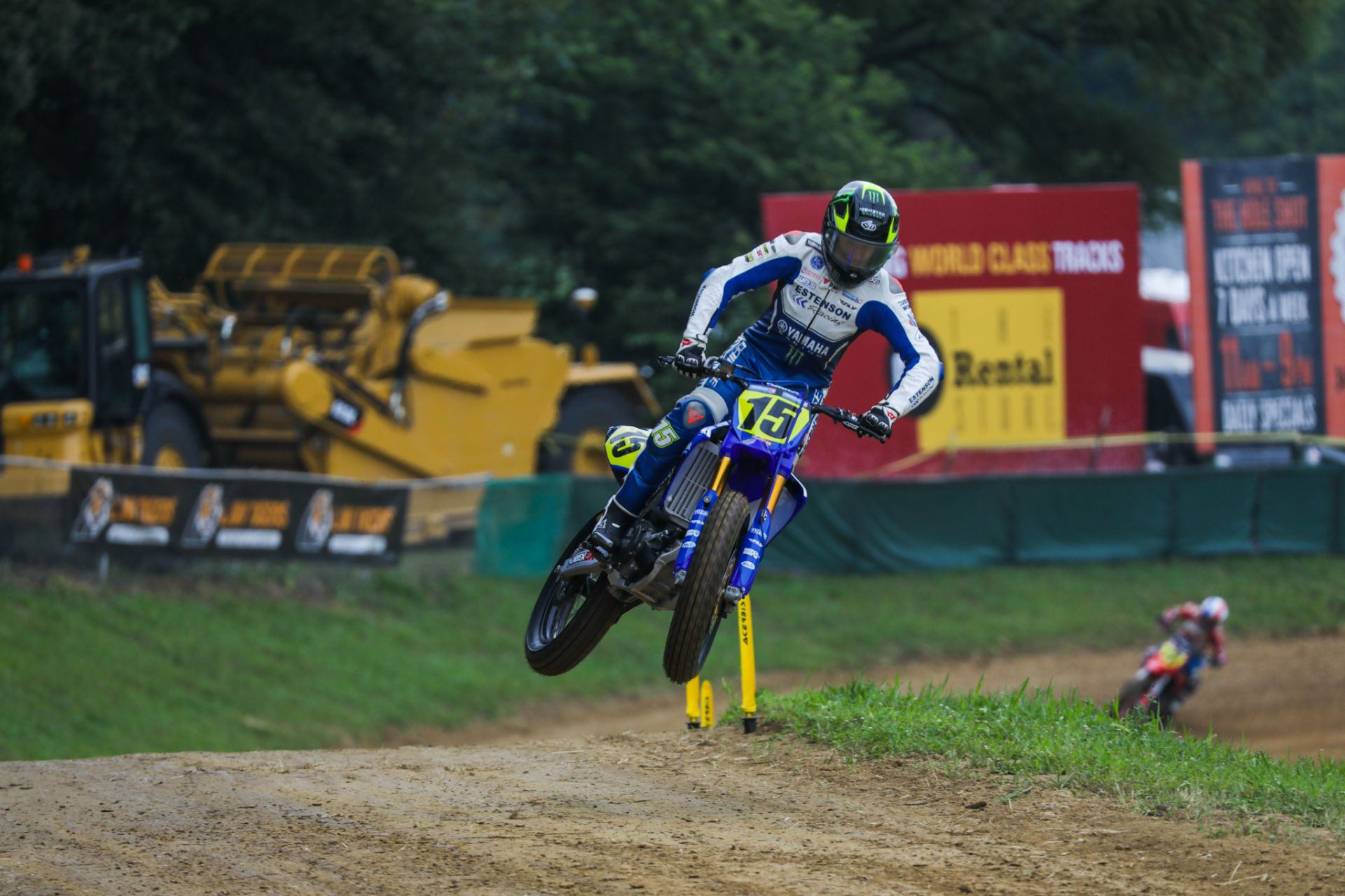 Mikey Rush – Estenson Racing AFT Singles
"It was another rough day at Peoria. Considering all the rain we got, the track crew did a good job getting the racetrack good enough to ride, but the track was challenging with all the holes and ruts and bumps after the rain. It was pretty sketchy, so I tried to get through as safely as I could and score as many points as possible. I think all of the restarts in the Main Event kind of hurt me a little bit. A couple of them were good, and I moved forward, but the last one kind of did me in. I lost a few spots, and we only had a few laps to go. We're going to keep pushing forward and move on to the Springfield Short Track. I really like riding that track, and we did pretty well last year there."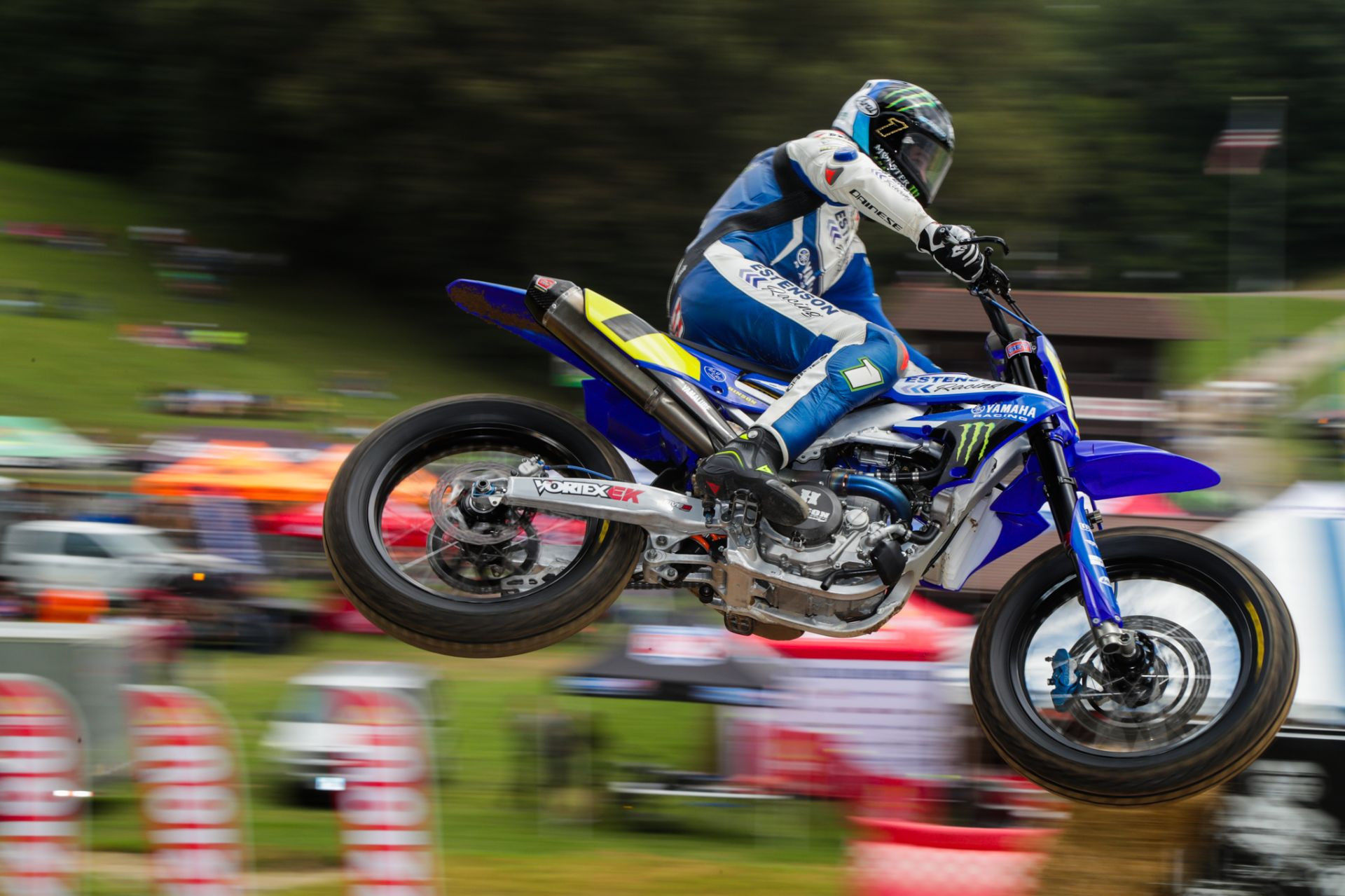 Dallas Daniels – Estenson Racing AFT Singles
"I had a few nasty get-offs in the Main, and the second one really threw me down. I'm feeling pretty beat up, but thankfully it's nothing serious. We're going to get checked out after the weekend and work on getting back to 100% for Springfield. I want to say sorry to the team. I felt like we had the speed to win, but we will come back stronger."
More, from a press release issued by KTM Factory Racing:
MAX WHALE RECLAIMS POSSESSION OF CHAMPIONSHIP POINTS LEAD FOLLOWING RUNNER-UP FINISH AT PEORIA TT
Round 11 – American Flat Track Championship
PEORIA, Ill. – Red Bull KTM Factory Racing's Max Whale came away unscathed and back on top of the AFT Singles Championship standings after securing a runner-up finish at the ultra-dramatic Peoria TT. Serving as Round 11 of the American Flat Track Championship, the iconic race proved to be one of the more challenging ones as a pair of red flags created a major shift in Saturday's Main Event.
Whale, the fourth-place qualifier, carried a second-place Semi finish into the Main Event, where he powered his KTM 450 SX-F FACTORY EDITION to a third-place start. He quickly charged up to second early on and managed to avoid the chaos up front as he navigated through two different red flag restarts. Racing steadily in podium contention for all 13 laps, Whale fought hard to overtake second-place with three laps to go and he finished strong in the runner-up spot. As the series winds down to its last five races, Whale now holds a 16-point lead in the championship standings.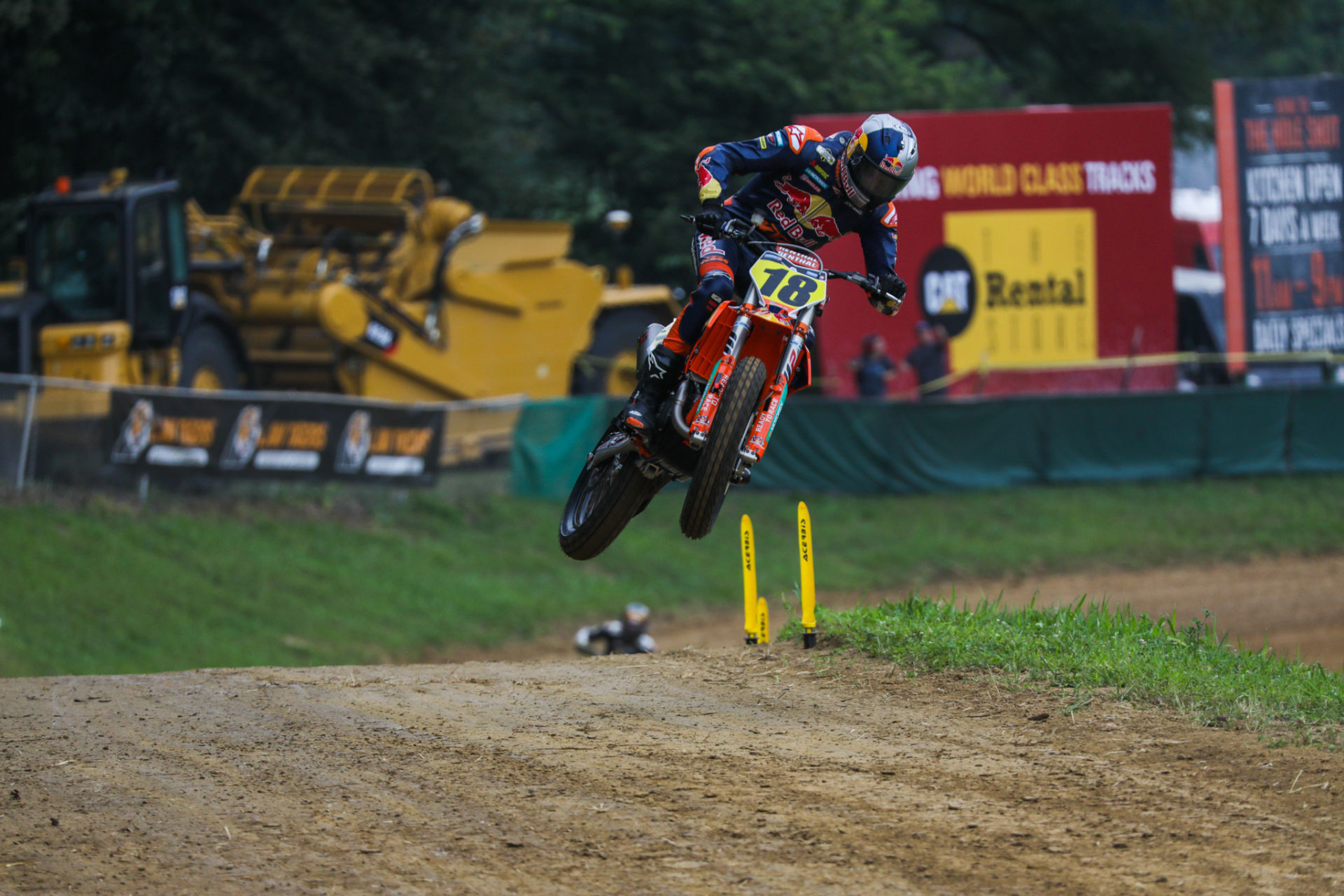 Whale: "It was another good weekend at the Peoria TT with a solid podium. I wish we had a little more pace and could stick to the leader but it was a crazy race and I'm super thankful to be walking out with some valuable points and in one piece. I'm ready to come out swinging for Springfield and keep the ball rolling. I just want to thank my whole team and everyone that's involved, thank you very much."
Teammate Shayna Texter-Bauman qualified 21st in the AFT Singles class and she lined up for battle in Semi 1. With an 11th place start, the multi-time race-winner put in eight strong laps but it wasn't enough to secure a spot into the Main Event.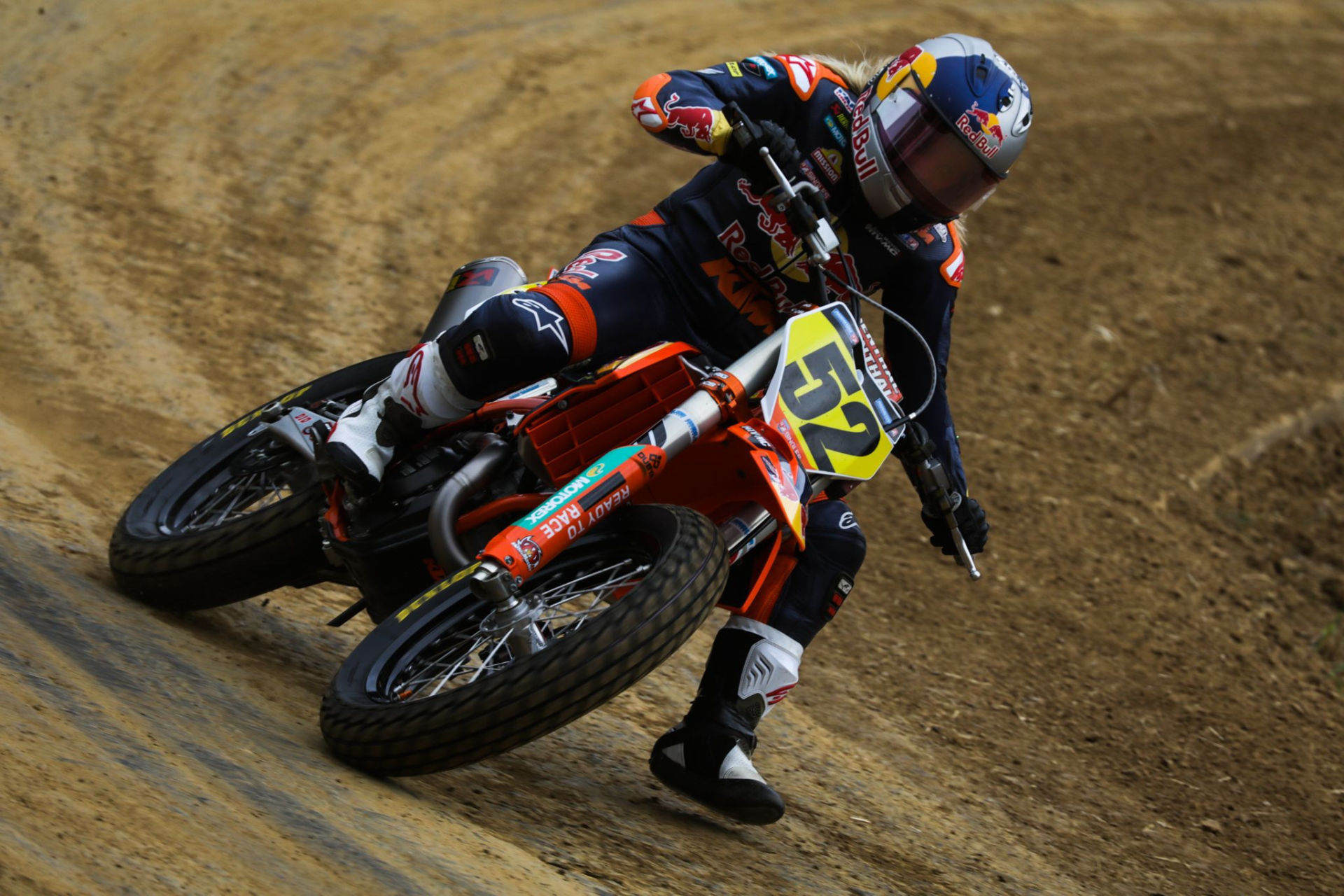 Texter-Bauman: "This is probably one of the most technical and unique tracks that we have on the schedule and it's a track that I've struggled at a lot through my career with feeling comfortable off the jump at high speeds. Today, I feel like we made some great progress for myself. I missed making the main by a couple spots but I was competitive and for me, that was a victory in itself. I felt the best I've ever felt off the jump, and on the racetrack, so definitely making some big strides."
Next Race: Springfield Short Track Doubleheader – Springfield, Illinois – September 3
AFT Singles Main Event – Peoria TT
1. Henry Wiles, Honda
2. Max Whale – Red Bull KTM Factory Racing
3. Cole Zabala, Honda
OTHER KTM
9. Billy Ross, KTM

AFT Singles Point Standings (After 11 Rounds)
1. Max Whale – Red Bull KTM Factory Racing, 196
2. Dallas Daniels, 180
3. Morgen Mischler, 162
OTHER KTM
9. Shayna Texter-Bauman – Red Bull KTM Factory Racing, 94
More, from a press release issued by Royal Enfield North America:
JOHNNY LEWIS SCORES ANOTHER TOP-FIVE AT PEORIA TT
74th Peoria TT marks a first for Royal Enfield at the legendary venue.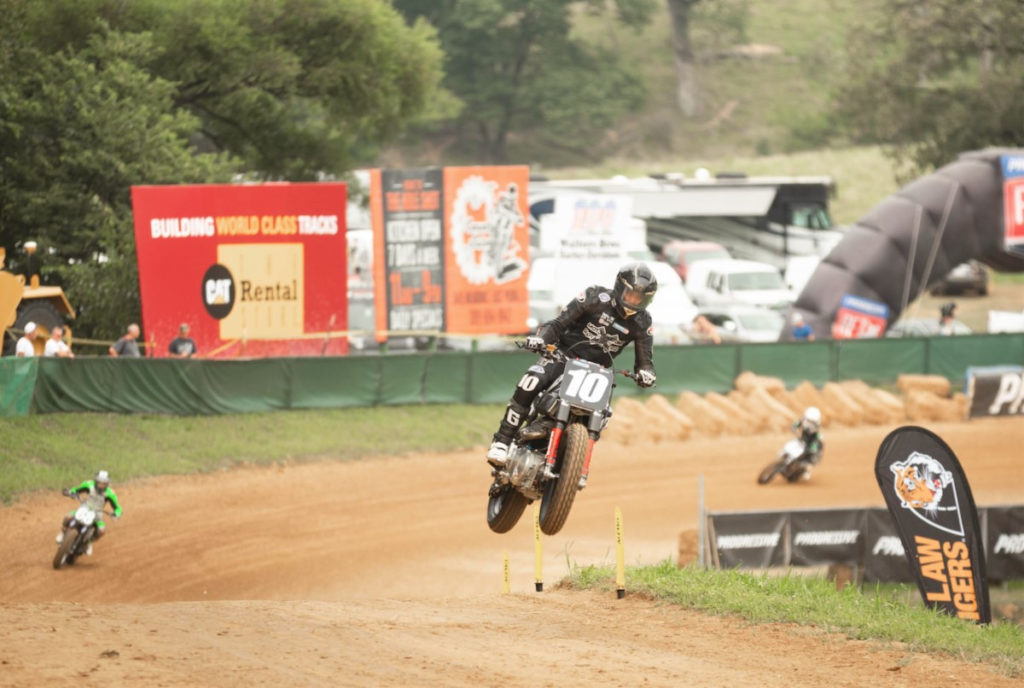 Milwaukee, WI (Monday, August 23, 2021) – The 74th Peoria TT, round 11 of the 2021 American Flat Track championship, marked a first for Royal Enfield—the first time the 120-year-old brand has ever fielded a factory racing effort at the historic PMC Race Park in Peoria, Illinois. It was another show of consistency and determination from Johnny Lewis and the Moto Anatomy X team aboard the rapidly progressing Royal Enfield Twins FT race bike, as Lewis brought home another top-five finish in the Production Twins class.
Peoria marked the second TT race for the Lewis and the Twins FT, and the two seem to be finding their groove together, both on the dirt and in the air. Lewis ran well all day, placing second in the semi, giving him a front-row start for the main.
Following a few hours of rain delays, the main event got underway, and Lewis ran third in the opening laps of the race, ultimately hanging on to claim fifth on the night. The finish marked Lewis' fifth top-five finish in the highly competitive Production Twins class, including a win at the Lima Half-Mile.
"This was our first time at the legendary Peoria TT as a team," commented Breeann Poland, Marketing and Communications Lead – Royal Enfield Americas. "Both Johnny and Crew Chief Dave Lloyd had been there in the past so they were equipped to know what we were up against. Johnny rode solid all day to bring home a fifth. We continue to develop the program and each time out we learn more and see more progress with the program."
Johnny Lewis and the Moto Anatomy X Royal Enfield team will be back in action at the Charlotte Motor Speedway in North Carolina for the Half Mile on October 8. They will be once again joined by the women of Royal Enfield BUILD. TRAIN. RACE. at the final stop of the 2021 American Flat Track Championship.
About Royal Enfield
The oldest motorcycle company in continuous production in the world, Royal Enfield made its first motorcycle in 1901. A division of Eicher Motors Limited, Royal Enfield has created the midsize motorcycle segment in India with its unique and distinctive modern classic motorcycles. With its manufacturing base in Chennai, India, Royal Enfield has been able to grow its production rapidly against a surge in demand for its motorcycles. Royal Enfield is a leading player in the global middleweight motorcycle market.
The Moto Anatomy X Royal Enfield team is supported by Harris Performance, SENA, Motul, Beringer Brakes, Solid Performance, EVS, ODI, Just 1, Tucker, Saddlemen, S&S Cycle, Team Lawant, Quayle Construction and Goon Glass and Rubber.
Royal Enfield North America (RENA) is headquartered in Milwaukee, Wisconsin, and is developing a growing network of more than 125 dealers in North America, including the contiguous U.S., Canada and Puerto Rico. RENA currently offers the all-new Meteor 350, Himalayan and the 650 Twins (INT 650 and Continental GT 650) motorcycles, along with a range of Genuine Motorcycle Accessories and apparel.
For more information on Royal Enfield North America, visit www.RoyalEnfield.com/us/en/, www.Instagram.com/RoyalEnfield_NA, www.Facebook.com/RoyalEnfieldNorthAmerica.