MAX WHALE SECURES A RUNNER-UP FINISH AT LIMA HALF-MILE
Round 7 – American Flat Track Championship
LIMA, Ohio – Red Bull KTM Factory Racing's Max Whale continues to hit his stride halfway through the 2021 American Flat Track Championship as the series reached its mid-way point with Round 7 on Saturday. With a solid runner-up finish at the Lima Half-Mile, the Australian rider inserted himself into the AFT Singles championship fight as the new co-points-leader in the highly-competitive class.
Whale proved to be strong all day aboard his KTM 450 SX-F FACTORY EDITION, where he claimed second overall in the day's qualifying. Lining up front row in AFT Singles Semi 2, he got off to a second-place start and worked his way into the lead by lap three. He diced back-and-forth through the final laps to ultimately reclaim the lead on the final lap and bring it in for the semi win.
In the Main Event, Whale grabbed another second place start but he got shuffled back to third on the opening lap. Racing in third for the first five laps, he eventually got into his groove and made a pass for second early on, maintaining that spot for the remainder of the race. He put on a late charge to close the gap on the leader with about five laps to go but a couple of mistakes late in the race took away his chances to get into the lead. With a hard-charging performance, Whale made his third podium appearance of the season in Ohio.
Whale: "We sat on pole for the Main Event and I felt really good. I had a rough couple laps there at first and I let the leader get away from me but I put some really good times in mid-way through. Towards the end, I caught the leader but I just didn't quite have enough for the win and I ended up second. I'm super pumped with how the day went, we were fast all day long and consistent. To come away from Lima with some solid points is huge and I'm really happy to get onto DuQuoin in a couple weeks."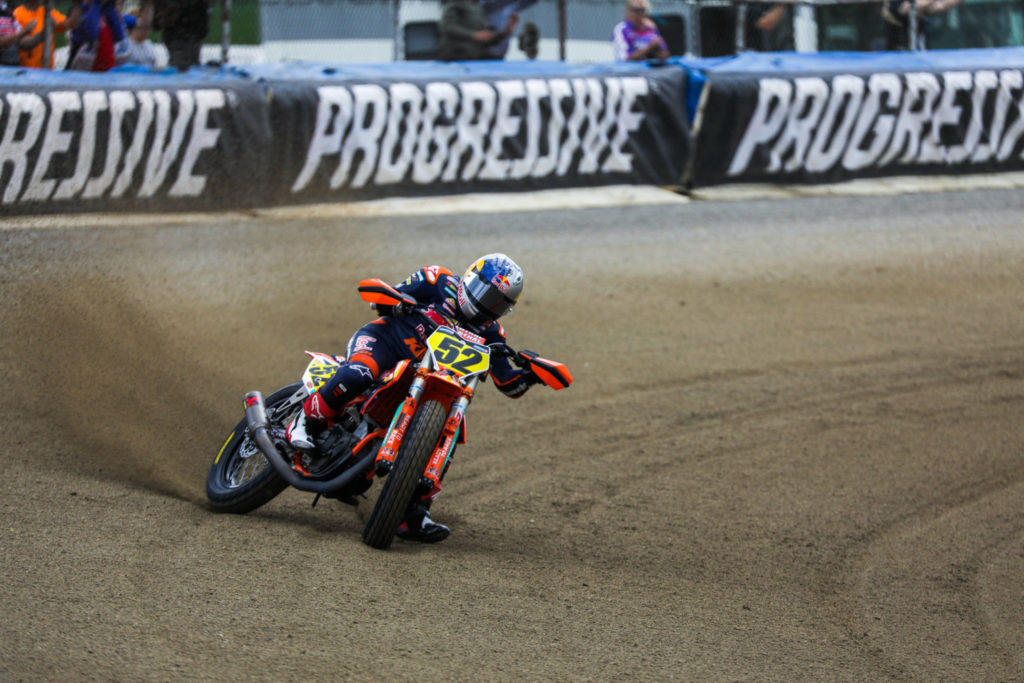 It was a challenging day for Shayna Texter-Bauman, who found herself searching all throughout the day. She qualified 14th early on, where she lined up on the second row in AFT Singles Semi 2. She got off to an eighth-place start in the semi, where she battled her way to a seventh-place transfer finish. In the Main Event, Shayna found herself at the back of pack off the start but she put her head down and fought through the 20-lap race to ultimately secure 15th on the night.
Texter-Bauman: "Overall, it was a frustrating weekend. There's not really a whole lot to talk about on these cushion tracks, which is super unfortunate because I've done so well here in the past. DuQuoin is the next one on our schedule and usually we do well on clay miles, so we're hoping to rebound a little bit, regroup and move back towards the front where we belong."
Next Race: DuQuoin Mile – DuQuoin, Illinois – July 17, 2021
AFT Singles Main Event – Lima Half-Mile
1. Henry Wiles, Honda
2. Max Whale – Red Bull KTM Factory Racing
3. Morgen Mischler, KTM
OTHER KTM
9. James Ott, KTM
11. Aiden RoosEvans, KTM
14. Hunter Bauer, KTM
15. Shayna Texter-Bauman – Red Bull KTM Factory Racing
AFT Singles Point Standings (After Round 7)
1. Max Whale – Red Bull KTM Factory Racing, 126 points
2. Dallas Daniels, 126
3. Michael Rush, 109
4. Henry Wiles, 108
5. Morgen Mischler, 91
6. Shayna Texter-Bauman – Red Bull KTM Factory Racing, 79
More, from a press release issued by Yamaha:
Carlile and Daniels Battle to Top Fives at Lima Half-Mile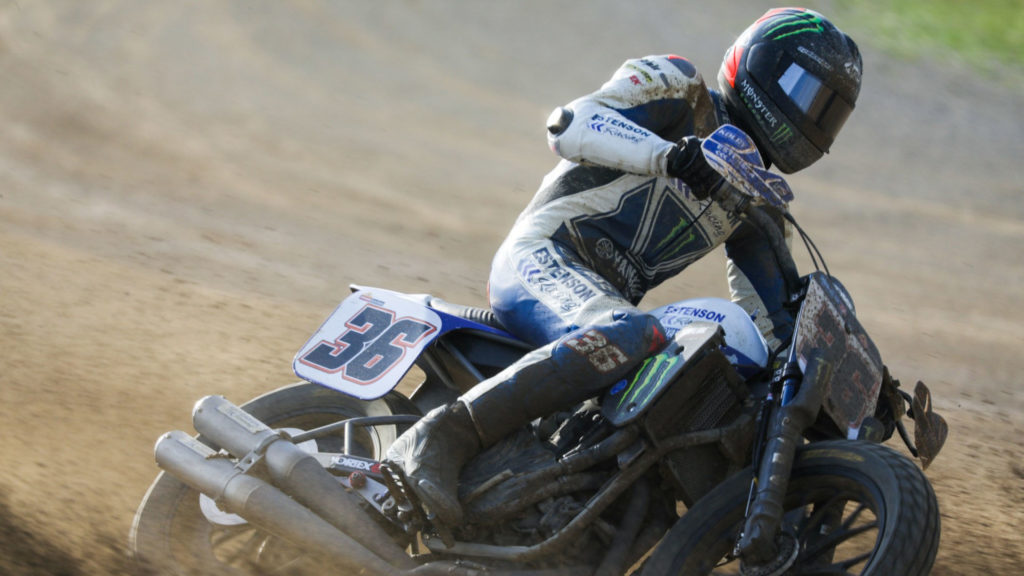 Estenson Racing came away from Saturday's Progressive American Flat Track showdown at the Lima Half-Mile with a pair of hard-earned top fives. Kolby Carlile continued his recent climb to premier-class prominence by equaling his career-best finish of fifth in the Mission SuperTwins Main with teammate JD Beach two positions further down the order in seventh. Reigning AFT Singles champion Dallas Daniels picked up a couple of positions late to retain a share of the title lead as he continued his quest for a second consecutive class crown, while teammate Mikey Rush held on to his third-place championship ranking despite a less-than-satisfying ride to 12th.
Carlile was in impressive form all day long on the Allen County Fairgrounds pea-gravel cushion Half-Mile. The New Yorker finished second in his Semi to earn himself a first-ever entrance into the Mission Challenge dash for cash. He then successfully hustled his Yamaha MT-07 DT into fifth early in the Main Event before making a late charge that saw him nearly steal away fourth at the checkered flag, falling just 0.073 seconds short in that bid.
By contrast, Beach spent the bulk of his day playing catch-up with bike setup. A gamble for the Main paid off in the form of a markedly improved machine, which allowed him to find his level in the early stages of the Main. From that point forward, he effectively ran out the clock before confirming a seventh-place finish. The resultant points haul was more than enough to keep the multi-time road race champion ranked firmly inside the Mission SuperTwins championship top five.
Daniels jockeyed for position aboard his YZ450F throughout an exciting AFT Singles Main, engaging in a race-long multi-rider tussle for fourth. By the race's midpoint, the reigning AFT Singles Champion was shuffled down to seventh, but he regrouped to execute a pair of clutch overtakes to secure fifth in the end. That upward advancement allowed Daniels to hold on for a tie atop the championship points order, a distinction built upon a victory, four podiums, and seven top-fives in seven races this season.
Meanwhile, the typically consistent Rush was unable to find his footing at Lima. He was buried in the roost from the start of the AFT Singles Main, climbing to 10th en route to an uncharacteristic 12th. Despite his difficulties on the day, the Californian is still within striking distance of the championship lead thanks to his early-season excellence.
Following three races in just over a week, Estenson Racing will now get a chance to catch its collective breath and regroup before returning to action at the DuQuoin "Magic" Mile in DuQuoin, Illinois, on July 17.
Tommy Hayden – Estenson Racing Team Manager
"It was a mixed day for us here at Lima. The 450 guys started off pretty well, but then the Semis didn't go very well, and they ended up with bad starts for the Main Event. Dallas was able to work his way forward and salvage a decent amount of points. Mikey just seemed like he wasn't able to move forward and didn't have the night we were hoping for.
"On the Twins side, Kolby rode well all day; he looked very comfortable here on the pea-gravel track. He was fast in practice, carried that into the Semi, and finished second, which got him into the Mission dash for cash for the first time. He then had a really strong Main Event, coming up just a wheel short from getting fourth. So, we're really proud of him and his day here at the Lima Half-Mile. JD started off struggling, but he chipped away at it all day and got better and better. In the Main Event, he looked the best he had all day and was able to bring it home with a top 10. We've got a couple of weeks off to get ready for DuQuoin and look to come out swinging there."
Kolby Carlile – Estenson Racing Mission SuperTwins
"It was a really good day for the team and me. Before I left home, I told my girlfriend I was either going to get fourth or fifth this weekend, and I almost got fourth. I missed that by seven-hundredths of a second and came away with fifth. Man, that was a heck of a finish for me. The team had the bike working really well today. I was also able to make my first Mission dash for cash and utilized that to try some more stuff for the Main Event. We just did a good job of getting the bike better all day long, and we really had a great weapon to work with for the Main Event. I wish I could have gotten fourth, but I'm happy with fifth and with how I rode."
JD Beach – Estenson Racing Mission SuperTwins
"The track was probably one of the best Limas that I've ridden with a good amount of cushion but not super deep or too rough. It was a fun track tonight. We were too far off on setup and gearing to start the day, so it really got us started off slow. We were always a session behind, basically, but the crew kept throwing everything they had at the bike. For the Main Event, we made some big changes, but I had a good feeling about it. The bike in the Main was the easiest one that I've ridden in the last two weeks. I'm glad we finally found a good setting but bummed it took so long. Coming from the third row, I had to make up a lot of ground. The finish wasn't really what we wanted, but it was a lot better than how the day started. I'm really proud of my guys and how hard they worked and that we never gave up."
Dallas Daniels – Estenson Racing AFT Singles
"Overall, it was a decent night in Lima, Ohio. I'm a little disappointed with how the day went. I've never been pegged as a cushion rider, and it definitely kind of showed today. We were struggling a little bit early on with some stuff; not so much the motorcycle but just with me and how I was riding. I needed to ride it a lot differently. Starting on the second row of the Main Event didn't do us any favors either. The guys up front kind of got away. I have to give a big thanks to the whole team; they worked their butts off. It seems like when we're down and out, we always end up clawing our way back some.
"At the end of the day, I'm happy with a fifth. It's our worst finish of the season, but looking at the big picture, we've been consistent, and I feel like we're now at the point in the season where we're going to get to some tracks we're going to like and do well on. I think we're just catching our stride, and I'm feeling really good going into these next few races. I'm really excited for DuQuoin, which is another home race for us."
Mikey Rush – Estenson Racing AFT Singles
"It didn't go how I wanted it to go at Lima. I made some mistakes myself tonight, and we just missed the setup a little bit on the bike. We're just going to move forward and keep digging and improve for the next race at the DuQuoin Mile."