RED BULL KTM'S MAX WHALE CAPS OFF DOUBLEHEADER WEEKEND WITH A WIN AT OKC MILE II
Rounds 5 & 6 – American Flat Track Championship
OKLAHOMA CITY, OK – Red Bull KTM Factory Racing's Max Whale capped off a successful double-header weekend in Oklahoma on Saturday as he claimed his second AFT Singles victory of the season at Round 6 of the 2021 American Flat Track Championship.
Serving as the first "mile" of the season, the OKC Mile doubleheader delivered rounds five and six of the series, presenting a variety of challenging track conditions throughout the race weekend. On Friday, Max Whale carried a seventh-place qualifying position into AFT Singles Semi 1, where he powered his KTM 450 SX-F FACTORY EDITION into third on the opening lap. He fought his way up to the lead battle and with two laps to go, he pulled the trigger to claim the semi win. In the Main Event, Whale put himself into fourth off the start and he got shuffled back to fifth early on. Racing just outside the top-five battle, the Aussie secured sixth on the first night.
Saturday proved to be a new day and Whale was determined to end the weekend on a high note. He came in swinging for AFT Singles Semi 2, securing the holeshot and early lead. With a hard-fought performance, Whale ultimately finished second in the Semi but he entered the Main Event with great momentum behind him. With a second-place start, Whale went to work battling for the lead position early on. Putting together a strategic plan heading into the final laps, Whale hung back and waited for an opportune moment, which came just seconds before the checkered flag when he made his move to secure the lead and put a stamp on victory on day two of racing.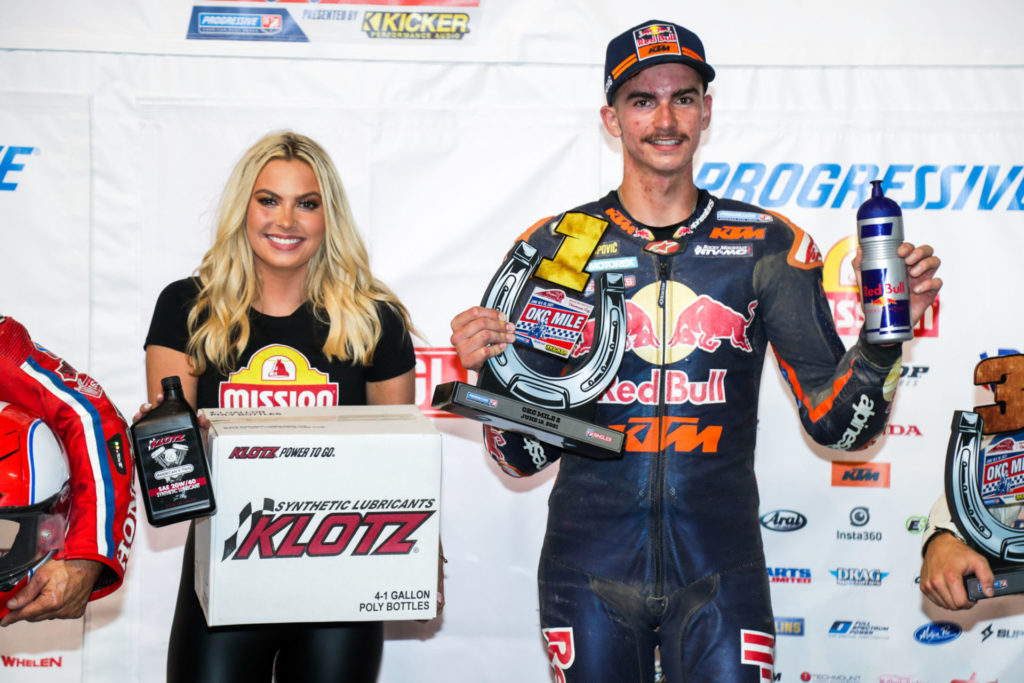 Whale: "On day one, I had a good Semi win but I struggled to put things together in the Main Event. Day two was great. I stuck onto Henry [Wiles] in the Main Event and I stayed there all race. I managed to pull off a last-lap draft pass for the win. It was a huge accomplishment to get my first "mile" podium and it was a win. I can't thank my team enough, they put in such a huge effort and it means so much to me. Onto the next one."
Shayna Texter-Bauman started the weekend off positively with P3 in practice but with deteriorating track conditions throughout the weekend, it became a challenge for the multi-time race winner. In AFT Singles Semi 1, Shayna got off to a top-10 start and battled her way up to a fifth-place finish, setting herself up for a third-row start in the Main Event. She didn't get the best jump off the start as she found herself in 15th at the end of lap one. She broke into the top-10 late in the race and from there she held strong for 10th place.
Energized and ready to go to battle once again on Saturday, Shayna lined up in AFT Singles Semi 1 and she powered her KTM 450 SX-F FACTORY EDITION into fifth off the start. She battled mid-pack for the rest of the race, securing the final transfer position in eighth. In the Main Event, Shayna began just outside the top-10 and she battled around the same spot all race long to ultimately finish 12th on the night.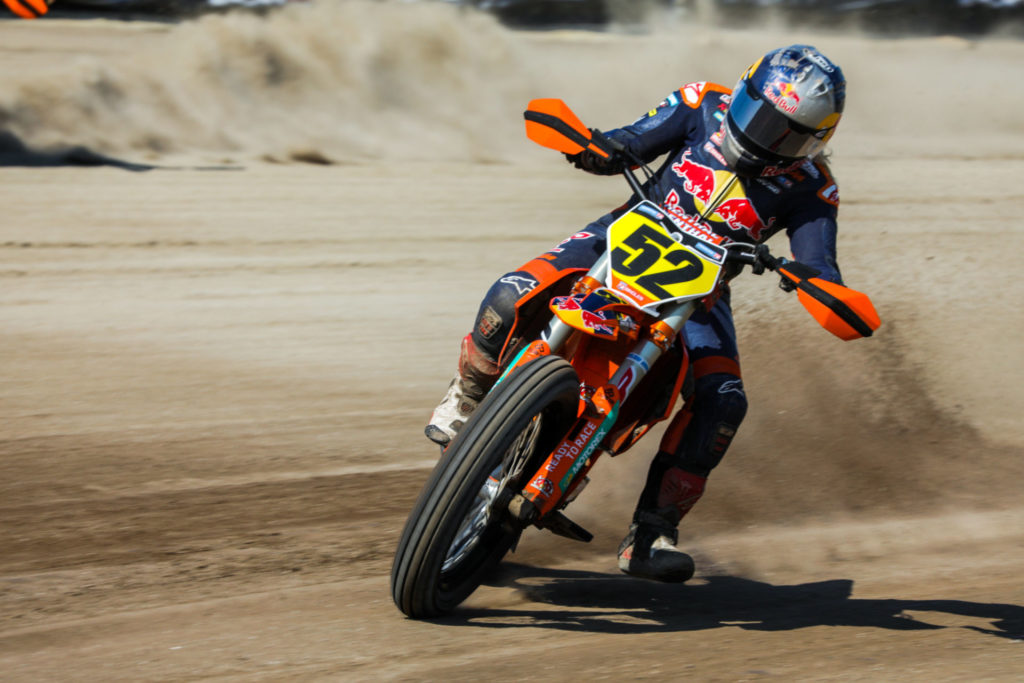 Texter-Bauman: "In the past I've had a lot of success here, so I was really looking forward to this race but man, the track was rough and challenging. We battled some dry conditions throughout the weekend, which made it a little bit of a challenge, but no excuses, the track is the same for everyone. Night one was disappointing but I was also energized for night two because I felt like in the Main Event we were moving forward. Going into night two, we tried to make the bike better for what I was struggling with but unfortunately, we just weren't able to get it. Overall, just a little bit disappointed in the results. As a team, we'll put our heads down and think about how we can be better heading into the next race. We have high expectations heading into Lima and we're ready to get back to work."
Next Race: Lima Half-Mile – Lima, Ohio – June 26, 2021
AFT Singles Main Event – OKC Mile I
1. Henry Wiles, Honda
2. Dallas Daniels, Yamaha
3. Morgen Mischler, KTM
OTHER KTM
6. Max Whale – Red Bull KTM Factory Racing
9. James Ott, KTM
10. Shayna Texter-Bauman – Red Bull KTM Factory Racing
11. Aiden RoosEvans, KTM
15. Hunter Bauer, KTM
AFT Singles Main Event – OKC Mile II
 
1. Max Whale – Red Bull KTM Factory Racing
2. Henry Wiles, Honda
3. Dallas Daniels, Yamaha
OTHER KTM
5. Hunter Bauer, KTM
11. Morgen Mischler, KTM
12. Shayna Texter-Bauman – Red Bull KTM Factory Racing
13. James Ott, KTM
16. David Wiggin, KTM
AFT Singles Point Standings (After Round 6)
1. Dallas Daniels, 112 points
2. Max Whale – Red Bull KTM Factory Racing, 106
3. Michael Rush, 102
4. Henry Wiles, 83
5. Shayna Texter-Bauman – Red Bull KTM Factory Racing, 75
6. Morgen Mischler, 74
More, from a press release issued by Yamaha:
Daniels Scores Back-to-Back Podiums at Remington Park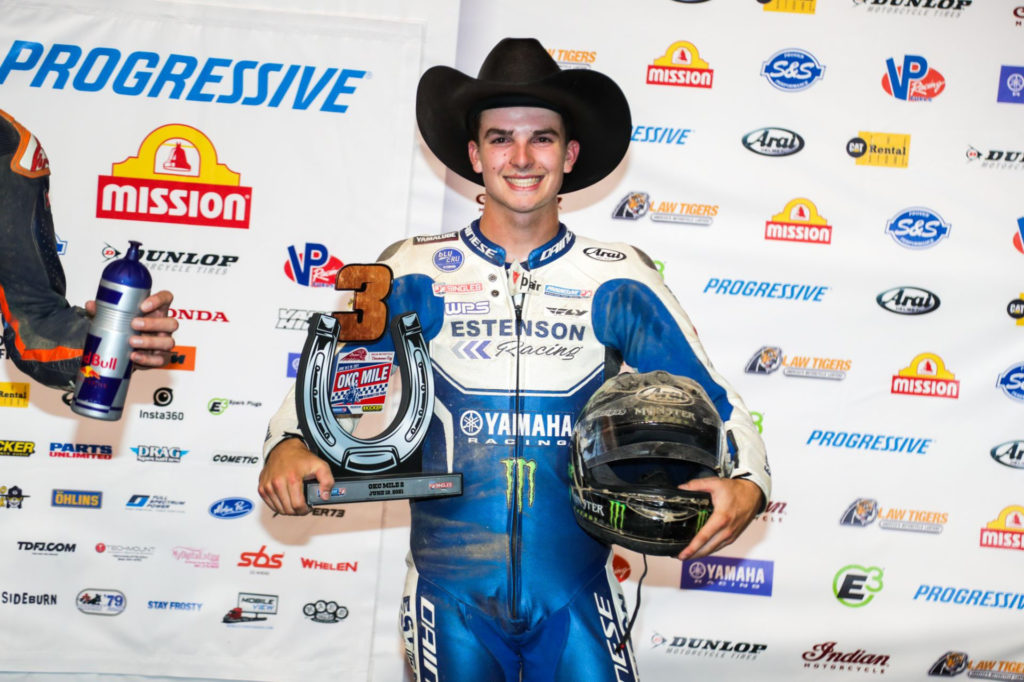 Estenson Racing's Dallas Daniels scored his second-consecutive podium finish aboard his Yamaha YZ450F at Remington Park, finishing third in last night's Progressive American Flat Track AFT Singles Main Event at the OKC Mile II. Mikey Rush rallied back from a third-row start, crossing the line just outside the top five in sixth. On the Mission SuperTwins side of the tent, Kolby Carlile and JD Beach broke the top 10, finishing eighth and ninth, respectively.
Daniels got a great start in his Semi and showed strength straight away by challenging Friday night's winner. He ultimately finished second to secure a front-row start for the Main Event. After the green light, the defending champ was third into turn one. He tried to make a break with the frontrunners but got caught up in a multi-rider scrap, which included his teammate. On Lap 9, Daniels reclaimed third and then put some distance between himself and the competition to secure another podium finish at the OKC Mile. Although he was hoping for a win on his 18th birthday, the third-place finish helped maintain his six-point lead in the championship.
Starting from the third row after a tough Semi race, Rush got a good start in sixth and quickly joined the fight for the final podium spot. The veteran jockeyed for position in the multi-rider battle but ultimately was shuffled back to sixth with five laps to go. Rush kept pushing and narrowly missed that top-five finish at the line.
Another hot day in Oklahoma City made for challenging conditions at the OKC Mile II. The Mission SuperTwins team had a better start to the day but struggled on a dusty, slippery track in the Semi and Main Event. Carlile worked his way from 10th to eighth before the halfway mark. Towards the end of the race, he started to lose a little pace as his eyes filled up with dust, and he was shuffled to ninth. The "Flying Tomato" soldiered on and reclaimed eighth in the final laps. His teammate Beach also had a tough Main Event but fought his way back from last place to ninth.
Estenson Racing heads to Lima, Ohio, next weekend for Round 7 of the Progressive American Flat Track Championship at the legendary Lima Half-Mile on June 25.
Tommy Hayden – Estenson Racing Team Manager
"The second day here in Oklahoma City started off a little better for us. The guys were a little more competitive in practice and qualifying. We thought we had the potential to have better results today, and the guys fought hard. Although the results didn't show, I do think that we were a little better. We were definitely hoping to make a bigger step tonight, but we just weren't able to. So we'll leave here, regroup and come back for a better result next weekend at Lima."
Dallas Daniels – Estenson Racing AFT Singles
"It was definitely a crazy race. We made a shock change before the Main Event, and it took me a while to figure out how to ride it differently. I finally was able to build a bit of a gap, but by then, the leaders were long gone. It's hard to be disappointed with a podium, but I really wanted to win tonight. It's awesome for the team though, everyone works their butts off, so I'm happy to reward them with a podium. All in all, it was a good points night on a tricky track. We'll move on to Lima next weekend and do better."
Mikey Rush – Estenson Racing AFT Singles
"I had a decent night two at the OKC Mile. We struggled a little bit on setup and tried some stuff going into the Semi, but kind of went the wrong direction. We went back the other way for the Main Event, and it was a lot better. Starting on the third row was pretty difficult, so I'm super happy to come from the third row to get sixth. We'll keep our head high, keep chipping away and get ready for Lima next week. The team did a great job making the changes I wanted on the bike. I'm looking forward to getting back at it at Lima next weekend."
Kolby Carlile – Estenson Racing Mission SuperTwins
"I had a tough day here at the OKC Mile II and didn't have the race I wanted to. Today they took a lot of the material off the track, and it was a lot more slippery. We tried a lot of stuff all day, and we came away with a decent setup for the Main Event. I was able to get going, but it was so dusty that my eyes filled up with dust, and by the end of the race, I could hardly see at all and had to drop my pace a bit. I was able to finish in eighth place tonight and learn a few things. I'm happy that we get to race again next weekend, and I'm really looking forward to Lima."
JD Beach – Estenson Racing Mission SuperTwins
"It was another tough day for us in Oklahoma City. The track was a little smoother today compared to yesterday but more brushed off, so it was pretty slippery. We kept working hard but still struggled. We're going to go back to work and try for a better result at Lima."
More, from a press release issued by Indian Motorcycle:
BRANDON ROBINSON AND JARED MEES SPLIT WINS AT OKLAHOMA CITY DOUBLEHEADER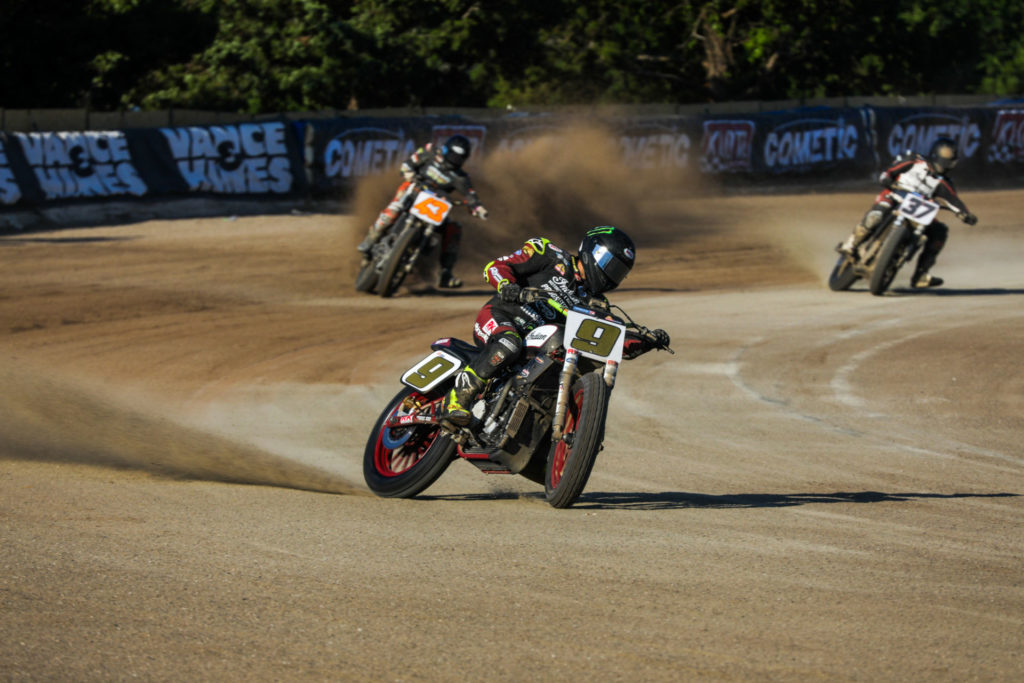 Robinson becomes second rider to win two Mission SuperTwins victories of the season; Jared Mees' 3-straight win streak at OKC comes to an end, but completes 4th career win at Remington Park
OKLAHOMA CITY, Okla. (June 18/19, 2021) – Indian Motorcycle Racing, presented by KICKER, continued its 2021 American Flat Track season with wins at this weekend's doubleheader at Oklahoma City Mile I and II. Brandon Robinson took first place in Friday night's Mile I, while Wrecking Crew rider Jared Mees won Mile II on Saturday night.
Robinson was sidelined for the past three weeks, after an injury at Joliet back on May 29. Nursing a bad knee, Robinson dealt with the rough conditions at the Remington Park venue while holding his own. A hot Briar Bauman finished in second place, after back-to-back event wins in Fort Worth and Joliet.
Friday night's victory marked Robinson's second of the 2021 AFT season, his first coming at the Volusia Half-Mile I event in March. Robinson's Wrecking Crew teammate Jared Mees also made the podium on Friday, finishing third.
With a third place finish last month in Chicago and in Friday night's event, Mees came into Saturday with a chip on his shoulder. Mees ended up on top of the Mile II event, winning his second race of the season. This win was Mess' 4th career victory in 5 appearances in Oklahoma City.
The multi-time Grand National Champion Mees got off to a great start from the opening lap and never looked back. Friday's victor, Robinson, got a great feel for the track but didn't get a good starting position. Again, Robinson found himself battling the pack and ultimately clawed his way to a second place finish, ahead of Briar Bauman.
Through seven races, Robinson, Mees, and Bauman all have two wins a piece. With second and third place finishes in Oklahoma City, Bauman is still atop of the leaderboard with 114 points. Two points separate Robinson and Mees, who have 107 and 105, respectively. Jarod Vanderkooi, who made consecutive fourth place finishes this weekend, also sits in fourth with 93 points.
The 2021 AFT season will continue on Saturday, June 26, at the Lima half-mile. For more information on Indian Motorcycle Racing, visit IndianMotorcycle.com and follow along on Facebook, Twitter and Instagram.
ABOUT INDIAN MOTORCYCLE®
Indian Motorcycle is America's First Motorcycle Company®. Founded in 1901, Indian Motorcycle has won the hearts of motorcyclists around the world and earned distinction as one of America's most legendary and iconic brands through unrivaled racing dominance, engineering prowess and countless innovations and industry firsts. Today that heritage and passion is reignited under new brand stewardship. To learn more, please visit www.indianmotorcycle.com.