INDIAN MOTORCYCLE RACING SWEEPS THE PODIUM AT I-70 HALF-MILE WITH JARED MEES TAKING HIS SECOND VICTORY OF THE SEASON AND SECURING CHAMPIONSHIP POINTS LEAD
Mees Edges Out Factory Teammate Briar Bauman to Capture the Win, with Bauman Finishing Second and Brandon Robinson Rounding out the Podium in Third
Minneapolis, MN. (April 25, 2022) – Indian Motorcycle Racing, presented by Progressive Motorcycle Insurance, had a stellar showing at round three of the 2022 American Flat Track series in Odessa, MO for the inaugural I-70 Half-Mile, with Jared Mees scoring his second consecutive victory of the season, moving him into the championship lead with a four-point advantage. Factory teammate Briar Bauman took second, while Brandon Robinson rounded out the top three aboard his Mission Roof Systems Indian FTR750, giving Indian Motorcycle Racing an impressive podium sweep.
Coming off his dominant performance at the Texas Half-Mile, Mees looked to keep his momentum going and make a strong statement that he is the rider to beat in 2022, which is exactly what he did. While Bauman got a strong jump off the line to take the early lead, Mees started in third and swiftly moved towards the front by overtaking JD Beach on the opening lap. On lap three, Mees had closed in on the back of Bauman before sneaking his FTR750 to the inside and propelling himself into the lead. This time, Mees couldn't run away with the win and spent much of the 25-lap race fending off advances from his teammate. It was a fight to the finish as Bauman put together a late-race charge to try and overtake the reigning champion. Mees was able to maintain his position, taking the checkered flag and win by a mere 0.116-seconds.
Brandon Robinson moved into third in the early portions of the race and despite his attempts to make it a three-way battle for the lead, he ultimately settled into position and took the checkered flag in third. This marked his first podium finish of the 2022 season.
"This was a solid showing for the whole Indian Motorcycle team, coming away with a podium sweep," said Gary Gray, Vice President Racing, Service & Technology for Indian Motorcycle. "Although this win didn't come as easy for Jared [Mees], with Briar [Bauman] right on his rear throughout the entire race, it was still an important win as he's now leading in the championship standings. There is still a lot of racing left this season, but I think it's going to be a battle to the finish between these two."
"What a day," Mees said. "Mother Nature actually played a good hand for the racetrack for us. Thankfully we got the racing in before the next storm came in. These races that are quick with just one round of qualifying and right into a Main Event are hectic. You've got to be on point from word go. What a hectic Main Event with Briar. I felt him breathing down my neck the entire time. A track like this makes for a lot of tiny little mistakes, but everybody has their fair share of them, and we stuck it out and got to the checkered flag first."
After three rounds, factory Wrecking Crew riders sit 1-2 in the championship chase, with Mees having 64-points and Bauman sitting at 60-points. Both riders have a small cushion heading into rounds four and five, as third sits at 51-points.
The 2022 American Flat Track season continues on May 28 and 29 for the Red Mile Doubleheader in Lexington, KY.
Sponsors for Indian Motorcycle Racing's American Flat Track efforts include Progressive Insurance, S&S®, Indian Motorcycle Oil, Mission Foods, Bell Helmets, Drag Specialties and Parts Unlimited.
For more information on Indian Motorcycle Racing, visit IndianMotorcycle.com and follow along on Facebook, Twitter and Instagram.
ABOUT INDIAN MOTORCYCLE®
Indian Motorcycle is America's First Motorcycle Company®. Founded in 1901, Indian Motorcycle has won the hearts of motorcyclists around the world and earned distinction as one of America's most legendary and iconic brands through unrivaled racing dominance, engineering prowess and countless innovations and industry firsts. Today that heritage and passion is reignited under new brand stewardship. To learn more, please visit www.indianmotorcycle.com.
More, from a press release issued by Red Bull KTM Factory Racing:
KOPP AND WHALE TAKE RED BULL KTM TO THE TOP OF THE AFT SINGLES PODIUM AT I-70 HALF-MILE
Round 3 – American Flat Track Championship
ODESSA, Mo. – Red Bull KTM Factory Racing's Kody Kopp returned to the center of the podium at Round 3 of the American Flat Track Championship, where he edged out teammate Max Whale in a tight battle across the finish. With less-than-ideal weather conditions in Odessa, Missouri, both Red Bull KTM riders maintained their composure and came out on top of the podium with an impressive 1-2 sweep in the AFT Singles class.
In addition to consistent 20-40 mph winds over the weekend, riders were faced with rainfall at the start of  race day on Saturday. With rain forecasted to hit again in the evening, the decision was made to condense the racing program to go from practice/qualifying straight into the Main Event, removing the Semis altogether.
Sitting pole for the Main Event, Kopp got off the line in fourth and he quickly made up two spots out of the first turn. He pressured the race leader for the first six laps before launching his KTM 450 SX-F into the lead just before the halfway point. Setting the fastest race-lap of any class all day, the young rider was able to pull a comfortable gap on the rest of the field early on but his teammate, Whale, came on strong in in the second half of racing. Despite a valiant late-race charge by Whale, Kopp was able to hold strong for a slim victory at Round 3.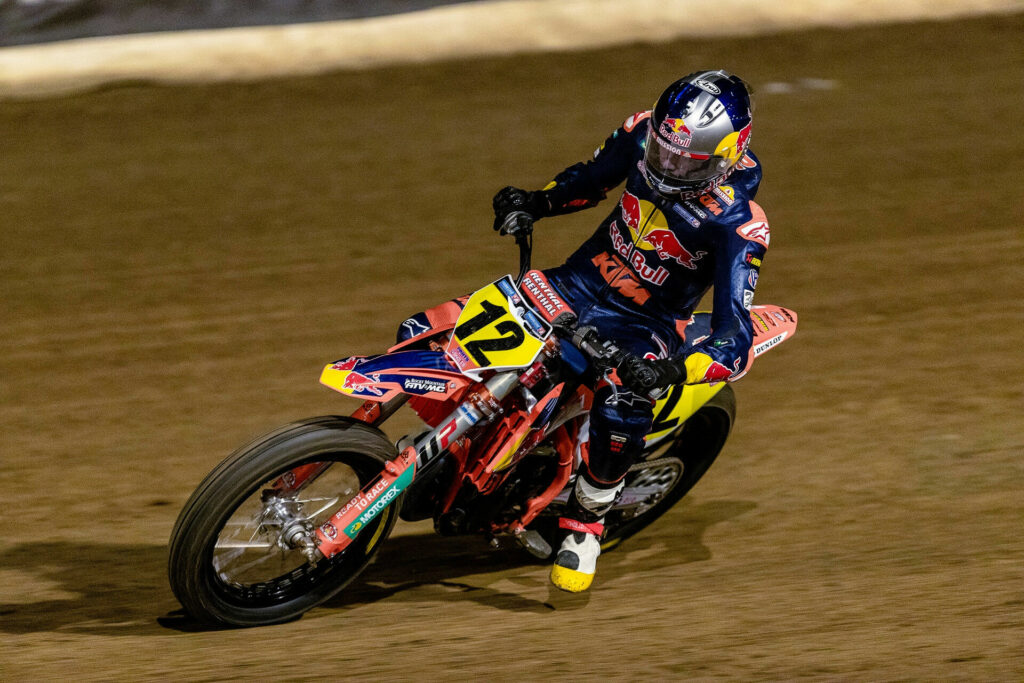 Kody Kopp: "I'm feeling really comfortable on my motorcycle as of late. Hats off to my entire Red Bull KTM team. We put a ton of work in this offseason and I feel like we are showcasing exactly that. With the rushed program due to weather, I knew I had to make every session count. We had very clean racing in the Main Event and I couldn't be happier to pull off my second win. Going to get back to work and start preparing for the double header in Kentucky next month!"
Whale, last round's pole-sitter, earned a front-row start in the Main Event with third in qualifying and he powered his KTM 450 SX-F to a third-place spot off the line. Quickly slotting into second through turn one, Whale was passed early on by his teammate and he shuffled into third on the opening lap. It took a few laps for the Aussie to get back into a rhythm and that's when he began his climb toward the front. Overtaking second halfway through the race, Whale put his head down and made a late-race charge to close the gap on his teammate in the final stretch. Despite a hard-fought effort, Whale came up just short as he crossed the line only 0.754 seconds away from his first win of the season.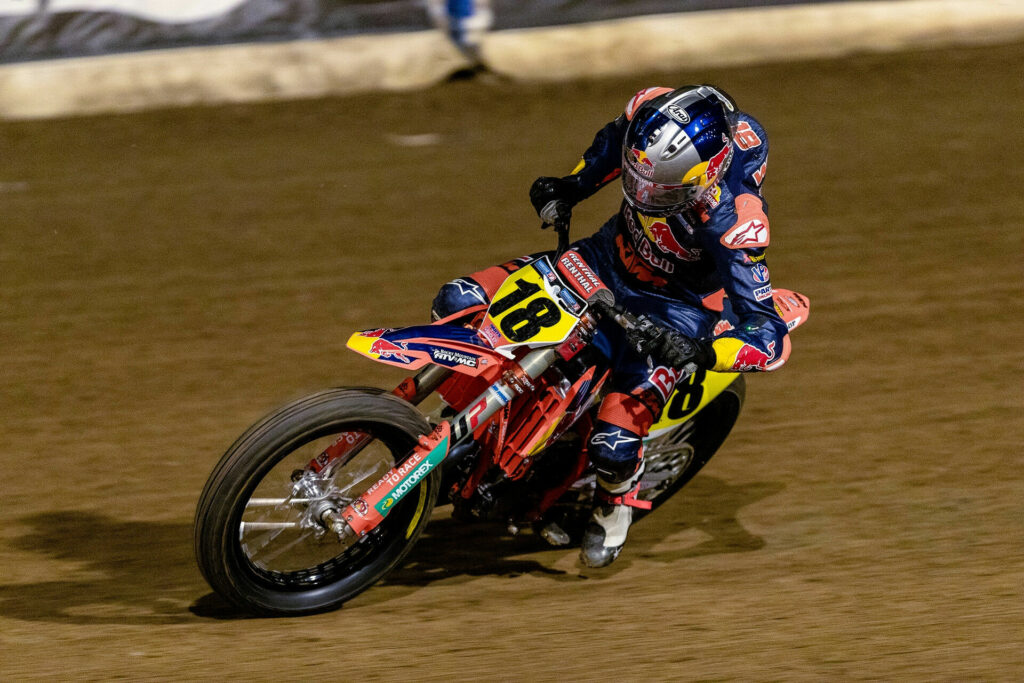 Max Whale: "This round had a different vibe and it was really tough. We had some more rain so it was really hard to go from qualifying to the Main Event without kind of getting those pre-race jitters out in the Semi. I had a good enough qualifying time for a front row start in the main and the first lap is really what made me lose the race. I fought back hard in the last half of the race and ended up second but it was too little, too late."
After three rounds, Kopp and Whale sit first and second overall, respectively, in the AFT Single Championship standings.
Next Race: Red Mile (Double Header) – Lexington, Kentucky – May 28-29, 2022
Round 3 Results – I-70 Half-Mile
AFT Singles Main Event 
1. Kody Kopp, Red Bull KTM Factory Racing
2. Max Whale, Red Bull KTM Factory Racing
3. Morgen Mischler, Honda
OTHER
5. James Ott, KTM
12. Travis Petton IV, KTM
16. Ryan Wells, KTM
AFT Singles Point Standings (After Round 3)
1. Kody Kopp, 70 points
2. Max Whale, 57
3. Morgen Mischler, 56
OTHER
13. Ryan Wells, 18
15. Hunter Bauer, 12
16. Tanner Dean, 11
More, from a press release issued by Royal Enfield North America:
FIRST OFFICIAL BTR FLAT TRACK FULL-GRID, JOHNNY LEWIS DEBUTS NEW CHASSIS AT I-70 HALF-MILE
Jaycee Jones fires first shot of 2022 BUILD. TRAIN. RACE. Flat Track, Moto Anatomy X takes next step in Royal Enfield Twins FT evolution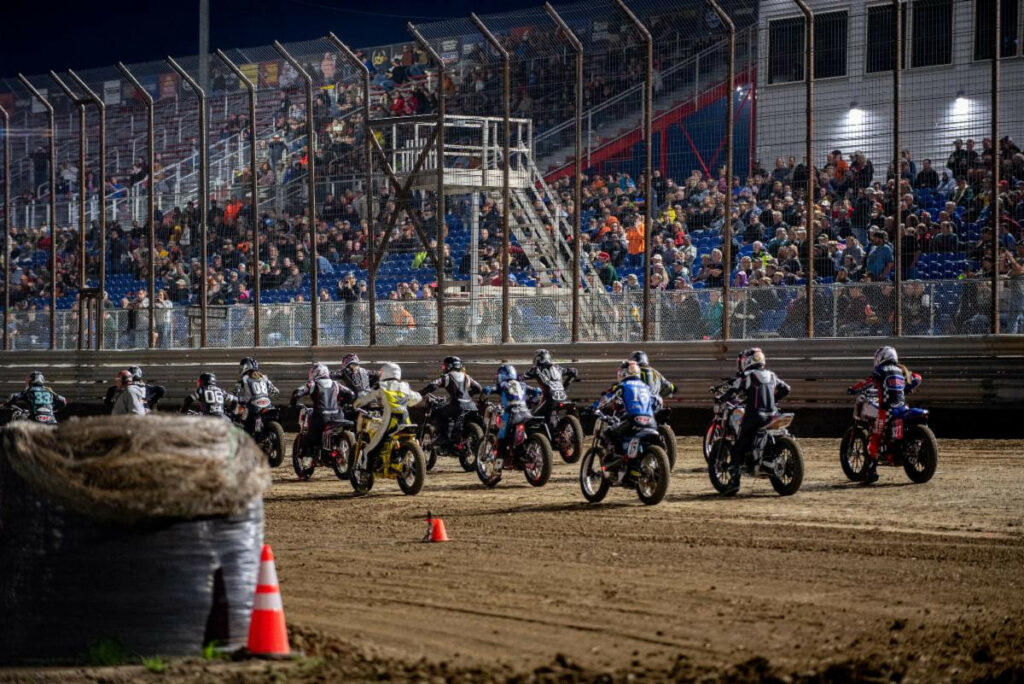 Milwaukee, WI (Monday, April 25, 2022) – The Royal Enfield Build. Train. Race. Flat Track program held its first full-grid race of the 2022 season at I-70 Motorsports Park in Odessa, Missouri, where seven returning riders and eight new faces took to the track. The larger field of racers combined with a new American Flat Track venue and some wild weather conditions created a whole new race dynamic, but in the end, there was a familiar face atop the podium—Jaycee Jones topped the first 2022 BTR Flat Track race featuring the full roster, storming to victory ahead of newcomer Zaria Martens and BTR veteran Jillian Deschenes.
The women of BTR Flat Track were looking forward to a test day I-70 Motorsports Park as a final test-and-tune session ahead of the season. But due to strong winds and track equipment issues, the program was abbreviated, only leaving the women with two test sessions. From there it was trial by fire as the BTR Flat Track field took to the grid for the first official round of the season (following the "BTR Select" exhibition at the Volusia Half Mile).
Jaycee Jones led the way from start to finish, never relinquishing control of the eight-lap race. Behind her, the battle to watch was between Zaria Martens and Jillian Deschenes. The two dueled throughout the race, much to the Missouri crowd's delight, with 18-year-old Martens besting veteran BTR racer Deschenes at the checkered flag.
"It was flawless racing by all 15 BTR Flat Track women, and a great start to the season," said Breeann Poland, Marketing and Communications Lead – Royal Enfield Americas. "Despite limited track time and the ladies not being able to get ample time on their bikes, they supported each other, offered each other advice and feedback, and went out there and put on a great race. Having 15 women from various backgrounds and personalities all under one canopy, working together with a shared competitive spirit is what we've always strived for."
Through the combination of seasoned veterans and newcomers, and an overall faster field of riders, the night proved to be particularly challenging for Gabrielle Hughes, who was faced with the challenge of improving her lap times in order to line up for the main event. Through teamwork and perseverance, Hughes summoned the fortitude to slash several seconds off her lap times to card her best-ever performance.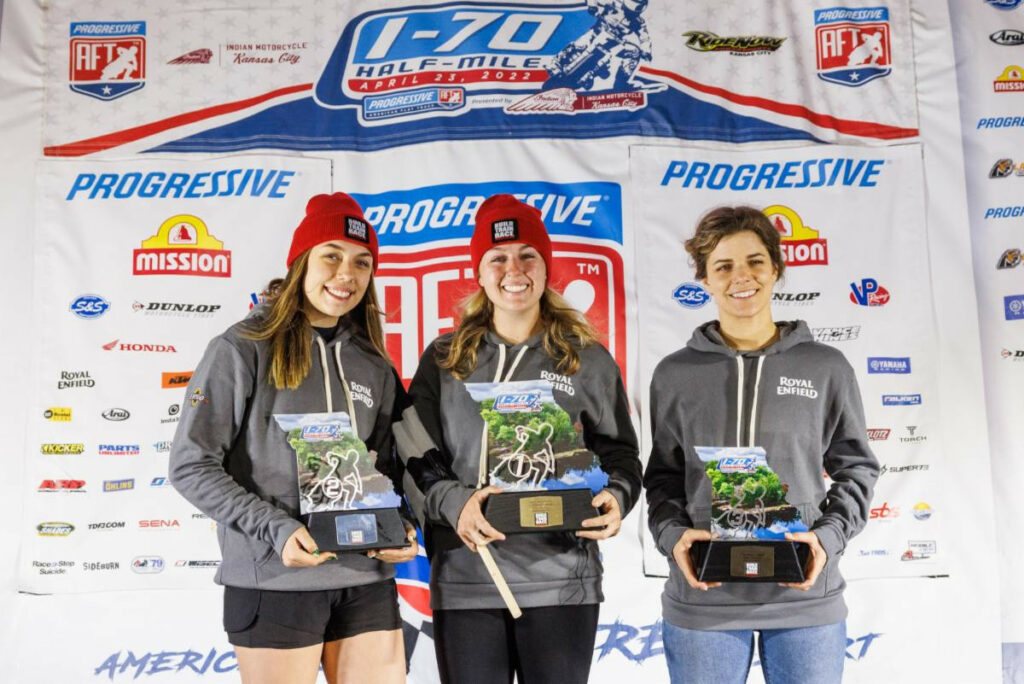 "It was a rollercoaster of emotions for me," Hughes said. "Our seven-session practice the day before the race but cut short after only two. The racetrack was a completely different beast the next day and the rough track terrified me. But Jillian and Zaria helped me get my head straight, and Bree lit a fire under my butt. My awesome team wouldn't leave me behind and I went out and beat two girls. I am hungry to keep pushing forward, and each race I am going to come back stronger this season."
JOHNNY LEWIS DEBUTS ALL-NEW CHASSIS
The I-70 Half-Mile also marked a first for Johnny Lewis and the Moto Anatomy X Powered by Royal Enfield Team, as they debuted an all-new Harris Performance-designed chassis in the Twins FT motorcycle. Lewis is taking on the full 2022 season in the Production Twins class of American Flat Track, where he and the team continue to make progress on the Twins FT.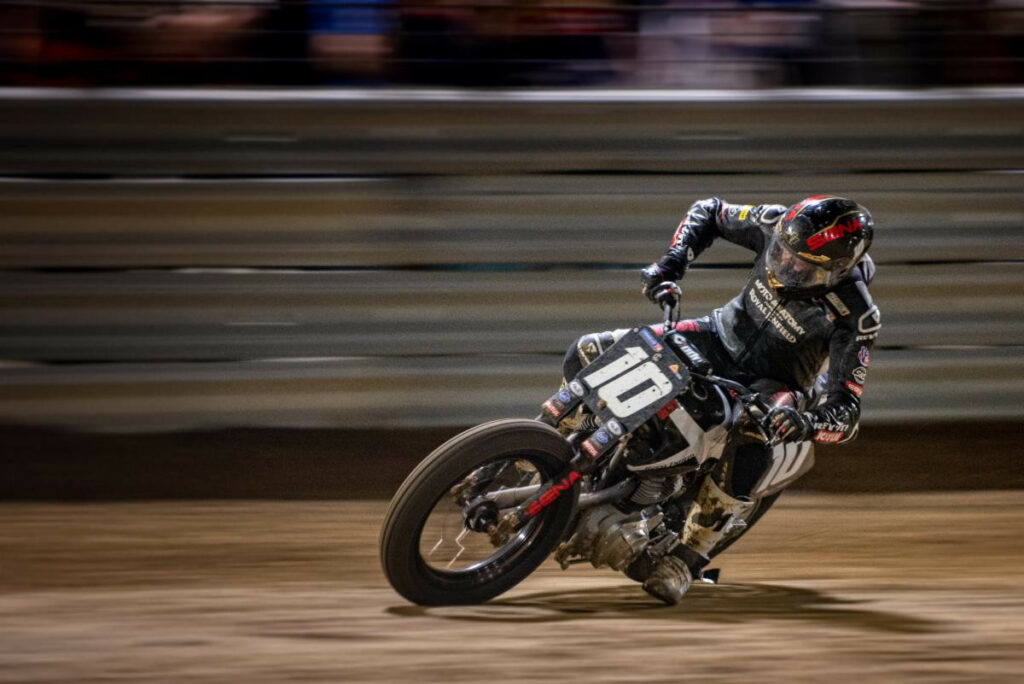 "This all-new chassis is a clean-slate design, and is the culmination of two years of race testing and feedback from Johnny Lewis," said Breeann Poland. "Together with the world championship-winning expertise of Harris Performance, this new chassis is much improved, and ready to take on a full season in American Flat Track racing."
The I-70 Half-Mile turned into the proving grounds for the new chassis, and although the test sessions that were originally slated to take place at the Odessa, Missouri venue were abbreviated due to weather and complications with track equipment, Lewis and the Moto Anatomy X Team were able to put the new chassis to the test.
"We were able to extensively test the new chassis for the first time at I-70," Lewis said. "Although we had very limited track time due to weather, we did what we could in that time. We were able to find some areas to improve on between now and our next race, the Red Mile, which happens to be the first Mile for Royal Enfield in AFT. We're feeling pretty excited and confident heading into uncharted territory in Lexington, Kentucky."
Lewis put in solid laps during the Production Twins main event, where he finished sixth in order to maintain a solid top-five position in the championship. Johnny and the team look forward to taking an important step at the following round—the first Mile race of the season—the Red Mile Doubleheader in Lexington, Kentucky taking place May 28-29.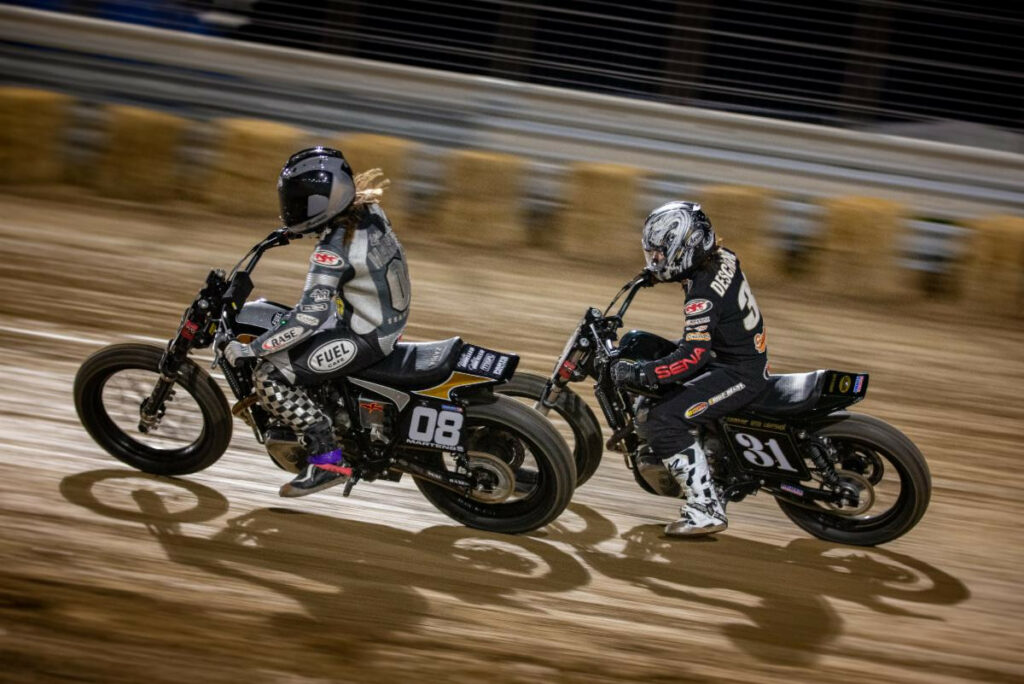 Royal Enfield BUILD. TRAIN. RACE. Flat Track
I-70 Half-Mile Results
1. Jaycee Jones
2. Zaria Martens
3. Jillian Deschenes
4. Lanakila MacNaughton
5. Stephanie Pietz
6. Makenna Hiatt
7. Malary Lee
8. Alex Bumpus McDonald
9. Erin Ferris
10. Anna Serena
11. Kaiela Hobart
12. Nean Kiskela
13. Gabrielle Hughes
14. Moriah Hummer
15. Mia Reese
Visit https://www.americanflattrack.com/results/default for detailed results.
About Royal Enfield
The oldest motorcycle company in continuous production in the world, Royal Enfield made its first motorcycle in 1901. A division of Eicher Motors Limited, Royal Enfield has created the midsize motorcycle segment in India with its unique and distinctive modern classic motorcycles. With its manufacturing base in Chennai, India, Royal Enfield has been able to grow its production rapidly against a surge in demand for its motorcycles. Royal Enfield is a leading player in the global middleweight motorcycle market.
Royal Enfield North America (RENA) is headquartered in Milwaukee, Wisconsin, and is developing a growing network of more than 150 dealers in North America, including the contiguous U.S., Canada and Puerto Rico. RENA currently offers the all-new Classic 350, Meteor 350, Himalayan and the 650 Twins (INT 650 and Continental GT 650) motorcycles, along with a range of Genuine Motorcycle Accessories and apparel.
For more information on Royal Enfield North America, visit www.RoyalEnfield.com/us/en/, www.Instagram.com/RoyalEnfield_NA, www.Facebook.com/RoyalEnfieldNorthAmerica.