Rispoli Crowned AFT Production Twins Champ, Robinson Runs Off in AFT SuperTwins at DAYTONA
Cose Scores Singles Win for Suzuki
DAYTONA BEACH, Fla. – With all eyes trained on the Progressive American Flat Track Grand National Championship points leaders, Brandon Robinson (No. 44 HCRR Racing/Ben Evans Racing Indian FTR750) stepped forward and stole the show in Friday night's Progressive AFT Finale at DAYTONA I at Daytona International Speedway in Daytona Beach, Florida.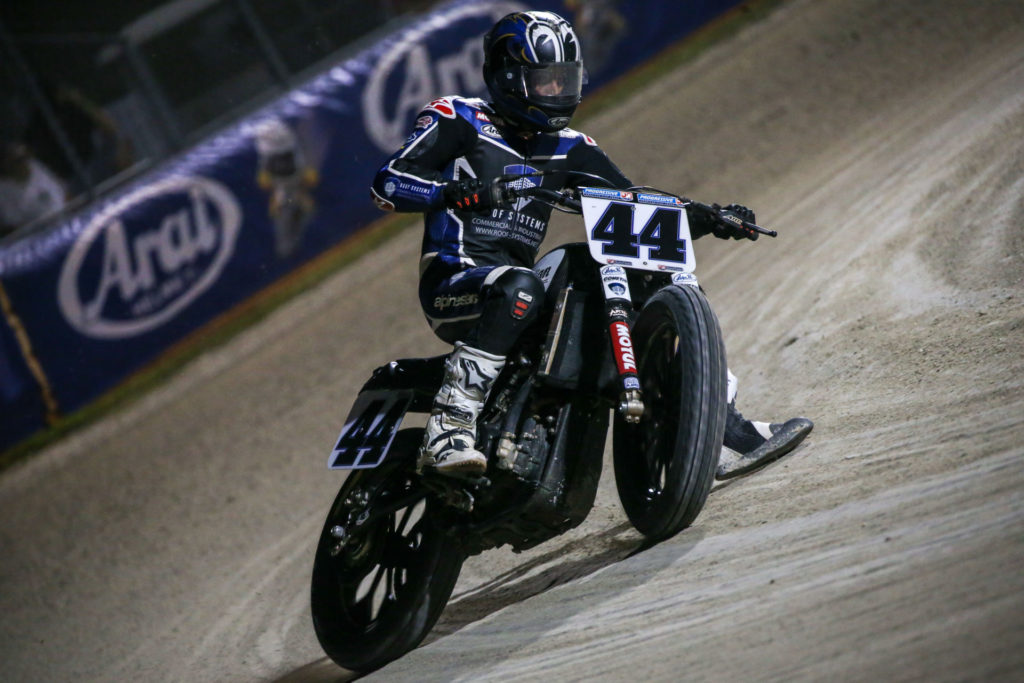 AFT SuperTwins presented by Vance & Hines title rivals Briar Bauman (No. 1 Indian Motorcycle/Progressive Insurance FTR750) and Jared Mees (No. 9 Indian Motorcycle/Progressive Insurance FTR750) opened the Main Event from first and second on the line. As they went elbow to elbow in an attempt to gain an early advantage over one another, their melee opened the door for Jarod Vanderkooi (No. 20 Harley-Davidson/Vance & Hines XG750R Rev X), Robinson and Robert Pearson (No. 27 Rackley Racing Indian FTR750) to rush past.
Vanderkooi enjoyed a short-lived spell out front before giving way to Robinson, who then proved utterly dominant over the race's final nine minutes despite racing with a broken right foot.
Robinson, who accepted his winner's trophy on crutches, said, "I'm absolutely ecstatic right now — I can't believe this. My Roof Systems team gave me an awesome motorcycle. All my guys stuck behind me through all the injuries. They believed in me and told me to go have fun, and here we are. This is unbelievable. I couldn't be happier; these guys deserve it, and all I wanted to do was get a win for my team."
With Robinson long gone, Bauman and Mees frantically fought their way forward to collect as many points as possible ahead of tomorrow's decisive race.
Reigning champ Bauman ultimately proved more successful in those efforts. He dispatched Pearson for third with a hard pass with six laps remaining, and then spent the remainder of his race chasing down Vanderkooi. That relentless pursuit paid dividends with less than a minute remaining on the clock when he worked his way through to earn second place and the 20 points that came along with it.
Despite being passed by Bauman late, Vanderkooi equaled his best ever premier-class finish in third.
Mees shook free from Davis Fisher (No. 67 BriggsAuto.com Indian FTR750) to reel in and sail past Pearson, moving into fourth position with four minutes remaining. However, Bauman and Vanderkooi were too far out in front, leaving him one spot off the box at the flag and with a considerably deeper hole to climb out of heading into Saturday's rematch.
With just one race to go, Bauman leads Mees 294-280. That means even if Mees wins tomorrow, Bauman needs only to finish eighth or better to repeat as AFT SuperTwins Champion.
AFT Singles presented by Russ Brown Motorcycle Attorneys
Chad Cose (No. 49 Wally Brown Racing/American Suzuki RM-Z450) finally broke through in the season's finale weekend to claim his first victory of 2020 in a hard-fought AFT Singles presented by Russ Brown Motorcycle Attorneys Main Event, a huge moment for his Wally Brown Racing effort, backed by factory Suzuki.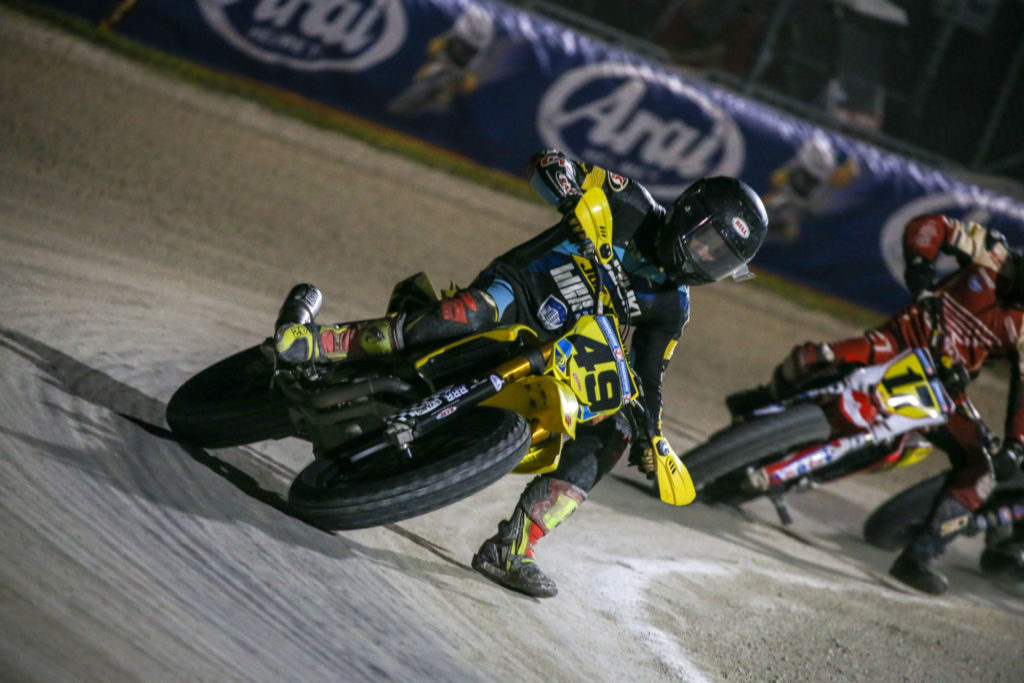 Cose twice beat Max Whale (No. 18 Coondoo Cattle Co./Australian Road Services Kawasaki KX450F) for the holeshot in the once red-flagged and restarted Main and never once gave up the position. That doesn't mean he had it easy, however; Cose was pushed throughout with Whale and Henry Wiles (No. 17 RMR Honda/Honda Talon CRF450R) both showing him a wheel at different times, including a final-lap attempt to steal away the win on the part of Wiles.
After taking the checkered flag, Cose said, "I'm just so pumped. Last year and the year before, it was a black eye just to be on this bike, and that's credit to my team giving me a good motorcycle. I'm just overwhelmed with emotion. It is so awesome to get my win here in DAYTONA. This is like my second home here, and I'm so happy for everybody who supports me. I know there's been some down days for us, but as long as I have these guys on my side, we're going to keep fighting, we're going to keep grinding, and we're not going to give up."
Wiles' runner-up result tightens the battle for second in the championship just a bit. Despite missing the previous round, he now trails Friday's third-place finisher, Whale, by 12 points (195-183) heading into tomorrow's season finale.
Also in the mix throughout was already crowned 2020 AFT Singles champion Dallas Daniels (No. 32 Estenson Racing Yamaha YZ450F). Daniels was fighting an uphill battle starting from Row 3 as a result of a crash in the Semi, but he still managed to join the battle for the win. He ultimately finished fourth, falling just 0.749 seconds short of extending his six-race win streak to seven.
Meanwhile, Daniels' teammate, Mikey Rush (No. 15 Estenson Racing Yamaha YZ450F) was forced to start from the back of the pack due to an opening-lap incident that saw him go down while running third. Still, he somehow managed to slash his way up from last place to take an impressive fifth on the little bullring circuit.
As a result, Rush retains a slim mathematical shot at a second consecutive championship runner-up finish; he now trails second-ranked Whale by 25 points with tomorrow's race left to decide the final order.
AFT Production Twins
An historic AFT Production Twins Main Event saw Johnny Lewis (No. 10 Moto Anatomy X Powered by Royal Enfield Twins FT) claim Royal Enfield's first-ever AFT victory and season-long dominator James Rispoli (No. 43 Latus Motors Racing Harley-Davidson XG750R) crowned the class' champion.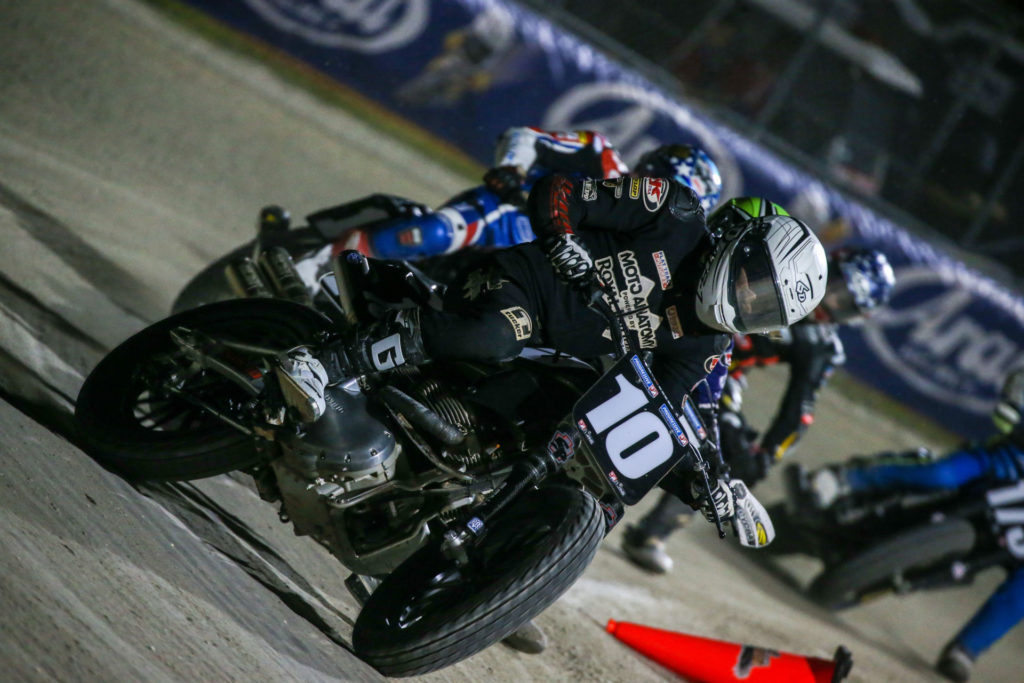 Despite his underdog status on the upstart RE effort, DAYTONA Short Track genius Lewis controlled the evening in the AFT Production Twins. He escaped to an easy win in his Semi, qualified on pole and finished things off by going wire-to-wire in the Main Event.
Lewis fought back an early challenge from Ben Lowe (No. 25 Roof Systems/Bruce Lowe Excavating Yamaha MT-07), asserted at the front himself mid-race, and then successfully held off a desperate charge from Cory Texter (No. 1 G&G Racing/Roof Systems Yamaha MT-07) in the race's waning moments to secure the win.
Afterward, Lewis said, "I was skeptical coming here riding twins on this track, but it's actually a lot of fun. It's a little bit more work than riding a 450, but it was a lot of fun to ride this Royal Enfield around here.
"Everybody's support for this program has been awesome. We've been busting our butts all season, and it feels good to not only get to the podium, but win a race. I'm excited to continue this effort with Royal Enfield, and I'm excited to come back out tomorrow."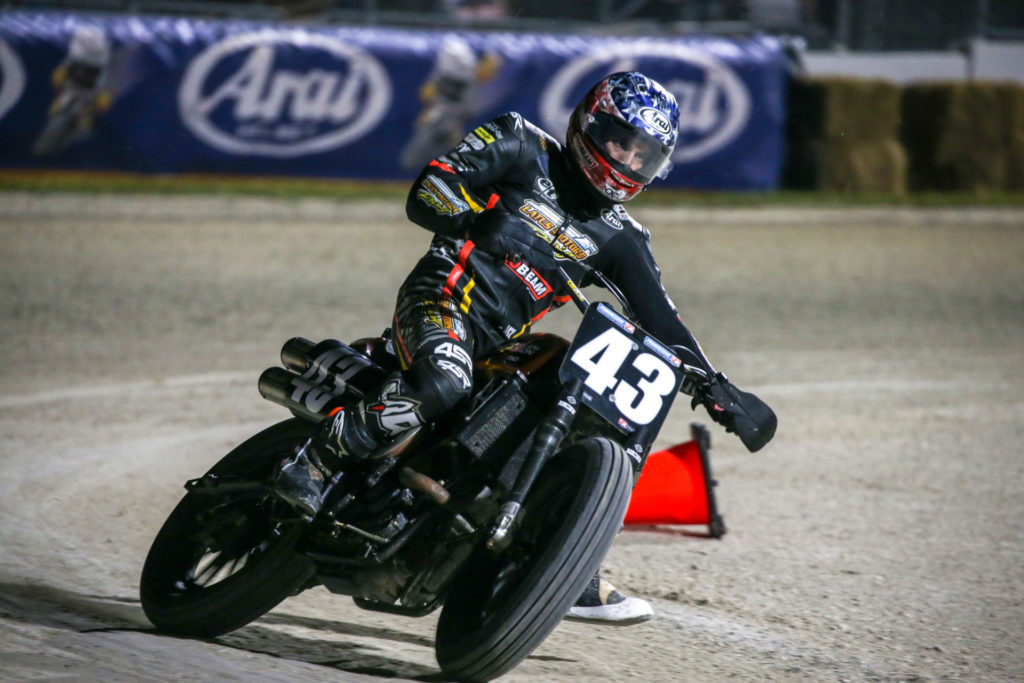 Rispoli, meanwhile, sat a safe-yet-close fourth behind Lewis, Texter, and Lowe for almost the entire race. Even if Texter had beaten Lewis to the checkered flag, all he needed was a seventh to end the title fight early. Fourth was more than enough.
With tomorrow's race still to go, Rispoli has racked up seven wins, four runner-ups, two fourths, and a fifth en route to the 2020 AFT Production Twins throne. This championship marks the first for Harley-Davidson since the introduction of the XG750R, a pivotal moment for one of the most iconic manufacturers in the history of the sport.
"I'm so fired up — thank you to my HogSpoli nation out there!" an exuberant Rispoli said. "Tonight I thought we had a shot at the win, but these guys were riding so good. To be honest, I didn't want to throw it away. Tomorrow, we'll come back and go for the win, and then we'll let the celebrations begin."
The Progressive AFT Finale at DAYTONA I & II will air back-to-back on NBCSN on Saturday, October 31, starting at 11:00 p.m. ET/8:00 p.m. PT. The broadcasts will include exclusive features, cutting-edge aerial drone and onboard footage, and the expert commentary of Progressive AFT legend Chris Carr.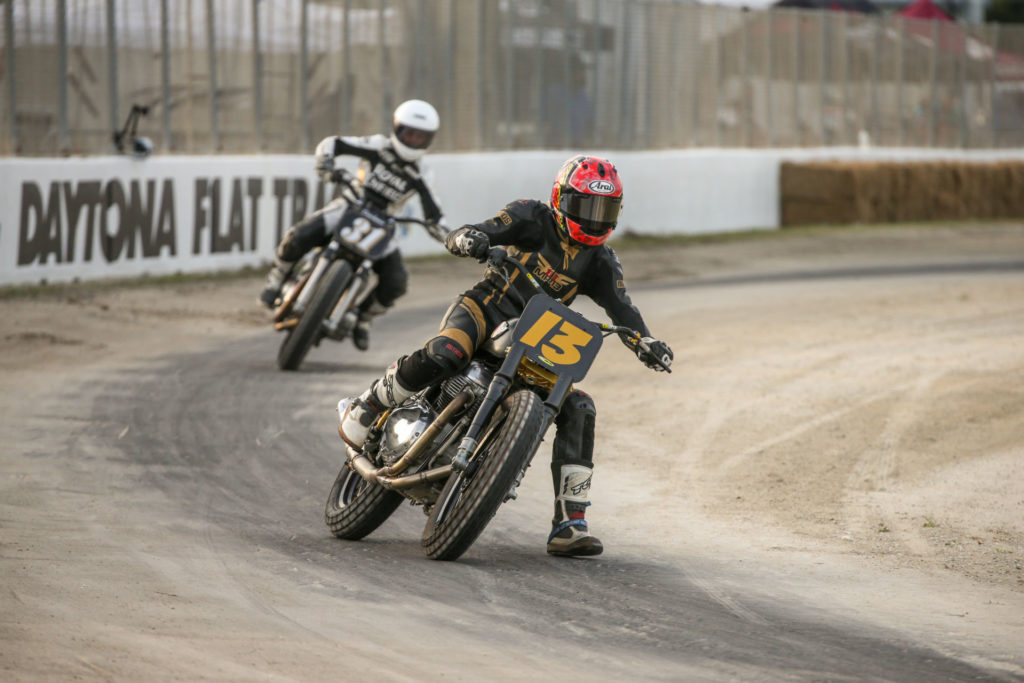 Next Up:
The final round of the 2020 Progressive American Flat Track will take place tomorrow night with the running of the Progressive AFT Finale at DAYTONA II. Gates will open for fans at 3:30 p.m. ET/12:30 p.m. PT with the Main Event program scheduled for 8:00 p.m. ET/5:00 p.m. PT. Tickets for Progressive AFT's final event of 2020 are available now at https://store.americanflattrack.com/ebooking/ticket/view/id/3134. Live coverage of the entire weekend's racing activities will be available on any device for less than $1 per event via TrackPass on NBC Sports Gold.
For more information on Progressive American Flat Track visit https://www.americanflattrack.com.
To score the latest gear for the Progressive American Flat Track fan, visit the Official AFT Merchandise store at https://store.americanflattrack.com.
More, from a press release issued by Royal Enfield North America:
Johnny Lewis wins AFT Finale at Daytona I
Victory is the first for Royal Enfield in AFT competition
MILWAUKEE, Wis — On a humid night in Daytona, Fla Johnny Lewis made history for Royal Enfield by capturing the checkered flag in the Production Twins class during the American Flat Track (AFT) Finale at Daytona I. Lewis led from start to finish on the Twins FT to give Royal Enfield its first ever win in the series. The win also marks the first racing competition win in Royal Enfield's modern history.
The team arrived in Daytona in high spirits, and despite having issues in the first practice, Lewis showed resilience by winning his Semi, giving him grid choice. Lewis made a strong initial start to the race, fending off the rest of the field. The Main was then red flagged due to a downed rider and the grid was reset. During the second restart, Lewis rode the inside line aggressively, taking the holeshot. Lewis began to distance himself from the field and went on to take the flag to flag victory.
"My confidence was high going into this weekend, " said Lewis, rider and Moto Anatomy x Royal Enfield team owner. "I left Charlotte to practice at my home track and work on the chassis setup since it's a similar track to Daytona. Everyone has worked extremely hard to get to this point. One of my mechanics, Ben Groh, has been with me every day since August 1. I'm thrilled earn this win for the teams in India, the UK and North America. Tomorrow is another day, and it would be really satisfying to end the championship with two wins on a new bike in its developmental season."
The Moto Anatomy x Royal Enfield team made its debut at the Williams Grove Half-Mile in Mechanicsburg, PA with positive results. In the following round, a valve issue prevented the team from competing in the subsequent AFT races in Atlanta, GA. The team then showed promise at the following round in Charlotte, NC but racing was canceled due to rain.
While the goal of Lewis' program has been development of the Twins FT platform, the desire for positive results has driven the team from the onset of the program.
"Just over a year ago we decided to go flat track racing in AFT," said Adrian Sellers, Head of Royal Enfield Customs. "The goal for our first year was to learn and work towards competitive results. We couldn't have imagined that we would win a race, and the result at Daytona I is overwhelming. We've had an incredible season of development, and the team has given its all to finding the solutions that got us over the line. Whatever happens at tomorrow's race, we'll go into the off-season and next year fueled by the knowledge that we can win."
Lewis will compete again Saturday evening at the AFT Finale at Daytona II in the Production Twins class and aims to score double victories to conclude the 2020 AFT season. Fans can tune into Royal Enfield's social channels and NBC Sports Gold to follow Lewis and the Moto Anatomy x Royal Enfield team tomorrow. Coverage begins at 6:30 PM EST.
About Royal Enfield
The oldest motorcycle company in continuous production in the world, Royal Enfield made its first motorcycle in 1901. A division of Eicher Motors Limited, Royal Enfield has created the mid-size motorcycle segment in India with its unique and distinctive modern classic motorcycles. With its manufacturing base in Chennai, India, Royal Enfield has been able to grow its production rapidly against a surge in demand for its motorcycles. Royal Enfield is a leading player in the global middleweight motorcycle market.
Royal Enfield North America (RENA) is headquartered in Milwaukee, Wisconsin, and is developing a growing network of more than 125 dealers in North America, including the U.S., Canada, and Puerto Rico. RENA currently offers the Bullet 500, Classic 500, Himalayan and the all new 650 Twins: INT 650 and Continental GT 650 motorcycles along with a range of genuine motorcycle accessories and apparel.
The Moto Anatomy x Royal Enfield team is supported by Harris Performance, SENA, Spectro Oils, Beringer Brakes, Solid Performance, EVS, ODI, Just 1, Tucker, Saddlemen, S&S Cycle, Team Lawant, Qualye Construction and Goon Glass and Rubber.
For more information on Royal Enfield North America, please visit www.RoyalEnfield.com/us/en/, www.Instagram.com/RoyalEnfield_NA, www.Facebook.com/RoyalEnfieldNorthAmerica.
More, from a press release issued by Yamaha:
Estenson Racing Charges Forward at Daytona
Newly crowned Progressive American Flat Track AFT Singles champion Dallas Daniels and his Estenson Racing teammate, Mikey Rush, overcame adversity to finish fourth and fifth, respectively, in the penultimate race of the 2020 season on Friday evening at the Daytona International Speedway. AFT SuperTwins contender JD Beach completed a sweep of top 10s for the team in the premier class, securing his best result of the 2020 season after racing his way forward to claim eighth at the checkered flag.
Daniels' hopes of stretching his remarkable win streak to seven took a major hit when he was thrown over the bars and run over in a chain reaction crash early in his Semi. Undaunted, the 17-year-old bounced back to his feet and remounted his YZ450F to take the restart from the back of the pack. Daniels made up several spots to safely earn a qualifying position for the Main, but was forced to start from the third row as a result. He still managed to slot into fourth relatively early, which is where he would stay for the remainder of the race.
By contrast, Rush cruised into the Main, winning his Semi in spectacular fashion from the third row of the grid. However, he was caught up in a multi-rider incident while running third on the opening lap of the Main Event. Forced to restart from the back of the pack, Rush called upon his considerable Daytona Short Track expertise to immediately pick off several riders around the outside. With his head down, Rush clocked a fast lap more than a tenth of a second better than any of the riders who finished ahead of him, slicing all the way up to fifth before the checkered flag ended his charge.
For Beach, the day was one of constant improvement. After struggling earlier in the day with the set-up, Beach found what he was looking for in the Main. Despite starting from the fourth row, Beach made up a handful of positions on a difficult battleground to overtake the competition. He ultimately finished eighth, his best result of his four top 10s this season with one final opportunity remaining to set the bar even higher tomorrow night.
The Estenson Racing team is set to conclude the 2020 American Flat Track season with the second half of the AFT Season Finale doubleheader at the Daytona Short Track on Saturday night.
Tommy Hayden – Estenson Racing Team Manager
"Overall, I'd say the day didn't go too bad. It definitely could have been worse. The Singles guys were kind of in the wrong place at the wrong time and got tangled up twice. They were in the back of the grid for the restarts, and at a little track like this, it's hard to pass. Coming from the fourth row makes it really tough, so to get both guys in the top five was about all we could ask for. With a little better luck, I think Mikey could have won. So that's a little disappointing, but we get another chance at it tomorrow.
"JD improved all day. For the Main Event, he made a big step forward and charged the entire race. It's good to get his best finish of the year, and there were some other promising things with how the race went that have us excited for tomorrow. Hopefully, we can pick up where we left off tonight and make another step tomorrow."
Dallas Daniels – Estenson Racing AFT Singles
"The day started off decent. It's the first time I've been to this track in a few years and the first time I've ever been here on a 450. I got a pretty good start in the Semi but coming out of Turn 2 one person kind of lit it up and was sideways, and then one guy stopped, and then I had to slam on the brakes. I ended up stalling my bike, and it just spun around on me. I got run over and kind of messed up my foot a little bit. But, I was able to get back up and collect myself and got fifth in the Semi just to put it in the Main Event.
"In the Main, I started outside of Row 3. I got a good start after the red flag, and I think I came out of the first corner in fourth. I literally ran the whole race in fourth. Honestly, it's a really good result for how the day went, but it's kind of a bummer because I think we could have been in the hunt for the win if we were on the front row. But it's all good. We salvaged a good position, and the championship is over, so I wasn't stressing about trying to make passes or something. I was just out there having fun. We'll give it another go tomorrow."
Mikey Rush – Estenson Racing AFT Singles
"We started off the day struggling a little bit with set-up, but then the track came to me in the Semi. I came from the outside of the third row and figured I'd go to the top of the middle of the track up in the cushion and made that work. I passed everyone and won the Semi; that was awesome.
"In the Main, I didn't get the greatest jump off the line and kind of shut off early to settle in on the bottom, and another guy got into me and kind of pushed me wide. Then someone crashed, and I had nowhere to go. So I had to come from the back of the pack. All in all, the team did a great job with the bike, and I'm glad to get back into the top five. We've got something to build off of tomorrow, and we've got another shot at it. Hopefully, we can get up on the podium."
JD Beach – Estenson Racing AFT SuperTwins
"It was a good race. We definitely struggled a little bit when we started the day out. We were just kind of off with the set-up and chasing it a little bit. We've done a lot of laps on a short track with this bike, but the dirt was just completely different, so what we had just wasn't working. As the night went on, we got better and better. With the Main Event, we got a little lucky with the track because they dug it up a little bit, but as the race went on, it got a groove on it. When it was dug up, we could move forward a little bit, and then as the groove got real dark, it was working really good for us. I think coming from Row 4 to eighth was good. Hopefully, tomorrow we won't be chasing the bike all night, and we can qualify better and try to get up there even higher."
More, from a press release issued by Harley-Davidson:
RISPOLI CHARGES TO AFT PRODUCTION TWINS CHAMPIONSHIP ON HARLEY-DAVIDSON XG750R
Latus Motors Racing Rider Clinches Flat Track Title at Daytona Speedway
DAYTONA BEACH, Florida (October 17, 2020) –  Latus Motors Racing rider James "The Rocket" Rispoli clinched the 2020 American Flat Track (AFT) Production Twins championship with a fourth-place finish aboard a Harley-Davidson XG750R motorcycle at the Progressive AFT Finale at the Daytona International Speedway Short Track in Daytona Beach, Fla. With one race left in the season Rispoli has 300 points and an insurmountable lead over the rest of the AFT Production Twins field.
"I'm so fired up! Thank you to my HogSpoli Nation out there," an exuberant said Rispoli after receiving the #1 championship number plate following the race. "Tonight I thought we had a shot at the win, but these guys were riding so good. To be honest, I didn't want to throw it away. Tomorrow we'll come back and go for the win, and then we'll let the celebrations begin."
The championship is the first for a rider competing on the Harley-Davidson XG750R, a motorcycle built for competition and powered by the liquid-cooled, fuel-injected and race-tuned Harley-Davidson® Revolution X™ V-Twin based on the production engine originally designed for the Harley-Davidson Street 750 motorcycle.
After finishing in second place in the first three races of the season, Rispoli won for the first time on the Indy Mile in August and has won six more races, including a mid-season string of five in a row – Springfield Mile II, Williams Grove I and II, Dallas Half Mile I and II – that powered the number 43 Harley-Davidson bike into first place in the class standings. Rispoli scored his seventh win at the Atlanta Short Track II race on Oct. 3.
The 29-year-old racer from Londonderry, N.H., began racing AMA flat track in 2008 and finished second in the GNC2 class in 2009. Rispoli then turned his attention full-time to motorcycle road racing, winning AMA SuperSport national championships in 2010 and 2011, and raced in the British Supersport series from 2014 to 2018. In 2019 Rispoli returned to AFT competition, placing sixth in AFT Production Twins with four podium finishes. For the 2020 season Rispoli joined the Latus Motors Racing team, founded by George Latus, owner of the Team Latus Motors Harley-Davidson dealership in Gladstone, Oregon. In the mid-2000s, Latus Motors garnered race wins and top-three championship finishes while serving as the title sponsor for the 2000 Grand National Champion Joe Kopp, who is now the manager of Latus Motors Racing.
"I was involved in flat track for a lot of years, and we kind of put a hold on things for a couple of years, but we saw the direction American Flat Track was going, and it's moving forward in a very positive way," said Latus. "We were looking to get back into it and recognized the potential of the Harley-Davidson XG750R and the Production Twins class as the perfect way to do that."
The AFT season concludes Oct. 17 with AFT Singles, AFT Production Twins and AFT SuperTwins racing again at the Daytona International Speedway Short Track.