Former AMA Pro dirt track racer, Arai Helmet distributor, and AMA Motorcycle Hall of Famer Sammy Tanner has died. He was 84 years old.
Details are still coming in, and we will report more information as it becomes available.
The following is Sammy Tanner's official AMA Motorcycle Hall of Fame biography:
Sammy Tanner was one of the top AMA professional racers from the late 1950s through all of the 1960s. Tanner won a total of seven AMA nationals, including the prestigious Springfield (Illinois) Mile. He rode for the Triumph and BSA factory teams and was one of the heroes of the famous weekly Friday night Ascot Park races in Gardena, California. When Tanner first began racing as a young teenager, he was just 5 feet tall and weighed barely 100 pounds, earning him the nickname the "Flying Flea." He was also known for being one of the first riders on the Grand National circuit to wear white racing leathers.
Tanner was born on May 23, 1939 in Houston. He grew up in Houston and as a young boy loved to watch both sprint car and motorcycle dirt track racing. Fellow Texan A.J. Foyt was an early hero. He bought a sprint car as a teenager, but was too scared to drive it so he sold it, doubling his money. When he was 14, Tanner bought his first motorcycle – a Villiers James. Shortly afterwards, Tanner started racing in local field meets around Texas and soon earned a support ride on a 500cc Triumph.
While following the county fair circuit in the Midwest one summer, an announcer jokingly said that Tanner was a rock 'n' roll star back home in Texas. Fans swamped him after the race asking for his autograph and copies of his record, even though he had never made a recording in his life. The race announcer saw an opportunity and quickly put Tanner in the recording studio to cut a record, including a hastily written tune based on Tanner's nickname. The song began: "When I was born in a Texas shack, Pop took one look and said send him back. No scrawnier runt ever lived than me, but now I'm known as the 'Flying Flea.'"
Tanner burst onto the AMA Grand National scene as a rookie Expert in 1958. The "Flying Flea" did fly and finished sixth in his first year on the circuit. Indicative of what the future held in store was his runner-up finish in that year's San Jose National Mile. After defending Grand National Champion Joe Leonard's track record was broken not once but three times in time trials, the 25-lap race turned into a barnburner. Carroll Resweber, who would go on to win the first of his four Grand National titles that year, and eventual winner Everett Brashear and Don Hawley swapped the lead back and forth an astonishing 55 times! When the checkered flag fell, Brashear was first across the line, but it was the rookie Tanner in second ahead of Resweber. Tanner had arrived.
Tanner, who had established residency in California, topped the AMA's half-mile race points list in his rookie year, and duplicated that feat in 1959. That year saw the opening of the new Ascot half-mile facility in Gardena, California, and it was Tanner who won the first-ever Grand National held there that July. In that era, AMA nationals were run for varying distances and that race was an 8-mile event. Tanner's skill, combined with the ultra-fast characteristics of the track, produced a new eight-mile race record, breaking the old record by six seconds.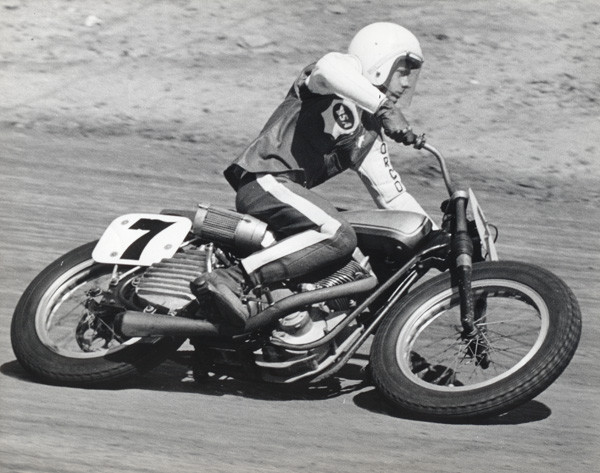 Tanner's early successes came while riding a Triumph sponsored by Johnson Motors, the West Coast distributor of Triumph motorcycles. Ascot hosted races every Friday night during a lengthy southern California race season and for many years Tanner dueled with the likes of three-time Ascot National winner Al Gunter, 1961 Ascot National winner Neil Keen, Elliott Schultz, Stu Morley, Troy Lee, Jack O'Brien and Don Hawley. From the opening Ascot National that Tanner won in 1959 through the 1966 event, the winner was either Tanner, Gunter or Keen. After his opening-year Ascot win, Tanner topped the half-mile National at the track three more times, winning in three consecutive years, 1964-66. He had switched from riding Triumphs to competing on BSAs, prepared by the legendary C.R. Axtell.
Although four of Tanner's seven Grand National victories came at his "hometown" Ascot track, perhaps his finest ride was turned in at the 1964 Springfield Mile. Tanner took the lead on the 26th lap of the 50-mile race and he dueled the remainder of the race with Dick Mann, and briefly Ronnie Rall, before crossing the finish line first, a narrow three bike lengths ahead of Mann. His victory on a BSA at Springfield broke a 10-year Harley-Davidson victory stretch at the famed oval. Mann was also BSA-mounted, so the first Harley finished third with Ralph White aboard.
Two years later, in 1966, Tanner scored his fourth Ascot National win, and added wins in half-mile Nationals at Elkhorn, Wisconsin, and Heidelberg, Pennsylvania. He finished the year third in the Grand National Championship point standings, trailing only fellow Motorcycle Hall of Fame members Bart Markel and Gary Nixon.
Tanner hung up his steel shoe in 1972 and now operates an Arai helmet distributorship in Southern California.
Inducted in 1999
More, from a social media post by Arai Americas:
It was with great sadness that we have learned of the passing of our good friend, and dedicated Arai Helmet distributor, Sammy Tanner.
Sammy was a successful flat tracker who, after hanging up his leathers, turned his passion for motorcycling into a business. He was one of the first to believe in the Arai difference and we will always remember and appreciate his dedication to always representing Arai to the best of his ability, which contributed greatly to the success of Arai in America.
He was a kind human being, who looked to not only grow his own business, but help others along the way. We will miss his positive attitude and infectious smile. He will be missed and remembered fondly.
More, from a press release issued by AMA:
The AMA Offers Condolences on the Passing of AMA Motorcycle Hall of Famer Sammy Tanner
PICKERINGTON, Ohio — The American Motorcyclist Association offers its condolences to the family, friends and team of seven-time AMA Grand National Championship event winner and 1999 AMA Motorcycle Hall of Fame Inductee Sammy Tanner, who passed away on Sept. 21.
Born May 23, 1939, in Houston, Tanner purchased his first motorcycle — a James Villiers — at 14 years old and fell in love with the sport right away. Shortly after purchasing his bike, Tanner started racing in local field meets throughout his home state of Texas, and soon after earned a support ride on a 500cc Triumph. Due to his 5-foot, 100-pound stature, Tanner was lovingly dubbed "The Flying Flea" by fans and fellow racers alike.
In 1958, Tanner made the leap to the professional ranks, finishing sixth in the AMA Grand National Championship during his rookie season and emerging as the top points earner in Half-Mile races, and duplicated that same feat in his sophomore campaign. In that same season, Tanner captured the first of his four AMA Grand National Championship wins at the legendary Ascot Half-Mile facility in Gardena, Calif.
After his first win at Ascot, Tanner ripped off three-straight victories at the famed Half-Mile track from 1964-66 while competing aboard both Triumphs and BSAs.
While Tanner's dominance at Ascot is well-documented, his finest ride came at the 1964 Springfield Mile, in which he outlasted fellow AMA Motorcycle Hall of Famers Dick Mann and Ronnie Rall for the victory. His victory aboard the BSA broke a 10-year Harley-Davidson winning streak at the track.
In 1966, Tanner added Half-Mile victories in Elkhorn, Wis. and Heidelberg, Penn., and finished third in the Grand National Championship point standings behind fellow AMA Motorcycle Hall of Famers Bart Markel and Gary Nixon.
The Flying Flea retired in 1972, and operated an Arai helmet distributorship in Southern California following his racing career.
About the American Motorcyclist Association
Founded in 1924, the AMA is a not-for-profit member-based association whose mission is to promote the motorcycle lifestyle and protect the future of motorcycling. As the world's largest motorcycling rights and event sanctioning organization, the AMA advocates for riders' interests at all levels of government and sanctions thousands of competition and recreational events every year. Besides offering members money-saving discounts on products and services, the AMA also publishes American Motorcyclist, a recently revitalized and monthly full-color magazine (and digital version of same) that covers current events and motorcycle history with brilliant photography and compelling writing. American Motorcyclist is also North America's largest-circulation magazine. Through the AMA Motorcycle Hall of Fame in Pickerington, Ohio, the AMA honors the heroes and heritage of motorcycling. For more information, visit americanmotorcyclist.com.
Not a member? Join the AMA today: americanmotorcyclist.com.