AHRMA Benefit For Roadracing World Action Fund To Help Improve Rider Safety
AHRMA is hosting a benefit for the Roadracing World Action Fund, a 501(c)(3) non-profit charity with a mission of improving rider safety by educating riders as well as track and organization officials about the importance of deploying soft barriers, as well as facilitating the deployment of soft barriers.
Since its founding in 2001, the RWAF has raised money to purchase and deploy (and maintain, repair, and replace) hundreds of sections of soft barriers (made by Airfence and by Alpina) at races and track day events at dozens of racetracks nationwide. The soft barriers are designed to be placed and tied down in front of steel barriers, concrete walls, tire walls, and dirt and rock embankments located in impact zones at racetracks. Soft barriers work when air held in an ambient air chamber is forced through blow-off valves at a controlled rate to absorb energy from an impact and decelerate a rider, helping reduce the potential for serious injuries.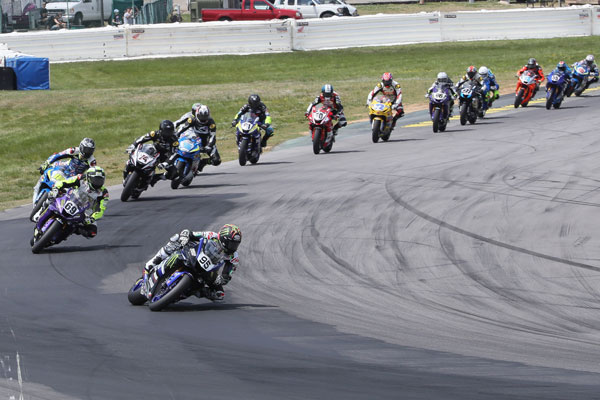 (Above) Inflatable Alpina soft barriers deployed at a MotoAmerica Supersport race at Virginia International Raceway. Photo by Brian J. Nelson.
MotoAmerica racer Kyle Wyman demonstrated how effective soft barriers can be when his Superbike lost its front brakes at 150 mph (due to a set of brake pads falling out) on a racetrack straightaway. Data acquisition systems on his bike and in his leathers showed that Wyman left the track at 140 mph and bailed out in a gravel trap; Wyman himself body-slammed a RWAF Airfence-brand soft barrier section (deployed in front of a tire wall) at 104 mph, decelerated to 0 mph in the thickness of the section (about four feet), and walked away without suffering life-changing injuries!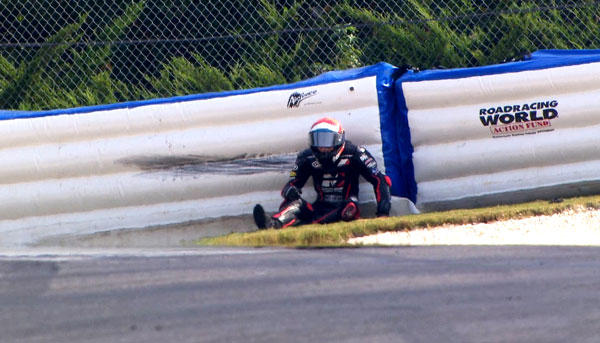 (Above) Kyle Wyman sitting up and catching his breath after body-slamming an Airfence inflatable soft barrier at 104 mph. Photo by beIN SPORTS, courtesy of MotoAmerica.
Every soft barrier section that AHRMA funds will have an AHRMA logo imprinted on one end, which is a great way to give AHRMA national exposure!
AHRMA members are invited to participate in AHRMA's fundraiser by making a tax-deductible donation directly to the Roadracing World Action Fund using the methods outlined below. Please make sure to note with your donation that your contribution is in support of AHRMA's fundraising efforts. In exchange for your donation, you will receive correspondence permitting you to claim your charitable donation as a tax deduction.
Our fundraiser starts immediately, and will continue through October 31, 2019.
How to Donate
To help save lives and prevent injuries at the racetrack, you may make your donation as follows:
•call (909) 654-4779 to donate by credit card (M – F, 9:00 a.m. – 5:00 p.m. Pacific Time);
•donate via Paypal to [email protected]; or
•send your tax deductible donation to:
Roadracing World Action Fund
P.O. Box 1428
Lake Elsinore, CA 92531
Your name will be added to Roadracing World's growing list of contributors.

(Above) A racer passes by inflatable Airfence soft barriers at Auto Club Speedway. Photo by CaliPhotography.com.
More About Soft Barriers
Soft barriers come in two versions, a inflatable longer version (about 30 feet long) designed to be folded up and transported between tracks, and another, shorter version (about six feet long) which does not fold up and is designed to deploy at a single track. The ambient air chamber in the longer version is supported by inflated ribs and columns, and the barrier is inflated before being deployed and tied down. The ambient air chamber in the shorter version (which does not fold up) is supported by closed-cell foam ribs and columns, which are less likely to be damaged or need repair after being hit by a crashed motorcycle. Both types of soft barriers have been deployed during every AHRMA event weekend at New Jersey Motorsports Park since 2012, with the inflatable sections deployed and maintained by an ASRA/CCS crew.
Other racing organizations RWAF is currently working with (or has worked with) include MotoAmerica, AHRMA, AMA Racing, ASRA/CCS, AFM, CMRA, LRRS, MCRA, SMRI, and WERA. Track day organizations RWAF is currently working with include Fastrack Riders, Midwest, Motovid, N2, PRE, XCEL, and others.