AFM Laguna Registration opens tonight 8PM for AFM license holders (9-26 for reciprocity). It's gonna be a GASSER!
Note: if purchasing a license while registering, you WILL be able to register during the AFM license holder period (today).
On behalf of the AFM BOD:
Finally. FINALLY, it's here…AFM Registration opens today for the final round of our 2022 season at none other, than historic Laguna Seca Raceway in Monterey! Ever since joining the AFM on my first race weekend, March 2002, I've heard the whispers, quips, pleadings, rumors, wants, "what-ifs", and conspiracies about the AFM and Laguna Seca Raceway. Why we won't go back, why we haven't gone back, and why we left. The quips were ok though…we had Sonoma and we had LOTS of Sonoma back then. Gradually, we moved to less Sonoma rounds and eventually made the decision to cut Sonoma until the track surface was upgraded. That decision was hard. Very hard. Losing a world class facility robbed the club of its heritage. During that period of scaling back @ Sonoma, we reached out to Laguna every single year, asking for a date. We never received so much as a call back. Nothing, just dead air. In 2022, under new management, we finally received a call back with the exclusive help of one of our long-standing event vendors. Once a connection was made, we pushed aggressively for dates and bugged and bugged and bugged. The (new) decision makers at Laguna Seca finally replied …and after almost 40 years of hiatus, The AFM will be returning to race at Laguna Seca once again. This event is truly historic. The amount of work, effort, thought, and worry that's gone into our final round has been immeasurable. At our BOD meeting, we solidified final details. We all left the meeting with the "starting line" butterflies.
1961 Appears to be one of the earliest races the AFM held at Laguna Seca in conjunction with the SCCA. The history of the place and the AFM is long founded. The June 10th, 1961, newsletter still speaks to us today. "Should be a 'gasser' for motorycles". "Please send in the entry form for this one as SOON as this newsletter arrives…" Back then (and even until around mid 2000's), entry forms were mailed and later, faxed. A racer noted their first, second and third race choices; a homage to entries so aplenty that getting two races in a weekend in itself was a "win".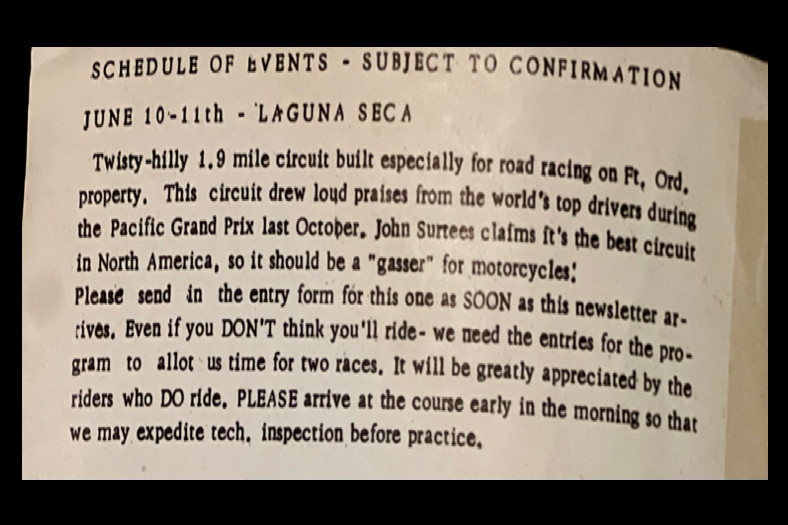 The AFM board, corner workers, race control, tech, timing, registration, and licensing are all very proud and very excited to present the AFM's return to Laguna Seca to the membership. AFM members, first and foremost, will have an exclusive entry before entry for the event is opened to reciprocity licensed racers. Exclusive AFM licensed riders can begin registering September 22ndh. On September 26th, we'll open registration to non-AFM racing members as well. Registrations will be prioritized on a first come, first served basis and top 10 in points for all classes will be guaranteed a grid spot if registered before registration is opened to reciprocity riders . While we haven't an idea on what total attendance will be, there is a finite limit to how many racers can be on track at one time and our total racers will be limited due to that constraint. This is the only time we've had to work through a limit of riders-on-track in modern AFM times. The board worked hard on pricing for the event over the course of several months arriving upon a minimum event charge of $700 for three classes with two full days of racing. Three classes result in 6 races over two days. Our event is a 3-day event with practice taking place on Friday, October 7th and racing on both days, October 8th and 9th. The focus on our return to Laguna Seca is practice, racing, racing. With that in mind, a two-day racing schedule was built with a small amount of morning warmup each weekend race day and a full day of 105db free practice on Friday and 105db limit racing. We'll have qualifying for all formula classes on Friday. Formula races will all run at the end of the day, both days and may be scheduled for more laps than sprint races if we don't have any large undue delays The trophies look to be a neat effort for Eagle Awards. These rare AFM Laguna Seca trophies are going to make this a fight for these historic podiums in all classes and I can imagine the feeling in achievement of putting an AFM Laguna Seca trophy on display like the founders of the club did when Laguna opened its doors to them in the late 50's .
Pricing for the 105db Friday practice is $450 per rider. We WILL have AFM T&S active and timing during Friday and formula classes qualifying Friday. Saturday / Sunday races are priced at $700 for 3 race classes. Additional classes are $150. We haven't much insight into how many racers will enter, but we suspect this will be likely be the fullest AFM event of the season. Those who purchase garages will need to load in Thursday PM/ Friday AM. Those who choose to practice on Friday will get priority pit choice over those who are not practicing Friday.
Bullet points
First 3 entries (minimum): $700. Two days of racing, Saturday/ Sunday.
ALL days are 105db days.
Both race days ARE FULL POINTS DAYS
Friday Practice is $450. Priority pit access for those who are practicing Friday
No Pets allowed per Laguna's policy except those allowed by law
We're hoping to have a podium celebration for all races on both days
We have 18 garages available for rent. Like Sonoma's garages, multiple bikes can fit and sharing garages is encouraged
AFM current license holders will have exclusive priority registration from 8pm 9-22 to 8pm 9-26. Licenses CAN be purchased to enter during this time period.
Non-AFM license holders (reciprocity) will be able to register from 8pm 9-26 to close of registration, 10-6.
Top 10 in class points are guaranteed spots in class if entered during the AFM priority period
Formula classes will hold qualifying during Friday practice. Friday practice must be entered to participate in qualifying
There is NO KFG rule. Classes will be gridded by points unless otherwise noted
Paddock quiet hours are 10pm – 6am
The American Federation of Motorcyclists BOD, Workers, Race Control, Timing & Scoring, Tech, Registration, Licensing, Trophies, and all of your competition thanks you for attending The AFM's return to Laguna Seca!  The return to Laguna Seca will be historic, memorable, and triumphant!  Thanks so much for coming out and racing with the American Federation of Motorcyclists!
Thanks all, look forward to seeing all of you at our historic AFM event!
Berto Wooldridge
AFM #15
President 2022