---
We're now accepting photos and 2020 schedules from trackday and riding school operators for the 2020 Roadracing World Trackday Directory annual special issue, as well as for Roadracing World & Motorcycle Technology magazine.
All schedule submissions should include: The name of the school or trackday organization; the schedule (including exact dates, correct track names and locations, and the track layout being used that day, if applicable); and full contact information for riders to use.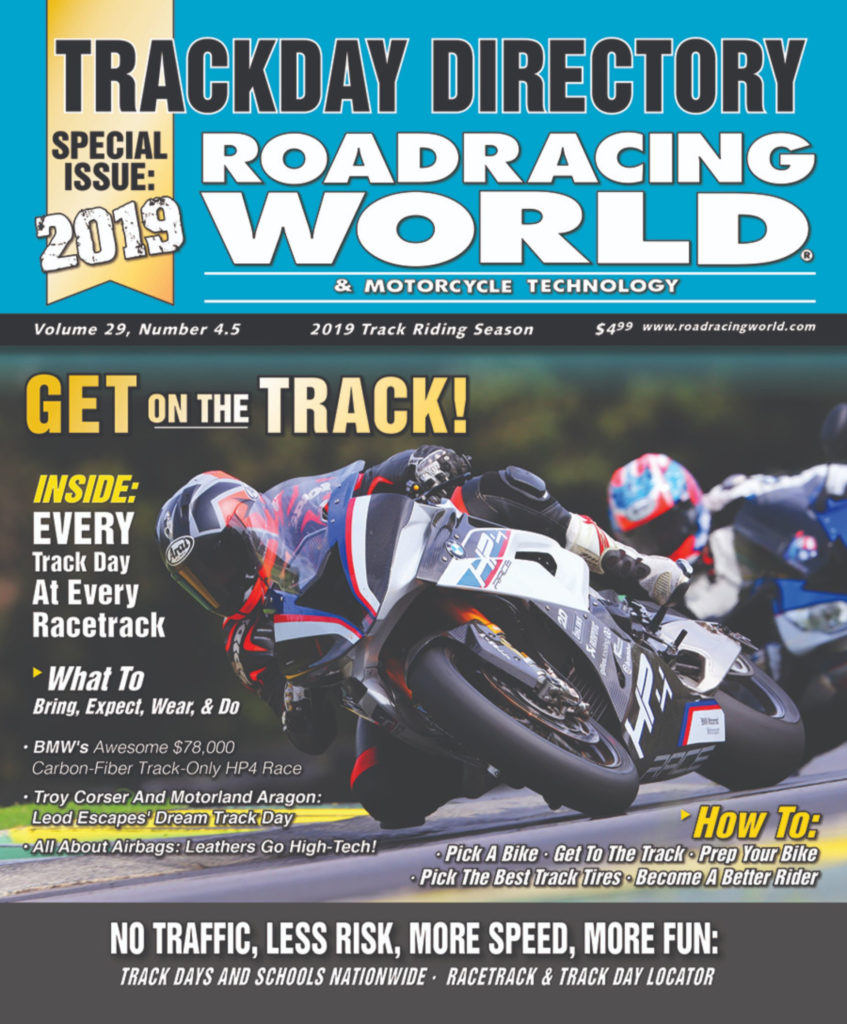 Schedules submitted will be published in the Calendar section of Roadracing World magazine and the Events calendar section of Roadracingworld.com as soon as possible after they are received.
For trackday and school organizations to be listed in Roadracing World's 2020 Trackday Directory annual special issue, we need your schedule and the following information by February 7, 2020:
School or Trackday Organization Name:
Physical or Mailing Address, (Street address, city, state abbreviation, zip code):
Phone Number:
FAX Number (optional):
Website Address:
Email Address:
(Select one answer for each question)
Events Run Rain or Shine: Yes or No
Coolant: Antifreeze OK or No Antifreeze Allowed
Headlight & Taillight: Tape or Disconnect or Tape and Disconnect
Mirrors & Signals: Tape or Remove
License Plate: OK or Remove
Safety Wire: Some Required or None Required
Sidestand: OK or Remove
The minimum age to participate is: ?
Please e-mail schedule/calendar and Trackday Directory listing information to [email protected].
Even if your 2020 schedule is not finalized, please respond to us and send whatever information you can so that you will not be left out of the Trackday Directory special issue. Provisional schedules or dates listed as provisional are allowed.
There is no cost to be listed in Roadracing World's Trackday Directory annual edition, but we can't post your information if we don't receive it in time. As a result, late submissions or incomplete submissions may not be published.
Again, the deadline to submit is February 7, 2020.
If you've already submitted your schedule for inclusion in the Calendar section of Roadracing World & Motorcycle Technology, great! But this is not enough information for an entry in the Trackday Directory. Please submit the information requested above to be included in the once-per-year Roadracing World Trackday Directory or call us to do minor updates to the information we published in the 2019 Trackday Directory.
If you have any doubt about what you have or have not sent in or if it was received, please contact us.
As always, we are also requesting trackday organizers and school operators to submit digital photos of their events and groups in action – on and off the track — for possible publication in the 2020 Trackday Directory. This is a great way to publicize your events and spotlight some of your members at no cost to you, but we need you to help us help you.
Digital photos must be in-focus, free from any watermarks or graphics, and high-resolution, which means a minimum of 300 dpi/ppi or 3000 pixels wide at 3 inches. The best way to submit these photos is with a file transfer program like Hightail or Dropbox, which are free to download and use on a limited basis.
Photos must be accompanied by information we can use to write a decent caption. This includes the name of the track, information to credit the photographer, etc. By submitting a photo or photos, you certify that you own the submitted material and that you give us (Roadracing World Publishing, Inc.) permission to publish it in Roadracing World magazine and/or post it on Roadracingworld.com, without paying you (or anybody else).
For additional information, e-mail [email protected] or call (909) 654-4779.