MIXED EUROPEAN GP FRIDAY FOR MONSTER ENERGY YAMAHA MOTOGP
Valencia (Spain), 6th November 2020
GRAND PRIX OF EUROPE
FREE PRACTICE
Monster Energy Yamaha MotoGP's Maverick Viñales and Valentino Rossi's replacement rider Garrett Gerloff returned to action in this afternoon's Gran Premio de Europa FP2 session. The duo ended the Friday in 11th and 19th place respectively in the combined free practice results.
LOCAL TIME: GMT+1
AIR TEMPERATURE: °C
TRACK TEMPERATURE: °C
WEATHER: / HUMIDITY %
11th MAVERICK VIÑALES 1'33.410 / 40 (19 + 21) LAPS
19th GARRETT GERLOFF 1'34.107 / 41 (21+20) LAPS
After a wet start to the Gran Premio de Europa, Monster Energy Yamaha MotoGP's Maverick Viñales and Valentino Rossi's replacement rider Garrett Gerloff enjoyed some drier track time at the Circuito de la Comunitat Valenciana – Ricardo Tormo in this afternoon's FP2 session. They ended the day in 11th and 19th place respectively in the combined free practice rankings.
Viñales knows he will have to start Sunday's GP from pit lane and fully focused on race set-up rather than one-lap pace in FP2. Numerous yellow flags impeded the possibilities of setting a fast lap. He wrapped up the day just outside the top 10, in 11th position, with a best time of 1'33.410s, set on lap 21/21, 0.882s from the top in both the FP2 and combined free practice results.
Gerloff already showed a strong pace in the wet session in the morning and was excited to take a further step in the afternoon. The Yamaha rider put his head down, this time experiencing the Michelin slicks for the first time. He impressed by briefly riding the M1 to a provisional top-5 placement in the second half of the session. He ultimately ended his MotoGP debut with a 1'34.107s best time, set on lap 16/20. His effort earned him 19th place in the FP2 and combined timesheets, 1.579s from first.
Yamaha Motor Co., Ltd. and the Monster Energy Yamaha MotoGP Team are delighted to confirm that Rossi's second PCR test also came back negative this afternoon. He has been reunited with his crew and will be taking part in the remaining sessions of the European GP.
Yamaha Motor Co., Ltd. and the Monster Energy Yamaha MotoGP Team want to sincerely thank Gerloff for his enthusiasm, professionalism, and astounding effort while stepping in for Rossi.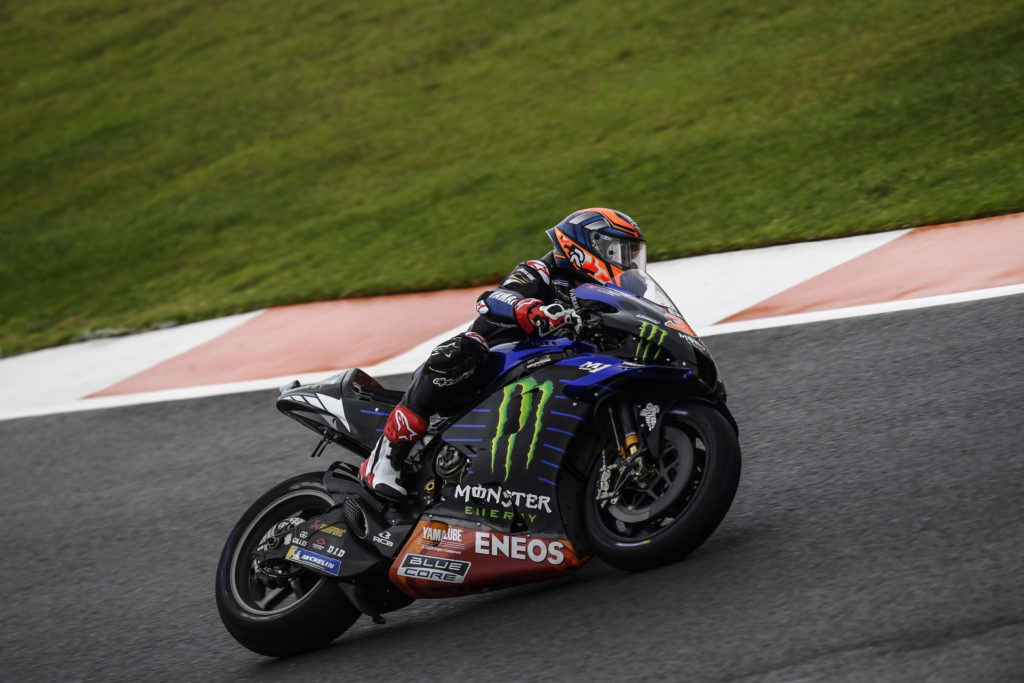 MASSIMO MEREGALLI
TEAM DIRECTOR
It wasn't the best first day for our team. Maverick was feeling good with the bike in the morning. However, in the afternoon he wasn't feeling so great. Though he didn't push to the limit because it was still mixed out on track. The riding conditions are expected to be much better tomorrow. The goal this weekend is to work non-stop on the race set-up to give Maverick the best possible chance for Sunday, even though he's starting from pit lane because we are using a sixth engine, beyond his allocation.
Garrett really impressed us today! When you take into account that he has never ridden at this track before, has no experience with the YZR-M1 and all the technical aspects that come with it, nor with the Michelin tyres, it really shows great riding on his part. The track was very slippery today, but he seemed to take to it very well.
We did get some good news today. Valentino tested negative again, so he will be riding his M1 for the rest of the weekend. Of course the whole team is relieved and very happy to have him back with us. But once again we want to say a big 'Thank you' to Garrett for his enthusiasm and professionalism while stepping in for Vale.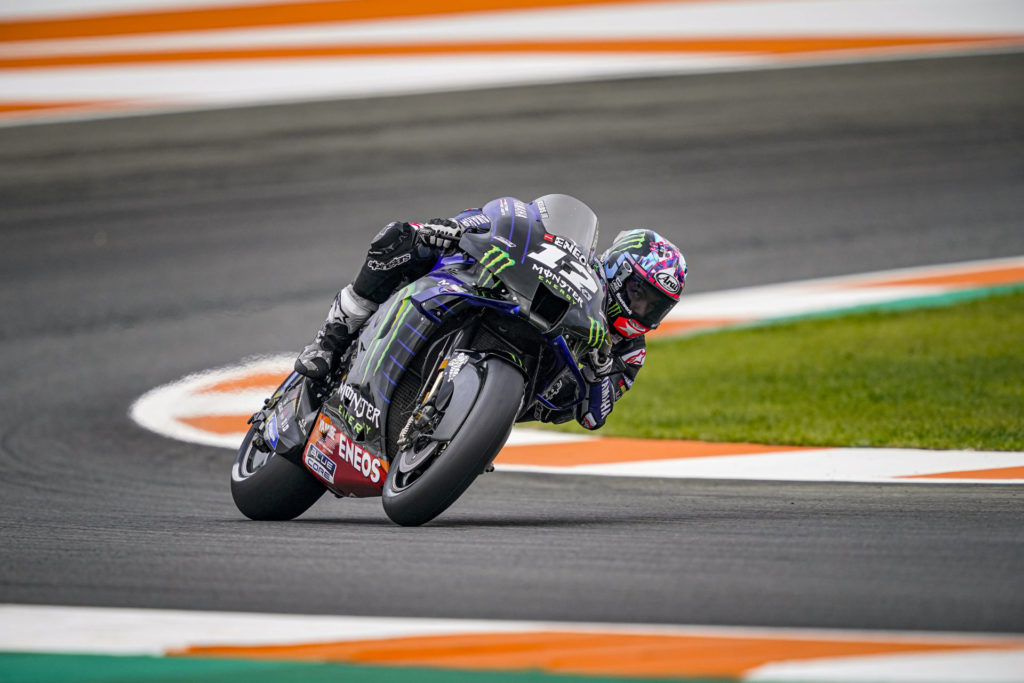 MAVERICK VIÑALES
We've been managing the races with the engines we had left after we sealed one in Jerez. But before coming here, we saw that the last one I had left in my allocation was a bit damaged and we decided that it wouldn't be safe to use it. If I did, we would risk putting oil on the track, and other riders could have had a big crash because of it. So we decided to put safety first and put in a new engine. We know I will have to start the race from pit lane because of this, but there's nothing we can do about it. For sure it makes the fight for the title harder, but anything can happen in MotoGP. We'll see. I'll keep an open mind for this weekend. I don't want to put a limit on myself. We'll see if we can take away something positive from this GP.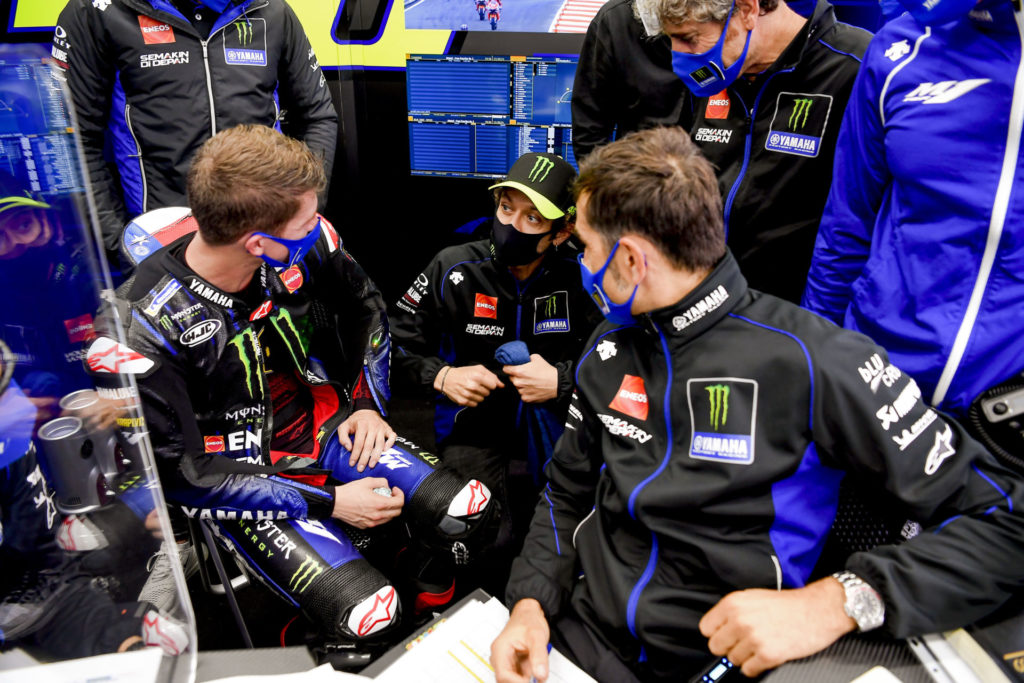 GARRETT GERLOFF
STANDBY REPLACEMENT RIDER
The M1 is quite a bit different from the superbike. The M1 is basically the R1, but at another level. But it's still a very friendly bike to ride. It wasn't too much of an animal, but it was definitely superfast. The tyres were amazing, especially this morning in the wet, and even later when the track was a little bit more half-and-half, I still felt pretty confident going over the wet areas with the slicks. All in all, it was just an amazing experience. It was unreal coming back after the second session and seeing Valentino right there and saying 'Hey, awesome job, man!' I mean, that is something that dreams are made of, you know? So, I'm super happy to have been able to do it and just a big thanks to Yamaha for giving me the opportunity.