ALL KIDS BIKE AND YAMAHA GIVE LAUSD KINDERGARTENERS OPPORTUNITY TO LEARN BIKE RIDING IN PE CLASS
Celebrity Athletes Deliver Bike Program to 74th Street Elementary School
Ahead of SuperMotocross Championship Weekend at Los Angeles Coliseum
LOS ANGELES – All Kids Bike, the nonprofit dedicated to equipping schools with the resources needed to teach children how to ride bikes in kindergarten PE class, kicked off the 2023-24 school year with two new program activations at Los Angeles Unified School District (LAUSD) schools thanks to a $100,000 grant from Yamaha Motor Corp., USA, via its Yamaha Outdoor Access Initiative (OAI).
The first two recipients of the All Kids Bike Kindergarten Learn-to-Ride PE Program, courtesy of the Yamaha grant, were 74th Street Elementary and Virginia Roads Elementary, both of which are Title 1 schools in LAUSD.
To help get the kids excited about the new program and raise awareness for the All Kids Bike mission, some of Yamaha's celebrity athletes and ambassadors helped deliver an entire fleet of new bikes to 74th Street Elementary School Friday morning (September 22). SuperMotocross cameras were on hand to capture the moment for broadcasts during its Race Day Live and Gate Drop coverage, scheduled to air on Peacock and USA Network, respectively.
On hand to unveil the bikes and help the kids with their first ride around the playground were Yamaha Star Racing's Eli Tomac, a 2-time Monster Energy Supercross 450 Champion, 4-time Pro Motocross 450 Champion, and 2022 Motocross of Nations Winner; Yamaha Ambassador Ryan Villopoto, the 4-time Supercross Champion, 2-time 450 Motocross Champion, and 3-time 250 Motocross Champion; Yamaha Ambassador Damon Bradshaw, known as one of the all-time top 10 Supercross riders; and Yamaha Bicycles and All Kids Bike ambassador Brian Lopes, a Mountain Bike and BMX Hall of Fame inductee.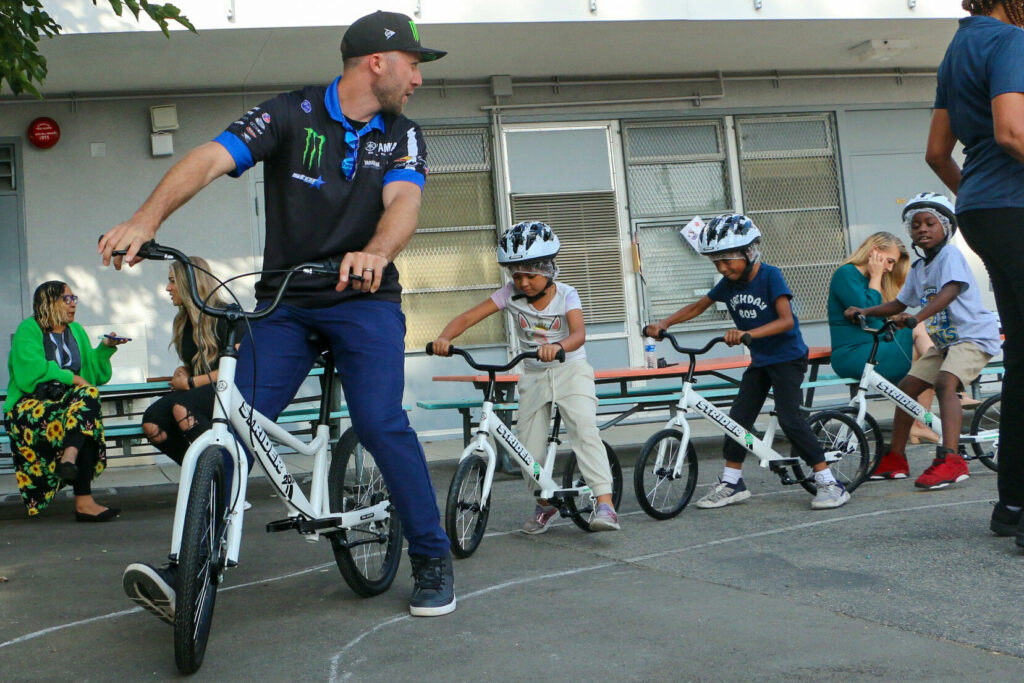 "You never forget when you learned to ride a bike, and I'll never forget seeing how excited these kids were when we showed them the fleet of shiny new bikes and gave them a first ride," said Eli Tomac, two-time Monster Energy AMA Supercross 450MX Champion, four-time Pro Motocross 450MX Champion, 2022 Motocross of Nations Winner. "We're here to help raise awareness for the All Kids Bike program and to get people excited about bringing this program to more schools in Los Angeles and across the country. Riding bikes is one of the most fun things you can do when you're a kid, and it's also a really important skill that gives you confidence and a sense of freedom you just can't get any other way."
The fun and interactive event included LAUSD Region South Administrator Juanita Rainey-Woods, Will Celestine and Maggie Yu-DiPasquale with LAUSD Wellness Programs, and Adriana Valenzuela with LAUSD Physical Education who were on hand to celebrate with the kids. All Kids Bike's goal is to eventually get the program into every school in LAUSD.
"Student outcomes depend largely on their access to a safe, loving environment and rich learning experiences," said Dr. Cairen Ireland, principal of 74th Street Elementary and Gifted Magnet. "It's partners like All Kids Bike and Yamaha that help bridge our scholars to these great opportunities. Fostering wellness and having fun while doing it, is a win-win!"
The All Kids Bike Kindergarten Learn-to-Ride PE Program includes a fleet of 24 balance bikes, pedal conversion kits, helmets, a teacher instruction bike, SHAPE-standard curriculum, teacher training, and equipment storage racks. It's everything needed to teach kids how to progress from balance to riding a bike in 8 lessons. Among the 434 elementary schools in LAUSD, over 68 have already adopted the All Kids Bike program into their PE curriculum, recognizing the significant value of this skill in enhancing children's lives both in and out of the classroom.
Lisa Weyer, executive director of Strider Education Foundation, the nonprofit that operates All Kids Bike, expressed her gratitude for Yamaha's generous support and the commitment of school districts like LAUSD, "The unwavering support of generous donors like Yamaha and the steadfast commitment of school districts in recognizing the profound importance of the All Kids Bike program, empower us to bring the joy of riding to countless children, fostering not only physical skills but also a sense of freedom, confidence, and happiness that will positively impact their lives for years to come."
In 2023, All Kids Bike received a $100,000 grant from the Yamaha Outdoor Access Initiative, bringing Yamaha's total commitment to All Kids Bike programs over the past three years to $200,000.
"Yamaha is about creating experiences, creating memories, and today we're about getting these kids on bikes," said Steve Nessl, Yamaha Motorsports marketing manager. "Too many kids don't get the opportunity to learn how to ride a bike these days. We hope these grants help inspire some of these kids to enjoy having fun outdoors, get some exercise, and be excited about school."
About All Kids Bike
All Kids Bike launched in 2018 with a simple mission: to give every child in America the opportunity to learn how to ride a bike in school. Its Kindergarten Learn-to-Ride PE program, which is active in over 1,000 schools across all 50 states, includes everything needed to teach thousands of students at a school for 7-10 years: teacher training and certification; a fleet of 24 bikes, pedal conversion kits, and helmets; an instructional bike for the teacher; 2 rolling metal bike storage racks, and access to a resource portal and live support for the life of the program. With substantial underwriting from the Strider Education Foundation, the All Kids Bike Learn-to-Ride Kindergarten PE Program is on track to teach over one million kids to ride over the 10 year lifespan of the program. In 2023, All Kids Bike added an Inclusive Learn-to-Ride Program to empower middle and high school students and adults with developmental disabilities with the life skill of riding a bicycle. For more information, please visit www.allkidsbike.org.
About the Yamaha Outdoor Access Initiative
For more than a decade, the Yamaha Outdoor Access Initiative has led the Powersports industry in guaranteeing responsible access to our nation's land for outdoor enthusiasts. Through this program, Yamaha has directly and indirectly supported thousands of miles of motorized recreation trails, maintained and rehabilitated riding and hunting areas, improved staging areas, supplied agricultural organizations with essential OHV safety education, built bridgesover fish-bearing streams and partnered with local outdoor enthusiast communities across the country to improve access to public lands. Updated guidelines, application form, information and news about the Outdoor Access Initiative are available at YamahaOAI.com.
About Yamaha Motor Corporation, USA
Yamaha Motor Corporation, USA, (YMUS), is a recognized leader in the outdoor recreation industry. The company's ever-expanding product offerings include Motorcycles and Scooters, ATV and Side-by-Side vehicles, Snowmobiles, WaveRunner Personal Watercraft, Boats, Outboard Motors, Outdoor Power Equipment, Power Assist Bicycles, Golf Cars, Power Assist Wheelchair Systems, Surface Mount Technology (SMT) and Robotic Machines, Unmanned Helicopters, Accessories, Apparel, Yamalube products, and much more. YMUS products are sold through a nationwide network of distributors and dealers in the United States.
YMUS has a corporate office in California, two corporate offices in Georgia, facilities in Wisconsin and Alabama, and factory operations in Tennessee and Georgia. Additional U.S.-based subsidiaries include Yamaha Marine Systems Company (YMSC) with divisions Bennett Marine (Florida), Kracor Systems (Wisconsin) and Siren Marine, Inc. (Rhode Island), Skeeter Boats (Texas), with division G3 Boats (Missouri), and Yamaha Precision Propeller (Indiana).
ABOUT LAUSD
Los Angeles Unified is the largest school district in California and the second-largest in the U.S. For the most up-to-date information, please follow Los Angeles Unified on Twitter at @laschools and @lausdsup, Instagram at @laschools and @lausdsup and Facebook at @laschools and @AlbertoMCarvalho1.