More, from a press release issued by Dorna WorldSBK Press Office:
Rea topped Friday running with a half a second advantage over Razgatlioglu
The six-time WorldSBK Champion led Razgatlioglu and Redding in the combined results, with Bautista in fifth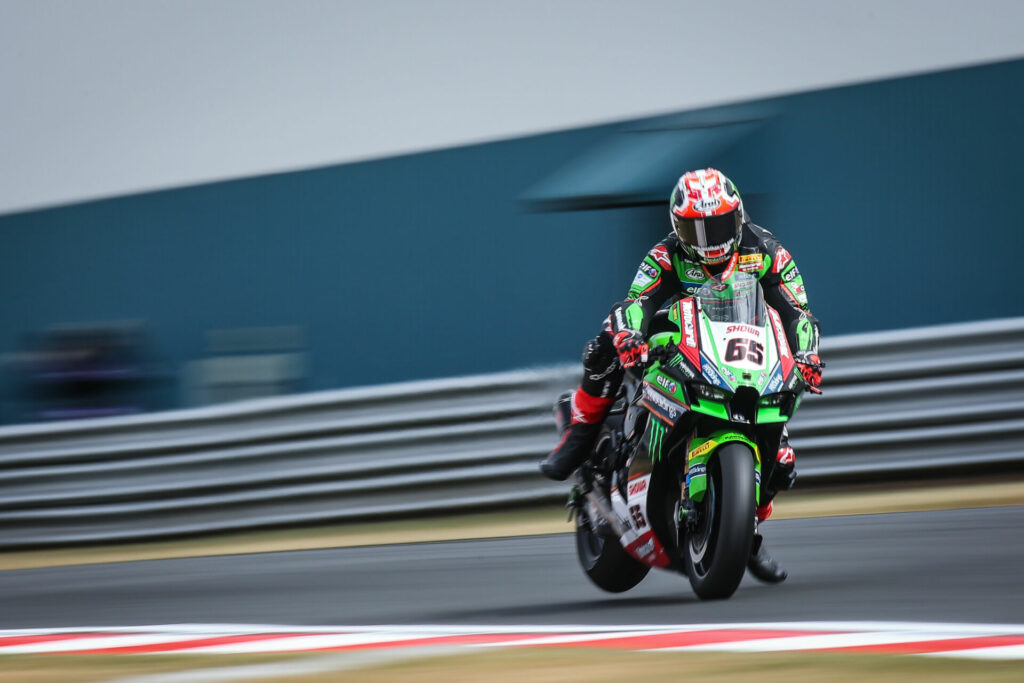 Friday highlights – WorldSBK 
P1 – Jonathan Rea (Kawasaki Racing Team WorldSBK)
Rea topped Friday's timesheets, finishing 0.551s clear of Razgatlioglu.
His fastest time of a 1'27.016s is under the race lap record.
He set an incredible 13 1'27s, more than the total of his competitors combined.
"You never expect such a big difference because half a second is a lot. During practice sessions, everyone is in different strategies. Today I tried to understand a couple of different weight balances with the bike, different wheel basis, some different electronic settings and then try to evaluate both front tyres and also all the rear tyres. We managed to do all that. This morning with the harder rear option, and this afternoon with both the softer options. We gained a lot of information today, now it's about sitting down understanding what's going to work for tomorrow. Just looking at the forecast, the temperatures are going to rise so maybe all that work would be in vain because when you have a 10 degrees difference on the asphalt it makes a big difference. The positive thing is that we have lot of info and today we were quite fast. So, it's a good start to the weekend."
P2 – Toprak Razgatlioglu (Pata Yamaha with Brixx WorldSBK)
Fastest in FP1, Razgatlioglu concluded Friday in second place about half a second behind Rea.
Not matching Rea's pace, he lapped two 1'27s and ten 1'28s.
"I'm very happy that we come back again to Donington Park, because I like this track a lot. Today we try for a good setup for the race, but we have to keep working because in FP2 I am not really happy – but P2 was not a bad lap time. We need more grip for the rear and after, I'm just riding because you know I enjoy this track! We will try also a new set-up, we will see. This is just the first day, tomorrow we have FP3 and after we will try again a good set-up for the race. Every race weekend this year we see big improvement, everybody is very fast. Important the race, not Friday – so we are just working for this and I hope tomorrow I am fighting for the victory."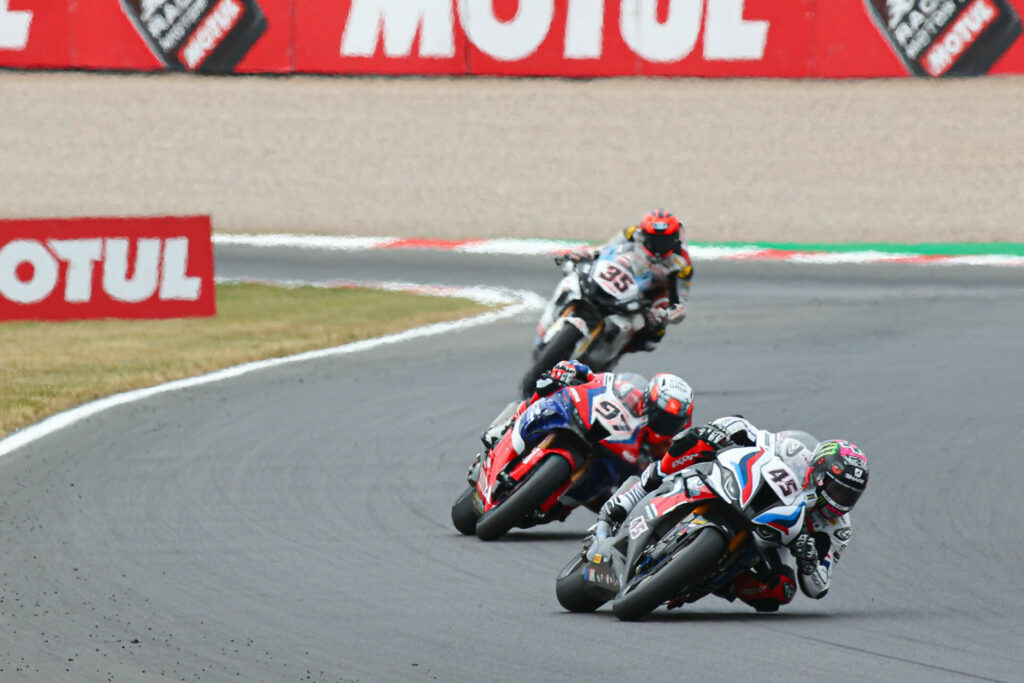 P3 – Scott Redding (BMW Motorrad WorldSBK Team)
With a new swingarm at his disposal, Redding completed Friday's top three after two solid Free Practice sessions.
He finished 0.582s behind Rea's best time, and 0.031s behind Razgatlioglu in second.
"I think we've also made some big steps with the BMW to bring it closer to the front. Different handlebars, different swingarm, different footpegs, I'm just feeling more that it's my bike and riding with more of a clear mind of how to go fast. It's definitely an improvement, that's for sure. But it's still the start of the evolution for me. I've worked with Kalex before; they're very good technically and a very good way of achieving the goal and they understand that from a rider's perspective. There will be more to come, which is very good. It's just part of the puzzle. We have many, many things that we are pushing and working on. Slowly we start to see something coming."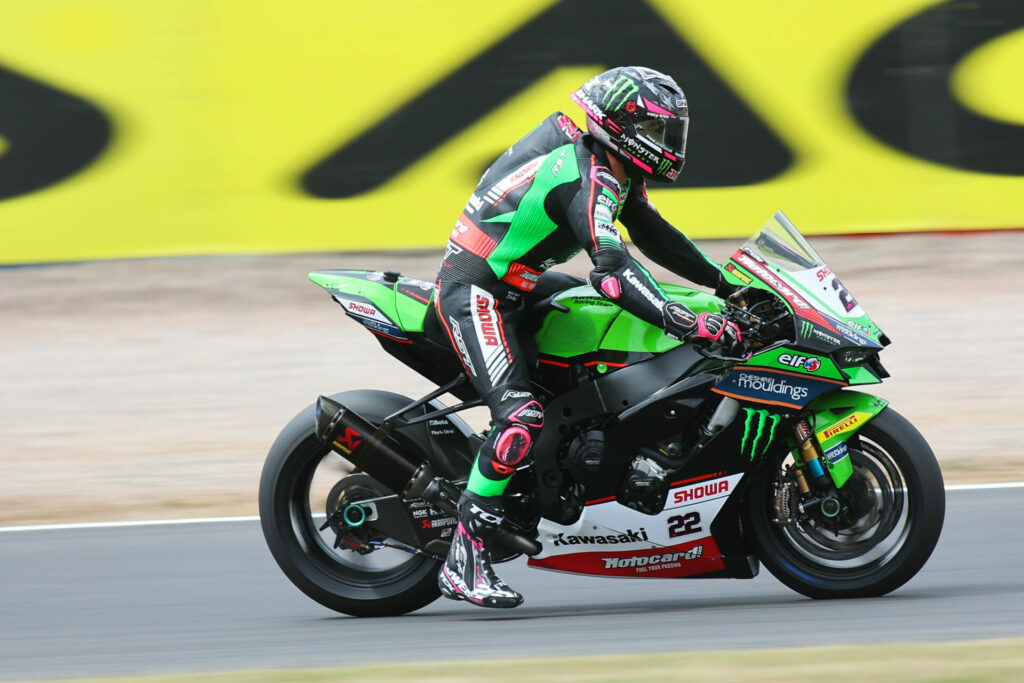 P4 – Alex Lowes (Kawasaki Racing Team WorldSBK)
Lowes ended Friday in fourth place with a best time of 1'27.684s, having run second for most of the session and staying out on one tyre.
"It was a good Friday. It was really nice to get on the bike. I was a little bit nervous this week because it's a real home race for me. It's a track I enjoyed and to be honest I felt really good on the bike today. In FP1, I tried my 2022 standard setting and also somethings to watch of the years at Donington last year. In the afternoon, I tried to do a longer run with the SCX tyre just to gather some information for Race 1 tomorrow. I've felt quite good. There are some areas in the middle of the lap, the second sector, where I need to improve but in general, I was quite happy."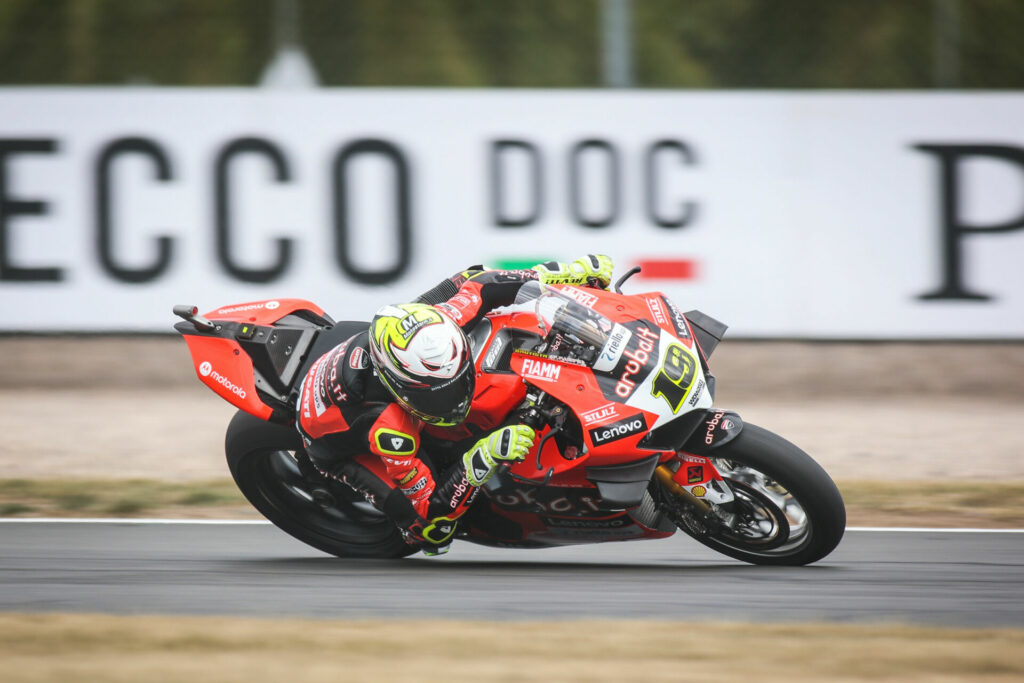 P5 – Alvaro Bautista (Aruba.it Racing – Ducati)
Championship leader Bautista was fifth, as his best time of 1'27.730 is 0.714s slower than Rea's time.
He lapped three 1'27s accompanied by 14 1'28s showing signs of good pace.
"I think today has been a positive day. I felt better than I expected; I didn't expect anything before coming here because I remember three years ago, it was very tough for me. Today, I was feeling much better. The feeling with the bike wasn't too bad especially with the race pace because I felt quite comfortable compared to three years. I think our pace today was acceptable. Anyway, we have some small details to improve for tomorrow that maybe can help me gain some tenths and especially be more consistent. I'm happy with today."
P6 – Michael Ruben Rinaldi (Aruba.it Racing – Ducati)
Despite a small crash at Turn 12 in FP2, Rinaldi completed Friday's top six.
Just 0.005s separated him from his teammate in fifth.
"We used the base from Misano, and it worked really well here. I didn't expect that. I spoke with the team to just make small adjustments and it paid off because, in FP2, I had a good race pace and consistent. This track is so demanding but with this setup and this work I can go fast every lap, so that means the base is really good. We still need a little bit. I think are on the path to try and fight for the podium, which is our goal."
To note:
Loris Baz (Bonovo Action BMW) was seventh, with the French rider also having a new swingarm on his BMW M1000RR.
Leon Haslam (TPR Team Pedercini Racing) completed the top 10 at a circuit where he's famously gone strongly at.
The first Honda rider was Iker Lecuona (Team HRC) in 12th.
Wildcards Tarran Mackenzie (McAMS Yamaha) and Peter Hickman (FHO Racing) finished in 15th and 16th place respectively.
WorldSBK action resumes on Saturday from 09:00 (Local Time), followed by Tissot Superpole at 11:10 and Race 1 at 14:00.
More, from a press release issued by GYTR GRT Yamaha WorldSBK Team:
SOLID OPENING DAY IN DONINGTON FOR GYTR GRT YAMAHA WORLDSBK TEAM
After a five-week break, the GYTR GRT Yamaha WorldSBK Team returned to action today at the iconic Donington Park, with Garrett Gerloff going ninth fastest on combined times, while Kohta Nozane was 22nd.
The American rider ended Free Practice 1 in 14th (1'29.559), while his Japanese teammate finished 20th (1'31.272), with both aiming to improve their speed in the hotter afternoon session.
GYTR GRT Yamaha WorldSBK Team riders were eager to extract more potential in Free Practice 2 and so they did, despite mainly focusing on longer runs. Gerloff improved his lap times throughout the session, going ninth fastest on a 1'28.431, with Nozane making steps forward to go 1.520s faster than the morning.
Both riders will be back on track tomorrow, firstly with FP3 at 09:00 local time (GMT+1), before the Tissot Superpole qualifying at 11:10 and Race 1 at 14:00.
Garrett Gerloff #31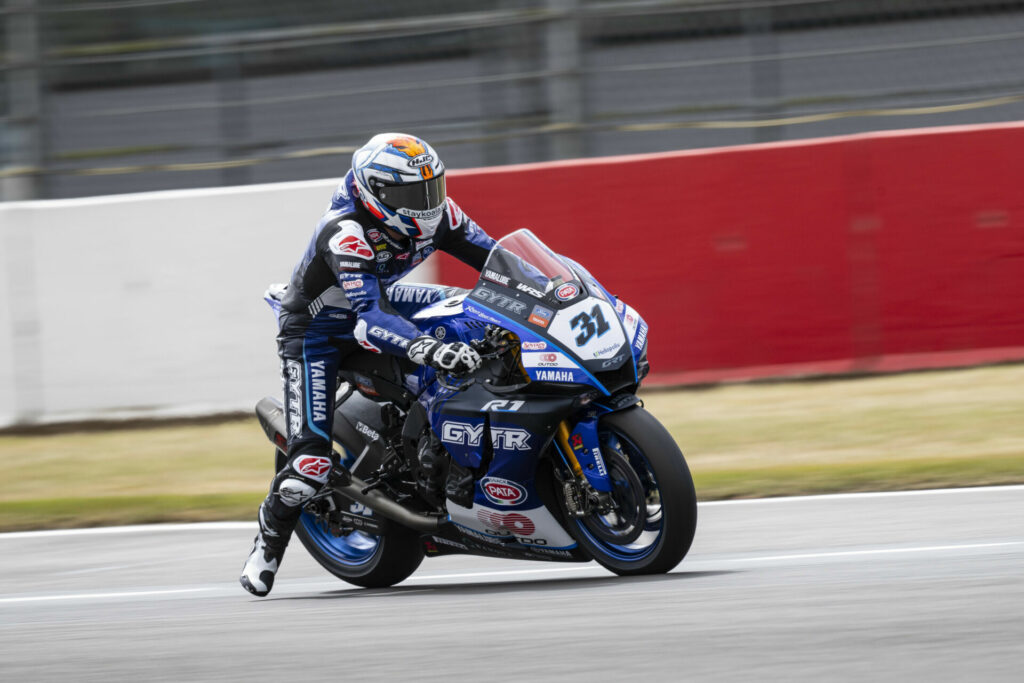 "It was an interesting day in a lot of different ways. We found something with the electronics which is positive. We finished the day running with used tyres but we still kept improving. This is what counts as we're trying to be consistent at the end of the race. The overall position is not where I want to be, but there are a lot of positive things to take into tomorrow."
Kohta Nozane #3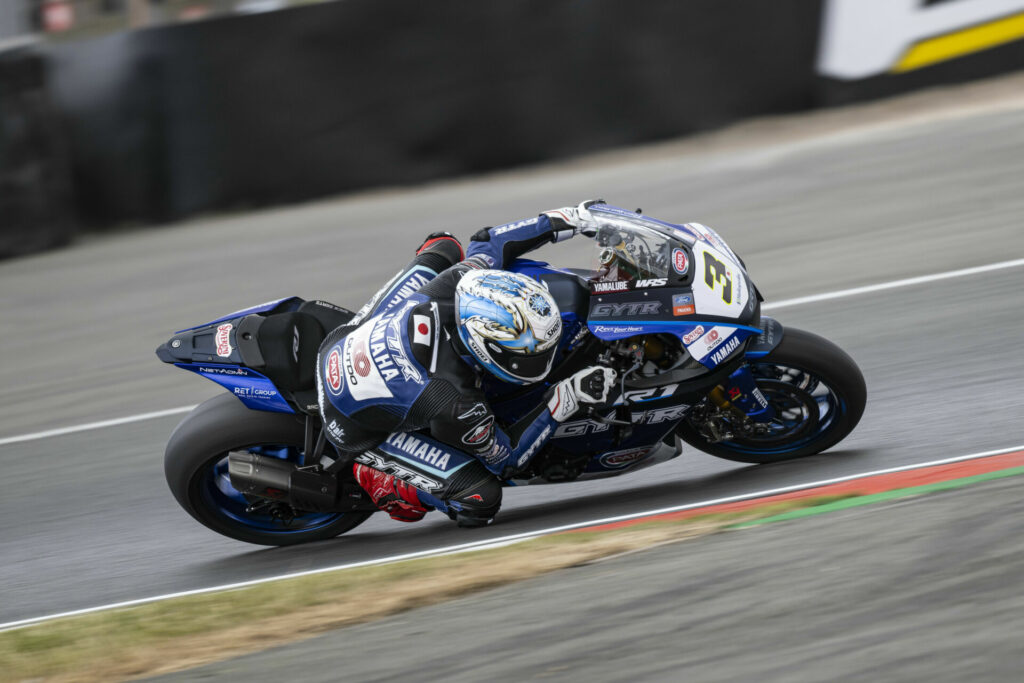 "Not the easiest day, but we managed to find good things here in Donington. Firstly I tried to get confidence quickly on this track, then we kept working on improving lap by lap. We made a huge step between FP1 and FP2 and we're looking forward to make more progress tomorrow."
More, from a press release issued by Kawasaki:
Rea Dominates First Day
The fifth round of the WorldSBK championship began in strong fashion for the KRT pairing of Jonathan Rea and Alex Lowes, with Jonathan scoring the fastest lap of the day and Lowes finishing up fourth overall.
The predicted summer heatwave conditions did not quite show up at Donington Park, on day one of the action at least, but the early pace put in Rea proved to be red-hot. He is already under the race lap record with his 1'27.016 pace, which he set in FP2. He was more than half a second ahead of the next best rider, Toprak Razgatlioglu.
Lowes was happy with the good work he and his team completed on day one, as he makes preparations to take part in his literal home race weekend. Alex, the BSB Champion in 2013, lives just a few kilometres from the circuit and has always had a great affinity with the undulating 4.023km long Donington layout.
Air and track temperatures are expected to increase all weekend so the team and riders factored that probability into their pre-race preparations. This task was aided by useful data gathered from a recent high temperature test conducted at Motorland Aragon.
After the first two practice sessions on Friday the KRT duo will now face a final FP3 session, Superpole Qualifying and then a full distance Race One at 14.00 UK time, on Saturday 16th July.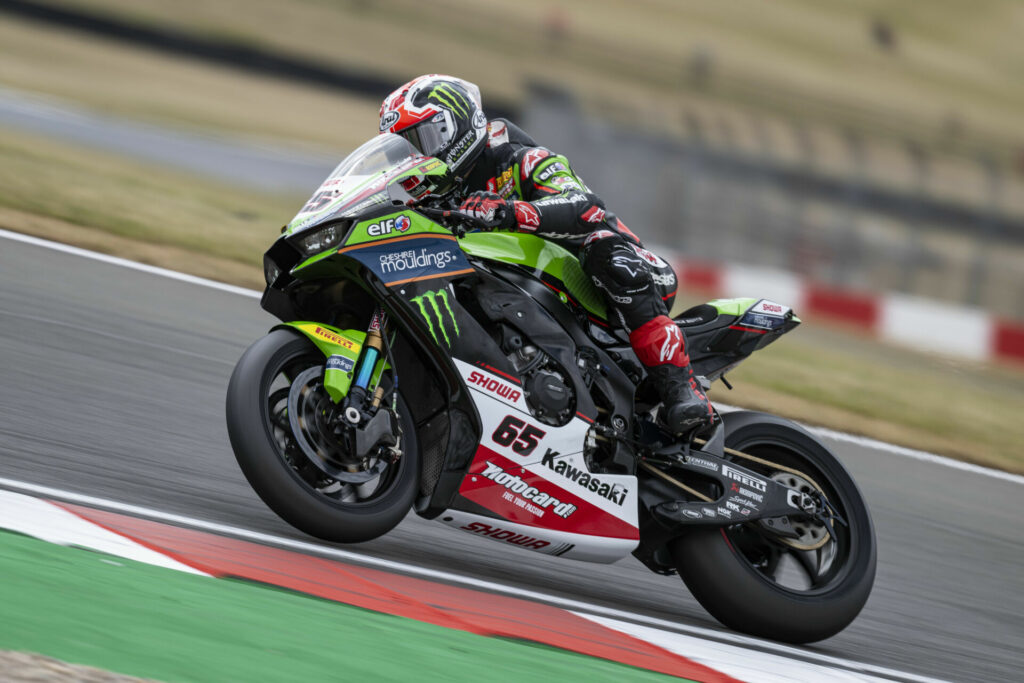 Jonathan Rea, stated: "You can never just take a screenshot of the final lap times and understand all the stories. Everybody was on a different strategy today, trying to understand what's what. But we did good work and we were able to analyse all the tyre options. Both front tyres and all the rears. Unlike Misano, where there were two extra solutions over the weekend, and it confused everything, I feel we have a handle on at least the tyres. In the morning I was really struggling with the front over the bumps, so we changed the weight balance of the bike, the wheelbase. In the beginning of the second session I was able to understand quite quickly the pros and cons of the changes."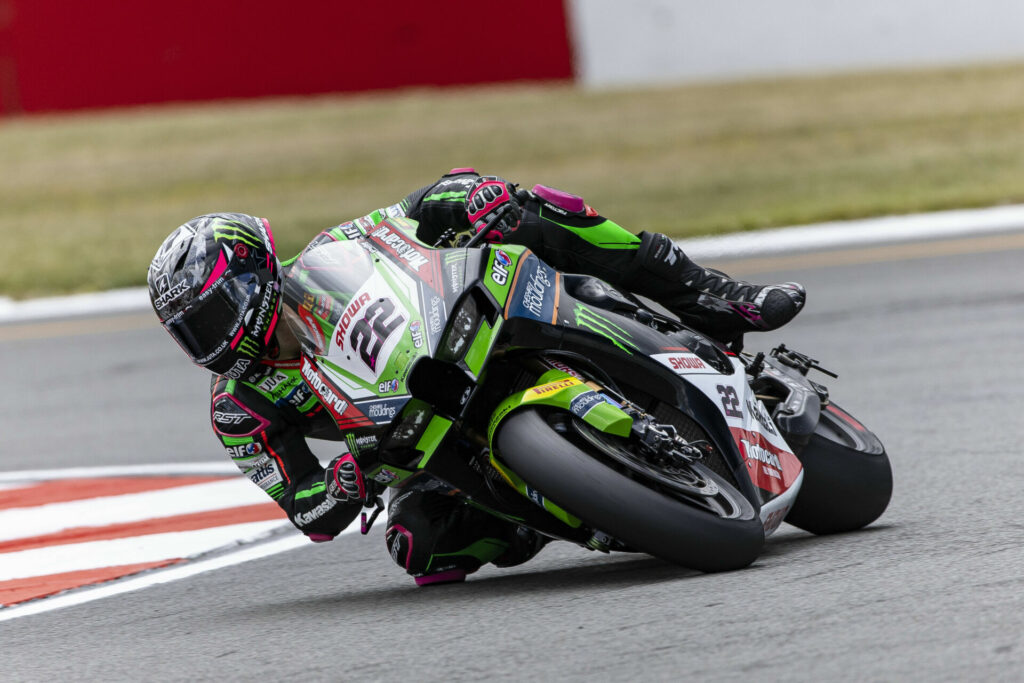 Alex Lowes, stated: "The first day went OK even though I had my best lap cancelled. I got a bit greedy on the entrance to the chicane and I think I touched the green track limits marker. It is nice to be back at Donington. The weather has been good and I think it is just going to get better all weekend. There are already quite a few fans here and I really enjoyed it today. The pace is pretty good so that's nice. If the temperature rises I know which tyre I am going to use, as I did a long run with it in FP2. I am not sure about the front tyre yet."
Frenchman Lucas Mahias (Kawasaki Puccetti Racing) was declared fit and ready to race at Donington, securing a very strong 11th place overall on day one. Twenty year old rookie rider Oliver König (Orelac Racing VerdNatura) was 26th on the timesheets as he learned his way around the Donington circuit for the first time.
Wildcard entrant Leon Haslam (TPR Pedercini Kawasaki) – recently a factory KRT rider himself – was a very creditable tenth at his home circuit.
More, from a press release issued by Team HRC:
Donington a learning curve for Lecuona and Vierge
Team HRC is out on track for the fifth round of the 2022 Superbike World Championship at the Donington Park circuit in the UK. Neither Iker Lecuona or Xavi Vierge has raced at the British track before, although Iker did benefit from a short one-day test last month. The Team HRC duo therefore spent Friday's sessions getting to grips with the tricky layout and adapting their CBR1000RR-R FIREBLADES to suit, the day something of a learning experience for them both.
Working hard with his technicians, Lecuona set a best of 1'28.807 to place eighth by the end of the morning's first free practice. Back on the bike for the first time since his Misano accident, Vierge closed in nineteenth position with a time of 1'30.566.
During the afternoon's second practice both factory riders were soon able to lower their earlier times. Lecuona slightly improved over the course of the 45-minute session, his outright best of the day a 1'28.509, set in the final five minutes, which placed him twelfth in the combined standings. Vierge's fastest time, a 1'29.336, saw him round out day one in eighteenth position. The Team HRC duo will continue with its work in tomorrow's final practice, so as to be as prepared as possible for the weekend's races.
Iker Lecuona  7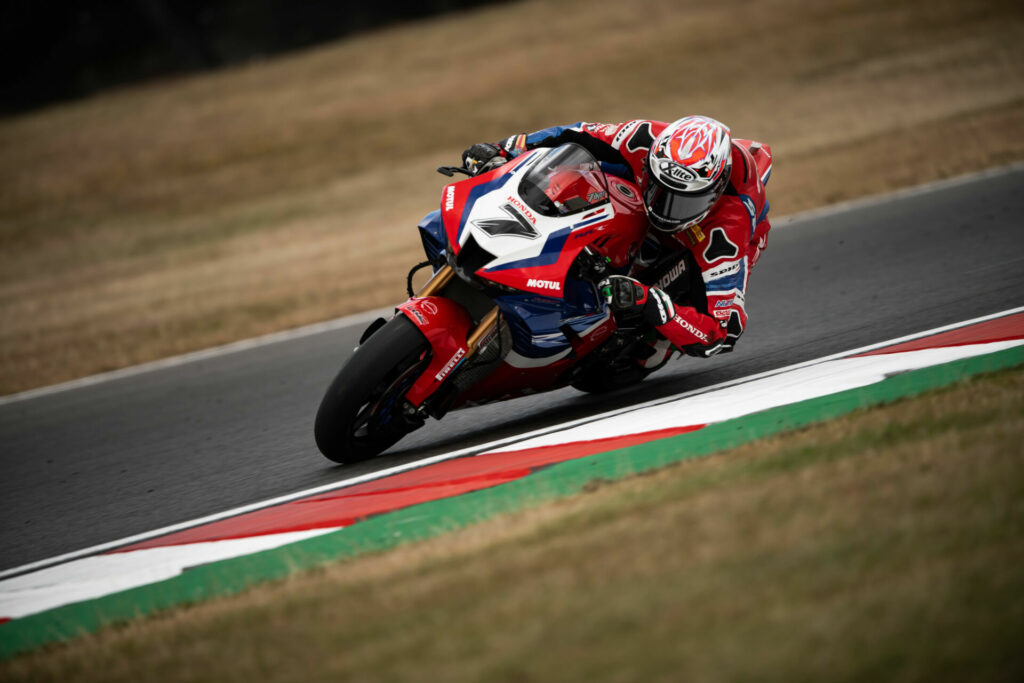 "The day started very well, after which we got a little lost. A technical glitch this morning slowed things down a bit and then in FP2 I didn't feel totally right on the bike. We have something to sort out with the set-up; it's a bit of a slippery track and maybe the conditions are a bit colder compared to when we came testing here three weeks ago, either way I felt a little less comfortable than expected on the bike. I felt a bit tense while riding and that put a lot of strain on my arm, causing some arm-pump. We need to find something that helps us regain those good sensations we had in the test so that we can get back to a more 'normal' position, close to the top five".
Xavi Vierge  97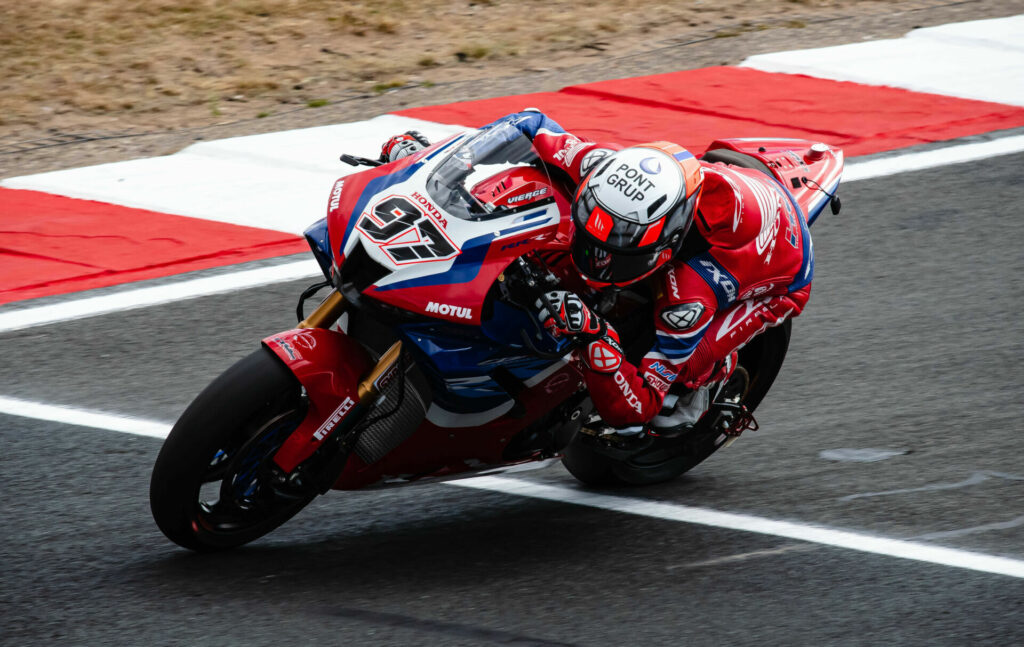 "The good thing is that I'm very happy to be back on track and am feeling good enough with my hand at what is a very physical track. I've felt OK so far and now just need some laps to adapt and to understand how to go fast here. It was a pity to have missed the tests, which would definitely have helped us a lot, but it is what it is and we just have to focus on the job in hand. We improved quite a lot between FP1 and FP2, especially in terms of race pace. We didn't use any soft tyre and only worked with the race spec. We are not where we want to be of course, or where we know we can be, but we can be happy in that I can ride as usual, my hand is just fine, and we are doing a good job as a team".
More, from a press release issued by Aruba.it Racing Ducati:
Alvaro Bautista and Michael Rinaldi fifth and sixth respectively after Donington's free practice. Bulega finishes third in WorldSSP
Prosecco DOC UK Round free practice ended with Alvaro Bautista and Michael Rinaldi in fifth and sixth respectively.
It was a positive Friday at the Donington Park circuit with the two Aruba.it Racing – Ducati team riders working hard on their Ducati Panigale V4R machines to gather useful information ahead of tomorrow and Sunday races.
After finishing third in FP1, Rinaldi ended in sixth position (1'27.735), 719 thousandths of a second off the fastest time of the day set by Rea (Kawasaki) and less than two tenths off the second place of Razgatlioglu (Yamaha).
Alvaro Bautista worked on details while also trying some tire solutions and ended both sessions in fifth position with the best time of 1'27.730.
Alvaro Bautista (Aruba.it Racing – Ducati #19)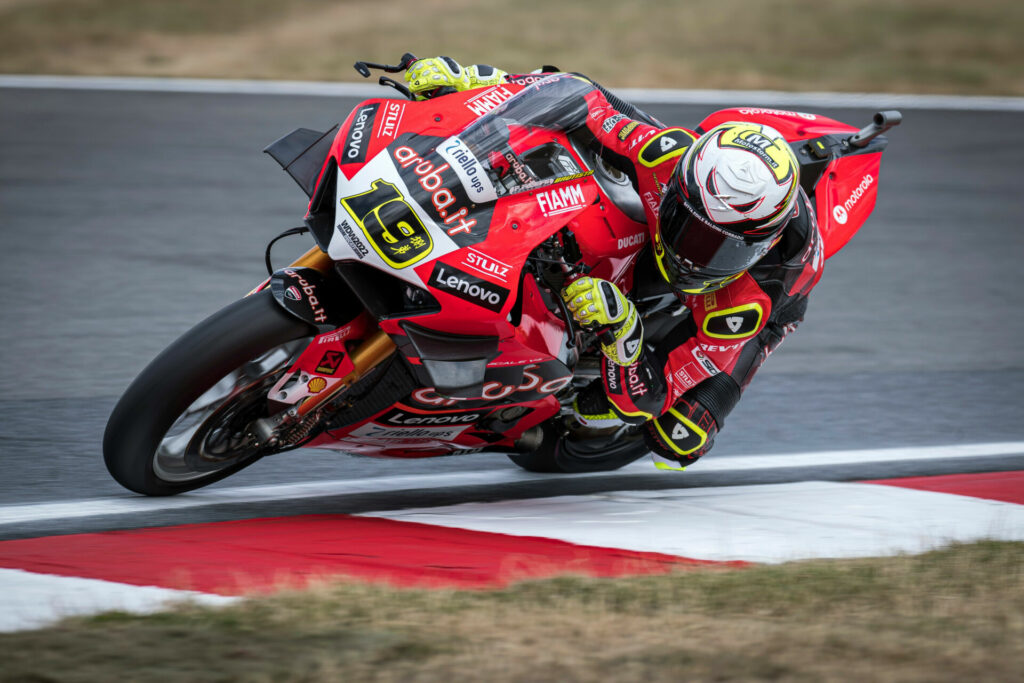 "It was a very positive day in which we did better than we expected. It's clear: we still have to fix some details to get closer to Rea, who at the moment seems to be one step ahead of everyone. However, I am very satisfied with the sensations I felt today and I think we have all the chances to take a step forward tomorrow morning to fight for the podium."
Michael Rinaldi (Aruba.it Racing – Ducati #21)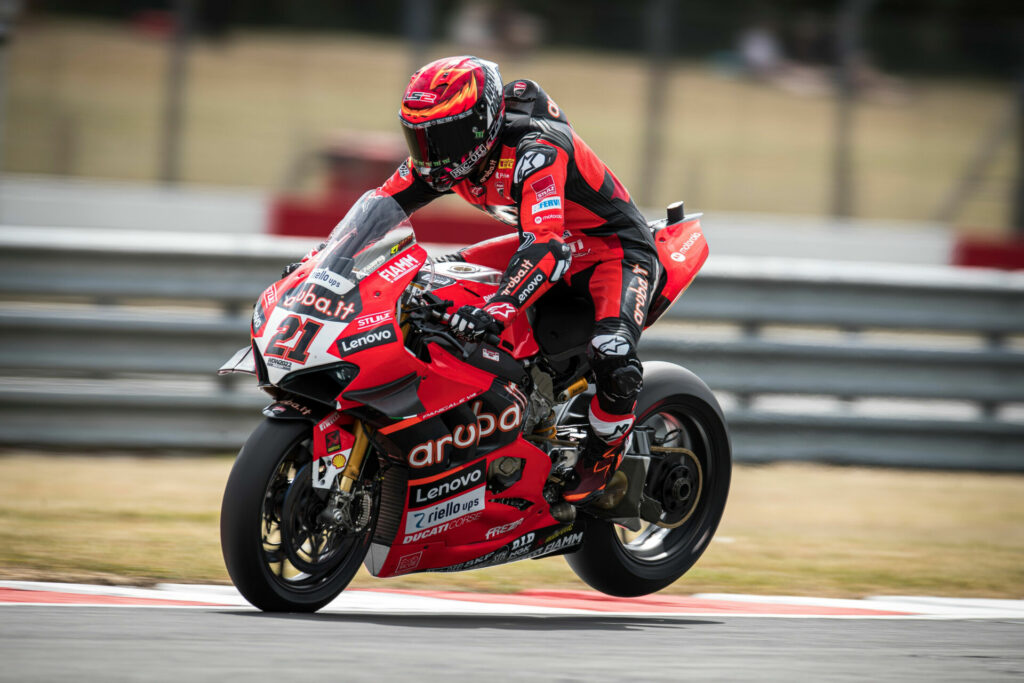 "I am satisfied because we did a really good job. The feeling with the bike is good, a confirm that since Misano we have been going in the right direction. Today's goal was not to make too many changes to the bike and the good feelings in FP1 helped us. There is still something missing to be at the top but I think we are working well."
WorldSSP
Very positive Friday for Nicolò Bulega, who rode the Ducati Panigale V2 for the first time at Donington Park, finishing third (1'31.164), two tenths off the best time of the day set by Aegerter (Yamaha).
Nicolò Bulega (Aruba.it Racing WSSP #11)
"I am happy with what we did today. In FP2 we managed to improve a lot the feeling with the bike. After all, this was the first time for me on this circuit with the race bike. Despite this I felt comfortable right away. The feeling is good and I think we can have a good weekend."
More, from a press release issued by Yamaha:
Razgatlıoğlu P2 as Pata Yamaha with Brixx WorldSBK get to work on Friday at Donington
Toprak Razgatlıoğlu was initially fastest overall this morning in Free Practice 1 at Donington Park, kicking off the fifth round of the 2022 FIM Superbike World Championship in the UK today.
However, lap times tumbled across the board this afternoon as the temperature heated up, with championship rival Jonathan Rea going half a second quicker than the rest of the field in the closing stages of Free Practice 2. Pata Yamaha with Brixx WorldSBK stood by its tried and tested race simulation running plan, with defending champion Razgatlıoğlu focusing on race pace rather than outright speed. Despite improving on his lap time by nearly 0.25s, it wasn't enough to retain the top spot.
The team hope to make a step overnight to find more rear grip for both Razgatlıoğlu and teammate Andrea Locatelli to enable them to fight at the front during the 23-lap feature tomorrow.
Locatelli, in just his second visit to the tricky UK circuit, made steps to recover lost track running in Free Practice 2 after an early crash at Goddard's in Free Practice 1 reduced his available track time this morning while the team repaired his #55 R1 WorldSBK. The 25-year-old Italian recovered to eighth overall in the combined times this afternoon.
Saturday Race day begins with Free Practice 3 at 09:00 (BST) followed by Superpole qualifying at 11:10 and Race 1 "lights out" at 14:00.
Toprak Razgatlioğlu
Pata Yamaha with Brixx WorldSBK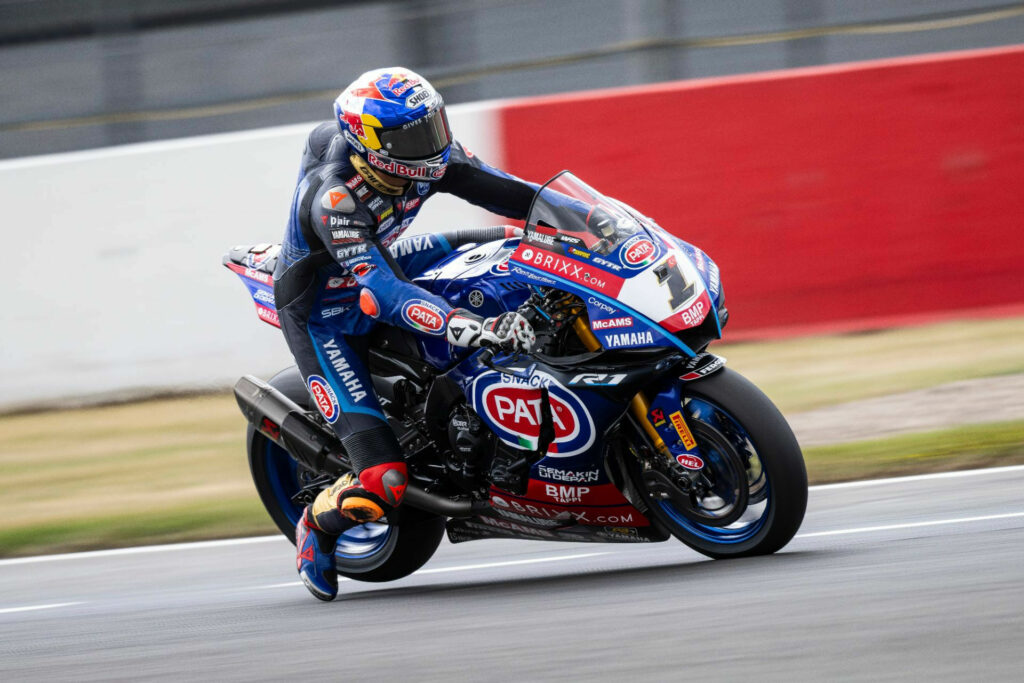 "I'm very happy that we come back again to the UK and Donington Park, because I like this track a lot. Today we try for a good set-up for the race, but we have to keep working because in FP2 I am not really happy – but P2 was not a bad lap time. We need more grip for the rear and after, I'm just riding because you know I enjoy this track! We will try also a new set-up, we will see. This is just the first day, tomorrow we have FP3 and after we will try again a good set-up for the race. Every race weekend this year we see big improvement, everybody is very fast. Important the race, not Friday – so we are just working for this and I hope tomorrow I am fighting for the victory."
Andrea Locatelli
Pata Yamaha with Brixx WorldSBK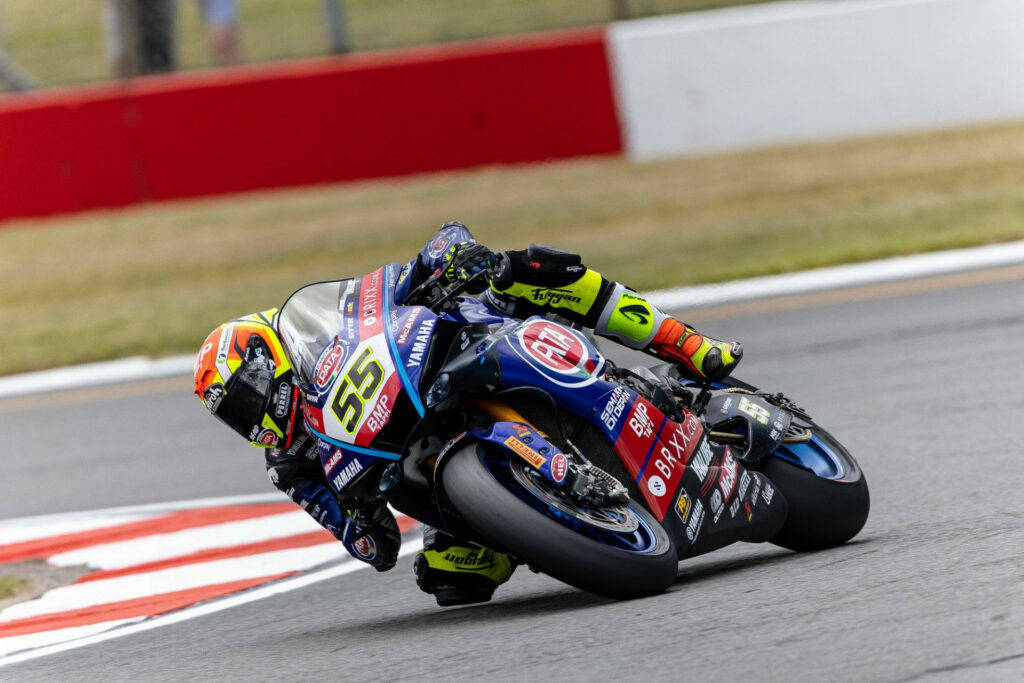 "The first day was not easy because in FP1 I crashed after five laps and we lost a lot of time. Also the feeling after I returned on track was not really good, but in the end, this afternoon we worked around the bike and the feeling was better and we improved on the lap time as well. In general, it's a strange feeling here in Donington because I have a lot of problem with the rear grip but for sure, we understand something and tomorrow we can improve the bike so this is a great point for us. It's not so bad to close day one here in P8 and now try to trust in myself to get some good here results tomorrow, to try to close the gap with the front group and to do a really good Superpole and also Race 1 because it's important for the championship. So we need to continue our work, focus on the job and push to take some good results."
Paul Denning
Team Principal, Pata Yamaha with Brixx WorldSBK
"A positive first day here at Donington: a dry race track, a big crowd for Friday and a great atmosphere around what looks like is going to be the biggest UK WorldSBK event for some years! Performance-wise, it was actually quite challenging. On the face of it, second on the time sheets for Toprak is not bad, and considering it's only his second visit here, Andrea's performance is also a solid start. But, to be honest, we've got work to do to find more rear grip for both riders and more consistency on the race pace. Jonathan has a clear advantage looking at today but we will be doing everything we can overnight to make a clear step for tomorrow."