More, from a press release issued by Dorna:
Bautista leads Razgatlioglu and Rea on Friday of the Pirelli Emilia-Romagna Round
The Championship leader topped the timesheets in FP2 after having been eighth in the morning session
Friday highlights – WorldSBK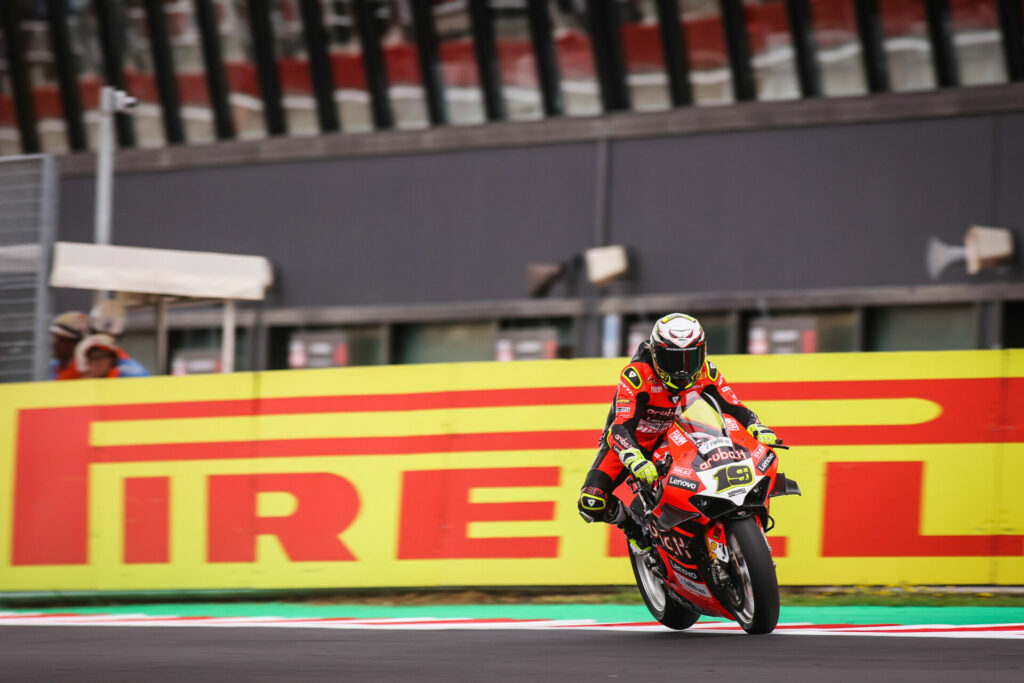 P1 – Alvaro Bautista (Aruba.it Racing – Ducati) 1'34.008
After being eighth in FP1, Bautista set his fastest time in the afternoon session as he finished ahead of Razgatlioglu and Rea. Bautista was able to do 15 laps in the 1'34 bracket, including eight of his final ten laps under the 1'34.5 mark (the other two laps were cancelled).
"It was a difficult start for me this morning because, with the cooler conditions, I didn't have a really good feeling with the bike. Basically, our target was just to get the feeling I had in the winter test here because that time the feeling was fantastic. In the morning, it didn't feel the same. It's true that we changed the bike a little bit compared to the test so for the afternoon we just came back to the bike at the test. Suddenly, I felt much better. We compared the new SCX tyres that Pirelli brought here, and we found some positive things in each one but it's a difficult to say a choice for the race because we didn't do a lot of kilometres on the tyre and the standard SCX we know very well how it drops or not. We need more information about these two tyres but the first day has been positive."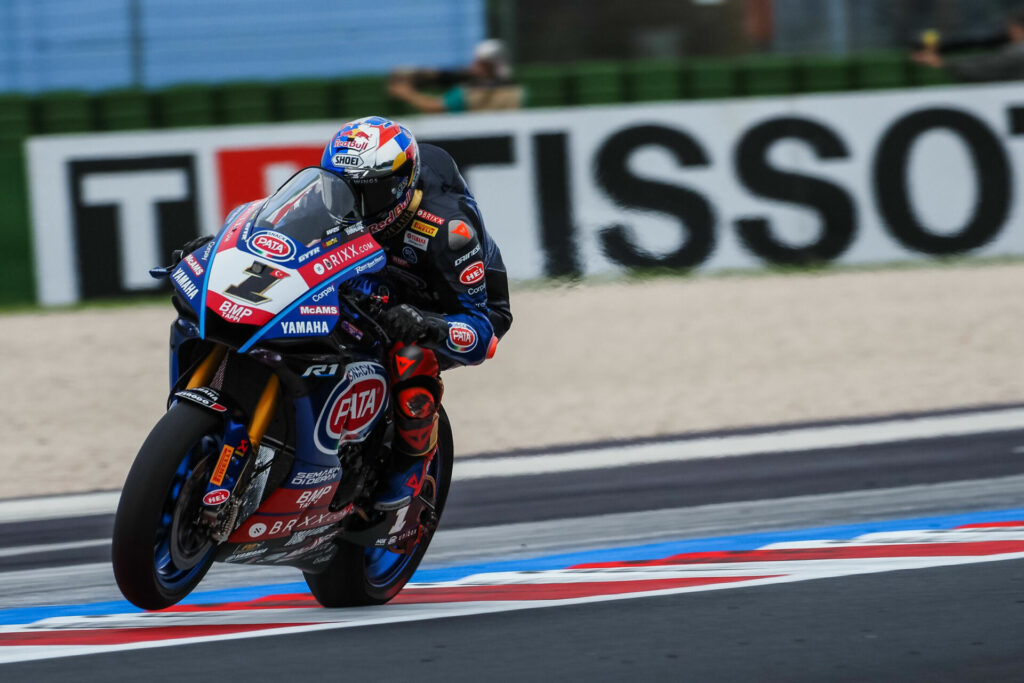 P2 – Toprak Razgatlioglu (Pata Yamaha with Brixx WorldSBK) 1'34.115
Razgatlioglu finished second only 0.107s behind Bautista. He was consistently faster than his rivals in the opening half of the lap but was losing time to Bautista in the final sector.
"We're starting good our weekend. After Estoril, we tried some new parts and I have a good feeling. This afternoon, we tried the two new Pirelli tyres. In FP2, we tried a new one and the last 15 minutes I tried the other one. Now, we'll check which one is better for the race. I'm very close to Bautista lap time, but my lap time was cancelled because I touched the green part. Anyway, we are fast and tomorrow we'll try a new set up for the race and I hope we'll have a good feeling. We're ready to race and it looks we'll be fighting again with Bautista and Rea."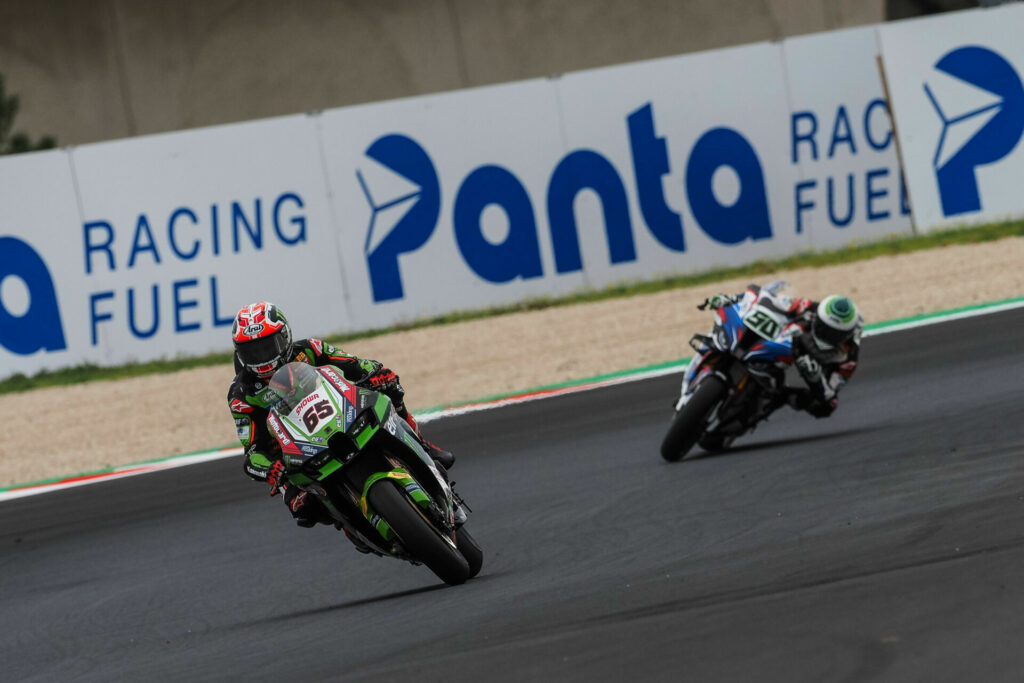 P3 – Jonathan Rea (Kawasaki Racing Team WorldSBK) 1'34.134
Rea was third but finished only 0.126s behind Bautista and just 0.019s behind Razgatlioglu. Rea accumulated 20 laps in the 1'34 bracket, more than anyone else managed throughout the afternoon session.
"I felt good with my bike. Just after some laps we understood where we need to improve. We had to understand the circuit as it's been a while since we've been here. It was just getting up to speed, there are some key areas where we need to improve. We focused a lot on trying to understand the tyre choice because we have some new options for rear tyres. So, when I putted an option, I tried to do a longer run to understand the drop and the behavior of the tyre. We have some good information now for tomorrow."
P4 – Michael Ruben Rinaldi (Aruba.it Racing – Ducati) 1'34.184
Rinaldi has been inside the top five all day before finishing in fourth on the combined times.
"I'm happy about today. We started with the base of Estoril and the feeling is better. We improve a little bit what we have. We tried the new Pirelli tyre. They work great but at the moment we don't know if we'll use them. For sure, Toprak, Jonny and Alvaro are very strong but at the moment we are there. We are four in one tenth. Tomorrow we will work a bit more because I think we need a bit more to fight for the win."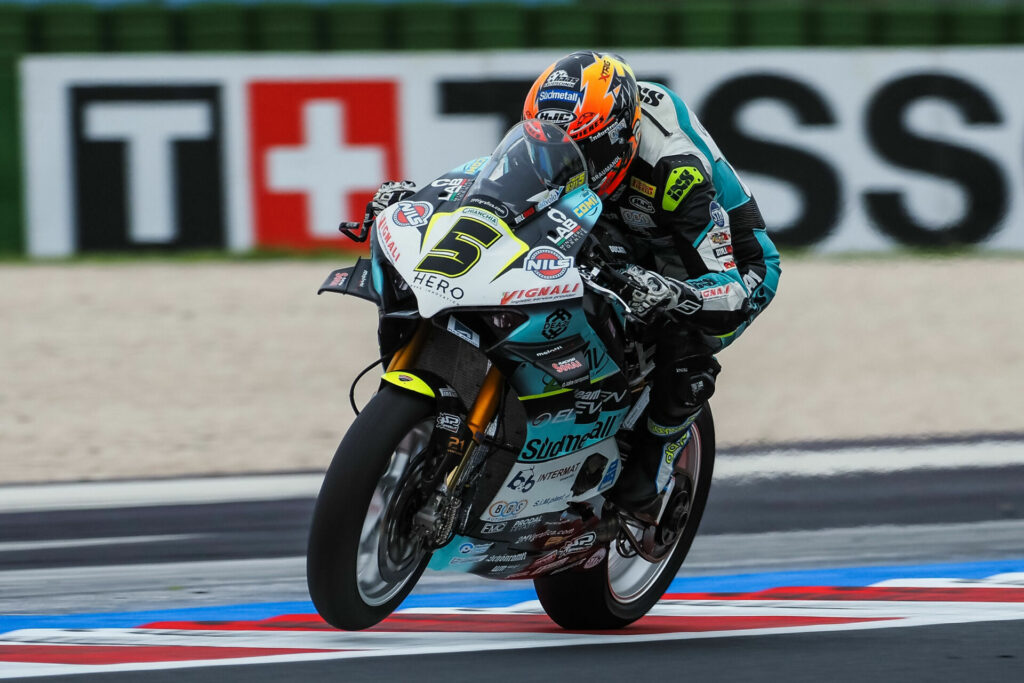 P5 – Philipp Oettl (Team Goeleven) 1'34.498
Oettl (Team Goeleven) managed fifth on his return after his right collarbone fracture and was top Independent Rider at the end of day one.
"I feel surprisingly well, the shoulder works good. I also feel good with the bike. I'm really happy that I have a good feeling with it, way better than I expected it. After an injury, it's always difficult to come back and find immediately the feeling with the bike and Misano is a challenging track. I'm looking forward to tomorrow even if we still have some work to do. I want to continue riding like today. I don't think about the position too much, we just want to improve race by race and if we can do another top ten this weekend, it would be great."
P6 – Garrett Gerloff (GYTR GRT Yamaha WorldSBK Team) 1'34.605
Gerloff was sixth at the end of day one as he's still recovering from his injury at in Estoril.
"After the last two weeks of not doing anything, I feel it healed up pretty well and it's what my doctor says too. The pace is good but I had some difficulties doing just one fast lap. I see the pace of the top three guys is really impressive so we're a little bit after that. The test that we had here earlier this year helped. We have the same bike but the track temperature is a bit higher, so we had to change a few things so we're just working through it. Talking about my goals, I know it's going to be harder in the next couple of days, so we have to keep that in mind. But it's the same as always, I want a good Superpole and then a good first couple of laps and be close to the front group and try to go after them."
To note:
Iker Lecuona (Team HRC) was the first Honda rider in eighth place whilst Scott Redding (BMW Motorrad WorldSBK Team) was the leading BMW rider in ninth.
Italian riders Andrea Locatelli (Pata Yamaha with Brixx WorldSBK) and Axel Bassani (Motocorsa Racing) were 10th and 12th respectively. Locatelli didn't improve on his morning time in the afternoon when the temperatures came up, finishing in tenth overall, the only rider to not improve in the second session.
WorldSBK action resumes on Saturday from 09:00 (Local Time), followed by Tissot Superpole at 11:10 and Race 1 at 14:00.
More, from a press release issued by Team HRC:
Team HRC makes progress on day 1 at Misano
With the top twelve riders separated by just nine tenths of a second at the end of the first day of practice at the Misano World Circuit Marco Simoncelli, Iker Lecuona and Xavi Vierge placed eighth and eleventh respectively today and are keen to further reduce the gap to the front before race 1 gets underway tomorrow at 2pm local time.
Team HRC is in action at the Misano World Circuit Marco Simoncelli this weekend, competing in the fourth round of the 2022 Superbike World Championship with riders Iker Lecuona and Xavi Vierge.
The factory riders took to the Italian track for today's first free practice session in cool, cloudy conditions. The track was dry as the practice got underway although drops of rain began to fall ten minutes in. Both Lecuona and Vierge soon set some encouraging lap times and concluded this opening session in sixth (Iker) and seventh (Xavi) position, having set almost identical times of 1'35.086 and 1'35.096.
The afternoon brought warmer temperatures and some degree of sunshine, which allowed Team HRC to work uninterruptedly throughout the 45-minute second practice. Lecuona improved on his morning reference early on in the session, ultimately setting a best of 1'34.793 to place eighth in the combined standings. Vierge also lowered his times later in the session, finishing eleventh overall with a fastest lap of 1'34.861.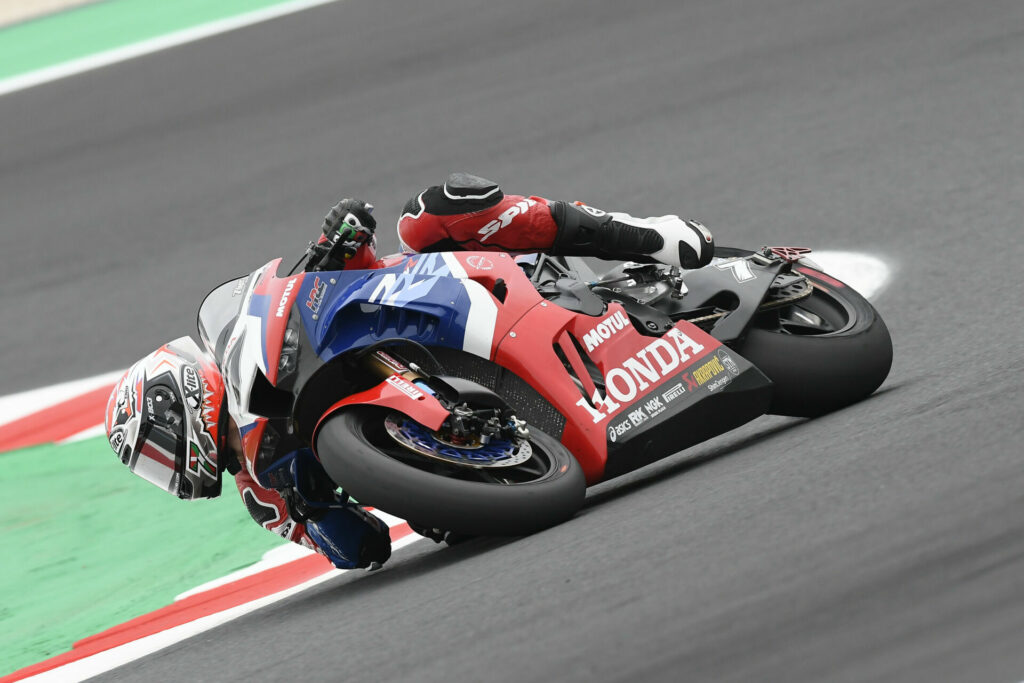 Iker Lecuona  7
P8 
"It was not such a bad day although we expected a little more after the morning session. I felt better on the bike this morning, quite good right away in fact. We are still dealing with some vibration coming from the rear, something we are working hard to solve but we have not yet fixed. This afternoon I started the session on a used tyre, and felt quite comfortable, to the point that I was able to improve on my lap time. I was very happy with my feeling but then during my second run, which was a long run with a new Pirelli rear tyre that we wanted to try, I didn't feel as good as I had earlier, and the lap times didn't come. We need to work on this aspect of the set-up, and our first target for tomorrow is to solve this vibration so that I can feel more comfortable on the brakes."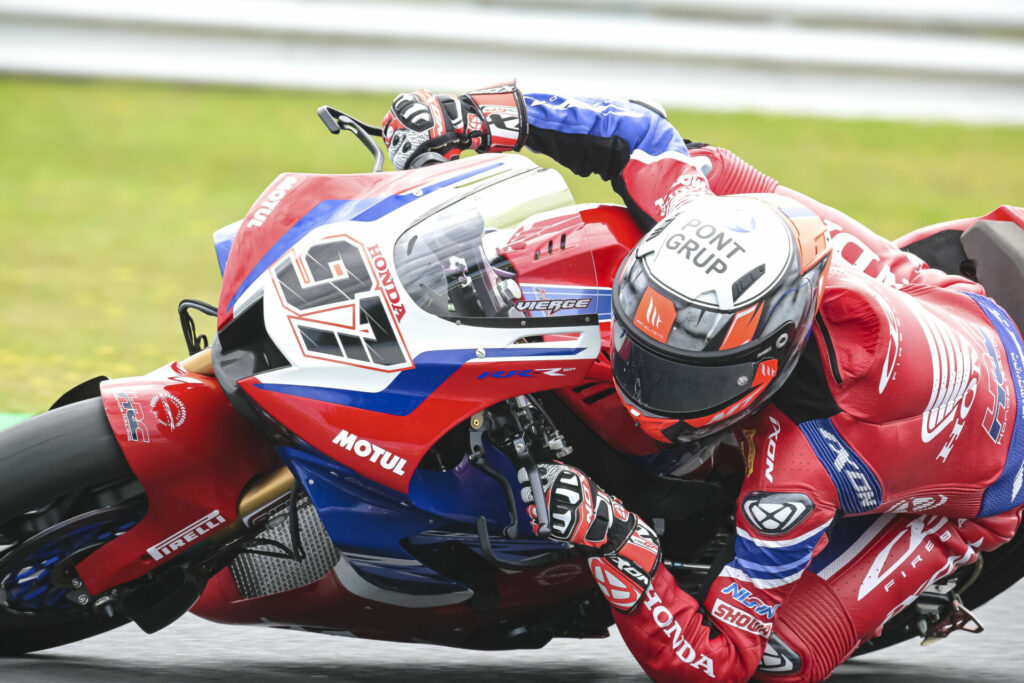 Xavi Vierge  97
P11
"Today was positive, because I felt good on the bike right from the first run. We had some new tyres from Pirelli to try and I quite liked the one we tested this morning, so we started with that one again in FP2 and I again felt quite good even though the tyre was used. But when we put in another one, the feeling was not there, which was strange as I was expecting to take a step forward. On the positive side though, we got some pretty clear answers today and now know the direction to follow tomorrow. Our pace is consistent, so now we need to fix a few details so that we can make another step."
More, from a press release issued by GYTR GRT Yamaha WorldSBK Team:
SOLID PACE FOR GYTR GRT YAMAHA WORLDSBK TEAM ON DAY 1 AT MISANO
The GYTR GRT Yamaha WorldSBK Team returned to action today at the Misano World Circuit 'Marco Simoncelli', with Garrett Gerloff going sixth fastest on combined times, while Kohta Nozane was 16th.
After being declared fit to race on Thursday, Gerloff ended Free Practice 1 in 11th (1'35.756), with teammate Nozane finishing 18th (1'36.978) as he suffered a small off in the final stages of the session.
GYTR GRT Yamaha WorldSBK Team focused on long runs in FP2, completing many laps with Gerloff, who showed solid race pace. The American ended the afternoon's running sixth fastest (1'34.605), while Nozane was 16th (1'35.726).
The Japanese rider was forced to miss the first 10 minutes of FP2 due to a penalty for not following marshal's instructions after his FP1 crash.
Both riders will be back on track tomorrow, firstly with FP3 at 09:00 local time (GMT +2), before the Tissot Superpole qualifying at 11:10 and Race 1 at 14:00.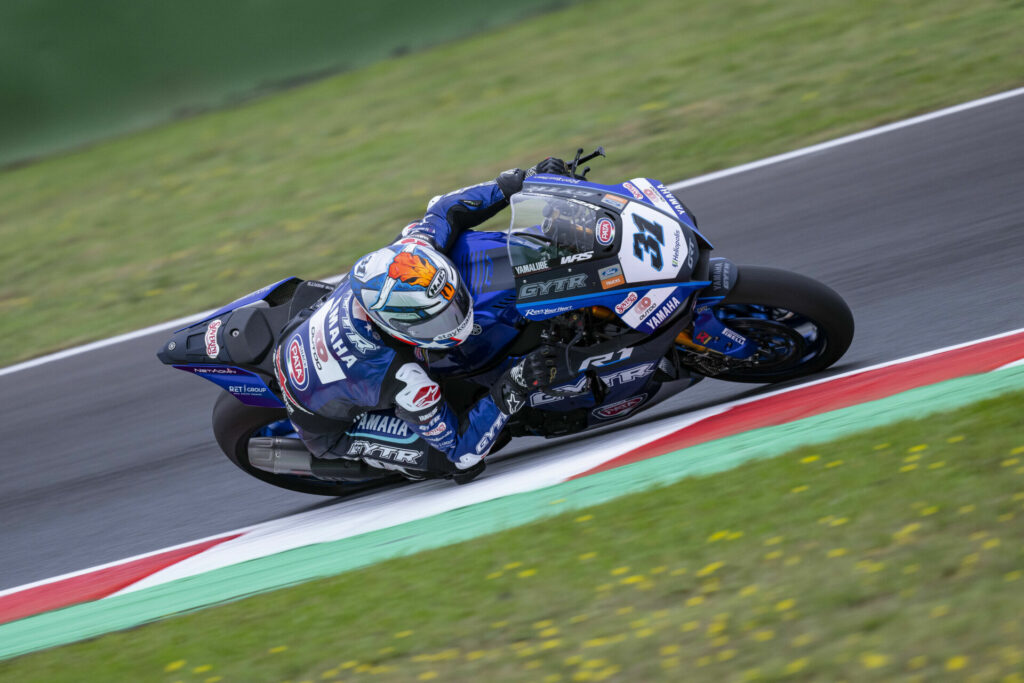 Garrett Gerloff #31
"Overall, the day went quite well. The leg is fine and P6 is not bad; the pace is good even though we can improve in some areas. The tests we made here helped a lot as well. The goals are the same as they've been all year, to have a good qualifying and try to stay close to the top group in the race. I tried the new tyre that Pirelli brought here and I do like it honestly, it gives me more stability."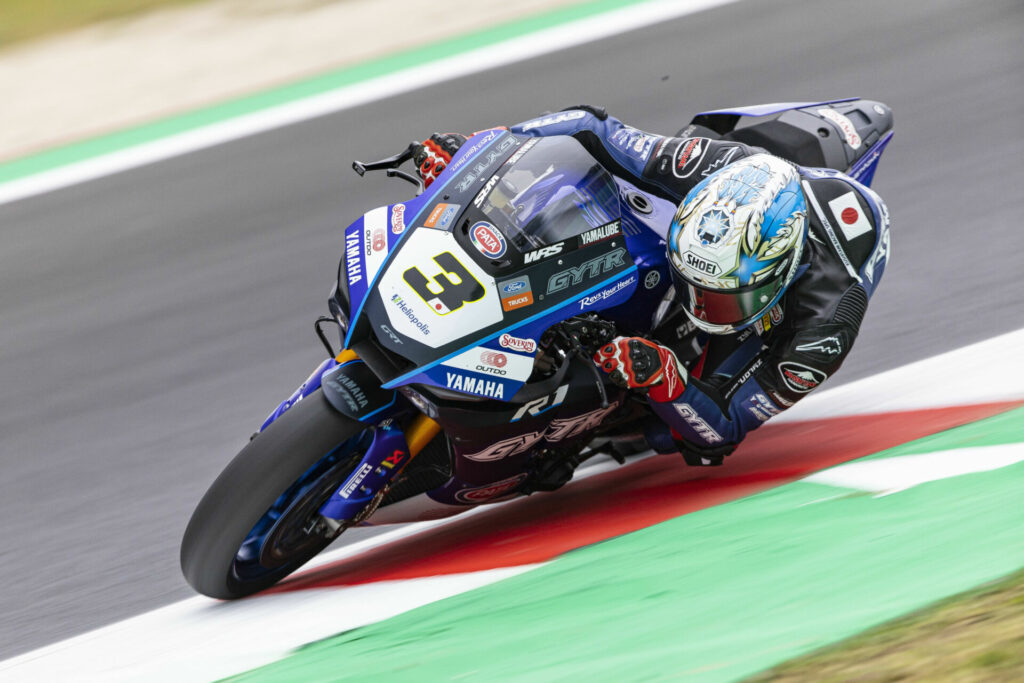 Kohta Nozane #3
"Day one was not that bad. We can surely improve and we need to do it, but the feeling is OK overall and I'm confident about being faster tomorrow. I'm sorry for the team for the crash in the FP1. I made a mistake and it was painful, not for the body, but just because we missed some time in FP2 as well. So, I want to make further steps for a good result also for the guys who are working really well as usual."
More, from a press release issued by Kawasaki:
Rea Third Fastest After Day One
Kawasaki Racing Team WorldSBK riders Jonathan Rea and Alex Lowes finished second and seventh respectively after the first day of practice at the Misano World Circuit Marco Simoncelli.
Almost every rider improved their Free Practice One time in the warmer afternoon temperatures of FP2, after heavy rains on Thursday left the racing surface in less than ideal condition at the beginning of on-track action on Friday.
The 4.226km long Misano layout presented all the riders with an improving track surface in FP2, which Rea used well to record a best lap time just 0.126 seconds from top Friday qualifier, Alvaro Bautista.
Lowes ended up seventh fastest, 0.698 seconds from the leading rider. He worked on his race set-up with his team, based largely on the settings that served Alex well during the previous round at Estoril.
Misano will be the only WorldSBK round in Italy this season and the fans returned to the grandstands and paddock areas to get close to the action. The weather forecast is for hot and sunny weather for the rest of race weekend, with ambient temperatures into the high twenties Centigrade.
FP3, Superpole Qualifying and Race One will be the challenges Misano will provide all the riders and teams on the second day at Misano, on Saturday 11 June.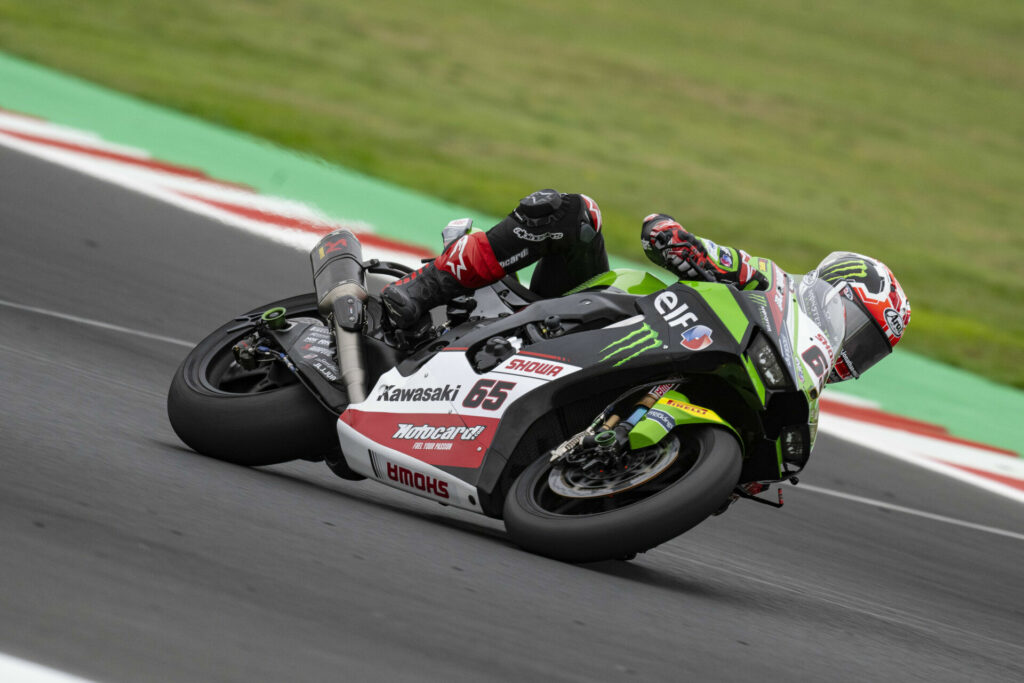 Jonathan Rea, stated: "I felt good with the bike out there and I was able to understand two race tyre options in FP2. The temperature was a little bit better than this morning but still we expect tomorrow to be hotter, as the sun should be out all day. For day one I feel OK with the bike. In some areas we need to improve. I expect tonight we can make some good changes. The track is very bumpy, especially in T1, T2 and T3, and the last two corners. Apart from that, it is OK."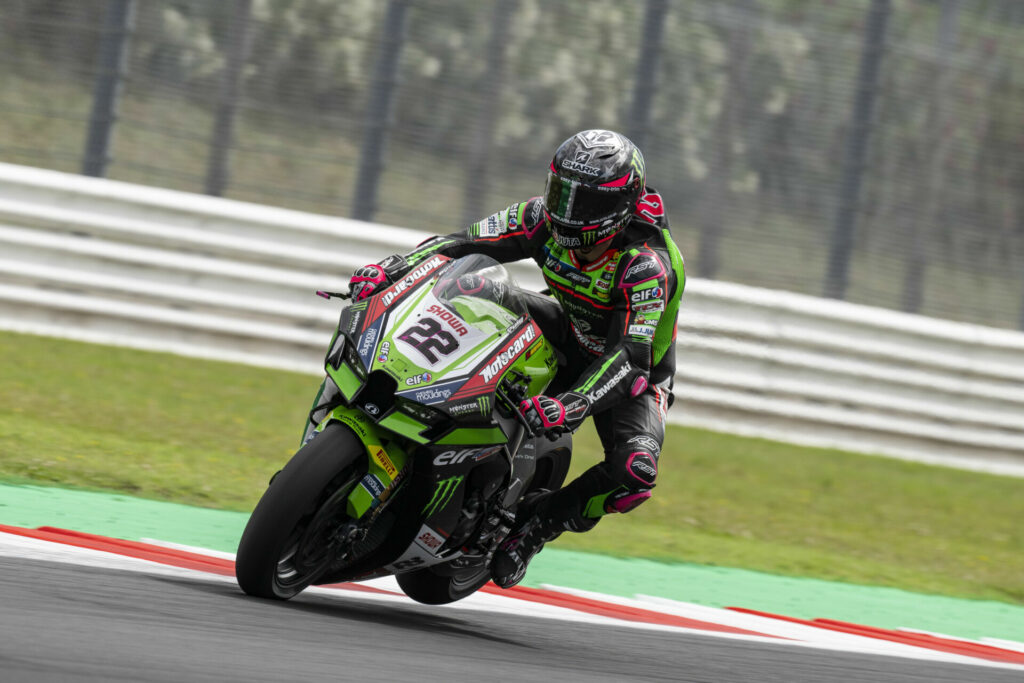 Alex Lowes, stated: "It was a good opening day at Misano. We worked through some electronics and I have a direction from chassis set-up. We didn't change much from the previous round at Estoril, so we will make some small tweaks for FP3 on Saturday. Overall, I'm happy and looking for a few tenths in the laptimes. It's always lovely to ride this track and it is very nice to see so many fans here on a Friday as well."
Tito Rabat (Kawasaki Puccetti Racing) was 22nd fastest on day one as he substitutes for the team's injured regular rider, Lucas Mahias.
Oliver König (Orelac Racing VerdNatura) was 25th today but Alessandro Delbianco (Team Pedercini Racing Kawasaki) made an instant midfield impression in his first ride of the season, in 19th place overall.
More, from a press release issued by Aruba.it Racing Ducati:
Bautista leads the way in Friday free practice for the Pirelli Emilia Romagna Round at Misano. P4 for Rinaldi. Bulega impresses with P1 in WorldSSP FP2
The first day of action at the Misano World Circuit Marco Simoncelli ended with Alvaro Bautista and Michael Rinaldi in first and fourth position, respectively.
After an FP1 that wasn't particularly indicative due to the bad weather conditions, the sun returned to shine before FP2, allowing the Aruba.it Racing – Ducati team riders to work consistently on their Ducati Panigale V4R machines.
Bautista notched up the first position with a time of 1'34.008, 117 thousandths of a second ahead of Razgatlioglu (Yamaha). On the other side of the garage, it was a promising Friday for Rinaldi, who closed in P4 (1'34.184) just 50 thousandths of a second behind Rea (Kawasaki).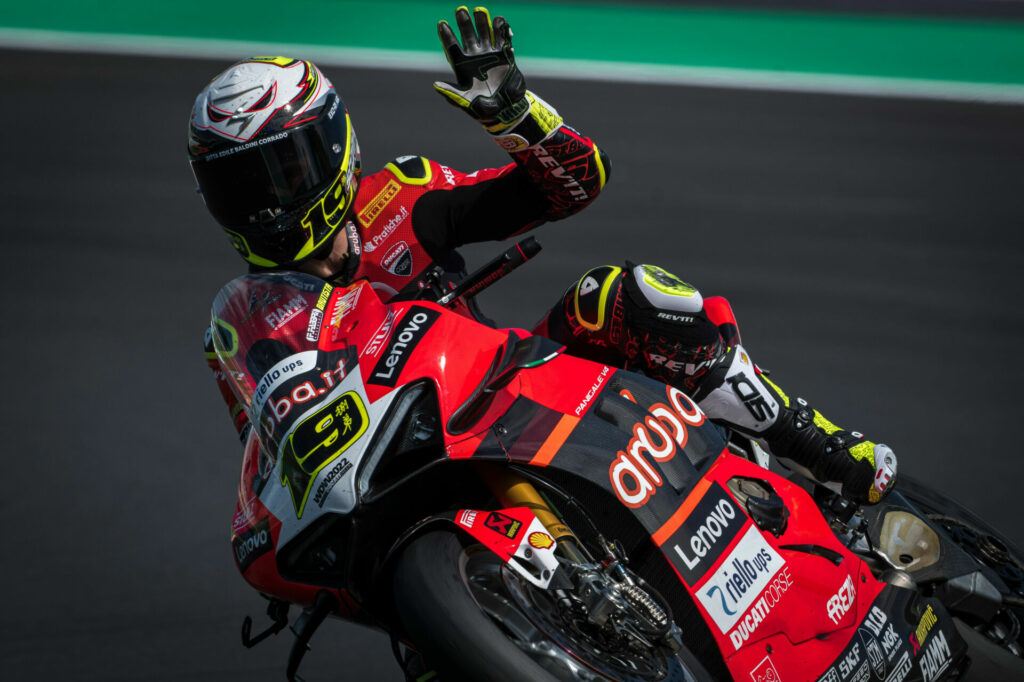 Alvaro Bautista (Aruba.it Racing – Ducati #19)
"We started with some difficulties because of the weather conditions that did not help us this morning. In the afternoon, with the higher temperatures, I managed to regain that good feeling that I had had during the tests. We worked on the tire selection ahead of tomorrow's race. I think this will be a really important choice that will determine Race-1 results. However, the feelings are very positive."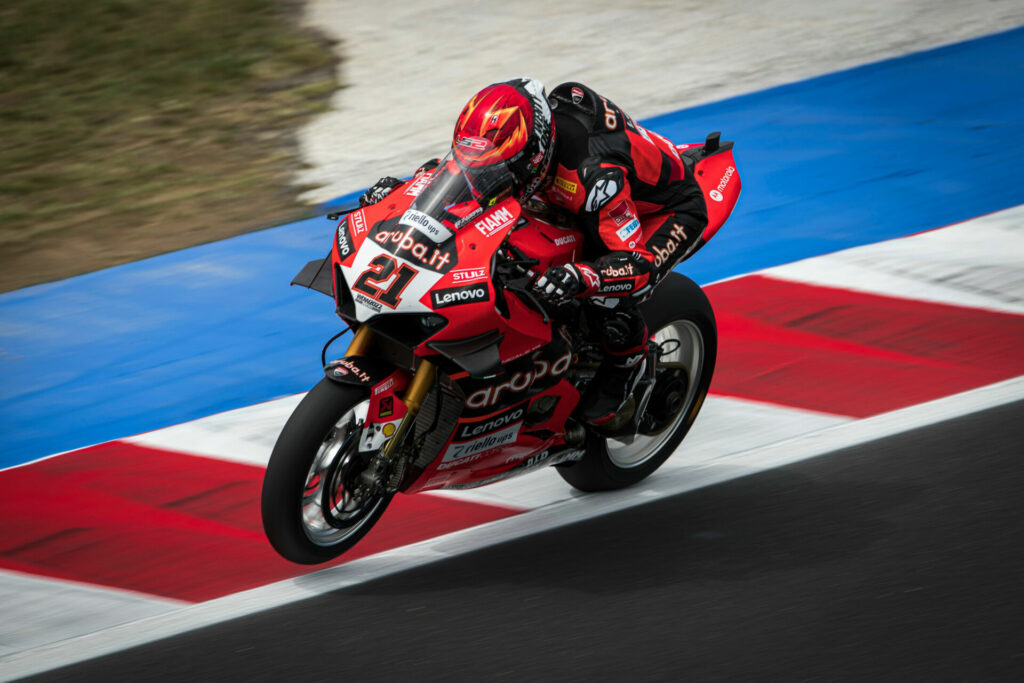 Michael Rinaldi (Aruba.it Racing – Ducati #21) 
"It was a positive day. We started with the setup we used in Portugal and managed to improve my feeling with the bike. The long-run made in FP2 gave me positive indications and we also had the chance to try the new tire introduced by Pirelli. We are still missing some details to be at the top but the gap from the podium positions is really small. I believe that if we continue to work in this direction, tomorrow we could have fun and entertain our fans."
WorldSSP
After a technical issue that did not allow him to take advantage of FP1, Nicolò Bulega was the absolute star of FP2. The Italian rider worked well on his race pace with his Ducati Panigale V2 to close the session in first position with an impressive lap time in 1'37.620.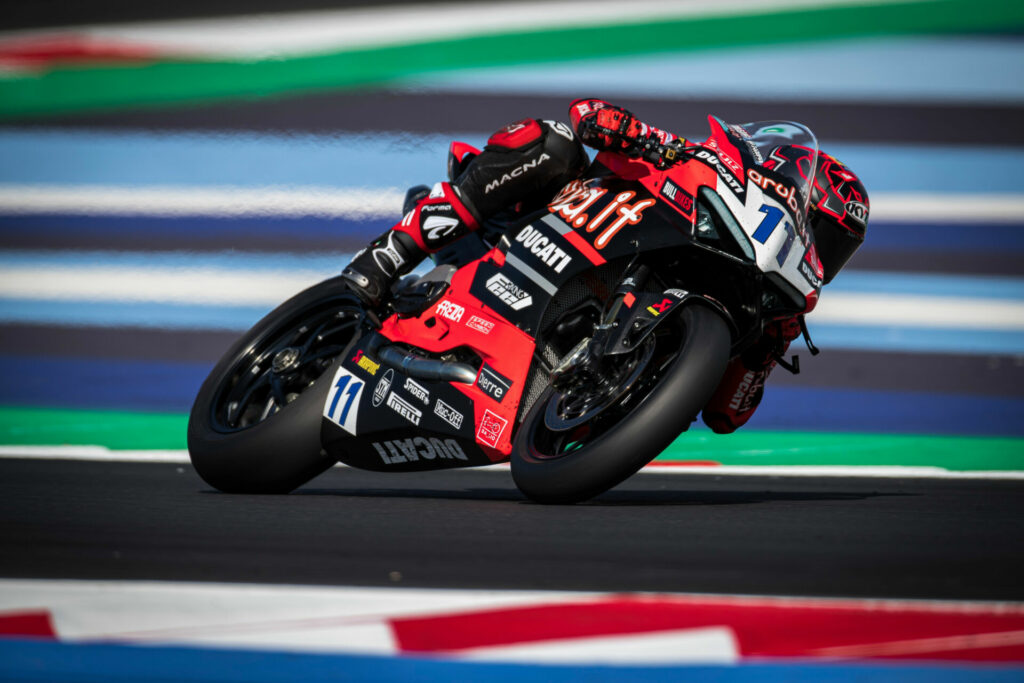 Nicolò Bulega (Aruba.it Racing WSSP #11)
"I am very satisfied with what we have done this afternoon, also because in FP1 we were not able to lap much due to a technical issue. In FP2, I immediately found a good feeling, also thanks to the work made by my team. I hope we can get important results this weekend in Misano in front of our fans."