FIM Supersport World Championship
Phillip Island Grand Prix Circuit
Phillip Island, Victoria, Australia
March 1, 2020
Race Results (all on Pirelli tires):
Andrea Locatelli, Italy (Yam YZF-R6), 16 laps, Total Race Time 26:21.914, Best Lap Time 1:33.210
Raffaele De Rosa, Italy (MV Agusta F3 675), -5.817 seconds, 1:33.374
Jules Cluzel, France (Yam YZF-R6), -6.780, 1:33.954
Corentin Perolari, France (Yam YZF-R6), -11.372, 1:33.883
Lucas Mahias, France (Kaw ZX-6R), -11.423, 1:33.928
Hannes Soomer, Estonia (Yam YZF-R6), -15.520, 1:34.100
Steven Odendaal, South Africa (Hon CBR600RR), -18.697, 1:33.974
Manuel Gonzalez, Spain (Kaw ZX-6R), -20.826, 1:34.487
Federico Fuligni, Italy (MV Agusta F3 675), -21.823, 1:34.377
Issac Vinales, Spain (Yam YZF-R6), -23.381, 1:34.039
Can Oncu, Turkey (Kaw ZX-6R), -25.217, 1:34.337
Danny Webb, UK (Yam YZF-R6), -31.700, 1:34.924
Patrick Hobelsberger, Germany (Hon CBR600RR), -38.205, 1:35.399
Peter Sebestyen, Hungary (Yam YZF-R6), -41.523, 1:35.071
Andy Verdoia, France (Yam YZF-R6), -46.929, 1:35.320
J. Van Sikkelerus, Netherlands (Yam YZF-R6), -62.683, 1:35.551
Loris Cresson, Belgium (Yam YZF-R6), -74.262, jump start/ride-through penalty, 1:35.429
G. Hendra Pratama, Indonesia (Yam YZF-R6), -92.084, ran off track, 1:36.940
Christoffer Bergman, Sweden (Yam YZF-R6), -9 laps, DNF, crash, 1:35438
Phillip Oettl, Germany (Kaw ZX-6R), -10 laps, DNF, crash, 1:33.839
Hikari Okubo, Japan (Hon CBR600RR), -13 laps, DNF, crash, 1:35.536
Randy Krummenacher, Switzerland (MV Agusta F3 675), -16 laps, DNF, crash, no lap time recorded
Oli Bayliss, Australia (Yam YZF-R6), DNS
More, from a press release issued by Dorna WorldSBK Press Office:
Locatelli dominant on WorldSSP debut Down Under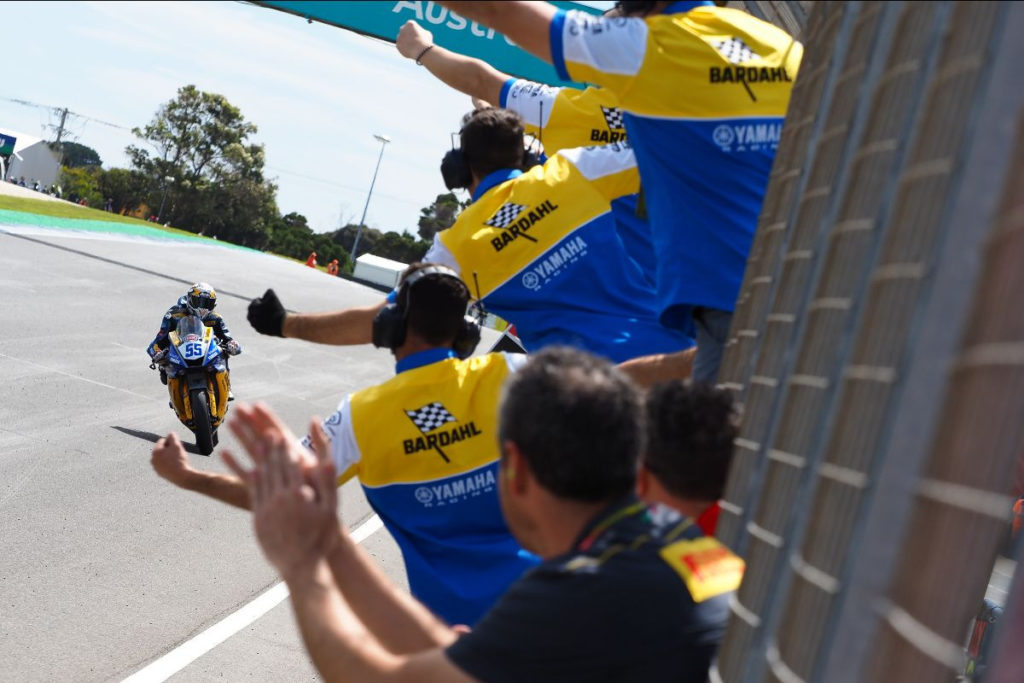 Italian rookie wins in sensational fashion at the Yamaha Finance Australian Round as defending Champion Krummenacher crashes out
The 2020 FIM Supersport World Championship got underway at Phillip Island with Andrea Locatelli (BARDAHL Evan Bros. WorldSSP Team) taking a commanding victory by almost six seconds. The WorldSSP race featured a mandatory pit stop with stints not allowed to last more than 10 laps of the 16-lap race distance.
Locatelli started from pole position and he led previous WorldSSP Champions Randy Krummenacher (MV Agusta Reparto Corse) and Lucas Mahias (Kawasaki Puccetti Racing) from the front row. Krummenacher had a poor start and crashed in the opening sequence of corners as his title defense got off to the worst possible start. Mahias briefly led Locatelli into Turn 1 but the Italian rookie was able to re-pass the French rider into Turn 2. Mahias would eventually finish in fifth place.
Once Locatelli had re-taken the lead, he didn't look back as he pulled out a six second lead over the course of 16 laps and was also the last of the front runners to make the mandatory pit stop as he pitted at the end of Lap 9. Raffaele De Rosa (MV Agusta Reparto Corse) finished behind Locatelli as Italian riders finished one-two, making it the first Italian one-two since Misano 2018.
De Rosa was one of the first riders to pit in the race when the pit window opened 6 as he dived into the pit lane on Lap 7 along with Hungarian Patryk Sebestyen (OXXO Yamaha Team Toth) and GMT94 Yamaha duo Jules Cluzel and Corentin Perolari. It was a different strategy to the one race winner Locatelli took as he was the second last to pit; only Jaimie van Sikkelerus (MPM Routz Racing Team) pitting later.
Jules Cluzel finished in third place despite picking up a time penalty for not adhering to the pit stop minimum time during his pit stop, but the 0.080s was not enough to affect his result as he finished five seconds clear of GMT94 teammate Corentin Perolari in fourth place.
Estonian rider Hannes Soomer (Kallio Racing) finished in sixth place, with 3.545s added on to his race time for an infringement of pit time not enough to move him down the order. This was partially due to Steven Odendaal (EAB Ten Kate Racing) also receiving a time penalty for the same reason. Soomer's Spanish teammate Isaac Viñales finished the race in tenth place.
Manuel Gonzalez (Kawasaki ParkinGO Team) finished in eighth place ahead of Federicio Fuligni (MV Agusta Reparto Corse) in ninth. Can Öncü (Turkish Racing Team) finished just behind Viñales in 11th place while he had a six second gap to Danny Webb (WRP Wepol Racing) in 12th.
Patrick Hobelsberger (Dynavolt Honda) was the highest-placed Honda rider of the race as he finished in 13th place with Hungarian rider Sebestyen and Andy Verdoïa (bLU cRU WorldSSP by MS Racing) completing the top 15 and rounding out the points-paying positions.
Reigning Champion Krummenacher's title defense got off to a disastrous start when he appeared to move before the lights had gone out. He stopped and then restarted when the race got underway, before he crashed out on the opening lap of the season at Turn 1. Krummenacher was not the only rider to crash out as Hikari Okubo (Dynavolt Honda), Philipp Oettl (Kawasaki Puccetti Racing) and Christoffer Bergman (Wojcik Racing Team) all crashed during the race. Oettl had been fighting at the front end of the field before his accident, making it up to fifth place on Lap 6 before he crashed out on Lap 7.