The winners have been chosen in the Roadracing World WeatherTech Raceway Laguna Seca Experience Contest.
Last week, Roadracing World offered fans the opportunity to win a special prize pack to attend this coming weekend's combined World Superbike/MotoAmerica event at WeatherTech Raceway Laguna Seca. To enter, fans were asked to send an e-mail to Roadracing World sharing their favorite memory of or experience at WeatherTech Raceway Laguna Seca.
The 10 winners were chosen based on their story-telling ability, creativity, and relevance, as judged by the editorial staff reviewing redacted entries with each entrant's name removed.
Each winner will receive two three-day General Admission passes with paddock access to the event, two lanyards, two pass holders, two 2019 WeatherTech Raceway Laguna Seca event schedules, and one official event poster.
The memories and photos shared by the winners are listed below in no specific order.
For more information on the upcoming World Superbike/MotoAmerica event at WeatherTech Raceway Laguna Seca, or to purchase tickets, please visit the event website www.weathertechraceway.com.
WINNER #1
Anthony Guzman
Fontana, California
In 2005 MotoGP returned to the U.S. My son and I rode out with my friends from Track Daz. Not having a lot of money for souvenirs and such. I brought my Arai Quantam Mick Doohan signature helmet. I've always been a huge Mick Doohan fan. So my crazy idea was to get it signed.
I knew that for a new venue or event, the security's not quite on point yet; at least that's been my experience from past races around SoCal. Walking around the paddock, I spotted some VIPs opening up a gate to exit what I like to call the backstage area, and closing it behind them. It was hidden very well but not from me. LOL! This was Saturday.
So Sunday I brought my helmet snuck back, and waited by the gate to see if I could spot Mick. Now I hadn't seen Mick on TV for awhile so I wasn't sure of how he was looking at that point. Low and behold I see a guy off in the distance. it kinda looks like him but I wasn't 100%. He passes me and I realize my opportunity just passed me by, heading into the Honda paddock. As I said a few cuss words to myself, I was bummed I missed out. But I wasn't going down quietly.
I waited by that fence what seemed like hours. I had my helmet in my backpack, facing up, ready for a signature if I got another chance, Sharpie in hand. All of a sudden Mick walks out, I asked if he would sign my helmet. He said sure. Had the zipper open, Sharpie in hand and BAM! Mission accomplished!
I still have the helmet 'til this day! Now the icing on the cake was my son and I being Nicky Hayden fans since the Hypercycle days out at Willow Springs, got to witness history with Nicky winning the race that day! I still cant believe it happened, but it did! Thanks for reading!
WINNER #2
Jenny Dang
Corinth, Texas
My best memory was meeting Nicky Hayden in the paddock at Laguna Seca 2012 when he rode for the Ducati MotoGP team. He was swarmed by fans including myself and still stopped and took photos with everyone there. He is truly a hero and is sorely missed.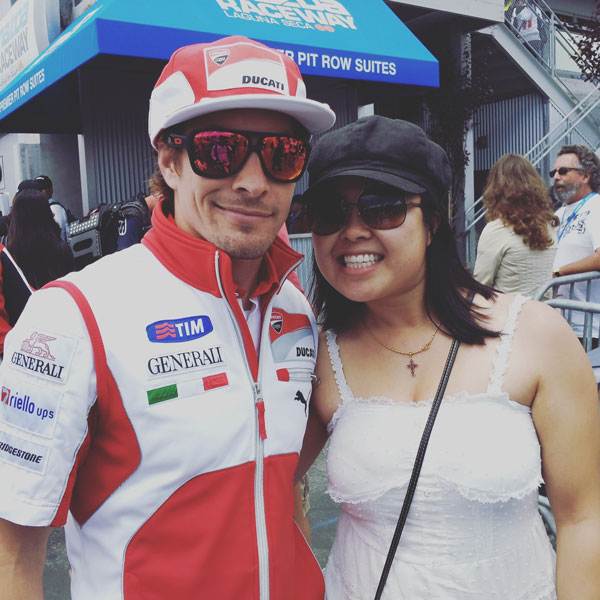 WINNER #3
Dr. Alberto Giusti
Napa, California
I'm from Italy and my biggest passion is the motorcycle world. I'm a rider and I have track experience in Italy. I moved to California in 2017 and I'm living in Napa.
One of my biggest dreams was to ride at Laguna Seca and see with my eyes the magic spot where Rossi overtook Stoner in 2008 at The Corkscrew. Finally my dream came true when in November, 2017 me and my best California friend decided to have a track day with Feel Like A Pro. Even if we had a 300cc bike, it's been amazing. The emotions that I had that day I will never, never forget in my life for many reasons.
Here are two of the best pictures of that day and I can say of the top 10 of my life. One on the corkscrew with my friend Alex, (me in front and him with yellow helmet behind me) and the other one with Ashleigh. At that time we were dating and she drove from Napa to Laguna just to see me. That was one of the moment that I felt that she was the right one. Few months later we got married and now we have a baby on the way. How crazy is life?
I already took my family there when they came to visit me from Italy and they were so excited.
So Laguna will be forever in my heart.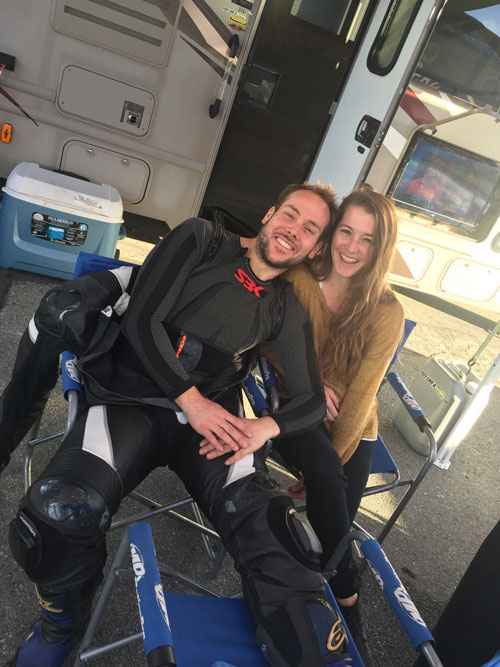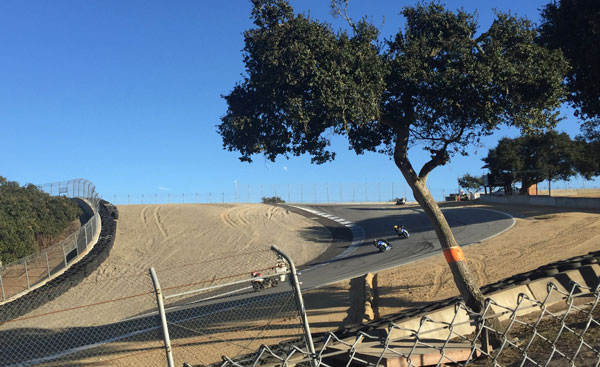 WINNER #4
Min Han
Los Angeles, California
I would like to share my pictures from Laguna Seca to win the passes for the WSBK event. My favorite experience in Laguna Sega was back in 2013. I deployed to Iraq but I flew out to California to attend the last MotoGP in Laguna Sega during my R&R leave. I got to see my favorite MotoGP rider, Valentino Rossi, and I never forget that moment. I've still been going to Laguna Seca every year for the WSBK and MotoAmerica races. I attended my very first trackday at Laguna on the 4th July with Fun Trackdayz. I was very excited and it was my dream come true! Thank you for this opportunity!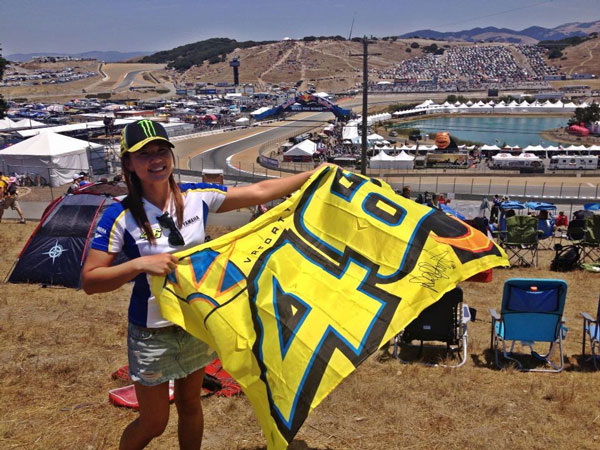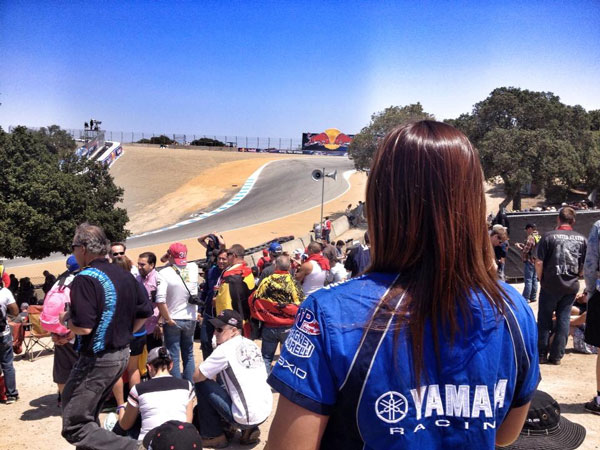 WINNER #5
Manuel Paunet
San Jose, California
I went there last year with my daughter Shannon, 7, and my son Ashton, 10, to watch the races, the bikes and enjoy a great weekend at the track.
Shannon fell from her scooter right in front of the Kawasaki pit garage and started crying. Poor girl, the handlebar went right into her chest and she had a big red mark (she isn't a wimp). A few Kawasaki mechanics came out, gave her a BandAid and then asked her if she wanted to see the bikes inside. Lucky me, she said yes so we all went in. Tom Sykes was there, he is Ashton's hero so he was very happy.
Here is a picture of the kids next to Rea's bike. That was incredible!
A bit later, we spotted Marco Melandri and I was very happy with that as well. He is one of my favorite riders. He was chilled and chatted with the kids for a while, that was perfect.
Anyway, these weekends are not cheap and wasn't sure we should go again this year but I read your post and decided to give it a try!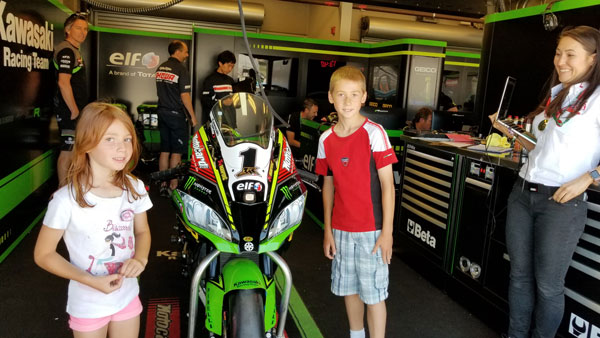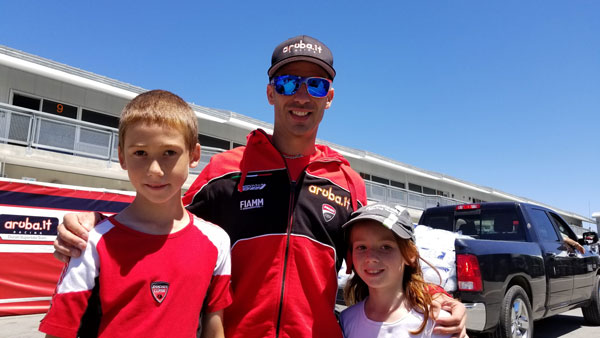 WINNER #6
Darryl Ong
San Carlos, California

The best moment I had at Laguna Seca was the year after Nicky Hayden passed. The winning WSBK rider saw a man waving a Nicky Hayden flag from the grandstands.
On the rider's victory lap, he stopped at the second set of grandstands and motioned for the man to come over with the flag.
He raced down, handed the flag over, where the rider proceeded to ride a victory lap honoring Nicky Hayden.
I still remember fans crying while listening to the words of remembrance over the loudspeaker.
I saw the same fan the next day and asked if that was the same flag on the Saturday race that was paraded around the track, he was beaming and said Yes!
This was all a year or two after I had just volunteered at Laguna and saw Nicky around the paddock, my friend even asked me to take a picture of him with Nicky.
He'll truly be missed.
WINNER #7
Steve Andreano
Columbus, Ohio
True story, not made up.
In the first decade of the new millennium my brother and I were spectating at most of the AMA road racing events in the eastern US. On a whim in 2001 we decided to drive nine hours overnight from Ohio to the newly resurrected Virginia International Raceway. Mostly on interstate highways and then on long, dark, twisty, secondary roads. In my none-too-pretty, but reliable, Triumph Spitfire.
We get to the track just after daybreak and start to set up our tent and such. Next to us are some already half-drunk idiots struggling to set up their tents.
"Do you guys need some stakes?"
" Steaks?! Hell yeah!! We don't know these guys from Ohio but they're already offering us steaks! They're alright!"
"Tent stakes, you idiots."
"You drove all the way here in that? I got three words for you. AAA", referencing the American Automobile Association.
And so it begins. A weekend of Hayden, Gobert, Roberts… And Captain Morgan & Coke. Cigarettes for those who smoked. Good times and cancer as it came to be known.
The next year we decide to go down to VIR again. As we're waiting in line to get our tickets after another overnight Spitfire adventure, someone behind us is laying on the horn.
"I'm tellin' ya bro' somebody needs to chill. The ticket peeps can only work so fast."
We turn around to look. Yep, the idiots from last year. Second verse, same as the first. With the addition of extremely hot weather and an ambulance ride to the hospital for my bro' due to dehydration. At the end of the season, Nicky Hayden – 2002 AMA Superbike Champion.
So we keep in touch with these Virginia boys as they decide to go racing with WERA. Nelson, Beaver, VIR, and of course, Summit Point. A FEMA camper trailer nicknamed Katrina. And thousands of dollars in credit card debt. For them. We turn wrenches and hammer their crashes back into something approximating racebikes.
"I crashed ONLY because YOU added electrical tape Biaggi devil-tails to the 3s on my bike!"
"YOU crashed because YOU ran out of TALENT!"
"I love you, man…"
21 podiums, 6 wins, 2006 WERA Mid-Atlantic Lightweight Superbike Champion.
Back to 2005.
"Dude! MotoGP! Laguna!! Nicky!"
"We are so there! Good thing the Virginia boys work for an airline. One of them better set us up."
"No doubt. 'Bout time we get something back from them other than grief."
"Testify!"
So we fly into San Francisco and drive two hours down to Laguna in a Dodge Neon.
"This thing can't get out of its own way. Where's the Spitfire?!!"
We arrive at one of the parks that is being used as a campground for the MotoGP weekend. We set up camp and crack open a beer to relax. So what if it's the morning? It's MotoGP at Laguna!
"Hey mates! Where do I go to get some beer and stuff?"
"Here's one."
"I just arrived from New Zealand. I got nothin'. My mates were gonna join me but they wussed out at the last minute. I had my plane ticket so I said I'm going and I'd figure it out from there. Bunch of wankers. "
"Don't worry, we got plenty. We got you covered."
"No Fosters, that stuff is piss."
So we kept our world traveler fed and drunk for the next three days.
"If you guys ever make it to New Zealand you got beer, bikes, and a place to stay on me."
I still have his business card. Maybe one day.
SoCal sunshine. Nicky bombing down the Corkscrew. 1.95 seconds.
The idiots in the Corkscrew holding the Stars and Stripes during the National Anthem? I might know them. ..
Good times and cancer.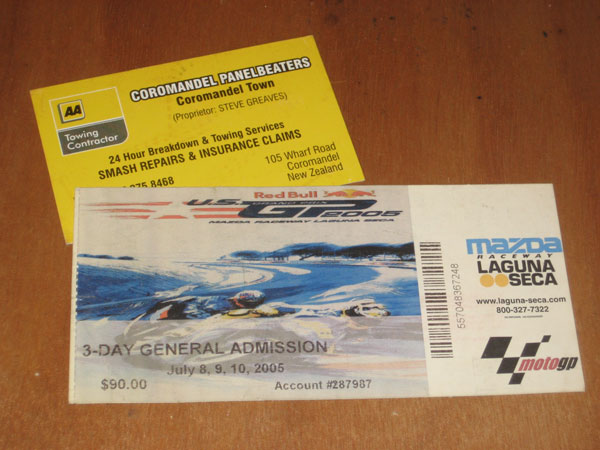 WINNER #8
Tanya Smith
Gilbert, Arizona
My husband has no idea I'm writing because this is MY memory. We have been married 31 years so it's hard to surprise him or see a look of surprise anymore. My first time at Laguna Seca was great. I love the layout and having all vendors available makes it easy to look at, dream or buy whatever you need.
We watch a lot of racing on TV so we both know the riders. While we were walking around we ended up down by the riders. My husband's eyes got all wide and star-struck because his favorite rider, Alex Lowes, was walking right at him. Alex was nice enough to say high and walked with us back to the garage. Seeing him happy and surprised at the same time. Now if we could only spend some time with him on our next race would be fantastic but being a winner in this contest would make my day.
Thanks for this…
WINNER #9
Thomas Suchodolski
Lake Havasu, Arizona
Growing up in Michigan as a kid and dreaming of attending a MotoGP race leads to my only story of Laguna Seca. It almost happened in the early 1990s when Road America in Wisconsin was on the provisional calendar one year.
After eventually moving to Lake Havasu City, Arizona, fast forward to 2012. Finally my year to attend MotoGP at Laguna Seca.
I was working with a local pro JetSki racer and he had become friends with Felix from Pramac Racing. Since I had not been to Monterey before, the fog and cooler temperatures were a break from the desert heat. I walked around with my premium paddock pass like I was King Of The World. People were looking at me like, "Who is this dope walking into the Pramac garage?" Such a great experience, I was really disappointed to miss the 2013 event which was the last.
Getting to see all the best road racers from around the world has been such a great memory for me. The track, the corkscrew, the coast, still comes to mind whenever I think of motorcycle racing. Maybe 2019 is my year to return with a new experience of World Superbike and MotoAmerica. Hopefully.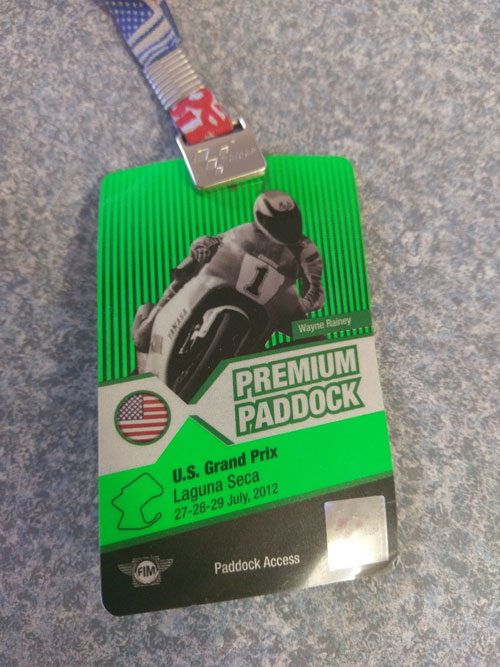 WINNER #10
Joe Chunnic
Marina, California
Where does one begin when you've been going to the motorcycle races at Laguna since before you were born?
My dad, Sr., as I call him now, was a top-10 AFM racer in the late 1980s and early 1990s in their 600 class. While my mom was pregnant with me, she rode on the back of his bike as he did a couple laps. You could say motorcycle racing is in the genes.
My dad crashed a bit more than he would have liked, so I didn't catch the racing bug to do it myself, but I've grown up at Laguna Seca and Sears Point and have been going to AMA, DMG, Grand Prix, World Superbike, MotoGP and MotoAmerica races my entire life.
With that in mind, I've seen a lot of my racing heroes in person and I've been so fortunate to see a lot of them win and grow up before my own eyes. It's hard to narrow it down to one single memory or moment because they're all so great and pivotal to my racing fandom.
So here's two if I may:
1 – 1998 World Superbike with my dad, his old racing buddy and one of my best friends. I had been going around for days with my event shirt, asking for signatures from every rider I could find.
Race 2 didn't go so kindly for Aaron Yates and he crashed in the Corkscrew. As kids, we hung around the pits, hoping to obtain crash parts. Not only did we get the main fairing, belly pan and tail piece, we also got "Yikes" to sign our crashed parts. He made a fan for life and kept me interested in the sport. I didn't need much convincing to watch the sport, but it was awesome of him to take the time, after a rough race, to put a smile on our faces. We thought we were so cool walking around the paddock with the coolest piece of swag ever. It's in storage while I renovate the man cave, but it will be hanging shortly.
2 – Nicky Hayden anything!
Seeing Nicky win races at Laguna for years was incredible to witness, even before his MotoGP days. Him walking around the paddock with his radiant smile, cheetah hair and charm is always in my thoughts.
In 2009, Sr. went to the 2009 MotoGP race at Sepang. Nicky was the poster child for the event and he managed to snag a banner from one of the track workers for me.
Fast forward to 2010 and the Rider's for Life event with Randy Mamola. I walked around the paddock trying to find Nicky to sign this huge banner all day Thursday before the event.
Alas, after walking around for awhile, I bumped into him. To say Nicky is my racing hero would be selling it short. I was star struck. I fumbled over my words and unfurled the banner in front of him. He was shocked I had this. In his joking way, he said, "Where'd ya get this?" as it's adorned with Sepang, Malaysia all over it.
He was so gracious and thanked me for being a fan and thumbs up and that infectious smile. That photo of the banner is here. I have the memory of that event, no photo of the signing. It's for me and me alone, to be passed along to family with his story and life associated with it.
Thank you for the contest and thank you for the constant commitment to this great sport and fantastic content.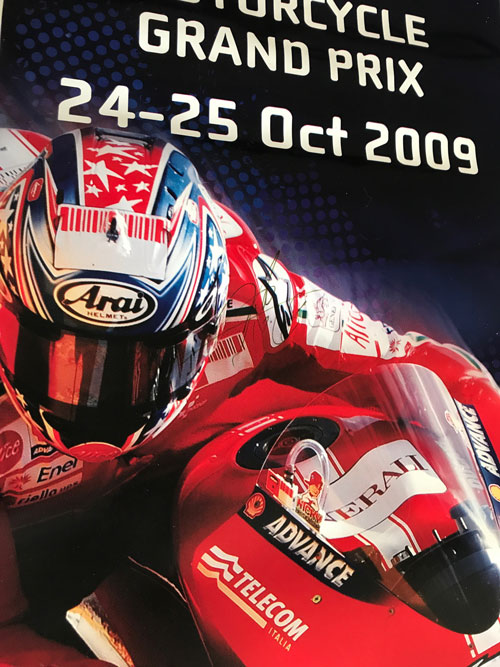 CONTEST RULES
The Roadracing World WeatherTech Raceway Laguna Seca Experience Contest (the "Contest") provides the opportunity for motorcycle road racing fans to submit a story and/or photo about their favorite memory or experience at WeatherTech Raceway Laguna Seca. By entering this contest you agree to the Rules and Regulations as stated below.
RULES AND REGULATIONS: Eligibility: The Contest is offered in and open only to legal residents of the 50 United States and District of Columbia ("U.S."), and who at the time of entry are at least 18 years old. Entrants must provide their current city and state of residence to have their submission considered. The Contest shall be construed and evaluated according to the law of the 50 United States and D.C. Do not enter if you do not meet the above criteria for eligibility. Employees, officers, and directors of Roadracing World Publishing, Inc. and their immediate family members or persons living in the same household are not eligible. No purchase necessary to enter or win. Void where prohibited. Contest Period: July 1,2019, through July 5, 2019, 10:00 a.m. Entries accepted by email only. One entry per person. Submission of Entry: To enter the Contest, submit your favorite memory of or experience at WeatherTech Raceway Laguna Seca in your own words. You may send a photo as part of your story. Email entries to [email protected]. By submitting an entry, the Entrant guarantees that the story and/or photo entry is the sole, exclusive, and original creation of the Entrant and has not been copied in whole or in part from any other work, and does not violate or infringe any copyright, trademark/trade name, logo or intellectual property right; other proprietary right of any person (including but not limited to right to privacy or publicity or portrayal in a false light) or entity, and is the sole and exclusive property of the Entrant, is truthful in all respects, and accurately depicts and describes the facts and experience of the Entrant. Use of Entry: Entrant agrees to allow Roadracing World to publish the Entrant's name along with the story and/or photo entry on all Roadracing World-branded platforms including Roadracingworld.com, Roadracing World on Facebook/Instagram/Twitter, and Roadracing World print and online magazine, as related to the Contest. Entrant shall have no right of notice, review, or approval of any such use of the Entrant's name or story/photo, and Entrant acknowledges and agrees that the entry (or any part thereof) and name may be used in whole or in part, along or in combination with other works, and that the entry photo may be changed, altered, edited, or modified, used in distorted, illusory or composite form, or in any other manner, as solely determined by Roadracing World. Judging Criteria: Entries will be judged by Roadracing World editorial staff using the following criteria: 50% Story-telling ability; 25% creativity; 25% relevance. Editorial staff will not know the identity of Entrants until after Contest is closed and judging is finalized. Winners will be selected Friday, July 5 at 10:00 a.m. Prizes: Ten (10) winners will receive two three-day General Admission passes with paddock access to the GEICO U.S. Round of the FIM Superbike World Championship/MotoAmerica event at WeatherTech Raceway Laguna Seca, July 12 through July 14, 2019, along with two lanyards, two pass holders, two 2019 WeatherTech Raceway Laguna Seca event schedules, and one official event poster. Winner Notification: Winners will be notified by email and will be given information on how they can pick up their prize at the event. Winners are responsible for event travel, food, and accommodations. Privacy Policy:Click Here for Privacy Policy.