More, from a press release issued by Dorna WorldSBK Press Office:
Astounding comeback sees Razgatlioglu storm to sensational Donington Park Race 1 win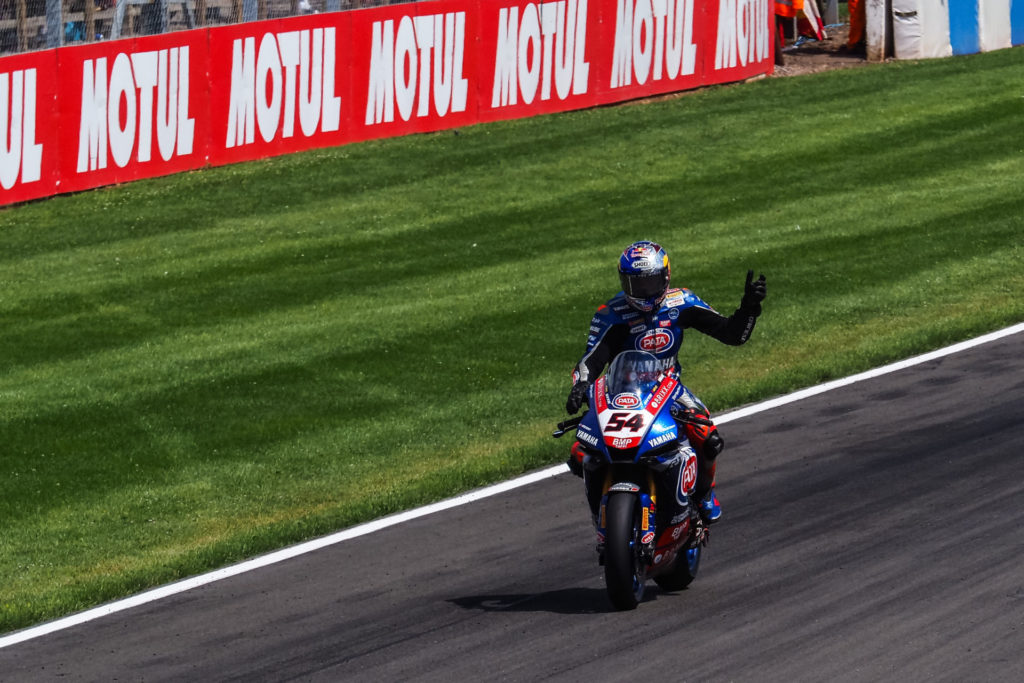 Saturday, 3 July 2021 13:58 GMT
A scarcely believable opening lap from Razgatlioglu meant he secured his second consecutive win and closed the Championship gap even more
A stunning first lap that was reminiscent of Ayrton Senna in 1993 at Donington Park from Toprak Razgatlioglu (Pata Yamaha with BRIXX WorldSBK) as he secured his second victory of the 2021 MOTUL FIM Superbike World Championship. Starting from 13th place and finding himself in the lead of the race on just the second lap of Race 1, he made his progress count at the Prosecco DOC UK Round at Donington Park.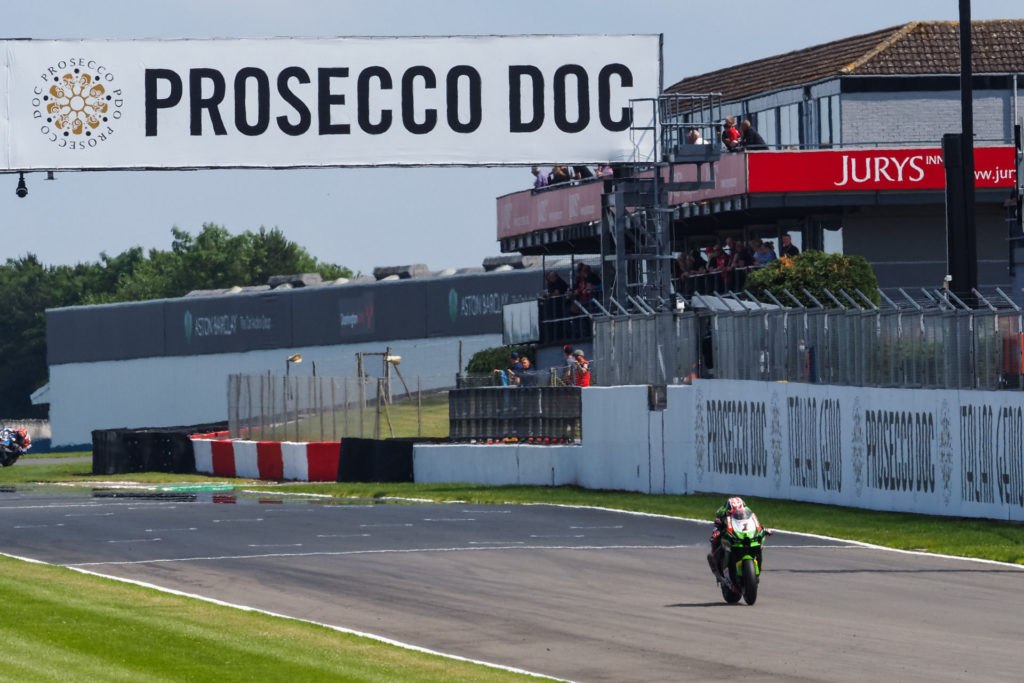 LIGHTS OUT AND TOPRAK MAKES MOVES
Jonathan Rea (Kawasaki Racing Team WorldSBK) led the field away from pole position but it was Razgatlioglu who caught the eye at the start, moving from 13th to fifth by Turn 1 and up to second by the end of Lap 1. It did not take long for Razgatlioglu to take the lead of the race as he passed the six-time Champion on the second lap.
A rare error from Rea on Lap 3 allowed Razgatlioglu to build up a gap of three seconds ahead of Rea as he looked to close the gap even further in the standings; Razgatlioglu's victory allowing him to close the gap to just 15 points in the Championship. Victory for the Turkish star means WorldSBK's streak of wins coming in pairs continues, a run that started at the start of the 2021 campaign. Rea had looked to close in on Razgatlioglu throughout the race after recovering from his trip through the grass on Lap 3 at Turn 2, but a save at Turn 1 meant he lost even more time to the race leader.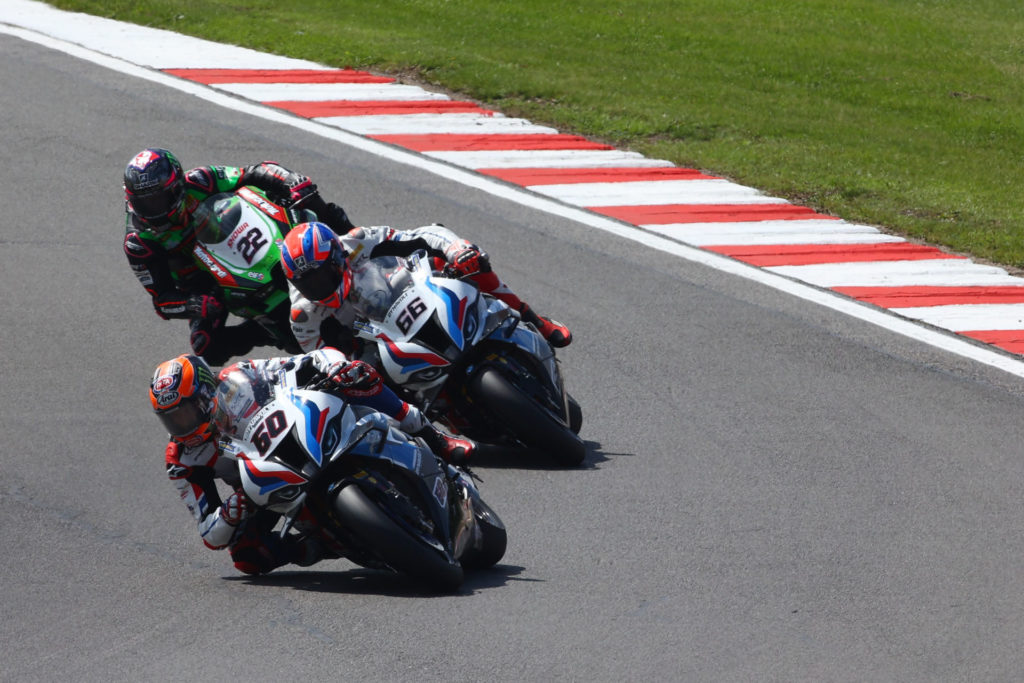 THE BATTLE FOR THIRD
Behind the two leaders who had broken away, an epic battle for third was brewing between Michael van der Mark (BMW Motorrad WorldSBK Team), teammate Tom Sykes, Alex Lowes (Kawasaki Racing Team WorldSBK) and Garrett Gerloff (GRT Yamaha WorldSBK Team). Van der Mark was running in third place and looked to make a move on Rea for second after his trip through the grass, but found the reigning Champion pulling way while Sykes started closing in at the front of the chasing group.
As Sykes closed in on his teammate, Lowes was on the rear of Sykes' M 1000 RR as both he and van der Mark searched for BMW's first podium with the new bike. Lowes made his move at Melbourne Hairpin on Sykes to move up the order, while the two BMWs were battling, with van der Mark falling down the order behind Lowes and Gerloff.
Sykes and van der Mark both gained a position when Gerloff came off his Yamaha YZF R1 at the final corner on his own, with the American able to remount his bike and fight back to finish in seventh. It meant Lowes claimed third place after the titanic battle ahead of the BMW duo of Sykes and van der Mark; with two BMWs finishing inside the top five.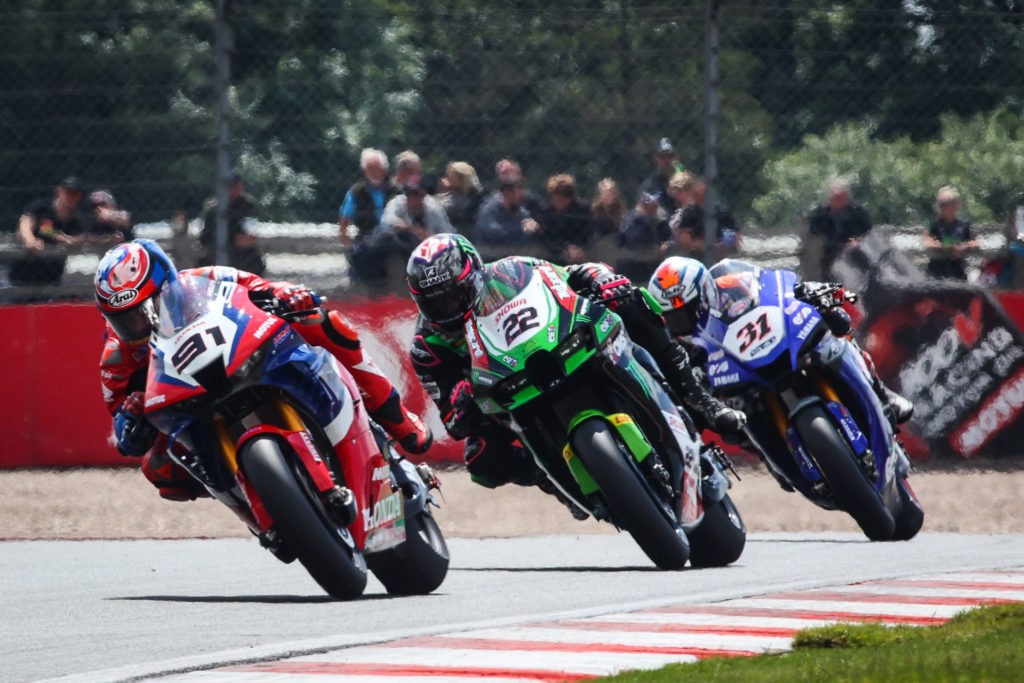 COMPLETING THE POINTS
Leon Haslam (Team HRC) came home in sixth place ahead of Gerloff after the American's crash, with Gerloff 16s back from the British rider ahead of Alvaro Bautista (Team HRC) in eighth, who was passed by Gerloff during the American's fightback. Lucas Mahias (Kawasaki Puccetti Racing) put in a solid race to come home in ninth place. The lead Ducati in the race was Axel Bassani (Motocorsa Racing) who completed the top ten after yet another impressive performance from the youngest rider on the 2021 WorldSBK grid. Chaz Davies (Team GoEleven) came home in 11th as he searches for his 100th WorldSBK podium, finishing four seconds behind Bassani.
It was a Ducati trio from tenth to 12th with Michael Ruben Rinaldi (Aruba.it Racing – Ducati) in 12th as the lead factory Ducati rider, finishing three seconds clear of Eugene Laverty (RC Squadra Corse) in 13th, Luke Mossey (OUTDO TPR Team Pedercini Racing) and Isaac Viñales (Orelac Racing VerdNatura) completing the points. Loris Cresson (OUTDO TPR Team Pedercini Racing) was the last classified rider in 16th place, the best result of the Belgian's young WorldSBK career so far.
TO NOTE…
Scott Redding (Aruba.it Racing – Ducati)'s home race came to an early end after he crashed at Turn 4, with Christophe Ponsson (Alstare Yamaha) following him at the same corner not long after; both riders retiring from the race. Andrea Locatelli (Pata Yamaha with BRIXX WorldSBK) was another retirement after he suffered a huge crash on Lap 7 of the race although the Italian was able to walk away. Spanish rider Tito Rabat (Barni Racing Team) suffered from a technical issue on Lap 14 that forced him out of the race. Jonas Folger (Bonovo MGM Action) retired from the race after being lapped by race winner Razgatlioglu.
P1 Toprak Razgatlioglu (Pata Yamaha with BRIXX WorldSBK)
"Today, for me, was not a good start because of the rain conditions and I wasn't fast. But I see the dry line, I said I have one chance, I need to try this one because I need good points for the Championship. First lap, I was pushing and feeling good. Sometimes, I made a mistake, but I won and I'm very happy. For me, it was a very incredible race because on the second lap I was leading the race and I'm really happy. Thanks to my team because they've done an incredible job this weekend."
P2 Jonathan Rea (Kawasaki Racing Team WorldSBK)
"It's a bit bittersweet. I felt like I got really lucky a few times just being off the racing line. The line was quite narrow. I was running into some areas, just pulling the bike down to the corner and turning. Toprak did a much better job and I feel like I just didn't get the best out of the package today. Hopefully we can have more stable conditions tomorrow because, sitting on the grid as a rider, you're really nervous because you know there's damp patches everywhere but you know you've got to go and race for World Championship points so second was the best I could do today but hopefully tomorrow I can turn things to make it that little bit easier.
P3 Alex Lowes (Kawasaki Racing Team WorldSBK)
"I had a couple of big slides at the start of the race, even on the warm up lap I had a big slide, and that sort of put me off the conditions a little bit. My start was really bad, I was expecting a good start and as soon as I was back in the pack it was almost impossible to pass because everywhere you wanted to pass, there was a wet patch. I had a couple of moments trying to pass and I thought it's a long race, I need to try to relax a bit. I knew I wasn't going to catch the first two guys so my target was to try to manage the group I was in. Garrett passed me and he was a bit faster but I managed to get straight onto the back of him and fortunately he made a mistake. In the end I had a bit of a gap so I could manage it a little bit but hopefully tomorrow I can be a bit closer to the front guys. Really happy to be back on the podium. Not easy conditions so it would've been easier to make a mistake but we have something to build on tomorrow and it was my 200th race so it was nice to get a podium for that."
More, from a press release issued by Team HRC:
Strong sixth for Haslam at Donington Park; Bautista makes up eight positions to close eighth
A good start and strong pace in the first of the three WorldSBK races at Donington Park made for local rider Leon Haslam's best performance of the season so far, in terms of both his speed and overall result, sixth, while Alvaro Bautista's consistent pace saw him climb from sixteenth on the grid to eighth across the line.
After using the morning's fully wet free practice to prepare in case of similar conditions come the races, Bautista and Haslam lined up for the Superpole qualifying phase, which also ran on a wet track. In what was to be his only flying lap, Haslam set the fastest time early on before a crash forced him to return to the pits and sit out almost the entire session. The English rider nevertheless concluded seventh, with a time of 1'42.206 while Bautista qualified sixteenth with a time of 1'43.625. These results translated, respectively, into a third and a sixth row start for the pair for the first of the weekend's races.
The first 23-lap race got underway at 2pm local time on a damp track that dried rapidly throughout the race. Both riders opted for slick tyres, as did the rest of the Superbike field. Haslam got away well, moving immediately into fifth position. Lapping with similar pace to the group fighting for the podium, and maintaining a strong rhythm throughout the entire race, Leon just wasn't quite able to get close enough to make a move, ultimately crossing the line in sixth place to score his best result of the season so far. From sixteenth, the Spaniard made up two places over the course of lap one and was up into twelfth by lap two. Continuing to gain ground, Alvaro had climbed to seventh by lap sixteen, but was unable to make further progress due to the gap that had opened up between himself and those immediately ahead of him. Bautista closed the weekend's first race in a solid eighth place.
Alvaro Bautista  19
P8 
"Race conditions were very tricky today, especially in the early stages, as the track dried out. Like everyone else we opted for slick tyres because you could tell the weather was improving. Because I started so far back, I had to be very careful with overtaking early on, because in some sectors there was only a narrow dry line. However, little by little I found good feeling and, in the end, it turned out to be not a bad race, at least in terms of the positions I made up and the data collected. We started the weekend with a different set-up in terms of weight distribution to try and understand a few things but today we ultimately went back to a setting closer to the one we've usually used this year. Let's see what the weather will be like tomorrow. In the very wet conditions we had this morning, I felt OK, so we'll see what we get."
Leon Haslam  91
P6
"This morning was really the first time we've ridden in the rain, so I was surprised how easy the lap times came. Having said that, I didn't make it easy for my team as I then crashed in Superpole, so they did a great job to get the bike ready for the race. The wet gave us the confidence to battle hard, while we know we still have some limitations in the dry. But despite these, we came close to the podium. It was nice to get a strong result and be part of the front group. We still have some areas where we need to improve but we are clear as to what those are. Here, we're struggling in the stop-start section, the final sector, so if we can find an extra something there, I'm confident we can run two strong races tomorrow."
More, from a press release issued by Kawasaki:
Podium Success For Home Riders
Jonathan Rea and Alex Lowes finished second and third respectively in a thrilling first FIM Superbike World Championship race at Donington Park. The 23-lap contest started in treacherously slippy wet conditions but finished with the track rapidly drying.
In the fully wet FP3 session held early on Saturday morning Rea and Lowes finished first and second as the weather conditions changed completely from Friday's dry and warm start.
In Tissot Superpole Rea was an impressive winner of a wet final grid position contest, making it four Superpole wins in 2021 so far. Lowes started from fourth place on the grid, heading up the second row riders.
Race One delivered drama from the start after all riders opted for slick tyres on a slowly drying track surface. This led to many early difficult moments for all and a few high profile falls.
Early leader Rea ran off track as he tried to keep eventual race winner Toprak Razgatlioglu in his sights, but he rejoined. Rea kept his second place on track after his long excursion down the hill at towards the Old Hairpin. He began to reel in Razgatlioglu for a time but was unable to make up enough ground and finished second, for his tenth consecutive podium finish of the year.
Lowes had a tough fight in changing conditions as he moved forward from a difficult launch to third, then fourth and eventually third again at the flag. This was Alex's fourth top three finish of 2021, giving him valuable championship points and a celebration on the podium with his team-mate Rea.
Now both Rea and Lowes will face the ten-lap Tissot Superpole Race on Sunday morning, and finally another long race at 14.00 local time in the UK.
Jonathan Rea, stated: "I was actually struggling quite a bit to be there at the front. The bike set-up compared to yesterday was not great and I don't know if there was a lack of grip because the rain washed some tyre rubber out from the track surface. But I struggled to stop the bike and at full lean angle. It wasn't turning the same. We had a bit of a compromise for set-up but nothing too drastic. Fifteen minutes before the race we were still wondering 'would it be fully dry, should we use intermediates, or a normal race set-up?' I got a good start but I was worried about somebody coming underneath me into Turn One because there was only one tiny, tiny dry line. I led the first lap then Toprak came past. After that I got unsighted at the top of the Holly Wood section and really lost the rear, quite aggressively. From that point I was nervous to go off the line and I was having quite a few moments as well because Toprak was riding away but I did not want to give up. I wanted to keep pushing."
Alex Lowes, stated: "The conditions have been tough all day today. The morning was really wet and I felt quite good then it dried up a little bit for Superpole. It did not feel as good in the less wet conditions but in the race I got a terrible start. I think I was like eighth in the first corner. I have been good at starts this year but on a track like that with such a thin dry line I just had to stay calm. I was quite a bit faster than the guys in front but I just couldn't get past them. Johnny and Toprak were gone so it was a case from then on to try and win the battle behind them. The rear was spinning quite a lot and I did not feel like I had too much grip, but obviously after the rain that can happen. I am happy with the podium, the first one since Aragon, and I kept a good consistent run, which was nice."
Lucas Mahias (Kawasaki Puccetti Racing) was an impressive ninth in Race One; Isaac Vinales (Orelac Racing VerdNatura Kawasaki) 15th for the final point on offer.
Loris Cresson (TPR Outdo Kawasaki) was 16th, just missing out on a championship point. One-off rider Luke Mossey (TPR Outdo Kawasaki) was 14th in Race One, scoring two points first time out.
More, from a press release issued by BMW Motorrad Motorsport:
Saturday at Donington Park: the BMW Motorrad WorldSBK Team secures two front row positions and records two top-five finishes.
Michael van der Mark and Tom Sykes claim second and third places on their BMW M 1000 RRs in Superpole at Donington Park.
Fourth position for Sykes and fifth for van der Mark in the first race on Saturday afternoon.
Fourth round of the 2021 FIM Superbike World Championship.
Donington Park. The BMW Motorrad WorldSBK Team gave a strong performance to start off the fourth event of the season in the 2021 FIM Superbike World Championship (WorldSBK) at Donington Park (GBR). In Superpole on Saturday morning, Michael van der Mark (NED) and Tom Sykes (GBR) claimed second and third places on their BMW M 1000 RRs to secure spots on the front row of the grid. Both riders crossed the finish line in the top five in the afternoon's first race. Sykes was in fourth and van der Mark in fifth.
The weather at Donington Park took a typically British turn on Saturday morning. Rain set in for the second free practice session in the morning and the circuit was still moist for Superpole. That did not prevent van der Mark and Sykes from recording some impressive times to keep pace with the leaders, putting both BMW Motorrad WorldSBK Team BMW M 1000 RRs on the front row of the grid.
The rain had stopped by the time the race started in the afternoon and the circuit was gradually drying. Van der Mark and Sykes were able to defend second and third positions after the start lights went out. They swapped places twice in the opening stage, before settling into third (van der Mark) and fourth (Sykes) until the halfway point of the race. Both were part of a group battling for the lead on lap twelve, but then van der Mark had light contact with Alex Lowes (GBR / Kawasaki), ran wide and fell back to sixth place. Sykes initially moved into third place before crossing the line in fourth, immediately ahead of fifth-placed van der Mark, after 23 laps.
Eugene Laverty (IRL), competing for the BMW satellite team RC Squadra Corse, secured 15th place on the grid in Superpole. Laverty had moved up to twelfth by the halfway point of the race. He then dropped down one place in the closing stage and took the chequered flag in 13th position. Jonas Folger (GER) from the BMW satellite team Bonovo MGM Racing endured a difficult Saturday. He started from 20th place and then problems when changing gear forced him to head for the pits and retire just before the end of the race.
Quotes after race one at Donington Park.
 
Marc Bongers, BMW Motorrad Motorsport Director: "Overall, we are very happy after an extremely difficult Misano weekend. At the same time, we need to keep our feet on the ground as there is still quite a big gap to the very front. But for sure, second and third places in qualifying were well deserved with strong performances of both Michael and Tom in the wet. Of course, we would have hoped for a podium as the first half of the race looked like it but we just couldn't keep that. To bring home fourth and fifth is definitely satisfying. Tomorrow is another day and we start again from the front row of the grid. It looks like it will rain tomorrow but if we can repeat what we did today I would be very pleased with the weekend."
Shaun Muir, Team Principal BMW Motorrad WorldSBK Team: "We were glad first of all that it was a slick race for everybody. We would rather be it be totally wet or totally dry. We were at a good level, and we could show the progress we have made with the new BMW M 1000 RR. We can't be disappointed with fourth and fifth; we equalled our best result as a team from Aragón. For sure we would have liked to go one step further but the guys gave their best. We got a lot of information that we can take into tomorrow. Obviously, we start from the same grid positions into the Superpole race and if all goes well we can get that step closer to the podium and keep progressing the development of the BMW M 1000 RR."
Tom Sykes, BMW Motorrad WorldSBK Team: "I am definitely happy that the BMW M 1000 RR was working well in the full wet conditions. In that in-between condition at the beginning of the race, we just struggled to get into it. We could not get the same grip as everyone else but the bike stayed very, very consistent so we were just missing a couple of tenths. We did not have a full dry set-up. Who would have thought that the sun comes out? So we maybe missed out in that respect but fourth position is not too bad. I'm okay with that and obviously we will try to improve tomorrow."
Michael van der Mark, BMW Motorrad WorldSBK Team: "Today was not bad. In Superpole, on the wet track, I felt really good and we managed to put both BMWs on the front row. That's always a good thing. For the race, the track started to slowly dry. My start was quite okay and then I was just trying to find my line. I was making a couple of mistakes going down to Craner Curves, going onto the wet with the slicks so I lost a lot of time there a couple of times. That was a bit of a shame but anyway, there is a lot to improve on the bike for sure for tomorrow but I think we can be satisfied with P5 today."
Eugene Laverty, RC Squadra Corse: "In the race, the conditions dried up and unfortunately, while I went with dry tyres we weren't able to change to the dry setting. So in the end I was riding with a wet suspension setting and it was impossible to do good lap times. That was the maximum I could do today, so hopefully tomorrow it is either clearly wet or clearly dry because when it is like that, there isn't time to change and it's a bit difficult for a smaller team like us. But, we start again tomorrow."
Jonas Folger, Bonovo MGM Racing: "There's not much to say today. I just didn't feel right today. Now we have to find out what caused that. We can only hope that it goes better tomorrow."
More, from a press release issued by Aruba.it Racing Ducati:
#GBRWorldSBK Race-1. Bitter Saturday for the Aruba.it Racing – Ducati Team: Rinaldi lacks feeling with the bike and finishes 12th, Redding crashes on lap 2
It was a Saturday to forget for Scott Redding and Michael Rinaldi on the Donington Park Circuit (Great Britain), which was wet in the morning and then almost dry before Race-1.
The two Aruba.it Racing – Ducati Team riders were never able to find the right feeling with their Ducati Panigale V4R, therefore they were unable to fight for the top positions of the ranking in qualifying.  The same difficult circumstances recurred in Race-1.
Superpole
After a very complex FP3 – also due to the heavy rain – Scott Redding and Michael Rinaldi manage to limit the damage in the Superpole, finishing respectively in sixth and eighth place, although with a consistent gap from the front row.
Race 1
Race start for both Redding and Rinaldi is not particularly powerful. The Italian rider immediately loses contact with his teammate, whose race ends with a crash in the middle of the second lap.
Rinaldi's race pace is not one of the best and the number 21 soon finds himself fighting in the back of the field.
He ends up in 12th position, bringing home at least four points for the Superbike World Championship standings.
Michael Rinaldi (Aruba.it Racing – Ducati #21)
"The race was below our expectations. After the weekend in Misano, we were expecting a better result. I wasn't able to ride as I wanted to. For sure we have to work to understand why in certain conditions we are not able to find a good feeling. Something is not working and this is quite clear. We will have to understand why and find a solution."
Scott Redding (Aruba.it Racing – Ducati #45)
"We're having a really hard time finding the right grip. This is a problem we've been carrying around for a while and we definitely need to solve it quickly. I'm usually pretty strong in wet conditions but today I felt like I was skating and couldn't even defend myself from the overtaking. The crash? I went into the corner feeling the back wheel slipping and the high side was pretty hard."
More, from a press release issued by Pata Yamaha:
Unbelievable Win for Razgatlıoğlu and Yamaha in Donington Race 1
Pata Yamaha with Brixx WorldSBK rider Toprak Razgatlıoğlu stunned crowds at the UK's Donington Park venue to take his second win of the 2021 FIM Superbike World Championship in convincing fashion today.
After steady light rain all morning, and a wet Superpole qualifying session that left the Turkish sensation frustrated to start from 13th, the weather cleared at the last possible moment before the riders took to the grid for Race 1. Predicted thunderstorms did not materialise and all riders reported it would be possible to race on Pirelli's WorldSBK slick tyre options.
What followed was a masterclass of bike control in the trickiest of conditions – a greasy, damp, but rapidly drying track. It took Razgatlıoğlu just eight corners to progress from the fifth row of the grid to second place behind championship leader Jonathan Rea, and by the start of the second lap he'd overhauled the Northern Irishman for the lead. Building a gap to Rea consistently and setting the fastest lap of the race on Lap 14, Razgatlıoğlu kept his concentration superbly to deliver a relatively comfortable victory, despite running very tight on fuel as he passed the chequered flag.
Teammate Andrea Locatelli, even if by his own admission was less than satisfied, was having his best weekend preparation to date despite never having raced at Donington Park before. The young Italian qualified 11th and ran inside the top 10 until he was caught out on a damp patch on the infamous run down through Craner Curves (Turn 3), ending his race with a spectacular crash just seven laps in.
Both Pata Yamaha with Brixx WorldSBK riders will be back on track tomorrow morning with a short 15-minute Warm-Up session at 9:00 (BST) before the 10-lap sprint Superpole Race at 11:00 and Race 2 rounding out the weekend schedule at 14:00.
Toprak Razgatlıoğlu: P1
"This one was nice, to first from 13th on the grid on the second lap! Only one time have I done better, from 17th to first in France… today with Yamaha was far more important though. Earlier today for me was not a good start, I was not fast in wet conditions, so I say to myself "ok, if it is raining – I just ride and try to have a good position for the championship". But I see a small dry line, and I guess all riders put on slick tyres on the grid, but I know I have just one chance. I needed to get a good position for the team's home race! First corner I got to fifth position, end of lap one I arrive in second and after I say "this is my race!" and I am pushing all laps. Sometimes, I make some small mistakes and feel very close to a crash! But anyway, we made it happen and I am happy! In 2018 and 2019, I was second position here and this is nice but I say I need to win, I never had a win at this track in WorldSBK and also this is very important for the championship. Now the gap is only 15 points from Jonathan but the season is very long and in all races I need to take good points. My team did a great job today and yes, I will try again tomorrow! The weather will be important and maybe tomorrow it will be raining, but I will try to make the best race possible again."
Andrea Locatelli: DNF
"I am so sorry for the guys and also for myself because I wanted to make a good result today and I thought it would be possible. The conditions were not so easy when we started the race, and the feeling on the bike was not easy. In the end, after seven laps I crashed because I ran a little wide and arrived at high speed on a section that was not completely dry. Tomorrow we have another chance and I am sorry for the team that they now have to work to build a new bike! It is not normally how we end the day. In qualifying it was difficult in the wet, but also it is still only my first time here in Donington and for sure it is not easy at this track – but we are happy because 11th position is not so bad and maybe tomorrow in the Superpole Race we can try to fight and see what is possible."
Paul Denning – Team Principal, Pata Yamaha with Brixx WorldSBK
"Honestly, to call that race "surprising" is not strong enough! The performance level of Toprak, considering the grid position, was just ridiculous! The first two laps were equal of anything I have ever seen in bike racing and after that Toprak controlled the race in a manner that we didn't think possible this morning after wet qualifying, or possible in the dry conditions – yesterday, Toprak wasn't as comfortable as we'd like and he rode an untested setup in the race today with the target to improve on the FP2 feeling. Clearly the bike worked well! But, the rider delivered something different again, this was his race. I can only say congratulations to Toprak and to everyone in his crew for another incredible performance! We did certainly get a bit lucky after far higher fuel consumption than expected from Friday's data saw Toprak run dry at the flag, but equally Jonathan was lucky not to crash after a few very close shaves in today's race, so we'll take that slice of luck with pleasure! Andrea has had a strong weekend here at Donington Park, and his best Friday of the season so far yesterday, but just got caught out on a damp patch down Craner Curves which resulted in a huge accident but luckily no injury. He hasn't crashed at all at any race event so far this year, so it's something that is always going to be possible at some point. We'll build him a new R1 WorldSBK ready for tomorrow and try again!"
More, from a press release issued by Barni Racing Team:
Tito Rabat forced to retire in mixed conditions at Donington Park
Castle Donington (GBR), 3rd July 2021. It was an unlucky Saturday for the Barni Racing Team at Donington Park circuit: when he was firmly inside the points zone, Rabat was forced to retire due to a problem with the rear tyre.
After a good Friday, the rain on Saturday forced the Spaniard and his team to start from scratch in search of a good setup and the #53 struggled in the Superpole where he did not go beyond P18. Starting from the sixth row on slick tyres, Tito managed to ride well in the early stages of the race when the track was drying out but still had plenty of wet patches. On lap 13, with the track now completely dry and the points zone within reach, the rear tyre suffered a problem and Rabat decided to stop.
Tito Rabat, #53 
"In the wet qualifying, we struggled, but tomorrow – if it rains again – we will have some more reference. In the dry things were going well, but something happened to the rear tyre and I decided not to take the risk and came into the pits. We are still trying to understand the real cause."
Marco Barnabò – Team Principal 
"Donington is an unfavourable track for the Ducati, and the weather didn't help either. We worked a lot on the setup to allow Tito to ride at his best and achieve a good pace, but luck turned on us in the race."
More, from a press release issued by GRT Yamaha:
Gerloff crashes but still recovers to 7th in Race 1
As expected, the rain made its appearance during the second day of the British Round of the FIM World Superbike Championship. After the work done yesterday in the dry, the teams were forced to switch to a new plan in order to be ready in case of a rainy Race 1. In the end, though, the race was run under mixed conditions, making it particularly risky to make passes outside of the dry racing line.
With Kohta Nozane unfortunately sidelined for the remainder of the weekend, today the GRT Yamaha WorldSBK Team concentrated all their efforts on Garrett Gerloff. The Texan started the day off with a solid 5th fastest time in the wet FP3 (1'43.971), then backed it up with another 5th position in the Tissot Superpole (1'41.393), which allowed him to start the race right behind the leaders. Race 1, though, proved to be an adventure: after losing some positions in the first lap battle, Gerloff managed to work his way back to third, before crashing out at the tricky, negative-banked final corner. He did not lose his cool though, rejoining the race and recovering again to finish in 7th place. The impressive pace he showed during the race will allow him to be in the fight for the podium tomorrow
Garrett Gerloff: 7th
"I want to give my team some good results because they deserve it, and I really wanted to be on the podium today, so it was disappointing to make my way through the field all the way to the top-three just to throw it away. I am happy with how the bike is, the R1 works really well around here as Toprak (Razgatlioglu) demonstrated, but I am frustrated with how the day ended. The mixed conditions made things tricky during the race, especially in the first sector, which took a long time to dry out. It became a bit easier when the track finally dried, so I am happy to have stayed on two wheels at least until then. I know that we are fast, tomorrow I want to minimize my mistakes and get to the front. I managed to get acquainted quite quickly with this track; doing my homework before the weekend definitely helped, and learning new circuits is something that I have done a lot of in the last few weeks too, so I guess I was just in the right mindset for it. It all just flowed well, and in the end it is just a lot of corners, you simply have to put them together".
With today's race in the books, Gerloff sits in the 6th position in the championship standings with 68 points, whereas his teammate is 15th with 17. Tomorrow, two more races will be run at Donington: the Tissot Superpole Race will take place at 11 AM and Race 2 at 2 PM, with the Warm Up preceding them at 9 AM, all in local time.
More, from a press release issued by Team Go Eleven:
CHAZ STRUGGLES, BUT GETS POINTS!
A really complicated Saturday for Superbike in Donington! Rain, sun, mixed conditions race have characterized the day today on the spectacular East Midlands track.
In Free Practice 3 the riders rode, for the first time this season, in completely wet asphalt conditions. Chaz did not want to force his shoulder too much in view of a long day on the track, completing six laps before a sudden increase in rain. Good feeling and great pace, in view of a wet Superpole.
The Superpole, as expected, was in wet conditions; no qualifying tyre, but soft Rain at the rear and out on track for all the 15 minutes of the session! Chaz improves lap after lap, showing good confidence with his Ducati V4-RS. Unfortunately on the last lap, when he was in line for the second row, a mistake at the penultimate corner cost him the fastest lap. Ninth place on the grid, third row, and a good position for the start of the first two races of the weekend!
In race 1… well once again the weather wanted to complicate the Superbike plans! Shortly before the start the sun made its appearance over Donington Park, drying fast the track; all the riders choose to go on track with the slicks, but the first laps are really difficult. A single partially dry line forces the protagonists to take risks over the limit. The Go Eleven rider took some laps to get the right confidence with the asphalt, losing time at the start of the race. Lap after lap he set his pace, which allowed him to recover up close to the Top Ten. In the last third of the race, when he was fighting for ninth position, the pain in his shoulder became too strong, forcing him to slow down. Eleventh position and some points brought home. These are not the positions that Team Go Eleven and Chaz would like to battle for, but from the beginning of the weekend the delicate situation from a physical point of view was clear.
For tomorrow the weather seems, once again, not promising anything good, with the rain that should be protagonist. Chaz will try to recover the best possible physical condition, while the technicians will concentrate on solving some small problems highlighted by today's race. Two spectacular WorldSBK races will entertain fans through the TV!
Chaz Davies (Rider):
Tough Race today, obviously conditions were tricky in the beginning and then got quite good, even better than we expected. Unfortunately it didn't help the physical site, so for me it was a little bit of a survival race to try to set a constant pace, but not overwork myself to not finish the race. I just felt very behind the bike, I was not able to ride as I normally would. Anyway we got a few points, that's positive at least. Hopefully we can feel a little bit better tomorrow!"
Denis Sacchetti (Team Manager): 
"Chaz was very good today, finished a difficult race, both for the pain in his shoulder and for the weather conditions. Not all the riders would have been able to take home points, and from here it shows the desire and determination he has. I hope he can recover from this injury as quickly as possible, so that he can be back fighting for the positions he deserves!"
More, from a press release issued by Yamaha:
Gerloff Recovers to Seventh in Race 1 at Donington Park
GRT Yamaha WorldSBK Team's Garrett Gerloff recovered to finish seventh in the first FIM Superbike World Championship race at Donington Park, having fallen while running inside the podium positions in tricky conditions.
With Kohta Nozane unfortunately sidelined for the remainder of the weekend, today the GRT Yamaha WorldSBK Team concentrated all their efforts on American rider Gerloff. The Texan started the day off with the fifth fastest time in the wet Free Practice 3 session (1'43.971), then backed it up with another fifth position in the Tissot Superpole (1'41.393).
Race 1, though, proved to be an adventure: after losing some positions in the first lap battle, Gerloff managed to work his way back to third, before falling at the tricky, negative-banked final corner. He did not lose his cool though, rejoining the race and recovering again to finish in seventh place. The impressive pace he showed during the race will allow him to be in the fight for the podium tomorrow.
With today's race in the books, Gerloff maintains sixth in the championship standings with 68 points, and will have two more chances to add to his tally in the Tissot Superpole Race at 11:00 and Race 2 at 14:00 (GMT+1).
Garrett Gerloff: P7
GRT Yamaha WorldSBK Team
"I want to give my team some good results because they deserve it, and I really wanted to be on the podium today, so it was disappointing to make my way through the field all the way to the top-three just to throw it away. I am happy with how the bike is, the Yamaha R1 works really well around here as Toprak (Razgatlioglu) demonstrated, but I am frustrated with how the day ended. The mixed conditions made things tricky during the race, especially in the first sector, which took a long time to dry out. It became a bit easier when the track finally dried, so I am happy to have stayed on two wheels at least until then. I know that we are fast, tomorrow I want to minimize my mistakes and get to the front. I managed to get acquainted quite quickly with this track; doing my homework before the weekend definitely helped, and learning new circuits is something that I have done a lot of in the last few weeks too, so I guess I was just in the right mindset for it."