Redding powers to the top on day two at Aragon as he leads Ducati 1-2 
It was another close battle at the top of the timesheets as testing at MotorLand Aragon concluded after two action-packed days
The last of two days of testing at MotorLand Aragon concluded on Tuesday afternoon as nine riders from the MOTUL FIM Superbike World Championship took to the track to refine their machines ahead of the 2021 season kicking off at the same venue in just over a month. It was Scott Redding (Aruba.It Racing – Ducati) who topped Tuesday's times after a flurry of late laps in the afternoon session.
Track and ambient conditions were slightly warmer than yesterday with track temperatures reaching above 40 degrees Celsius throughout the afternoon, with the majority of the fastest laps of the day coming in the last hour of the test as riders left it until late to chase lap times rather than focus on race pace. Redding's lap time of 1'48.780s was only 0.013s outside the Superpole record set by Jonathan Rea (Kawasaki Racing Team WorldSBK) at last year's Teruel Round. He finished half-a-second clear of teammate Michael Ruben Rinaldi as the duo battled it out for top spot; Redding laying down an impressive marker as preparations for the season gear up. Redding had wanted to focus on improving grip from his Ducati Panigale V4 R while Rinaldi had been trying to improve his machine on the exit of corners.
Garrett Gerloff (GRT Yamaha WorldSBK Team) finished third for the second day in a row as he continues to impress heading into his second WorldSBK campaign. The three-time podium finisher spent yesterday working on race pace and had a couple of shocks to try out throughout today as he finished the test as the fastest Yamaha rider and added 73 laps to his tally for testing. Chaz Davies (Team GoEleven) continued his impressive form throughout the two-day MotorLand Aragon test with fourth place for his new team as he tried out two new components on his Ducati: new callipers from Brembo and a new shock from Öhlins. Rinaldi, Redding, Gerloff and Davies were the only riders to lap under 1'50s at MotorLand Aragon on the second day of testing. The British rider also was working on the balance of his chassis throughout the day as well as improving the rear grip through long corners as he completed 75 laps for the day.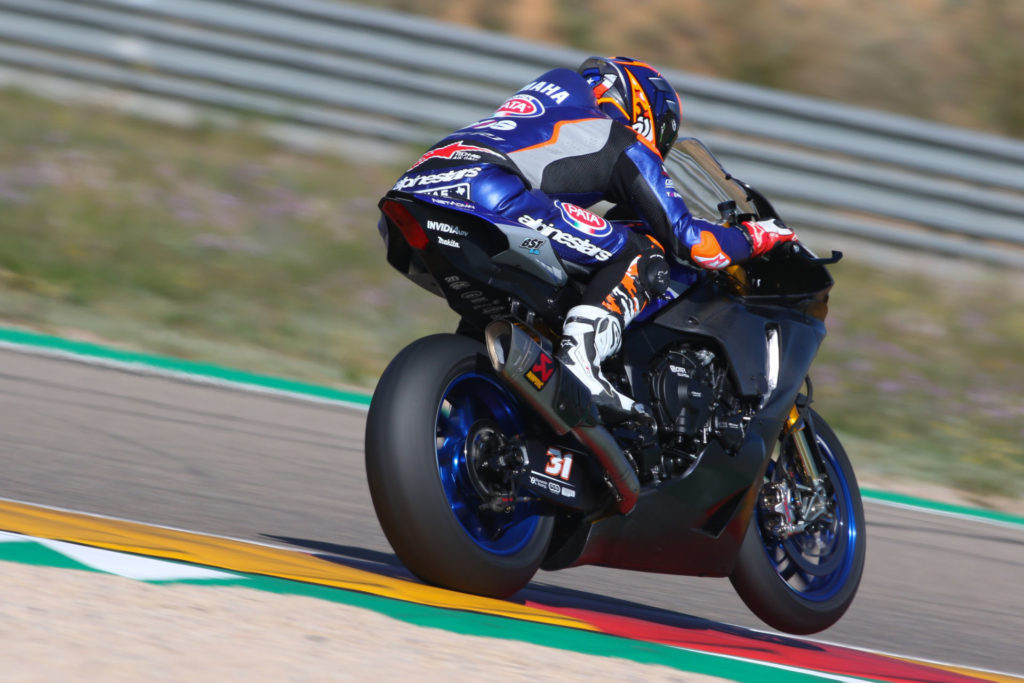 Reigning WorldSSP Champion Andrea Locatelli (Pata Yamaha with BRIXX WorldSBK) set the fifth best lap time on day two after a late run as he was looking to take another step forward while also working on the balance of his Yamaha YZF R1 as well as looking to extract the most from his machine. The Italian rookie did have a small crash at Turn 15 in the morning session but was able to take his bike back to the pitlane. Tito Rabat's (Barni Racing Team) day came to a slightly premature halt when he suffered from some technical issues on his Ducati Panigale V4 R, but the 2014 Moto2™ World Champion finished with the sixth best lap time and completing a mammoth 97 laps. The Spanish rider completed more laps than anyone else on day one of the test and repeated that on day two as he continued to adjust to new surroundings following his switch from MotoGP™ to WorldSBK.
Axel Bassani (Motocorsa Racing) finished in seventh place on his Ducati Panigale V4 R as the youngest rider on the 2021 grid continues to prepare for his rookie WorldSBK campaign, finishing around half-a-second from Rabat's best time of the day although Bassani was faster in the afternoon session as he completed 80 laps for the day. Kohta Nozane (GRT Yamaha WorldSBK Team) finished the day in eighth place, just a tenth away from Bassani, as the reigning Japanese superbike champion continued to adjust to a brand-new circuit and completed 58 laps. The WorldSBK field was rounded out by Christophe Ponsson (Alstare Yamaha) with the French rider completing only 20 laps in the four-hour afternoon session, with 57 laps in total.
WorldSBK unofficial results from day 2
1.) Scott Redding (Aruba.It Racing – Ducati) 1'48.780, 80 laps
2.) Michael Ruben Rinaldi (Aruba.It Racing – Ducati) 1'49.205s, 85 laps
3.) Garrett Gerloff (GRT Yamaha WorldSBK Team) 1'49.439s, 73 laps
4.) Chaz Davies (Team GoEleven) 1'49.775s, 75 laps
5.) Andrea Locatelli (Pata Yamaha with BRIXX WorldSBK) 1'50.257s, 66 laps
6.) Tito Rabat (Barni Racing Team) 1'50.518s, 97 laps
7.) Axel Bassani (Motocorsa Racing) 1'51.146s, 80 laps
8.) Kohta Nozane (GRT Yamaha WorldSBK Team) 1'51.277s, 58 laps
9.) Christophe Ponsson (Alstare Yamaha) 1'52.269s, 57 laps
More, from a press release issued by Aruba.it Racing Ducati:
Positive feelings for Scott Redding and Michael Rinaldi at the end of two days of testing at Motorland Aragon
The Aragon private test has come to an end, with the Aruba.it Racing – Ducati team concluding two days of fruitful work at the Motorland circuit.
Scott Redding and Michael Ruben Rinaldi (86 and 88 laps completed respectively over the two days) continued their development work on their Ducati Panigale V4 R, obtaining extremely useful information ahead of the first round of the 2021 WorldSBK season, scheduled for the end of May at the Motorland circuit in Aragon.
After a first day ended with Chaz Davies, Micheal Rinaldi and Scott Redding in the first three positions separated by only 111 thousandths of a second, in the last part of today's session, the two riders of the Aruba.it Racing – Ducati team tested a qualifying simulation. Scott Redding (1:48.780) made the most of his qualifying tyre, finishing only 13 thousandths off the track record set by Rea (Kawasaki) last September. Michael Rinaldi had a very good pace on race tyre but didn't manage to exploit the qualifying tyre and closed with a time of 1:49.205.
Scott Redding (Aruba.it Racing – Ducati #45)
"I'm very satisfied with the improvements we were able to make with the bike, especially during the middle part of today. I felt comfortable with the race tyre and I have to say that I had a good feeling also with the soft one, which I struggled with last year here in Aragon. With the qualifying tyre, I made a good time and this makes me very happy because I consider this circuit one of the most difficult for me. It hasn't been an easy couple of days but the team, as always, has done a great job to find solutions to the problems that have arisen".
Michael Ruben Rinaldi (Aruba.it Racing – Ducati #21)
"They have been two very productive days because we have improved the bike and also the feeling. If I have to be honest I think I have improved my riding style and I am very satisfied with the work we have done. The race pace isn't bad but we need to improve with the new tyre because I can't get the best out of it in the first few laps. I can't wait to be at Navarra for the next test: a new track that I don't know. We will have intense work to do ".
More, from a press release issued by Barni Racing:
The Barni Racing Team concluded the last two-days test before the WorldSBK 2021 season start
Aragon (SPA) 13th April 2021. The Barni Racing Team concluded two intense days of testing at Motorland Aragon circuit, Spain, where the WorldSBK 2021 season will start next 21st/23rd May.
Tito Rabat worked hard with the whole team to improve his feeling with his Ducati Panigale V4 R, testing lots of new components in different areas of the bike: a new tank cover to improve ergonomics, a new layout of the SC-Project exhaust with a shorter terminal, and new brake calipers.
At the end of the two days the Spanish rider's best lap time is 1'50.518, set in today's morning session. That time placed Tito sixth in the combined standings, a result conditioned by a technical problem in the afternoon session that prevented Rabat to mount the qualifying tire and lower the time.
Tito Rabat
"All the components we have tested in these two days have given improvements on the bike setup, but for some reason or another I couldn't make the pace I wanted. When the time to put the soft tyre came, as all the others did, we had to stop."
Marco Barnabo, Team Principal
"We are working hard because vibrations that Tito feels need to be eliminated. This prevented him from riding as he would like. Trying to solve the problem we had to make more turns than any others and, at the end, when it was time to make the hot lap, a technical problem prevented us from using the qualifying tire. Although there is still a way to go, the best time does not reflect the true value of our work."
More, from a press release issued by Pata Yamaha:
Locatelli Continues Preparations for 2021 Yamaha WorldSBK Debut 
Pata Yamaha with Brixx WorldSBK racer and reigning FIM Supersport World Champion, Andrea Locatelli, continued to make steps towards his FIM Superbike World Championship debut next month, completing a day and a half of testing at MotorLand Aragón this week.
With low temperatures at the Alcañiz venue and inclement weather since the team arrived on Sunday, Locatelli completed just 52 laps on Monday afternoon, choosing to holdover a half day allocation of WorldSBK regulation testing opportunity to a later date. The 24-year-old completed a full test day of running on Tuesday with 66 laps, gaining valuable experience on his 2021 official Yamaha R1 WorldSBK.
Despite "Loka" suffering his first crash since his debut on the 1000cc machine, he bounced back impressively, showing very consistent pace and providing detailed feedback as his crew targeted improved confidence and turning in Aragón's long, challenging corners. Improving his lap time by nearly a full second on Pirelli's qualifying tire, Locatelli is now looking forward to the next steps in performance at his next test.
Turkish star Toprak Razgatlıoğlu was absent from the two-day test, continuing to remain in Barcelona following a further positive Covid-19 PCR test on Saturday, 10 April. Toprak remains well, without symptoms, and looks forward to getting back to work on his Yamaha R1 WorldSBK.
Yamalube YART Yamaha EWC Official rider and Yamaha WorldSBK rider coach Niccolò Canepa was able to step in at short notice to help the team test some important longer term development updates, and completed a total of 38 laps in running on Monday. Canepa has been recovering from fractures sustained to his left ankle in an endurance test crash earlier in the year.
Further updates regarding the Pata Yamaha with Brixx WorldSBK test schedule ahead of the season opener at MotorLand Aragón will be announced in due course.
Andrea Locatelli: P5 – 1'50.257 / 118 laps
Pata Yamaha with Brixx WorldSBK
"It's a very strange feeling, because yesterday and today I had crashes – but they were so crazy strange crashes! I felt sorry for the guys and the whole team, because we were unable to continue to work on track with these disruptions – having to stop and repair the bike or use alternative parts from the test plan. In the end, we were able to ride a little bit and improve, it was not so bad in the end. A very strange test here for me, but now we will see for the next test. We can analyse everything and the goal is to stay focused and to return here with a plan to improve again."
Niccolò Canepa: P10 – 1'53.348 / 38 laps
"I was not expecting to ride here in Aragon, and I feel sorry for Toprak, but for me it was a good chance to understand the level of my fitness after the surgery on my ankle. I was able to test something quite important, and even if I was not able to be at my normal level it was enough to work with the guys and make some quite big improvements. I was in some pain at the end of the day but even with that, it was great to ride the R1 WorldSBK machine and do some productive work."
Paul Denning – Team Principal
Pata Yamaha with Brixx WorldSBK
"It's still a challenging time for many people around the world, there is no reason why professional motorsports should escape those same challenges! So, not to have Toprak here is of course disappointing but the priority is that he feels perfectly well and is – as you can imagine after 14 days in isolation – absolutely ready to go! We will rearrange alternative testing here in Aragon and he will be ready for the first races of the season. We found a way to make good use of Toprak's R1 and his crew with Nico making some fundamental development testing for Yamaha; despite his quite severe recent ankle injury he was still able to complete some important and interesting work for the future – good effort and thank you, Nico!
"Andrea used one and a half of the two days available to us here and, for the first time on the R1 WorldSBK at this tricky circuit, did a good job. It was a more complicated test than we would have liked, with a couple of unusual and rather unlucky crashes, but even so, a lot of good work was completed. We have another two days here in Aragon next week for Andrea to take the next step forward in terms of raw pace, so we hope to use those well and be fully prepared for round one of the 2021 Championship."
More, from a press release issued by Team GoEleven:
DAY – 2, CHAZ DAVIES LEAVES ARAGON HAPPY WITH THE PROGRESS MADE!
The second day from Motorland Aragon is characterized by good weather and warm temperatures compared to day 1. The Superbike riders manage to set excellent laptimes already in the morning.
Chaz Davies, after the best time from yesterday, immediately confirmed his speed, riding below the wall of 50 at the end of the first session of the morning. The Welshman and Michael Rinaldi clash (from a distance) with fast laps, with the Italian finishing a few cents in front. The work done by Go Eleven, however, pays off and the number seven proves satisfied and convinced of the progress. The main test of the morning session is the use of the new "wing" Brembo calipers, which seem to have provided a good feeling for the rider. In the afternoon the work focuses on the soft tyres. Unfortunately, the feeling with the qualifying tyre is still not great, but we have seen a few steps forward. The work of the Team will focus on this last point in the next tests before the start of the season. The pace and confidence in the race configuration, however, are really amazing, so much so that Chaz manages to achieve fast laptimes with consistency and ease, without pushing over the limit.
The first race of the season is getting closer and closer, there are only two days of testing left, May 5th and 6th on the new entry track in the WorldSBK calendar, Navarra. There it will be essential to know the lines in what will be a real first time for all riders!
Denis Sacchetti (Team Manager):
"I'm happy with the result of this two-day test here in Aragon. If we consider that during winter, due to bad weather and Covid, we rode three days less than our rivals, our condition is better than I would have expected. The feeling with used tyres is excellent, and we have found new solutions that could give us advantages especially in the race pace. We come back from here calm and motivated, this is important!"
Chaz Davies (Rider):
"Today we had a good continuation from yesterday. It was busy, a very busy day. We had a lot to evaluate and quite a few changes on the bike, some positive some less, but overall I think we have a really clear picture on what's working. I feel like I have a bike I can race now, if we need to race tomorrow I feel like I am ready to do that. That's really positive, today I was comfortable, which is the most important thing. I am happy with the way all the guys have been working. Now let's focus on the next test at Navarra!"
More, from a press release issued by GRT Yamaha:
GRT Yamaha WorldSBK Team Shows Steady Progress in Aragon Test
For the final test session ahead of the beginning of the 2021 FIM Superbike World Championship, the GRT Yamaha WorldSBK Team made the most out of two days of on-track activity at the Motorland Aragón circuit.
Good weather conditions helped the team work on understanding how to help the riders gain confidence with the Spanish track. Despite the nature of the track, the two GRT Yamaha riders proved to be competitive, with Garrett Gerloff always close to the top of the standings, and Kohta Nozane continuing to get better acquainted with the bike and the tyres.
Gerloff's side of the garage focused on testing new shocks and on looking for the correct setup for the bike in preparation for the upcoming race. These two days turned out to be particularly important for the American, who did not have the outright pace to fight with the leaders in last year's Aragón race and hopes to turn things around in 2021. When looking at the standings, the results are encouraging: fourth after the first day, with a fastest time of 1'50.527.
On Day 2 he climbed to third, and improved his lap time by more than one second, clocking in a 1'49.439. The experience gained in the 125 laps run throughout the two days will prove crucial when we come back to the this track for the first round of the championship on 21-23 May.
On the flip side of the coin, as usual in this pre-season, Nozane had a much different target than his teammate during this test. The Japanese rider is still new to the bike, the team, the tyres, but especially the circuits on the WorldSBK calendar, and is taking full advantage of every test session to become more comfortable with the whole package. Despite a difficult first approach with the track, he showed solid speed for a rookie, and ended the first day in ninth place thanks to a 1:51.711.
He further improved on the second day, but an early crash hurt his confidence with the track, and a best lap of 1:51.277, good enough for the eighth position, was the best he could manage. With the two days of testing completed, he can count on a total of 118 laps of experience at the twisty Spanish circuit.
In order to continue the preparation for the first round, the GRT Yamaha squad will already be testing again at the Aragón track next week, on Wednesday 21 and Thursday 22 April.
Garrett Gerloff: P3 – 1'49.439 / 125 laps
GRT Yamaha WorldSBK Team
"I am so happy with the amount of information that we now have. We have sorted out a lot of things which allowed us to improve with different temperatures and wind conditions. The wind affects the feeling you have around the whole track, because it completely changes the braking points, as well as how fast the bike can turn into the corners, making some of them feel horrible because you cannot turn at all. That's why the experience of these two days is so valuable. I know I have a strong bike and I'm happy with how we are working as a team."
Kohta Nozane: P8 – 1'51.277 / 118 laps
GRT Yamaha WorldSBK Team
"As I expected, it was very difficult for me to adapt to this track. This morning, though, I started off with a very good feeling, but then I messed up and crashed in Turn 2, damaging the bike. The team worked hard to fix it, but the crash affected my feeling negatively. Overall, I did not have a good pace, I expected more. But, fortunately, next week we will test here again, so I will immediately have another chance to improve."