Editorial Note: Garrett Gerloff crashed during Free Practice Two but was able to ride back to the pits and continue later in the session.
Use the zoom and scrolling tools in the bottom left corner of the PDF viewer to better see all pages of the results.
More, from a press release issued by Dorna WorldSBK Press Office.
#EstorilWorldSBK – Day 1 
Redding edges Razgatlioglu after Friday running; Rea in fourth
British rookie Scott Redding strikes first in the title decider as he tops Friday running ahead of Toprak Razgatlioglu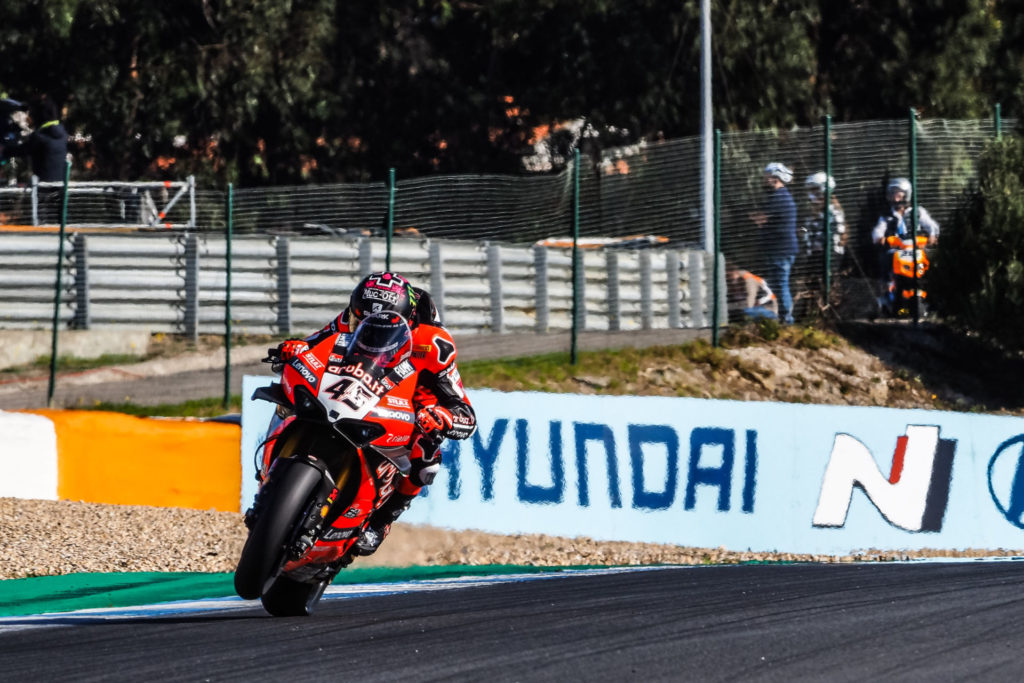 For the first time in 27 years, the MOTUL FIM Superbike World Championship took to the track at the Circuito Estoril with two Free Practice sessions and it was Scott Redding (ARUBA.IT Racing – Ducati) who topped the combined timesheets as he used his experienced at the Portuguese circuit to this advantage in the early stages of the Pirelli Estoril Round.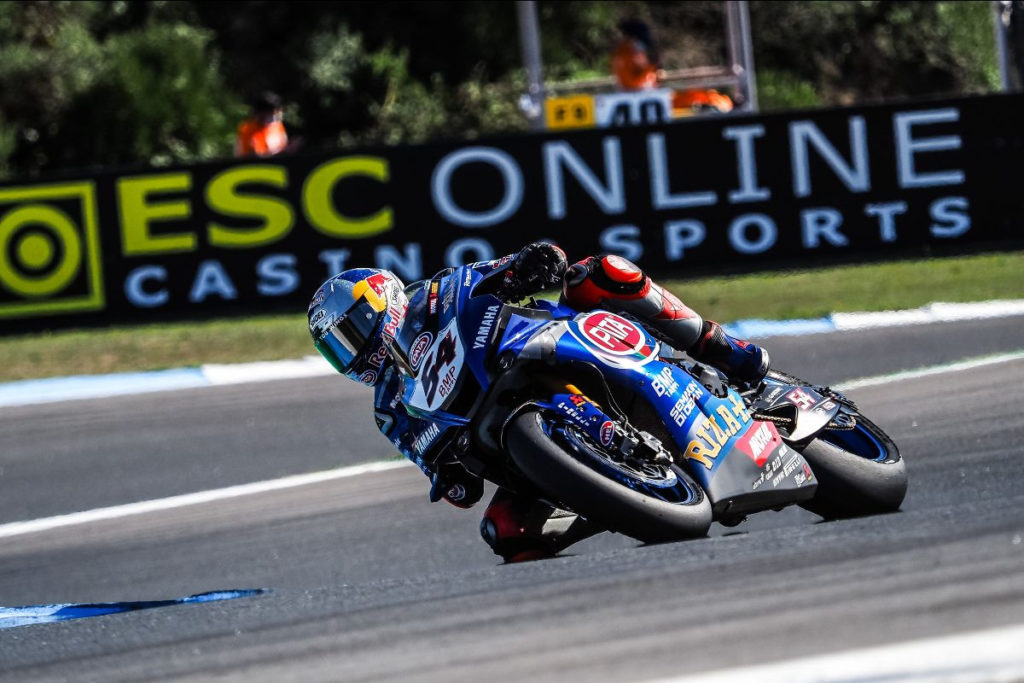 Redding had set the pace in the morning Free Practice 1 session and backed that up with the fastest time in Free Practice 2, posting a 1'36.886s in the last few seconds of the second session to pip Toprak Razgatlioglu (PATA YAMAHA WorldSBK Official Team) to top spot; the Turkish rider finishing the day in second place. Frenchman Loris Baz (Ten Kate Racing Yamaha) showed strong pace throughout the day and finished in third place despite a crash in Free Practice 2.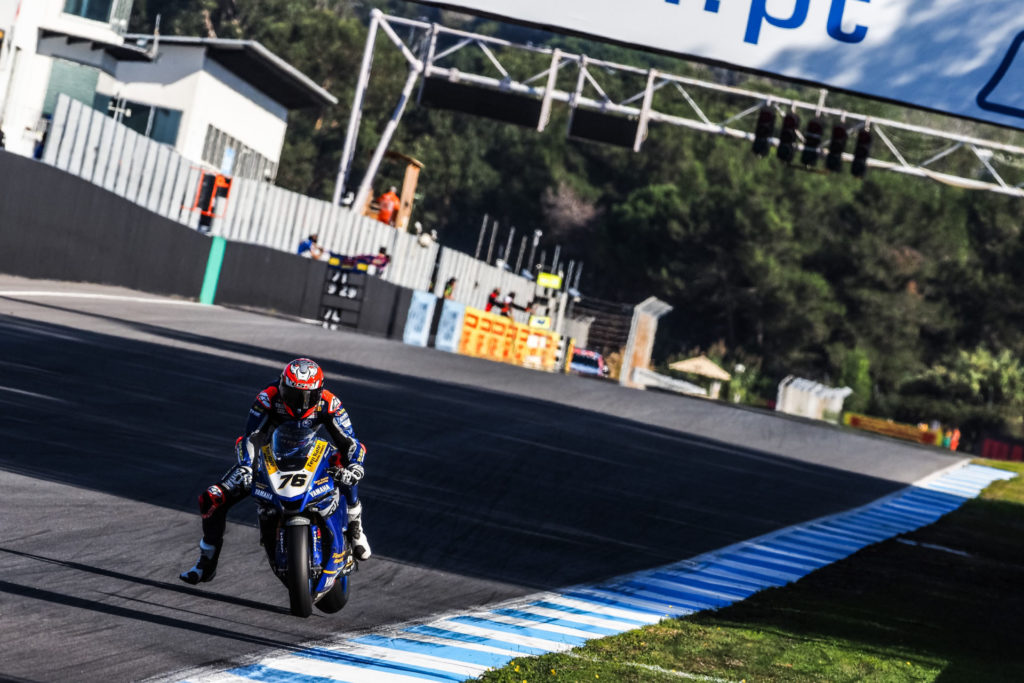 Baz went into Turn 1 as he tried to find the limit but lost the front end of his bike and was unable to bring the bike back to the garage himself after damaging a water hose on his Yamaha. The Ten Kate Racing team were able to repair his bike and the French rider returned to the track with around 10 minutes left in the session.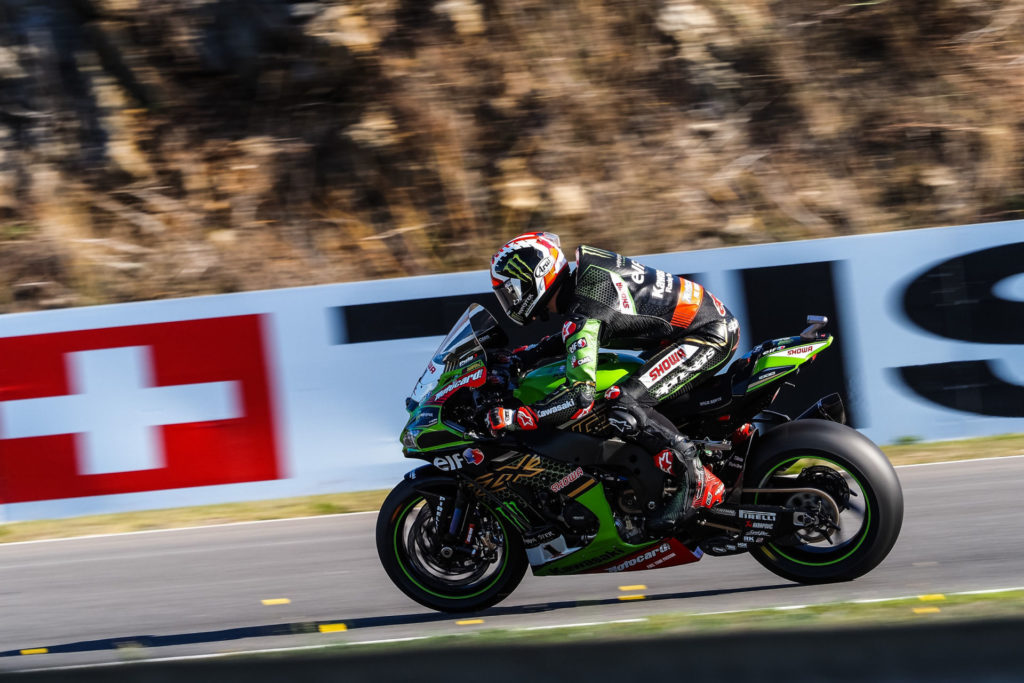 Five-time World Champion Jonathan Rea (Kawasaki Racing Team WorldSBK) put in the fourth best time of the day as he looks to secure both his 100th win and six title across the Estoril Round weekend, edging out teammate Alex Lowes by just a tenth of a second. American star Garrett Gerloff (GRT Yamaha WorldSBK Junior Team) was sixth fastest despite an off in the second session; the third Yamaha rider in the top six of the combined times.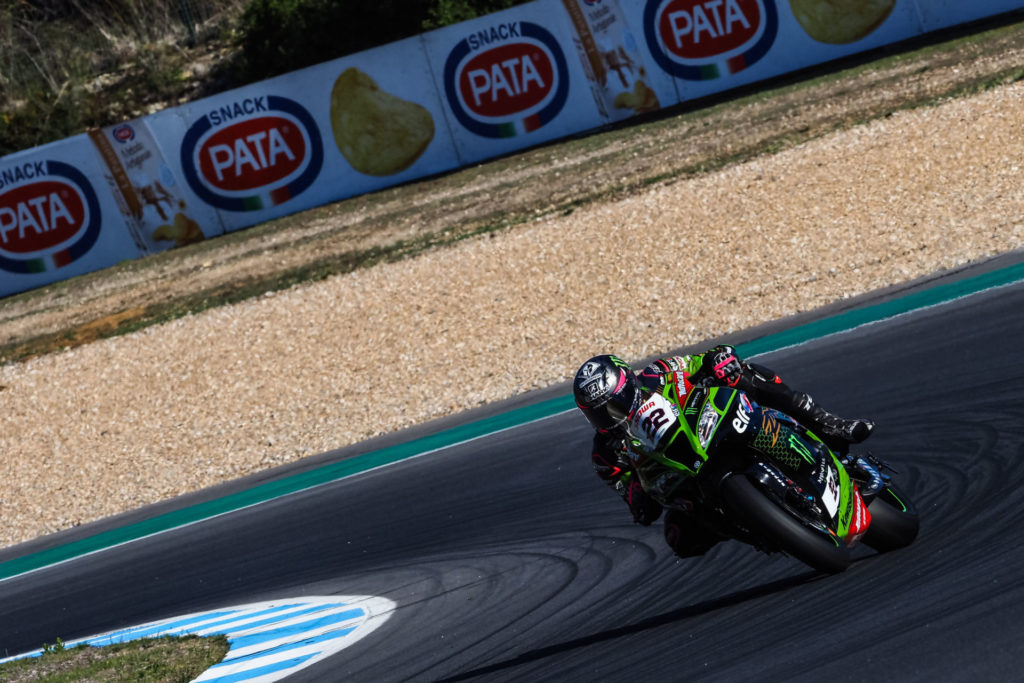 Chaz Davies (ARUBA.IT Racing – Ducati) finished the day in seventh places, less than a second away from teammate Redding at the front of the field as he beat wildcard Jonas Folger (Bonovo Action by MGM Racing) by just 0.002s; Folger making his second appearance of the season as a wildcard. He was around a tenth faster than Michael van der Mark (PATA YAMAHA WorldSBK Official Team) and Leon Haslam (Team HRC), who completed the top ten.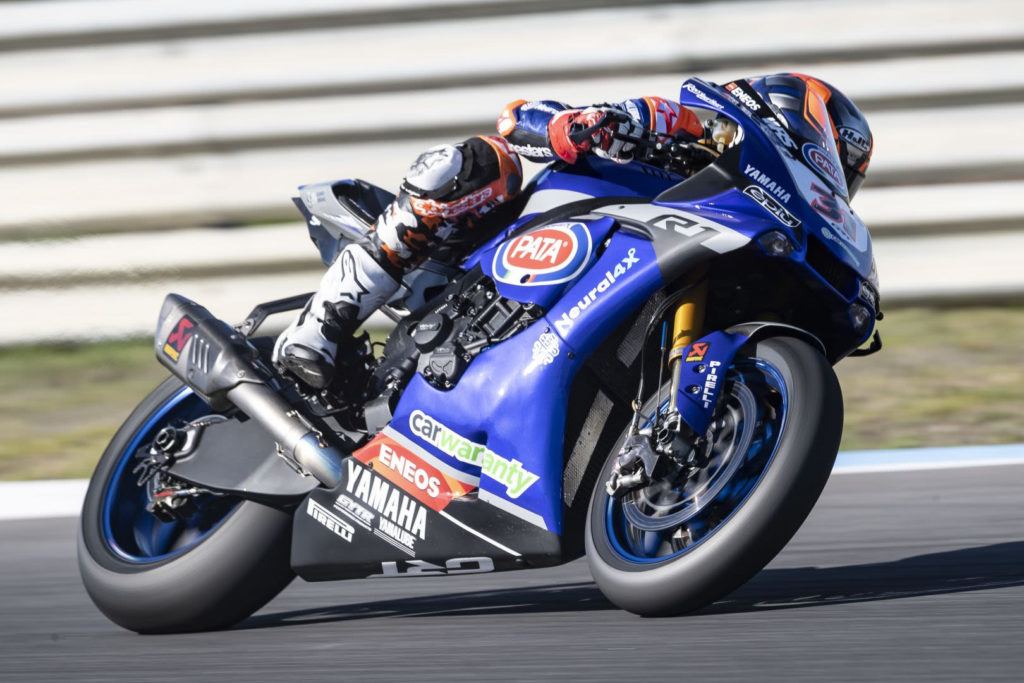 Alvaro Bautista (Team HRC) finished the day in 11th place as the Spanish rider looks to bounce back from a challenging Magny-Cours weekend; but the Spanish rider crashed in Free Practice 2 at Turn 7. Tom Sykes (BMW Motorrad WorldSBK Team) was in 12th place, ahead of Ducati-bound Michael Ruben Rinaldi (Team GOELEVEN) in 13th.
Spanish rider Xavi Fores (Kawasaki Puccetti Racing) was 14th as he marks his last weekend with the Kawasaki Puccetti outfit, finishing a tenth ahead of Sylvain Barrier (Brixx Performance). Italian Federico Caricasulo (GRT Yamaha WorldSBK Junior Team) was 16th, ahead of the returning Matteo Ferrari (Barni Racing Team) in 17th and Eugene Laverty (BMW Motorrad WorldSBK Team) in 18th.
Leandro Mercado (Motocorsa Racing), Eric Granado (MIE Racing HONDA Team), Sheridan Morais (ORELAC Racing VerdNatura), Takumi Takahashi (MIE Racing HONDA Team) and Loris Cresson (OUTDO Kawasaki TPR) rounded out the field; Granado, Morais and Cresson making their first WorldSBK appearance of the season.
More, from a press release issued by Pata Yamaha:
Razgatlıoğlu Second Fastest on First Day at Estoril
Pata Yamaha WorldSBK Official Team with Rizla rider Toprak Razgatlıoğlu was second-fastest overall in Friday's Free Practice at the final round of the FIM Superbike World Championship at Circuito Estoril.
Birthday boy Razgatlıoğlu, who turned 24 today, felt immediately comfortable taking to the Portuguese circuit for the first time in his career. The technical nature of the circuit seemed to suit his aggressive, hard-braking style of riding, as he completed a total of 39 laps in search of the best race set-up during the two 50-minute Free Practice sessions.
With less than a second separating the top 10 riders in the premier WorldSBK field, Michael van der Mark found himself on the other end of the spectrum after 45 practice laps. The Dutchman, who is aiming to end his four-year tenure with the Pata Yamaha team on a high this weekend, wasn't able to immediately find a comfortable set-up and ended the day in ninth position, despite being quickest of all riders in the fast fourth sector.
Van der Mark and Razgatlıoğlu will have one final Free Practice at 09:00 (UTC+1) to finalise their official Yamaha R1 set-ups before the all-important Tissot Superpole qualifying at 11:00. The first WorldSBK race at Estoril since 1993 will then get underway at 14:00.
Toprak Razgatlıoğlu: P2 – 1'36.975
"Today was my birthday but also I am happy with how it has gone at this new track. I have always liked the look of the circuit, but I've never ridden it! I like it because of the very hard braking layout and the flowing corners. Today we finished in second position, and I am really pleased to start this last race weekend of 2020 like this because I want to finish the season well – and I also need to score a podium again! We will keep working on some small areas to improve the feeling and, with it, the lap time. It feels good now, but we need to find a little bit extra for better turning and grip to improve the final result."
Michael van der Mark: P9 – 1'37.775
"It's been a difficult day for us, obviously it's a new track and this morning I had to try out some different gearing and find a good set-up, which isn't that easy. We're struggling quite a lot with the balance and the turning. I thought in the afternoon we could make a good step forward, but we are still not where we need it to be. We have quite a lot of work to do for tomorrow, the differences are really small but I feel like we have to make a big step in set-up so we can improve our potential result."
Paul Denning – Team Principal
"I think everybody is happy to be here at the Estoril circuit – the track has a great layout, the sun is shining and for us, in general, the Yamaha R1 seems to be working well here. The times are very close, which is impressive when you consider the lack of experience that the whole field has at this circuit. For Toprak in particular, the day was very productive. He has been working well with his crew to improve feedback and confidence from the bike over the course of the day, resulting in really competitive lap times. Mikey feels less comfortable, and we have some work to do to get his bike to steer and respond in the way he needs, but even so, the gap to make up is not so big. Fingers crossed for more sunshine and some great racing tomorrow."
Media Images
More, from a press release issued by Aruba.it Racing Ducati:
#EstorilWorldSBK FP.
Scott Redding goes quickest in Friday's first free practice sessions for the Pirelli Estoril Round.
Chaz Davies ends the day in seventh
The first day of free practice for the Pirelli Estoril Round – the last event of the 2020 WorldSBK season – ended with Scott Redding who notched out the quickest time in both FP1 and FP2. After a difficult FP1, Chaz Davies managed to improve convincingly in the afternoon.
Scott Redding was dominant in FP1 thanks to an impressive series of fastest laps, setting his best time on lap 20 with the used tyre. After working on the set up of his Ducati Panigale V4 R, in the last run of the FP2, the British rider pushed hard lowering the morning's lap time by over three tenths.
Chaz Davies was not able to be incisive in FP1 finishing 10th with a rather wide gap from his teammate. In the afternoon, however, the Welsh rider managed to increase his feeling with the bike R by improving his Chrono by almost a second to close in seventh.
P1 – Scott Redding (Aruba.it Racing – Ducati #45)
"I am satisfied with what we have done today. In the afternoon we tried some solutions but they didn't work as we hoped so we went back to the morning set up. The new circuit? It's a normal situation this season. I could say that this weekend the other riders will also try this kind of experience that has been a constant for me throughout most of the season. My target for tomorrow? A good qualifying will be crucial for all races".
P7 – Chaz Davies (Aruba.it Racing – Ducati #7)
"All in all, things didn't go wrong today. I raced here 15 years ago in the 250cc Championship but it is clear that the conditions with the Superbike are completely different. That's why in FP1 I tried to get familiar with the circuit to understand where it will be possible to attack and where it will be necessary to manage the tyres. In the FP2 the situation has improved but we will still have to work on the setup and electronics to take the step forward that we need to be competitive tomorrow".
More, from a press release issued by Team Go Eleven:
FRIDAY HARD DAY; FREE PRACTICES 1-2 ARE OVER AT ESTORIL!
The Friday from the new entry Estoril track, it turned out to be particular and interesting. Many riders found themselves racing on the Portuguese ups and downs for the first time ever. Despite the almost ideal conditions, with temperatures around 18 degrees and a light wind that did not influenced riders, on a new circuit the cards were reshuffled, with some surprises in the top positions compared to the last rounds.
Michael Ruben Rinaldi used the first session of the morning to learn the lines, and understand the ideal trajectories to push the Ducati V4-R to the maximum. He faced some set-up difficulties, complaining of little rear grip and little feeling under braking. The track here is spectacular, but strange to understand, with many different sectors: fast corners, a long straight, hard braking from first gear and quick changes of direction. In FP 1 the number 21 ride on race tyres, managing to improve at the end, finishing in 1.38.857.
For the afternoon session the Go Eleven technicians changed the geometry of the bike to face Michael's requests, with the aim of gaining grip. The start of the session, with a train of SC0 used since the morning, saw the rider from Romagna immediately improve his laptime, showing some small improvements. With new tyres, however, the feeling is still not great and you can't make the most of it. In the middle of the session, Rinaldi tried the softer compound, trying to understand the differences in compounds in view of both the Superpole and the race. Unfortunately it did not give the hoped-for improvements, even if it managed to set a low 38 with the SCX, which placed him close to the top ten. The riders are all very close, with narrow gaps, so tomorrow it won't take much to climb the rankings. Between today's evening and Saturday morning, the staff will work in a more invasive way on the Ducati V4-R to give greater support to Michael's riding style.
Time is short, but there is room for improvement!
Michael Rinaldi (Rider):
"It was a very difficult day, unfortunately the sensations on the bike aren't good and I can't ride as I normally do. This afternoon we improved the time compared to this morning, but still not the feeling with the bike. Now let's look closely at the data, we try to understand how and where to improve, and we hope to find a good solution for tomorrow. We are not so far from the top, so if we improve a little bit we can take a good step forward. Tomorrow morning we only have one free practice to test the changes, so we have to do a great job tonight. The track is particular, I've never been here before, and it's normal not to be 100% now, but we already have a race tomorrow. "
More, from a press release issued by BMW Motorrad Motorsport WorldSBK Team:
BMW Motorrad WorldSBK Team conclude the opening day at Estoril outside the top 10. 
The BMW Motorrad WorldSBK Team today completed their FP1 and FP2 sessions at the final race weekend of the year at Estoril. Unfortunately, both BMW's of Tom Sykes and Eugene Laverty were unable to mount a challenge on the top 10 positions. Tom Sykes was the fastest of the two BMW S 1000 RR's during today free practice sessions as he placed himself in P12 on combined times (1'37.936) +1.050 slower than P1. Team-mate Eugene Laverty struggled to get a good feeling with his S 1000 RR from FP1 and his times reflected this as he concluded FP2 in P18. (1'38.925) +2.039 seconds behind pace setter Scott Redding.
Shaun Muir, Team Principal:
"A pretty average day today. It was tough trying to get a comfortable setting with the track being so abrasive. Both riders have the same problems to overcome, so we will go into tomorrow with some good ideas we have worked on overnight. This should give them more confidence with the chassis balance and be able to use what grip is available. We are expecting to take big steps forward in FP3 before Superpole and I'm confident we can get a good grid position for the race tomorrow."
Tom Sykes:
"It's early days. It is my first time at this track and I don't want to be pushing the boundaries but gather relevant information. I certainly enjoy the track. It is a fantastic layout. I am just getting to know my way around the Estoril circuit and I have to say it's just such a good and enjoyable place to ride. We've had a couple of little experiments today; we've tried the combination of the set-up with the tyres, we've gathered a lot of information and of the back of this, I have to be quite happy. Looking at the times, it seems at the moment that the V-configuration, the cross-plane cranks have a little bit of an advantage with the circuit layout and what grip it has to offer. So, we will have a good sit-down now and see if we can try and eat into this deficit that we've got. For now, it's just day one and tomorrow, we will try to put the pieces in the jigsaw together.
Eugene Laverty:
"It was tough today and time gap to the top was too much. I know that our bike does not suit the slow corners, so if you start to throw in these first gear corners we will struggle. Here in Estoril we are using first gear in five corners, so we must put our heads together tonight and see what we can do. We can definitely make a step forward tomorrow because we went the wrong way between the sessions, so we know where we can improve. It's going to be a challenge but I don't give up, we'll sit to together with the engineers and try to push forward for tomorrow."
More, from a press release issued by Barni Racing Team:
Ferrari and the Barni Racing Team satisfied (P17) after the first day at Estoril
Estoril (POR), 16th October, 2020. The Barni RacingTeam rider Matteo Ferrari ended with a positive P17 in the combined times of today's two free practice sessions at the Estoril circuit, Portugal, which is hosting the last round of the 2020 World Superbike Championship.
The rider from Romagna, just graduated vice-champion in Moto E, is making his debut on the Ducati Panigale V4 R of the team from Bergamo and he had a positive approach.
Ferrari showed a constant improvement in lap time: the best lap of the day, 1'38.766, arrived just at the last flying lap, lowering his best time of the FP1 by more than half a second. Ferrari closed at 1.8s from the leader and one second from the Top 10.
The #71 completed 36 laps concentrating in a single day the work of adaptation on the saddle, setup tests and time attack. Tomorrow after the last free practice session the Superpole will get underway at 11 am , while Race 1 is scheduled at 2 pm local hour.
Matteo Ferrari:
Free Practice (combined results): P17 (1'38.766)
"The first day was positive. Since the morning feeling was good, but in the second session I really took the bike in hand: we identified the area to improve and I think that by changing a little bit the rear setup we can get closer to the top 10 which is not so far away."
Marco Barnabo, Team Principal:
"As already happened this season we had to start the work almost from scratch, but the beginning is encouraging: Matteo got on a bike totally different from the one he has ridden so far and He was very quick to adapt. There is a lot of rooms for improvement and I'm confident that tomorrow we can grow again."
More, from a press release issued by GRT Yamaha WorldSBK Junior Team:
Apprenticeship Friday in Estoril for GRT pilots
The final round of the WorldSBK season kicked off today with the first two free practice sessions at the Estoril circuit. For the teams, Friday was useful to discover the secrets of the track, which returns to the calendar for the first time since 1993, and to try to find the right setup for Saturday and Sunday.
The GRT drivers had a good time on the Portuguese track already in FP1, where Gerloff set the second time, while Caricasulo finished ninth. In FP2 in the afternoon, on the other hand, with temperatures rising and the wind making its appearance, the American finished in sixth position despite a crash, while his teammate had more difficulties, setting the 16th best time. The team remains confident that they can aim high tomorrow.
Gerloff had a good impression of the Portuguese track, which has a similar layout to that of Barcelona and fits well with his R1. In view of tomorrow we only need some small improvements: "Today went quite well. It's a new track for everyone, so it's not bad to all start at the same level. Right from the start the Yamaha R1 worked very well, and together with the team we made only a few changes. I felt a little more comfortable in FP1, with less wind, while in the second session, with higher temperatures and stronger gusts, I struggled a bit more. I still like the track a lot and I can't wait to race tomorrow. This circuit reminds me a lot of Barcelona: it has a similar configuration looking at it from above, and the style of the corners is similar, so it seems to fit very well with the Yamaha because it has some nice folding sequences that we can take advantage of. The goal for tomorrow is definitely to try to repeat Barcelona's performance, but there are still some things I need to understand better and some improvements to make. However, the start was good and I'm happy to be close to the leaders. I absolutely have to go fast in qualifying, which have often been my Achilles heel, but if we can start from the front I think we can have a good race. The first day went well, we hope to continue like this."
Caricasulo, struggling with learning the new track and with a general lack of performance, did not have a simple Friday: "It was not an easy day because we had to learn this new track. We got off to a pretty good start this morning, but then we stalled a bit in the afternoon. We did a race simulation where we weren't very fast and even on the flying lap we weren't able to get the performance we wanted. For tomorrow we will try to make the right changes to improve today's problems and we will try to be more competitive starting from FP3. "
The Technical Coordinator Damiano Evangelisti is pleasantly surprised by the technical characteristics of the new track, and hopes to close the championship by entering the top-5: "Working on a completely new track more or less for everyone like Estoril, where Superbike didn't come from many years, it is certainly very interesting from a professional point of view. I was immediately surprised yesterday, when we found a very technical track, with many changes in slope and many corners that need to be interpreted. So in my opinion, the driver and setup here will definitely make a lot of difference. With just one weekend we will not be able to reach a perfect setup, because the time to find it is not enough, but we will do the best possible job. Today we focused on just that, trying to understand what our riders' needs were on this new track. Garrett is again confirmed, he has now found excellent confidence with the bike and is able to be fast in all situations. Especially this afternoon we worked hard on the bike, and we only used one set of new tires, justifying the fact that we didn't improve this morning's time that much. We focused more on the work to be done for the race than on the flying lap, there is some refinement to be done but we think we have found the right place in terms of Garrett's setup. Instead, we are a little behind with Federico: he still needs to find a little more speed on this new track, and above all we have not been able to exploit the new tires to the full. His gap on the flying lap is in fact due to the fact that, in the second part of the session, with the new tires he was unable to improve. We have to understand why we are not able to take advantage of the grip of the rear tire above all, but by tomorrow morning we will certainly find a good solution to try, and I remain quite confident with regards to the weekend's trend. In any case, we see that all the Yamahas are in the top ten, and this means that the bike itself goes well with this track, and this gives us hope. Clearly our potential has changed a bit now, so we need to start aiming a little higher. Now for us, staying in the top ten will have to become a constant, and we will have to aim to stay in the top-5. It would be a nice ending to this growing season,
Tomorrow's schedule includes the last Free Practice session at 9, Superpole starting at 11, while Race 1 will end the day at 14 local time.
More, from a press release issued by Kawasaki:
Fast First Day At Estoril Finale
The KRT WorldSBK duo of Jonathan Rea and Alex Lowes both enjoyed a strong opening day at the final round of the championship in Portugal, with Rea fourth and Lowes fifth fastest at a circuit neither they nor their team has any previous experience of.
The 4.182km long Estoril track was last used for WorldSBK racing in the early nineties so it was an all-new challenge for the whole KRT squad to learn in two 50-minute practice sessions on the opening day. The weather was kind, with sunshine and mild temperatures throughout, and expectations that the weather should hold throughout race weekend.
In the final Friday session Rea was to finish just over half a second from the fastest rider Scott Redding, who has raced at Estoril in the earlier years of his MotoGP career. Jonathan, who was still learning secrets of the track layout right up to the final minutes of FP2, was occasionally on course to be fastest rider of all, only losing some pace in the final sectors.
Armed with set-up improvements based on the opening day's data, Rea and his crew will reconvene on tack on Saturday for FP3, Tissot-Superpole and then race one, which will offer Jonathan the first chance to win the championship outright. It will also be an opportunity to score his 100th career race win in WorldSBK. He only needs three points from this weekend to guarantee his sixth successive title.
It was also a positive opening day for Lowes in Portugal, as he who was one place and only 0.120 seconds behind his team-mate Rea. His top five performance gave him confidence to take into the opening race as he goes for more podium finishes to wrap-up his first season as a Ninja ZX-10RR rider.
Having been resurfaced two years ago the grip from the track surface at Estoril has proved to be been consistent and drew praise from most riders, the majority of whom were seeing the track for the first time.
Now the KRT competitors will maximise their combined potential to take into the first of three races that will complete a compact and intense eight round championship.
Race one, over 21 laps will take place on Saturday afternoon at 14.00 local time in Portugal, with a ten lap Tissot-Superpole race on Sunday morning and then a final 21-lap race in the afternoon.
Jonathan Rea, stated: "The track is really nice; a big challenge because there are a lot of technical aspects. It is enjoyable and fun to ride. It is also quite 'busy' to ride on a more than 200 horsepower WorldSBK bike. It is day one and honestly I am still leaning the way around. Even in the last laps I felt I was doing different things on the bike and trying to understand the best way to attack it. We understood two rear tyre options and the track layout a little bit and we now need to improve the bike set-up for Saturday, especially during trail braking. My rhythm with used tyres is very strong so if I can find just a little bit more performance I can fight for the podium, and possibly even better. That is the target. I will try to forget about the championship as I have three chances to wrap that up but we are in a good position because in FP2 I felt a lot better than in FP1. Even on old tyres I set my fastest lap. All good for the opening day."
Alex Lowes, stated: "I like the layout here. It is quite a small track, the sections are all inside each other and the surface is quite good. I heard some reports that the track was quite bumpy, and there are corners with some bumps, but honestly it is not bad. To go to a new track is always good fun. It is a little bit different, and I am not sure which other circuit I can compare it to. It is a lot tighter and smaller than I expected but I enjoyed riding the track for the first time. I feel OK on the bike but we do not really know how things will turn out yet until we can get in a few more sessions and everything settles down a little bit more. I enjoyed it today."
Xavi Fores (Kawasaki Puccetti Racing) placed 14th overall on Friday and was top independent Kawasaki rider. Two new Kawasaki riders were drafted in to replace injured regulars at this round. Sheridan Morais (Orelac Racing VerdNatura Kawasaki) took over the ride of injured Chilean rider Maximilian Scheib and was 21st, while Loris Cresson (Outdo Kawasaki TPR) was 23rd as he substituted for the injured Sandro Cortese.