FIM Superbike World Championship
Circuito de Jerez, Spain
November 18, 2020
Day Two And Overall Best Lap Times (all on Pirelli tires):
Jonathan Rea, UK (Kaw ZX-10RR), 1:38.324
Toprak Razgatlioglu, Turkey (Yam YZF-R1), 1:38.839
Alex Lowes, UK (Kaw ZX-10RR), 1:38.886
Garrett Gerloff, USA (Yam YZF-R1), 1:39.171
Leon Haslam, UK (Hon CBR1000RR-R SP), 1:39.851
Andrea Locatelli, Italy (Yam YZF-R1), 1:39.877
Lucas Mahias, France (Kaw ZX-10RR), 1:40.194
Alvaro Bautista, Spain (Hon CBR1000RR-R SP), 1:40.231
Kohta Nozane, Japan (Yam YZF-R1), 1:40.669
Isaac Vinales, Spain (Kaw ZX-10RR), 1:40.892
More, from a press release issued by Kawasaki:
Rea Fastest After First Winter Test
Kawasaki Racing Team riders Alex Lowes and Jonathan Rea completed their first two-day winter test session at Jerez de la Frontera with Rea fastest of all and Lowes third quickest of the WorldSBK riders.
Rea would set a best-of-test 1'38.324 lap time right at the end of two very busy days, riding a Ninja ZX-10RR machine featuring some exciting development parts and first technical steps into the 2021 season.
Lowes personal best lap of 1'38.887 was also set near the end of the second day of action at Jerez, after what was a highly positive period of work for all involved inside the KRT squad.
This was particularly useful test to work through set-up and development ideas after a 2020 season that was so disrupted by the unavoidable effects of the Covid-19 pandemic.
Qualifying tyres were evaluated at the end of the test by most of the major players but it was the performance on race tyres that was the focus of attention – and the areas of greatest satisfaction – for both the riders and the team.
The first steps toward a new season – visual and otherwise – were taken at Jerez, but for a full reveal visit the Kawasaki Motors YouTube channel on 23 November, at 15.00 CET.
With the Jerez tests complete the final on-track KRT action of the 2020 calendar year will take place at the next winter test sessions at Motorland Aragon in northern Spain, between 25 and 26 November.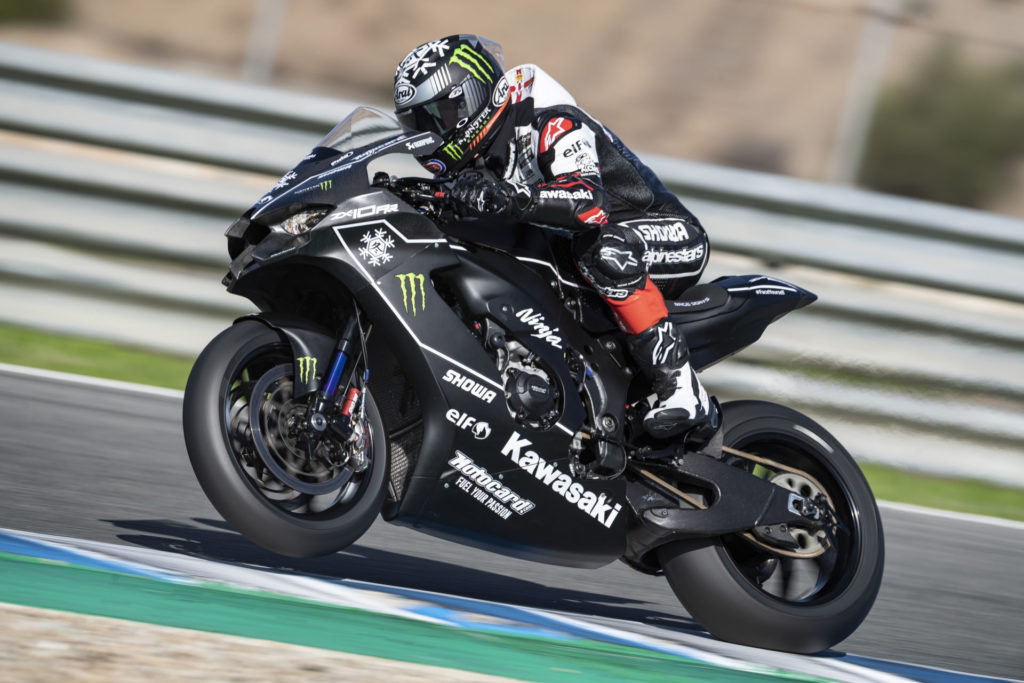 Jonathan Rea, stated: "We started to work with some items for 2021, part of the test plan KHI sent us. Like always we were collecting information and tried many things – a different front fairing to give our feedback to Kawasaki, engine feeling, front fork, some brake items and a front tyre for Pirelli. We did quite a lot of work and I set a lot of laps today with an old tyre. I have not been super-fast with a fresh tyre but the more laps I did on a tyre the faster I got. That is a good problem to have! There were pluses and minuses and we have a lot of information to go back now and assess everything before we return to the track and go further at Motorland next week."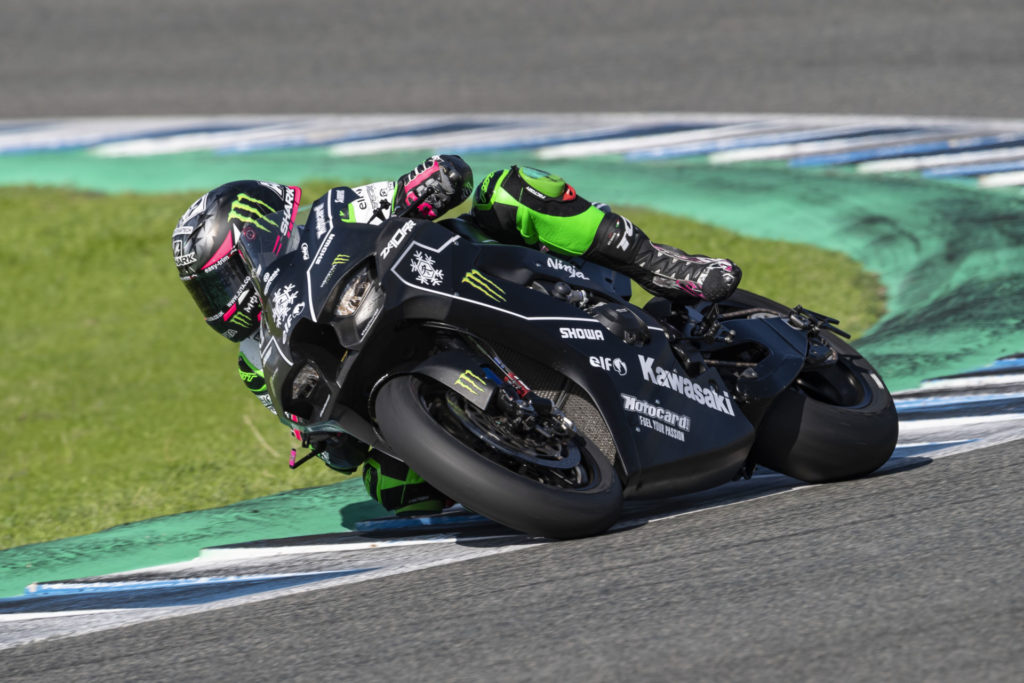 Alex Lowes, stated: "We had some back-to-back testing to do after yesterday's first sessions so in the morning today we focused on this In the afternoon we rode with some 2021 parts, including our first experience with the new fairing. It was nice and it looks really good as well, which is always a bonus. Today in general has been really positive. We still need to keep working but it was a good day – probably one of my best days of testing with the Ninja ZX-10RR. To pick one main point is hard to say, because when you are testing and a lot of new things arrive, it is about evaluating what is good and what's bad before we start the new season next year."
Pere Riba, Crew Chief for Jonathan Rea, stated: "It was all OK, as usual. We have the new bike and we have been testing all the items, the old ones and the new ones, just to collect the information. The engine has a new character and this has an effect. The aerodynamics of the new fairing seems to be working very well and it helps in different areas. It also makes the bike work a little bit different in terms of balance and we need time to look for the best package. We followed the plan, and the items that KHI requested. Johnny was finally the fastest rider, with a Q tyre, but he did very well."
Marcel Duinker, Crew Chief for Alex Lowes, stated: "It was a very good test. After a season like we had this year it was very easy for us to understand where we needed to improve and that is what we did. We took a very relaxed approach because we had a tight test schedule with five main items, chassis and engine. We worked through these items and were able to be fast and consistent, even one of the fastest guys on track at this moment. Alex is very happy, he had a smile on his face on both days and we are already looking forward to the next test. I can only say mission accomplished so far."
Lucas Mahias (Kawasaki Puccetti Racing) embarked on his first WorldSBK rides with enthusiasm and finished up eighth fastest on his Ninja ZX-10RR. Isaac Vinales (Orelac Racing VerdNatura Kawasaki) put himself 11th in his new role as WorldSBK competitor, while Loris Cresson (Outdo TPR Kawasaki) was 12th.
More, from a press release issued by Yamaha:
Pata Yamaha Enjoys Positive 2021 WorldSBK Preparation Test at Jerez
Pata Yamaha WorldSBK Official Team got their 2021 FIM Superbike World Championship preparations underway in the post-season test at Jerez and accomplished a significant amount of work. Toprak Razgatlıoğlu ended the test second fastest overall as Andrea Locatelli showed early promise in his Superbike career, quickly adapting to his Yamaha R1 across the two days.
Focusing on development work ahead of next year, Razgatlıoğlu completed 173 laps of the Circuito de Jerez in total, with his best time of 1'38.855, set on the second day using an "X" specification race tyre, good enough for second overall, while the Turkish rider's excellent feedback and consistent pace will help guide the further development of the 2021-spec Yamaha R1.
For Locatelli, this test marked his first two full days of riding the 2020 Yamaha R1 and provided an early opportunity to work with his crew chief, Andrew Pitt, and his side of the Pata Yamaha garage. The Italian youngster completed 162 laps and went seventh fastest, with a best time of 1'39.878, having shown a big improvement on the test's second day.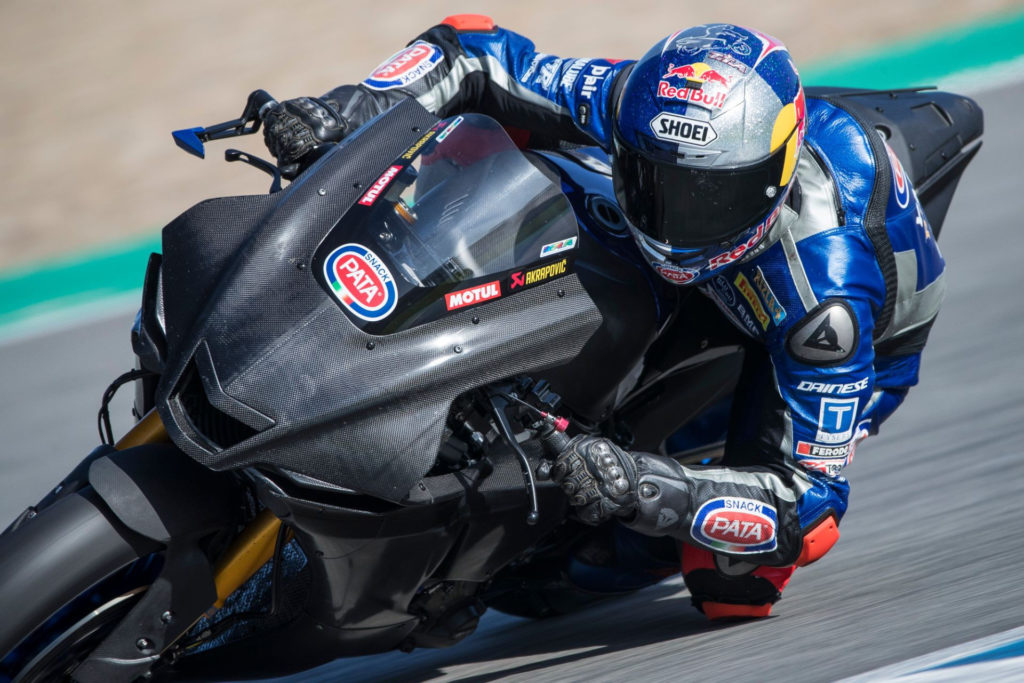 Toprak Razgatlıoğlu: P2 – 1'38.855 / 173 laps
Pata Yamaha WorldSBK Official Team
"It was a very positive test for me. We tried many new parts and both the team and I are really happy because we've got a good direction ahead of 2021. We worked mainly on the race tyre and have improved the rear grip a lot. I focused on fast and consistent lap times, the goal was to be in the low 1'40s and we managed to do that. I did a good lap time on the X tyre, which I was pleased with! We need to work on maximising the Q tyre and try some other set-ups before we get going next year."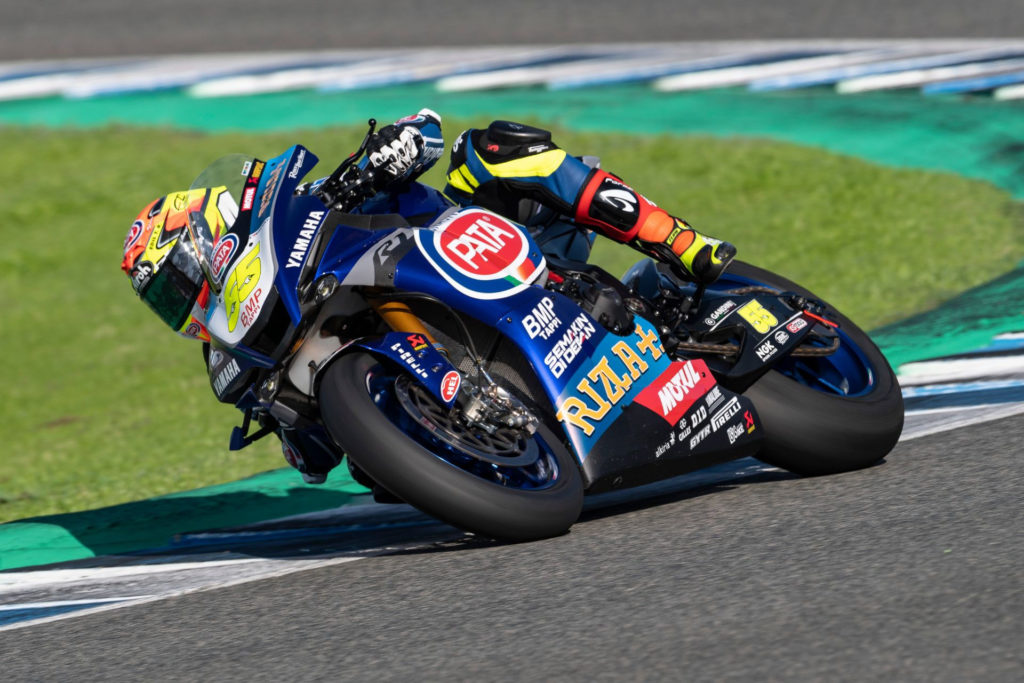 Andrea Locatelli: P7 – 1'39.878 / 162 laps
Pata Yamaha WorldSBK Official Team
"It was a very exciting two days for me, the conditions here in Jerez this week were perfect. The feeling on the Yamaha R1 was really good and I'm beginning to understand the bike better and better. Every lap we improved over the two days, which is a good starting point as we look to the future. I'm very focused, there is still some work to do, but I'm really looking forward to being back on the Yamaha R1 again."
Paul Denning – Team Principal
Pata Yamaha WorldSBK Official Team
"Most importantly, I think we can count ourselves lucky to be here with everything that's going on in the world at the moment. On top of that, the weather's been perfect and Yamaha did a great job bringing so many new development parts to evaluate for the 2021 season. The riders worked incredibly hard, with Toprak doing 173 laps and Andrea completing 162 over the two days. In terms of the development work, most of that was focused on Toprak, given his experience both of WorldSBK and the Yamaha R1. He approached the test very positively and enjoyed this new responsibility! Andrea's job was to gain more experience on the Yamaha R1 and to understand how to be fast and consistent. He took huge steps forward between day one and two. The engineers and crew chiefs have a huge amount of data and rider feedback to analyse, and these two days will put us in a stronger position for the future."
More, from a press release issued by GRT Yamaha WorldSBK Junior Team:
GRT Yamaha Begin Work For 2021 in Jerez WorldSBK Test
For the first time since the end of the 2020 season, the FIM Superbike World Championship paddock reunited at the circuit of Jerez de la Frontera. For the GRT Yamaha WorldSBK Junior Team, Garrett Gerloff carried out development work with various new parts ahead of 2021, while new rider, Japanese All-Japan JSB1000 champion Kohta Nozane, got his first taste of the Yamaha R1 WorldSBK machine.
By the end of the first day, American rider Gerloff, fresh from a stellar MotoGP appearance in Valencia, topped the timings, with Nozane 10th after showing steady improvement throughout the day.
On Wednesday, Gerloff and Nozane continued to gain confidence and were fourth and 10th respectively, but with much-improved lap times. They completed a combined 281 laps, with Gerloff riding 138 and Nozane 143.
Garrett Gerloff: P4 – 1'39.172 / 138 laps
GRT Yamaha WorldSBK Junior Team
Every time I get on the bike it feels more and more like mine. During this test, I jumped on this past year's Yamaha R1 and had a really good feeling right away, but I also tried the new development parts for 2021 and I immediately found some more details which made me even more comfortable. That was awesome. I am super motivated for next year, we have made a lot of progress in general. Now, I just want to keep training as much as I can. I will go home to the United States for the winter break, and I can't wait to see my family and friends again; it's been a long time, so I am really looking forward to that, and to going back to my home motocross and go-kart tracks. It will be good to have that sense of familiarity. To take that positivity from my family and then come back here will be a good way to start the season. My expectations for next year are to fight to be the best Yamaha, which might include fighting for the championship. I am really happy with the GRT Yamaha team and with the Yamaha R1 and I think that, if we focus on what is right in front of us, race after race, day after day, we will be strong.
Kohta Nozane: P10 – 1'40.670 / 143 laps
GRT Yamaha WorldSBK Junior Team
To me, everything was new: the bike, the tyres, the circuit, it was my first time with all these things, and in the beginning, I was very anxious. But, during the two days, I could improve my pace little by little. That was very nice, and it was a really productive and useful test. At first, due to the coronavirus situation, I was unsure whether I could take part in the test or not, but in the end, luckily, I could participate and gain very important experience. The entire GRT Yamaha crew has welcomed me very warmly and the atmosphere in the garage is great. They are fully supporting me, so I really wanted to do my best to give them a nice result and show them my improvements. My teammate, Garrett, is very kind and we had some interesting conversations, which was another positive thing about these two days. For next season, I will focus on learning and improving as much as possible, and on trying to achieve our goals. I will try to do my best. Also, I will for sure practice my language skills to improve my English!