More, from a press release issued by Dorna:
Rea on fire as Jerez day one concludes in WorldSBK
Setting the only sub-1'40 lap time of the weekend so far, Jonathan Rea left it late to blast clear at the head of the field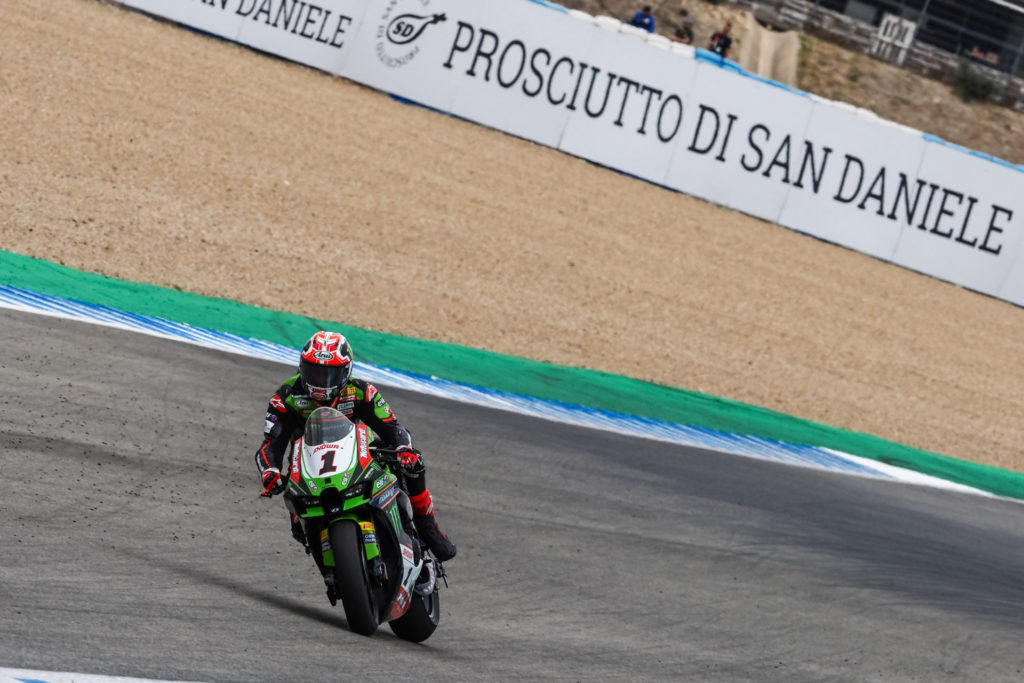 The 2021 MOTUL FIM Superbike World Championship enjoyed a lively day of action at the Circuito de Jerez – Angel Nieto for round ten and the Motul Spanish Round. With rain falling lightly just before the start of the session, the WorldSBK riders were out on track and setting the lap times in almost perfect conditions, with Jonathan Rea (Kawasaki Racing Team WorldSBK) topping the day's running ahead of Michael Ruben Rinaldi (Aruba.it Racing – Ducati) and Championship leader Toprak Razgatlioglu (Pata Yamaha with Brixx WorldSBK).
KAWASAKI AND DUCATI: Rea and Rinaldi lead the way
Third in FP1, Jonathan Rea was at the front of FP2 for the majority of the session and was down to competitive times from the start. Teammate Alex Lowes enjoyed a solid FP1 in fourth although a hand injury limited his running to just six laps. Both were inside the top five during FP2, Rea in particular doing longer runs to get a better understanding of the new ZX-10RR at the track. With less than three minutes to go, Rea set the first sub-1'40 of the weekend and led the way into Saturday with nearly four tenths of a second as his advantage.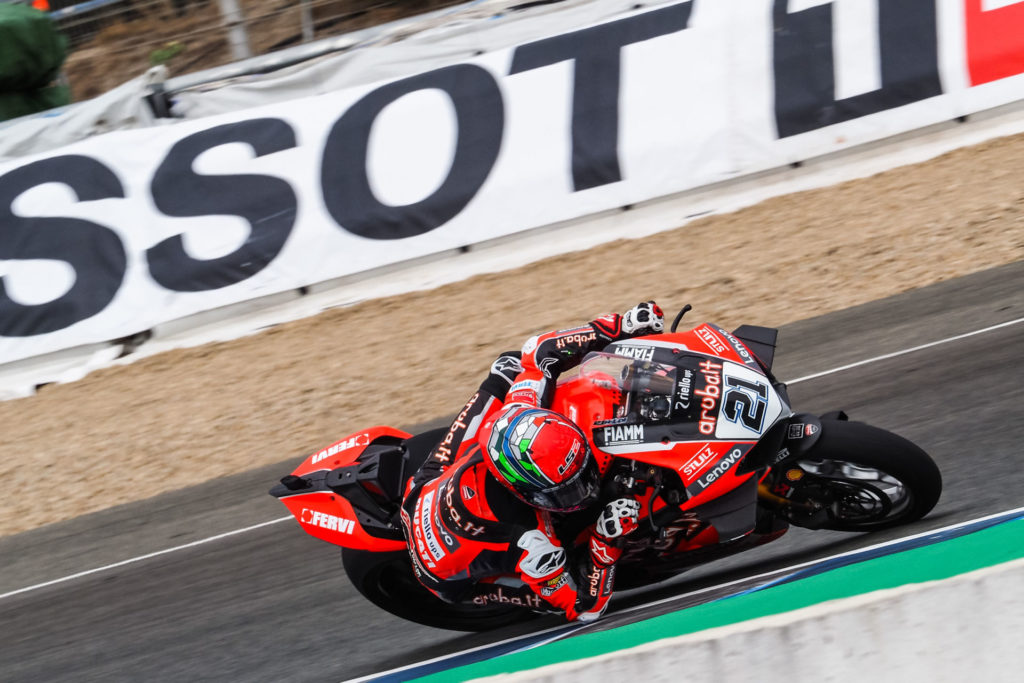 It was a bright start for the red of Ducati as Michael Ruben Rinaldi was leading the way for most of the second half of the session, before ultimately finishing second on the combined times. Rinaldi was second in FP1 too, so it has been a solid start for the Italian, who picked up where he left off after winning at Catalunya. Teammate Scott Redding left it late to come up the order, finishing the day in fifth place overall, fourth in FP2. On the combined times, Redding places fifth but with temperatures expected to rise during the weekend, expect the Ducatis to grow stronger. Combined, they set 82 laps, valuable for the weekend ahead.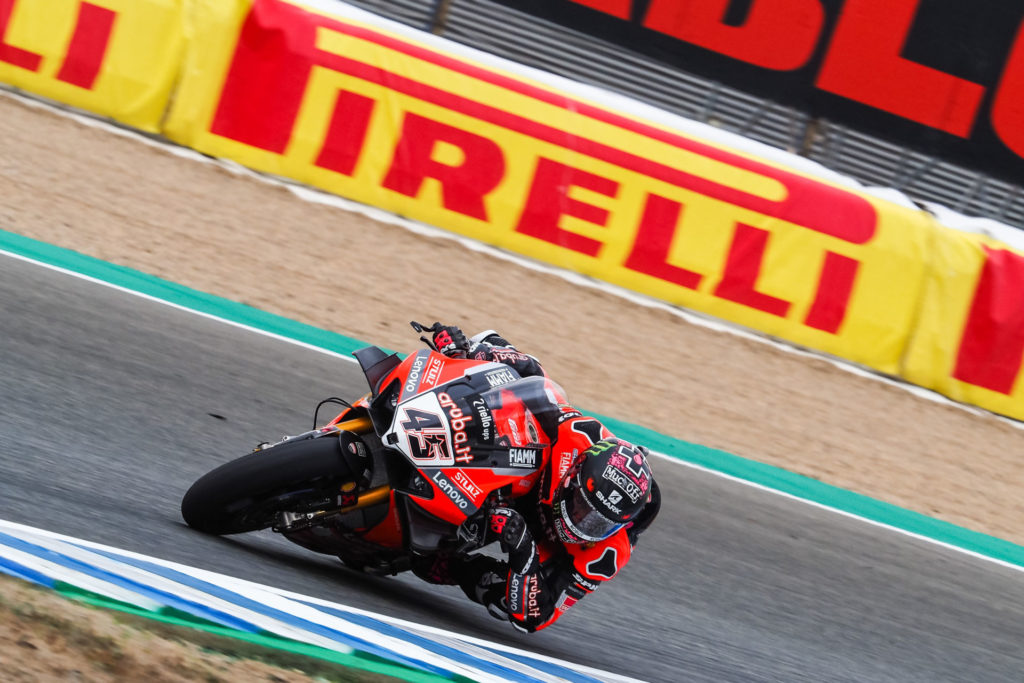 YAMAHA VS HONDA: Toprak third, two Hondas in the top six
Having topped Free Practice one in the morning, Toprak Razgatlioglu left it late to feature at the front in FP2. The Turkish rider was outside the top five for most the session before popping up the order, consolidating his third place on the combined times. Teammate Andrea Locatelli was out on track and in solid form, down in eighth place in FP2. Come the close of Friday action, with Razgatlioglu in third overall and seventh in FP2, Locatelli, who was sixth in the morning session, concluded the day in eighth place overall.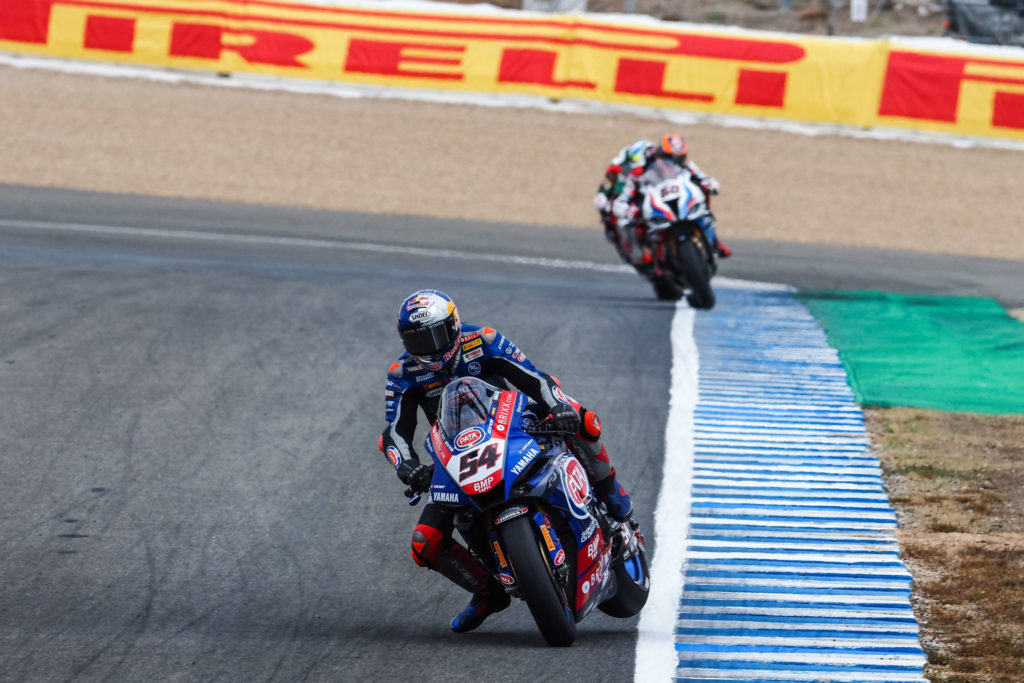 The Jerez weekend was off to a bright start for Honda as Leon Haslam (Team HRC) placed fourth on the combined times. The team took part in a private test at the circuit not so long ago, so recent track action seems to be paying dividends. Despite a fast crash in the closing stages of FP2, there were plenty of positives for Alvaro Bautista (Team HRC) on day one at Jerez. The Spaniard improved his time by eight tenths of a second in FP2 in comparison to FP1 but crashed at Turn 11. Tucking the front and seeing his bike cartwheel through the gravel, Bautista was able to finish in sixth overall. Bautista and Haslam were the top two through the second split, showcasing Honda's strengths.
BMW'S NEW LOOK: van der Mark and Laverty at Jerez
For BMW, their weekend got underway with Michael van der Mark (BMW Motorrad WorldSBK Team) flying the flag in tenth place overall and in FP2. The Dutchman set 39 laps across the day and was 1.102s behind the top time of Jonathan Rea. New teammate for this weekend, Eugene Laverty, had a solid session in 14th place as he gets back used to racing action, setting an identical lap time as Isaac Viñales (Orelac Racing VerdNatura). Expect Laverty to come on stronger as he gets back used to WorldSBK racing.
INDEPENDENT BATTLE: Gerloff vs Bassani readies
Leading the Independents in ninth place was the lead Independent in the Championship, Garrett Gerloff (GRT Yamaha WorldSBK Team). He was ahead of Axel Bassani (Motocorsa Racing) in 11th, the Italian suffering a technical issue in the closing stages. Loris Baz (Team GoEleven) was next up in 12th place on his return to WorldSBK, whilst Isaac Viñales was 13th, the Spaniard growing stronger in recent rounds. Leandro Mercado (MIE Racing Honda Team) was 15th.
The best of the rest saw Jonas Folger (Bonovo MGM Racing) in 16th, ahead of Christophe Ponsson (Gil Motor Sport Yamaha), who crashed at Turn 1 in the middle of the session but was OK. Lucas Mahias (Kawasaki Puccetti Racing) was only 18th, ahead of wildcard Marvin Fritz (IXS-YART Yamaha) who crashed at Turn 13 but was OK and Samuele Cavalieri (Barni Racing Team). Kohta Nozane (GRT Yamaha WorldSBK Team) finished the day in 21st after the Japanese rookie crashed at Turn 5. Andrea Mantovani (Vince64) was next up, ahead of Loris Cresson (OUTDO TPR Team Pedercini Racing) and teammate Lachlan Epis.
More, from a press release issued by Team HRC:
Team HRC fighting fit on day one at Jerez
Leon Haslam and Alvaro Bautista ended the first day of testing at Jerez de La Frontera in fourth and sixth position respectively in the combined standings. A very good start to the weekend for Team HRC.
With round nine having concluded just days ago at the Barcelona-Catalunya circuit, Team HRC is now back in action at the Jerez Circuit, the stage for this weekend's tenth Superbike World Championship round.
Factory riders Alvaro Bautista and Leon Haslam started the weekend on a very positive note, with both making good progress throughout the day's sessions. Haslam made a particularly strong start aboard his CBR1000RR-R FIREBLADE, setting a 1'40.749 to place fifth at the end of the first practice. In this same session, team-mate Bautista finished just four tenths behind, in twelfth place (1'41.173).
In second practice, which ran mid-afternoon in ideal conditions (air 23°, track 31°C), the factory Honda riders really began to step things up. Haslam immediately improved on his earlier time, putting in a 1'40.328 at the very start of the session, closely followed by Bautista who soon set a 1'40.349. These references assured the Team HRC duo of a place towards the top of the timesheets, with only a couple of other riders able to do better. This meant that in the combined standings, Haslam finished in an excellent fourth position, a fraction of a second ahead of Bautista, sixth.
Alvaro suffered a very fast crash at turn 11 towards the end of the 45-minute phase, which prevented him from further improving on his lap time, but fortunately he was totally unhurt in the fall and will be more than ready to recommence the work tomorrow morning.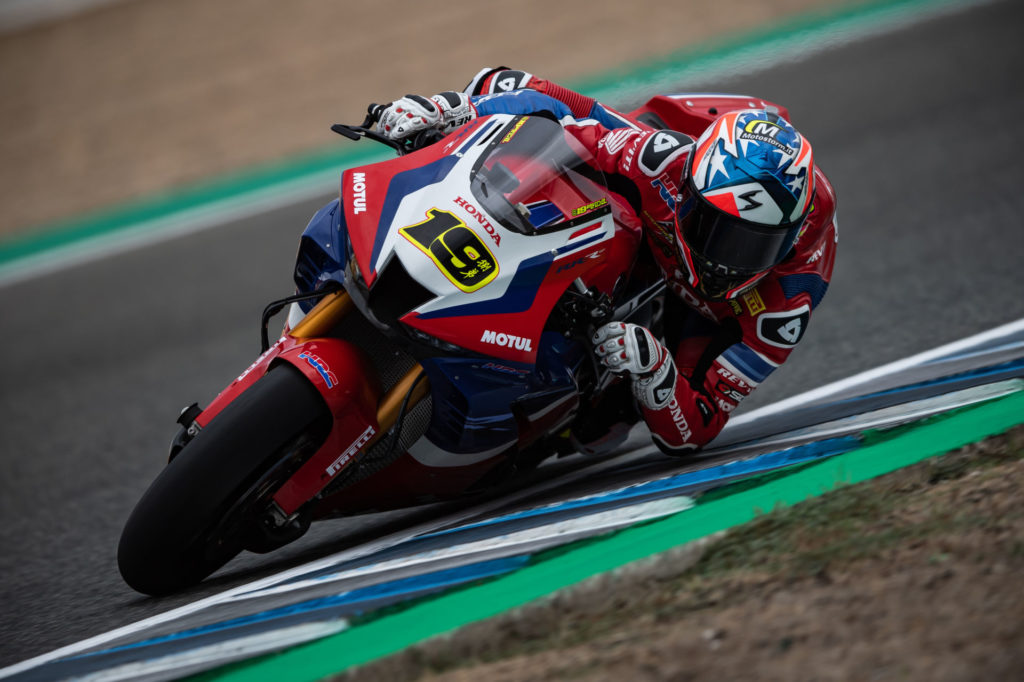 Alvaro Bautista  19
P6
"For sure we started with very good feedback from the bike. This morning, I tried a different rear compound specification that Pirelli has brought, but I didn't feel very comfortable. In the afternoon I used the rear tyre that we raced with at Barcelona and I definitely felt much better. We also tried the new front specification and I'm happy because through some corners I found that I could brake harder and keep a better line. I felt strong and could lap quite consistently. But we don't have so many of those tyres so for the final run we went with a used front and fit a new rear. During my fastest lap, I felt the rear pushing in the final sector and I lost the front through quite a fast corner. Luckily I'm absolutely fine, but I missed out on the chance to further improve my lap time. Anyway, a very good start to the weekend, and having two Hondas in the top six is great. We need to see how the weather is tomorrow because we expect higher temperatures and we want to understand how the new tyre specifications behave in hotter conditions."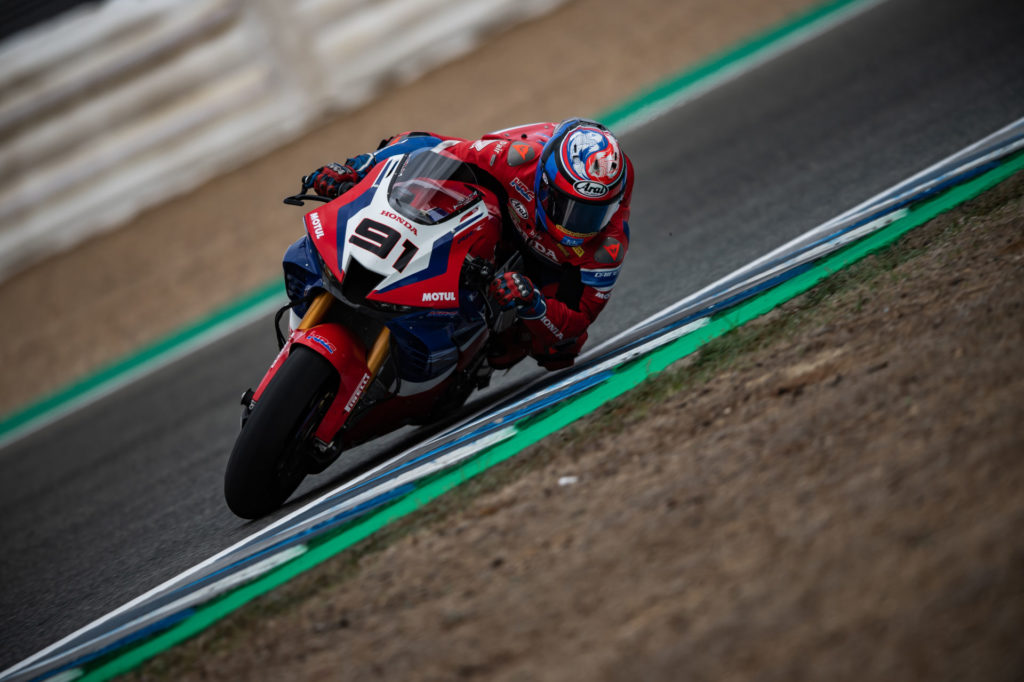 Leon Haslam  91
P4 
"We had a good FP1. I felt we were quite consistent and kept the same tyre throughout the session. Then in the afternoon we tried a few experimental things but this kind of ruined the natural flow of our race preparation work. We also tried the new Pirelli front tyre but only did three or four laps on it; we'd need to use it over a longer distance to better understand its performance. We did better at the start of the afternoon practice, using the same set-up as we did in FP1, and I was third quickest in that session, but we'll have to see what the weather brings tomorrow. If track temperatures go up over the weekend as we expect them to, we'll need to work hard to try and retain the front grip and turning. We have a few things to resolve but fourth overall today is a good start."
More, from a press release issued by Aruba.it Racing Ducati:
#ESPWorldSBK Convincing start in Jerez for Rinaldi and Redding who finish respectively in second and fourth position.
A good start in Jerez de la Frontera for the Aruba.it Racing – Ducati team: Michael Rinaldi closes both sessions in second position while Scott Redding improves considerably in the afternoon to finish the day fifth in the combined standings.
FP1
P2 – After working with his team on the setup of the Ducati Panigale V4R, Michael Rinaldi finds an excellent feeling in the final run and finishes with the second fastest time.
P8 – Scott Redding is the rider who completes the most laps (21) during the session without changing his rear tyre. For this reason the eighth fastest time is not particularly indicative.
FP1 Results
P1 – T. Razgatlioglu (Yamaha) 1'40.074
P2 – M. Rinaldi (aruba.it Racing – Ducati) + 0.086
P3 – J. Rea (Aruba.it Racing – Ducati) + 0.337
P4 – A. Lowes (Kawasaki) + 0.439
P5 – L. Haslam (Honda) + 0.675
P8 – S. Redding (Aruba.it Racing – Ducati) + 0.764FP2
FP2
P2 – As in this morning session, Michael Rinaldi is also very quick on the race pace and sets the second fastest time on the soft tyre, showing that he still has room for improvement ahead of tomorrow's qualifying session.
P4 – Scott Redding works convincingly on the race pace and manages to lower his morning time by almost half a second without attempting any time attacks.
Combined Standings
P1 – J. Rea (Kawasaki) 1'39.671
P2 – M. Rinaldi (Aruba.it Racing – Ducati) +0.399
P3 – T. Razgatlioglu (Aruba.it Racing – Ducati) +0.403
P4 – L. Haslam (Honda) +0.657
P5 – S. Redding (Aruba.it Racing – Ducati) +0.671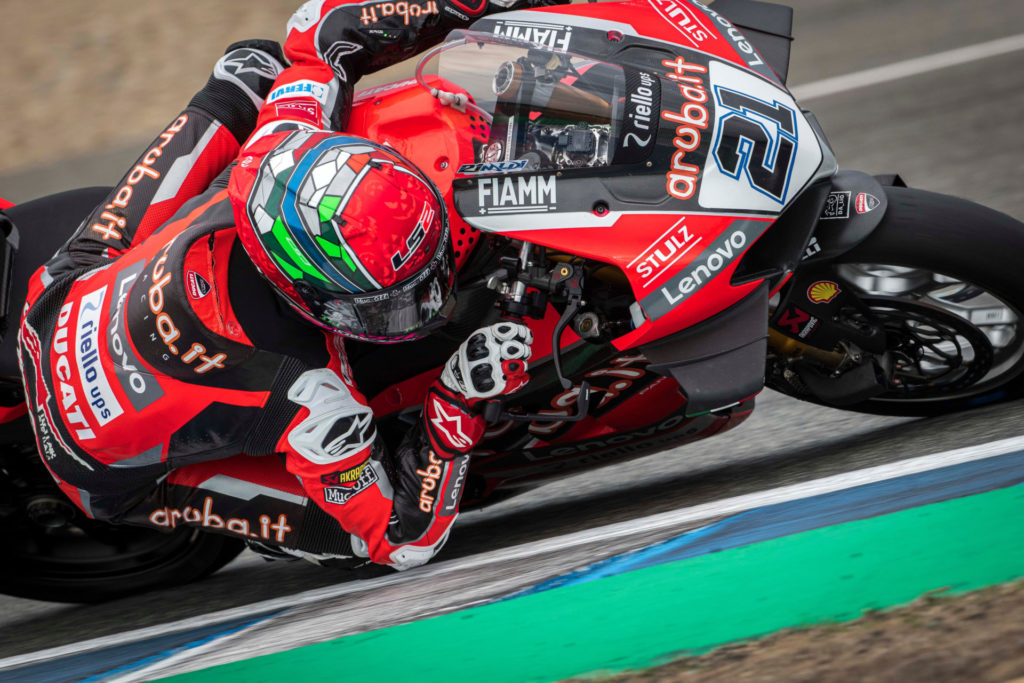 Michael Rinaldi (Aruba.it Racing – Ducati #21)
"It was a positive day in which we worked well. Let's say that the feeling with the bike is 95% and we'll try to find the remaining 5% tomorrow morning to be faster and more comfortable. Finishing second on Friday always gives us some confidence. I think that fighting for the podium is within our reach but only if we continue to work with great intensity".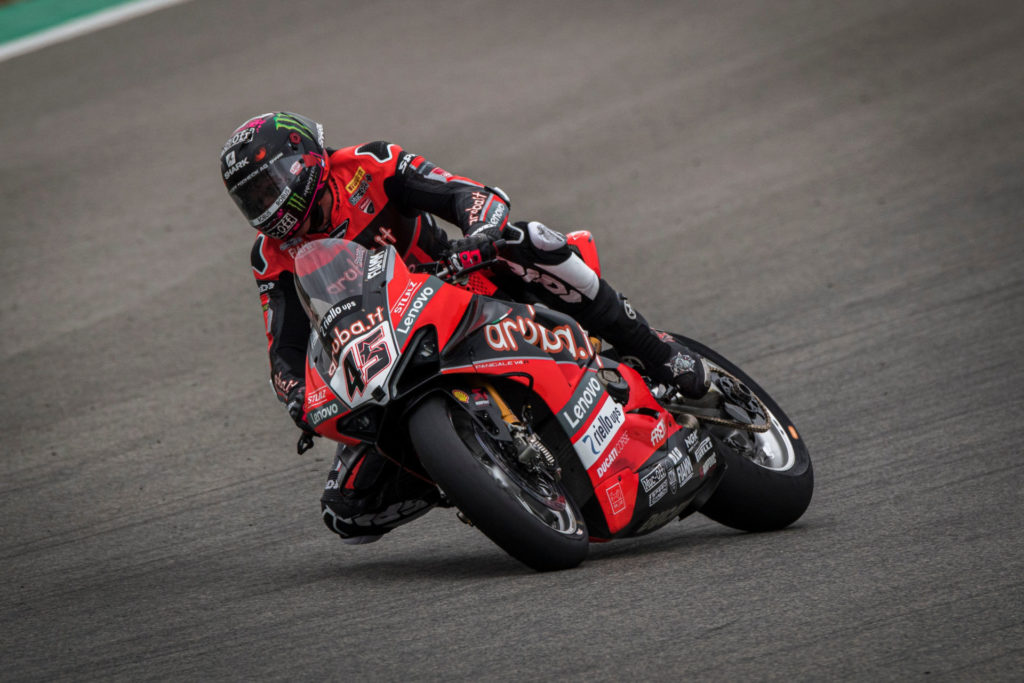 Scott Redding (Aruba.it Racing – Ducati #45)
"All in all I can't be unhappy with what we did today. The main problem is that I thought I was fast but I wasn't fast in terms of the lap time. It's not long before we find the right feeling and I'm sure we can take another step forward tomorrow in FP3."
More, from a press release issued by Team Go Eleven:
GOOD FEELING FOR LORIS, SMILE ON HIS FACE AT THE END OF DAY 1!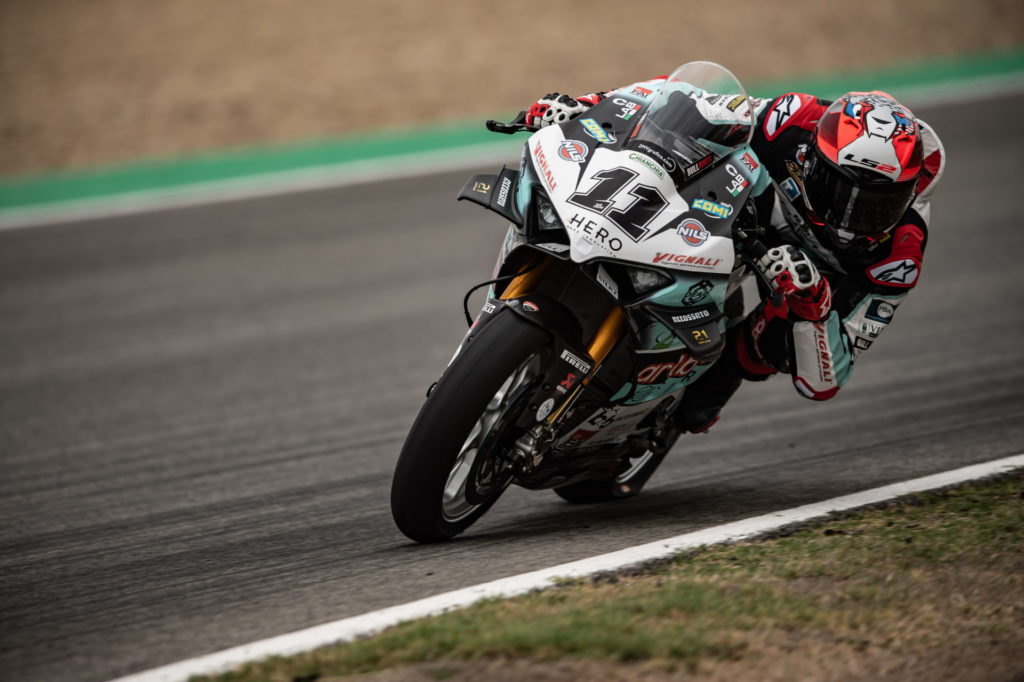 First positive contact for Baz with Team Go Eleven's Ducati V4-RS! Excellent laptimes from the beginning, a constant and ever-increasing pace brought the French rider close to the Top 10 of the day.
Coming from America, after a year away from the World Championship, jumping on a V4, with different specifications and tyres, at the end of the World Championship, is not easy, as anticipated yesterday. Loris, however, proved to be very fast and to know how to adapt immediately, without making mistakes and without being in a hurry to prove something. In FP 1 he set an excellent pace with the harder compound, setting the best reference at the end of the session with a very used tyre. Upon returning to the pits, the smile on his face shows how much fun he has enjoyed and the desire he has to race in this Championship.
Free Practice 1:
P 1   T. Razgatlioglu   1.40.074
P 2   M. Rinaldi   + 0.086
P 3   J. Rea   + 0.337
…
P 11   L. Baz   + 1.017
During the second Free Practice, the French rider carried out a complete race simulation with the softer solution at the rear, a type of tyre introduced by Pirelli this year, never tested before by Baz. It took a few laps to get the right confidence, but after 15 laps he managed to set the Best Lap, getting very close to the times of the morning. There was a little lack of feeling on the time attack, but then it improved lap by lap. For tomorrow there are still some small adjustments on the bike set-up, but generally it was a more than positive first day.
Free Practice 2:  
P 1   J. Rea   1.39.671
P 2   M. Rinaldi   +0.399
P 3   L. Haslam   + 0.657
…
P 12   L. Baz   + 1.467
Tomorrow, time to pull out the claws, Superpole and Race 1 day! It will not be easy for Loris to immediately find the feeling with the qualifying tyre, but there will be two opportunities to attack the time. Now, however, it's time to rest, switch off the mind and start again tomorrow even more ready!
Loris Baz (Rider): 
"I had a lot of fun, and that's the most important thing because I came here to ride with a smile! I immediately felt comfortable on the bike, I tried to understand the differences with the one that I ride in America, especially as regards the tyres; the Pirelli are very different from the Dunlops. Throughout the day I tried to find the right feeling, and little by little I felt the bike more in my hands. The first session also went quite well on the time attack, while in the afternoon we concentrated on race pace. I didn't improve the time of the morning, but the pace is really good. Now I will sleep thinking about today and tomorrow I want to take another step forward. I want to keep having fun, as I am doing; it is the most important thing when jumping on a new bike during the current season!"
More, from a press release issued by Kawasaki:
Rea Fastest On Day One At Jerez
Jonathan Rea (KRT) was the fastest rider on the opening day of free practice at the Circuito de Jerez – Angel Nieto and set a lap time that was almost 0.4 seconds quicker than his nearest rival. Alex Lowes (KRT) was cleared to ride on day one by the on-site medical staff after suffering a hand injury at the previous round in Catalunya. He finished in overall seventh place, giving him encouragement for the rest of the Jerez weekend.
Overcast but warm conditions for the first day of action at Jerez provided Rea and Lowes with an ideal opportunity to make their early preparations for the three WorldSBK races that will take place at Jerez, which forms the tenth round of the season.
Rea worked on several areas of race preparation with his technical crew and when he pushed to set a fast lap time of 1'39.670 he ended his opening day fully 0.399 seconds ahead of second placed Michael Ruben Rinaldi.
Rea set his personal best time in the afternoon's FP2 session, as most of the top riders did, as maximum track temperatures only just climbed to over 30°C.
In the approach to this weekend at the 4.423 km long Jerez circuit Lowes' hand injury meant he was unsure if he would be able to ride at all. He was passed fit and despite the pain from his fractured hand, he made strong progress in FP1 and FP2 to finish just one place outside the top six in a field of 24 riders. His best lap time of 1'40.352 was just 0.681 seconds from his team-mate Rea.
Ambient temperatures are expected to rise a little on day two at Jerez when the first 20-lap WorldSBK Race takes place at 14.00, after the final FP3 practice session and Tissot-Superpole qualifying.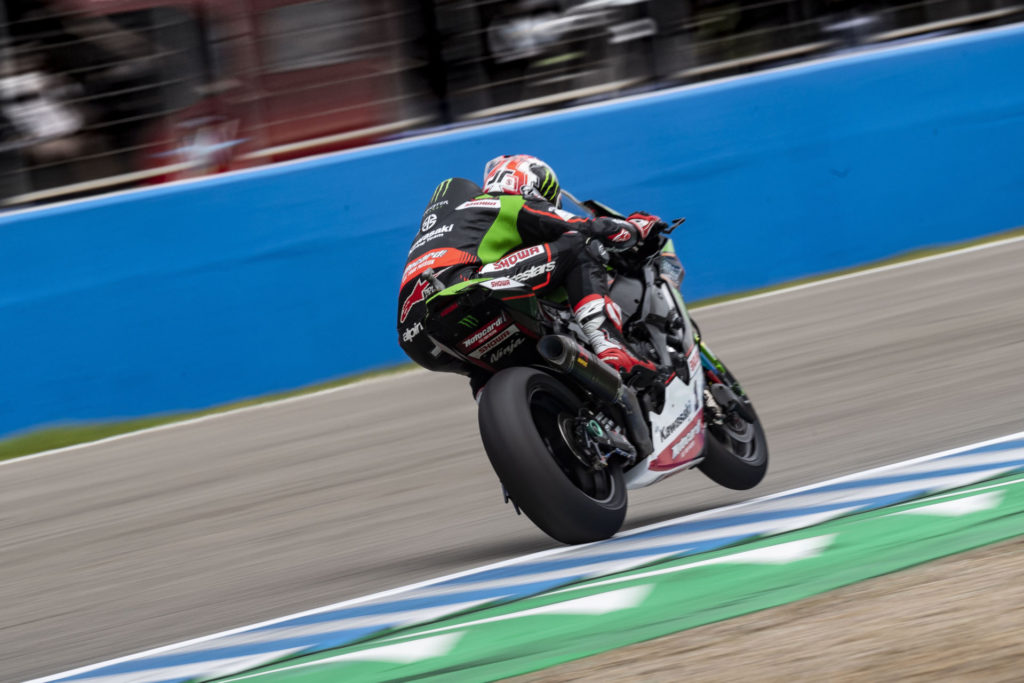 Jonathan Rea, stated: "We started with a new set-up idea that we had from these last few races in the heat, trying to take some of the grip off the rear of the bike, to create more balance. We worked with that idea and near the end of FP1 we went back to what we used to have. That confirmed that the new idea was working. In the afternoon we tried to do a longer run to understand my rhythm, to understand the tyre drop, and how the bike behaved. It was very consistent, especially in the last sector where normally you face a big drop in the fast right corners. The sector was very stable but the area where I am struggling the most is sector one. That is the main point of focus so we will check and see again tomorrow. What we did is not revolutionary, but it is a step."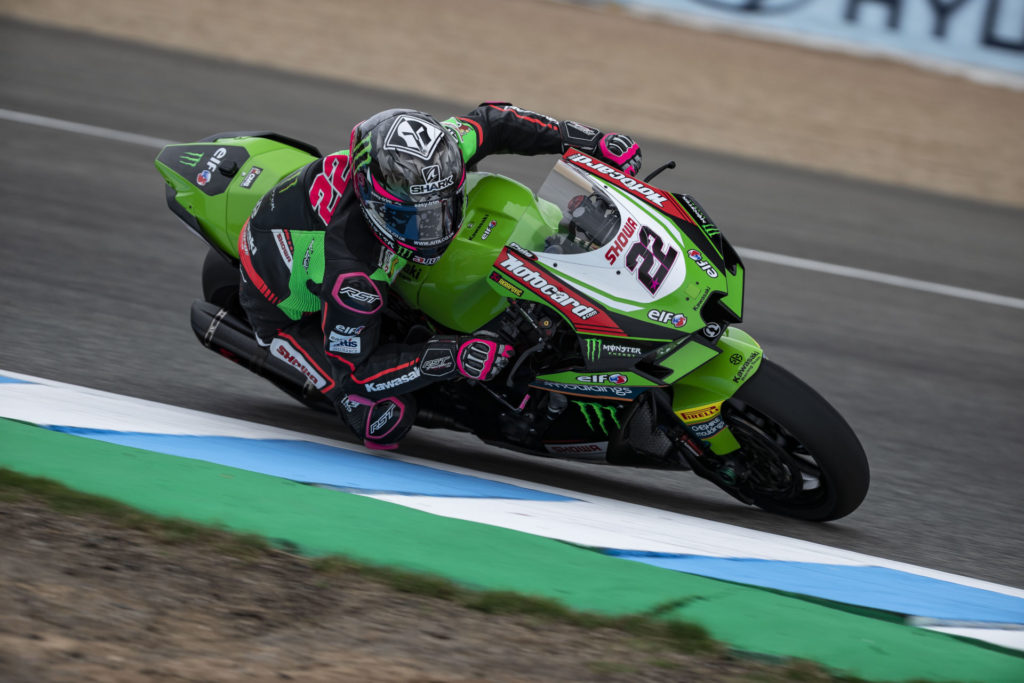 Alex Lowes, stated: "The pain in my hand is about the same as I thought it would be but the control of the bike and the pace on the bike is a lot better than I expected. The target of today was to see if it was worth the pain to maybe get an OK result and be competitive, and I feel I was competitive. So that is one box ticked. I will make some recovery tonight and hopefully, if I can ride in these kind of positions, then we can be happy with the weekend. In these cooler conditions the bike is working really well and I think that helped me quite a lot today. Up until Tuesday I thought I might be sitting watching the Ryder Cup golf this weekend but I was good enough to keep trying."
Isaac Vinales (Orelac Racing VerdNatura Kawasaki) was a strong 13th after the first day of action in Spain, Lucas Mahias (Kawasaki Puccetti Racing) was 18th.
Loris Cresson (TPR Outdo Kawasaki) placed 23rd fastest on Friday and Lachlan Epis (TPR Outdo Kawasaki) 24th.
More, from a press release issued by BMW Motorrad Motorsport WorldSBK Team:
BMW Motorrad WorldSBK Team conclude Friday's free practice at the Circuito de Jerez
The BMW Motorrad WorldSBK Team today completed the opening day of free practice at the Circuito De Jerez (SPA) with Michael van der Mark (NED) and Eugene Laverty (IRL).
Eugene Laverty, who is standing in for the injured Tom Sykes (GBR), was first out of the pitlane in this morning's FP1 session following almost a 3-month absence in the championship. It took Eugene a full session to get up to speed with his BMW M 1000 RR as he finished in P20 in FP1 (1'42.288), however improving his lap time by over a second in FP2 (1'41.197) finishing in P14 overall for the day.
Teammate Michael van der Mark started his session off brightly this morning, setting a best lap time of (1'40.773), just +0.007 behind Andrea Locatelli in P6. In the afternoon's session, Michael couldn't improve on his lap time from FP1 which meant he finished tenth overall on day 1.
Shaun Muir, Team Principal:
"It was a pretty reasonable day from Michael. FP1 was kind of where we expected to be and in FP2, we tried the new Pirelli option tyres which we had to anyway. It was a shame they didn't work out for him but that's out of the way now and we have a good focus and direction to work in for FP3.
Eugene did a solid job. He hasn't rode a bike for three months and was thrown into the deep end and I'll be honest with you he did okay. Again, he acclimatized himself with the BMW M 1000 RR and did himself justice so I think he will sleep well tonight. Him and his crew chief have some good ideas for tomorrow and I think he will bounce back and have a good go tomorrow.
As always, a big focus on Superpole and the grid position for the races tomorrow, so hopefully good weather will greet us, and we will make a step forward."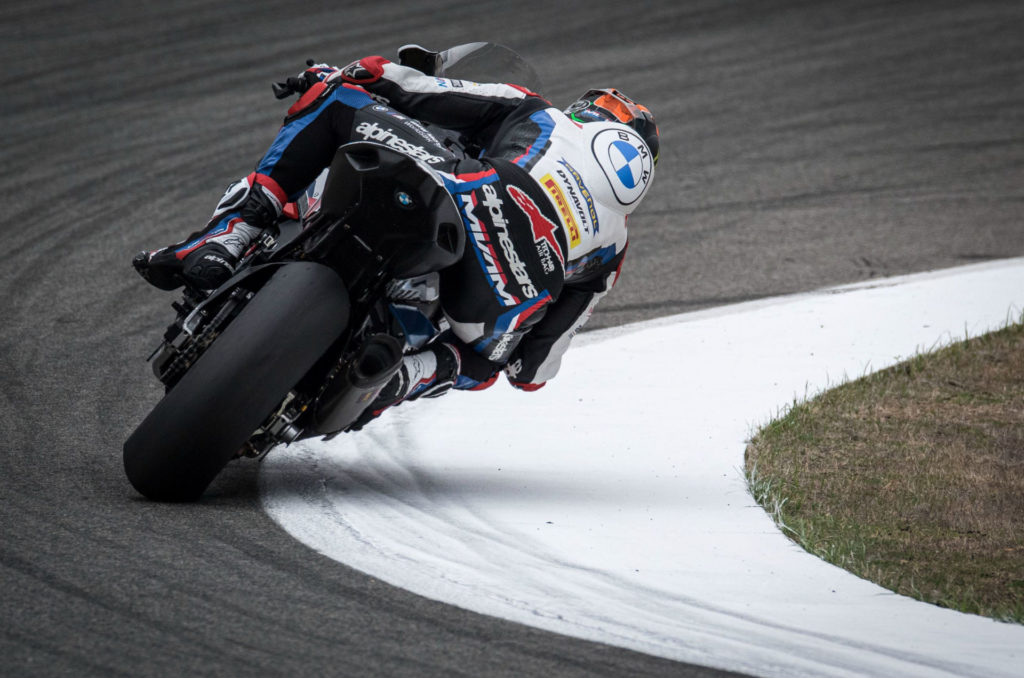 Michael van der Mark:
"This morning, we were quite happy with the bike and tried something a lot different which felt okay. For the afternoon we tried to find some front end feeling which I struggled a little bit with this morning. The first outing was on a used front tyre which I felt comfortable with, and our lap time was quite fast. After that I had to try some different tyre options which Pirelli brought, so it was mainly speaking to them and giving good feedback. Unfortunately, I couldn't improve on my lap time, but I think the feeling I had this morning and at the start of FP2 was not that bad, so I hope we can have really good pace tomorrow."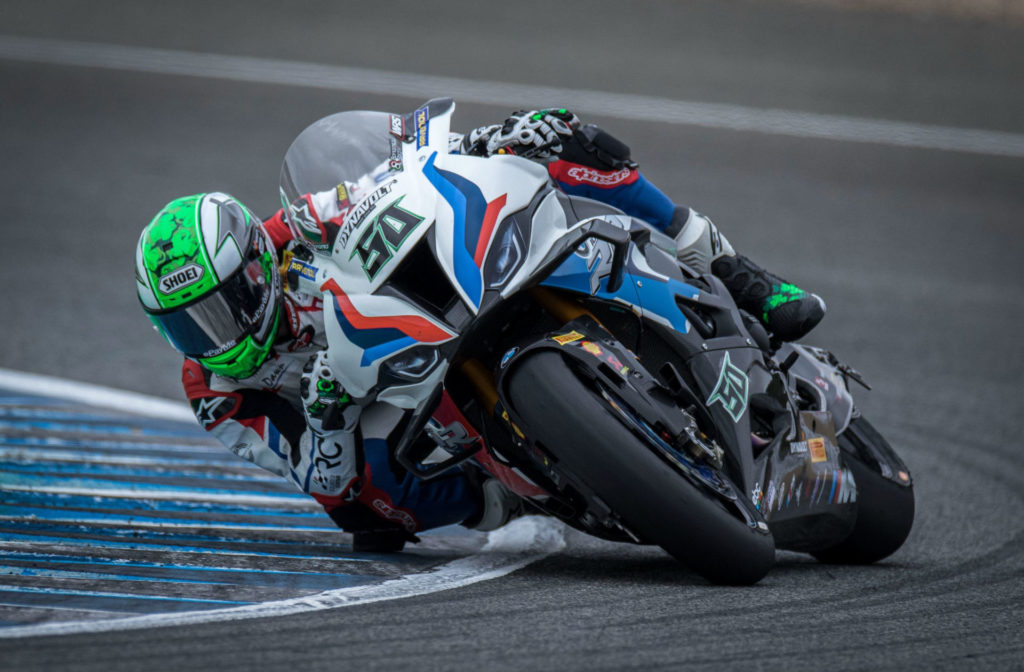 Eugene Laverty:
"Today started out quite difficult after so long away, I think I was down in 20th position. This afternoon we made some big strides forward despite my fastest lap being taken away from me following Bautista's crash. That lap was the same as Mickey's and that's the goal, to be near him as he is the reference on the same bike. The bike's working well. We just need a bit more feedback from the front tyre as I'm struggling to get a good sensation there. But it's the second session on the bike, and I think we can be happy with our work."
More, from a press release issued by GRT Yamaha:
Gerloff satisfied, Nozane close but hampered by a crash on Jerez's Day 1
Today marked the beginning of the second leg of the FIM Superbike World Championship triple-header which will bring the European part of the season to a close. The Jerez de la Frontera circuit, a classic track for motorbike racing, hosted the first two free practice sessions of the Spanish round, during which the GRT Yamaha WorldSBK Team worked hard to provide the two riders with a solid base for the setup ahead of the rest of their weekend.
Garrett Gerloff, whose second-ever WorldSBK race weekend took place at this track in August of last year, returned to Jerez knowing that the nature of this track, in which long and fast corners are prevalent, can favour the Yamahas. He was the quickest of the independent riders all day, and ended both FP1 and FP2 in the 9th position (with a 1'40.929 and a 1'40.745, respectively). He is very satisfied with the work done on Day 1 and is convinced to be faster than what the speed charts show.
As for Kohta Nozane, at the beginning of the day his experience at the Spanish track only consisted of the winter tests conducted here at the end of last year. His Friday plan was to close the gap with his rivals by running as many laps as possible but, if in FP1 he was 18th fastest (1'41.853) after 21 laps run (the most of anyone), a crash at turn 5 in the early stages of FP2 compromised the rest of his day. The Japanese rider was unhurt, but his R1 was damaged and Nozane could only run three laps at the end of the session, which he ended in 22nd position (1'42.121).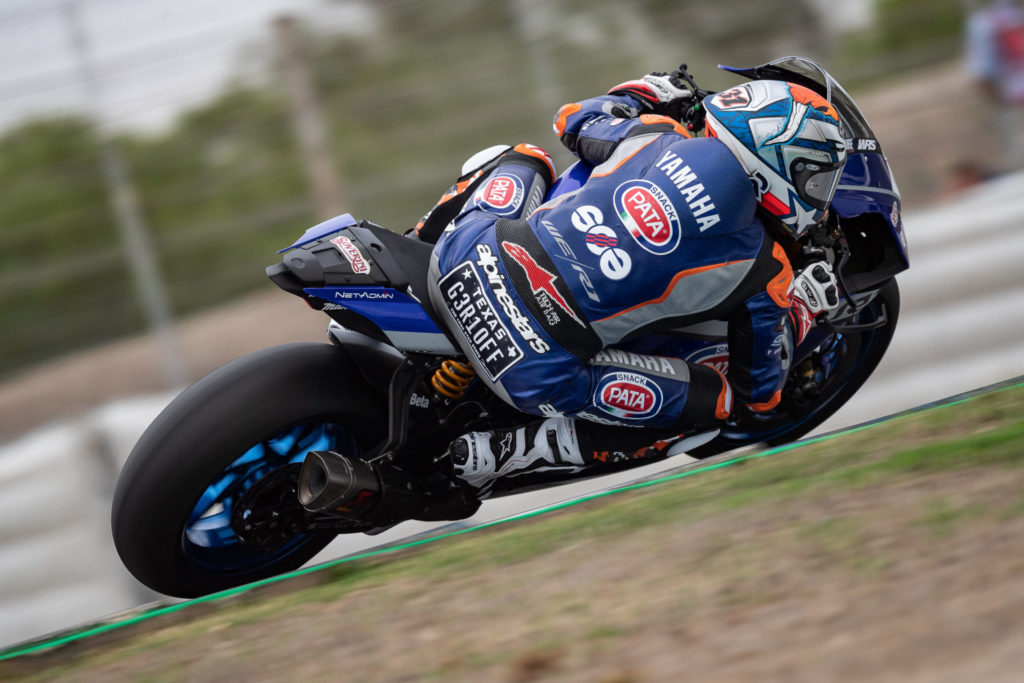 Garrett Gerloff: 9th / 9th
"Today's results may not be as great as I would have liked, but I am really satisfied: I believe we have made some adjustments that work really well, in the second session in particular. In the afternoon I felt much better, I could set competitive times and I was quite consistent, so I am optimistic for tomorrow. It will be a very different day weather-wise for sure, but I am very excited to come back to the track in the morning to get qualifying and the first race under our belt. Big thanks to the GRT Team for giving me an awesome Yamaha R1; I am ready for tomorrow."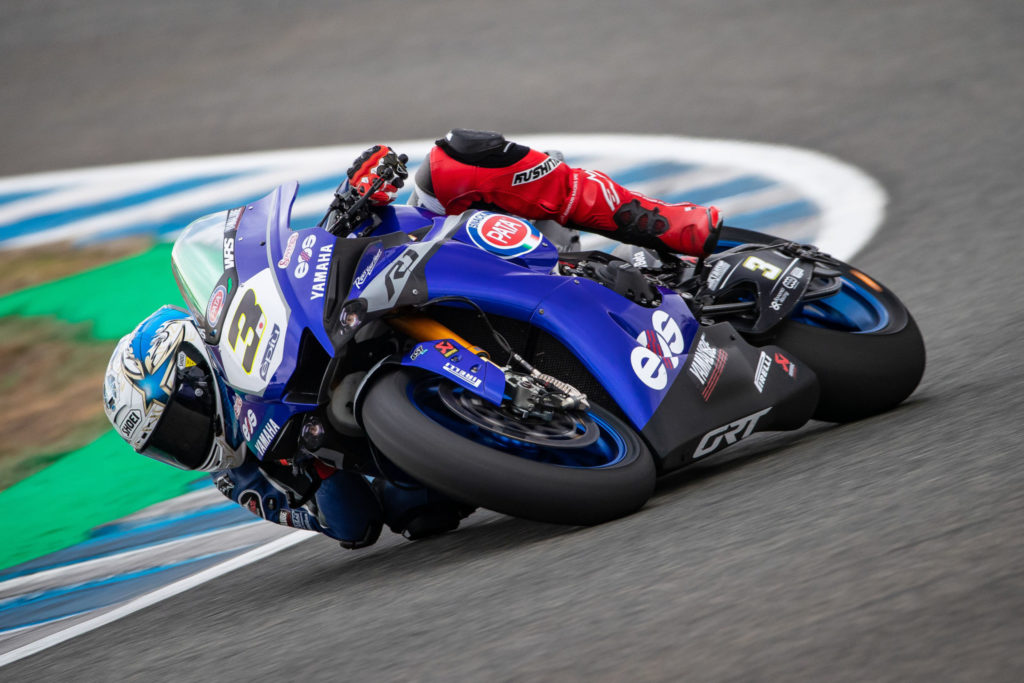 Kohta Nozane: 18th / 22nd
"The day got off with a pretty good start in FP1. My pace was not bad and we could work on the tyre choice for the race. Then, in FP2, the feeling was not bad, but I made a mistake on the first lap and I crashed. The bike was a bit damaged, and I want to thank the whole team because everybody immediately went to work to fix it, but our afternoon program suffered greatly because of the accident. Tomorrow the bike will again be as good as new, and I will start the day with a fresh mindset to do better. I like this circuit, despite very different conditions from last year's winter test, during which the track had much more grip. I know all the other riders know this track very well because they have always tested here, but I am quite close to them and tomorrow I plan to improve some more."
With the first day at Jerez done and dusted, we only need to wait until tomorrow morning to see the two GRT riders back on track. FP3 will kick off the activity at 9 AM, followed by the Superpole at 11:10 AM and by Race 1 at 2 PM, local time.
More, from a press release issued by Yamaha:
Pata Yamaha with Brixx WorldSBK Get To Work in Jerez Free Practice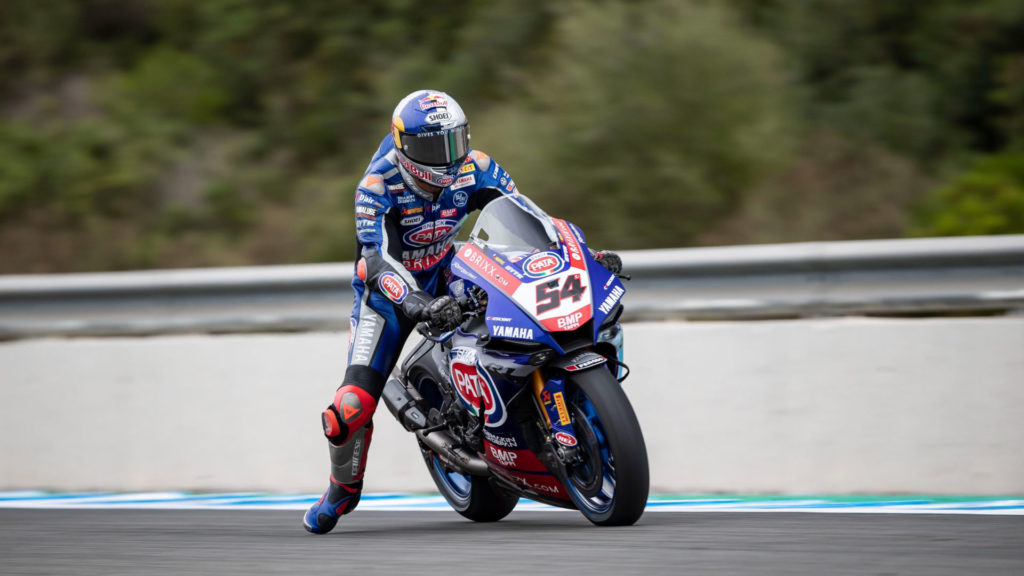 2021 FIM Superbike World Championship leader Toprak Razgatlıoğlu was the third-quickest man on track in Free Practice at Circuito de Jerez today, with teammate Andrea Locatelli finishing the sessions in eighth overall.
After returning to the top of the championship table last weekend in Barcelona, Razgatlıoğlu and Pata Yamaha with Brixx WorldSBK completed a similar programme in Free Practice to the system that has served the team so well this season, with the focus on fighting for victory in every single race.
Both Razgatlıoğlu and Locatelli worked to dial in their Yamaha R1 WorldSBKs to the southern Spanish venue with a combination of knowledge from the team's many previous visits and proven improvements made to the winning 2021 iteration of its racing machinery. The focus has been to find their respective race set-ups as well as determine which of Pirelli's new tyre options available in Jerez could play a part in the weekend's main races.
Tomorrow, the weather forecast looks sunny with slightly warmer temperatures than today's overcast proceedings, kicking off with Free Practice 3 at 09:00 (CEST), Superpole qualifying at 11:10 and Race 1 at 14.00, as Pata Yamaha with Brixx WorldSBK's championship challenge continues.
Toprak Razgatlıoğlu: P3 – 1'40.074
"Not a bad start but also different feeling in rear grip to normal, and two new tyres that we also tried. We need for every tyre a good set-up, so we try the new ones also. Not such a bad morning session, and after we also try a set-up for the race in FP2. We are not fully happy because we are third, but tomorrow I think we are feeling much better because now we will try to work to improve. I try also good lap time in the last lap, but not coming because too much spinning, not enough grip with the hard tyre to make a 1'39. Most important is we are working for the race. We will see tomorrow, we will try for more!"
Andrea Locatelli: P8 – 1'40.601
"It's not the best Friday for us today. The condition is not so bad here in Jerez, but the feeling with the bike is a little bit strange, especially in the entry of fast corners and the braking. We tried to work around this point on the set-up but the feeling is not coming, but now we have a little bit more time to understand and to check the data to try and improve for tomorrow. But, in the end, it's not so bad – we had a really good rhythm in the long run and I want to try and close the gap, because we can go a little bit faster and this is our objective every time. We have some ideas and now I will work a little bit with the guys to understand what is the best direction to take for tomorrow."
Paul Denning, Team Principal – Pata Yamaha with Brixx WorldSBK
"Not a bad first day here in Jerez for both riders, Toprak clearly quickest in FP1 but we weren't able to find the improvements we were looking for in FP2 and maybe took a small step backwards, so we'll do our best to recover that in FP3 tomorrow morning. Loka made a lot of laps on the same tyres and was quite competitive. As his confidence and experience grows, his feedback becomes more detailed. So I also expect a step forward for him tomorrow. There are always entertaining races here in Jerez, so we'll try and give the riders better R1 WorldSBKs in the morning to prepare for Race 1 in the afternoon."